"I wanted to make the bagged TT look like a taxi," says a man who clearly doesn't get in a lot of taxis…
Feature from Fast Car. Words: Dan Bevis. Photos: Daniel Pullen
"This is my Full Metal Jacket car, I could disassemble and reassemble it with my eyes shut," grins Midge, casting a fond eye over what is quite clearly way more than just a car to him. It's obvious that there's a bond here, a kinship. The sort of loving relationship built up over many years of trials and tribulations, victories and adventures.
"I'm always f*cking breaking the thing too," he says, dropping his phone on the bonnet and immediately checking both for damage with a slight sense of panic. "It's the way I am, I live for deadlines and I spend all my time working on other people's cars, so it's typical that I'd break the TT the night before it finally gets a feature shoot." He's a little bleary-eyed as he staggers around the car, snow-foaming and detailing with his massive arsenal of Auto Finesse products. We arrived to meet him at 9am, whereupon he informed us that he'd been in the unit working on the TT until well after 4am to get it ready. Inevitably the car was fighting back; things got broken, things got fixed. He's had about an hour's sleep.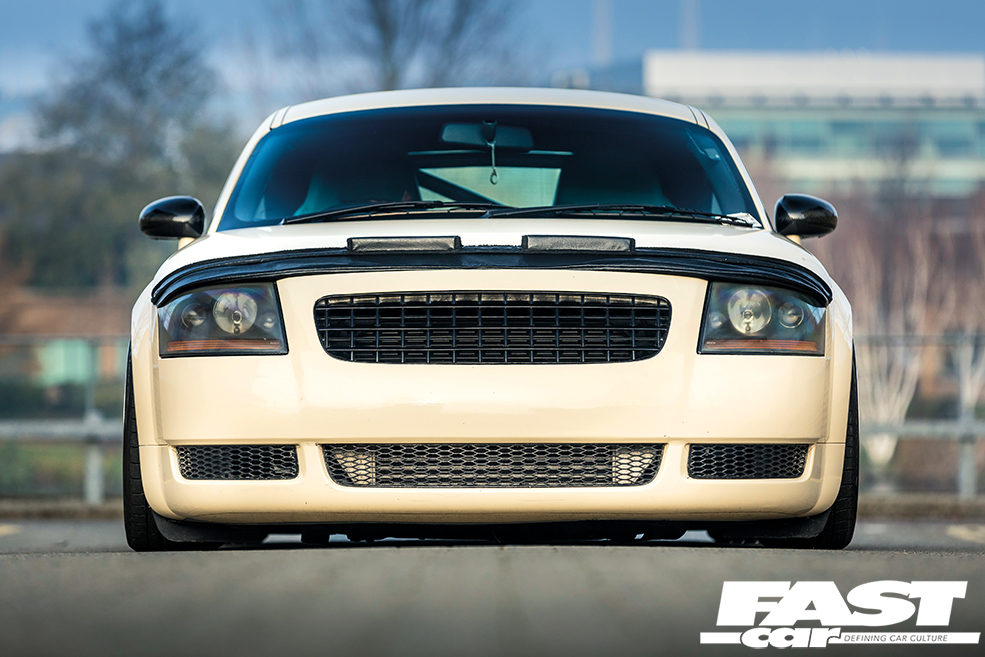 "I've had this car for a decade, I'm still messing with it all the time," he laughs. That's the thing about Midge, he laughs a lot, it's infectious. Even when he's stressed and agitated (and massively sleep-deprived), you're always in for a show and a good time. "I was going to get the Vossens on, but I couldn't get the f*ckers fitted at 4am, sod it."
This, the more you get to know the man, is pretty typical. And for the purposes of this shoot, it actually makes far more sense to have the winter wheels fitted than the eye-wateringly expensive show rims. After all, while he does have a set of Vossen/WORK collab wheels which are probably worth £6k or so, the fact that you're seeing it here on more affordable AutoStars sums up the whole Midge ethos: "I'm not a snob, I'm not out to impress people or win a bunch of Instagram likes," he says. "It doesn't matter if mods are expensive or not – if they look right, they look right. I don't build cars to please other people, I just do what I want to do."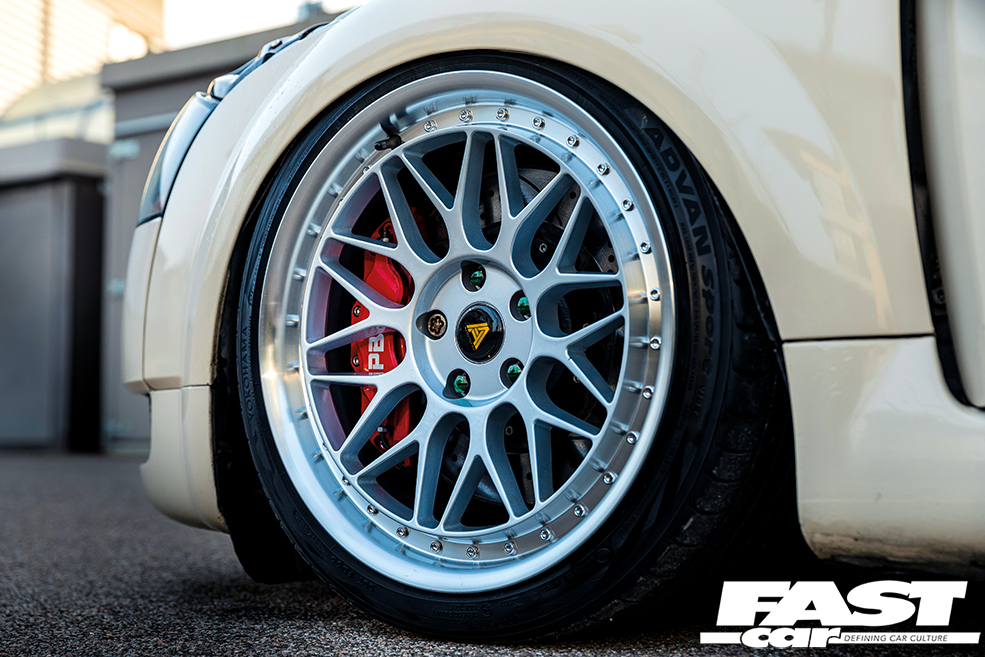 That's something we're always banging on about, and perhaps that's why Midge has been such a vital part of the Fast Car formula for the last seventeen years. Your ride, your rules, that's what we always say, and this dude's been living that life from day one.
This '99 bagged TT 225 is more than just a project to him too. It's been with him for the best part of a decade, and it bridges a number of significant changes in his personal circumstances, career development, and day-to-day life. These days Midge rents a unit, but back when he was starting out with the Audi TT Mk1 it was all about lying in the dirt on his mum's driveway while he fitted the air-ride, doing all the work out in the cold and the dark, getting it done just for the love of it. The TT's been by his side through thick and thin.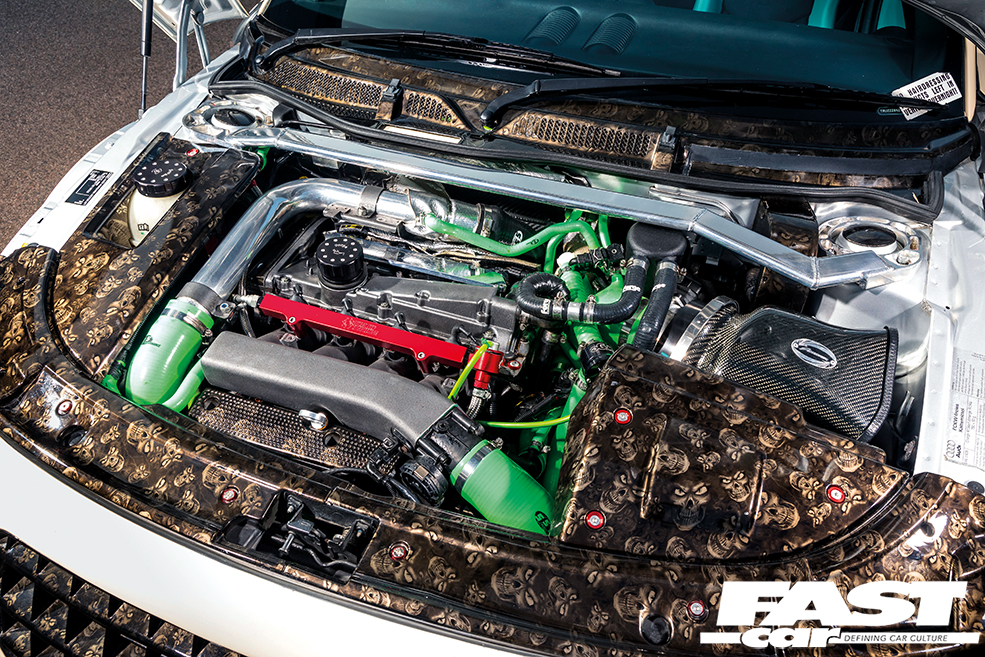 "I've done basically everything on the car myself, because that's just the way I do it," he shrugs, "and that includes rebuilding the engine fully-forged after I blew it up! The only thing I didn't do is the vinyl wrap." And this is where we came in, and it's a very important talking point: you see, this wrap has been on the car for about eight or nine years, which is way more than the average wrap tends to stick around – true testament to the quality of the work. And the fun part is that this was essentially 3M's original wrap colour, the genesis of the oeuvre that has since snowballed into a whole scene within itself. "They developed it for taxis in Berlin, because they're all this sort of beige colour," Midge explains. "The guys at 3M figured it'd be more cost-effective for taxi drivers to wrap their cars rather than paint them. When I heard about that I thought it'd be cool to give my bagged TT a Berlin taxi vibe – it's a nice German connection, innit?"
Sure, you can't fault the logic. And the nan's-hearing-aid colour works so well with the other exterior details, because Midge really is a details man: he's expertly smoothed the front bumper, deleted the headlight washers along with the tow hook cover and side repeaters, smoothed the roof rails, slathered genuine carbon fibre across the fuel filler and spoiler lip, and got busy with the hydro-dipping. "I didn't want fake carbon on there, because it never looks like real carbon," he says, "which is why I went for the skulls! Something a bit different." You'll find said skulls on the grille and the scuttle, and also on all the engine covers. Which seems as good a time as any to elaborate on just what he's been up to with the engine build… because this isn't just any old 20v APX. This thing's a frickin' animal.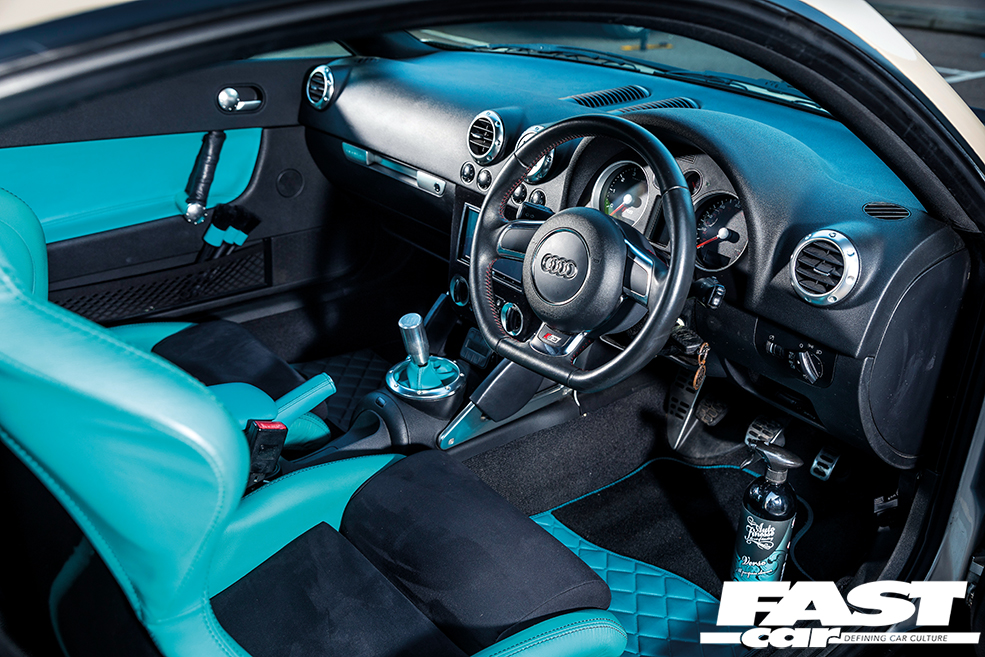 It'd take more than a couple of pints' worth of time to run you through everything he's done (check the spec box for the full lowdown), but suffice it to say that no stone has been left unturned. We're talking Wossner forged pistons and ZRP forged rods, Turbo Dynamics Stage 4 hybrid turbo, chunky FMIC, Integrated Engineering fuel rail with big DeatschWerks injectors, the full shebang. It's all knocked into shape by a custom Sanspeed map, and believe us when we say that you really hear this thing coming. "The exhaust is a proper one-off," he says. "It was developed by Scorpion at their test facility, but they didn't put it into production because they didn't see a demand for a full 3-inch system." It announces the TT's arrival with a hellstorm of noise, it's like being battered around the head, and that feels very appropriate for a car which has been built purely to be fun.
"The 'YOB' plate? Yeah, that pretty much sums it up," Midge smirks. "The first private reg was bought for me as a present, because apparently I look like one, and now all my cars have matching 'YOB' plates." Every element of this car has a story, and it's all intensely personal. Look inside the cabin, and you'll see custom work that stretches right back to the man's roots and origins. When he first started out modding cars, Midge was all about the audio installs and boot builds, and it's only fitting that the caged and seat-deleted rear of the bagged TT should sport a full custom audio and air install in MDF and fibreglass, just like the old days. And that bold interior colour choice? "Yeah, well, I'm not a big fan of tinted windows," he says. "So I reckon the interior needs to stand out a bit, you need something a bit lairy to look at, which is why I went for the teal." It really does look outstanding too, the custom leather on the Cobra Nogaro seats matched by the doorcards, armrest, floor mats and everything else; there's an S3 steering wheel, RS gauges, it's all very… very Midge.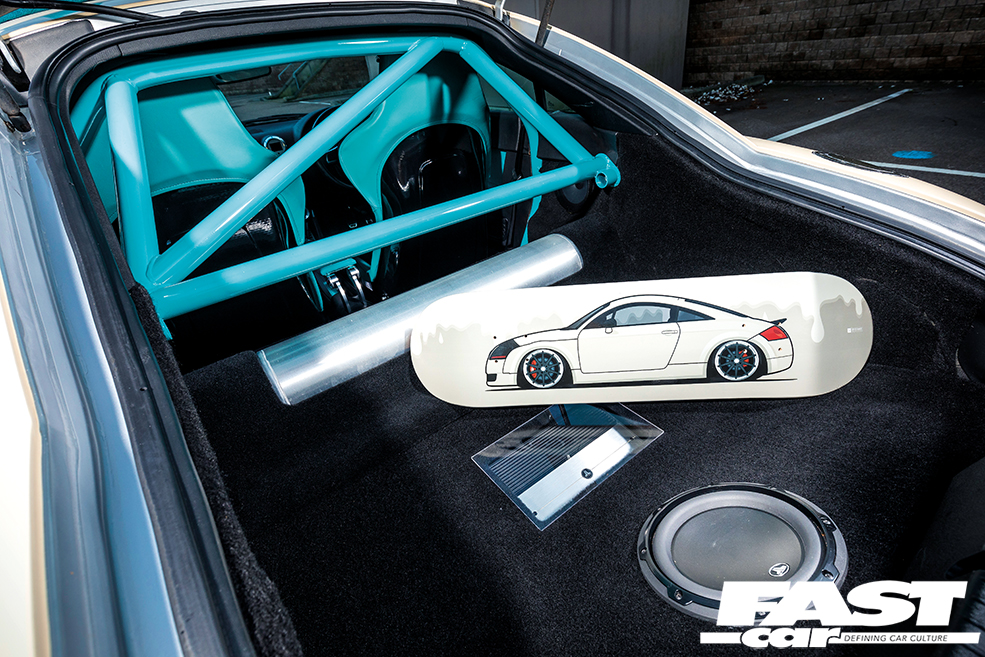 As the bagged TT airs out before the camera at what's known in the trade as 'Midge o'clock' (i.e. about an hour and a half after it was supposed to), there's a warm aura of pride radiating from our pocket-sized modding superhero. He didn't build this car for anyone else, but the appreciation is always a heartwarming fringe benefit. What it all comes down to is that this fella builds cars for the artistry, for the love of the craft; a perfectionist who'll always choose the path that makes him happy rather than popular. Think this bagged TT is cool? Of course you do, because it is. But what really matters is that Midge thinks it's cool. That's literally all it was built for.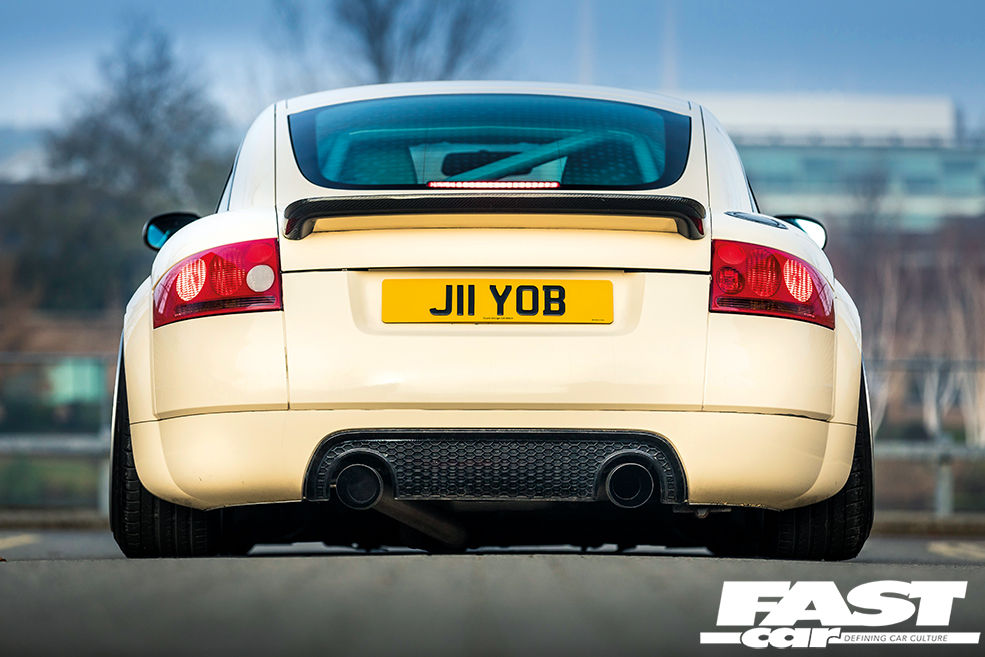 Tech Spec: Bagged TT
Styling:
Wrapped in 3M Ivory vinyl, smoothed front plate recess, headlight washers deleted, tow hook cover and side repeaters deleted, hydro-dipped 4-slat grille, lower grilles, V6 rear diffuser, scuttle panel, carbon fibre mirror covers and fuel cap, smoothed roof rails, AutoBra bonnet bra, Tauro Designs 3D plate, carbon V6-style spoiler lip
Tuning:
APX 20v 1.8T, Wossner low-compression forged pistons, ZRP forged rods, ACL lower race bearings and thrust washers, port-matched head (skimmed with 3-angle valve seats), ARP studs, Relentless V4 tubular manifold, Turbo Dynamics Stage 4 hybrid turbo with Forge Motorsport adjustable actuator, 5mm intake manifold spacer, 83-degree thermostat and fan switch, customised Direnza alloy radiator, NGK platinum plugs, Forge Motorsport non-resonated charge pipe, diverter valve (cold side conversion), breather hoses, front-mount intercooler, SAI blanking plate, oil catch can and breathers, alloy oil and coolant caps and coil pack cover, SFS Performance silicone 80mm TIP and DV cold side relocation kit, Integrated Engineering alloy fuel rail with DeatschWerks 550cc injectors and custom braided AN fuel lines, Vibra-Technics engine mounts, 5mm plenum spacer, BAR-TEK alloy PCV valve, Gates Racing timing belt with Integrated Engineering manual tensioner kit and pinned crank pulley, Samco Sport silicone hoses, XS Power 3-inch single downpipe, custom Scorpion 3-inch exhaust system, air conditioning delete, secondary air injection and boost control solenoid delete, Piper adjustable cam pulley, Deatschwerks high-flow fuel pump, Direnza short-shift kit, Competition Clutch uprated clutch and flywheel, R8 washer cap, Sanspeed custom map, Gen1 (blue) Ramtech Haldex Performance controller, Simota Racing carbon intake, hydro-dipped engine bay covers, NorthStar deep-cycle battery
Chassis:
8.5×18-inch (front) and 9.5×18-inch (rear) AutoStar Essen wheels (5×112), H&R 5×112-5×100 adaptors (15mm front, 20mm rear), 215/45 (f) and 225/45 (r) Yokohama tyres, TPI polarised bolts and lockers, PB 6-pot 345mm front brake conversion, Air Lift Performance V2 air-ride kit, Eibach rear ARB, Powerflex polybushes, Hardrace adjustable camber arms, Forge Motorsport alloy strut brace. Summer wheels (not pictured): 8.5×19-inch (f) and 9.5×19-inch (r) Vossen x WORK VWS-1 2-piece forged wheels in gunmetal with polished barrels and lips, 215/35 (f) and 225/35 (r) Yokohama S-Drive tyres
Interior:
Cobra Nogaro seats trimmed in teal leather and black Alcantara, Audi S3 flat-bottom steering wheel, teal trimmed doorcards, arm rest and gaiters, custom M-Tech 'Midge' alloy shifter, Safety Devices rear cage painted custom teal, refurbished LCD dash computer and RS-style gauges, custom Quattro Sport-style rear seat delete, Race Diagnostics Liquid Gauge, black headlining
and pillars
Audio:
Alpine double-DIN headunit in custom Alcantara dash pod, JL Audio components (front), JL Audio co-axials (rear), JL Audio 5-channel amplifier and 8-inch micro sub in custom boot build, Dynamat sound deadening
Thanks:
Auto Finesse, PB Brakes, Ramtech, Celsus, DeatschWerks, AquaGraphix, Hardrace, Scorpion Exhausts, JL Audio, Alpine, Air Lift Performance, Yokohama, Powerflex, Vibra-Technics, Eibach, Direnza, M-Tech Engineering, BAR-TEK, Turbo Dynamics, Sanspeed, Cobra Seats, Vossen Wheels, Forge Motorsport, 3M, Boss Dog, Revamp Autoworks & Customs, Wrapstarzpro, Race Diagnostics, AutoStar Wheels, Autobra, Tauro Designs, Battery Megastore, PSW, Jon and Dan, Robbo Clarey, Modest Matt, Jules, Glenda, Initial G, Scary Steve, and the rest of the FC crew.