'You've ruined that.' A phrase people sometimes say when they see modified examples of rare cars. These people need to find out the full story before they judge though, as Gary Krakow's bagged Impreza P1 demonstrates…
Feature from Fast Car. Words: Dan Bevis. Photos: Dan Sherwood
Some cars are untouchable. Or so people would have you believe. That's what makes it so much fun when you see some of the outrageously mischievous builds that have been doing the rounds in recent years. Some are outraged, but others respect the owners who have the balls to shake things up. Build cars just for the hell of it, we say. Embrace the hate, no f**ks given. And that's pretty much the reception that Gary Krakow's Impreza receives when he rolls up at shows and airs it out.
Yep, you heard. It's a genuine Impreza P1, and it's bagged. In the infamously nitpicky world of Subaru enthusiasts, this is tantamount to drawing a moustache on the Mona Lisa. 'Sacrilegious!' they cry, choking on their own rage. But we disagree. We're more inclined to take the view of Homer Simpson, peeling the waffle from the ceiling that he's been praying to like a god, and starting to nibble on it. 'I know I shouldn't eat thee,' he says, 'but… mmm, sacri-licious!'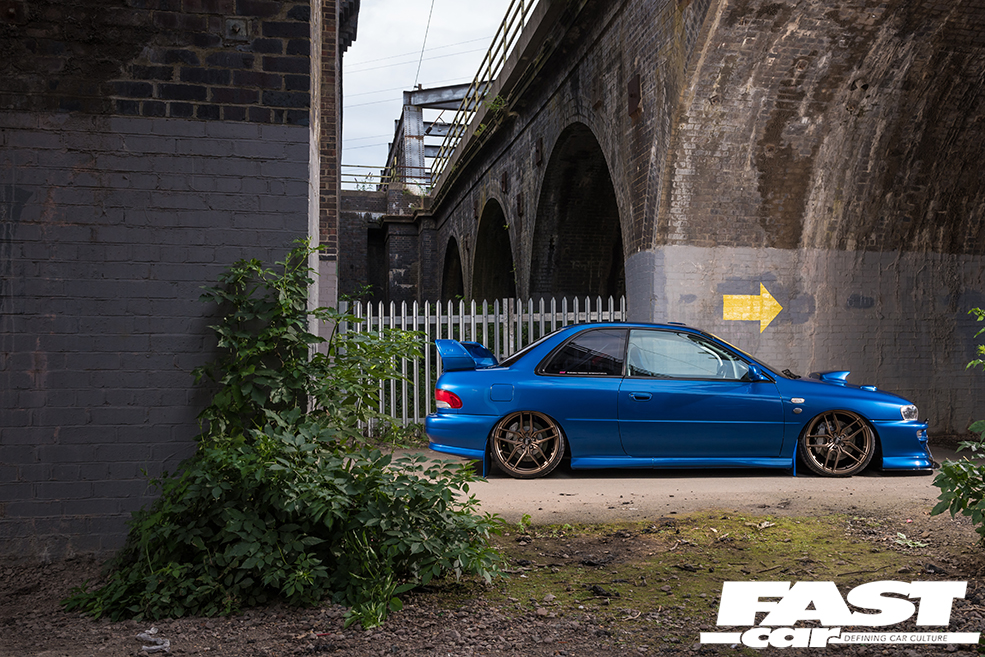 So why are people so annoyed about this idea? Well, to understand where the swells of rage are rolling in from, it's important to understand just what a revered and iconic thing the Impreza P1 is. This was the second special-edition Impreza to be launched in 1999, the first being the much-admired RB5 – a four-door celebration of Richard Burns joining the works rally team. The P1, with notably fewer doors, was more of a Prodrive project than a Subaru one; Prodrive being the outfit who developed the cars for the smoky crucible of World Rally Championship adventures, when they put their name to a car it really means something. Celebrating an era when two British drivers took Imprezas to rally victory – Richard Burns and Colin McRae – it was eminently fitting that a British tuning firm should develop this factory-sanctioned model variant. It came with unique body addenda, anthracite OZ Racing alloys, and a far more aggressive throttle response than the standard Turbo model. The P1 ran 20mm lower on Eibach springs, mixing Turbo ARBs with STI shocks, and Prodrive offered a big Alcon brake upgrade into the bargain. This, then, was the first two-door Impreza officially on sale in the UK (aside from the hen's-teeth 22B, of course), which could run from 0-62mph in 4.7 seconds and go on to 155mph. It's a bona fide proposition for investors and collectors today, and enthusiastic drivers are climbing over each other to get their hands on the few that remain.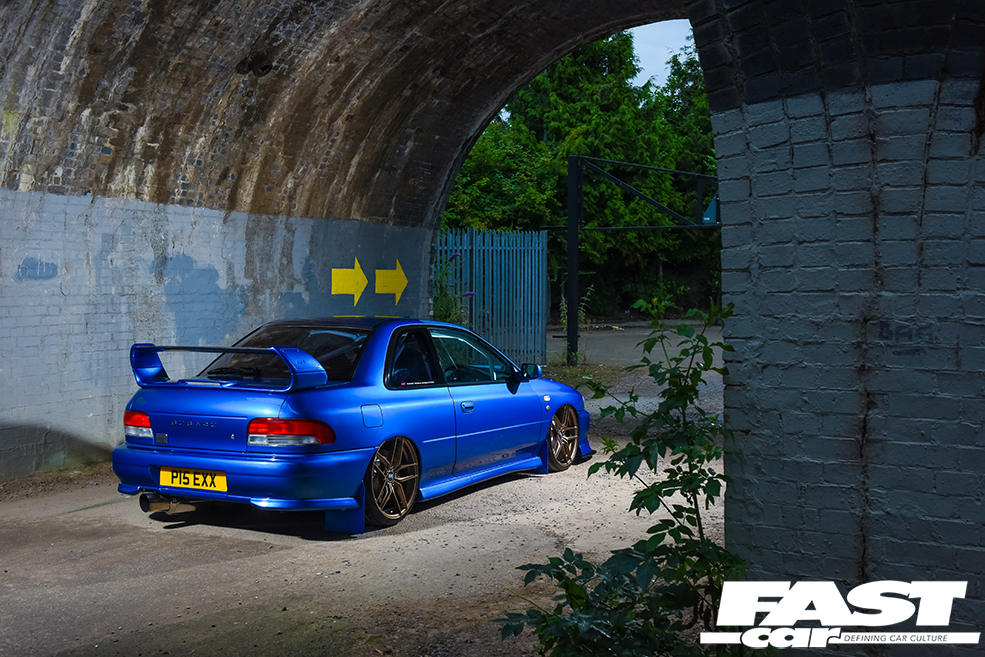 And then Gary rolls up with his heavily modified example, belligerently rolling on gangsta wheels and air-ride. You can see why the rally-jackets are annoyed.
But life's too short for all that nonsense. You only live once, right? You've got to make yourself happy, build your car for you, that's the true path to enlightenment. Other people's opinions are seldom worth the spittle they sail out on.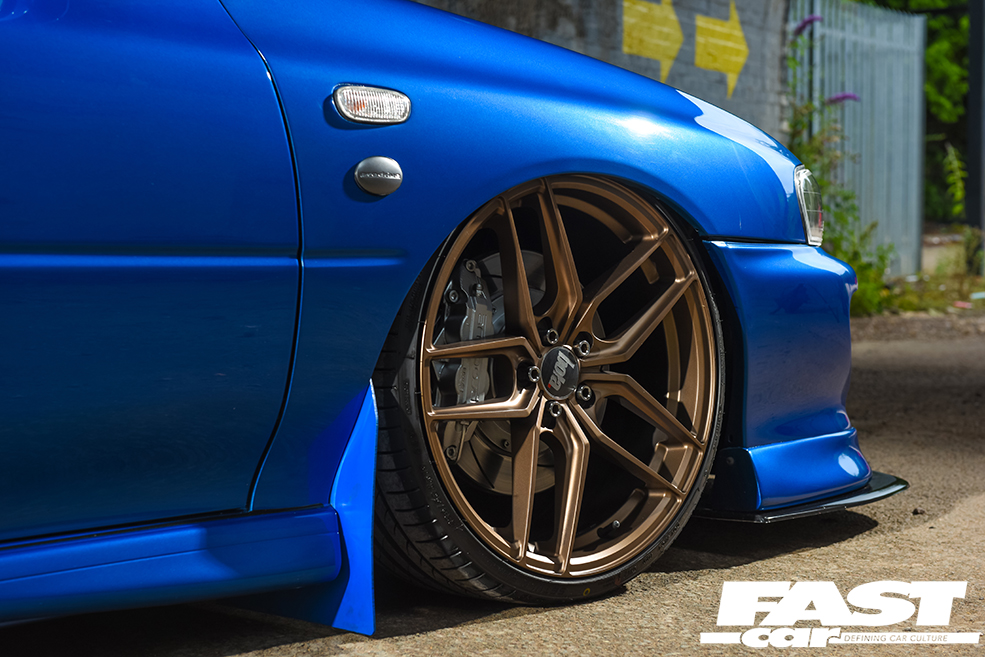 'I've always been heavily into cars, from a very young age,' Gary explains. 'My first car was a Vauxhall Calibra that I modified; in fact I modded it to such an extent that it ended up being featured in Total Vauxhall magazine, it was the first Calibra to have Lambo doors.' Crikey. That is a strong start. Not many people can boast that their first car was a feature car and, while Lambo doors have passed out of fashion these days, you've got to admire the lack of fear in rolling up his sleeves and making radical changes.
'I'd also always wanted a P1,' he continues, getting down to brass tacks. '10 years ago I finally decided to bite the bullet and fulfil the dream. I had to travel up and down the country for weeks trying to find the right one! But when I eventually came across this one, I found it to be straight and original, in good clean condition.'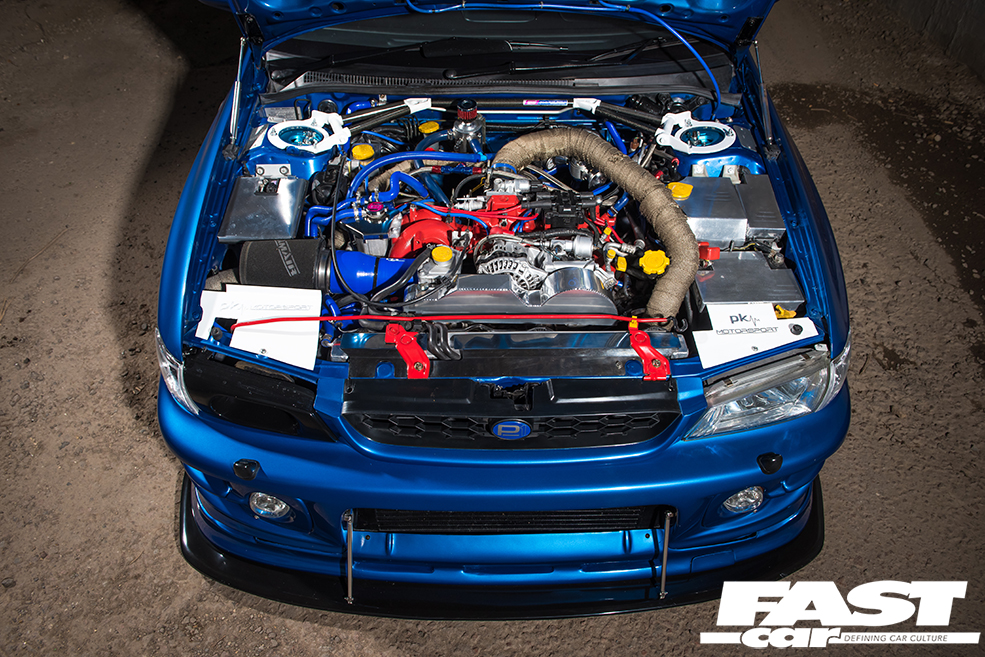 So that was that, then? A dream fulfilled, a box ticked, the end of the story? Er, no, not quite. You see, while Gary was enormously happy with his purchase, and thoroughly enjoying racing about in the limited-edition Subaru he'd always coveted, things came to a crashing halt in a very literal sense.
'Around five months ago, the car was very close to being a write-off,' he grimaces. 'Someone crashed into the rear quarter and the boot – I was devastated! It took quite a lot of searching to track down a genuine rear quarter panel to repair it, and I eventually located one in Hungary and had to have it shipped over… I couldn't miss out on it, it was one of only two left in existence!'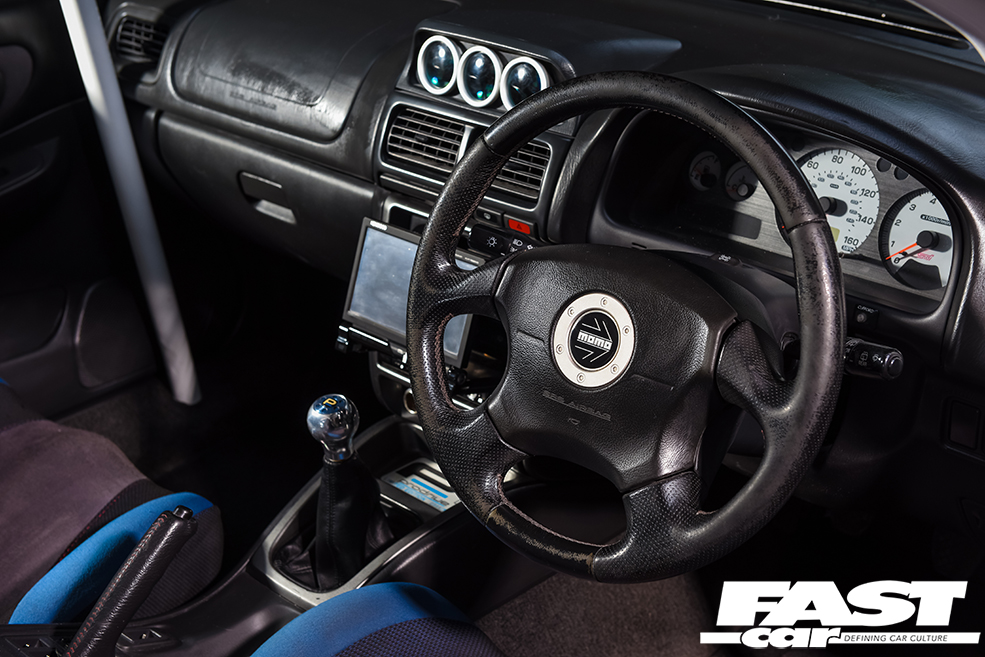 By this point, understandably, Gary had grown rather attached to his P1, and the shock of nearly losing it must have triggered something primal and radical deep down in his subconscious. He was all of a sudden gripped by a tenacious and irrepressible desire to turn the car into something different, something mould-breaking, a real middle-finger to the fickle whims of fate. The cosmos had tried to destroy his Impreza, and he certainly wasn't going to take any of that sort of nonsense; he intended to throw the very concept of fate right back in the face of the universe itself by building a P1 like no other. A P1 to turn heads. The first bagged Impreza P1 in Europe.
When you view the thought process from that angle, it does make rather more sense, does it not? Naturally the car had to be bent back into the correct shape first of course, and the quality of the curves and shutlines is a true testament to what a fabulous job has been done, with Jeff Dragon laying down that iconic blue paint – you'd never guess it had taken a sizeable clout in the rear, would you? And with everything straightened and realigned, it was time to tweak the nips of fate and get those bags down. Gary opted for a custom AirREX system with double bags and full camber adjustability, and while he had the thing apart he took the opportunity to renew all the bushes with sturdier polyurethane items. 'It took endless hours and money to get it to the picture I had in my mind,' he says, but it was worth all the heartache, right? Seeing the two-door aired out on the floor seems gloriously obscene – a look which is exponentially accentuated by those chunky 19in Bola B11 wheels, and the way they tuck into the arches is sublime. They also do a pretty stellar job of showing off those tasty brakes!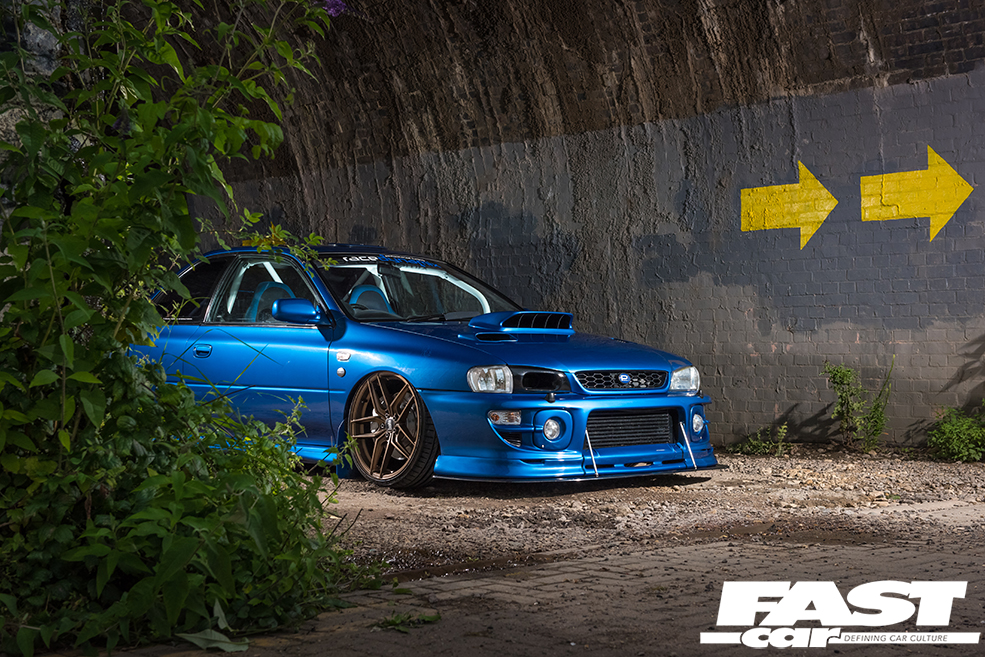 It would arguably be an exercise in crassness to throw rims and air-ride at a stock car (even one as racy as a P1) and just leave it at that. But fear not, as Gary's spent more than a little time tinkering under the bonnet too. 'I carried out all the mechanical work myself,' he explains. 'It was mapped by Graham Duncan, rolling-roaded at PK Motorsport.' And the spec is really quite impressive: the build centres around a 2.5-litre block, with myriad porting and polishing, fast road cams, CP pistons and Manley rods, a thoroughly reworked fuelling system, and a cunning ECU that runs various maps for any given driving scenario – track, street, strip, you name it. Just to add to the visual drama of it all, the exhaust rocks a mighty flamer kit, which is a handy bit of theatre when part of your mapping includes anti-lag and launch control. This, then, is a very serious build indeed. So when adenoidal geeks tap Gary on the shoulder and say 'Er, I don't believe you should have done that…' he's able to toast their polyester turn-ups with his mighty pipe. C'mon now, it's all a bit of fun. Serious fun, but fun nonetheless.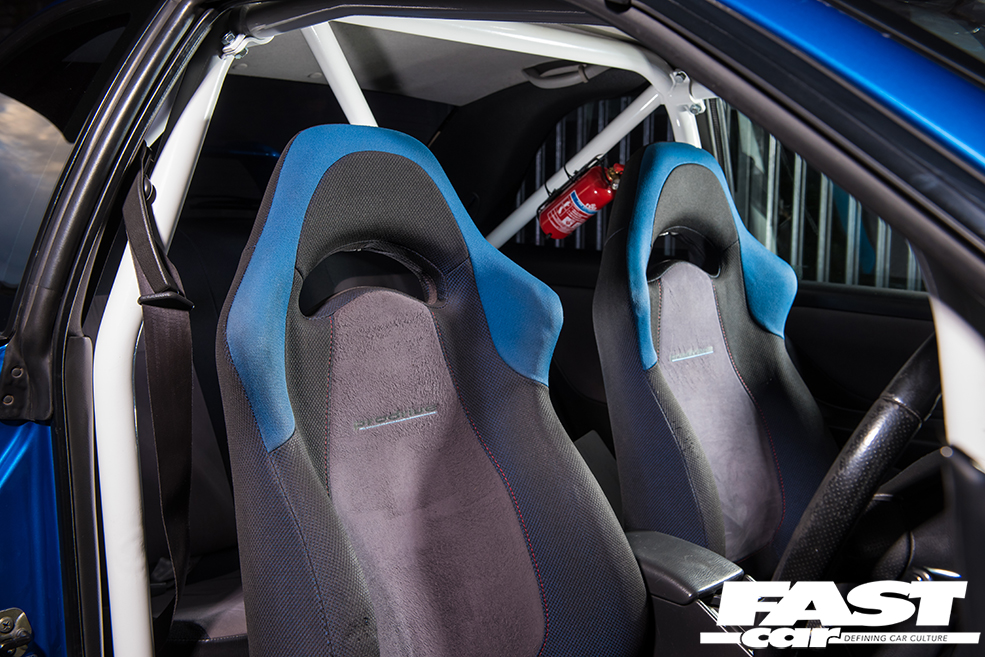 Gary's not done with the performance angle either. 'The future plan is to build it up with a real monster engine,' he grins, with a twinkle in his eye. And there's a very clear reason why he's so determined to persevere with this mighty build, no matter what nature may throw at it. No, it's not simply that it's the car he's always dreamed of, or that it's the car he rescued from near-oblivion – it's something even more personal. 'The reason this car means so much to me, and why I wanted to build it back up, was because my son, Taylor, was born in the car. I delivered him myself, right there in the bagged Impreza P1.'
Emotional ties don't come any beefier than that, do they? One day Gary intends to pass the car down to his son, to complete the ouroboros circle of life and let him drive around in the very venue that first brought him into this world. But before that, haters be damned, Gary's got a few years in which to enjoy his polarising creation. Sacrilege? Whatever. It's the car he wants it to be, and that's exactly what it needs to be.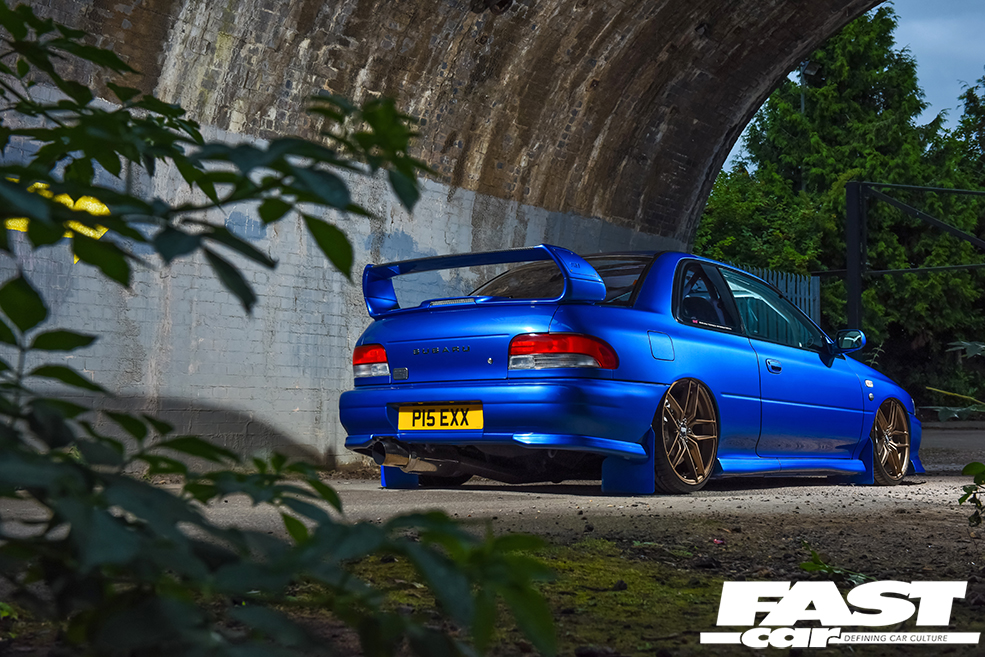 Tech Spec: Bagged Impreza P1
Engine:
2.5-litre, 4-cyl, 16v EJ25 boxer block, semi-closed, ported and polished heads, fast road cams, ported inlet manifold, CP pistons, Manley rods, APR bolts, 1.6mm Cosworth head gaskets, Equal fuel rails, Fuelab pressure regulator, Roger Clark fuel pump, GT-spec headers, Blitz full decat stainless steel exhaust system, flamer kit, Alcatek ECU with 6-switch running 450.2 PK dyno-able maps, launch control, anti-lag, SC46 turbo with bigger inlet housing, Turbosmart Megasonic dump valve, large Nismo radiator and fans, Mocal 19-row oil cooler, sandwich plate, 3-port boost solenoid, JSP silicone hoses, 850cc lateral injectors, chrome engine bay trims, front-mount intercooler
Transmission:
5-speed manual with R180 driveshafts and rear diff, 5-paddle fast road clutch and lightened flywheel, stronger pressure plate
Suspension:
AirREX air-ride system with double-custom bags and camber-adjust, Powerflex bushes, STI Prodrive strut brace
Brakes:
Prodrive Alcon 4-pot front calipers with 330mm discs, 2-pot rear calipers with 330mm discs
Wheels:
8.5x19in ET40 Bola B11 wheels with 225/30/19 tyres
Interior:
Prodrive P1 seats, Safety Devices 6-point rollcage, Kenwood DVD head unit, auxiliary gauge pod
Exterior:
Air intake headlight, larger bonnet vent, Prodrive intake, STI clear light lenses, 1000K HID bulbs, front splitter lip