Before building this genre-busting bagged Fiesta ST Mk7, Shaun Johnson didn't know a whole lot about cars in general or modifying in particular. Suffice it to say, he's a quick learner…
From Fast Car. Words: Dan Bevis. Photos: Dan Sherwood
Hot hatches are a drug. They've characterised a particular kind of driving thrill since their inception in the mid-1970s, and for generations of tuners who've seen these cars pass through a golden age of modifying, there really is no substitute. Sure, a rear-wheel-drive coupé with a bruising straight-six would offer transitory mirth, and a low-slung roadster would entertainingly rework your carefully arranged hair, but it's hot hatches that provide the everyday mischief.
Now, for a lot of people it's Peugeot or Volkswagen who built the truly iconic hot hatches, but don't let a Ford fan hear you saying that. From the XR3i to the RS Turbo, the Sierra RS Cosworth to the RS1800 and beyond, it's a pretty stellar back catalogue. Oh, and what a great little car the Mk7 Fiesta ST is! Hugely enjoyable even in stock form, this is a car that Ford just got right; while the history of hot Fiestas may be rather more consistent over the long-spanning generations than, say, the Golf GTI lineage, it's the Mk7 ST that really rolled the genre up into a tight little ball and knocked it right out of the park with an effortless swing. As any of you who've driven one will surely agree, it's a splendid thing to hustle: as soon as you pull open the luxuriously lengthy door, you know you're entering a special place. The illuminated sill-plate guides you into a generously bolstered Recaro recliner, and you find yourself presented with a pleasingly chunky steering wheel. There's no pretence to the functionality of the thing, it's old-school Ford hot-hatchery in its essence: slick gearshift, bold dials, widescreen view of the horizon… it's like the racy Fiestas of old, but modernised. The power's available from very low down in the rev range, there's only the merest smidge of turbo lag, you just plant your foot and watch the scenery blur. But the surreal thing is that it just keeps pulling and pulling around the rev dial like a naturally-aspirated motor; indeed, it makes an otherworldly and entirely unseemly noise once you get past 5,000rpm that is wholly addictive. What we're saying, basically, is that the Fiesta ST Mk7 rocks!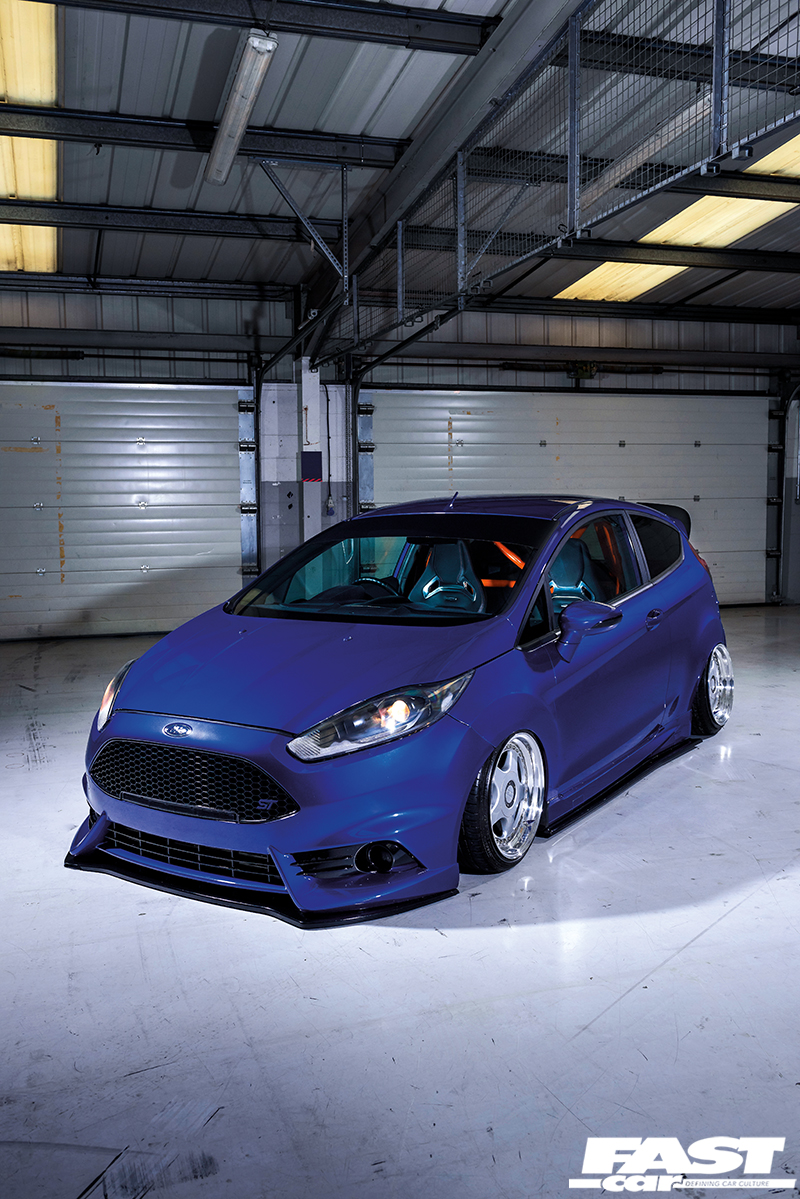 This bang-on platform has, perhaps unsurprisingly, proved to be a supremely popular choice among the modding community in recent years, so much so that it takes a true innovator to apply sufficient offbeat thinking to the principle to create something unique. In this instance, Shaun Johnson is the man getting it done, and from the surprising Mercedes AMG seats to the purist-baiting air-ride setup it's a rare groove indeed. And the most intriguing part is that, prior to putting this stellar Fiesta together, he'd never really had that much interest in cars.
"I didn't know much about them, I'd never really given cars or modifying a lot of thought," he ponders. "I'm still learning new things about the scene and the history all the time. And aside from a few of the more major jobs, I've done everything myself on this car, learning as I go."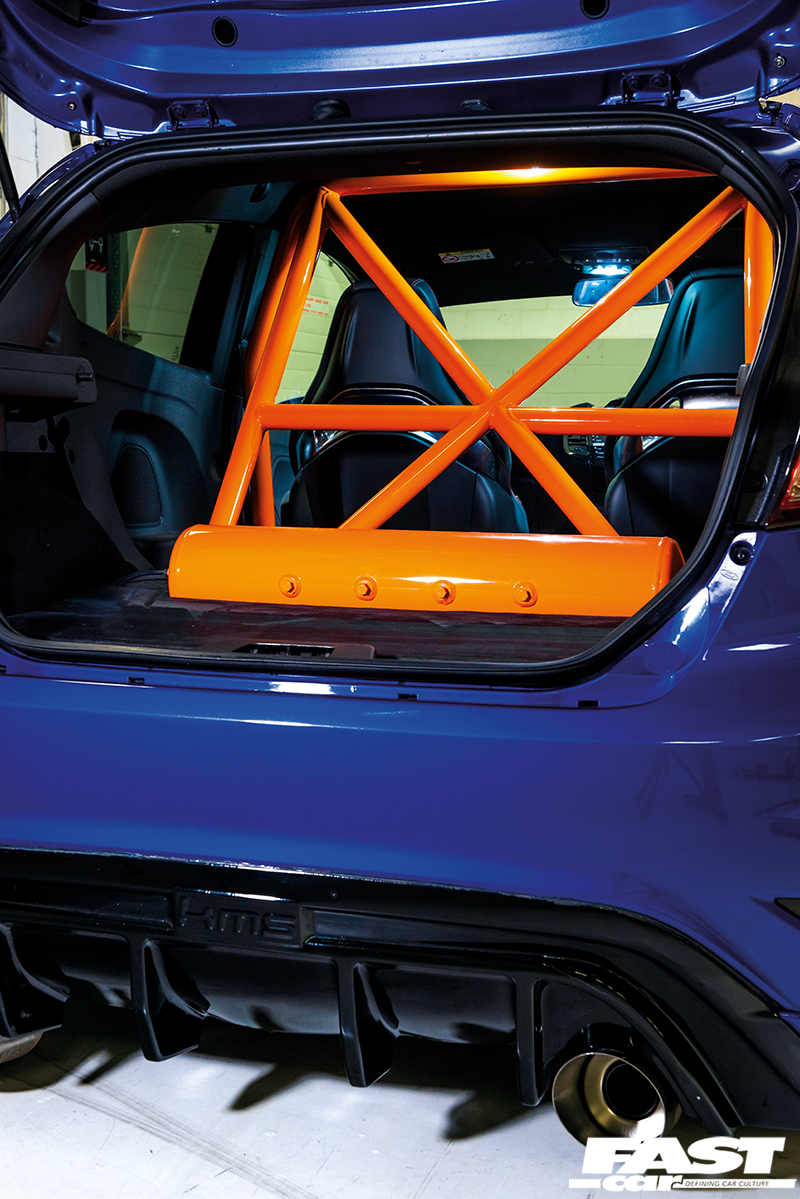 Now 23-years old, and having owned the Fiesta for a couple of years, Shaun's methodical approach to research and execution has brought to life one of the UK's most intriguing and unusual STs – and there's no doubt that his fresh-faced approach and lack of broad historical precedent has allowed him to truly carve a niche all of his own. "These cars seem to be quite a common choice, so I was keen to do that little bit extra to mine to really make it stand out," he says, and it's fair to say he's achieved that with alacrity.
Having previously owned a Vauxhall Corsa and a Volkswagen Caddy, it was the exterior styling and quality interior that first drew Shaun to the Mk7 Fiesta, and when he picked up this 2015 example it was completely bone-stock with low mileage and excellent bodywork. Now, the experts always say that starting your project with the best possible base is the way to go, but it's particularly noteworthy here that, although the Fiesta wasn't bought specifically as a project, it was only three years old when Shaun got it. And having never modified cars before, it's arguably quite a bold move to start tearing apart a nearly-new car in such decent condition. But life's too short not to roll the dice, and he had the vision to see it through as well as the skills to make it happen to a very high standard.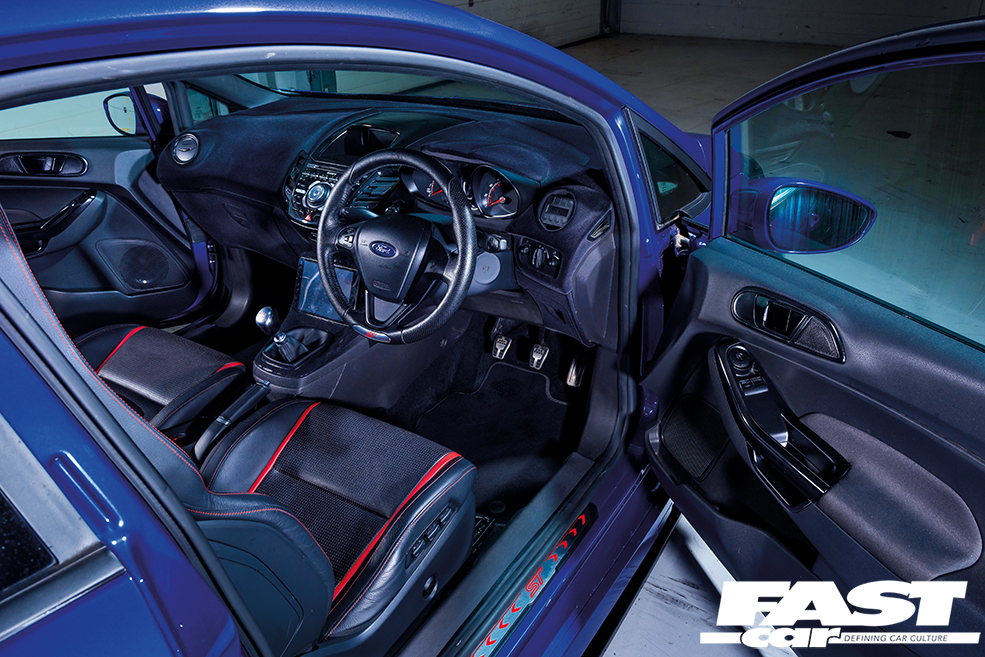 "At first, I was only planning on doing a couple of minor modifications – but that didn't last long!" Shaun laughs. "I quickly got bitten by the car bug and I just couldn't stop doing more and more mods. I suppose it's all about the fact that I also enjoy what I do and am very passionate about getting things right; I'm always trying to do something that's outside the box."
It's telling, then, that the first mod he made was to fit air-ride. This is something that doesn't happen much in the Ford scene; it's not unheard of, but nowhere near as prevalent as it is with, say, VAG cars. So a little lateral thinking was required, the Fiesta ending up on Slam front airbags and rear sleeve bags with Air Lift Performance V2 management. This was installed by a specialist, Shaun taking careful note of the process so he'd be clued-up for next time (because of course there will be a next time), and the newly tarmac-adjacent arches were stuffed with some on-trend and thoroughly scene-friendly staggered OZ Futuras – evidently this is a man who does his research properly.
A KMS exhaust was the next logical step, because quite frankly they're the absolute business when it comes to new-era Fords; not only have they brought the nineties enthusiasm for massive pipes tastefully into the modern age, but they sound bloody mental too. And following the addition of a VUDU show cage, some custom headlights and a smattering of exterior smoothing, it was time for Shaun to upset the applecart once again.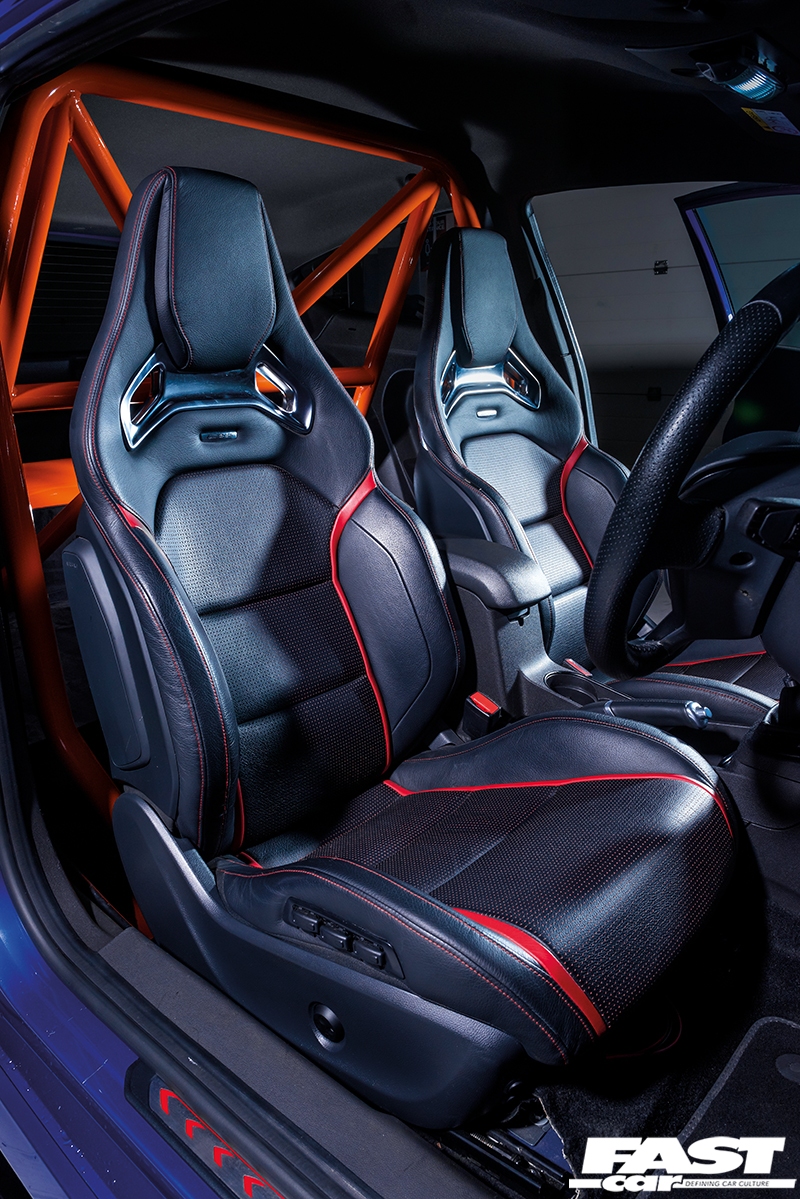 As his enthusiasm for and knowledge of performance cars has grown, Shaun's clearly identified a favourite for his wishlist: the Mercedes A45 AMG. And this yearning has had a very clear influence on the Fiesta's interior, as he has done a world-first here and fitted a set of AMG seats. These have been expertly wired in to ensure all of the OEM functionality, and they make for quite a surprising sight inside the bagged Fiesta ST Mk7. Lateral thinking, see – without the weight of precedent, Shaun's able to try out unheard-of ideas with a true 'Why not?' approach.
The interior also features a custom iPad install, something we've not seen before in a Mk7, and a flocking expert was commissioned to extract the dash, give it more of a rally finish and then refit. The over-arching principle throughout the build has been to avoid the trodden path, and it's evident in every unusual detail. "The seats are probably my favourite part of the car, because they really stand out," says Shaun. "And the wheels too – I believe there are only a couple of sets of these in a Ford fitment."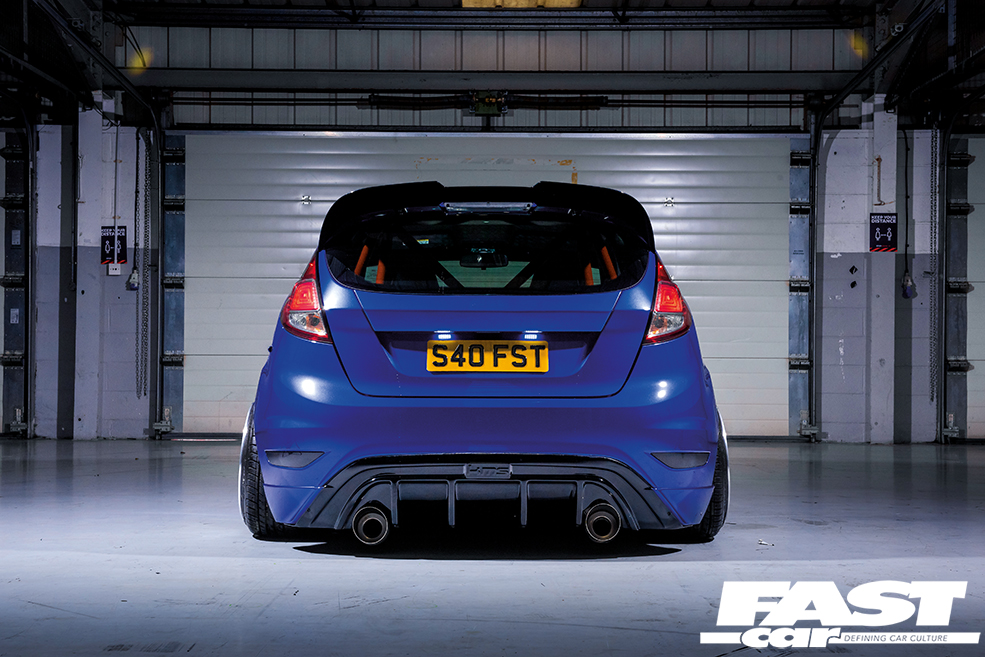 "My tip for anyone wishing to start a hobby in modifying cars is that I just learned by watching YouTube videos and taught myself," he continues. "You need to be a patient person, just enjoy the hobby. Unfortunately, Covid got in the way of my last season showing this car off, but hopefully 2021 will be a better year." Well yes, we've all got our fingers crossed for that. Although perhaps we shouldn't expect to see Shaun out and about in his unique ST: having taught himself so much about modifying cars in recent years, his next move will be to return the Fiesta to standard, sell it along with all the parts, and move on to the next project. Will it be an A45 AMG, or something else? We'll just have to wait and see. But now that Shaun's fully intoxicated by the hot hatch wonder-drug, we'll definitely be seeing more of his fresh thinking in the near future.
Tech Spec: Bagged Fiesta ST Mk7
Styling:
Smoothed front bumper, smoothed boot panel, custom headlights, colour-coded mirrors, washer jets and stubby aerial, sequential indicators, gloss foglight surrounds, gloss lower grille, gloss scuttle panel, matte black 12in sunstrip, Maxton Design front splitter, Maxton Design sideskirt extensions, TRC aero spoiler lip, tinted indicators and taillights, KMS diffuser, tinted Autobeam foglights, Autobeam number plate lights, clear brake light
Tuning:
1.6-litre EcoBoost, turbo-back KMS exhaust system, ITG induction kit and primary induction hose, Pumaspeed symposer delete, 6-speed manual, short-shift
Chassis:
8.5x16in (front) and 9x16in (rear) OZ Futura wheels with 195/40/16 Falken tyres, Slam front airbags and rear sleeve bags, Air Lift Performance V2 management, brake calipers painted black
Interior:
Mercedes AMG seats, custom iPad install, VUDU show cage, flocked dash, boot build wrapped in suede with half-sunk air tank, Autobeam LED glovebox strip, Autobeam interior kit, gloss black door handles and centre console