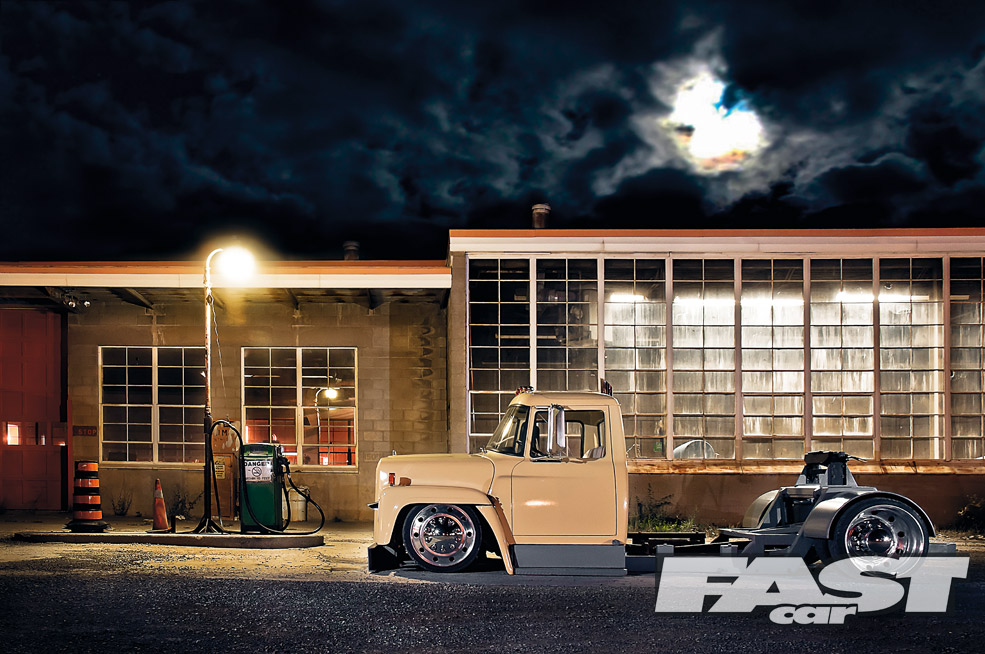 I have to admit my jaw, along anything but subtle. But with everyone else's at FC Towers absolutely hit the floor when I first clapped eyes on this Canadian International Loadstar. It's the perfect Wild Card, something you just don't expect to see, and it has a road presence quite unlike any other. Take a much closer look though and you'll see it's also so much more than just an awesome slammed truck. In all likelihood this is the coolest load-lugger on the planet.
Due to its sheer size, you may think this leviathan is when it comes to the mods, that's where you'd be wrong. Take a look at that huge spec. Would you spot everything there without some serious concentration? I certainly wouldn't and that's my point. At first glance, it's hard to understand just how much work has gone into transforming this seventies workhorse into the piece of art you see before you.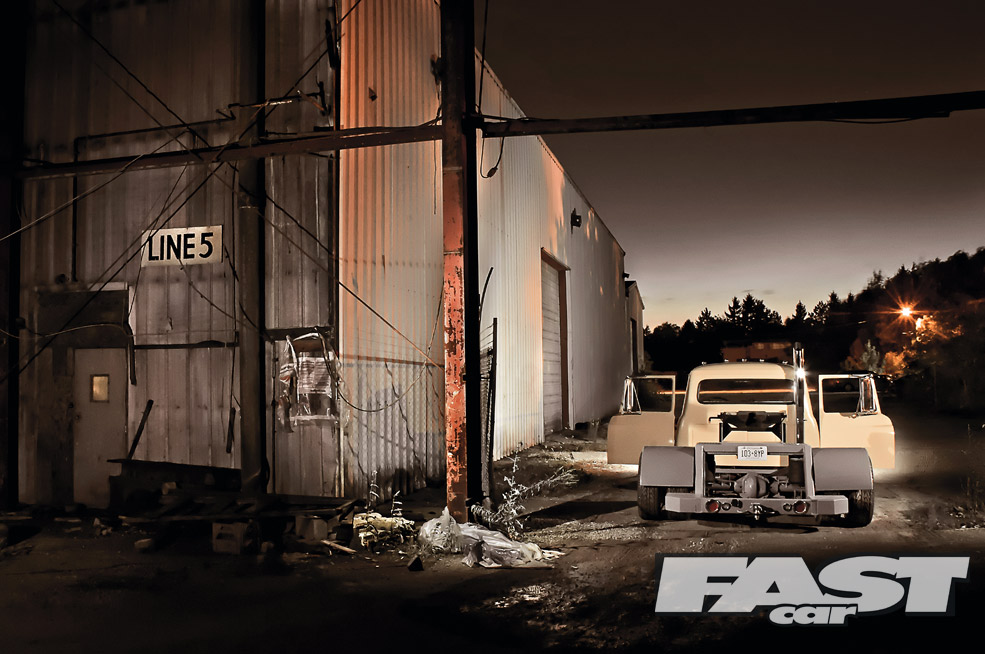 There's more here than meets the eye and it's a project that owes more to the world of custom car an hot-rod building than to any sort of bolt-on modding. The approach is what some across the pond might call traditional. There are a few modern additions, like the latest LED lighting and audio gear, but most of this crazy machine was put together by raiding the all-American parts bins. It's a testament to old skool engineering and super-skilled fabrication.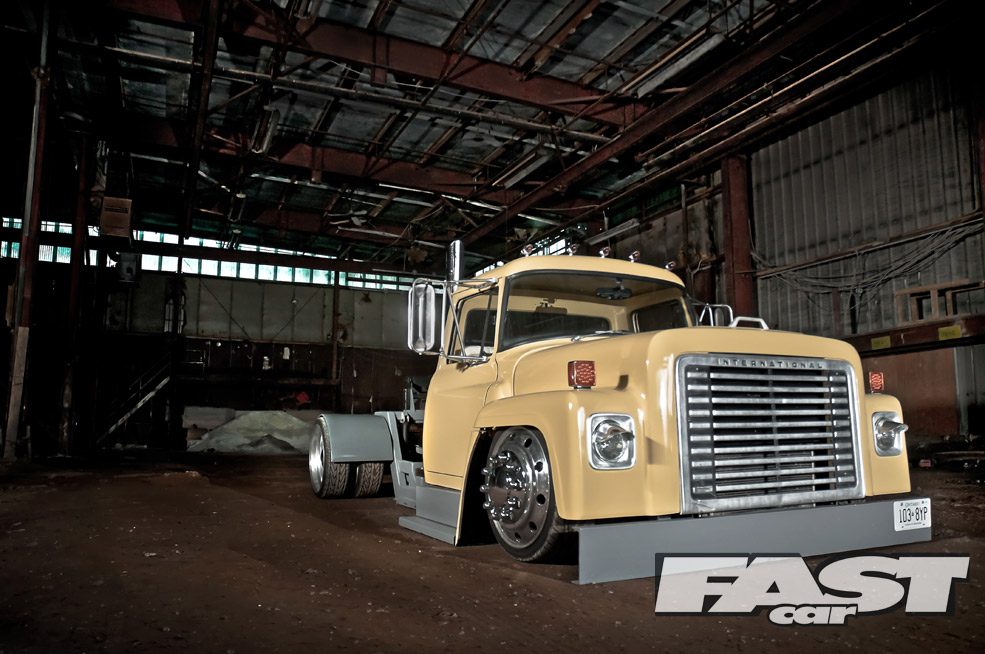 Luckily its owner, Rob Vanluik, is something of a master in that department. He's the kinda guy who, in true A-Team style, can enter a shed with nothing but three lollypop sticks and a case of Red Salmon and come out with something that can take over the world. That's pretty much what happened with this monster.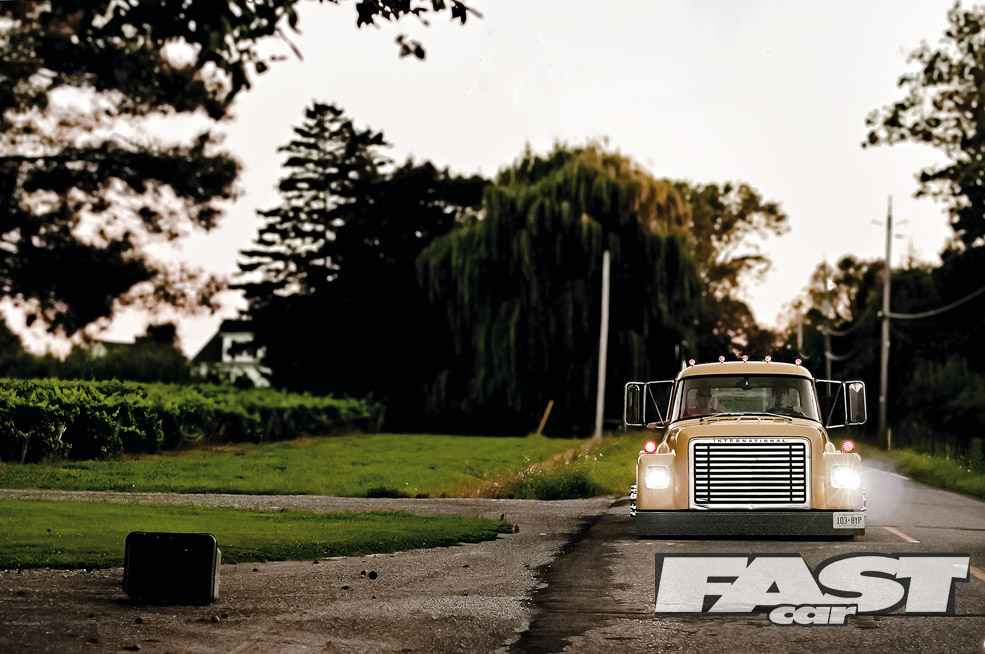 The vast majority of the body-dropped underpinnings have been fabricated from scratch. The one-off chassis frame even includes a custom air tank for the industrial transport truck bags on each corner. Then there's the restored salvage parts, like the cab-body; this one's hardly how it left the factory. A familiar face, that has adorned many a medium-duty wagon and school bus over the years, this particular example has been seam-welded and smoothed to perfection, fitted with custom suicide doors and covered in that lush Chrysler Classic Yellow paint. Even the wheels have been milled down half an inch to accept those monster Falken tyres. All things you wouldn't normally notice.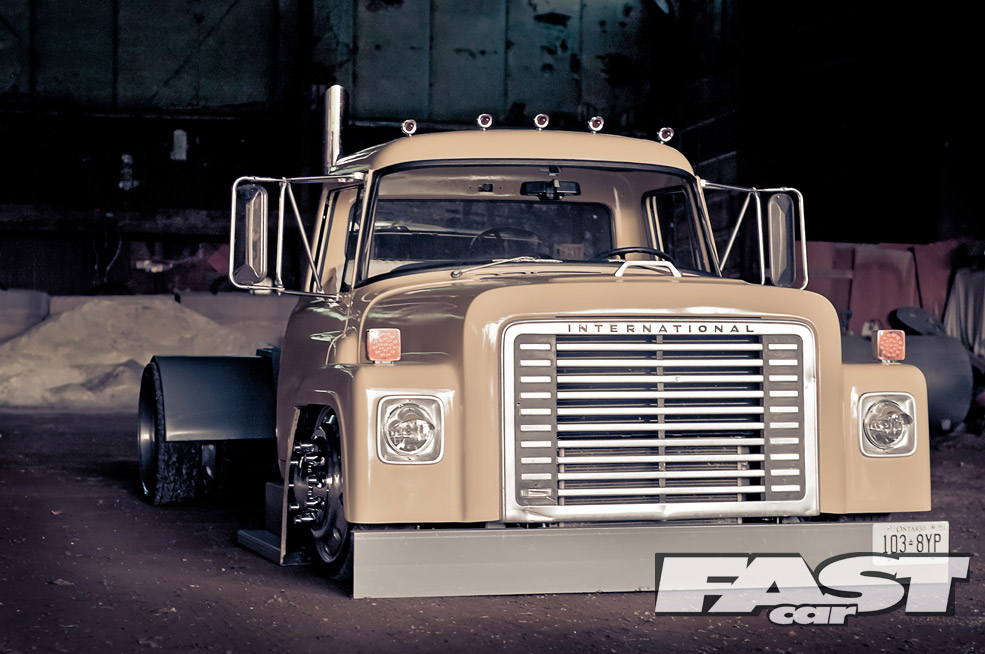 Obviously this is Canada and they don't do stock under the hood either. The standard engine has been binned for the 7.3-litre Diesel V8 from a 1990s Ford E-Series van and even that's been modified with an uprated turbo from a 2002 Ford Powerstroke engine and a huge intercooler from a 2001 Dodge. In fact there's practically nothing, from the hubs to the exhaust stack, that hasn't been thought about, put under the microscope and subtly fettled to complete the overall package.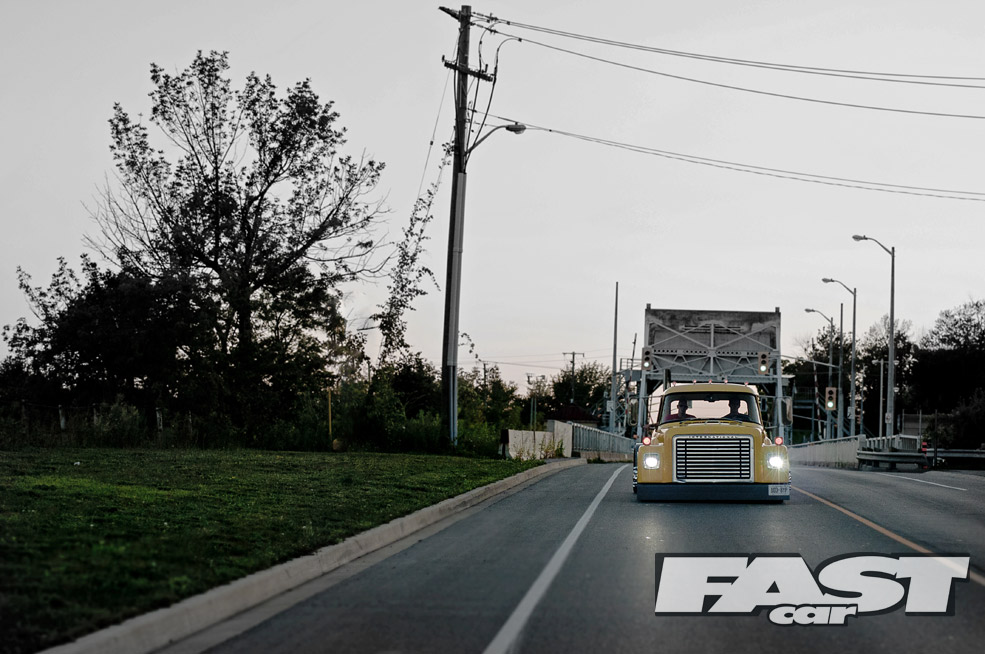 First impressions may be of a super-cool truck, and for some that's enough to snap necks rolling on the highway. But look closer, much closer, and it opens up a whole new world of modified goodness.
That, dear reader, is what turns a great ride into a truly awesome one!
TECH SPEC
1977 International loadstar 1600
STYLING
Custom-built floor and firewall; suicide doors with fabricated hinges; shaved door handles; welded and smoothed body seams; pedestal mount cab lights; LED front and rear lighting; HID headlights; chrome light visors; cargo basket; painted Chrysler Classic Yellow.
CHASSIS
22.5 and 24.5-inch semi wheels milled to 22 and 24 inches. 255/35×22 and 255/30×24 Falken FK452 tyres; custom hub adapters; custom built full frame; fully sealed wall used as 25-gallon air tank; three-link front with custom solid beam suspension; front hubs and brakes from 1991 Ford E350; three-link rear with Sterling 10.25 differential; 10,000 lb transport truck bags; half-inch hard line digital air gauge; York engine-driven compressor; fifth wheel hitch; custom-built dual fuel tanks.
TUNING
1991 E350 7.3L Ford IDI diesel engine; Ford E4OD gearbox; 2001 Dodge intercooler; 2002 Ford Powerstroke turbo on custom manifolds; massive transmission cooler; turbo code injectors; 5-inch exhaust to 5–inch slant cut stack; 3-inch intercooler piping, powder coated cream; Holley electric fuel pump.
INTERIOR
Smoothed and painted dash; seat from 1993 Chevy truck; Auto Meter gauges for speedometer, tachometer, boost, EGT, transmission temp, oil pressure, coolant temp, volts, fuel level; Alpine stereo in glovebox; Soundstream 5-channel amp; RE Audio 6.5-inch speakers; 2×12-inch RE Audio subs; triple trumpet air horns.