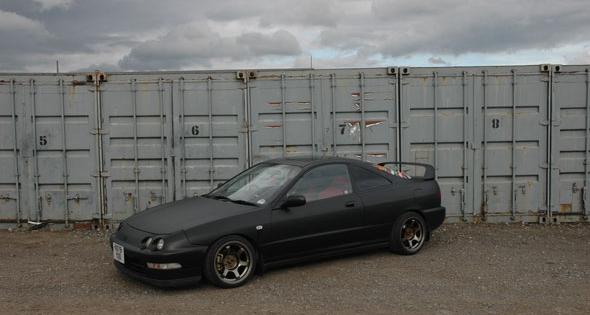 Remember my nice new Rota Grid Drift wheels? Well some tea leafing bastid has already nicked the centre caps. Yep, I arrive at the lock up one day to find three of them missing. The only one remaining was too tight for them to nick. However, they decided to return a week later with some pliers, take the other one and leave me with some nice scratches on my wheel. Awesome eh?
Anyway, this got me thinking it was time to invest in some locking wheel nuts as I'm currently running extended lug nuts. To be fair they do look cool, unfortunately they undo very easily, so I've replaced them with some nuts and lockers from TPI. Not only do they look badass and keep my wheels safe, but they all match too – meaning my wheel nuts don't have that odd one out look that a lot of locking wheels nuts give you.
My other mod this month is not a big one, but it's something I've wanted for ages: Benen tow hooks. Yes, I know Hondas never break and don't need towing, but they look cool as feck and that's good enough for me.
I've fitted the rear tow hook. But the front one needs an extension bracket as there isn't a suitable mounting point. So until next month…
SPENT
Benen tow hooks $120 (plus shipping)
TPI steel XR Nutz £34.95
Total £115
CONTACTS
Benen Industries
TPI
See more of Glenda's Honda Integra DC2 Project