A project designed by Kyza and realised by JP Performance – we knew there'd be a buzz. Throw in some custom Rotiform rolling stock and an unveiling at Players Classic and the hype was off the scale. This radical, wide-body Mk2 Golf is surely the collab drop of 2021!
Feature from Fast Car. Words: Graham Leigh. Photos: Dan Sherwood.
In this 'gram-ready world we live in it's possible to get a little blasé about killer projects and awesome cars. Everything looks good, everyone's living their best life and doing their utmost to sell you their respective wares. To be truly shocked by an internet post is, thus, a bit of a rarity. However, seeing Jay McToldridge (AKA Jay Mac) unload this wide-body Mk2 Golf off the trailer onto the hallowed ground of the Goodwood site the day before the Players Classic show was a shock. Not that we hadn't seen the car, but that it was here in the UK! Jay had worked tirelessly with 40-year-old Jean-Pierre Kraemer (JP) of JP Performance in Dortmund, Germany to get the car imported to the UK in time for the must-attend event. Having been trying to pin JP down to a shoot in the Fatherland, with this special edition looming, we decided to tap up Jay and sweet talked him in to letting us shoot the car while it was here in the UK. Sorted! The necessary careful manoeuvring of the Golf off the box trailer gave an indication of just how wide it had grown whilst under the knife. The nervous edging off the ramps was a sight to behold, being forced to take it all in slowly like some kind of automotive striptease… without the overpriced champagne. Seeing the car again in the metal at the show was a further assault on the senses where you realise just how different to a standard car this creation is.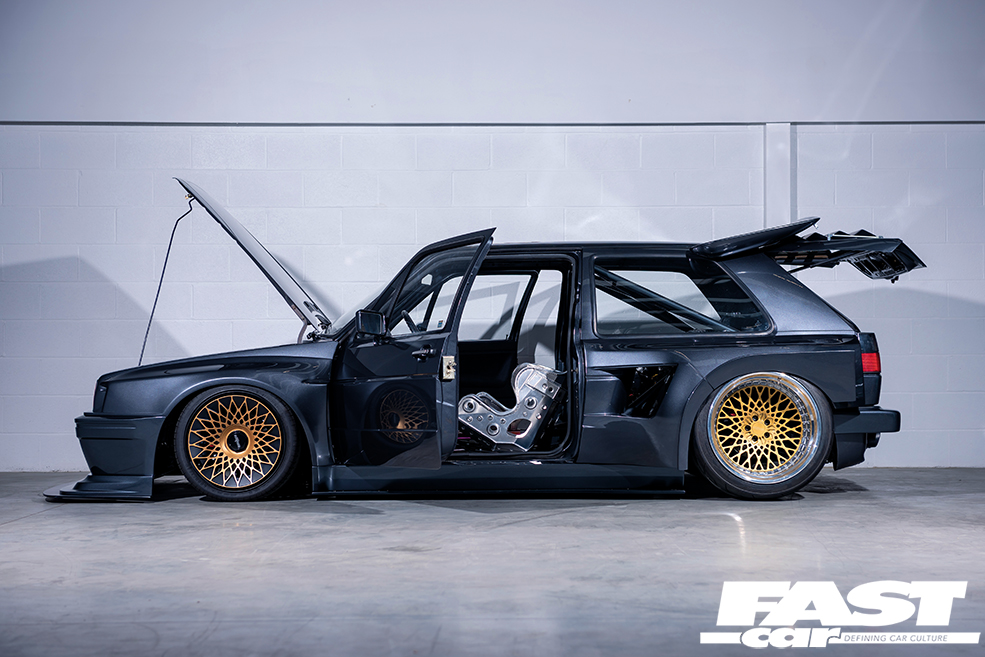 The unbashful beast was positioned in pride of place outside the famous Jackie Stewart Pavilion building (or JSP as it is affectionately referred to). Here we witnessed show-goers stop and stare and then walk around it two or three times just slowly drinking in the details and trying to compute it all. Thankfully for us, the 28-year-old UK designer and concept artist extraordinaire, Kyzyl Saleem (known as 'the_kyza' to his hoards of Instagram followers) was in attendance and was kind enough to talk us through his brainchild: "I just wanted to make something absolutely bonkers using a Mk2 Golf as a base. I've always been super inspired by the Dimma era wide bodykits and also the Group B rally aero side of things. The Peugeot 205 T16 EVO and Renault 5 Maxi Turbo were my main inspirations for this concept. It just worked so well, I tried to add my own flare to it. It was initially designed without reality in mind." Kyza is a long-term VW fan and has penned many on his virtual easel in the past including a Mk7 Golf in a similar style to the featured Mk2, a couple of Mk1 Golfs, vans, and a VW Beetle. He explained that he initially came up with his Mk2 Golf concept back in November 2018, but he issued a slightly amended version in 2020 on Instagram, which is when it first came to the attention of Jean-Pierre. JP duly emailed Kyza and asked for his blessing on bringing the project to life.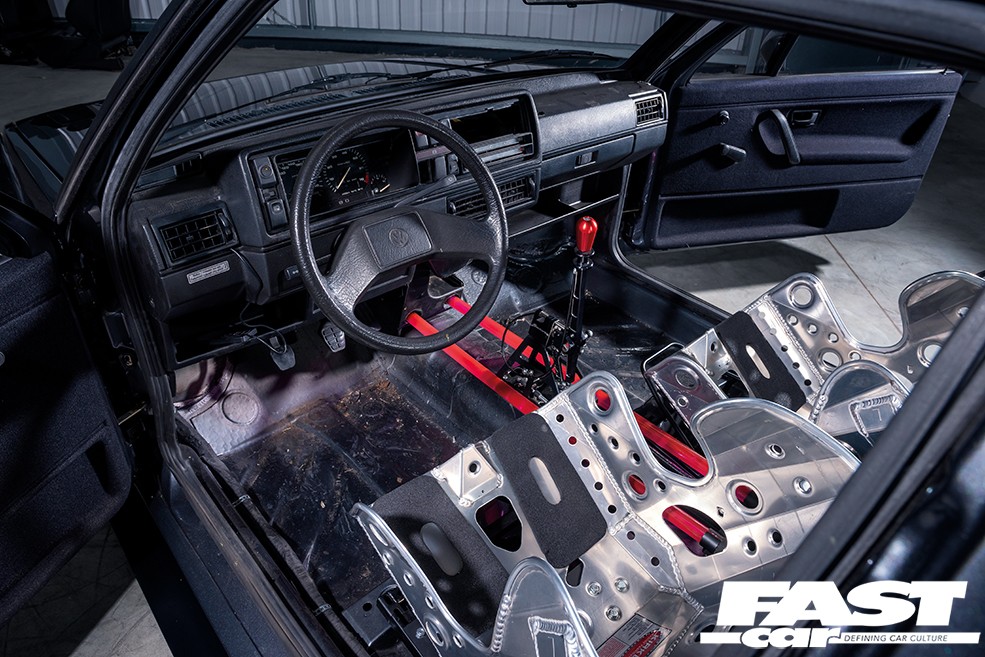 Kyza was well aware of JP's outstanding work and happily obliged: "I did try to mention that it wasn't ever designed to be built hence the ridiculous proportions in the render, but that didn't seem to deter him at all!" he laughs. JP has been in the automotive sector his entire working life; starting at Porsche, he then worked for 9ff for a period before starting a business with a partner. In 2012 he decided to go it alone and set up JP Performance. JP now owns no less than eight companies that all specialise in a particular niche of motoring. JP is a household name in Germany owing to his work as a TV presenter, race driver and YouTuber, but he is very much 'one of us' with regards to his long love affair with VWs. His first car was an 86c Polo: "At the time there wasn't a choice, I was just happy to have a car. My colleagues presented me with that very same car for my 40th birthday present. I was delighted to be reunited with the car where it all started. It's a lovely little thing and I get a lot of joy driving it. I've been into VWs all my life. I live for it. The brand for me says quality, image, and enjoyment. I feel you can never be 'in the wrong suit' in a VW. For example, you can turn up anywhere in a Golf GTI and feel proud." At this time JP's extensive car collection includes the aforementioned Polo, a further Mk2 Golf (GTI), an Up! with a 450bhp 1.8T motor and 4WD, plus numerous others including a Phaeton and, of course, the infamous 'Super Golf' as featured in our sister mag PVW's May 2020 issue.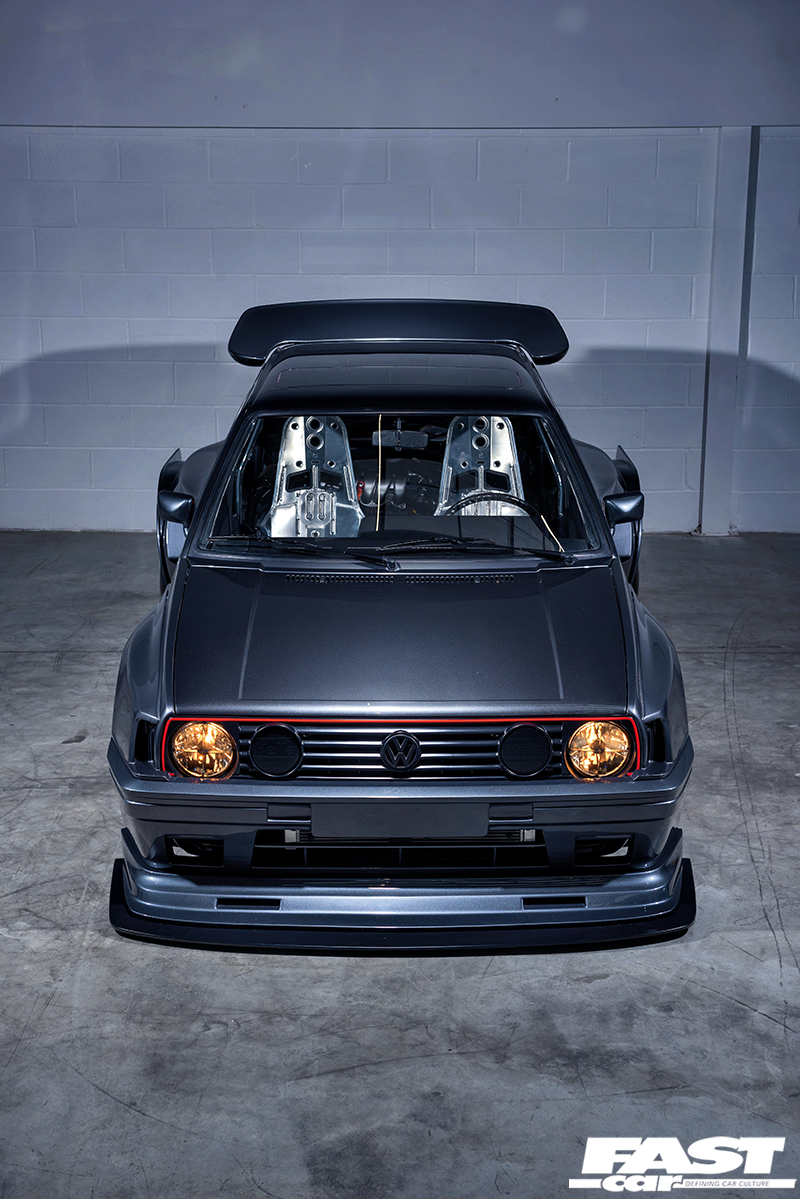 Since that feature, the car has grown by 200bhp and now boasts a spine-tingling 1200bhp. And if that's not enough, JP Performance is also currently building another VW realisation from the Gran Turismo gaming series. Despite being a non-stop kind of guy, JP was good enough to give us the lowdown on this epic collaboration you see before you: "After I had spoken with Khyzl the first job was to source a Mk2 base car." Because of the extensive surgery that lay ahead, a mint example wasn't necessary and a 300 Euro Golf C was snapped up online. "You'll note that I've kept the original steering wheel. This is a deliberate choice as it's a reminder of how far the car has come. With love and passion, you can achieve anything with a car and, to me, this is the beauty of the hobby." A Mk3 Golf VR6 was also purchased and was heavily utilised for the build: "We bought a Mk3 Golf VR6 and put the front axle in the rear of the Mk2 and turned it around. I got this idea from the Audi S1 where they use a front axle as a rear and we did it in the same way. The most challenging thing about this build was the positioning of the rear wheels. Because you're entering what is normally interior space as opposed to a proper fender well, the whole thing needed re-engineering. Re-purposing the Mk3's entire front subframe, axle and engine gave us a good starting point to allow for the height, suspension positioning, and axle location." JP makes this sound easy but the chassis is heavily re-worked and is testament to the talent and skill within his team. An Air Lift 3P system looks after the lows and handling and is the only brand of air ride that JP endorses or fits due to the quality and effectiveness.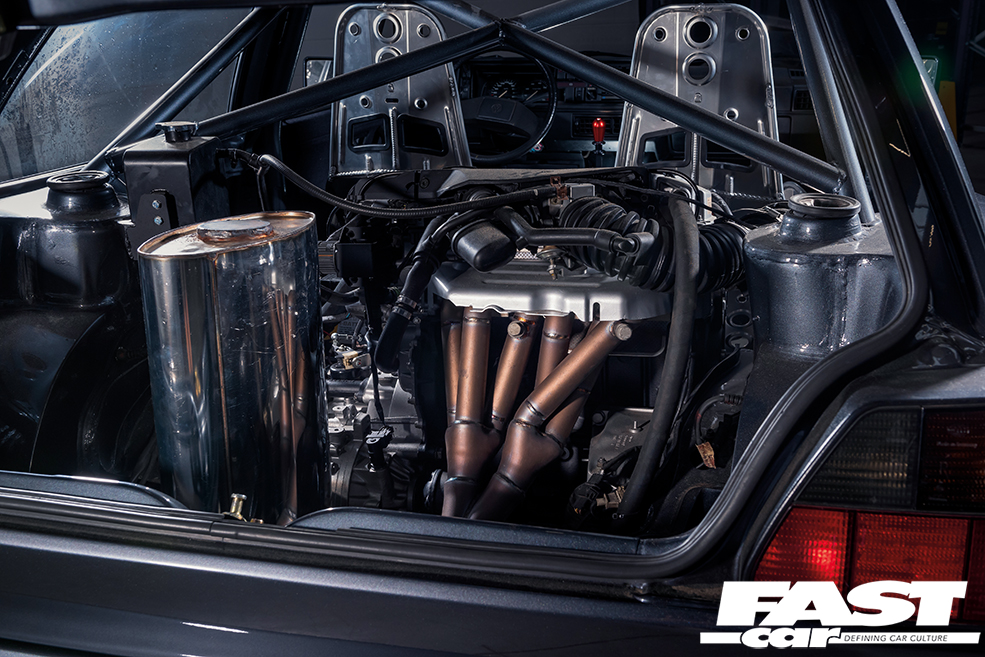 The longest part of the build was the development of the bespoke body panels and aero that Prior Design perfected. A lot of readers will be glad to hear that these will soon be available commercially. Kyza excitedly explained: "We plan to sell a very limited run of this kit, listed as an LTO X Prior Design Mk2 bodykit collaboration project. We're just working out the finer details." Once the amazing GRP panels were back at the workshop the project was completed within a super-efficient eight week period. JP wanted to be as true to the original render as possible, but as there was little interior detail displayed, this was one area where he could exercise his own creativity. Internal plumbing runs through the cockpit to a cooling system in the front of the car. A clinically clean VR6 engine dominates the rear with an induction kit and custom centre exit exhaust amplifying the six-cylinder symphony. A custom rear cage adds rigidity and safety to the reversed business end of the vehicle.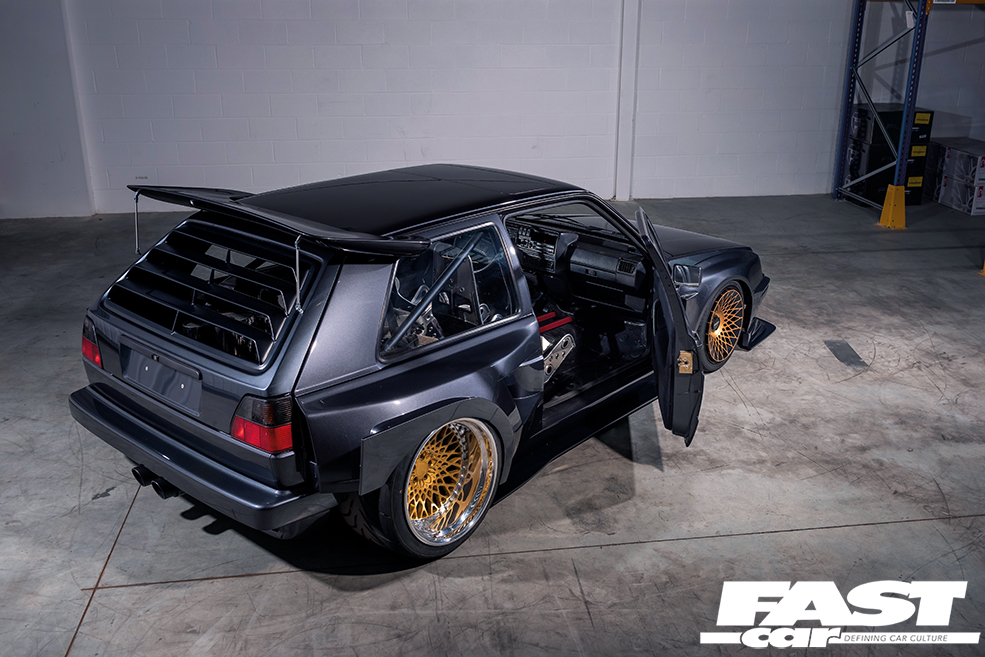 The Mk2 Golf dash and steering wheel provide a familiarity that is punctuated by the exposed CNC shifter with its extended stick and red anodised alloy gear knob. Polished Kirkey Racing seats are "in keeping with the Mad Max, crazy Blade Runner vibe." With a build so extreme, the wheels had to be up to muster. True to form, Rotiform did not disappoint with these 3-piece forged beauties. Up-front you'll find 7x17in LHR-Fs, whilst that rear end view is dominated by the gargantuan 14x19in LHRs. Pure fire. JP enthuses: "My favourite part of the build is the proportions on the rear. I come from an era where sticking 7.5x17in wheels on a Golf was considered extreme. It took a lot of hard work but the proportions when the car is aired out of wheel, tyre and body is just insane." Kyza was equally as stoked with the finished outcome and views the car as the ultimate compliment: "Once I'd given the project the green light, JP and his team worked their magic liaising closely with Prior Design for the GRP body panels and aero kit and got their teeth into the significant re-engineering work with minimal interaction from me. I think that made the end product so much more surprising/gratifying to see. The attention to detail and how close it really is to the initial concept…I was speechless. Watching it come off the trailer at Players Classic here in the UK was a really special moment. I've had other renders that have come to life before but this is next level. The wide-body Mk2 Golf captures the true essence of 'Live to Offend'. It's wacky and wild, just like the renders."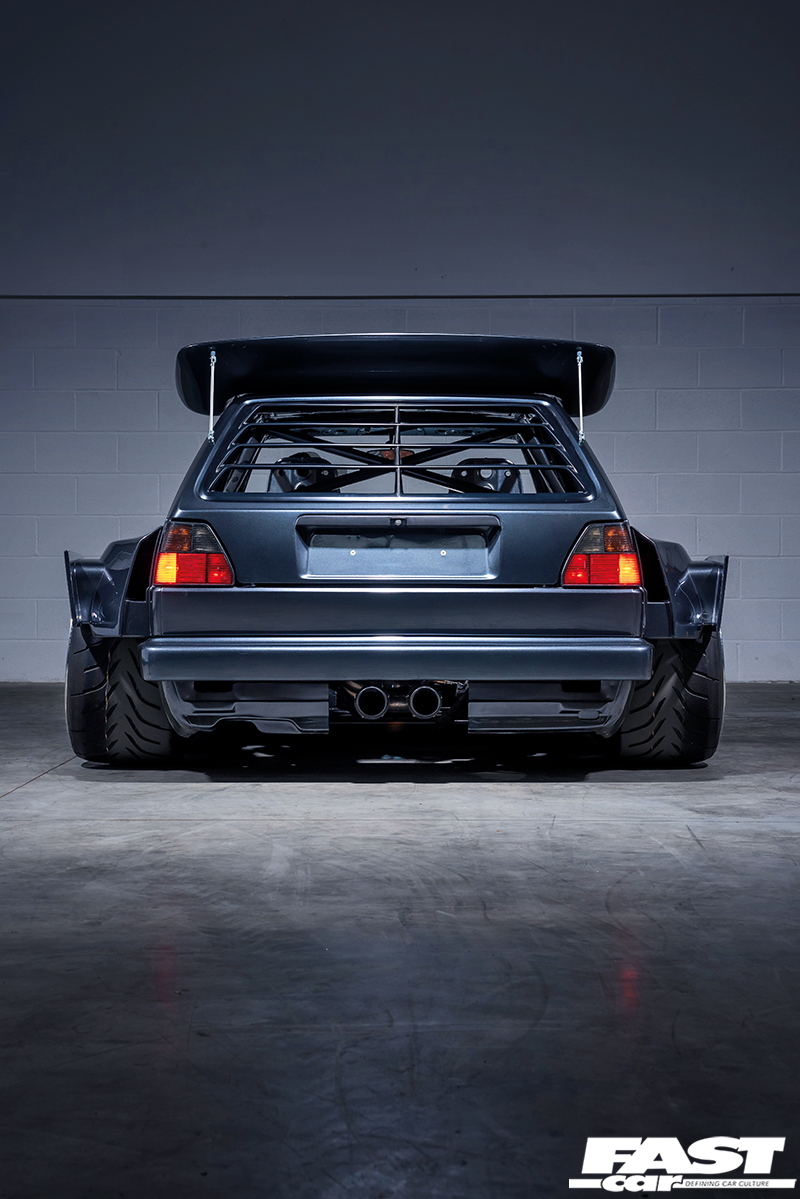 So what's next for these stars of the scene? JP Performance always runs a busy schedule with eight or nine projects being simultaneously worked to completion. Players Classic was huge for Kyza this year with this LTO x JP Performance Mk2, The LTO x The Tuning Store BMW E30 and his own gorgeous Mazda RX-7 all in the limelight. He savoured the moment but was quickly back to the grindstone with ongoing freelance endeavours and the imminent release of some new products. Namely BMW E36, Porsche 997, and Mazda RX-7 body kits and a one-off DeLorean! JP teased us with talk of a future collaboration with Kyza, informing that a further render has been produced that he is considering bringing it to life. It's said to be "even more extreme and out of this world!" We can't wait to see that. Believe the hype!
Tech Spec: Wide-body Mk2 Golf
Engine:
2.8-litre, 12v VR6 from Mk3 Golf with induction kit and custom centre exit exhaust
Transmission:
Five-speed Mk3 VR6 gearbox with JP-Performance CNC exposed shifter
Suspension:
Air Lift 3P system, bespoke chassis to accommodate rear-mounted engine and rear-wheel drive conversion, complete Mk3 Golf VR6 subframe, axle and engine re-purposed and positioned aft in Mk2 Golf platform
Brakes:
Front and rear Mk3 Golf VR6 disc brake conversion
Wheels & Tyres:
7x17in (ET-15) Rotiform 3-piece forged LHR-F wheels (front) with 195/40/17 Goodyear tyres, 14x19in (ET42) Rotiform 3-piece forged LHR wheels (rear) with 325/30/19 Toyo tyres
Exterior:
Full Kyza-designed bespoke bodykit and aero by Prior Design, rear screen delete and rear window louvre that acts as functional cooling for rear-mounted engine, red pinstriped GTI style front grille, crosshair headlights, black Hella foglight covers, smoked rear light clusters, respray in BMW M4 grey
Interior:
Custom rear roll cage, original Golf C steering wheel, Kirkey Racing seats