This Japanese-built, turbocharged E36 318iS track toy is the culmination of many years of work by one of Japan's foremost 318iS specialists, and it's only going to keep getting faster.
Feature from Performance BMW. Words and photos: Chris Nicholls.
Imagine if one car reshaped your entire business. That's what the E36 318iS did for Hideo Kazama, owner of Garage Kaze Craft. About 15 years ago, having spent his life tuning JDM machinery until that point, Kazama-san was after something new. The '90s JDM boom was over, and with the owners themselves now in their 30s and moving on to be more 'respectable' members of society (which in Japan includes not owning a highly-modified Japanese car), Kazama-san realised he needed to change tack.
"When I first started investigating BMWs, I did so because I thought the JDM tuning scene would eventually die out completely. Generationally, we'd reached a point where all those who bought and tuned JDM cars were entering their 30s, and here in Japan, those that modify Japanese cars into their 30s are seen as 'undesirables' or delinquents. After all, the general public's image here is that if you mess around with JDM stuff, you're probably a bosozoku.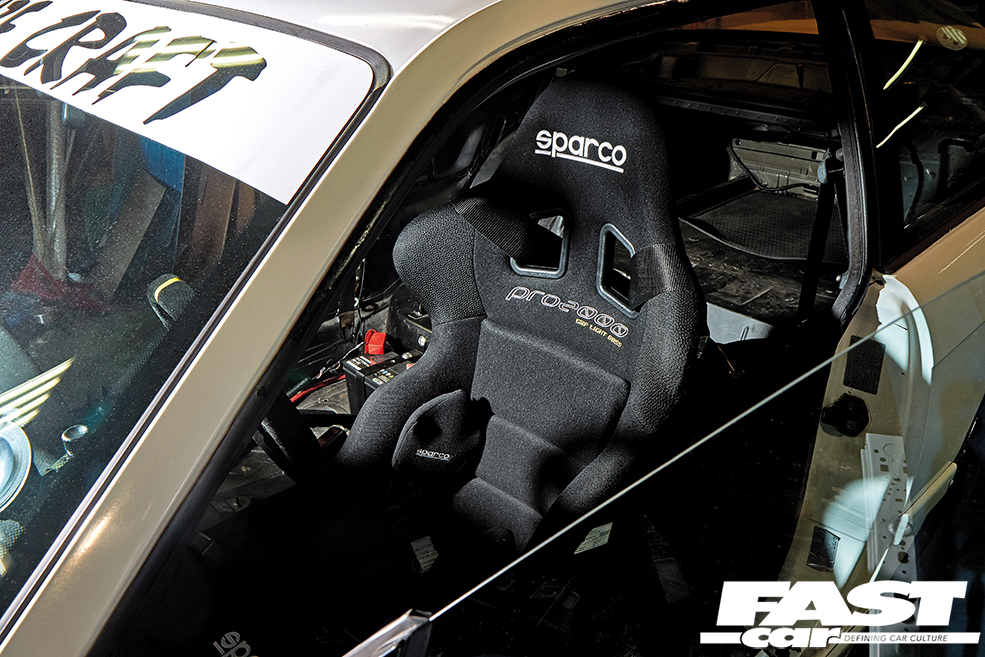 "However, for some unknown reason, no one bats an eyelid here if you drive a modified European car in your 30s and beyond. Joe Public will come up to you and say 'Aren't European cars great?' etc. Therefore, I felt it was best to get into Euro tuning. And of the Euro brands, I felt BMW was the easiest to get into. There are very few people here who modify their Audis or Mercs, and while people do modify their Porsches and Alfas [and VWs in Japan's south], I personally have always preferred FR cars, and of those, BMWs have always been among the most fun."
No argument from us. But why focus on the E36 318iS, of all things? Kazama-san puts it simply: "They were the cheapest BMW I could find at the time. When I first started getting into BMWs, about 12-13 years ago, you could get them for 100,000 or 150,000 Yen (between £700-1000), which was just unbelievable. They were so cheap it was sometimes cheaper to buy another one wholesale than fix one if you damaged it at the track.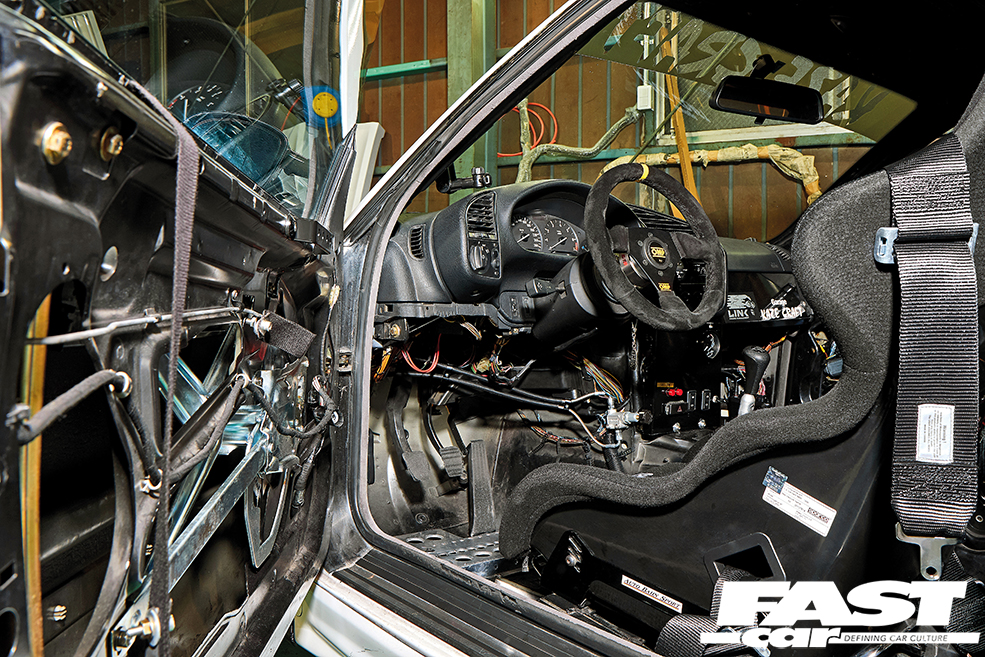 "This affordability is why they were often the 'gateway drug' for Japanese people wanting to get into European sports cars. Once people got used to driving LHD in a 318iS, they might move on to buying a Porsche or something else, for example. No one wants to crash an expensive car just because they weren't used to driving on the left-hand side, so they'd buy a 318iS and move on to more expensive stuff after they were confident with LHD," he explains.
Add in the fact the E36 318iS is seen in Japan as the 'German AE86', due to its relatively light weight, low power and great handling, and you can see why Kazama-san decided to focus his business on tuning that particular model. Now, thanks to years of working on them, he's seen as one of Japan's foremost experts on the 318iS.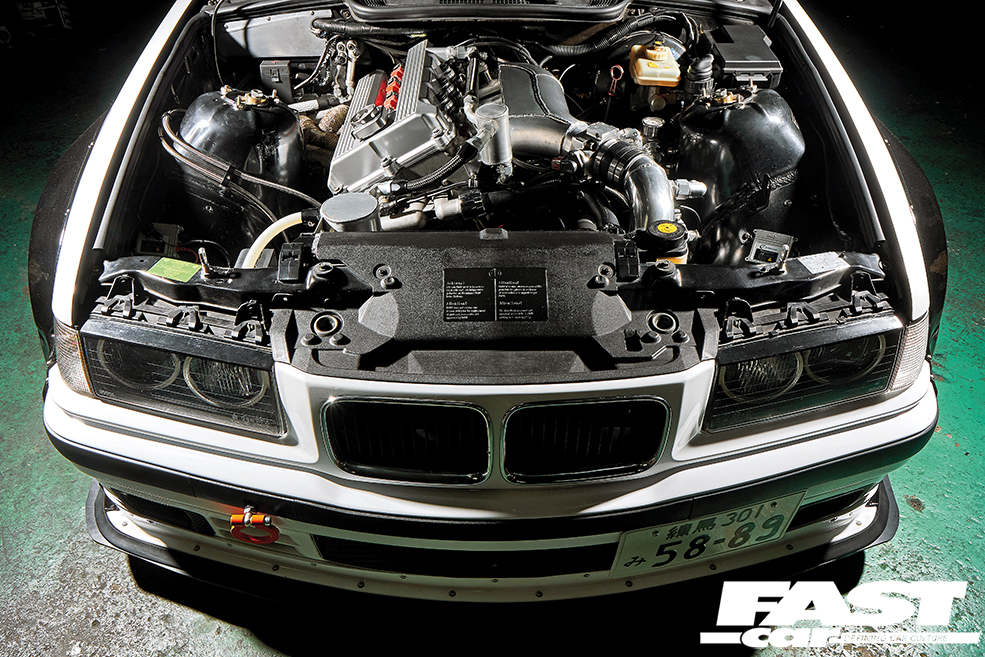 Of course, while he doesn't have much time to work on it as a result, Kazama-san does have his own 318iS, which he tinkers with on occasion, slowly upgrading it as he goes. And this is what you're looking at right now. The latest in a succession of 318iSs (and the second turbocharged version) he's owned, its current state is the result of around six years of on-and-off fettling, during which he's taken it from a mild, turbocharged track toy to something altogether wilder.
"It was a turbo car I'd already built for a customer, and I simply took it further," Kazama-san explains, matter-of-factly. "It was already turbocharged, so I just added stuff like the intake plenum, wide-body kit and so on." Now, this initial statement rather undersells the work he's done to the car, as we find out later on in the interview. The engine, for example, already quite heavily modified, had the entire turbo system redone, as he wanted to experiment with an equal-length exhaust manifold, and therefore needed to relocate the turbo under the car (also necessitating the lack of a filter, due to a lack of space), and adjust the rest of the support systems, like the intercooler and intake plenum, to suit. Likewise, the interior, while it was relatively stripped out to begin with, being a track day machine, was gutted more comprehensively, losing a lot of the dash, as well as most of the interior panels and so on, while Kazama-san also swapped out the seat, wheel and kick panel.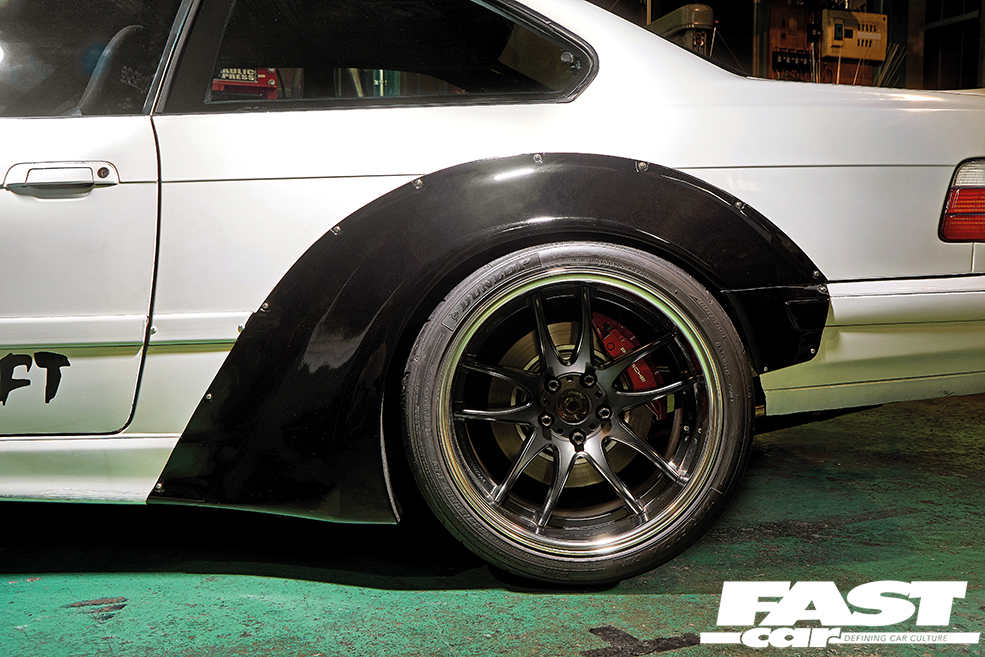 Outside, to match the new Sarto Racing overfenders, Kazama-san fitted some custom-made Work Emotion CR two-piece wheels, and behind those, bolted on a very eclectic mix of Brembo Ferrari 360 front calipers and Porsche rears, matched up to E46 M3 front discs and E46 330i rear items with Dixcel Z pads all-round. Apparently, this setup was the cheapest way he could get big brakes for the car. No doubt you'll have noticed the centre-exit exhaust by now, too, which really makes the back of this car stand out. That was only possible by cutting away the boot floor, so it's a fairly extreme mod for an exhaust system, despite not seeming so at first (the ducktail boot lid and other body panels, bar the Sarto Racing front lip, were already on the car when he purchased it from his customer).
Moving back to the engine bay for a moment, you'll probably have noticed the red coil packs atop the M42 cam cover. These are a signature component of Kazama-san's engine builds. Despite their seemingly mundane nature, they are worth discussing in further detail, as they're the only visible representation of his tuning philosophy, which, as you can see from the outside, is to mix his JDM past with his Euro-heavy present, within the engine bay. Specifically, having spent so many years tuning mainly Nissans, pretty much all of his engines, Euro or not, run Nissan coil packs, because that's what he knows and he knows they're reliable. In an older engine like this, if the customer is OK with paying for a standalone ECU to run them, they also provide more power. Remarkably, in a further demonstration of his philosophy, Kazama-san also uses factory SR20DET pistons in his M42s, as they're cheaper, stronger, and easier to procure than the BMW originals, and they fit perfectly. He even uses TODA Racing S2000 valve springs.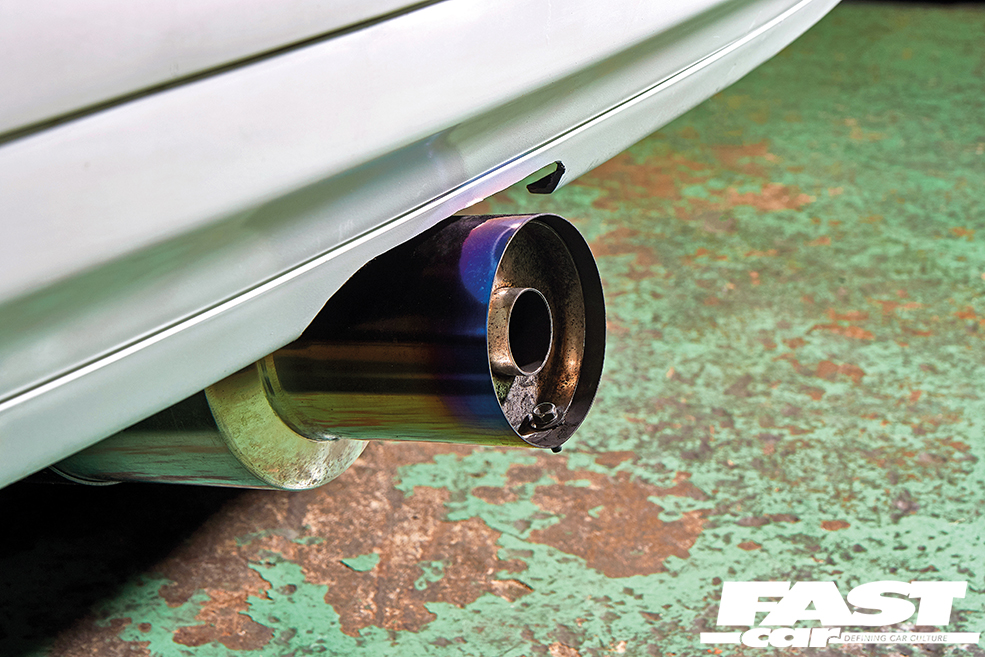 In a rather interesting move, Kazama-san does stray from the JDM parts list for his ECUs, though. And despite the options available, he doesn't go to Euro, American or Australian products for these, either. Nope, he relies on New Zealand-made Link controllers. The reasons for this are simple: not only are they a great product for the money, offering a lot of input/output options and solid build quality, Link is also the only non-Japanese ECU company to offer Japanese language software. It kind of boggles the mind to think none of its rivals has so far followed suit, but they haven't, so Link rules supreme right now among affordable, non-JDM ECUs in the Japanese market.
Anyway, the end result of all that engine fettling and dyno tuning with the Link is a healthy 330hp out of the little 1.8. Not a lot in the overall scheme of things, but given the block's open deck, Kazama-san says he can't go much further, as once you approach 400hp you get valve float and end up blowing head gaskets. Plus, it's more than double the original horsepower figure, with a lot more torque, so it's nothing to sneeze at in context. Being a former drag racer, Kazama-san isn't done, either. In its current form, he says 330hp is about as much as he can safely and reliably get out of it (because it has to drive to the track, do a whole day and drive back), but in the engine's next iteration, he plans to up compression and revs so he gets around 360hp at 8500rpm – what he feels is the true safe, maximum limit.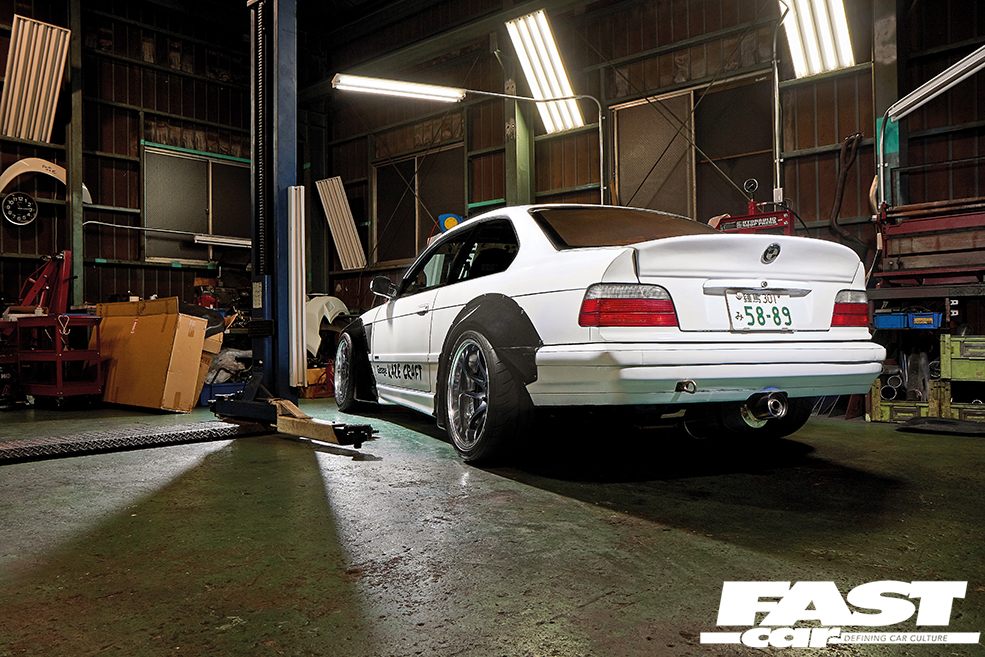 "I want to build a turbo engine that feels closer to an NA one. Essentially it'll be a high-comp turbo motor, of the kind I used to build for drag racing," he says. Of course, that'll mean tearing down the motor and starting again, but thankfully it already runs balanced, forged H-beam rods and a balanced stock crankshaft, so only the current cast Nissan pistons will have to go from the bottom-end, while up top, the head is already ported and polished, with those TODA springs, bronze seats and so on, so only the stock camshafts will need swapping out. After that, it's merely a case of refitting a catalytic converter to get it to pass Japan's MOT-style shaken inspection, and Kazama-san will be able to register it again, so he can drive to and from the track without temporary plates. Hopefully, the end result should be quite the beastie around Tsukuba – Kazama-san's preferred local track – and there's no doubt it'll keep a few of the JDM monsters Kazama-san used to work on honest.
Tech Spec: Turbocharged E36 318iS
Engine & Transmission:
1.8-litre four-cylinder M42B18, 0.2mm shaved block and head, ported and polished head, bronze valve guides, TODA Racing S2000 valve springs, stock cams, ARP head studs, balanced stock crank, balanced Eagle H-beam forged con rods, balanced Nissan SR20DET OEM pistons and rings, Cometic MLS head gasket, Garage Kaze Craft custom equal-length exhaust manifold, Trust T51-18Z 10cm turbo, Garage Kaze Craft custom intercooler, intercooler pipes, intake manifold, fuel rail and catch can, HKS M45 spark plugs, Nissan OEM S15 coil packs, Autostaff 80mm throttle body and fuel pressure regulator, SARD 255lph fuel pump and 550cc injectors, Garage Kaze Craft custom sump baffle, Garage Kaze Craft custom centre-exit exhaust system, Link G4 Storm ECU. Five-speed manual gearbox, ATS clutch, E36 325i propshaft, driveshafts and diff case, ATS LSD
Chassis:
10.5×18" ET-30 (front and rear) Work Emotion CR two-piece wheels with 295/30 (front and rear) Dunlop Direzza ZII Star Spec tyres, Ohlins coilovers with MAQs 20K (front) and 24K (rear) springs, ARC Pipe Stabilizer front anti-roll bar, Okuyama Carbing front under-brace, Brembo Ferrari 360 Modena calipers with E46 M3 discs (front), Porsche 918 Boxster calipers with E46 330i discs (rear), Dixcel Z pads
Exterior:
Sarto Racing wide-body kit, carbon brake ducts, carbon bonnet, custom-vented front guards, M Tech side skirts, fibreglass ducktail boot lid, polycarbonate rear window
Interior:
Sparco Pro 2000 seat, Auto Bahn Sport seat rails, HPI harness, OMP suede steering wheel, Wilwood brake balance adjuster, Trust Profec B boost controller and boost gauge, battery relocated to passenger seat area