This tuned Mazda RX-7 has been faithfully sat at Adam Robinson's side through thick and thin. And thanks to its wacky motor, he's harnessing the timeworn tradition of big power through the magic of the Wankel rotary engine…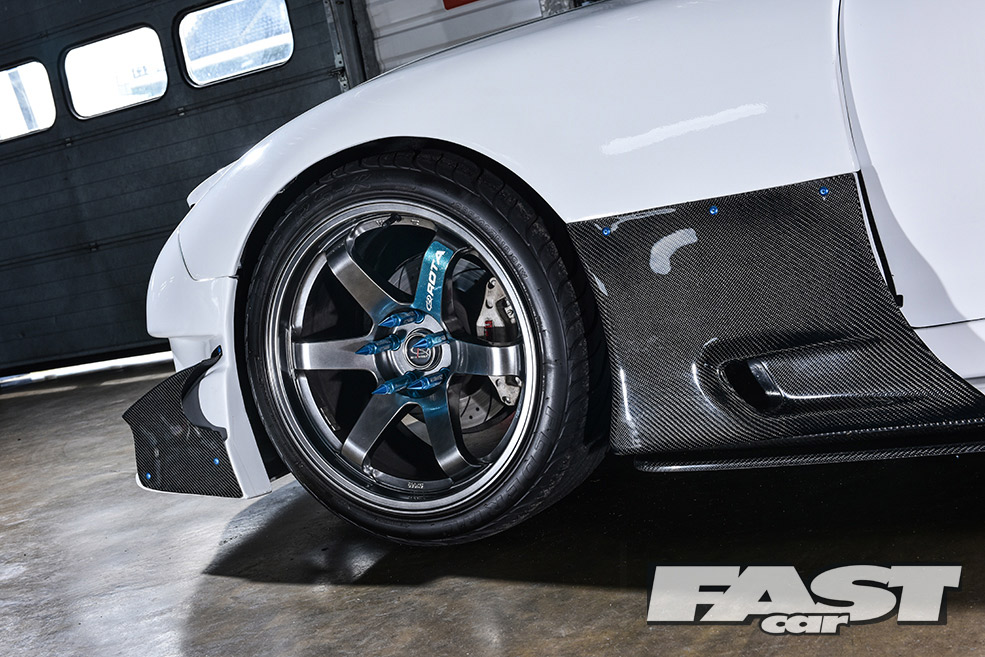 The Wankel rotary engine took a little while to gain credibility, it has to be said – not least because of its hilarious name. Come on, you were all thinking it. But over the years we've learned to overlook the moniker and appreciate the splendour of the rotary witchcraft within; despite Mazda's latter-day attempts to rebrand it as 'Renesis', it'll always be a Wankel in the hearts of the old- school, and it's primarily Mazda who've doggedly striven to push the format to the mainstream.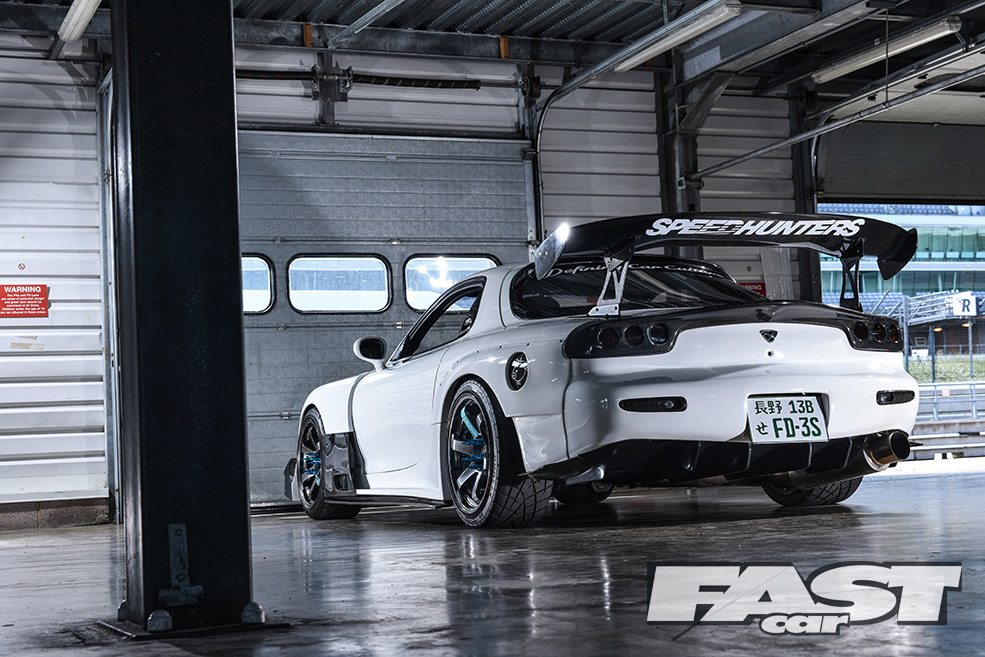 With the concept first being patented by Felix Wankel as long ago as 1929, the rotary found a home in the NSU Ro80 in the late-sixties – which didn't totally go well, it ate through seals like a hungry polar bear – as well as popping up in the Citroën GS Birotor and Mercedes' C111 concept, but it was Mazda who really put the R&D hours in with the Cosmo and RX-7.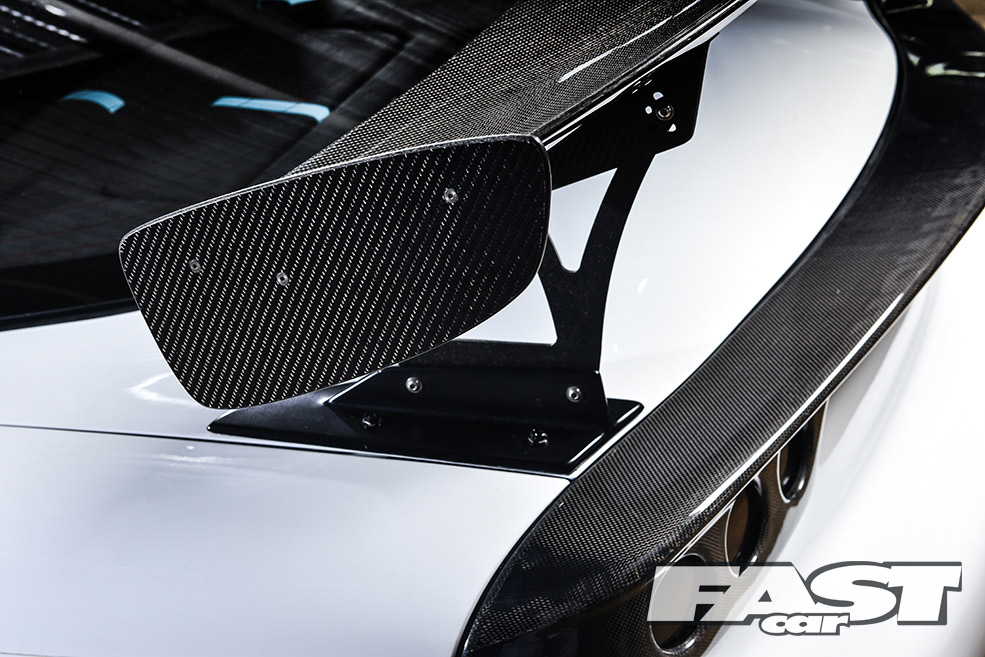 Fast-forward to the 1990s and Mazda had really got their shit together, the third-generation (FD) RX-7 being not only impressively reliable, but fearsomely quick too. And since you've got your finger on the fast-forward button, why not spool onward a few more years and see if you can catch a glimpse of the young Adam Robinson – that's the grown-up you see here, proudly standing in the modern day beside his shiny white FD – back when he was the tender age of seventeen. Got him? Yeah, he has a twinkle in his eye and a Wankel in his heart…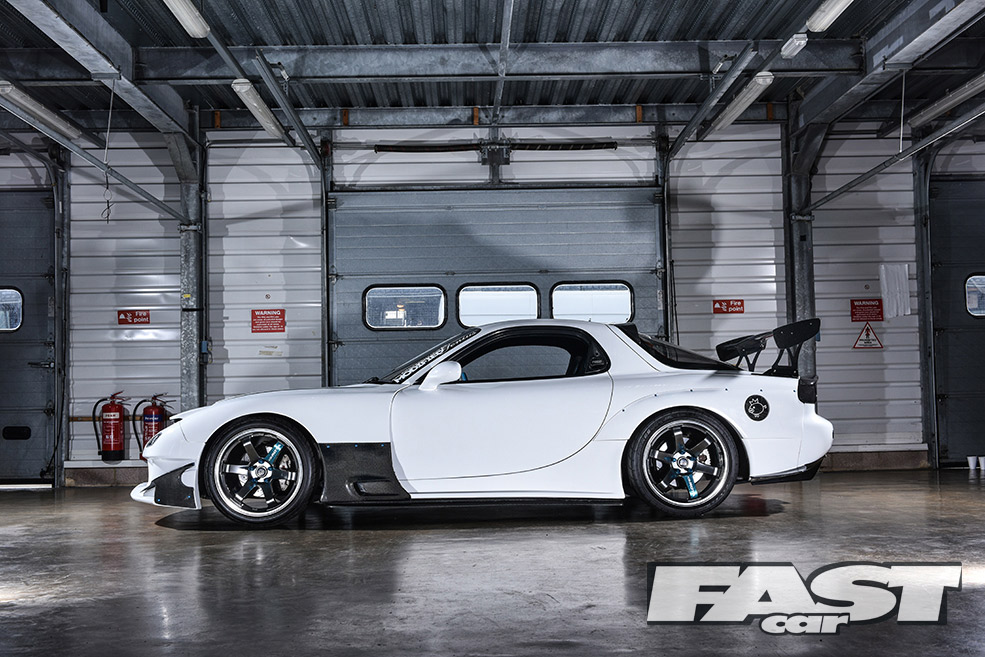 "I had a Peugeot 206 back then," says Adam, from the chronologically logical standpoint of the, er, present day. "I did a few bits to it, but after a year or so I acquired this FD as a sort of sideline project." The daily Peugeot made way for an MX-5, which got reworked in short order in Audi Ibis White – and, of course, with such radical things happening to the daily driver, wasn't it just inevitable that the RX-7 would see some special developments?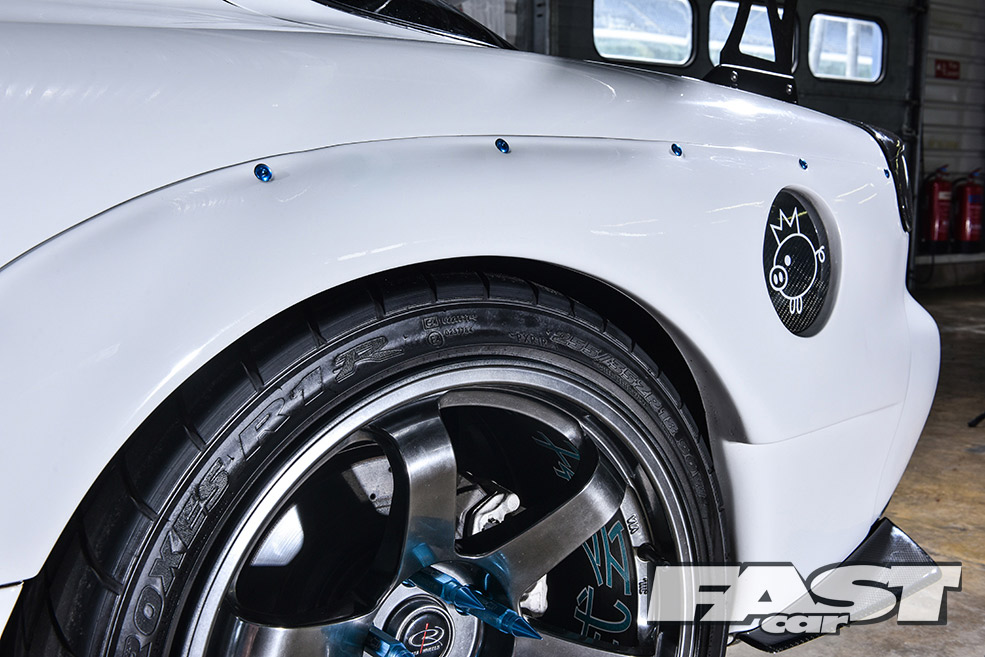 Yes, that's indisputably what happened – but not for a while. The RX-7 sat waiting in the wings while Adam got on with the task of getting on with his life, moving through a variety of other projects, ultimately culminating in his most recent acquisition: an Aston Martin V8 Vantage. "They make a cracking pair, the RX-7 and the Aston," he grins. But you can tell that his rotary heart, while beguiled by the Vantage, knew where its loyalties really lay. It was time, after all that waiting, to crack out the triangles.
But for the sake of screwing with your timeline, let's play Tarantino and rewind back to those teenage years again. Picture the young Adam and his dad on the hunt for a solid Mazda, back in 2010. "We searched far and wide for the ideal FD," he recalls. "We were very cautious, having heard the usual rotary horror stories; we viewed several cars that weren't up to standard, then put a deposit on another, but during the test drive it didn't feel quite right – so the search continued.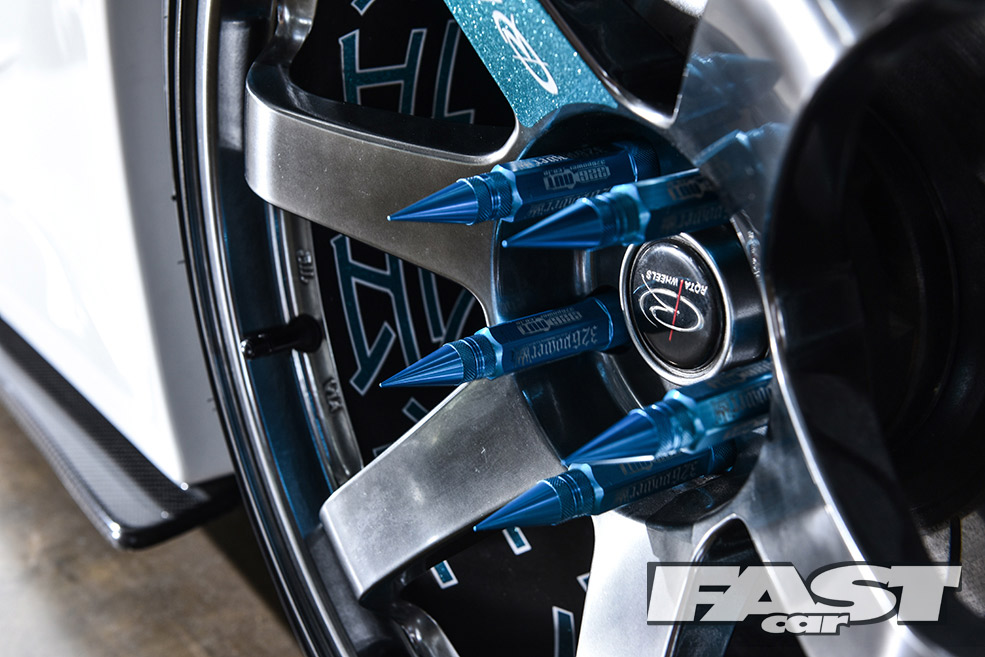 We finally found this one on Pistonheads, and travelled down to London for it from Yorkshire." The car, as it turned out, was a peach; it'd had just one UK owner since it was imported in 2003 – a Top Gear cameraman, interestingly – and it was basically standard, aside from a set of Tein coilovers and an aesthetic upgrade to '99-spec. In its former life in Japan it had been sprayed dark blue, but its original red was peeping through under the bonnet. On the whole, it all looked pretty kosher.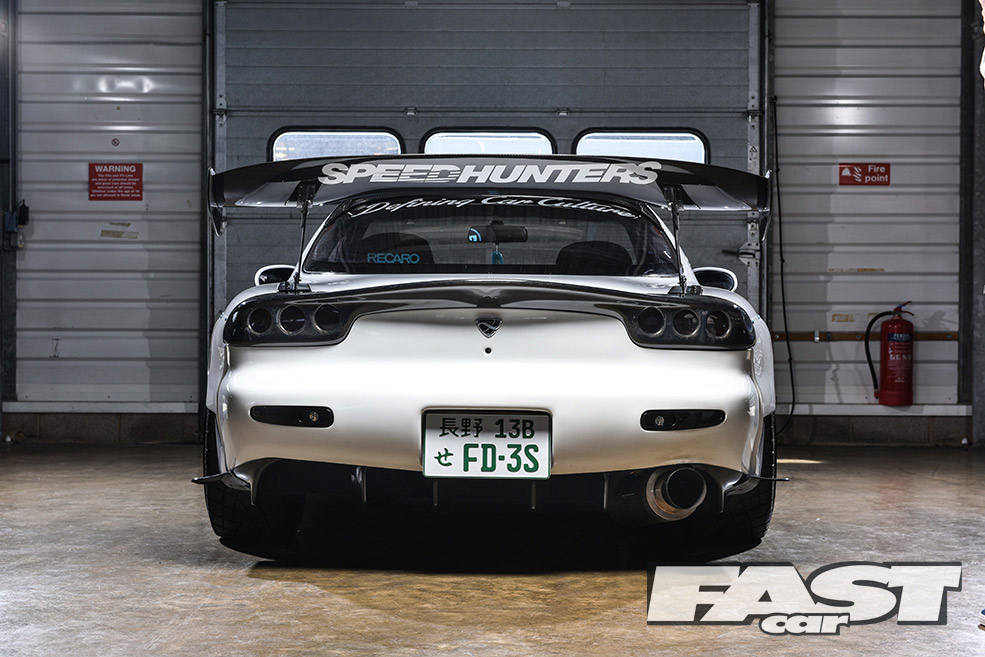 "It was never the intention to modify it to this high a level or turn it into a show-winner," Adam muses. "It was exceptionally tidy when we bought it, and it remained unchanged for around a year, before a slight drifting incident occurred due to me being a bit heavy-footed in the wet! The car span, damaging the front bumper, headlight, front wing, bonnet, and rear quarter." But he's a level-headed kind of guy, one who enjoys turning mishaps into opportunities, and he immediately saw this impromptu crinkling of steel as a springboard for body mods. Why the hell not, eh?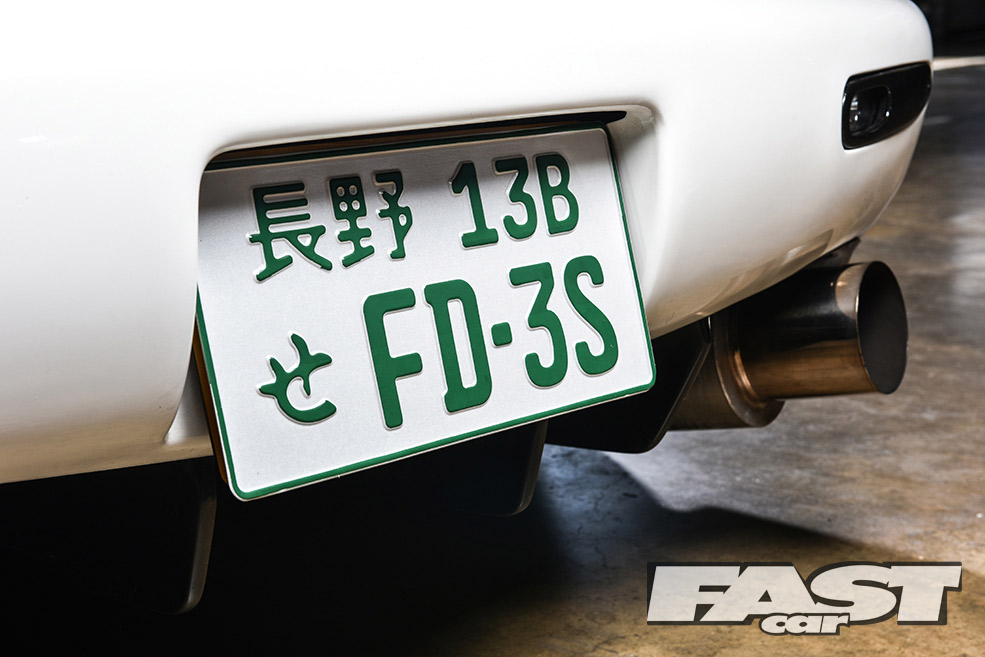 Adam was keen for the FD to be wider, and a chat with Leon at EP Racing convinced him that an RE Amemiya widebody kit was the only way to go. So the RX-7 was shipped off to Elite Bodyworx in Hull, along with a vast bundle of bits, for the transformation to commence. "The colour choice was a hard decision," he remembers. "With the full bodykit fitted, it was obvious a change was the best way to go, and various people told me to go crazy – lime green, orange, purple, pink… but I wanted to keep it classy at the same time, so a fresh and bright Audi Ibis White was chosen."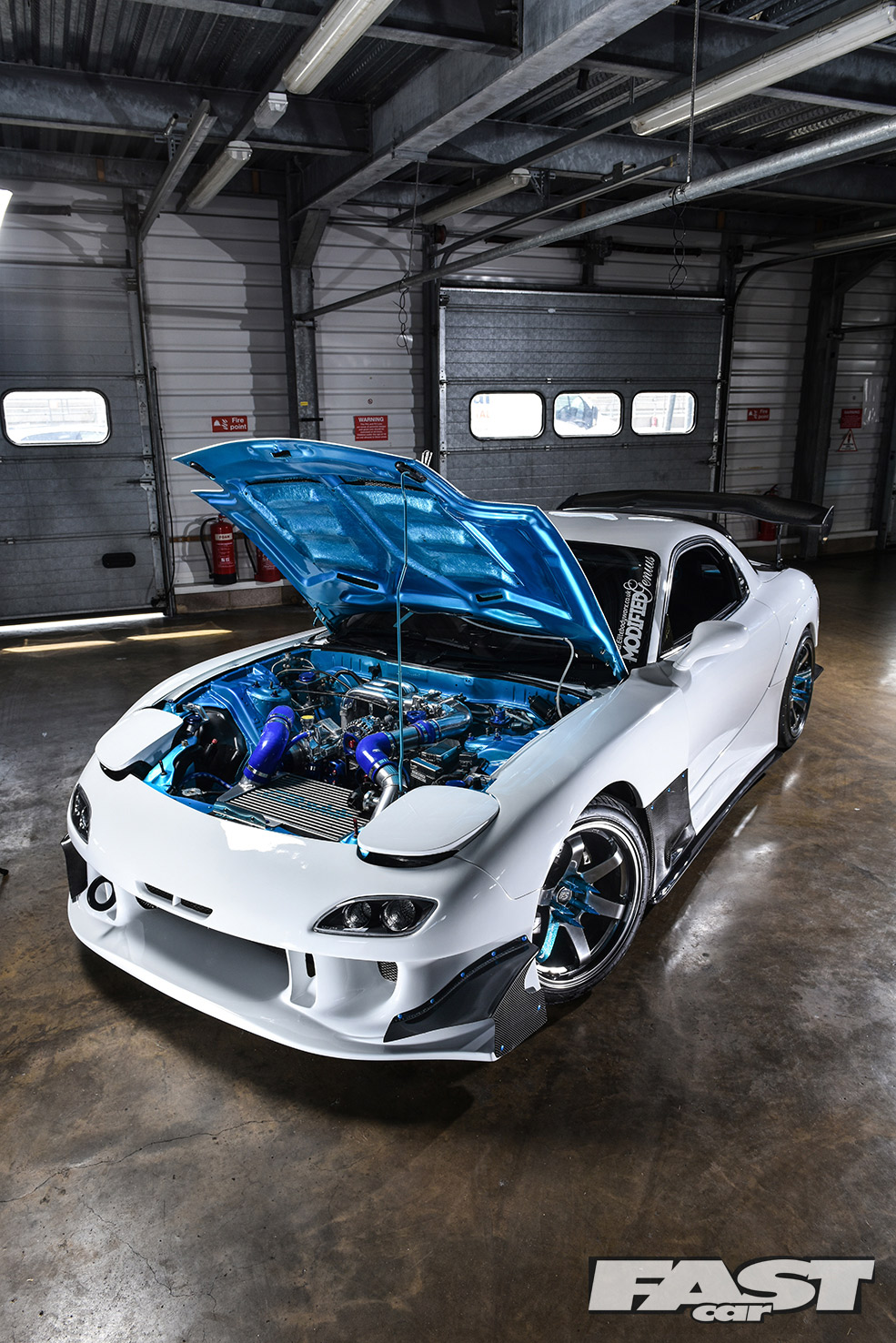 Just like his old MX-5? Funny, that… "And there was also my love of carbon-fibre always at the back of my mind – I think the two work really well together here." Indeed, later on down the line various carbon-fibre bits were added, including an ings Z-Power rear wing, RE Amemiya rear light cover, FEED skirts and canards, roof spoiler, door handles, the list goes on and on!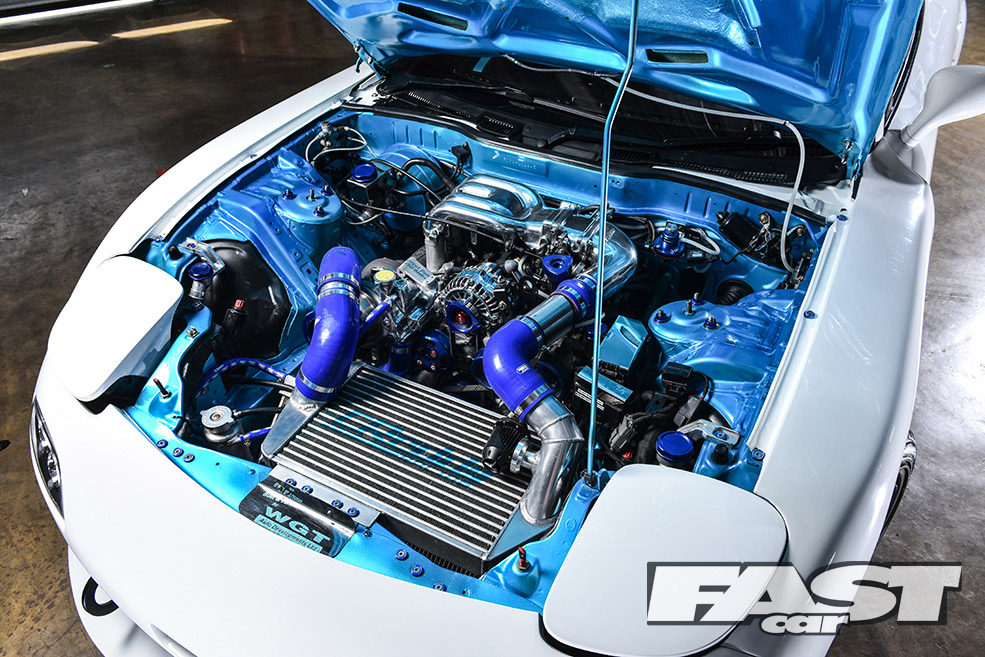 We, like Hannibal, love it when a plan comes together, and Adam's Mazda was already reaching stratospheric heights that his teenage self could only have dreamed of. What he really needed at this point, then, was another crisis – something big to go wrong, to give him the excuse to go nuts again.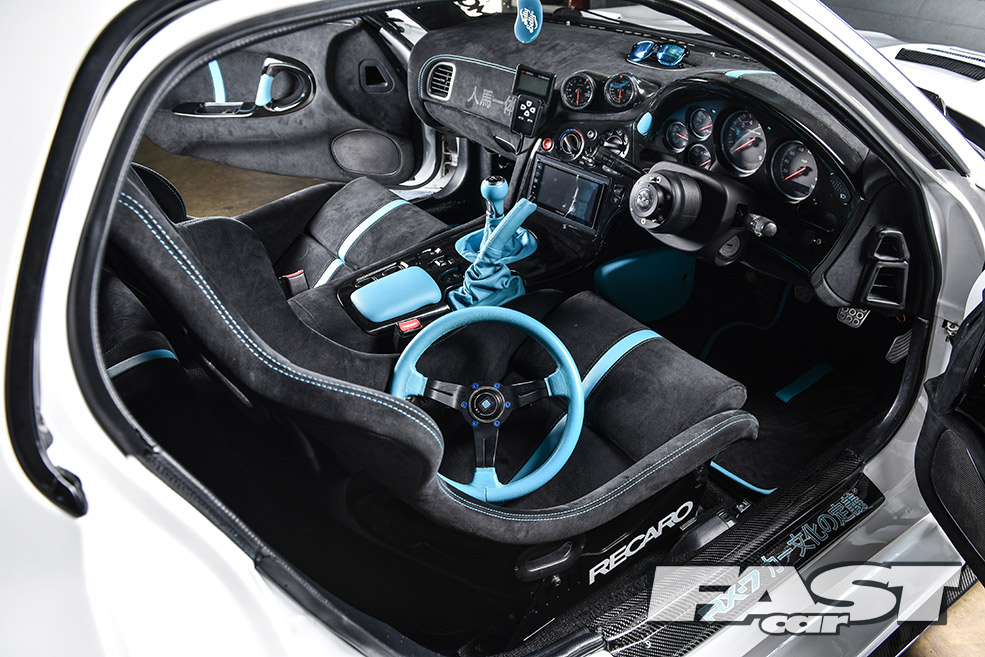 And, lo and behold, his engine blew. Hooray! "I knew what had to be done," he smirks. "The car was trailered across to WGT Auto Developments in Middlewich, where the engine was removed and the bay fully stripped. The engine would be stripped down fully, rebuilt with large street ports and various other modifications while the car went in to have the bay smoothed and sprayed in Candy Turquoise, to stand out against the polished parts to be added. WGT eliminated anything unnecessary from the bay, along with fitting a V-mount radiator and intercooler for a more efficient setup. At this point, it was also clear that to achieve the power we sought, it made sense to ditch the twin-turbo set up and go for a single-turbo conversion in the form of a TO4S."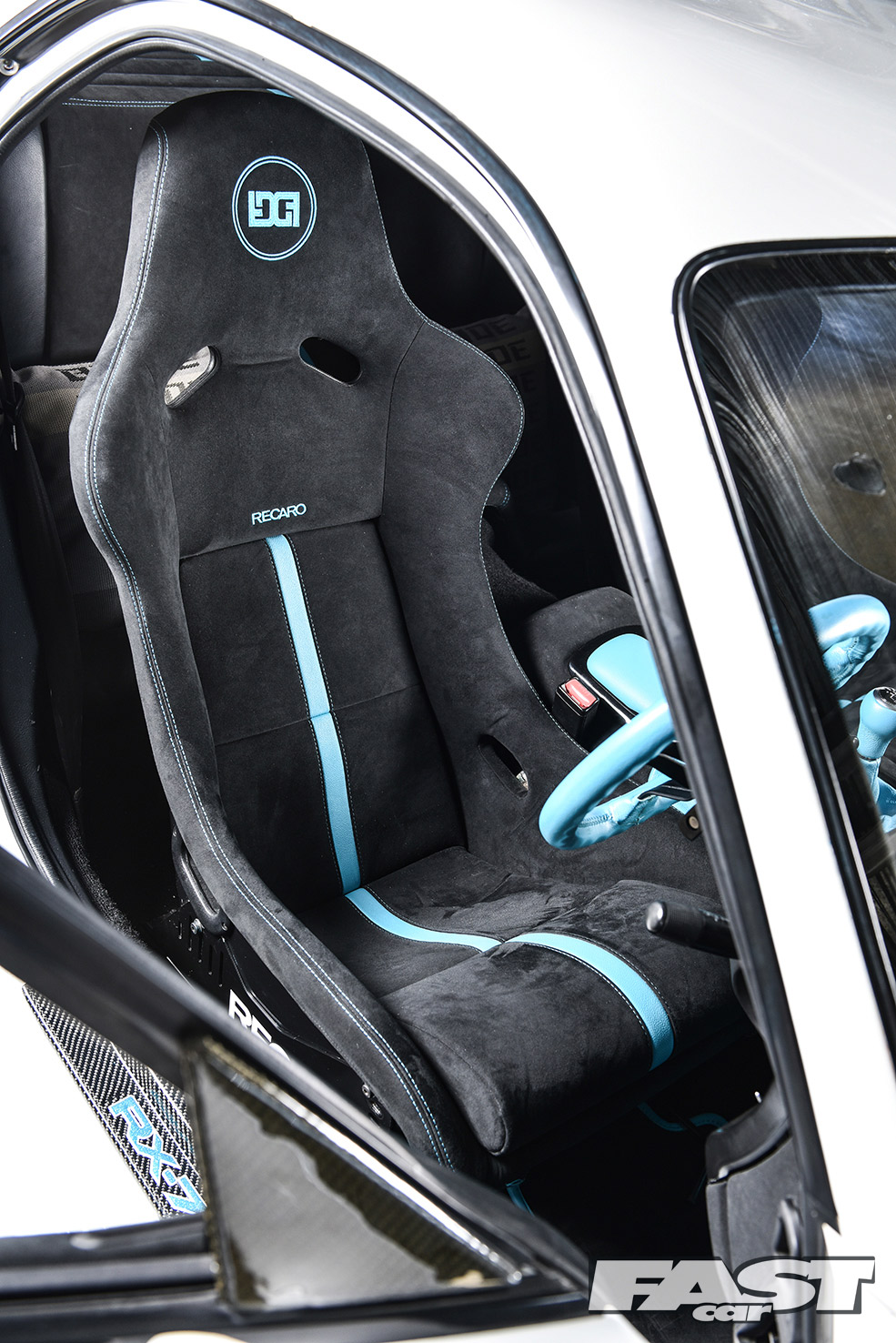 It's inspiring stuff this, isn't it? A dream being fulfilled, step by glorious step. Adam's faithful(ish) FD, that waited in the wings for so long, was now looking astounding and snorting to the tune of 450bhp. Can't argue with that, can you?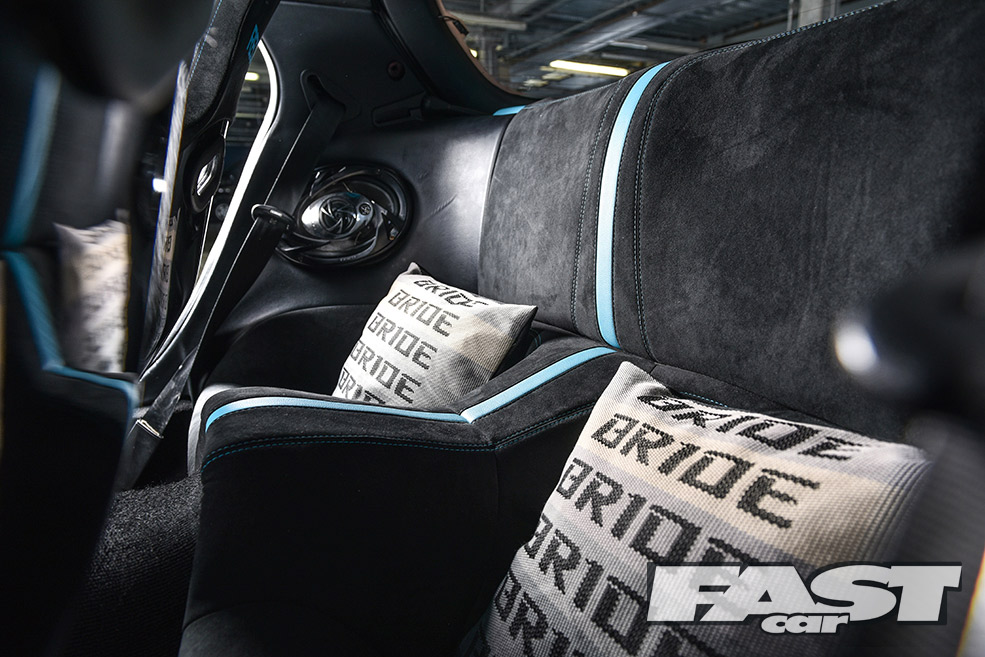 Oh, but he's unstoppable, this fella. He had to tackle the interior. He's a completist. "Everything was removed," Adam laughs, "and I mean everything – the full interior of the car was stripped. Steve at EDGE Automotive spent an exceptionally long time with me discussing various options, styles, materials and colours, and I was massively guided by his experience in this area. And boy, was he right! We went for a black Alcantara retrim throughout, with turquoise stitching and blue leather stripe, giving that supercar feel without being overly in-your-face." It really works too, doesn't it? Simultaneously classy and outrageous, it's a proper show-winning finish.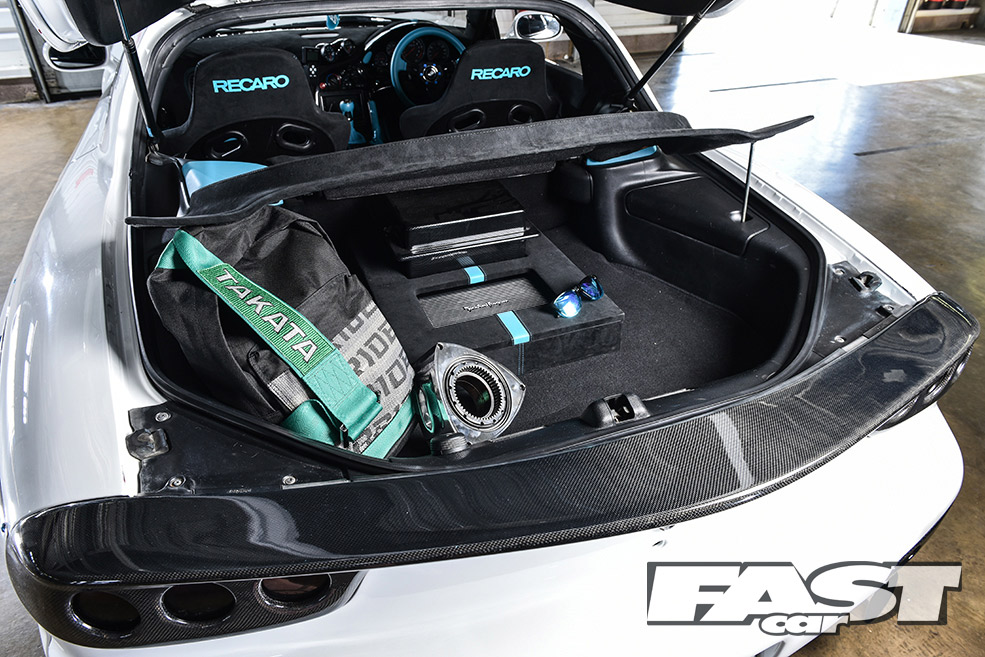 Not that Adam spends all his time on showgrounds, naturally: "Yes, I do take it to a lot of shows, but it's primarily used as a fast-road car and I'll never shy away from using it as Mazda intended," he assures us. "And it's back in the garage now – we're pushing for 500bhp." Seems like this enduring love triangle is far from burning itself out – it turns out that passion is stronger than rotor tips. We can't wait to see what happens next.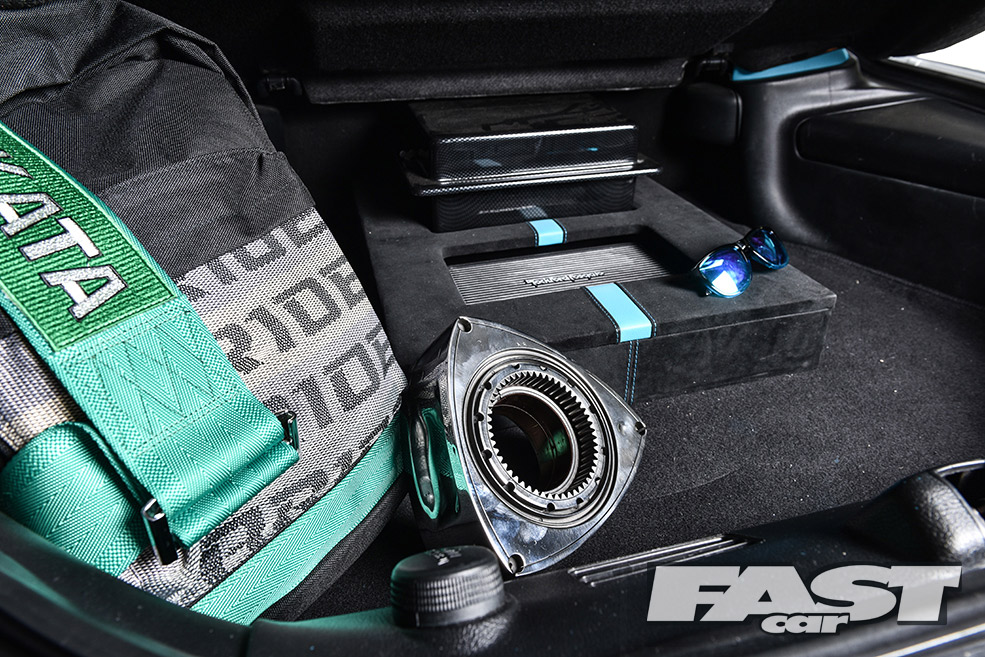 OWNER: ADAM ROBINSON
TECH SPEC: MAZDA RX-7
STYLING:
Audi Ibis White, RE Amemiya GT wide-arch kit, Pro-Street rear diffuser, carbon front and side canards, vented bonnet and carbon rear light cover, ings Z-Power carbon rear spoiler, carbon Shine Auto Project upper spoiler, FEED side skirts and door handles, rear canards, petrol cap, wing mirror caps, rear bumper LED lights and bonnet aerocatches, CarShopGlow LED front bumper lights, sleepy-eye headlight kit, anodised blue canard and rear quarter bolts, matt black front tow hook.
TUNING:
13B-REW 1308cc twin-rotor Wankel, large street
port by WGT Auto Developments, Garrett TO4S single turbo conversion, mapped by Pip at WGT to 1.0 bar boost, GReddy Long Runner manifold, wastegate and screamer pipe, polished lower intake manifold, WGT V-mount intercooler and aluminium radiator, uprated fuel system – bigger injectors, fuel pressure regulator, uprated pump, DM Motorsport anodised blue pulley set and red pulley bolts, DM Motorsport anodised blue turbo trumpet, DM Motorsport anodised blue reservoir caps, Samco blue silicone hoses, HKS blow- off valve, WGT air separation tank, polished upper intake manifold, alternator, filler neck and throttle body, polished GReddy intake elbow, polished covers, air-con deleted, battery relocated, candy turquoise smoothed engine bay, under-bonnet and servo, 5-speed manual transmission. Power: 450bhp+.
CHASSIS:
10x18in Rota Grid Drifts in Hyper Black, 235/40 Federal RS-R (front) and 255/35 Toyo R1-R (rear), 326 Power anodised blue extended spike nuts,
Rota spoke sticker in custom glitter turquoise, kanji characters on inner rim in custom glitter turquoise, Tein Pro-Street fully adjustable coilovers, Powerflex ARB polybushes, EBC drilled discs and Redstuff pads, colour-coded white calipers, braided lines.
INTERIOR:
Recaro Pole Position seats re-trimmed in black Alcantara with turquoise stitching, turquoise leather stripe and embroidered Recaro and EDGE Automotive logo, retrimmed black Alcantara door cards, dash, speedo dome, parcel shelf (with custom inserts), rear seats, floor mats, centre console, glovebox and dash panels, all with turquoise stitching and leather stripe where appropriate, Nardi GT steering wheel retrimmed in turquoise leather, snap-off boss, Audi S1 gearknob retrimmed in turquoise leather along with gear gaiter, handbrake, arm rest, knee rest, passenger door handle and rear suspension cover, gloss black custom air vent gauge pod with Defi Advance boost and RPM gauges, gloss black wraparound dash plastics, A'PEXi Hand Commander mount trimmed in black Alcantara, aluminium windscreen air vent powdercoated matt black, carbon sills with kanji characters in custom glitter turquoise.
AUDIO:
Pioneer touchscreen double-DIN and Apple Car Play, Alpine SPG front component door speakers, Alpine tweeters in custom A-pillar pods, Pioneer 6x9s mounted in rear panels, Rockford Fosgate R600 amplifier in custom box – black Alcantara with turquoise leather stripe and stitching, battery relocated to boot in carbon-fibre-effect box.
THANKS:
Elite Bodyworx in Hull – Buzz has assisted me through five years of building this car. Steve at EDGE Automotive, WGT Auto Developments, Ste at Vinyl Scene, EP Racing for supplying the bodykit and various other parts along the way, Rare Rims, FDUK RX-7 Club and Forum – help from these guys has been most welcome! Adam Blackshaw – for all my shiny polished engine bits. And finally, my Dad, for many long nights spent in the garage and putting up with my silly ideas!"
Words Daniel Bevis Photos Chris Wallbank