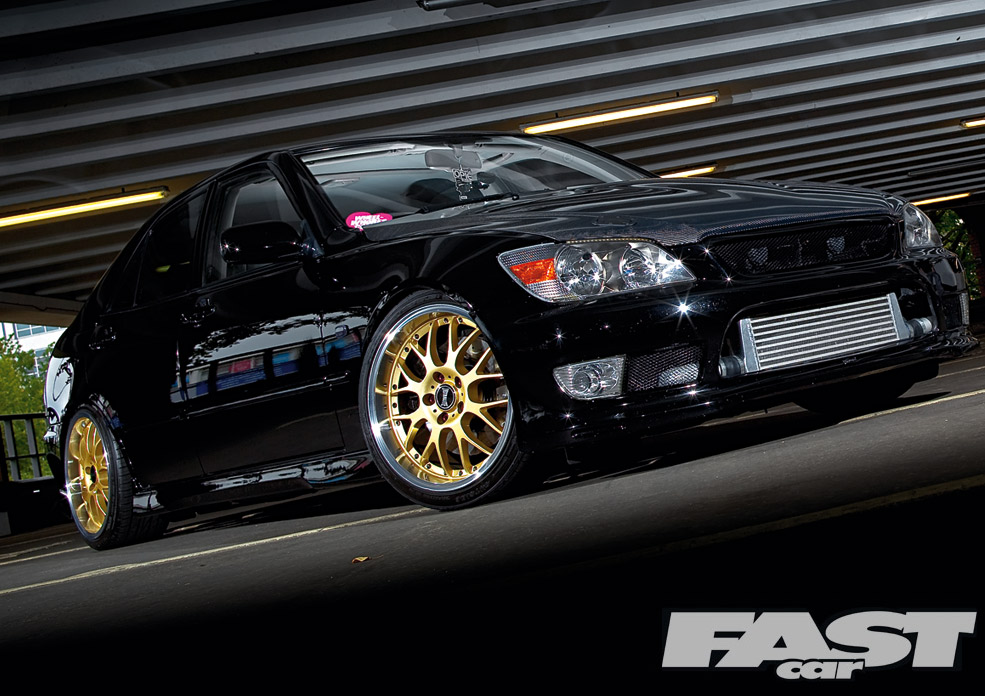 Matt Beddis' tuned Lexus IS200
Not many people in Britain can claim to have owned a Lexus Sport outright at the tender age of 21. But when you run your own business, fitting swimming pools into the patios of Bournemouth's elite citizens, this sorta shit just happens – and then some.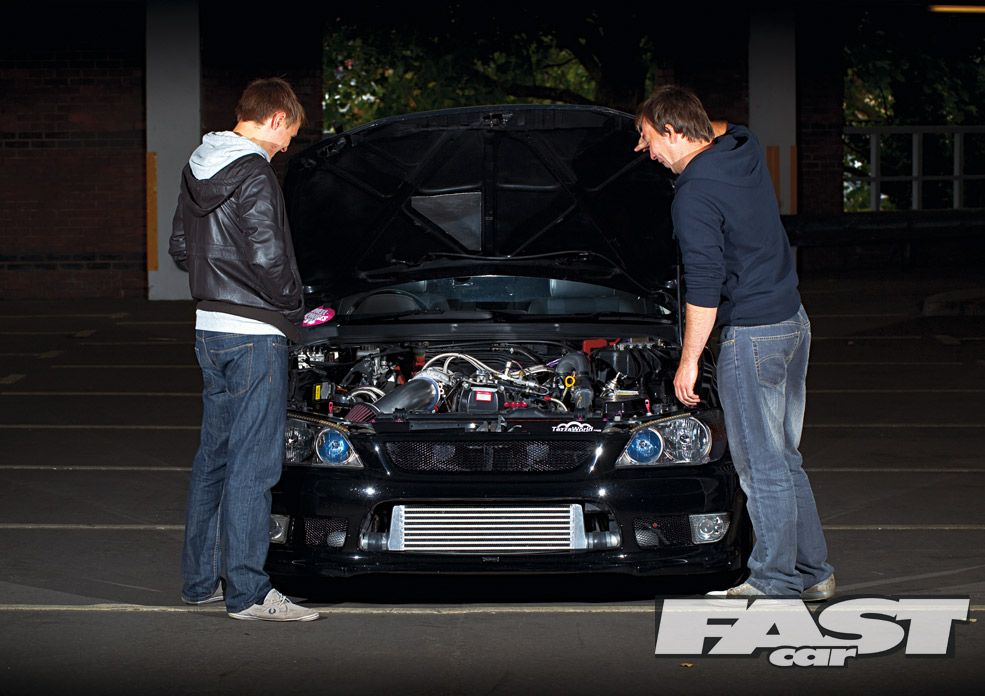 You see, flash and fancy is the name of the game on the Costa Del South Coast's tarmac, and Matt Beddis' modified Lexus holds supreme stature with the best of them. This is because the 330bhp, turbo'd premier spec saloon is a sporty machine that still holds true to its luxury roots.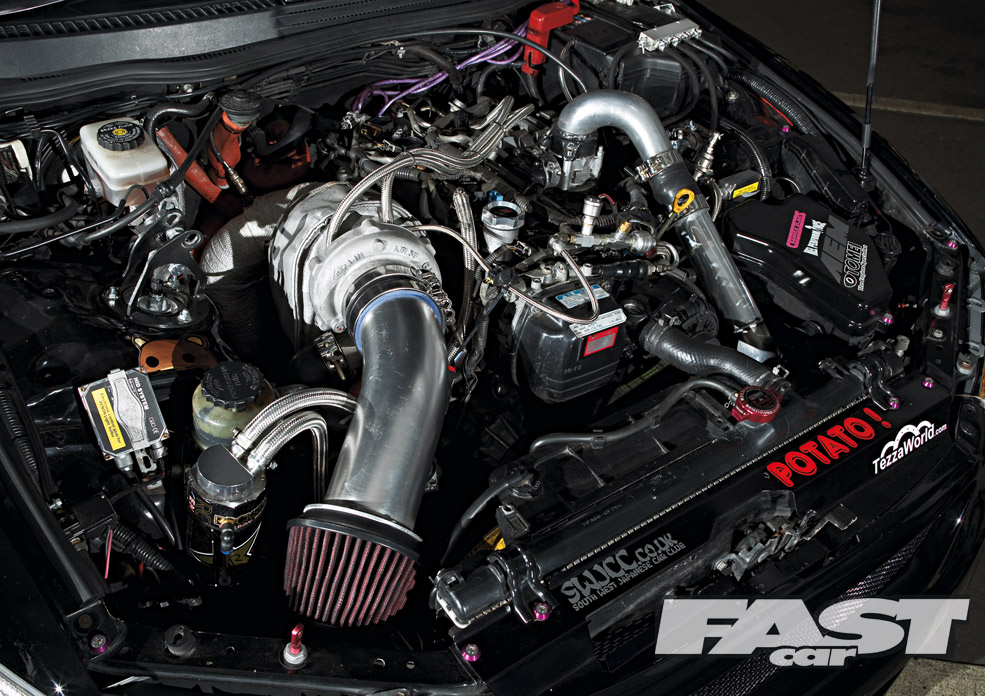 Aesthetically, the Lexus is a classy take on car culture, with lush lows and mean girth, provided by those spotless Ultralites, adding to the trick Altezza rear light conversion. Then you realise the carbon bonnet isn't a styling mod, but the tip of the performance iceberg, and further and glances at the moody FMIC and bulky Supra brakes give clues to the grunt of this damn sexy Lexus.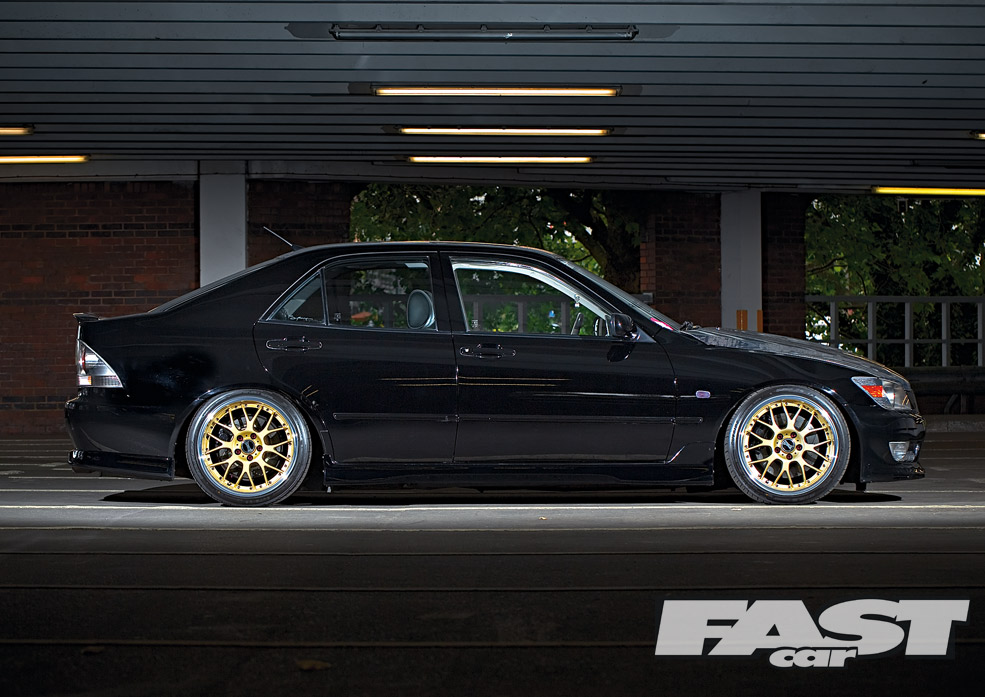 The theme is continued inside, where Matt's pursuit of power hasn't compromised comfort. The Sport seats and armrest added from the automatic model reminds you you're in a Lexus, while the high kudos-catching Defi gauges don't let you forget you're sitting in a seriously quick street car, boasting 330bhp at 1-bar boost.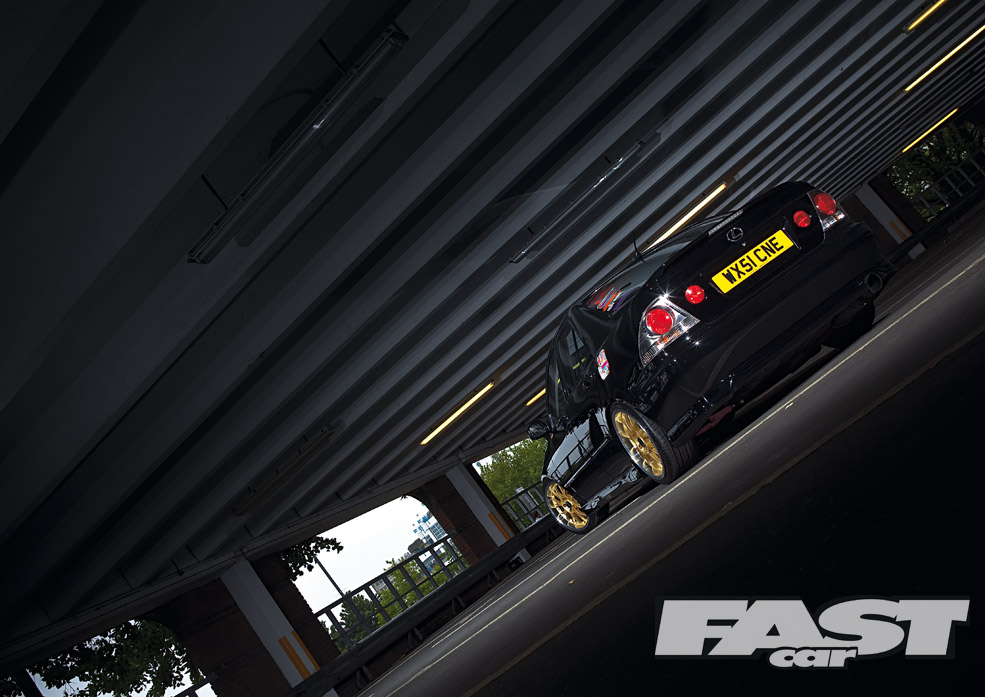 Building the IS hasn't been straightforward though. "The car was always hard to find bits for," says Matt, "because there was just no one who really knew what they were about." Never mind building it, Matt had a mission getting the ride in the first place…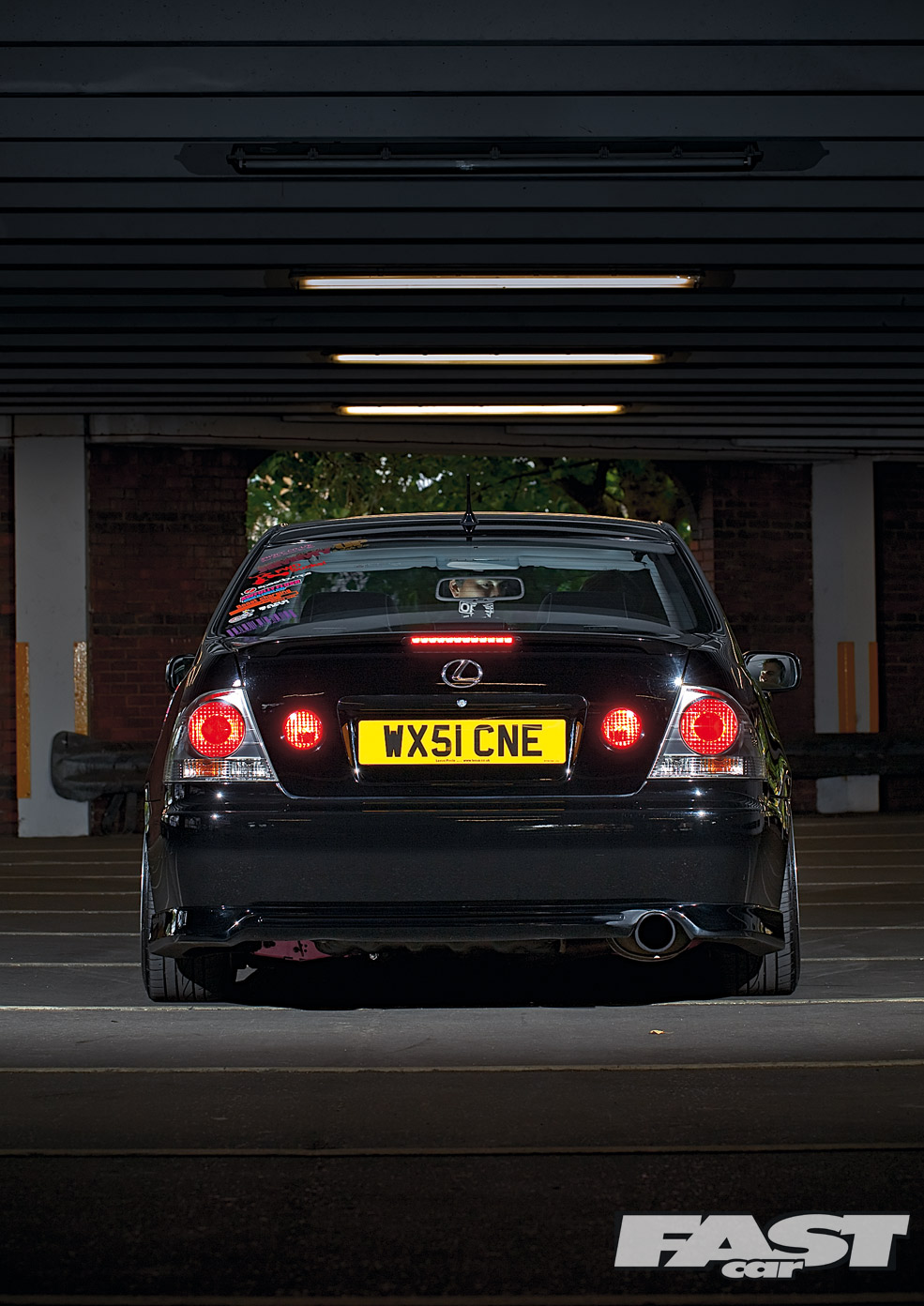 "I went to my local Lexus dealer five years ago and had a test drive of a red auto model. It wasn't what I wanted," says our man who's also founded the South West Japanese Car Club (SWJCC). "I parked up at the dealership next to a black Sport model and told the salesman that's what I wanted. He told me I had no chance as they were so rare. But I bided my time and eventually one came in."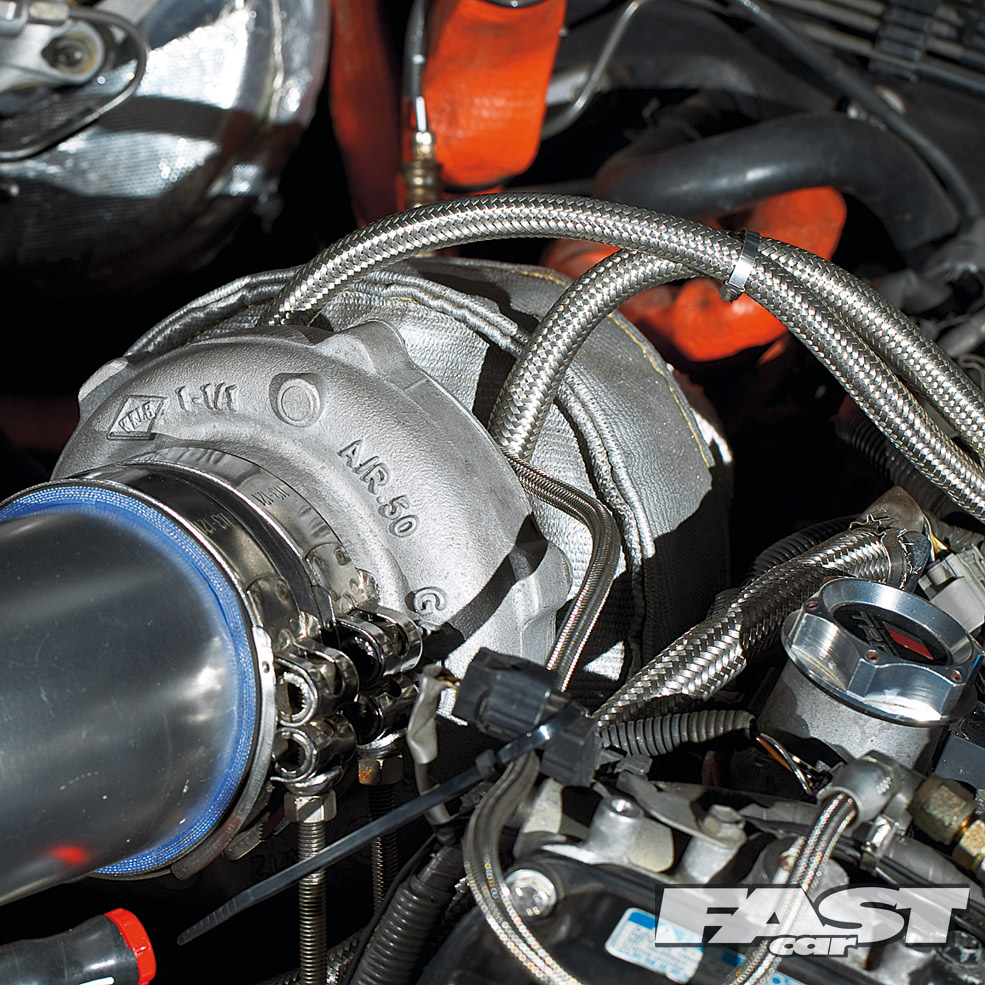 Matt took his prized car home on the day he turned 21 and quickly acquainted the IS with textbook styling touches before the hunt for big power began. "I found a company who had just built a turbo kit for the IS200," he says. "I tried their car out and was impressed, so booked mine in for the same kit. When I got it back it was good for 250bhp at 0.5-bar boost on a standard engine – god it felt bloody quick."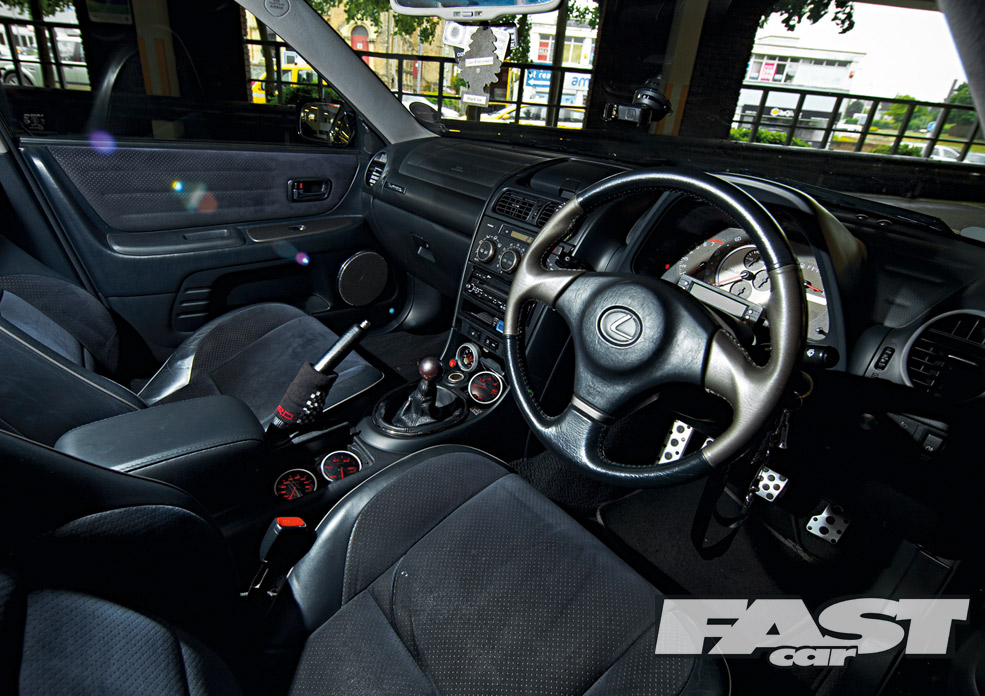 A second remap with bigger injectors and more boost later pushed the IS to the 330bhp mark, and Matt's still not done on the power front. A spare engine is being rebuilt, with the aim of eeking out more power from the impressive Garret GT30 turbo, and after taking us out for a spin round his sunny hometown, we can see why getting the best from that blown beauty can be a fun and addictive pastime.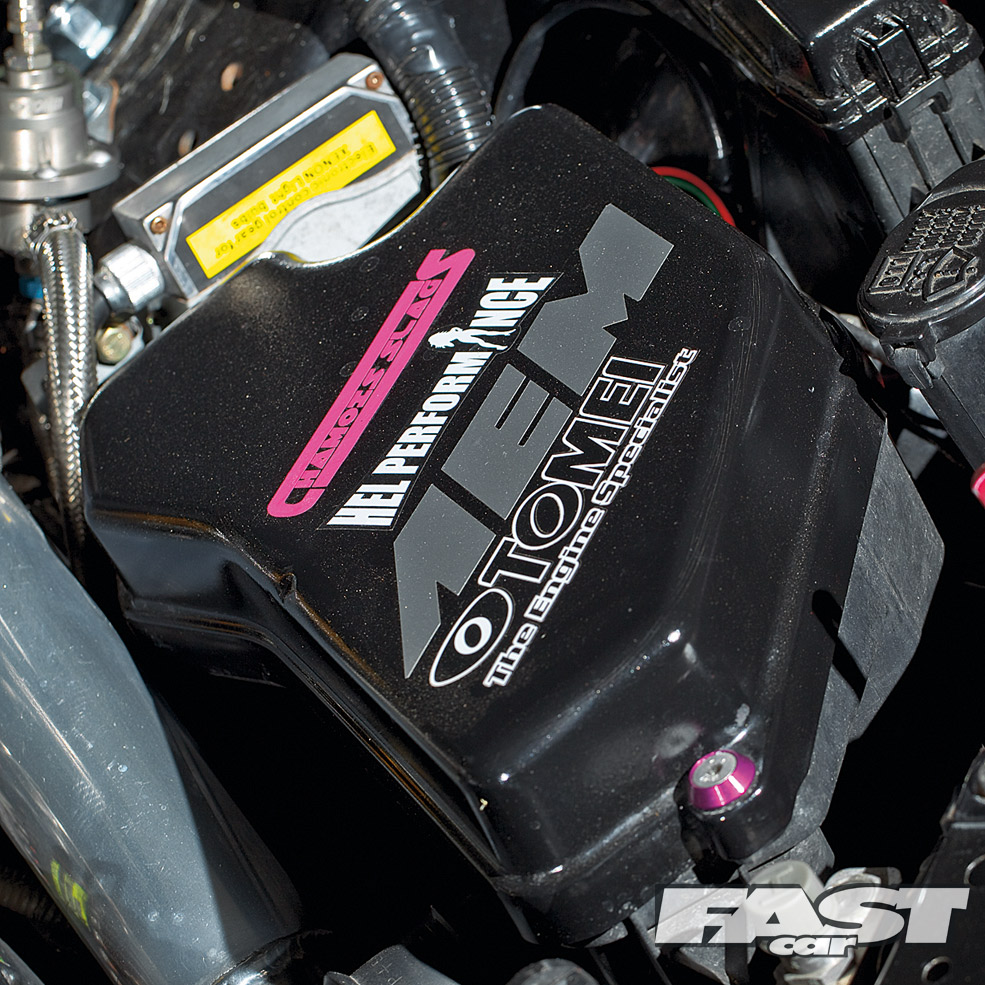 Matt's Lexus isn't VIP and it isn't motorsport: just a perfect package of unique, classy and technical tuning that reflects his own enthusiasm for the modified scene – and building swimming pools!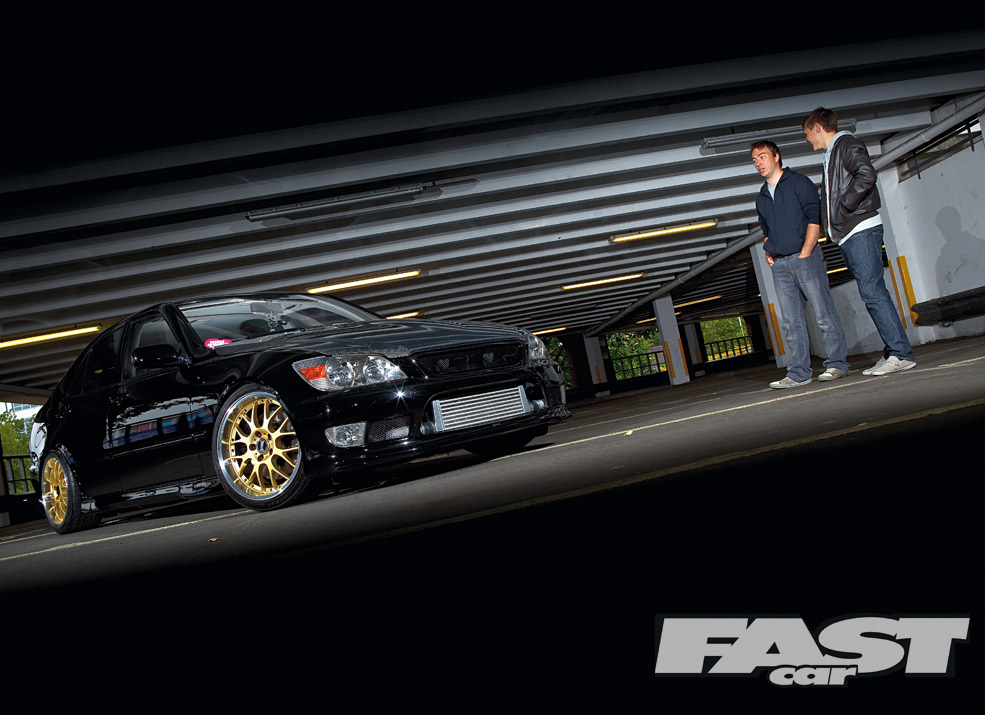 TECH SPEC LEXUS IS200
TUNING
1GFE 1998cc 24v 6 cylinder; IK Engineering turbo kit (done by Wayne Field and Ike Flack); Garret GT30 turbo; 550cc fuel injectors; Mine's 44mm wastegate; Apexi air filter; 3-inch exhaust system from turbo to back of car; blue flame back box with custom tip; 4-inch inlet to turbo; front mounted intercooler; TTE inlet elbow; GReddy boost controller; AEM F/IC controller; JDM-spec Supra fuel pump 255lt; Tomei fuel pressure regulator; black silicone intercooler hoses; water lines to turbo in s/s braided lines; oil catch can with s/s braided lines; Mikalor clamps; handmade oil feed line to turbo; Denso IK01 24 spark plugs.
CHASSIS
Ultralite Nürburgring gold 18×8.5 ET30 all round; Falken 452 215/40×18 tyres; 330mm Supra twin turbo grooved and drilled front discs 330mm; grooved rear discs; yellow stuff pads all round; MeisterR Zeta coilovers; Hotchkis anti-roll bars; Figs rear lower arms; TDI rear toe control arms; homemade brake master cylinder stopper.

STYLING
Sebion carbon fibre bonnet; custom TTE front bumper; TT late-spec rear lights; late spec headlights; Altezza rear light conversion; aero catches; sticker-bombed filler cap.
INTERIOR
Push button starter; white dash LEDs; s/s heater rings and gear knob; Defi boost, oil temp and oil pressure gauges; Defi control box; AEM AFR gauge; ScanGauge II; B&M short shifter. AUDIO LG 7-inch DVD headunit; 2x 12-inch MTX thunder subs; Pioneer 600w mono block amp.