When Covid measures put a halt to life as we know it, Tam Le looked on the bright side and dedicated his enforced lockdown to making his dream tuned Honda NSX a reality.
First appeared in Fast Car. Words & Photos: Josh Mackey
There are a lot of firsts here; from this being my first ever pandemic shoot, to getting a ticket for hanging out of a car, to taking photos in downtown Seattle at happy hour with absolutely no one in sight. There is something a bit unnerving and surreal about being in a major metropolitan city on a completely dead and quiet summer's night, but, due to government orders to limit the transmission of the dreaded Coronavirus, it was exactly that.
However, the highly unusual situation aside, the one thing that was absolutely normal was a camera lens being pointed at this stunning tuned Honda NSX. Owned by mechanic and owner of DailyDriven.com, Tam Le, this wide-arched wonder is no stranger to having its photograph taken, as it understandably attracts onlookers to frantically whip out their smartphone cameras wherever it goes.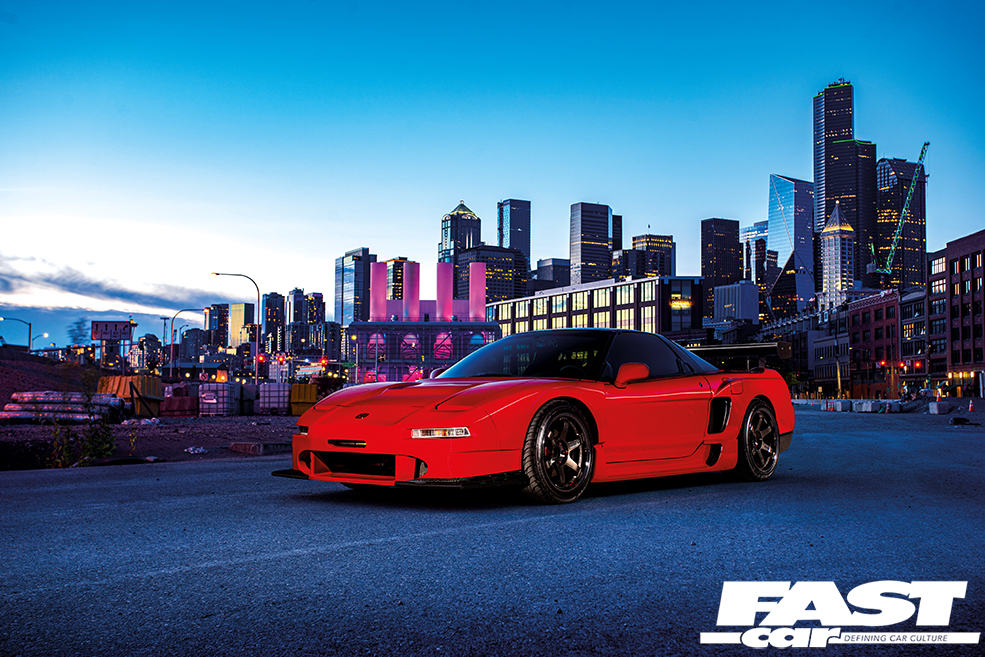 But before we get into the nitty gritty of what's been done to it, let's take a moment to jump in the nearest time machine and travel back to 1990 to see how it came to be in the owner's possession in the first place.
Tam was just 16-years-old when he saw his first Honda NSX. Already a dedicated petrol head with a strong affinity for the Honda brand, seeing the firm's flagship sports car blew his young hormone-flooded mind. Of course, we all know the feeling… that undeniable love at first sight when you see your first supercar. It's not just a mode of transport; it's a work of art, to be appreciated, adored and desired. Sure, the speed and handling performance will be out of this world, but when you're just a spotty teenager, just being able to look at the thing is a pant-wettingly exciting experience all on its own. We tell ourselves that 'one day' we'll own one of these amazing machines, but the truth is, for most of us mere mortals, that 'one day' unfortunately never comes. Our dreams remain dreams and our garages stay filled with the junk that has over-spilled from the house rather than a rip-snorting slice of automotive exotica. But then there are those lucky few who get to make their dreams a reality, and Tam Le is one of them. It was a dream that took him nearly 30-years to achieve, but achieve it he did.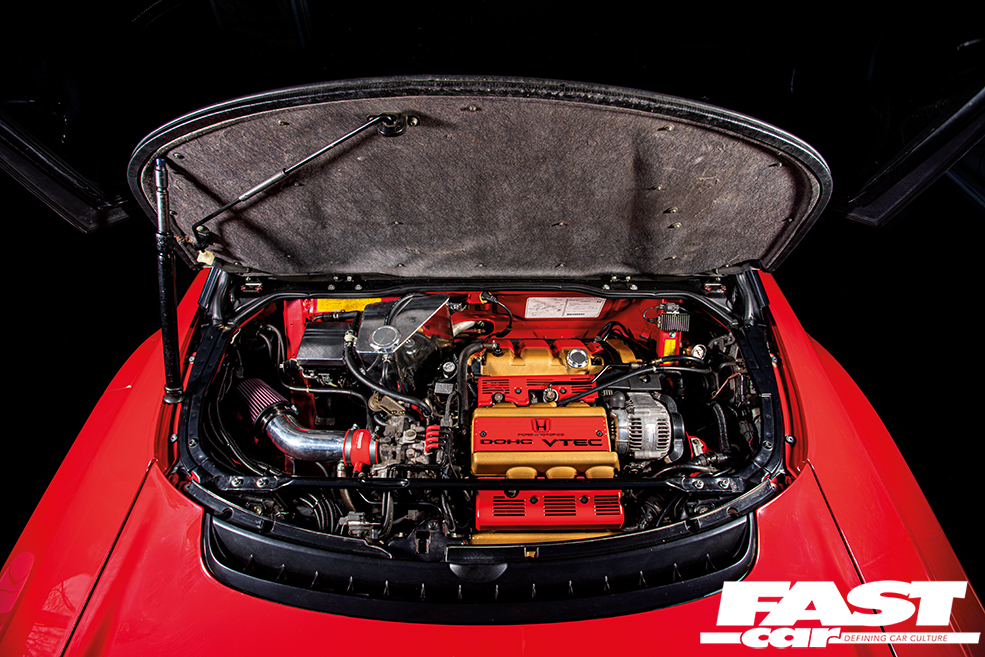 Honda's hottest model had been out of reach for him for some time, at first it was a lack of finances that hampered his buying potential, then later, when his bank balance was looking decidedly healthier, his priorities changed as he was busy raising a family – but the desire for the NSX stayed strong and it was a bitter sweet position to be in, with the chance to own the car he always wanted at his fingertips, but just that bit too far out of reach to grasp it.
By the time Tam could afford to buy himself a first generation Honda NSX, the rumors had begun to swirl in the car world about Honda releasing a brand new NSX, that was set to take the fight to the supercar elite once again. Logic dictates that when a newer model is announced, the older generations will drop in price. You can see the error in this logic as, by the time the new car was finally released in 2016, the prices and values for good condition '90s JDM cars were skyrocketing in price. The rarity of the Acura / Honda JDM cars has seen auctions in the USA hit over $150,000 USD for decent NSXs and up to $80,000 USD for an Integra Type R, and that's just the start! All '90s JDM models, whether in good condition or not, are starting to fetch premium prices all over the world.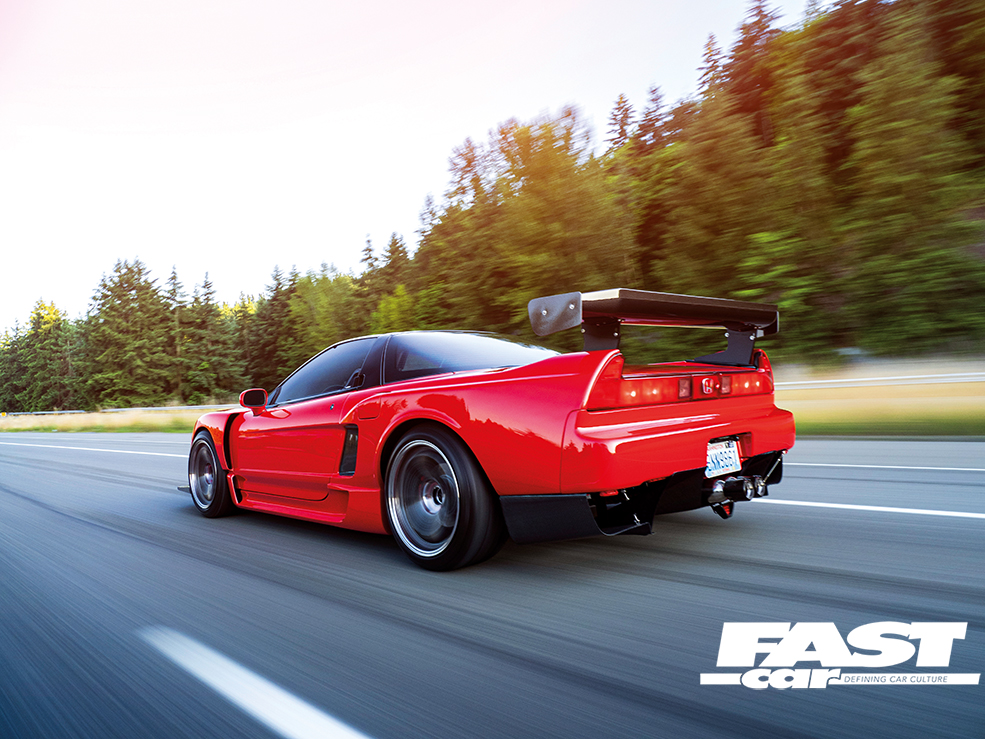 But not being one to let go of his dreams easily, Tam didn't give up, in fact he was spurred on to secure his dream car and modify it to his own taste before the rising prices once again pushed the model out of reach. But the timing and circumstances had to be right. He started his search in early 2019 and it was exhausting – with little to no cars for private sale in the Pacific Northwest and everything going to auction, Tam was running out of time and patience. However, there was light at the end of the tunnel when he received a message from an owner down in Texas. In this day and age, with the market extremely hot, buying a car out of state is almost a necessity, but it will forever be stress and anxiety inducing. This is because the United States is bloody vast. Unlike back in the UK where, the worst you can expect is travelling from Land's End to John O'Groats to look at a car – some 874 miles – a trip from Seattle to Texas – which is only half way across the US by the way – comes in at just under 2000 miles. So you can see the issue Tam was facing. Does he risk traveling a 4000 mile round trip for a car he's never seen in the metal, or take a punt and hope he picks up a minter? Well, after talking extensively with the owner and reviewing countless photos and negotiating the price – Tam, with the help of his wife, finally took the plunge and booked a trip to Texas.
Now, Tam had done his research, but even so, when he got to the owner's house in Texas and had a proper look at the NSX, he could see that it was rough. While the exterior seemed fine, the motor, transmission and suspension needed a lot of work. Tam had to carefully decide if he wanted to continue his search – or if this was the car for him. As a lifetime technician and lover of Hondas, if there's one thing he can do, it's fix, build and finish the NSX. Tam has been a Honda gearhead, builder and technician for nearly half his life and currently owns a 500bhp EG Civic, a Phoenix Yellow Type R with a custom-built turbo and an S2000. It doesn't stop there though, as he also dailies a Ridgeline pick-up truck, an Odyssey minivan and has also owned a magazine featured, fully-built Prelude. Bringing the NSX back to greatness was always well in his wheelhouse, he just needed to convince himself that the search was over, and this was the NSX.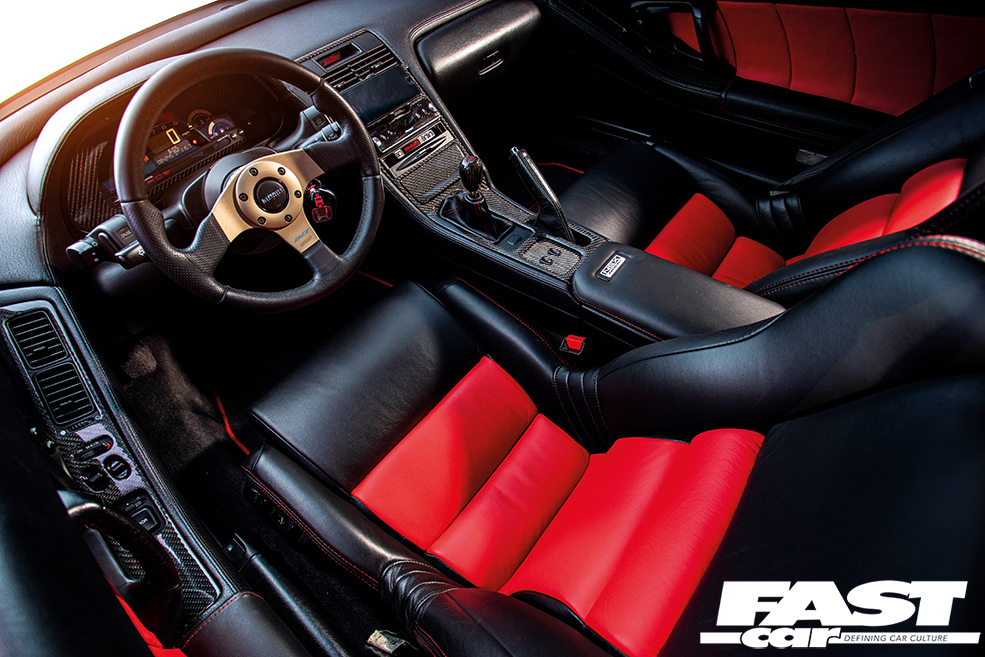 After much deliberation, the deal was done, and Tam flew back to Seattle with the NSX on the next transport up. By this time Covid had hit and Tam's job was put on pause by government mandates. In what seemed like a stroke of fate, this allowed him plenty of time to invest in the project to build the NSX of his dreams. So, with nothing else to do, he spent nearly a month straight, working 10 to 12-hour days taking apart the motor, transmission, suspension and interior. The engine was disassembled on the floor of his garage, parts lined out like a blueprint ready to be fixed, fitted or upgraded. The culmination of 30-years of waiting, plus one long additional month of labour, and his dream car was nearly complete. But this was far from just a refresh or restoration, as Tam had a much grander vison for the NSX and he knew exactly how to achieve it.
The NSX has an iconic look, a racecar born and bred for the streets. How do you top or enhance that? By going widebody and giving it an undeniable GT supercar look, that's how! And one of the most unique and instantly eye-catching features of Tam's NSX is the exterior widebody kit, which consists a pair of Downforce GTS vented front arches, Taitec rear quarter panels, a Type R bonnet, Shine Auto front bumper, Pride Marga Hills-style side skirts and Route KS carbonside scoops.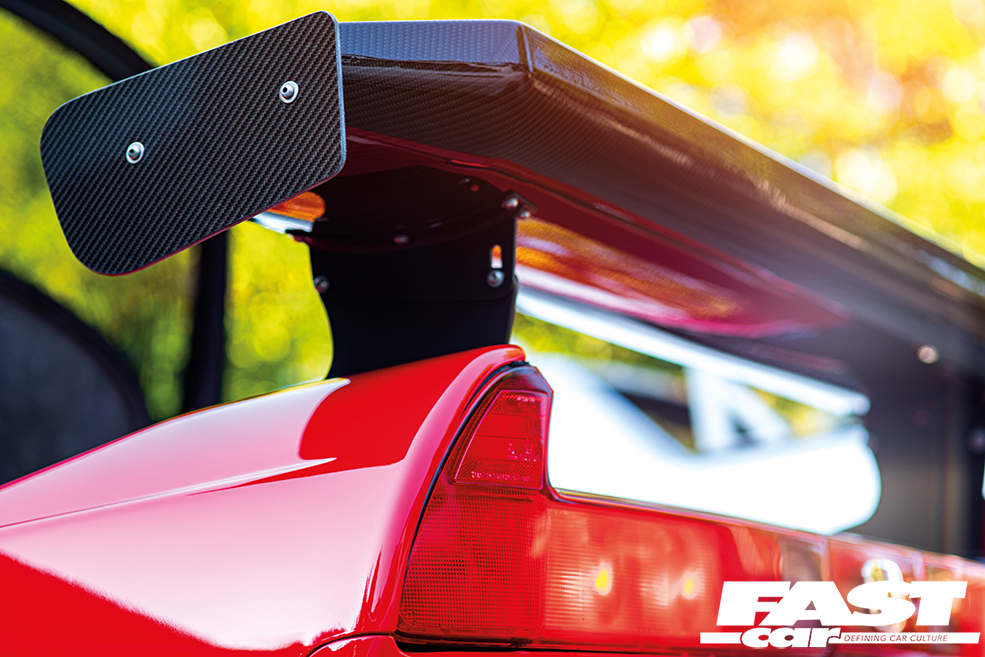 But there's much more to going widebody than simply slapping on some bulging body panels, you also need to go wide with the wheels too! Being no stranger to the art of modifying Tam had things covered and upgraded the sleek Honda's rolling stock with a set of Rays TE37SL (super light) graphite wheels. Measuring a girthy 9x17in at the front and 10.5x18in at the rear, and wrapped in Federal SS595 street tyres, the new hoops have all the style and grip that Tam could ever need for daily driving.
Unfortunately, the Seattle streets are often far from forgiving, so Tam has wisely installed a custom-made suspension cup kit featuring parts from Stance Parts and BC Racing coilovers. This adjustable setup gives him the most flexibility and control to raise at lower the car at the flick of a switch, without sacrificing the comfort and performance of a dedicated quality coilover system.
Tam has a vision for every car he builds and makes sure the theme carries over into the interior and the NSX was no different with a two-tone leather seat and interior panel restoration. Genuine carbon-fibre overlays, shift knob, and other accessories complement the sumptuous hide and help set the interior apart from stock. However, the biggest upgrade comes in the form of an S2000 cluster swap with a QUBE LED upgrade and carbon bezel trim. This new cluster brings a much-needed dose of high-tech into the late '90s icon – and is a defining modification to this high-end build.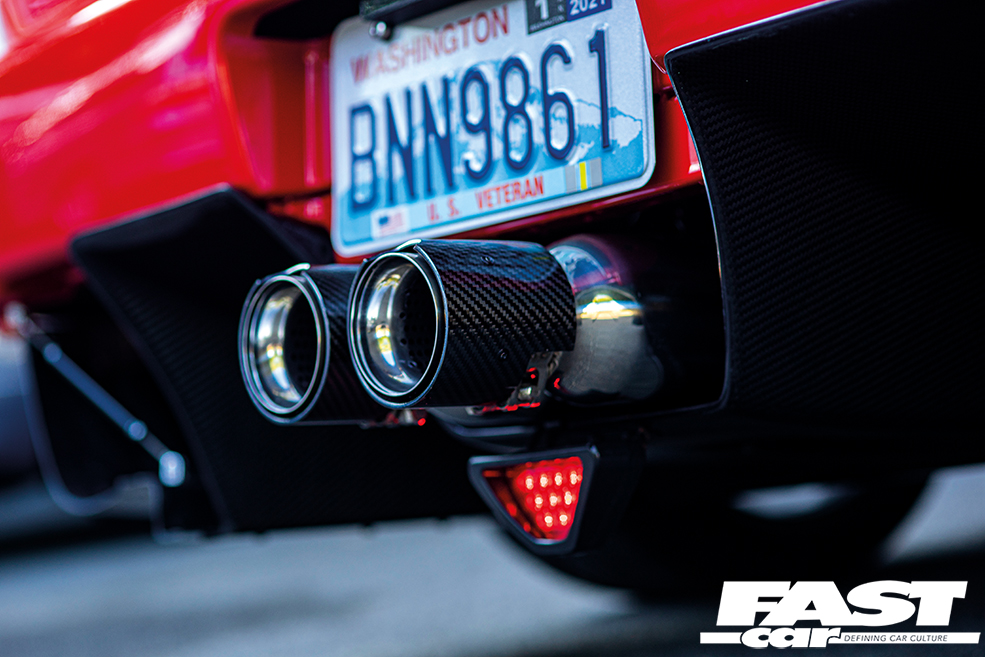 But Tam didn't stop at the aesthetics, as the NSX's iconic V6 motor was by far the biggest project on the car that not only needed to be fixed but upgraded too. So after completing an entire re-build of the engine to ensure the best base for tuning, Tam could get stuck into fitting the fun stuff including a pair of Top Speed Pro 1 exhaust manifolds, a fully custom-built exhaust including Vibrant Resonators and twin centre-exit tailpipes, a Prospeed Stage 3 ECU chip, a Dali Racing intake and Science of Speed clutch kit to name a few. All said and done, Tam expects the NSX to be have an estimated 270bhp and 215lb ft of torque. That might not seem much compared to even modern hot hatch standards, but with the NSX's sublime handling, it's still plenty to be entertaining. Besides, Tam has an eye on more power in the future, and has purposely left out doing too many major engine modifications as he's waiting for the new Science of Speed supercharger kit to be released, which will bring a major boost to the car's power and give it the kind of performance to match its aggressive look.
The cockpit of a first-generation Acura NSX is nothing short of perfection but even with Tam's awesome interior upgrades, listening to your favorite tunes on a 30-year-old audio system isn't exactly ideal, which is why Tam has given it a modern makeover with a full suite of audio and entertainment modifications including a new Pioneer head unit and speakers, a Kicker stealth subwoofer and a Rockford Fosgate amp to make this NSX a dream of a driving machine.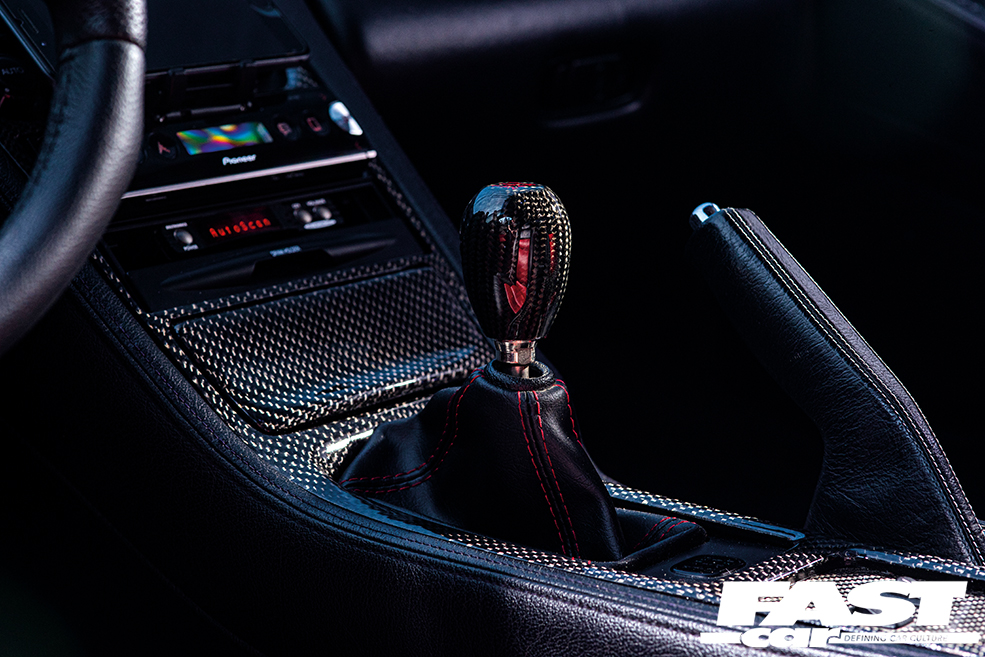 The idea of chasing our dreams surrounds us every day from our favorite books, shows and movies. But maybe the very fact that so few people do actually achieve them, is what makes them so special. After all, anything that's worth having never comes easy. However, in Tam's case, with patience, dedication and an otherworldly skill with the spanners, his dream did become a reality and he now owns a truly unique vehicle. When our new Covid-imposed reality finally ends and life can hopefully return to what we used to call normal, if you're in the Seattle area, you might see Tam driving around and frequenting some social events – but until then he's keeping a low profile. Lockdown is starting to ease now, so until it does and life and work gets back in the way, he's getting busy in his garage building his next dream project… every cloud eh?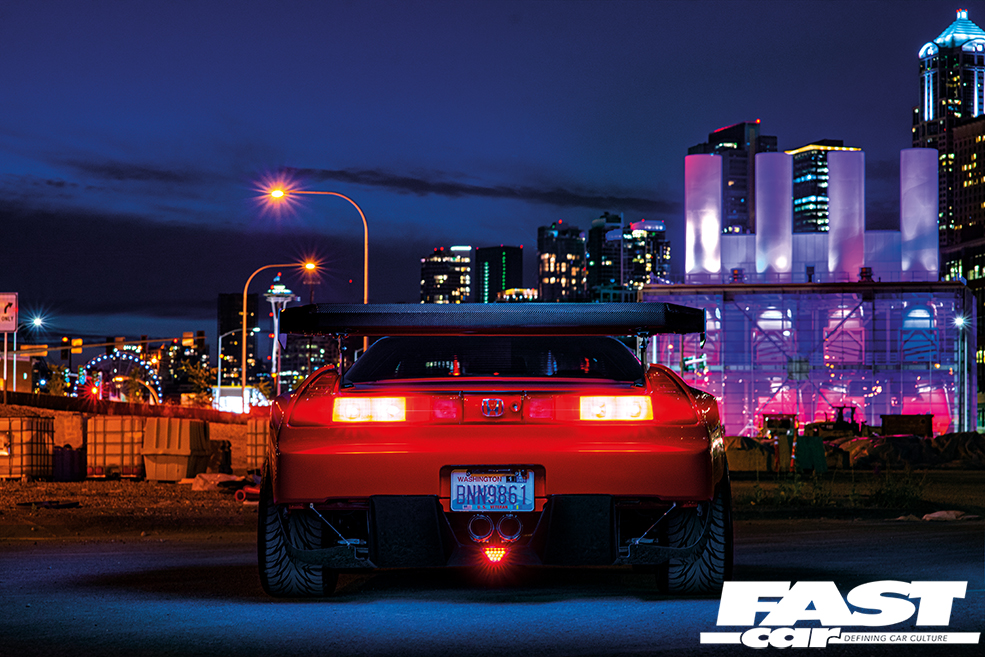 Tech Spec: Tuned Honda NSX
Engine:
3.0-litre, 6-cyl, 32v V6, Downforce intake scoop, Top Speed Pro 1 exhaust manifolds, custom exhaust with 2 Magnaflow mufflers and 2 Vibrant resonators and X-pipe, M-style exhaust tips with carbon-fibre sleeves, Prospeed stage 3 chip with RDX injector kit, Dali Racing intake pipe with K&N filter, billet engine dress up kit, Science of Speed billet reservoir, cap, and fuse cover, Mishimoto radiator, Venair red silicone radiators hoses, fuel pressure gauge with adapter to fuel filter, Cometic head gaskets, VHT gold painted valve covers with auto body clear coat
Transmission:
Five speed manual gearbox, Science of Speed Sport 275 clutch kit with aluminum flywheel, Science of Speed stainless steel clutch line
Suspension:
BC Coilovers with 10k Swift springs, Stance Parts air cup kit x4 with pressure gauge, custom made air cup pump and tank mount
Brakes:
R1 GeoMet slotted rotors and ceramic pads all round, Science of Speed stainless steel brake lines
Wheels & Tyres:
9x17in and 10.5x18in +22 TE37SL Graphite with 235/40/17 and 285/35/18 Federal SS595 tyres, Rays locking lug nuts
Exterior:
Full repaint in Formula Red with black roof, Simoniz Glass Coat Nano-ceramic coating, Taitec Type R hood, Shine Auto front bumper with carbon-fibre splitters, Downforce GTS wide vented front arches (+25 mm), Pride Marga hills-style side skirts, Taitec rear quarter panels (+25 mm), Route KS carbon-fibre side scoops, Taitec GT500 carbon-fibre wing with powder-coated wing stands, Downforce carbon-fibre centre-exit exhaust diffuser, JDM NSX-R 'H' badges, New OEM signal lens, 6000k HID Low beams, F1-style third brake light and strobe module
Interior:
S2000 cluster swap with Qube LED upgrade and carbon-fibre bezel trim, Zanardi floor mats, NRG short hub, Works Bell Rapfix quick release – Yoshioka Special Edition, Momo Race 320mm steering wheel, carbon-fibre shift knob, Integra Type R shift boot, real carbon-fibre overlay on factory trim pieces, dash cam rear view mirror backup cam, Science of Speed billet window and door lever upgrade, Ridies leather seat covers, door cards/arm rest, center console, and sub enclosure, LED dome, door, courtesy lighting upgrade, Pioneer head unit, Pioneer 6.5in 3-way speakers and Boom mats for doors, Kilmat sound deadening on the doors, Kicker 8in sub in custom carbon-fibre center console enclosure, Rockford Fosgate Punch 4-channel amplifier, Rockford Fosgate upgraded audio wiring