After several transformations, this once-humble Escort Cabriolet is now a tuned monster.
Feature from Fast Ford. Words: Ben Birch. Photos: Jason Dodd.
If you've ever stripped a project car and rebuilt it from the ground up, you will know just how stressful, time-consuming and costly an endeavour it is. Now, imagine over the space of ten years doing it not once or twice, but several painstaking times.
Alex Charman has done exactly that with his Cabriolet, and we're very glad he put himself through that pain, because what you see on these pages is arguably the baddest soft-top Escort ever to do a burnout.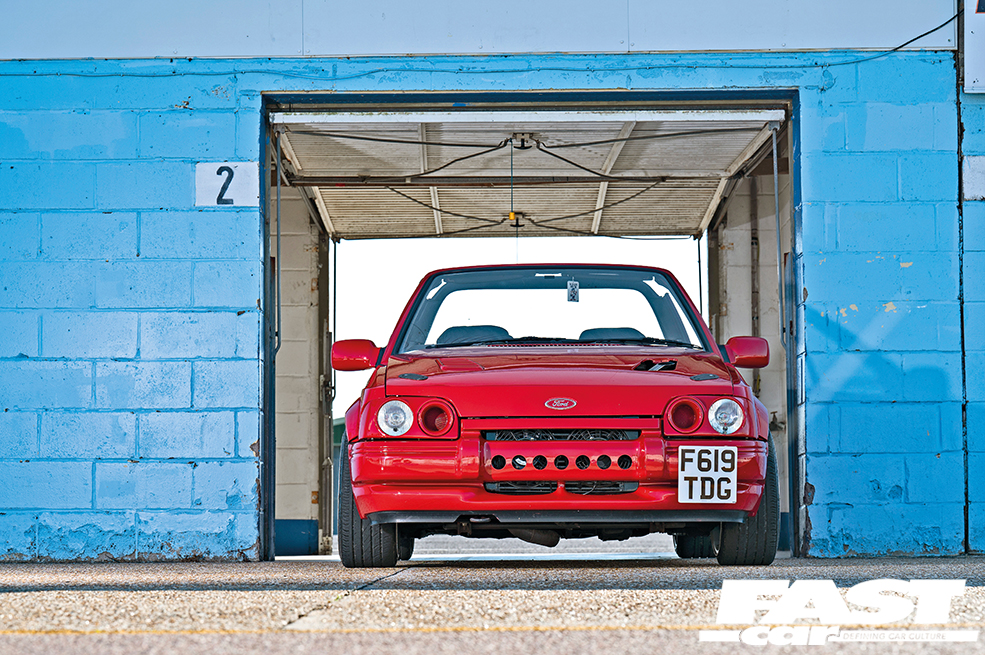 The story starts way back, with Alex being a Ford fan as soon as he could make car noises, and over the years he enjoyed a stack of S2 RS Turbos, Fiesta RS Turbos and tuned Escort vans, to name a few. He'd always wanted to build an RS Turbo-style Cabriolet, so back in 2009 he sold a perfectly good S2 to finance this car, which turned out to be a pretty tired example with cut springs and an XR3i engine running a DIY turbo kit.
Alex explains, "Overall it was pretty nasty, so I took it all apart and rebuilt it, at the same time as fitting an S2 bodykit. I drove it for a while in that format but the dream was always to fit a genuine RS Turbo engine and gearbox."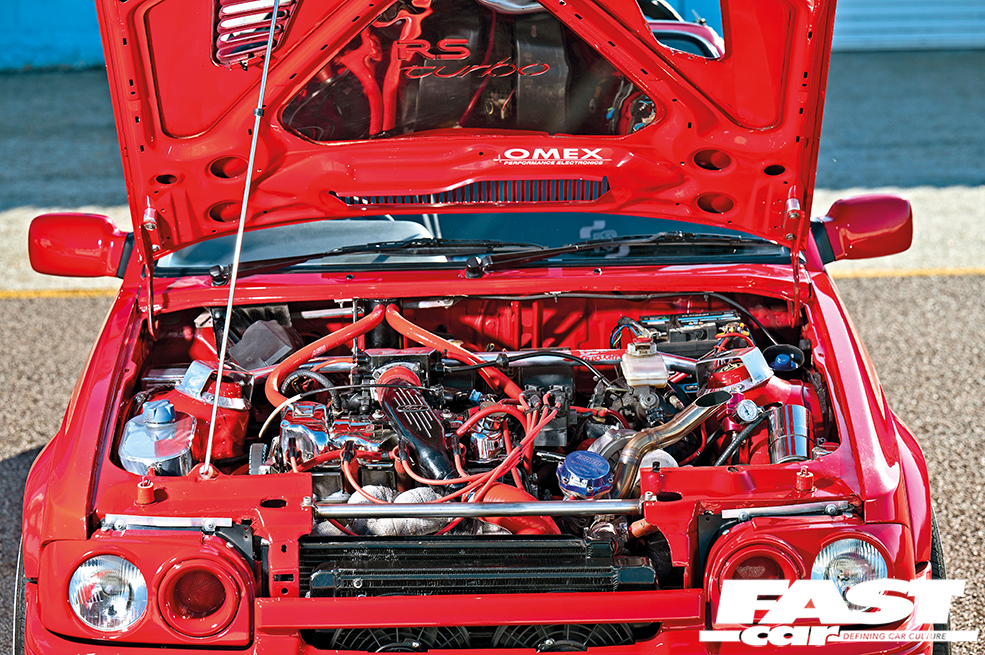 As luck would have it, not long after getting the car on the road, one of Alex's friends upgraded his RS Turbo to a 2.0-litre ZVH, so Alex bought his CVH engine, which served as the catalyst for the second full rebuild.
"I took out the bodge-job XR3i turbo engine, and while looking at the empty engine bay I thought it was a great opportunity to repaint the whole car, so I stripped it down to a bare shell again in preparation," continues Alex.
Rather than sticking to the Ford colour chart, Alex was adamant about adorning the Escort with a more striking hue, and when it comes to red, Ferrari is the daddy.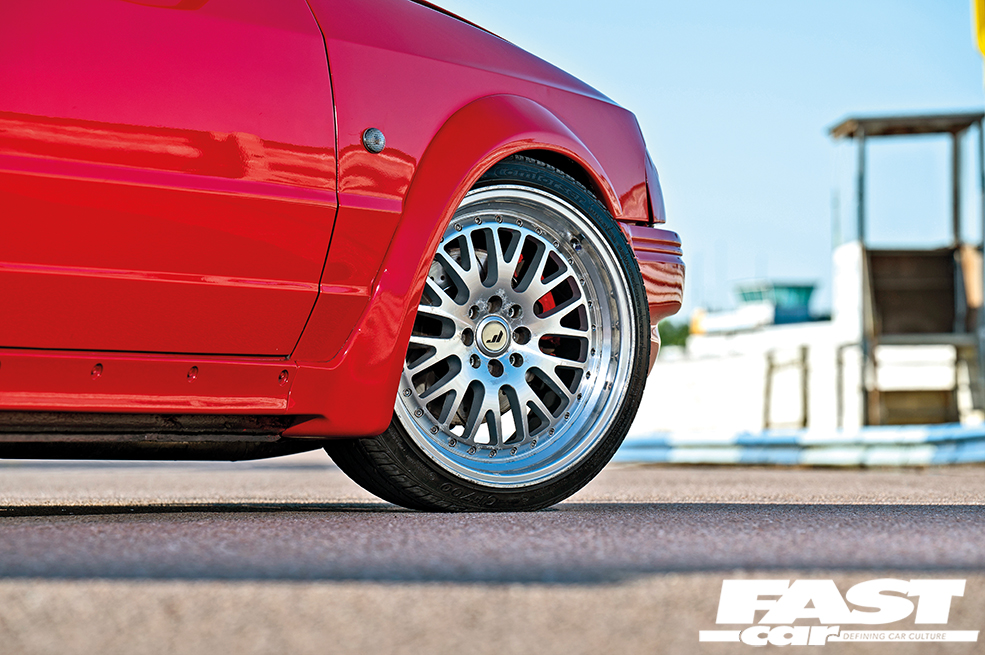 "As much as I loved their reds, my wage packet didn't," Alex laughs. So after lots of research, he came across Honda Milano Red, which was the closest Alex could find to a Ferrari shade without paying Ferrari prices.
The result of the respray was, and still is, stunning. The Honda shade is much brighter and sharper than Ford's Radiant Red, and along with the super-aggressive styling, creates an Escort with huge road presence.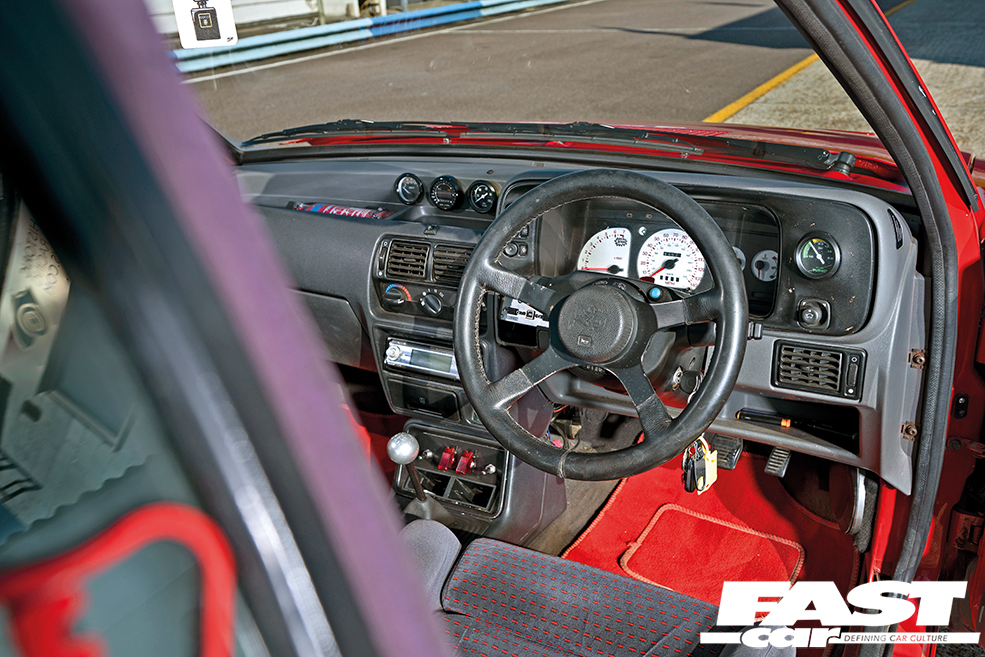 "The S1 bodykit is another key element of how the car looks," Alex points out, "but it was a complete nightmare to fit. I thought it would be a piece of cake, but it took a full week of cutting, shutting and repeatedly lining it up on the Mk4 panels to get it looking right."
His hard work was well worth it; the S1 kit is wider and has sharper, more defined edges than the S2 version. Along with removing the inner lamps from the twin-headlight conversion, plus drilling out the '88-spec front bumper, Alex has made one of the toughest looking Escorts, Cabriolet or tin-top included.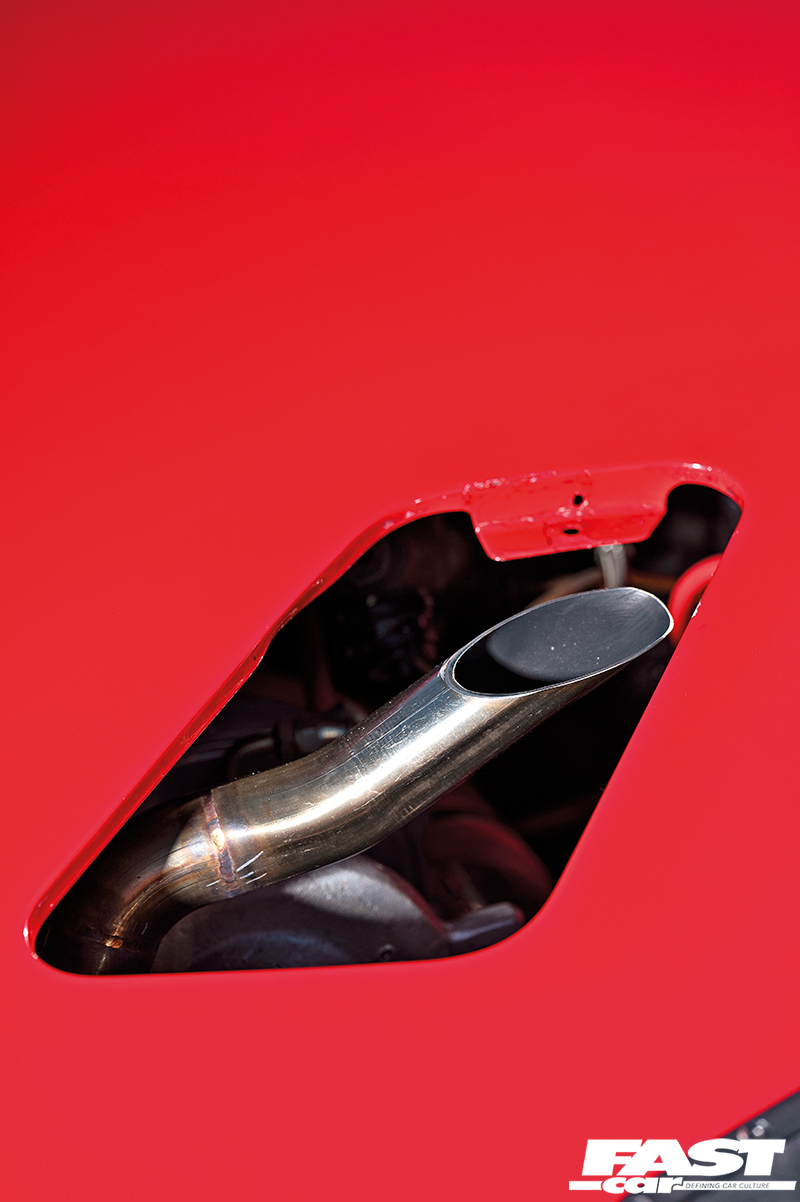 Following this second rebuild, Alex was quite content to drive around for a year or two enjoying the wind in his hair. After all, he had now achieved his long-term goal of building a mint, RS Turbo-powered Cabriolet, so was rightfully loving life.
He enthuses, "With the music on, the roof down and the turbo whistling away, you are treated to a feel-good experience that I've not enjoyed with any other car, but after a year or so I started to think it could feel even better with a bit more power…"
His friend's ZVH conversion had made a big impression, so Alex's car was taken off the road once again and, yes, you guessed it, a third rebuild was under way.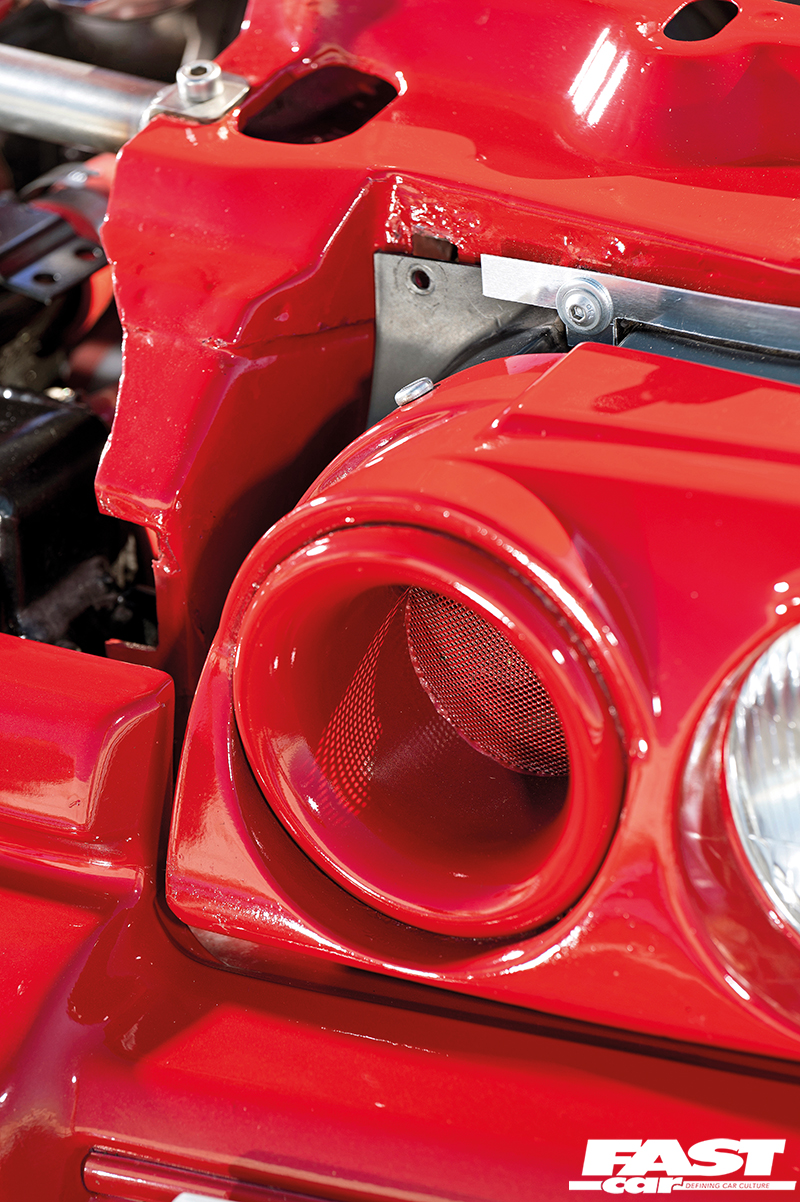 "To start with, I put in a ZVH running the original MFi and blew it up at Santa Pod, but I still beat the turbocharged Astra in the other lane, so it wasn't a total disaster," laughs Alex.
In the blown ZVH's place now sits another ZVH, which has been ultra-reliable. A Focus ST170 bottom end forms the basis of the conversion, which Alex freshened up with new rings and checked for condition before matching it up to a ported and polished Fiesta RS Turbo head.
"People ask me why I didn't go for a full 16-valve Zetec, but I love the old-school look of the CVH cam cover and boost crossover pipe too much," adds Alex.
A wild exhaust manifold with external wastegate and screamer pipe was fabricated by his friend, and hanging off it is a Mk1 Focus RS turbocharger, treated to a few mods by Universal Turbos.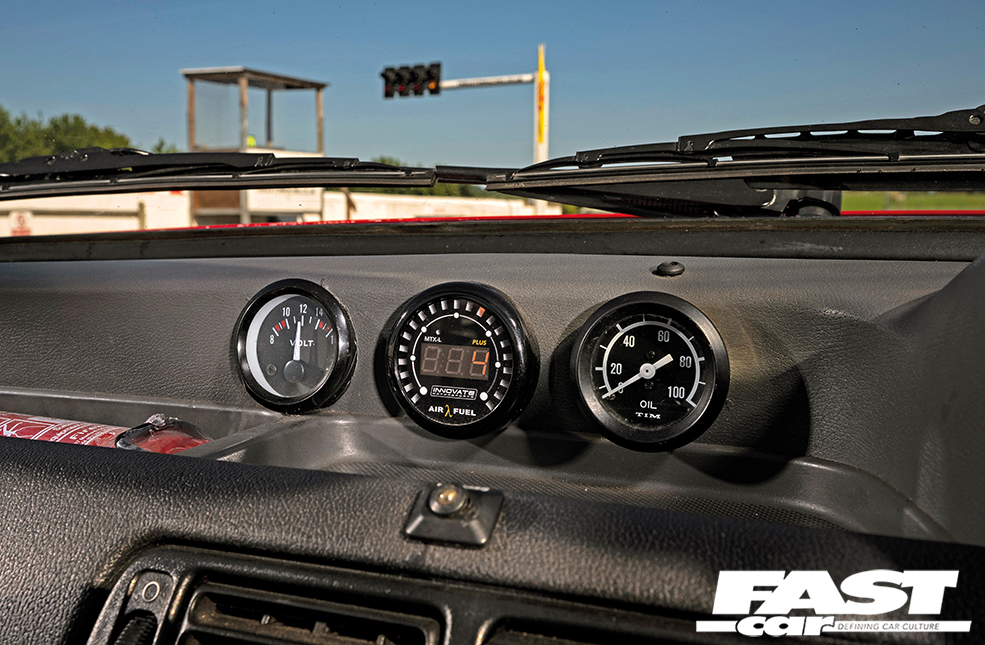 Alex says, "I ran this at 1.6-bar of boost for six years before I switched to EFi. It was a rocket ship, which contradicts what a lot of people say about the ST170 pistons only being able to take 1-bar."
The switch to EFi came when a friend offered Alex the whole bundle of bits: Fiesta RS Turbo inlet manifold, Vauxhall VXR injectors and an Emerald ECU, which Alex had fitted for the chap several years ago.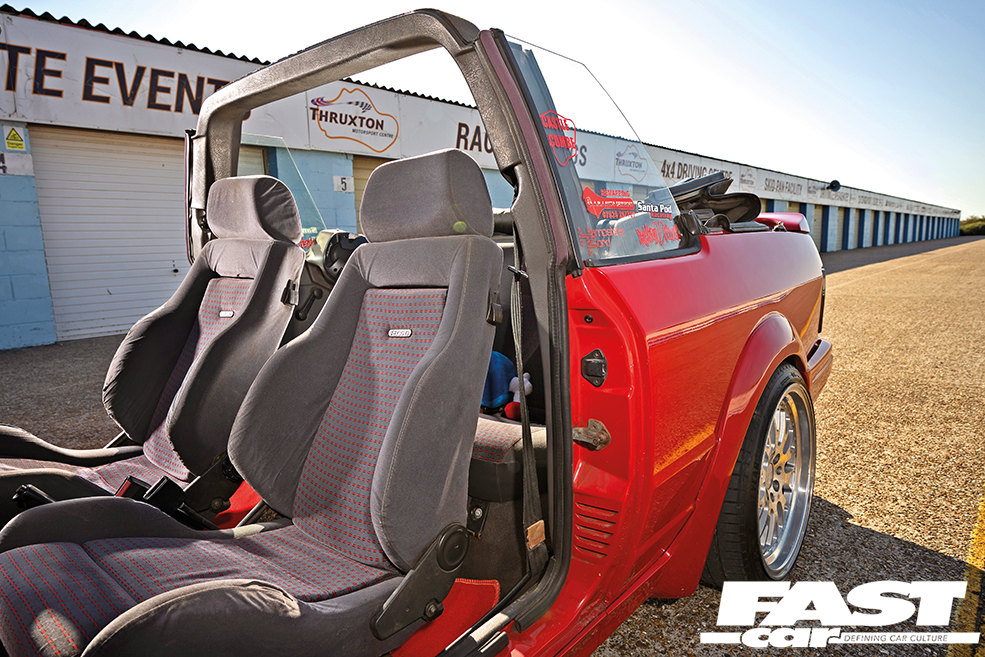 "I now know that it was the right way to go, but back then I had a load of electrical issues after installation, and it made the engine bay look a lot more complicated, so at the time I actually regretted doing it," he admits.
Alex has no regrets today though, because the car is making a solid 228bhp at just 0.5-bar of boost, with lots more to come.
He explains, "When the car went for mapping the clutch was slipping a bit. I've upgraded that now, so it's going back for more mapping soon and we're aiming for over 300bhp at 1.5-bar."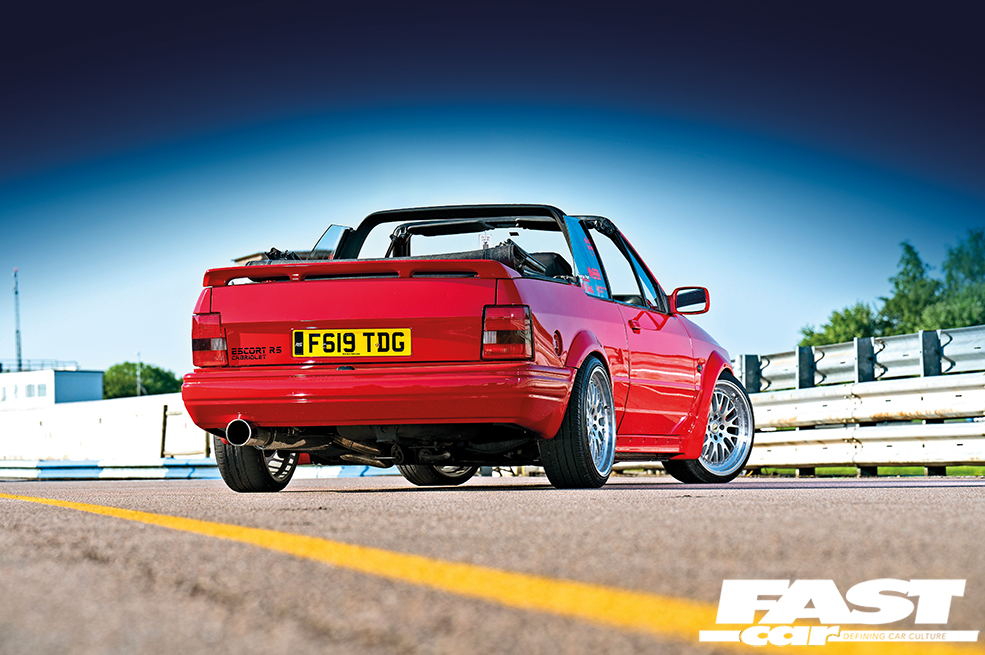 The only weak link may be the IB5 gearbox, which although fitted with some stronger internals is perhaps beyond its limit.
Alex says, "I'll see how it goes, and if it explodes I'll fit an MTX gearbox. I'll probably end up having to anyway because I've got a nitrous oxide kit to go on the car too."
So, how does an Escort without a solid steel roof drive with all this grunt? Does the Cabriolet feel different from an RS Turbo?
"Oh, 100 per cent. You can feel it moving around, you can feel the shell flexing, but that's all part of the experience for me. It's not a race car – it's a fun, old-school car for sunny drives out and having a laugh in," smiles Alex.
We can tell Alex is completely happy having spent countless hours building and rebuilding what is now his dream car, and that the positive response he gets from people at the many car shows he attends reinforces the fact he's built something completely unique, perfectly executed and – dare we say it – much rarer than its RS cousins.
"People I meet seem to have a lot of time for it, and not one person so far has trotted out the old cliché of it being a hairdresser's car, so I think I've got the balance right between modifying it without turning it into a chav wagon," he says.
Chav wagon it ain't. One of the best tuned Escort Cabriolet ever, it most certainly is.
Tech Spec: Tuned Escort Cabriolet
Engine:
1988cc ZVH comprising Focus ST170 Zetec bottom end with Stage 2 ported-and-polished Fiesta RS Turbo cylinder head, Newman race cam, solid lifters, Kent adjustable vernier pulley, Vauxhall VXR injectors, uprated HT leads, custom exhaust manifold, hybrid Mk1 Focus RS turbo, 2.75in Scorpion exhaust system with 4in tailpipe, Turbosmart external wastegate with screamer pipe, K&N cone air filter, Airtec intercooler, twin 9in electric fans, uprated fuel pump, uprated fuel pressure unit, Emerald ECU
Transmission:
IB5 gearbox with stronger internals, Helix four-paddle clutch, uprated clutch quadrant, RS Turbo driveshafts
Suspension:
Gaz coilovers, polyurethane bushes
Brakes:
Sierra Cosworth front callipers and discs
Wheels & Tyres:
8x17in Japan Racing alloys with 215/40R17 tyres
Exterior:
Full respray in Honda Milano Red, S1 Escort RS Turbo bodykit, small RS spoiler, S2 Escort RS Turbo front and rear bumpers, electric roof, Morette twin headlights
Interior:
Recaro '88-spec Escort RS Turbo seats, RS four-spoke steering wheel, boost, oil pressure, oil temp and AFR gauge, starter switch panel, Sony Xplod flip-down stereo, 6cm front and 6x9in rear speakers, 12in sub and 2 Farad power cap