With stunning looks and the power to match thanks to its massive single-turbo setup, this full-on tuned E92 335i is one epic performance build.
Feature from Performance BMW. Words: Elizabeth de Latour. Photos: Daniel Piker.
We are big fans of the E9x platform and it's one of our favourite 3 Series, even after all these years, and it has been quite a few years – 16 of them, in fact – since it was launched. But, certainly for us and, it would appear also for an awful lot of you out there, it's still a firm favourite. It's a great-looking car, extremely affordable and its modding potential is near limitless, making it the perfect choice of project whether you're a first-timer or a seasoned pro. It's no surprise that it remains such a popular choice on the scene and we never fail to be impressed by the sheer variety and diversity of builds out there. And, despite there being so many modded examples about there are still plenty of mind-blowing builds out there and Alex Tran's (@ruthlesse92) tuned E92 335i is one of them.
Looking at this car it's clear that Alex has an eye for modding and that he's created such an epic E92 is not surprising when you learn that this is the model that kicked off his love for BMWs in the first place. "When the E92 series was introduced, my desire to own a BMW began. Over the years, my passion for BMW has truly taught me enough to know that I do not have to compromise luxury for performance. Having a BMW allows me to obtain both packages in one car," he smiles and the appeal of that combo is undeniable. When it came to getting some Bavarian action in his life, it's no surprise that Alex went down the E92 route and this 335i is, in fact, his very first BM, having previously enjoyed a string of Japanese machinery and that's also where he got a taste for modding and turbo power.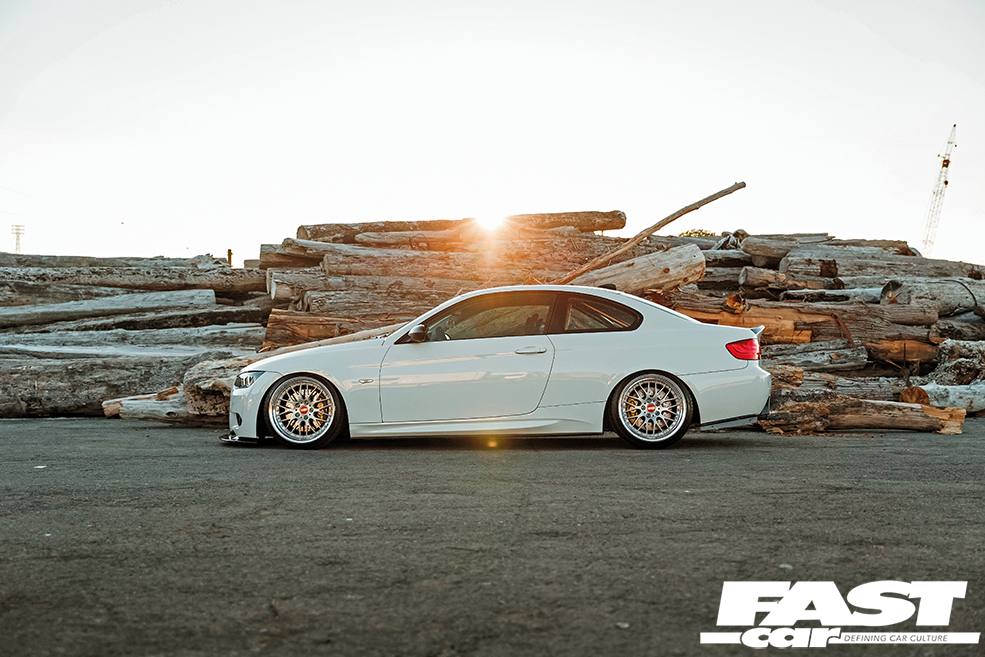 "Previous cars that I have modified are a 2000 Honda Civic Si, 1993 Honda del Sol, 2003 Acura TL, and a 2014 Lexus IS 250 F Sport. All cars were primarily cosmetic modifications except for the 2000 Honda Civic Si. To keep it short, the Civic had a B18C1 with a Precision 5858 turbo making 400whp and was daily driven. It also had a full EK9 red interior with Recaro SRDs, five-lug conversion, and Work Meister S1 wheels," he says and having got a taste for turbo power, this purchase was an inevitable one. "The E92 body style was what particularly interested me, while the twin-turbo N54 engine was a major factor that officially lured me in to purchase the car. Being that my BMW came turbocharged from the factory, I could not resist. As they say: 'Once you go turbo, you'll never go back'," he grins and his 335i has gone far beyond its factory spec even though that wasn't the plan.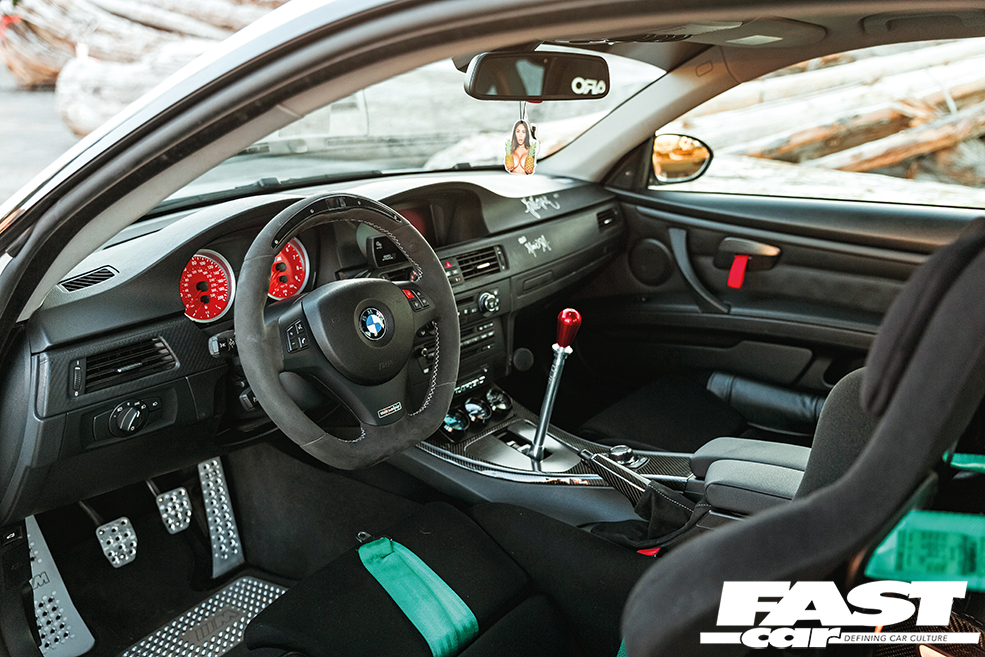 "My initial plan was to simply lower the car on nice wheels with minor bolt-on performance modifications. Since owning the car, my list of modifications has gone further than expected," he chuckles but thanks to that he's created a car that is nothing short of awesome. This E92 just looks so right and it's actually the styling that Alex got stuck into first; "I kept the exterior styling to a minimum. I am quite content with the style from the factory, with a few minor touches," he says but there's a lot more going on with the aesthetics than he's letting on and there's a lot more to the looks then might initially meet the eye.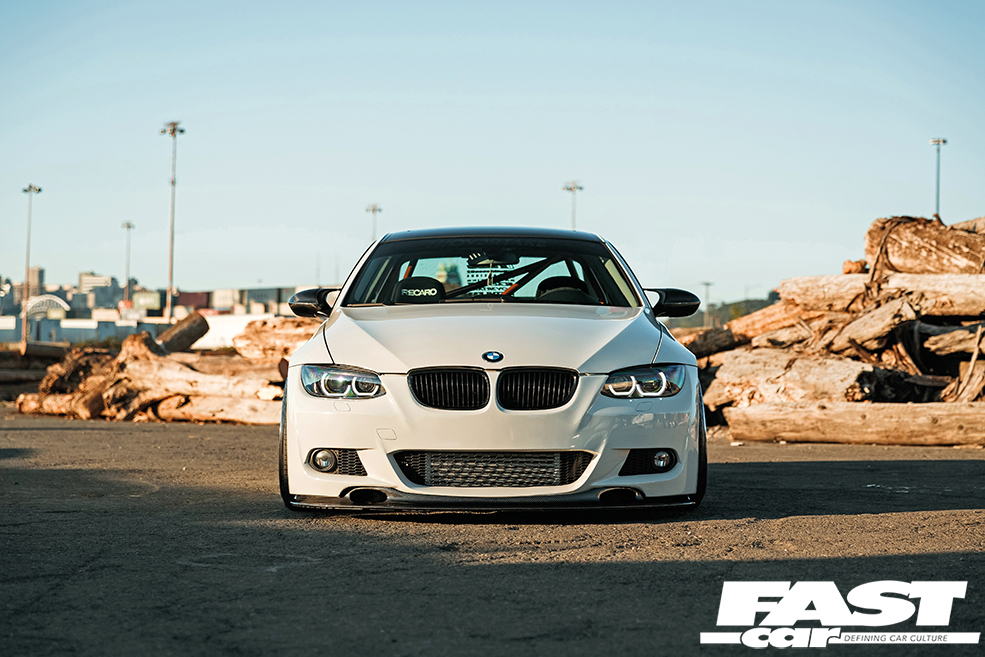 The Alpine white bodywork was crying out for some contrast and that's exactly what Alex has given it, with a roof wrapped in gloss black and then come the carbon additions, which include the aggressive GT4 front splitter that's attached to a Euro-spec M Sport front bumper, Forcewerkz side blades that are mounted to M3-style side skirts, and the carbon mirror caps on the M3 door mirrors. From these mods alone you can already see that Alex has been putting in some serious work but we're still only scratching the surface here. Up front sit M Performance gloss black grilles along with a set of custom headlights running 3/4 DTM halos and carbon eyebrows, and then at the rear of the car you'll find a Vorsteiner double-sided carbon CSL-look boot lid with an extremely sexy exposed edge, an LTMW quad exhaust diffuser along with carbon rear side extensions and fins to finish things off. The combined effect is seriously dramatic and it imbues this tuned E92 335i with an incredible sense of menace and aggression and the sheer road presence of the thing is truly stunning.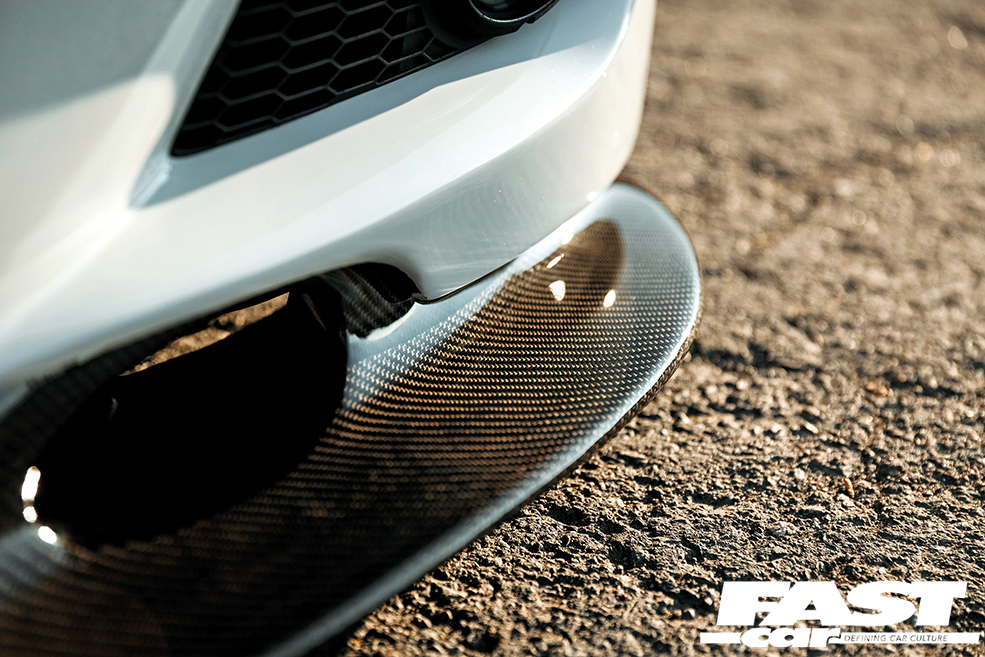 In addition to the styling enhancements, this E92's looks are further bolstered by its uncompromising static stance and Alex's exceptional choice of wheels, though this project has worn a few different sets in its time. "I chose BC Racing coilovers because it was what my budget allowed me to purchase. Because these have continuously provided a smooth ride with great stiffness without creating any issues, I am still using them today. I've also added Megan Racing rear camber arms due to having clearance issues with my new aggressively specced wheels," he explains, and in addition to those his 335i is equipped with M3 front and rear control arms, an M Performance carbon strut brace and BMS diff brace.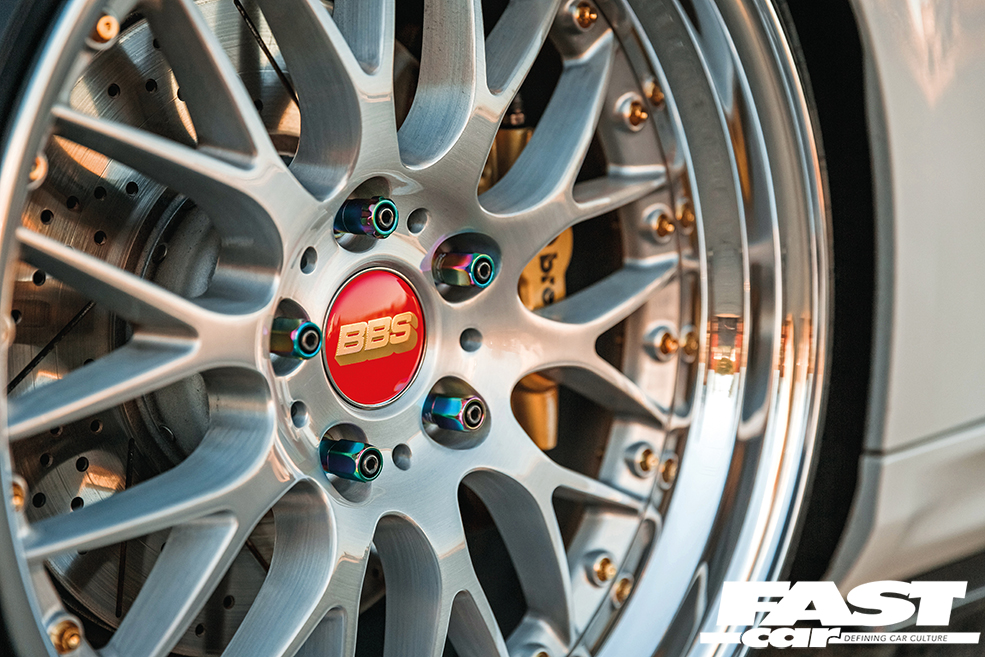 Originally, Alex was running a set of VMR VB3 wheels, followed by Work Meister S1s and was about to send off a set of BBS RSIIs to be customised before he changed his mind, realising they weren't what he really wanted and so he decided to spring for something he really did. "I wanted something special that not many others had that also wasn't readily available. I decided to go with custom three-piece wheels built to my specifications," says Alex and the BBS RSs he opted for look stunning. The eagle-eyed among you might well have spotted that these are actually 744/5s, aka Style 42s, a two-piece wheel found on various mid-'90s BMs, but Alex has had them turned into three-piece splits, with brushed silver centres and polished stepped lips. They look absolutely awesome, a truly unique set of wheels and they suit the whole look of this E92 perfectly, while the fitment allows them to just tuck under the arches, delivering that awesome stance. Red BBS centre caps and gold hardware add some flair while the stud kit and neo chrome wheel nuts deliver the perfect finishing touches, and the wheels are mounted over F80 M3 Brembo calipers that have been powder coated gold.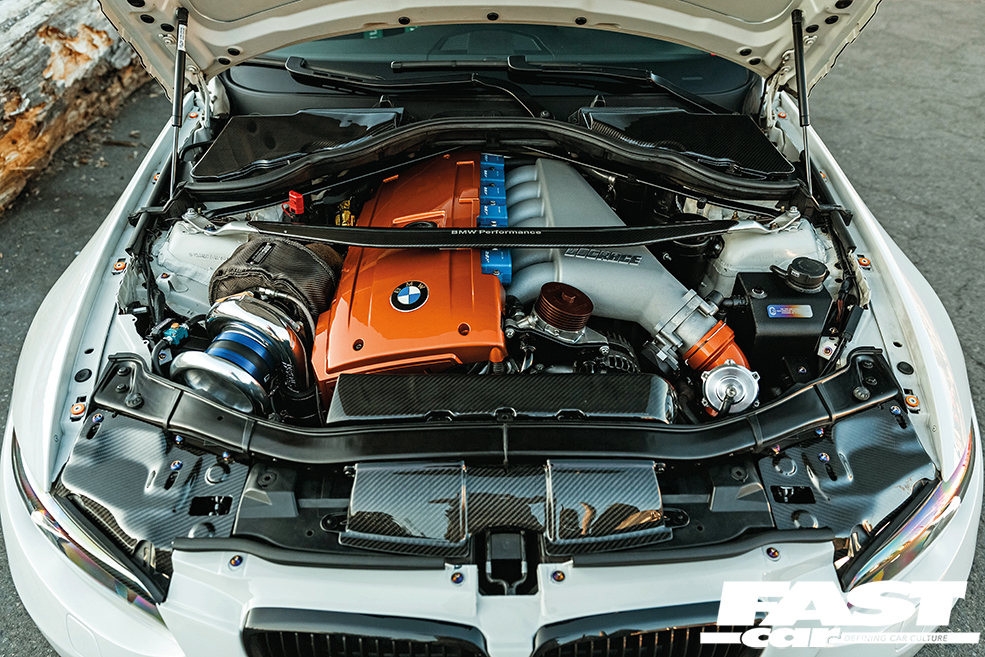 With his E92 looking the part, Alex was now ready to move onto the next stage of the build, and that was waking up the latent potential slumbering within the car's N54. Initially, he opted for a selection of the usual upgrades that give impressive gains without too much effort, namely a set of cat-less downpipes, a Vishnu cat-back exhaust, dual cone intakes and a JB4 to top things off, all of which combined to give his 335i a healthy power output that would have hit the 400hp+ mark. Around this time Alex also fitted a set of Recaro SPG Profi seats and a StopTech big brake kit front and rear, before deciding to make some changes to the direction of the project. "Before moving from San Jose, CA to Seattle, WA, I decided to sell off parts from my car. I sold my Recaro SPGs and StopTech BBK before dedicating my focus onto a bigger build," he explains and that took the car to where it is today.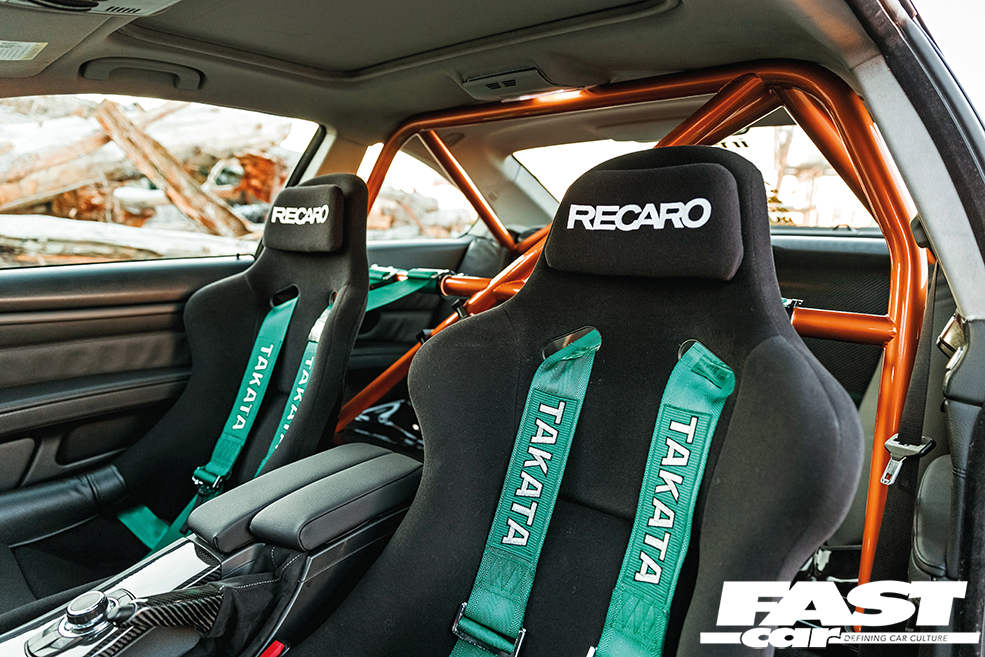 The interior was part of his new area of focus and it shows as the result is absolutely awesome; "I was aiming for the look of a track car alongside the comfort of a daily driven car that was always show-ready," he explains. "I added an Always Evolving Performance half-cage in GTS Acid orange – I choose this particular half-cage due to it being completely bolted in, allowing it to sit on top of the seat bench like the GTS instead of being mounted to the floor. This allows for more room behind the front seats. Due to the roll-cage being installed, I ordered for a complete carbon fibre rear seat delete to be created," says Alex and it looks spectacular but it's just one tiny part of what's going on in here.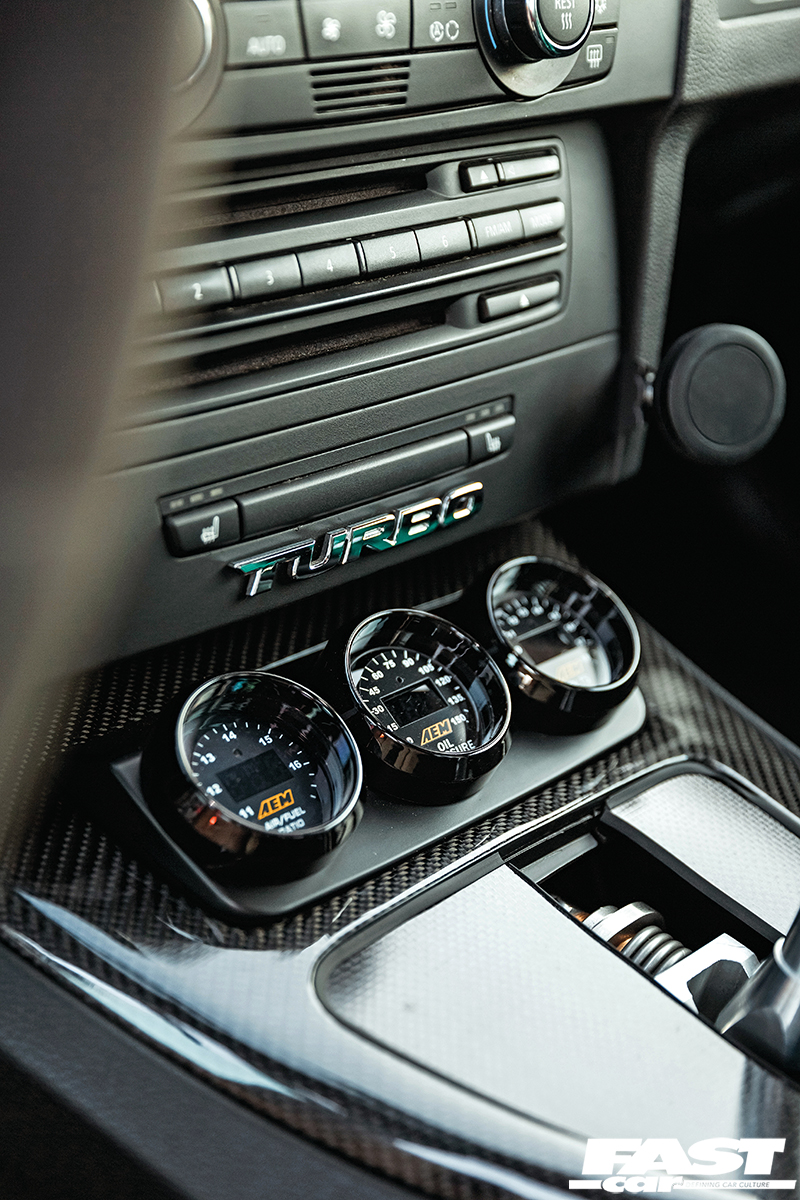 He may have sold his SPGs but in their place sit a pair of Recaro Pole Positions equipped with headrest cushions and Takata six-point harnesses, and combined with the cage and fire extinguisher, they deliver that track car look that Alex was after. This is further emphasised by the carbon that has been installed, with a Dinmann centre console trim and handbrake handle while the dash and door trims are E9x M3 carbon leather items. Alex has also added an M Performance V2 electronic steering wheel with a red M button, an RTD Race shifter with a red gear knob and red Hard Motorsport door pull straps with carbon surrounds. E9x M3 gauges have been installed and enhanced with a red overlay. There's also a G-Force III electronic boost controller, ECS vent boost gauge and a Macht Schnell ashtray pod with three AEM gauges while the finishing touches are the Pedal Haus pedals and heel plate, and they round off an extremely impressive array of mods that have totally transformed this interior.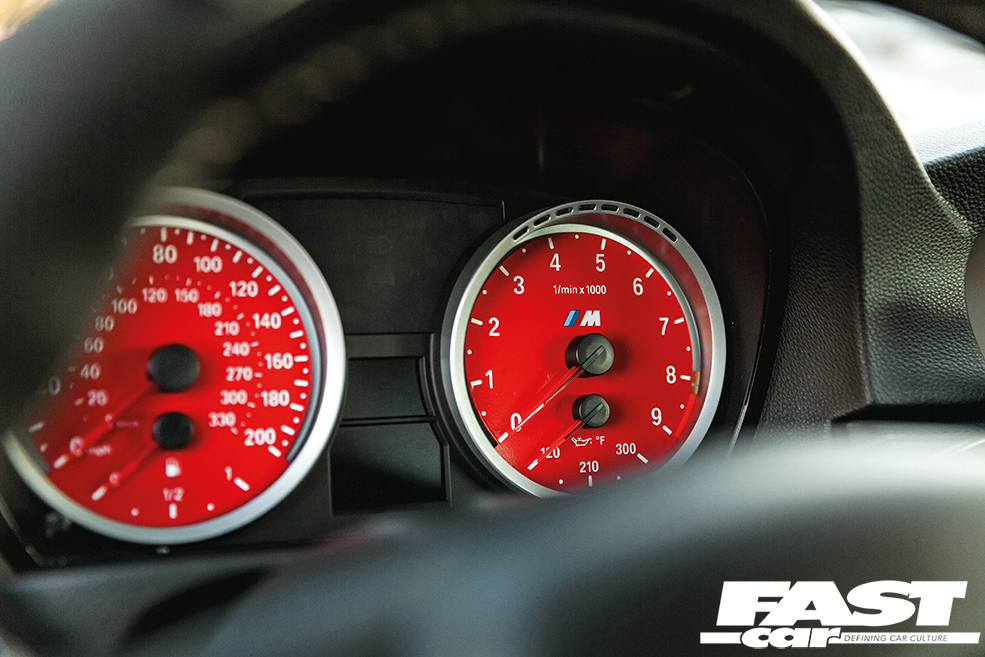 Finally, we come to arguably the most impressive part of this whole build and one of Alex's favourite mods on the whole car (the other being the interior) and that's what's going on under the bonnet. "I have upgraded the stock twin-turbos to a single top-mount PTE 6266 ball bearing turbo kit by Doc Race," grins Alex and he's got every right to be happy because this is a beast. "The turbo housing was sent out to get machined and polished for the T51R modification. The setup is also supported by dual external Tial wastegates with open dump tubes, a Tial BOV, BMS meth injection, 7.5" race stepped intercooler, Doc Race intake manifold, Precision Raceworks coil packs, custom aftermarket oil cooler and thermostat, oil catch can, JB4 with MHD back-end flash tune and Index 12 injectors," he says. The result of those mods is an absolutely awesome 603whp along with 557lb ft wtq and those are some serious numbers that have turned this 335i into an absolute monster. Alex has also ensured his engine bay looks every bit as awesome as the power that's being produced therein. There's an aluminium coolant tank, On 3 Performance power steering reservoir, carbon air ducts and cowl filter covers, an M3 cowl, a CTS oil filter cap, Chasing JS titanium engine bay bolts that shaved engine cover painted in Acid orange adds the finishing touch.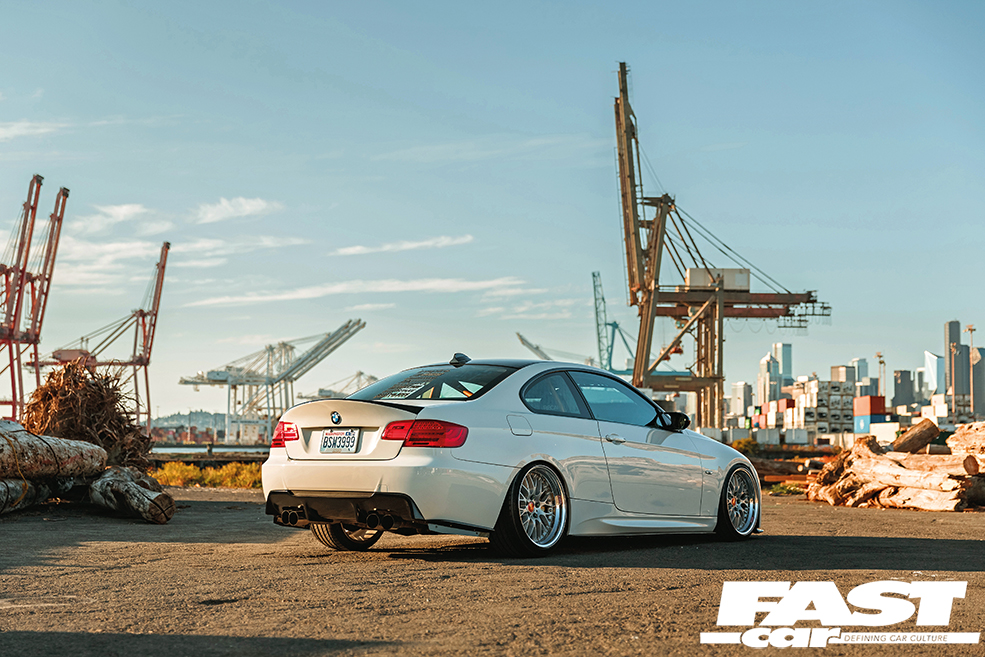 Alex has been working on his 335i for around two years and, short of a full colour change respray, he's done everything he wanted to and has built the car exactly as he wanted and it is finished. That means that the only thing the E92 has to worry about is being driven and enjoyed and, with 603whp on tap, that's very easy to do.
Tech Spec: Tuned E92 335i
Engine & Transmission:
3.0-litre straight-six N54B30, Doc Race top-mount turbo kit, Precision 6266 ball bearing turbo, polished T51R compressor housing, carbon turbo blanket, polished velocity stack, Phase 2 turbo clamps, Doc Race intake manifold, Doc Race charge pipe, VRSF Race intercooler, Vishnu dual 2.5" mid-pipes to back box delete pipes and quad tips, Precision Raceworks coil packs, Stage 3 dual Walbro 450 fuel pumps, Tial 50mm BOV, dual Tial wastegates, BMS methanol injection kit, BMS oil catch can, aluminium coolant tank, On 3 Performance power steering reservoir, Revshift engine mounts, RB oil thermostat delete plate, Mishimoto oil cooler, improved racing oil thermostat, -10AN oil lines and BR fittings, Index 12 injectors, carbon headlight covers, carbon air ducts, carbon cowl filter covers, M3 cowl, Chasing JS titanium engine bay bolts, CTS oil filter cap, shaved engine cover painted Acid orange. Six-speed manual gearbox, Spec 3 clutch
Power & Torque:
603whp and 557lb ft wtq
Chassis:
9.5×19" (front) and 10.5×19" (rear) custom three-piece BBS RS 744/745 Style 42 wheels with brushed silver centres, polished stepped lips, gold hardware and red centre caps, 235/35 (front) and 255/35 (rear) Nankang tyres, 5mm rear spacers, Apex extended wheel stud conversion kit, Project Kics neo chrome wheel nuts, BC Racing coilovers, Megan Racing rear camber arms, M3 front and rear control arms, M Performance carbon strut brace, BMS diff brace, F80 M3 Brembo calipers powder coated gold (front and rear), StopTech Sport drilled/slotted discs, Brembo pads, StopTech front and rear stainless steel brake lines
Exterior:
Alpine white, gloss black roof wrap, OEM Euro-spec M Sport front bumper, retrofitted GT4 carbon lip, Acexxon bumper/lip protector, M Performance gloss black grilles, Cyba air scoops painted Acid orange, custom headlights with 3/4 DTM halos and carbon eyebrows, 6K HID low beams and fog lights, OEM Shadowline trim, keyhole delete, M3-style side skirts, Forcewerkz carbon side skirt extensions, OEM M3 door mirrors with carbon caps, OEM M Sport rear bumper, LTMW quad diffuser, carbon rear side extensions, carbon rear under-fins, Vorsteiner double-sided carbon CSL-style boot lid with exposed carbon edge, LCI LED rear lights, Blackline reverse light overlay, LED reverse light and number plate lights, Future Classic windscreen sunstrip
Interior:
M Performance electronic V2 steering wheel, BMW Individual steering wheel trim, red M button and start-stop button, M3 cluster with red gauge overlay, M Sport door jamb trim, RTD Race shifter, carbon handbrake handle, Recaro Pole Position seats, Recaro headrest cushions, Recaro side bolster protectors, Planted floor mounts, Takata six-point harnesses, ASR harness reel collars, Always Evolving half-cage finished in Acid orange, Dinmann carbon four-piece rear seat delete, Dinmann carbon centre console, LCI iDrive controller, M3 carbon leather interior trim, split armrest, roll-cage-mounted fire extinguisher, Hard Motorsport carbon RS-style door pull straps, Pedal Haus pedals and heel plate, Macht Schnell ashtray three-gauge pod, AEM gauges, ECS air vent boost gauge, G-Force III electronic boost controller