Left battered and bruised in a dirty yard, most people would have given up this Alpine white 323i for dead. But Carlos Gomez, always keen to take the path less travelled, saw a glimmer of potential in it. Here's his tuned BMW E36 323i.
Feature from Performance BMW. Words: Dan Bevis. Photos: Scott Paterson.
Following the herd is all very well for an easy life. But it's far cooler to carve your own path, isn't it? Just ask Carlos Gomez, a seasoned BMX enthusiast who grew up around like-minded riders: "They all had VWs, and I didn't want to do what everyone else was doing," he explains. "The cool kids had Mk2 or Mk3 Golfs, or Polos or Caddys, but that scene wasn't for me. I've never had much interest in front-wheel-drive cars."
This mindset may well be attributable to Carlos's first car, a diesel Renault Clio – decent as a starting point, he admits, and able to carry two BMXs in the back, but not exactly a firestarter for the passions. So with a plan to get a cheap and reliable RWD daily, he found himself a pre-facelift E36 318iS Coupé in Calypso Red. "My fun car at the time was a Ford Capri 2.8i, but I really needed a daily," he says. "Also I hadn't long had my licence back, so I couldn't afford to insure anything with much more power… Sadly I was one of those unlucky kids who got caught speeding twice in the first two years of driving!" Shortly after buying that first E36, he sold the Capri and used the money to do up the BMW, but it wasn't long before the Bavarian voodoo started to truly infect his system. In the twinkling of an eye, Carlos was driving around in an E46 M3, a Mystic blue one with a manual 'box; the E36 ended up getting sold off cheap so he could fly back to Argentina for his nan's 100th birthday back in 2012. He did keep his hand in though, subsequently owning a Montreal blue E36 323i hardtop convertible which received coilovers, BBS RTs, M50 manifold and a bunch of other mods, and an Atlantis blue E36 328i convertible on HSD Monopros and staggered Style 24s. And then, out of nowhere, a ratty and dishevelled Alpine white 323i ambled into the picture like an inattentive sound man on a live TV broadcast.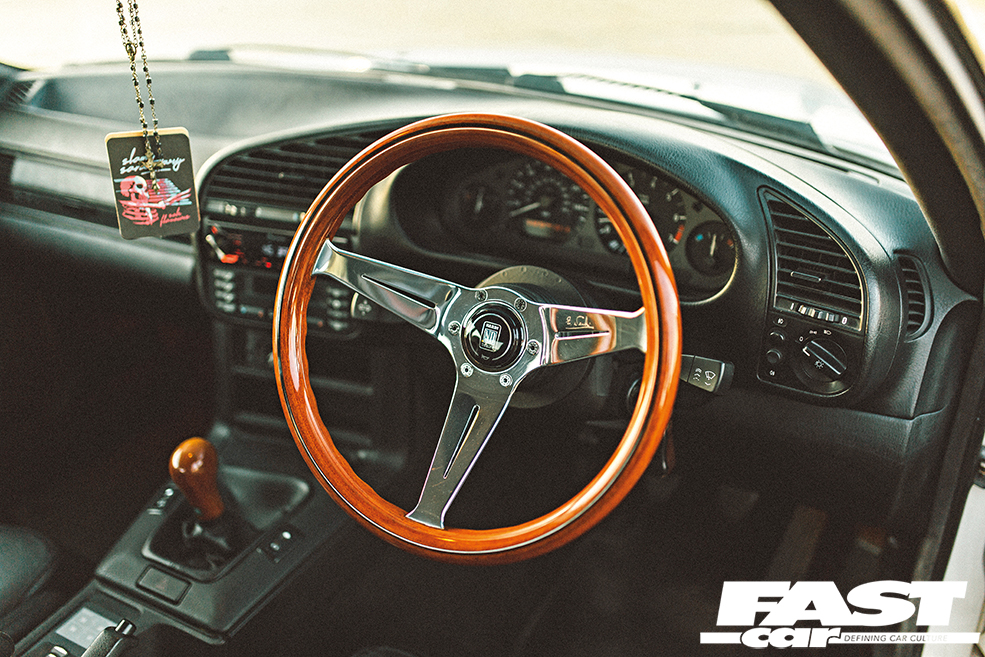 "I first saw this car at my mate Mike's yard, and it was in a very sorry state," he recalls. "This coupé had a solid shell, the right seats, and had just been converted from auto to manual – that was pretty much all it had going for it. It was the first non-sunroof coupé that I'd ever seen in Alpine white though, and its future hadn't been decided by Mike – it was either to be skidded or parted. The car wasn't pretty and needed a lot of work, but I saw it sitting there and fell in love with it… even though it looked like a real turd! I sadly crashed my E36 Convertible a few months after this; I had that trailered home, phoned the insurance company, bought it back off them on the spot, stripped it, and sold the whole thing within a couple of weeks so I could fund buying Mike's car."
The deal was an unconventional one, to say the least – Mike was reticent to get rid of it, and eventually agreed to sell it minus the wheels. So essentially Carlos found himself buying a car he'd never driven, which was as rough as a stucco bathtub, with a welded diff and no wheels. In the rain. But our lives are seldom defined by our better decisions, are they?
"A lot of people wouldn't have even bothered trying to save this car," Carlos laughs. "Every panel was a different shade of white and they were all dented or damaged. It needed a long list of things, including both rear quarter panels, front wings, a full respray, plus the usual barn-find stuff like weather strips and bushes. And wheels, obviously, as it didn't have any. And headlining, door cards, most of the seals, an exhaust, a new diff, it went on and on." Glutton for punishment, eh? But by this stage, he was something of an E36 aficionado, and the quality of the base was largely immaterial beyond the vital fact that the shell was solid and the engine worked: this was to be a blank canvas for his magnum opus, his dream 3 Series build.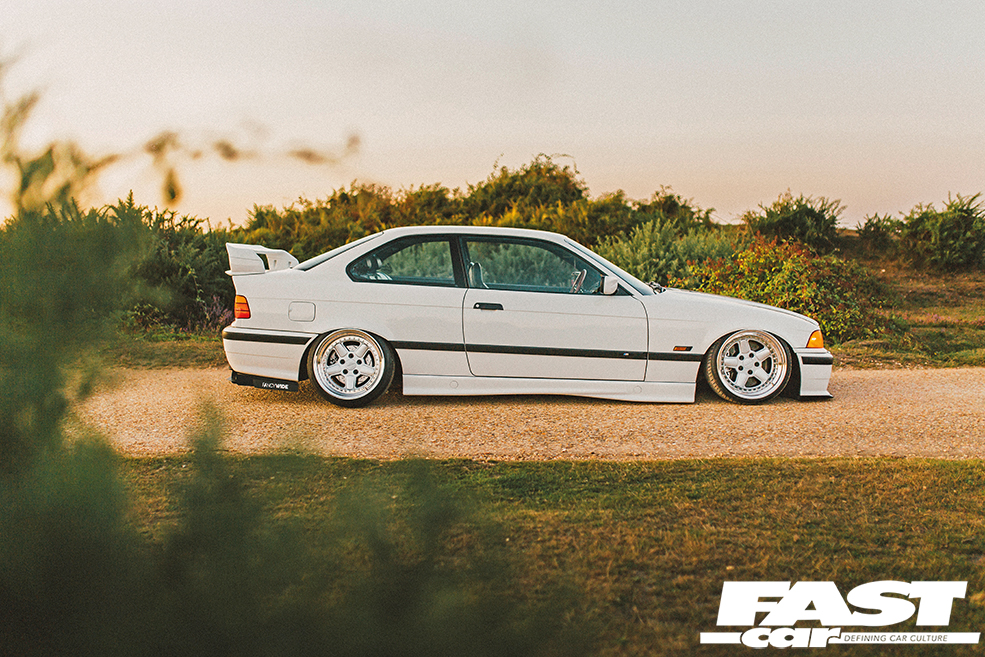 Carlos had a lengthy list of mods in his head, but first of all, he had to get the car shipshape. Countless scrapyard trawls ensued, with endless man-hours of work, to get everything throughout the car as good as new (or, in many cases, even better). Once every nut, bolt and trim piece had been found and affixed, he was finally able to set about modifying it to his own unique formula. The interior was first in the crosshairs, starting with a Nardi wheel and Sport trim for the A-pillars and so on, working with the sweet early M3 Vaders. Most of the hardware was renewed, and the centre ashtray was cunningly reworked to house the Air Lift controller. Oh yes, because he'd decided to bag it! This seemed like the best option to achieve the look he was after, given that he was always planning to run 17s in stock-body wings, so the air-ride provided the requisite versatility. The wheels themselves are the latest in a long line of rims that have been on this car, with Carlos trying a bit of everything until he was happy: the AC Schnitzer Type Is have been rebuilt with satin black 6.5" barrels and custom lips, providing a staggered fitment of impressive girth. The front hubs are spaced for additional camber, and elsewhere in the chassis, we find D2 camber arms, front and rear strut reinforcement plates, and an assortment of Powerflex bushes.
"I sourced new pre-facelift wings, and the arches were cut and rolled for more clearance while keeping the original body lines," he continues. Further aesthetic enhancements included a Fancywide V2 rear diffuser to level out the car's natural rake, some cleverly engineered USDM running lights, M3 bumpers and skirts, and that unmissable LTW wing. All looking on-point then, and gleaming like a new pin in that crisp and fresh Alpine White. At this point, it was time to lift the bonnet…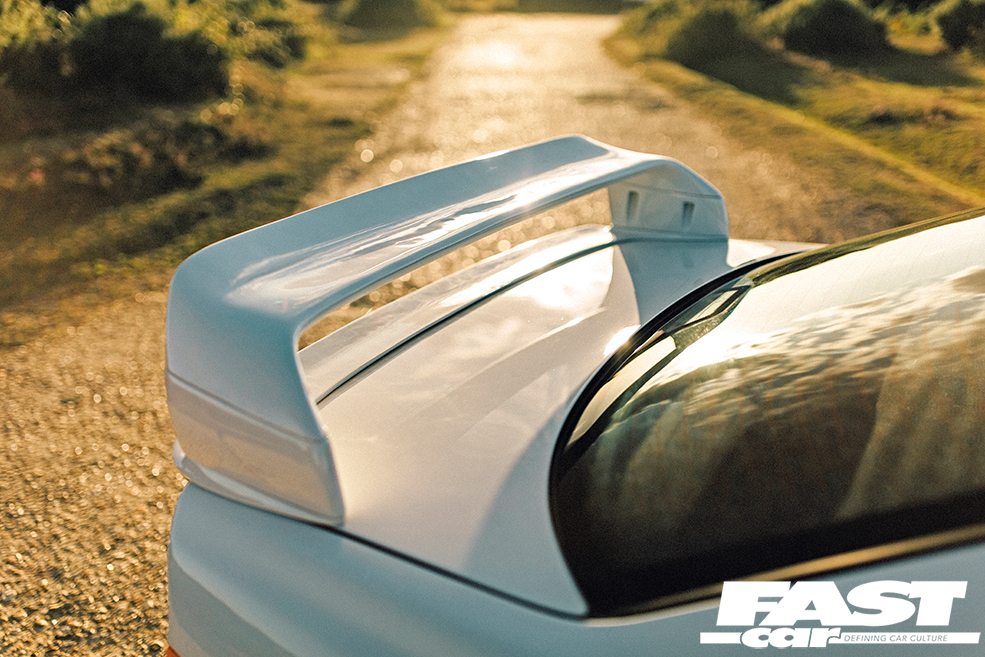 "Having a group of friends who are into the same car as you helps with headaches," he enthuses, "and I can honestly say that if this was my first time modifying an E36 and I didn't have the friends I do, things would've been different. My engine upgrades started with 328i injectors, removing the ASC throttle body, and fitting an M50 manifold; I kept the M52 fuel rail, and also the stock airbox – I just removed the baffle. I did try performance air filters but the stock one looks cleaner and I personally didn't feel the benefits from the others apart from sound and poor fuel efficiency. Then I added a big-bore throttle body, making response a little sharper, and that has finished the engine off nicely for me. These are basic power mods, I didn't buy the car for the engine or for it to be especially fast, and a decent motor is on my to-do list. The tired old M52B25 won't live forever."
That said, the venerable M52 is certainly doing the business for now. The various mods have really enlivened it over stock, and it all barks through an exhaust system arrived at via trial-and-error, with Carlos eventually landing upon a 2.5" Scorpion stainless M3 rear box with a gutted 328i centre section. The eager performance gives the upgraded chassis something to think about, and it's worth noting that before bagging it, Carlos was rolling static for a while. "I was running HSD Dualtechs with aftermarket springs of much higher rate than stock," he says. "The strut towers were reinforced with E36 M3 items on the front and Z3 rears, and I upgraded to M3 drop-links because it made more sense than getting an overly built adjustable set. Sourcing a low-mileage M3 front subframe from my mate Bek, with a set of reinforcement plates that my friend Rob welded on for me, the TWS Fareham team painted it white to match the car. Now that the car is bagged the engine has new mounts and is back to standard height, having previously been raised 20mm."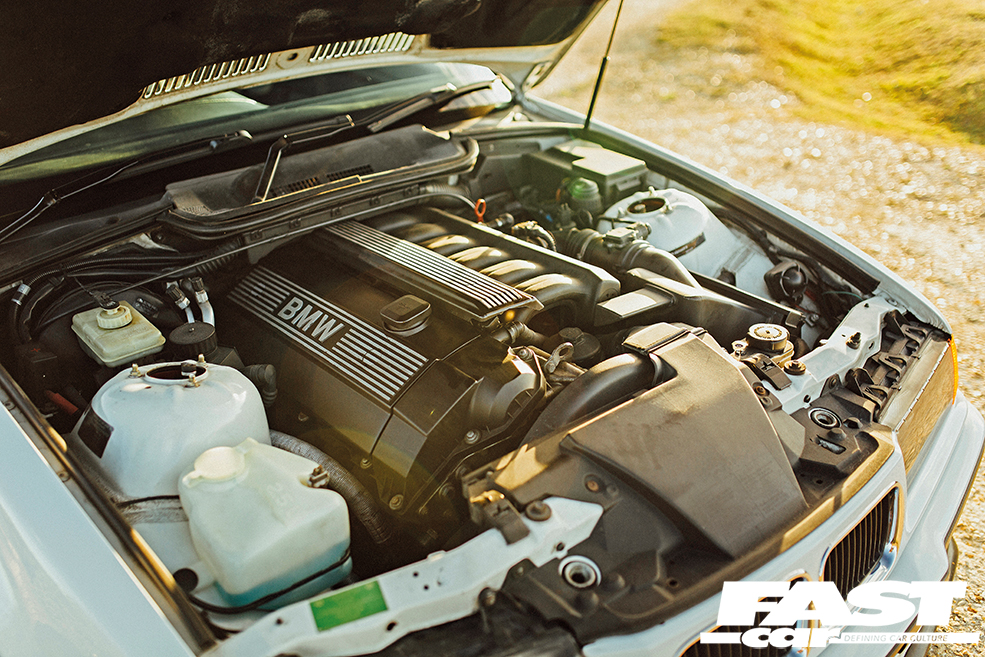 The project so far has taken about four-and-a-half years altogether, although Carlos is keen to point out that it's very far from finished. With the amount of sweat and passion that's gone into it, the list of future mods is getting longer and longer. "I do have a Musk overfender kit, but I'm also looking at running E46 front arches on the rear," he ponders. "As much as a wider body would help me run decent-sized tyres, I'm in two minds about cutting up a clean shell. But either way, getting rid of all the unnecessary camber, having a decent alignment, and rebuilding my wheels to fill up the new body is a must. Maybe also finding a clean boot lid without a wing? And slowly upgrading everything for when the engine gives up on me, allowing me to move on to the next stage."
Make no mistake, there's big power in this car's future – and don't expect the styling to look like this for long either. Carlos isn't one to rest on his laurels, he cannot sit still, and he's certainly not interested in following the herd. This is a rare groove he's been carving for years. And just imagine how different things would have been if he'd ticked the scene box and settled for a Golf.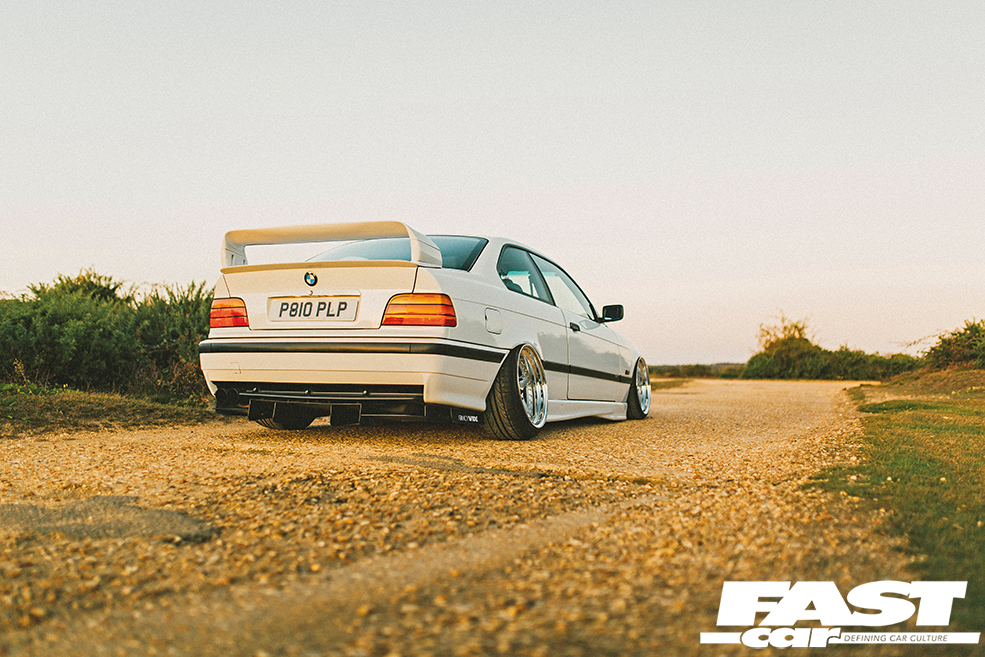 Tech Spec: Tuned BMW E36 323i
Engine & transmission:
2.5-litre straight-six M52B25, M50 intake manifold, M52 big-bore throttle body, 328i pink injectors, fuel filter relocated, ASC delete, 328i gutted centre exhaust, Scorpion M3 2.5" stainless back box. Five-speed manual gearbox conversion, solid lightened flywheel, short-shift, rebuilt open diff, clutch delay valve removed
Chassis:
9.5×17" ET14 (front) and 10×17" ET7 (rear) AC Schnitzer Type I wheels with Reflex silver faces, 6.5" barrels all-round (powder-coated satin black), 3" (front) and 3.5" (rear) machined and polished lips, 215/35 (front) and 225/35 (rear) Hankook tyres, Air Lift Performance 3P/H suspension, original 10.9 hex hub bolts replaced with 12.9 zinc-plated hex bolts and spacers behind hubs for extra camber, rack spacers, D2 adjustable camber arms, Powerflex bump stops, purple diff bushes and Black Series trailing arm bushes, strut reinforcement plates (M3 front, Z3 rear), reinforced M3 subframe, E46 330Ci front calipers with braided lines, 325mm (front) and 276mm (rear) dimpled and grooved discs
Exterior:
Alpine white, pre-facelift nosecone, grilles and front wings, M3 bumpers, M Tech side mouldings, M3 'twist' side skirts, USDM running lights, front headlight shrouds, front number plate blank, brake air ducts, all four arches cut, folded and sealed for maximum wheel/tyre clearance, arch liners modified to retain stock appearance, stock rear lights with amber-blended reverse, Fancywide V2 rear diffuser, LTW wing
Interior:
Early M3 Vader seats, Nardi Deep Corn steering wheel with matching gear knob, DW steering wheel boss with adapter plate, centre console ashtray modified for air-ride controller, Sport pillars and headlining, custom wood platform in spare wheel well for Air Lift manifold, air lines, wiring loom, compressor and head unit amplifier, colour-coded three-gallon air tank mounted under parcel shelf with lines hidden