With full BMW M5 styling and interior, this perfect E39 Touring conversion delivers a devastating 626whp supercharged S62 punch that lets you know it's the ultimate performance estate.
Feature from Performance BMW. Words: Elizabeth de Latour. Photos: DKFX Photography, Ryan Cornelius Media.
The E39 M5 is without a doubt one of BMW's best offerings. You cannot deny the appeal of that mighty 4.9-litre S62 V8 paired to a six-speed manual gearbox, and the car is just so good. For many fans, the only problem with the E39 M5 was that while its rivals could be had in family-friendly estate form, it was only ever available as a saloon. That means that if you want an E39 M5 Touring, you must build one yourself, and if you're going to all that trouble, well, you might as well make something really special, which is exactly what Gabriel McClintock (@gbmwpower) has done.
Gabriel may work as a Jeep and truck uplifter, and he may have cut his driving teeth on a Ford Escort EXP, but it's BMWs to which his heart belongs and has done for quite some time. "I've been interested in BMWs since the '90s, I have always liked the styling and performance. My first BM was a 1982 323i, it was very sporty looking, and I thought it looked cool with the dual exhaust," grins Gabriel as we chat. That first taste of Bavarian motoring goodness opened the door to many more BMs and some seriously impressive-sounding projects. "I built a 1982 323i with a wide-body kit painted Lamborghini Orange. I also built a 1989 325i with a stroker motor, painted Ferrari Yellow. My 2002 M5, meanwhile, was supercharged and had the Hamann front and rear lip spoilers, trunk and rear window spoilers and PG2 wheels," he tells us. He's clearly no stranger to taking on a serious build, and he's clearly an E39 M5 fan, so what he's created makes a lot of sense.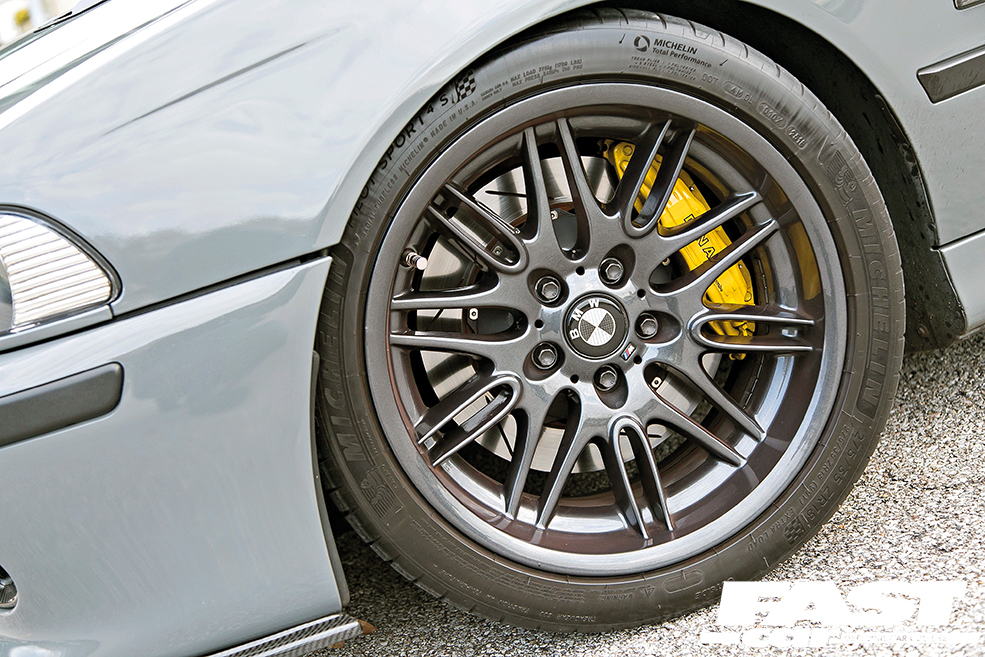 "I have always liked the Tourings; my wife had a 1993 E30 Touring, and I thought it was cool. I had fully built my M5 Sedan when it started rusting out, so I figured instead of just swapping everything to another sedan, I thought it would be more fun to put it all in a Touring. Since BMW never made the E39 M5 Touring, I thought it would be cool, especially with a 600whp engine," Gabriel grins, and he's not wrong. A suitable Touring was located in Massachusetts, and the project was on.
As rust is a feature on BMW E39s these days, Gabriel's Touring came with some minor rust on the underside, so the first step before any of the fun stuff could happen was to completely strip down the car, clean and remove the rust, and then paint the undercarriage, and then the project could really get underway. Gabriel began with the interior, and while the M5 shares much of its interior with the regular E39, Gabriel had some special equipment in his saloon that he was keen to have in his Touring build. "The interior was similar, but the M5 had the full leather option, which included full leather dash, door cards, centre console and seats, so all this was transferred into the wagon, and I dyed the interior Cinnamon. The BMW E39 M5 came standard with a black Alcantara headliner, so the Touring headliner was stripped and wrapped in black Alcantara. The M5 also came with the M Audio sound system that was also installed into the wagon," he says, and these interior elements make the cabin feel so much more special. There are countless additional touches like the illuminated E38 Titan silver door handles, the Alcantara gear and handbrake gaiters with M tricolour stitching, the F10 M5 gear knob and the Storm Motorwerks brushed titanium handbrake handle. There's more: the steering wheel features a carbon upper section, and while this Touring obviously uses the M5 grey gauge cluster, the surround itself is a custom item with a two-gauge pod for the Speedhut M-logo'd boost gauge with matching grey dial, and an Aquamist meth injection gauge. It makes the Touring feel every inch an M5 from the inside and adding all the equipment from his saloon was definitely the right move.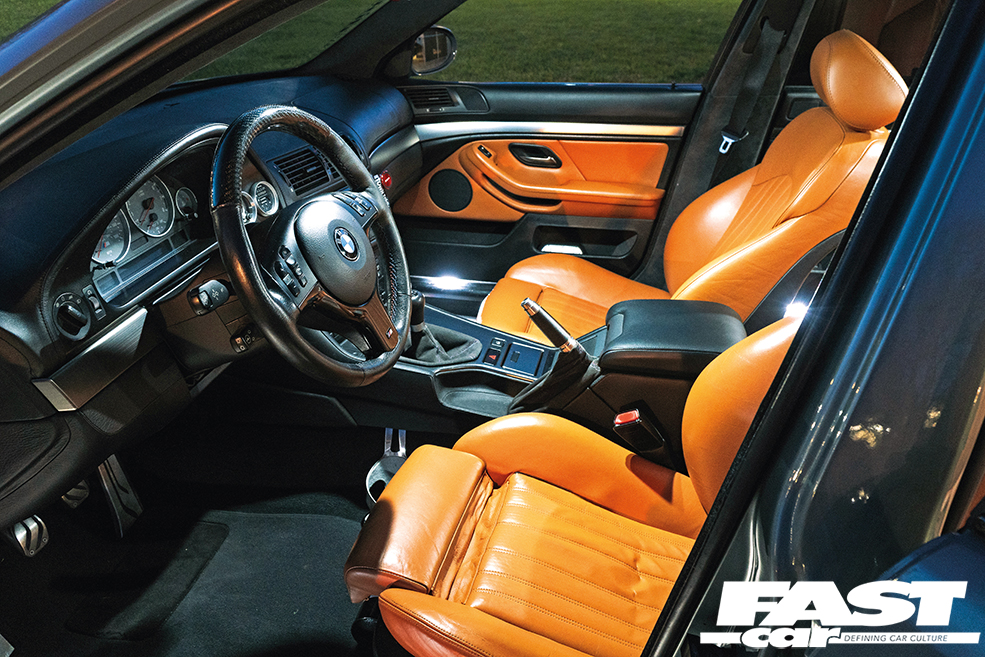 With the interior sorted, Gabriel now moved on to the bulk of the conversion, and that started with carrying out the necessary changes underneath the car. "The front subframe, including the suspension and engine cradle, were removed from the M5 and installed into the wagon chassis. The rear subframe from the wagon had to be utilised, while the differential, driveshafts, propshaft and wheel bearings had to be transferred from the M5," he says. "The M5 rear subframe reinforcement bars along with the front subframe bushes from the M5 were installed. The rear floor (trunk area) panel in the wagon was equipped with a spare tyre carrier, while the M5 did not have this option, it was equipped with a centre-mounted battery and a compartment for the tyre inflation kit. This also allowed room for the dual exhaust, therefore the conversion included drilling all of the spot welds of both vehicles floor pans and welding the M5 floor pan into the wagon," Gabriel explains and that gives you an idea of the amount of work involved.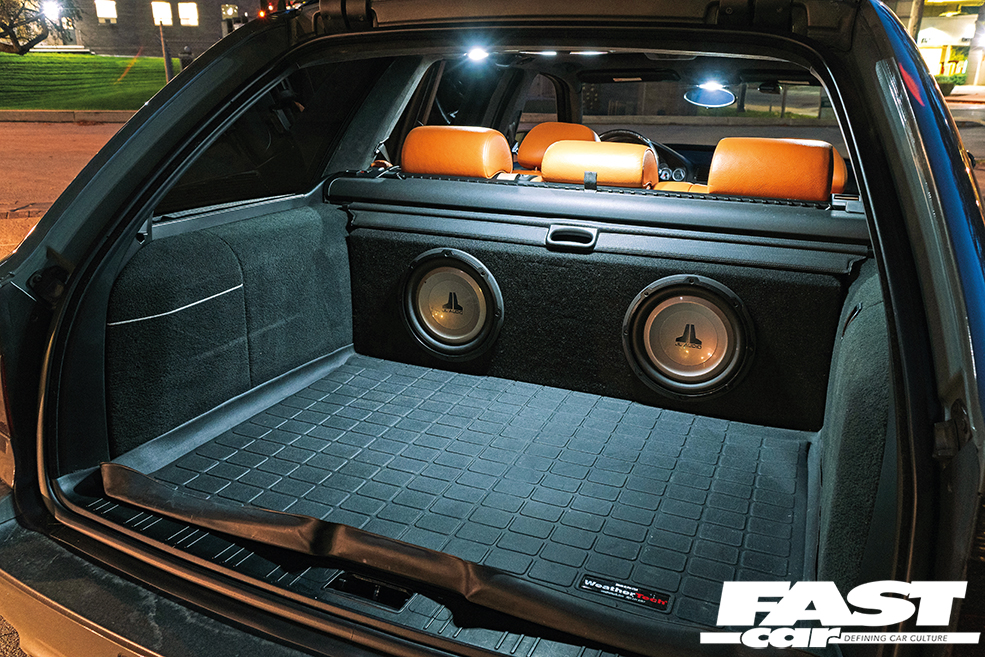 Of course, you don't build a car like this and keep all the underpinnings stock, and if it wasn't obvious from the pics, Gabriel has really gone big on the mods front. The chassis features Dinan front springs and dampers, Ground Control front adjustable camber plates, Einhorn Industries Unicorn Adjustable Spring Perches, H&R rear coil springs, Koni Adjustable rear shocks, a Dinan front strut brace and front and rear anti-roll bars, which take this Touring's handling to the next level. The brakes, too, have been seriously upgraded, and Gabriel has fitted a massive Dinan by Brembo BBK with four-pot calipers front and rear, both powder-coated yellow and mated to Goodridge stainless steel lines and Ferodo DS2500 pads. The only standard part of the chassis is the wheels, though here too there's a small tweak. "I had Hamann PG2s on my sedan, but for this build, I wanted to keep the original look of the M5, so I tried to keep the car looking as stock as possible. I just went for the original Style 65 wheels but in a square setup and made them a little darker than the original Shadow Chrome," Gabriel explains, and they look fantastic. The gunmetal shade he's gone for suits the car perfectly, while a set of spacers get the fitment just right, and the drop served up by the uprated suspension gets this Touring sitting so well.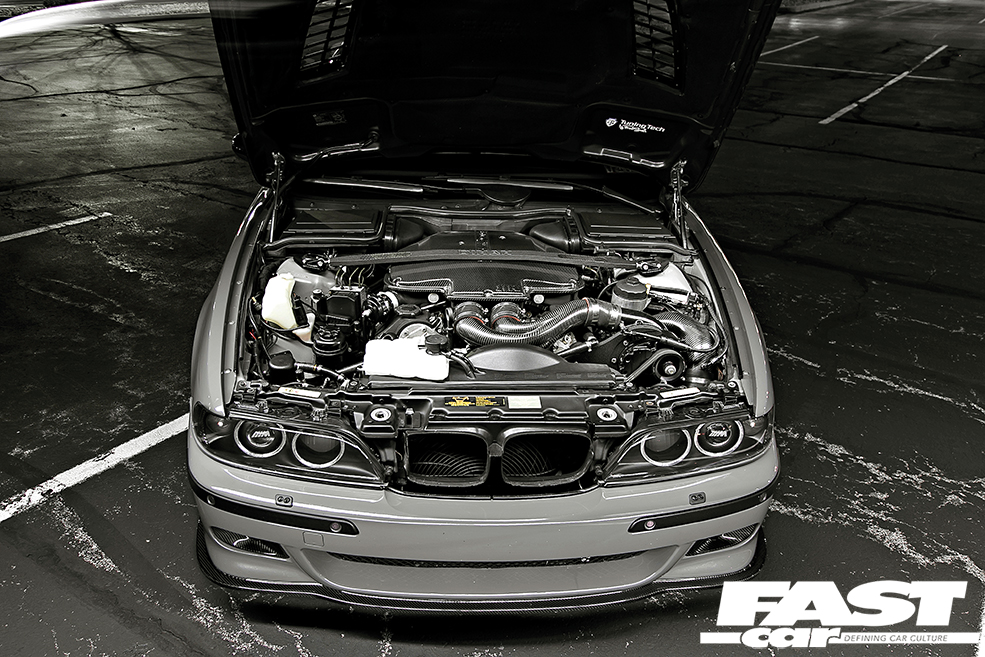 With the chassis sorted, it was now time for the heart of the build, that mighty S62 V8, and the engine from Gabriel's donor M5 is a spectacular supercharged powerplant. Mounted to the 4.9-litre V8 is an RK Autowerks Stage 1 supercharger kit tuned by Tuning Tech FS, with an RK Autowerks carbon fibre plenum cover and a Vortech 3.47 eight-rib pulley. There are SpeedHaven Racing plenum plugs and short stacks, a custom CCV with 42 Draft Designs stealth oil catch can, an uprated Mishimoto oil cooler, and a Walbro 450lph fuel pump. If that wasn't enough, Gabriel has also added a Howerton Engineering meth-injection setup with a custom boot-mounted methanol tank. The supercharged E39 M5 Touring is finished off with a set of Evolve Medusa exhaust manifolds, Magnaflow high-flow cats, a Rogue Engineering Diablo X-pipe, and a set of Eisenmann Race rear boxes, all of which combines to deliver an absolutely thunderous V8 soundtrack.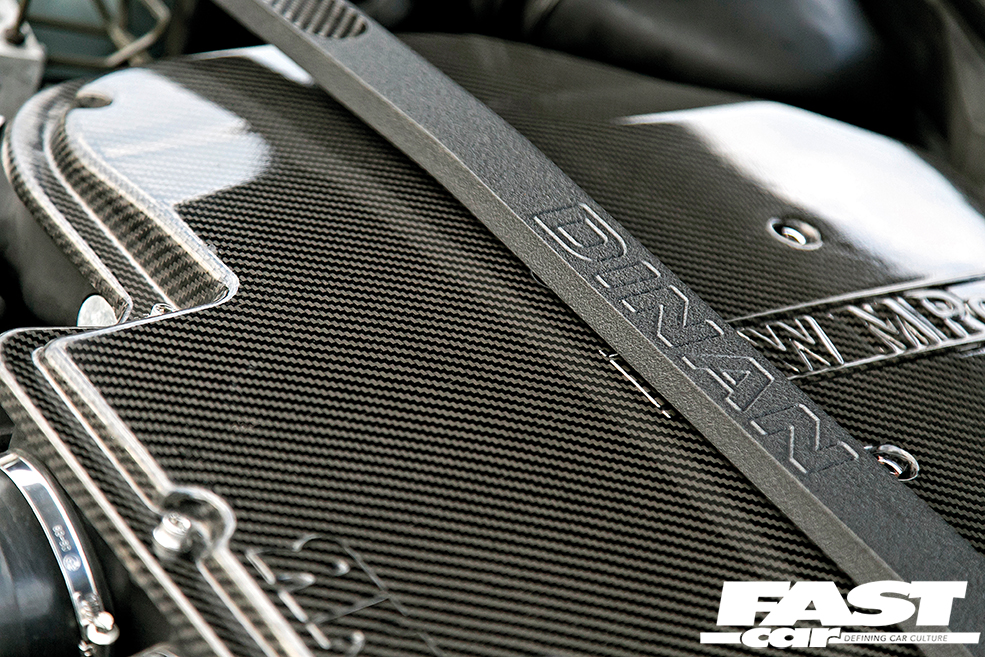 The supercharged E39 M5 Touring had its original auto 'box unceremoniously removed and the M5's six-speed manual fitted in its place, sitting on UUC transmission mounts and enhanced with an Einhorn Industries lightweight flywheel paired with a South Bend Clutch Stage 3 Endurance clutch, and it's topped off with a UUC Ultimate short-shift with the company's Double Shear Selector Rod. It's an incredibly comprehensive powertrain setup that takes this Touring's performance above and beyond, and it's no wonder Gabriel loves this engine setup so much. "The supercharger and the methanol injection are my two favourite mods on the whole build, I love the power" he grins. That's not surprising because this supercharged E39 M5 Touring is making a massive 626whp along with a mighty 546lb ft wtq, which means monstrous performance and it's simply awesome.
Of course, the styling hasn't been forgotten because without the M5's looks, it would just be an S62-swapped E39 Touring, which would not be enough for Gabriel, and this car looks absolutely like an M5. The whole car has been wrapped dark grey and wears genuine M5 front and rear bumpers, but it has also been treated to a few additional touches, just subtle ones, to add a little flair. It's got Trackspec bonnet vents, a Slimmbones front splitter, carbon front fog light delete, bumper inserts, carbon mirror covers, a finned carbon rear diffuser, plus carbon roundels front and rear. Gabriel has also added Euro headlight lenses with bi-xenon projectors and Bluetooth-controlled demon eyes while Lamin-X smoked Euro-spec rear lights add the finishing touch, and all those elements combine to deliver just the right amount of presence and aggression.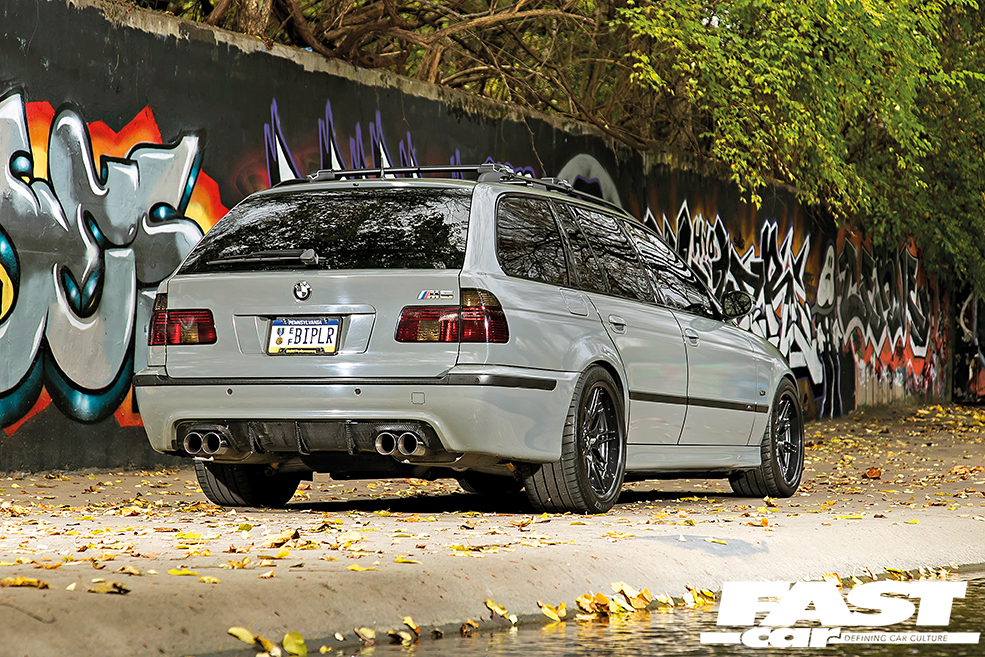 It took just six months to assemble the car, but that doesn't tell the whole story. "I had been slowly building and collecting the parts on my previous M5 since 2011," says Gabriel, and it's so very nearly finished now. "I would like to take it all apart and have it painted but I have not picked a permanent colour. And I would like to add a front mount intercooler," he tells us, and we have no doubt these final plans will come to fruition. Regardless of which M5 might be your favourite, we can all agree that this is an awesome car on every level, an awesome build on an awesome scale, and it is the concept of an E39 M5 Touring executed with absolute precision and perfection.
Tech Spec: Supercharged E39 M5 Touring
Engine:
4.9-litre V8 S62B50, RK Autowerks Stage 1 supercharger kit tuned by Tuning Tech FS, RK Autowerks carbon fibre plenum cover, Vortech 3.47 eight-rib pulley, SpeedHaven Racing plenum plugs and Short Stacks, custom CCV with 42 Draft Designs Stealth oil catch can, Mishimoto oil cooler, Improved Racing high-flow oil thermostat, Walbro 450lph fuel pump, Howerton Engineering methanol injection with two post- and one pre- supercharger injectors and custom boot-mounted methanol tank, E39 Engineering engine mounts, Evolve Medusa exhaust manifolds, Magnaflow high-flow cats, Rogue Engineering Diablo X-pipe, Eisenmann Race silencers
Power & Torque:
626whp and 546lb ft wtq
Transmission:
Getrag Type D six-speed manual gearbox, Einhorn Industries Unicorn Nuggets, Unicorn Nipple and lightweight flywheel, South Bend Clutch Stage 3 Endurance Clutch, UUC Motorwerks Ultimate Short-Shifter w/DSSR and transmission mounts
Chassis:
9.5×18" (front and rear) Style 65 wheels in gunmetal with 275/35 (front and rear) Michelin Pilot Sport 4 S tyres, ECS Tuning 10mm (front) and 5mm (rear) spacers, carbon fibre centre caps, Dinan front springs and shocks, Ground Control front adjustable camber plates, Einhorn Industries Unicorn Adjustable Spring Perches, Powergrid front adjustable anti-roll bar links, Dinan monoball thrust arm bushes, Powerflex front control arm bushes, Dinan front strut brace and front and rear anti-roll bars, reinforced rear subframe, Einhorn Industries Unicorn Egg, H&R rear coil springs, Koni Adjustable rear shocks, BeastPower rear anti-roll bar mounts, Dinan by Brembo big brake kit with four-piston (front and rear) calipers powder coated yellow, Goodridge stainless steel braided brake lines, Ferodo DS2500 racing pads, BMW front brake cooling ducts, open mesh front bumper grille
Exterior:
Complete wrap in dark grey, Trackspec Motorsports bonnet vents, Euro headlight lenses, Evo X-R bi-xenon projectors, M logo-etched lenses, Prism demon eyes with Bluetooth controller, Slimmbones carbon fibre fog light delete and front lip spoiler, carbon fibre mirror covers, finned carbon fibre diffuser, Lamin-X smoked Euro-spec rear lights, carbon fibre roundels front and rear, Thule roof rack cross bars
Interior:
Full leather interior dyed Cinnamon, Alcantara headlining, custom instrument cluster surround with two-gauge pod, Speedhut M logo boost gauge, Aquamist methanol gauge, PLX MultiGauge Link Bluetooth boost and AFR gauges, M tricolour-stitched Alcantara gear and handbrake gaiters, F10 M5 gear knob, Storm Motorwerks brushed titanium handbrake handle, carbon fibre steering wheel, F10 M5 pedal set with dead pedal, E38 illuminated Titan door handles, 5% tint all-round, hardwired Radenso Radar XP radar detector, fire extinguisher bracket installed on front of driver's seat, snap-on phone holder, Slimmbones leather sliding centre armrest, power tailgate, Alpine five-channel amp, Polk Audio 5" (front) and 6" (rear) component speakers, 2x JL Audio 10" subwoofers in custom enclosure, AvinUSA Avant 4 multimedia head unit with Resler interface, wireless Apple CarPlay, reversing camera, TPMS