It might not be apparent from my rather youthful looks and uncanny ability to say fuck a lot. But I'm knocking on a bit now and, as you get past your late Twenties, one thing you encounter that's aggravating as piss is the whole baby names thing.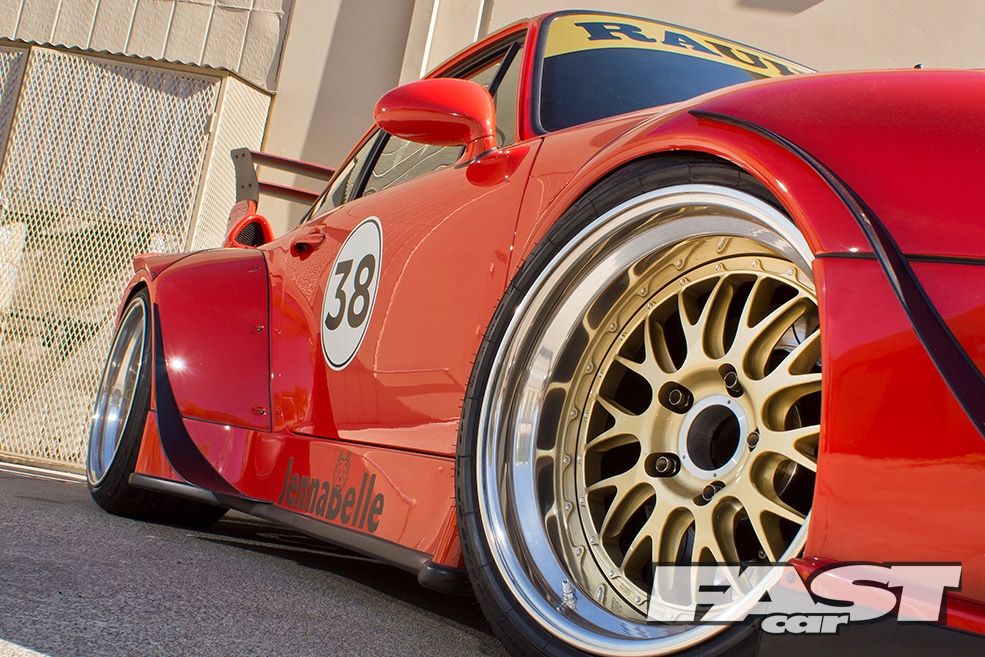 Now, let me explain. You may still be a teenager, and fair play to ya (you lucky bastard). But one day you'll wake up and either your missus or one of your mates will say, "I'm having a baby". And this will be followed by the inevitable question, "What am I gonna call it?"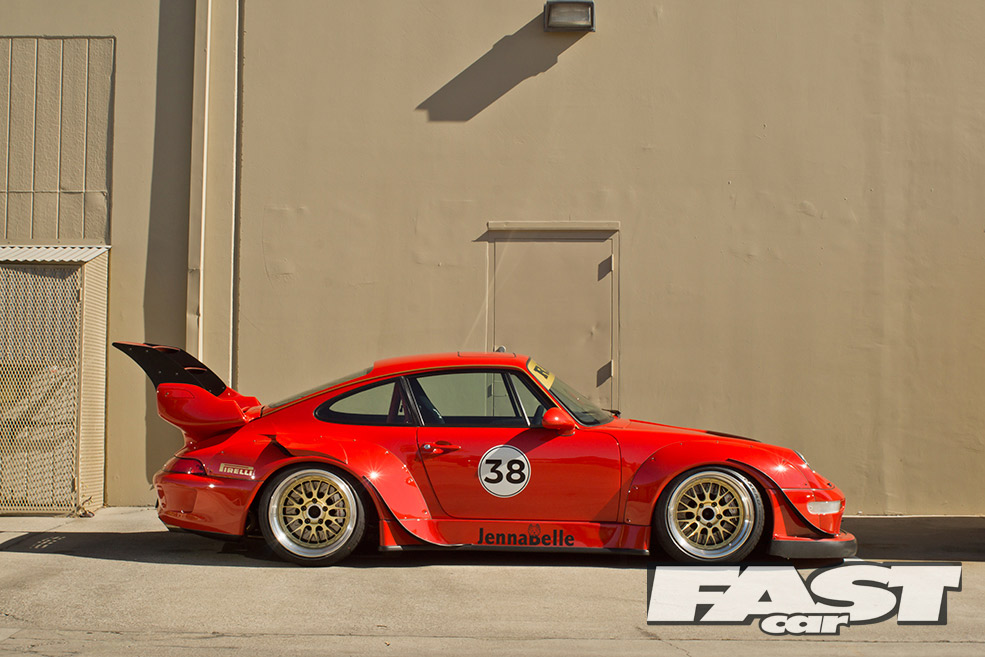 You see, names are important. Choosing a name is a deeply personal thing. There's hundreds of books dedicated to what your particular moniker might mean, or where it comes from. But it's still something that's given and not earned. Well, unless you happen to be a car like this.
This monster 993 is called JennaBelle. I don't know why exactly, because that'd be like asking someone why they called their kid Britney-Christina. A bit too personal. The most important thing here though is the fact that this motor has a name at all, and that means it's a genuine RWB Porsche.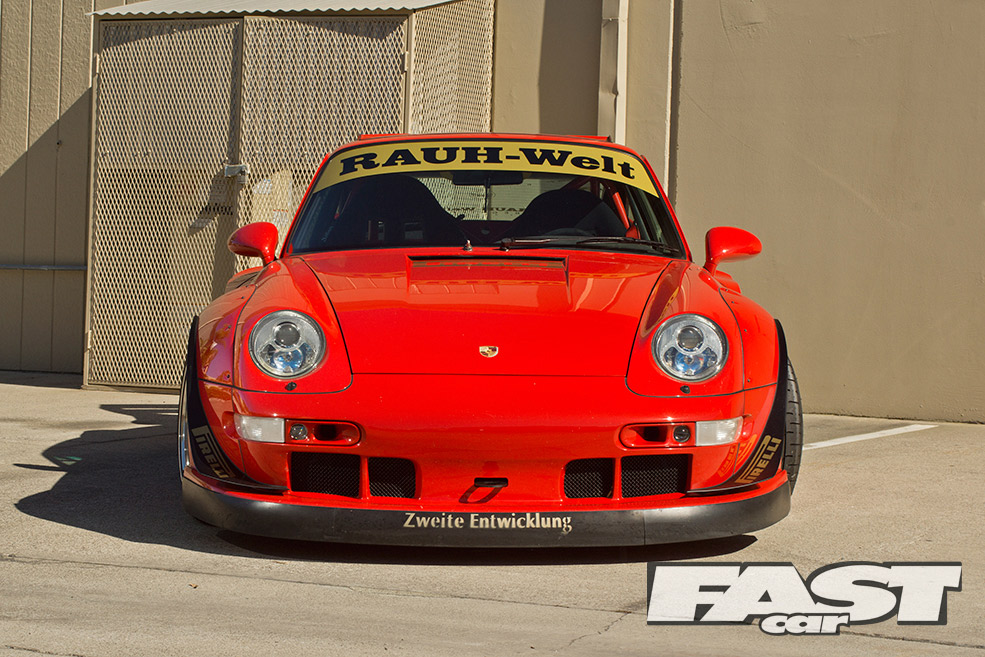 You can't simply buy one of these. Not in the traditional sense of the word. Even if you happen to work at RAUH-Welt BEGRIFF Los Angeles like Joey Chang here, it's not quite as simple as buying and bolting on a kit.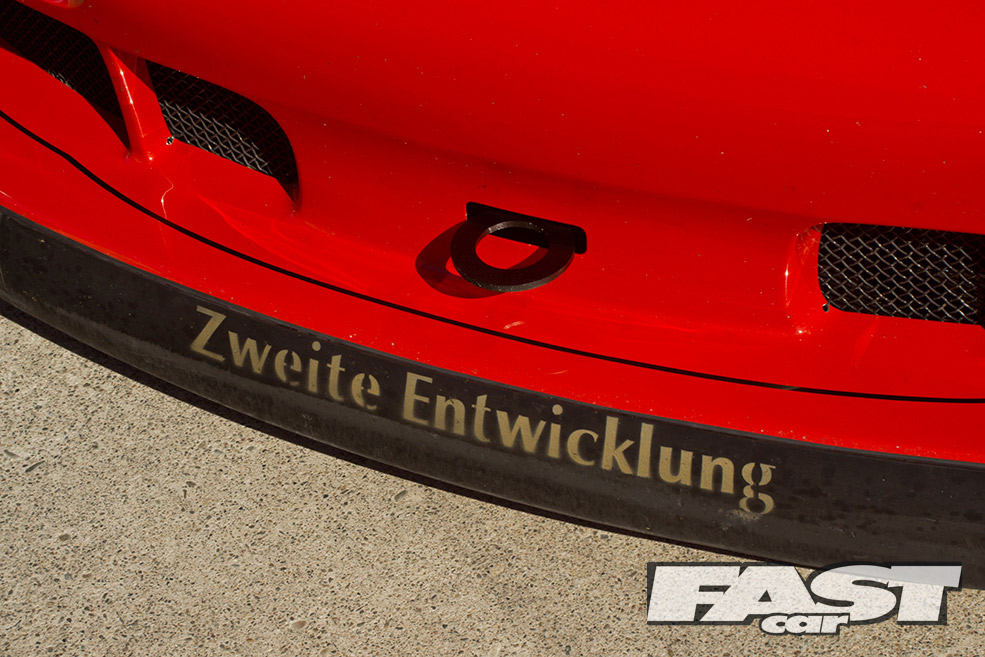 RWB cars are a Japanese institution. The styling on each one is completely unique and, no matter where you are on the planet, they have to be hand crafted by the company's founder, Master Akira Nakai. What's more your car only has the seal of approval when he bestows a name upon it. Then it's a true RAUH-Welt.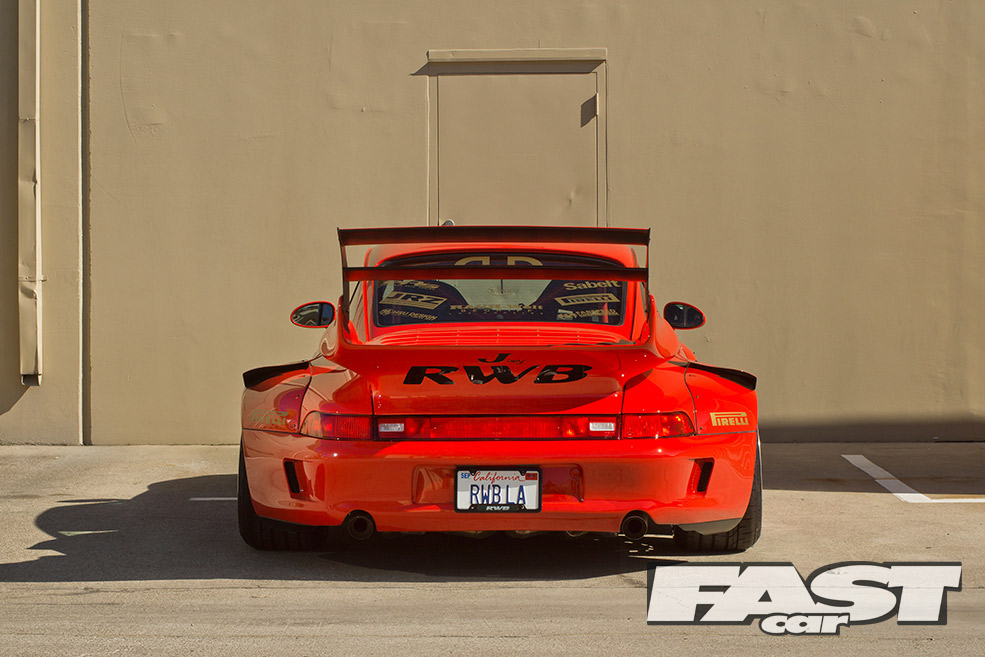 Now, you may see kits from the various RWB branches around the world listed online. They're usually priced at around $22,000, but think of this as more of a vague deposit. It doesn't matter who you are or where you live, you provide your own Porsche, have a few design meetings with the man himself and then he'll fly over and build your car, entirely by eye. No one else is allowed to touch it.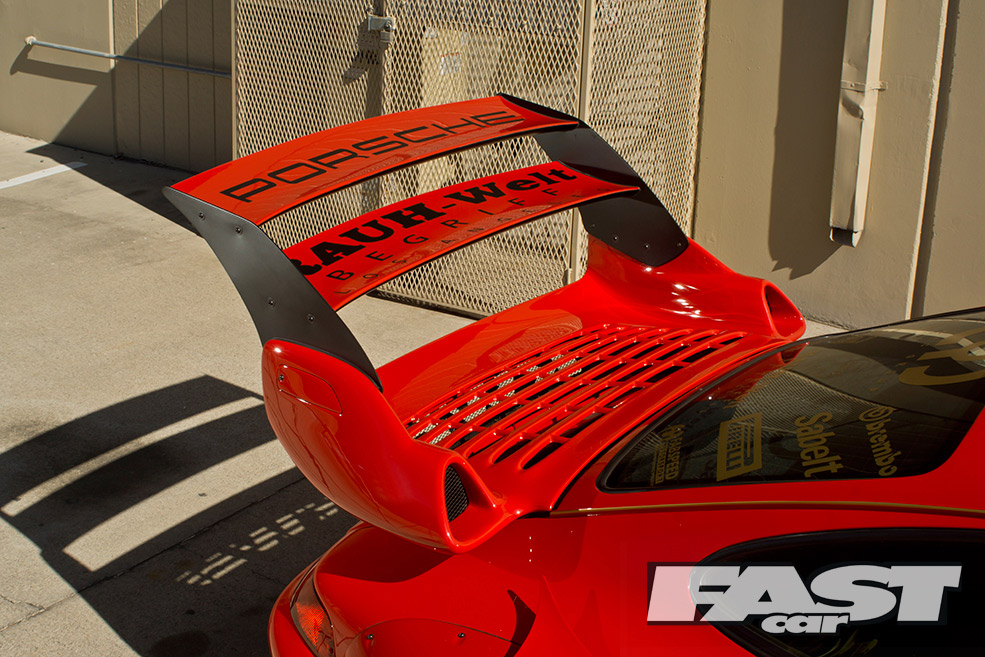 They all come with his own trademark touches too. The famous sculptural wings and over-fenders are designed to be removable so they don't interfere with the task of developing and tweaking the car's chassis geometry or tuning. And that's because they're derived from Nakai-san's passion for hitting Tsukuba, or any other circuit they'll let him out on. He also spaces out each rivet with his Winston cigarette packet and usually scribbles something in Japanese on the dash. It's this intimate process that makes these cars so personal. And that's also why he names them as he sees fit.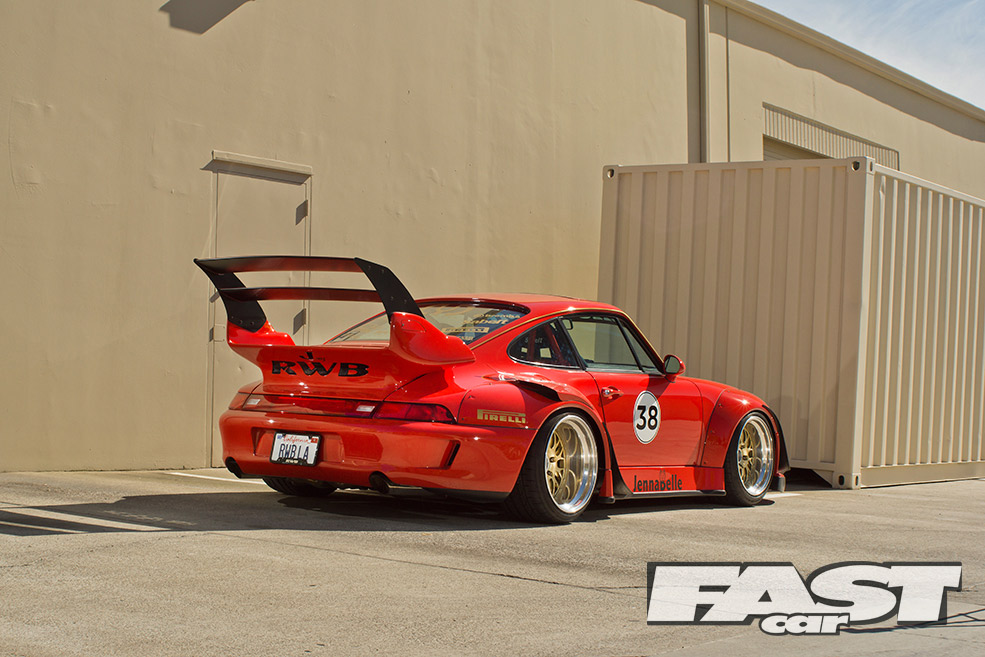 Nakai-san made his own name in the 1990s by pioneering the 'Rough World' look on his drift AE86, but it was his transition to building air-cooled Porsches that put him firmly in the spotlight. Starting with his own 930, Stella Artois (see what I mean about names being personal?), he went on to build most of the best-known 911s in Japan, including Spearmint Rhino, Rotana (the first RWB 911 Turbo) and Yves Piaget (French Rose), a car famous for its unique red paint.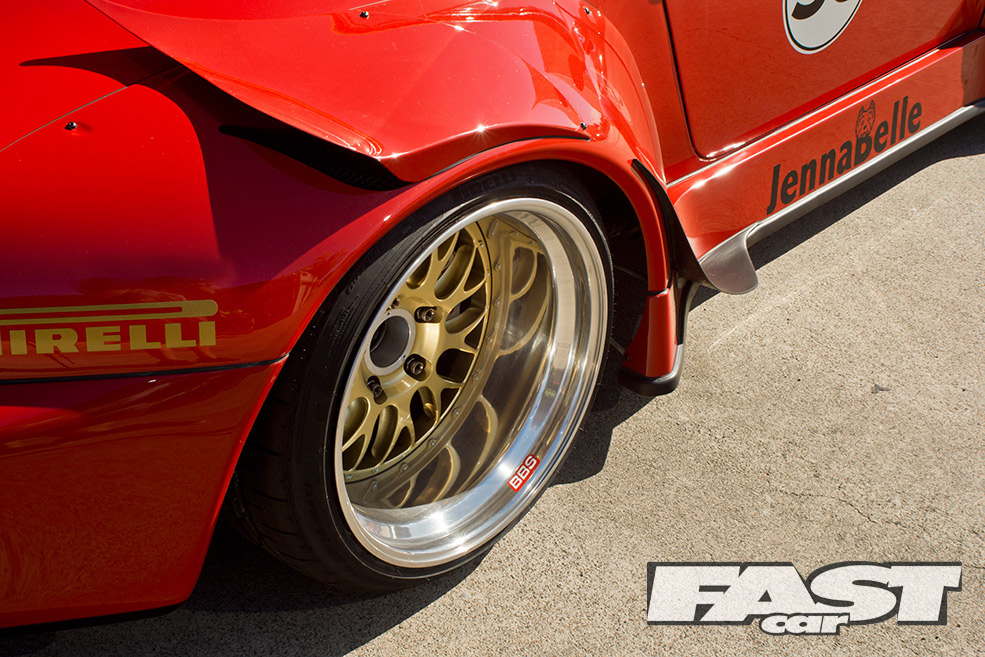 It was only three or four years ago that he decided to branch out abroad. Starting in Thailand, with a 911 called Rough Evolution, there's now around 90 documented RWB Porsches worldwide, all with names like Cinderella, Sinister, Jittakorn, Kermit, Fishbone, Darth Vader, Uzi, Good Hill Speed, Midas touch and RAUH Art. With the exception of one matt-black 996 called Stealth Bird, they've all been the old-skool water-cooled models that made him famous.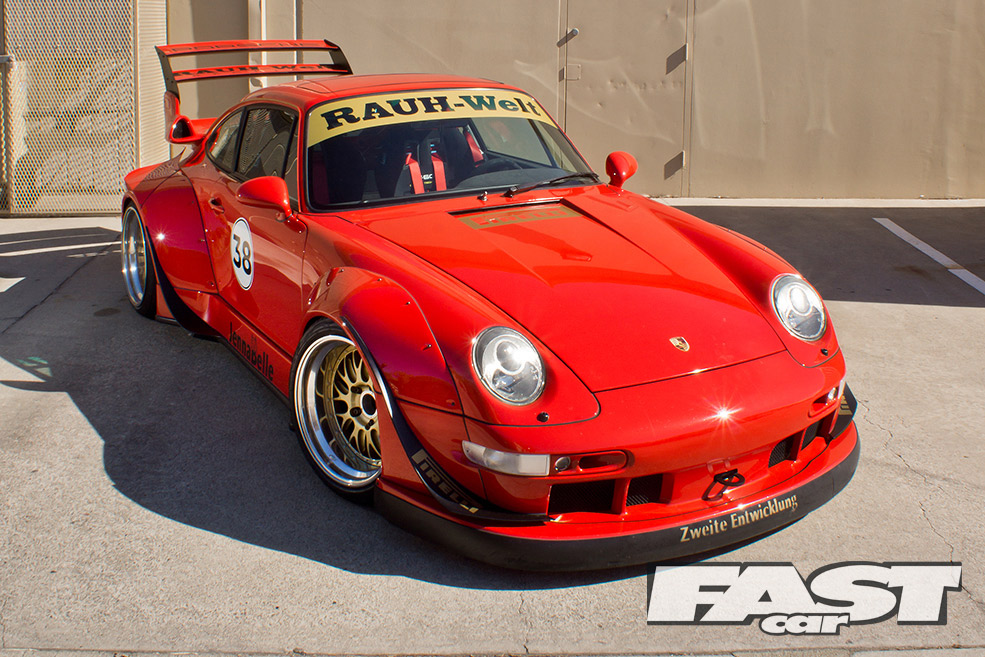 Anyway, let's just say he's been a busy boy, especially as genuine RAUH-Welt cars can now be found in the Philippines, Malaysia, Taiwan, China, Hong Kong, Australia, Saudi Arabia, Canada, Russia, Bahrain, Dubai and the Netherlands. There's even one right here in the UK. Their popularity is universal and we spotted 11 American RWB creations at SEMA, which brings us neatly back to this one – JennaBelle from RWB LA.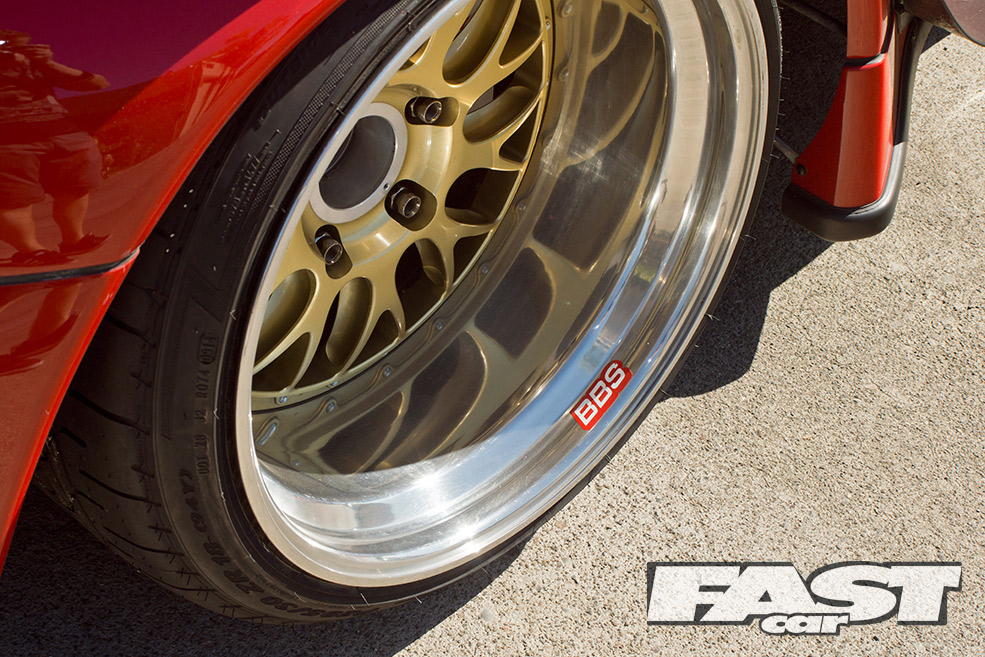 As the story goes, Nakai-san flew over in April to complete the styling on Joey's 993 along with a couple of others in LA (cars now called Creaminz and Medusa). Joey says it was an honour watching him work and he was thrilled when he was asked to help with some of the cutting on his own car. A special moment and no mistake.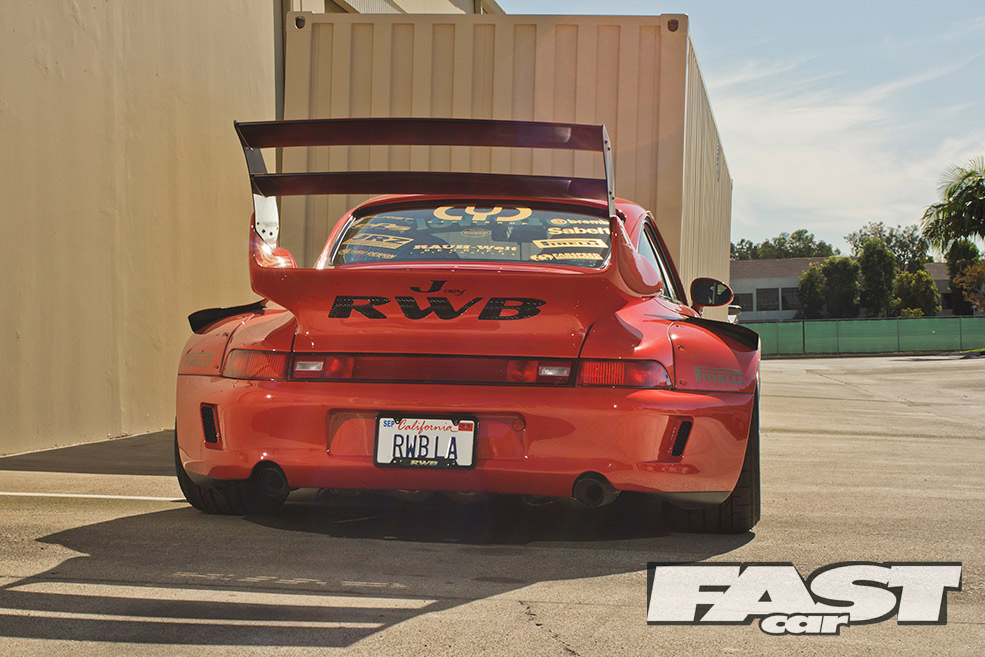 The resulting lightweight widebody conversion is every bit as mental as you'd expect from the Japanese master, but the rest of this awesome machine is down to Joey. As is Nakai-san's way, your car is built around the wheels, but the rest of the performance mods are down to you. And this is where Joey has clearly come into his own.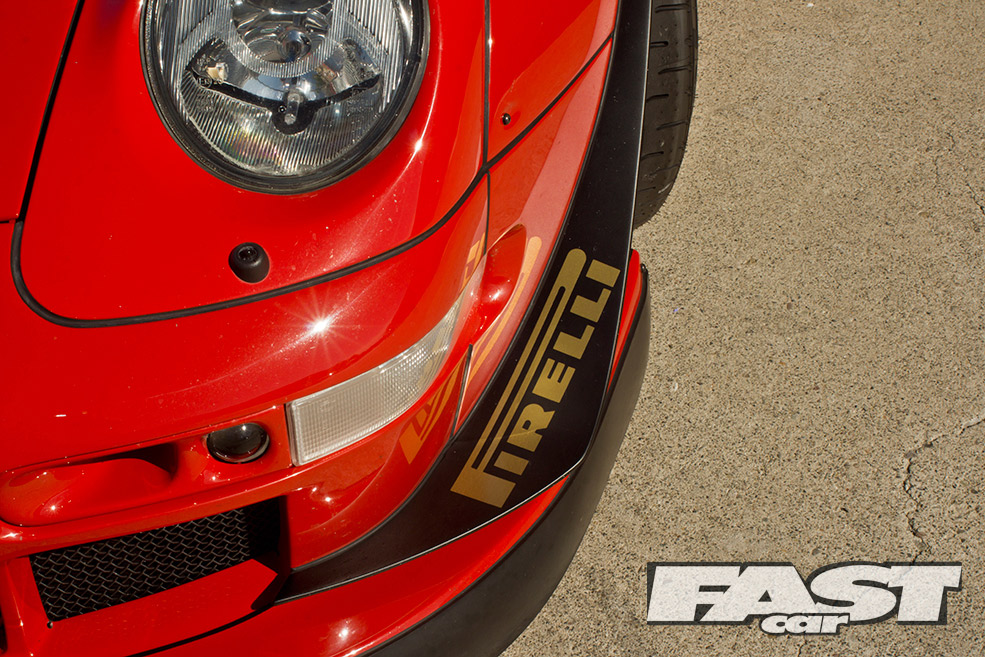 Using his own parts company, CYC Trading Group, Joey has outdone himself, finishing a RWB monster to rival any out there. The underpinnings of this car are more than a match for Nakai-san's awesome aero, because, although Joey regularly drives it on the street, it's been put together primarily for no-holds barred track action.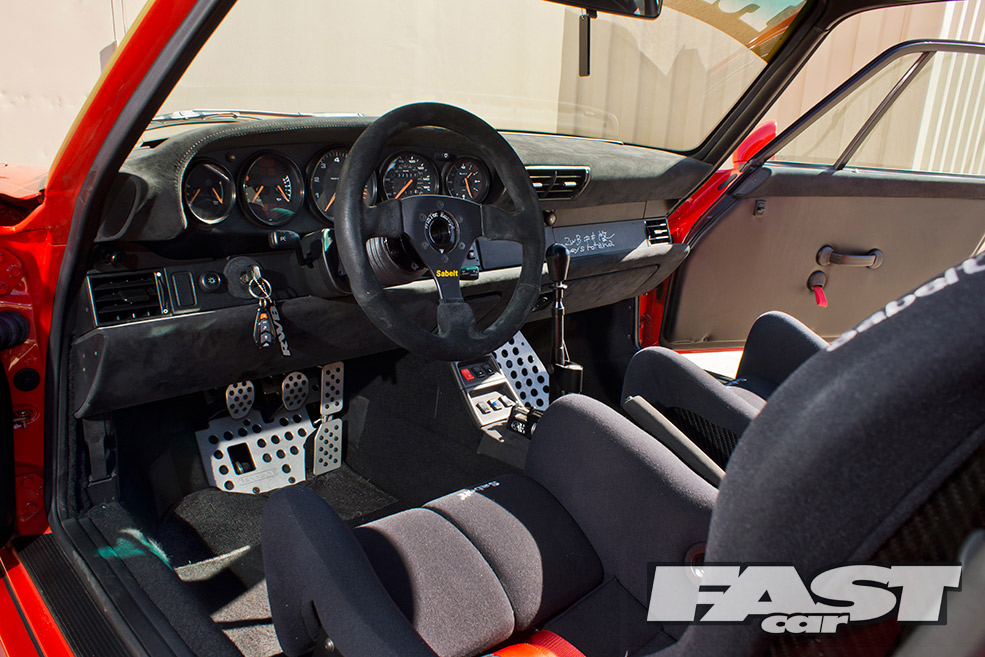 It's true to say that this car get's the absolute shit kicked out of it on a regular basis and until Joey finds the fire-breathing 4-litre 'all-motor' lump he's looking for, it's all about getting the most supreme handling possible. I guess that's a pretty obvious statement – just the chassis spec on this thing is longer than the entire spec on most cars. Everything is dialled-in to absolute perfection.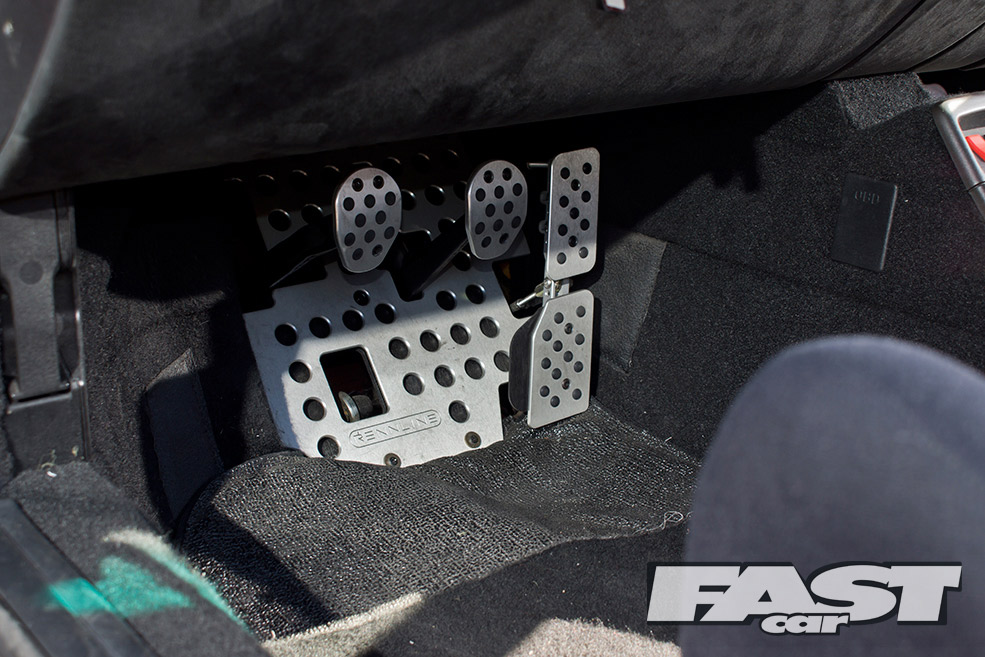 When CYC Trading and RWB decided to create RAUH-Welt LA, Joey chose the 993 for his own ride because it's arguably the best of all the air-cooled 911s. In fact, many purists believe it to be the ultimate 911, so that makes it all the more mental that he'd consider taking a cutting wheel to a 'totally mint' base car.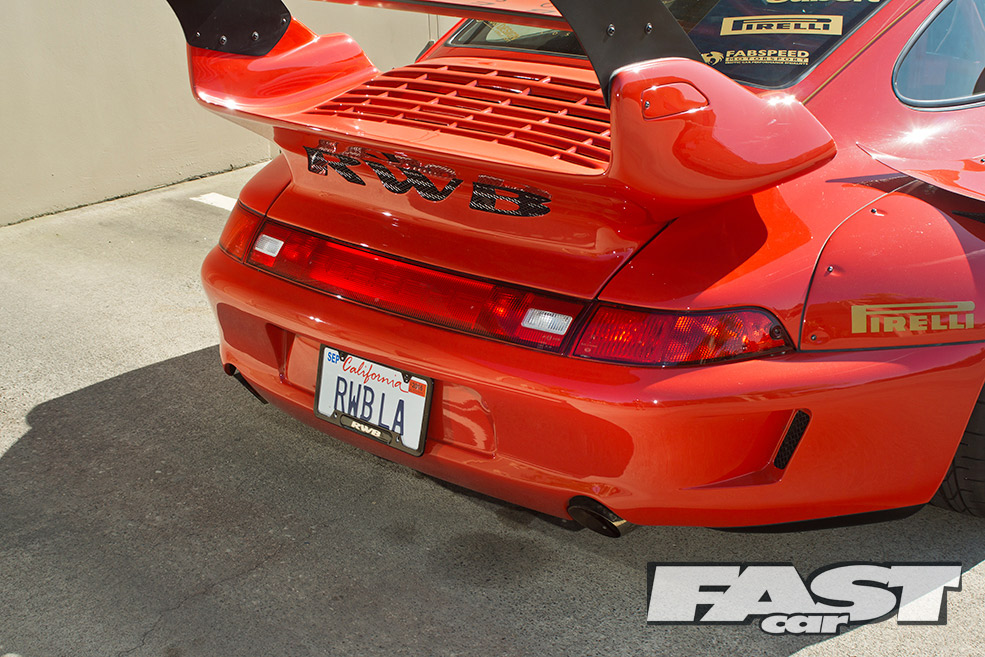 Then again it had to be a 993 because, for Joey, it had to deliver the most driver feel. It's bare bones motoring – you can practically touch the road when you're behind the wheel. There's no electronic gadgetry or cheating to keep you on the straight and narrow. It's pure man and machine stuff. Back to driving basics.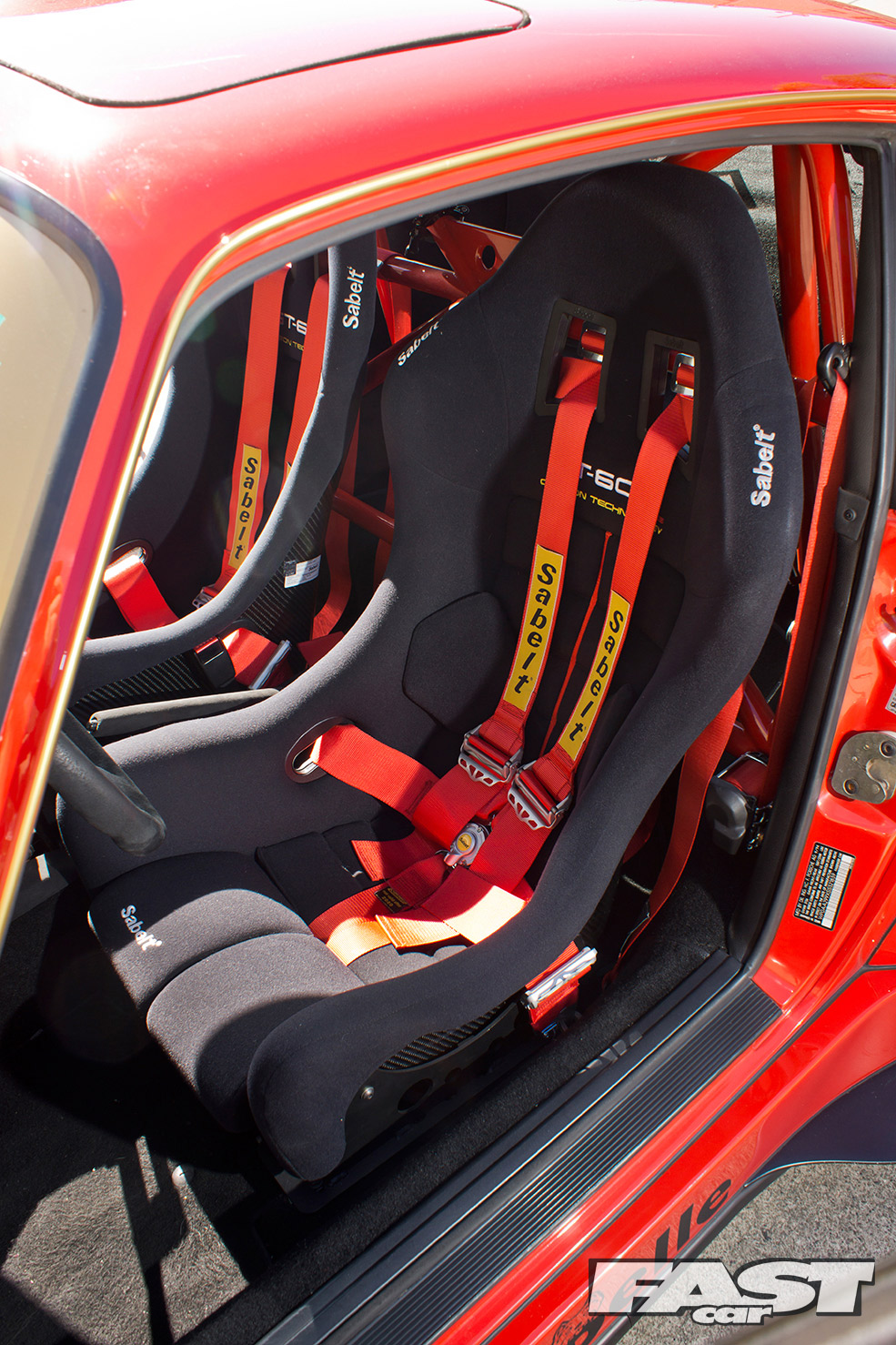 That also explains Joey's choice of a stripped-out interior, Sabelt buckets and a well-used set of BBS race wheels sitting in the garage. In handling terms, this is as close as you're ever gonna get to a raw 1990's road-going race car. To many, that air-cooled era was by far the most hardcore.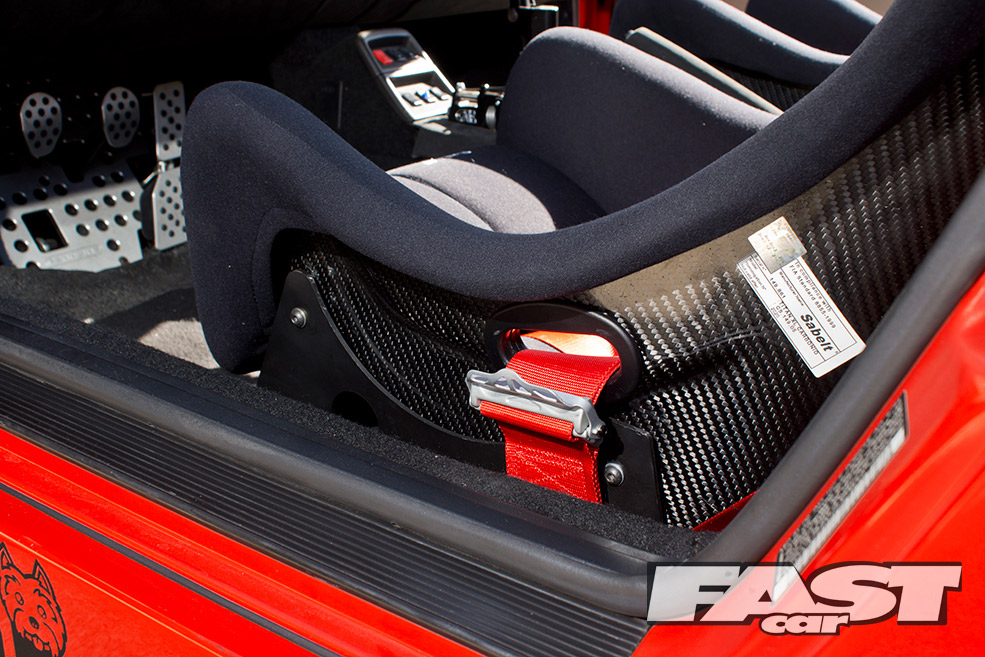 And I guess that's exactly what RWB is all about. RAUH-Welt doesn't translate as Rough World for some sort of laugh. It's much more than that. It's an attitude. The whole thing may be a mindset started by one man in an unassuming backstreet of the Japanese city Chiba. But thanks to people like Joey it's fast becoming a worldwide ideology.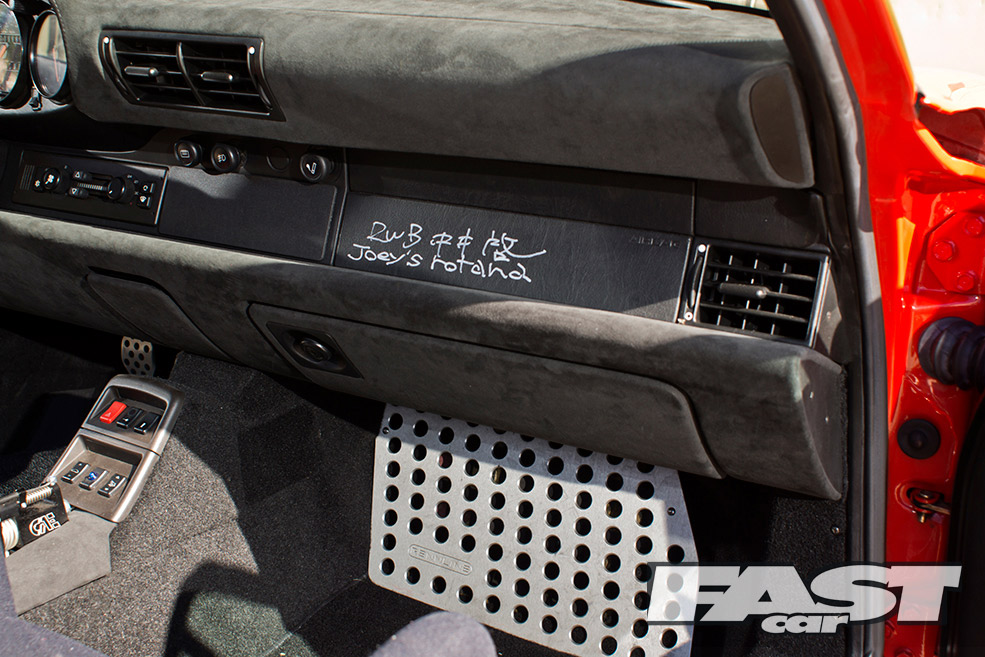 OWNER: JOEY CHANG
TECH SPEC: PORSCHE 993 CARRERA 2
TUNING:
Fabspeed sports headers; Sport Cat X-pipe; Supercup exhaust; heat duct and fan Block-Offs; Cup high performance air box cover with BMC filter; six-speed G50 transmission with CAE race shifter.
CHASSIS:
Street wheels: 13.5in RWB-LA custom three-piece Forged wheels with 265/35×18 front and 335/30×18 rear Pirelli P Zero tyres; track wheels): 10.5 and 12x18in BBS E88 custom three-piece motorsport wheels with Pirelli Corsa System tyres (front 255/35×18, rear 295/30×18); JRZ RS-Pro with EHC system; ERP 993 front A-arm spherical bearing kit; rear spherical bearing cartridge; solid mounts; adjustable camber link; adjustable kinematics link and 993 camber plate; Tarett drop links; H&R front and rear sway bars; Porsche GT2 strut brace; Brembo GT kit with type III rotors (front four piston with 355mm discs; rear four piston with 345mm discs); Brembo RE-10 pads and SS brake lines.
STYLING:
RWB 993 Street Version; Kamiwaza double deck wing; fender wing; Rotana-style front extended long carnards; Street-style front bumper with fog light insert and air duct; dry carbon bonnet.
INTERIOR:
CAE race shifter; full Alcantara custom interior (dashboard, doors, rear seats, and centre console); RS interior doorpanel and carpet with rear seat delete; RWB LA Race version roll bar; Sabelt 330mm steering wheel with MOMO steering wheel hub; 997 GT3 cup car steering wheel quick release; Sabelt GT- 600 carbon fibre bucket seat with; six-point harness; radio delete; Porsche OEM guard red seat belt; Rennline floor boards and adjustable pedals.
THANKS:
The Master Akira Nakai; CYC Trading Group LLC; RWB Los Angeles; Pirelli Tires; JRZ Suspension; Fabspeed Motorsport; Brembo/Sabelt Race Technologies; Purist Group; European Auto Source; Hsu Design.
Words Midge Photos Kevve.BE