When the sun set on Sean Mooney's previous modified Corsa build he stripped it down and started again, with no half measures…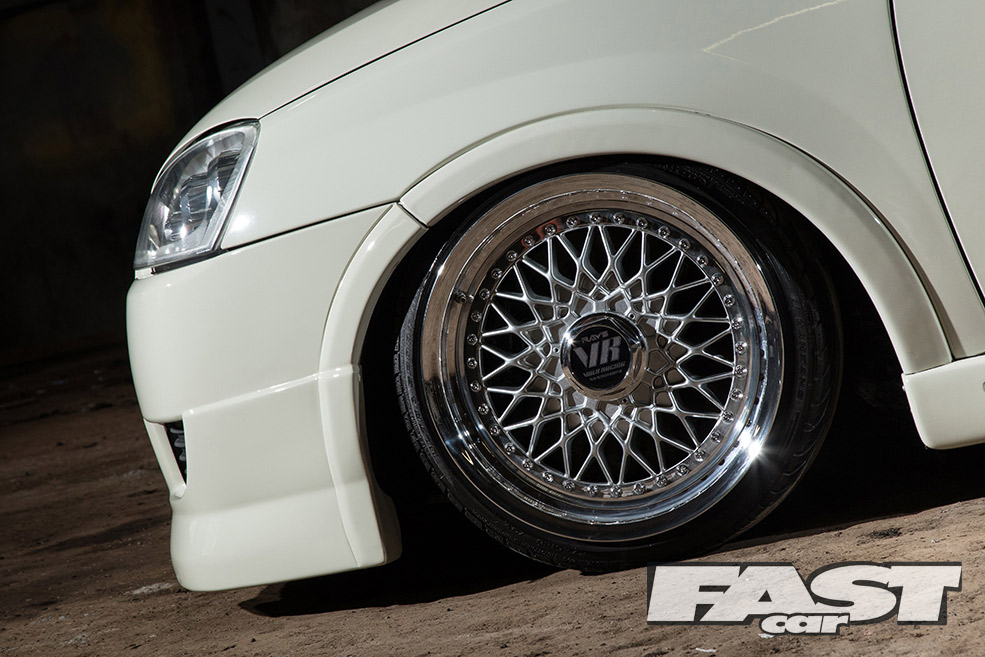 If you put so much time, effort and love into modified cars, it's hard not to get attached. There's no harm in this except when the time comes to let it go – or not. The danger is your heart rules your head, emotion takes over and you end up keeping a car when it makes no financial sense.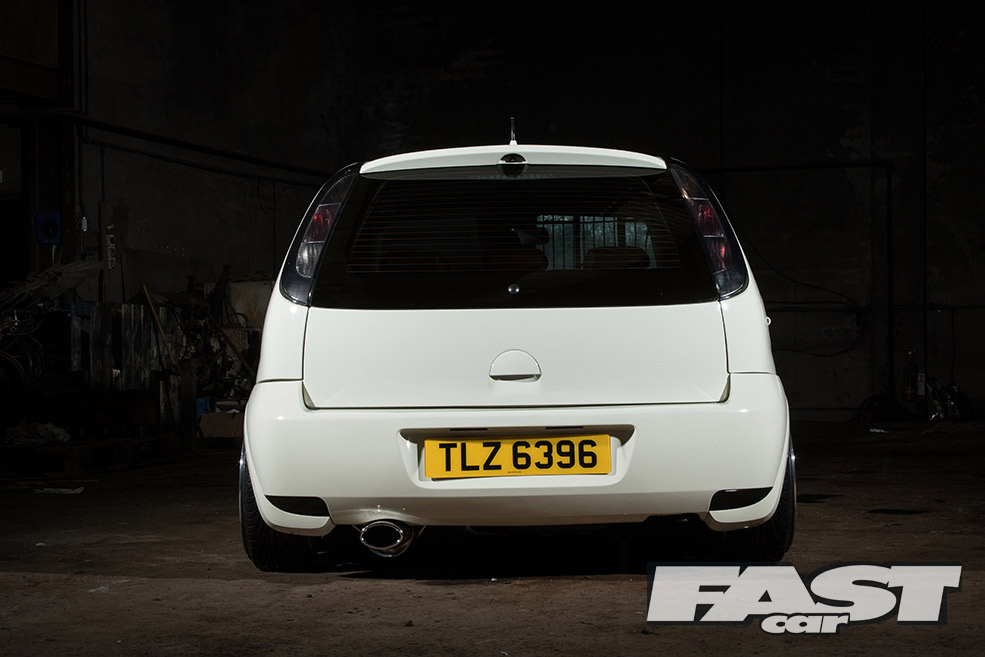 But that's the beauty of modifying and although it doesn't pay off in financial terms, the end result can be absolutely priceless to the creator.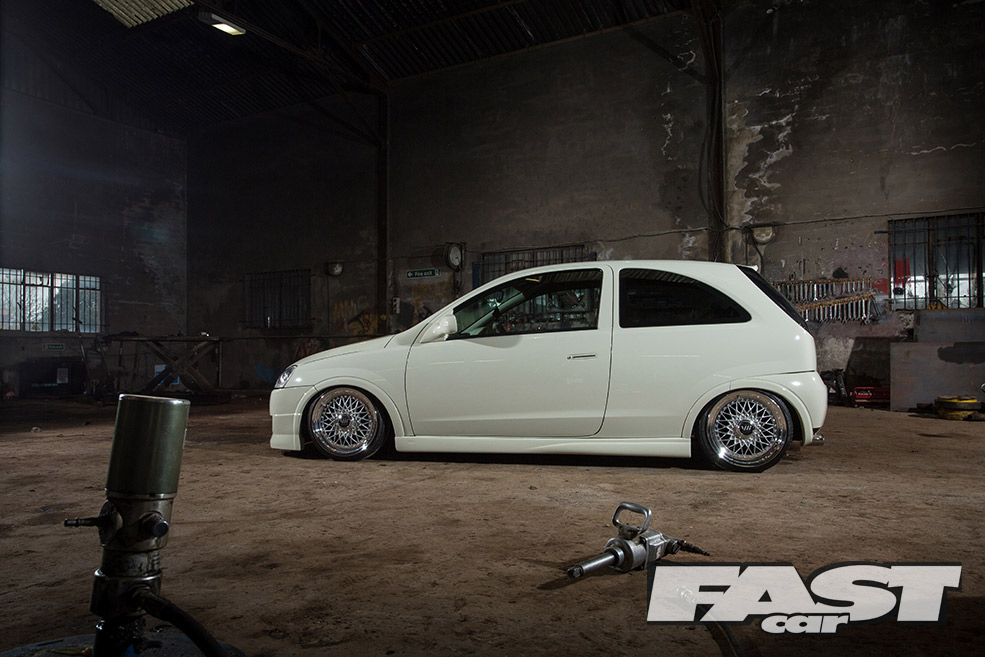 Sean Mooney found himself in this situation when his much-loved modified Vauxhall Corsa C began showing signs of age after years of extensive mods. Other priorities meant it had no real purpose and the car was going nowhere. Instead it was set aside until Sean could make that decision.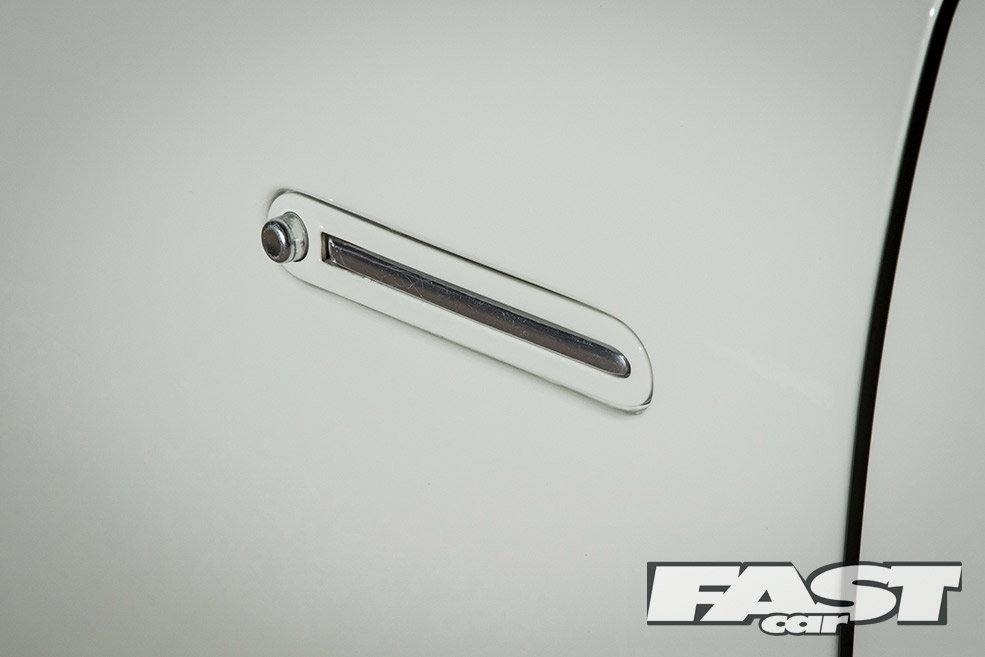 Eventually, after a year, he made his move. Not only was the Corsa a keeper; it was was destined for a total revolution!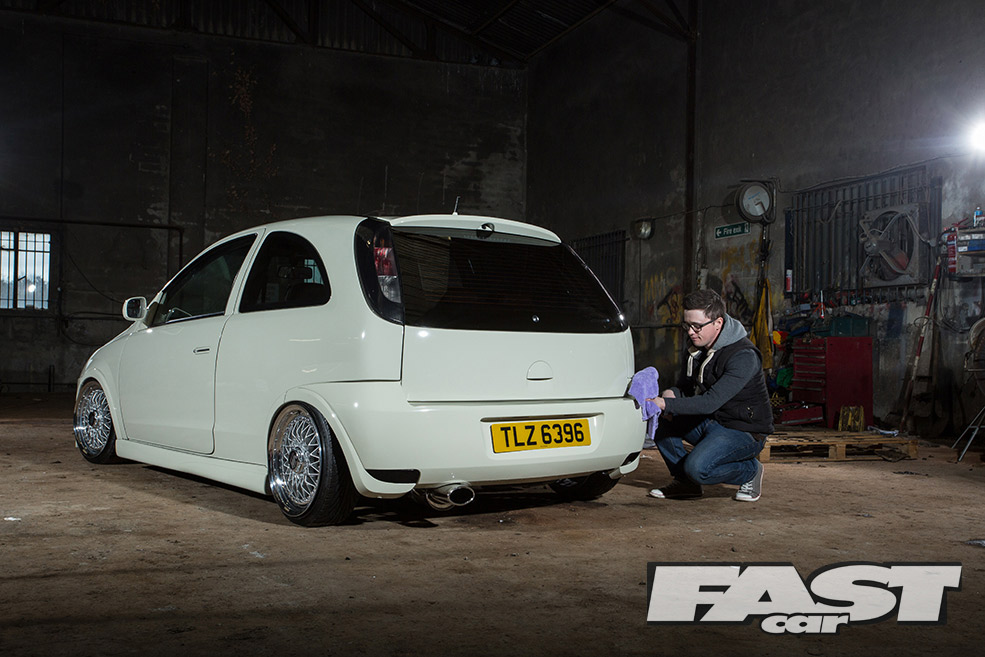 Now that Sean was fully committed he resisted the temptation of a quick fix and instead meticulously planned a complete nut and bolt rebuild. First, this meant a full, bare-shell strip-down with numerous parts like the subframe, suspension arms and hubs all sent off for powder coating and paint.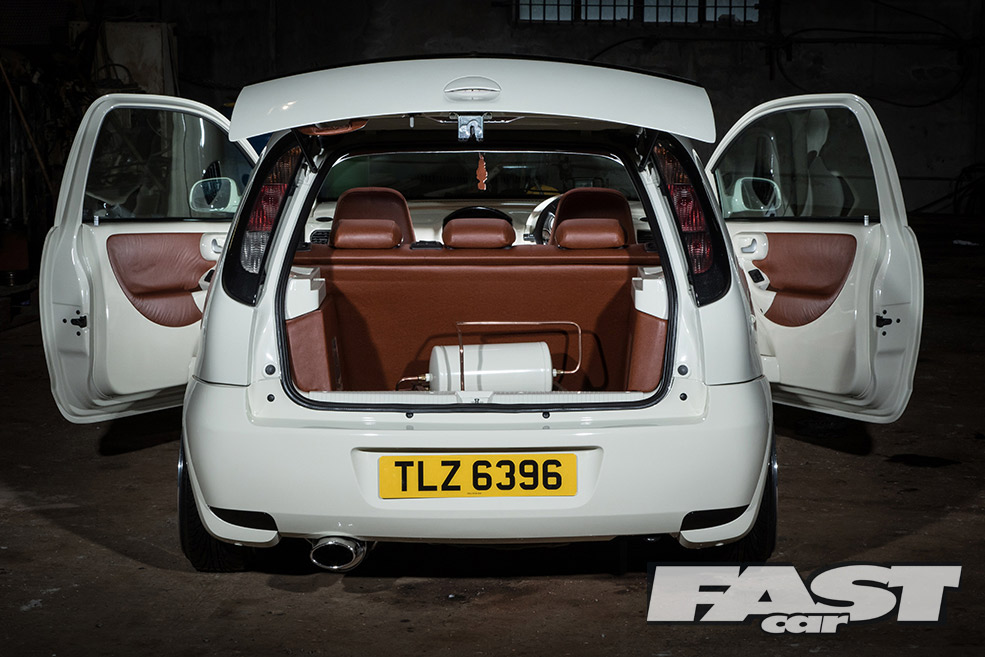 In the meantime, a Corsa 1.8 SRi lump was sourced and trial-fitted along with a Dbilas induction kit and Piper 4-1 manifold. Happy with the power plant, it was temporarily removed along with the transmission so the shell could be prepped for painting in a cool classic VW pearl.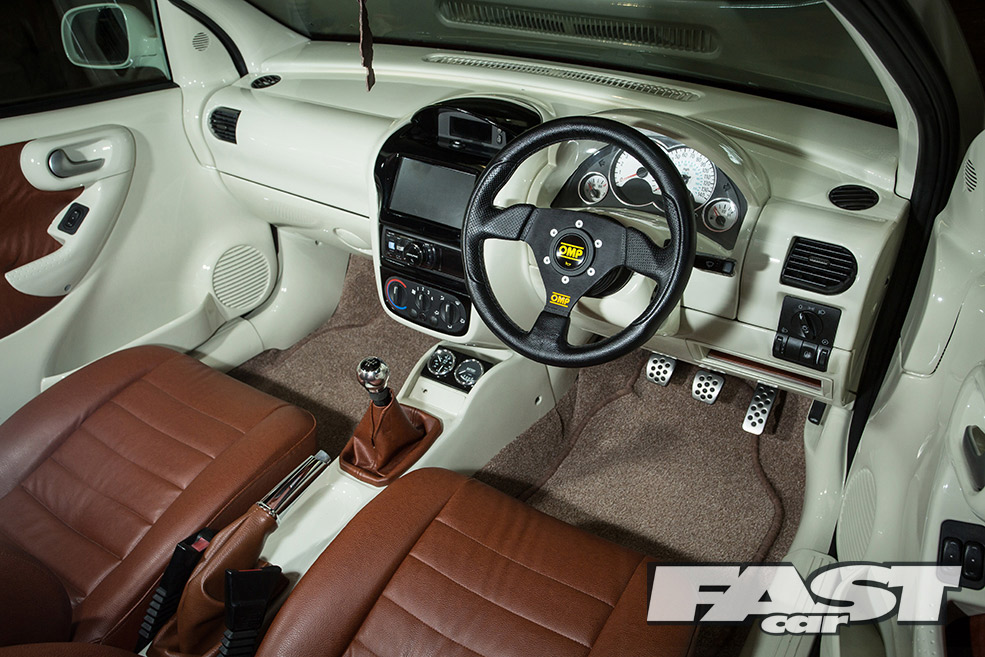 Some previous body mods were retained, as well as introducing new parts, but overall the Corsa received a genuine Opel front bumper, smoothed with an extended Irmscher splitter, Steinmetz side skirts and a smoothed rear end. Little touches that make a big impact are the Fiat Barchetta door handles as well as wing mirrors constructed from AMG Merc bases and Polo cases!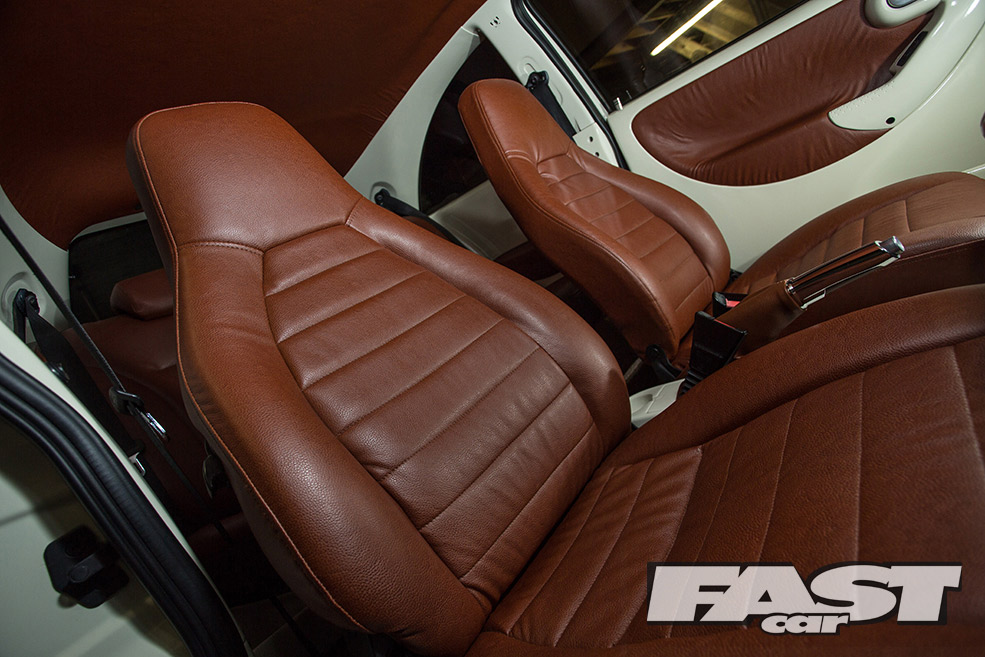 Even with minor mods on the inside, Sean would have been onto a winner, but he's really gone balls deep with the interior. There's almost nothing left untouched as the doors, pillars, dash and console are all covered in cream paint, matching perfectly with the stunning tan leather retrim.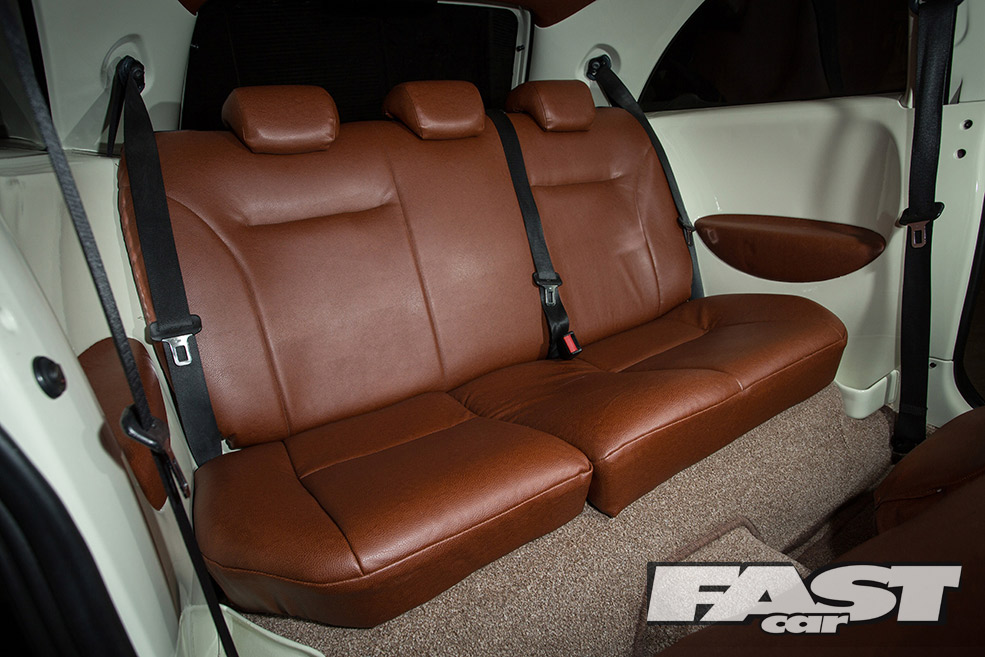 Porsche Tombstone seats look awesome here, as does the rustic wood and leather boot install. Going this far with your cabin can sometimes be too much but Sean has got this blend bang on!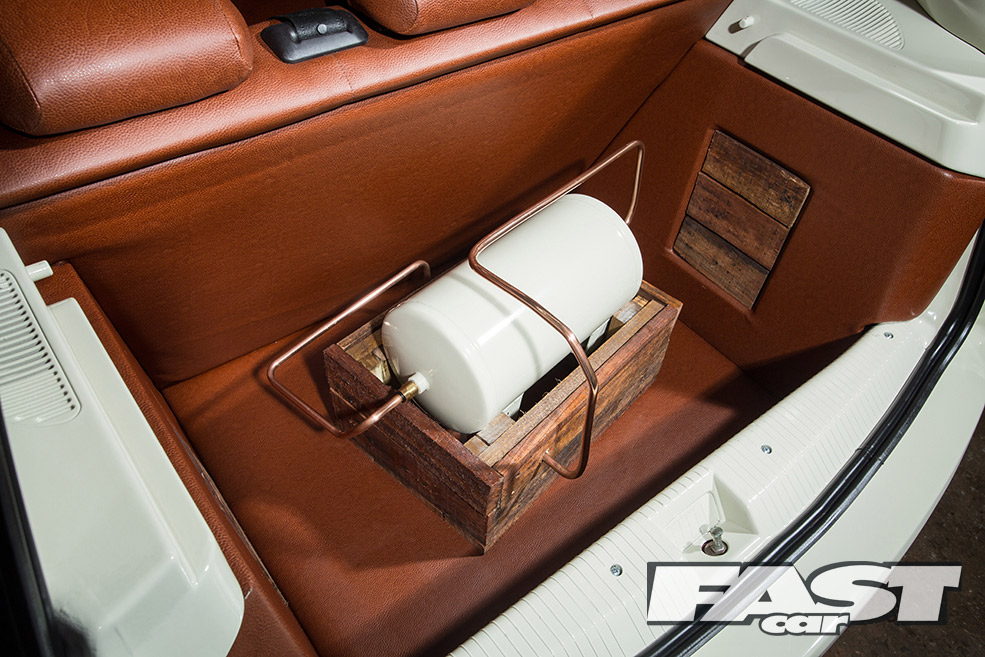 In terms of the chassis, Sean chose an interesting combo that does the job while keeping costs in check. The front coilovers have been adapted to take air bags, while the rear has 120mm lowering springs. Parked up it sits perfectly on the 16-inch Rays rims and the front can still be raised on the road when necessary.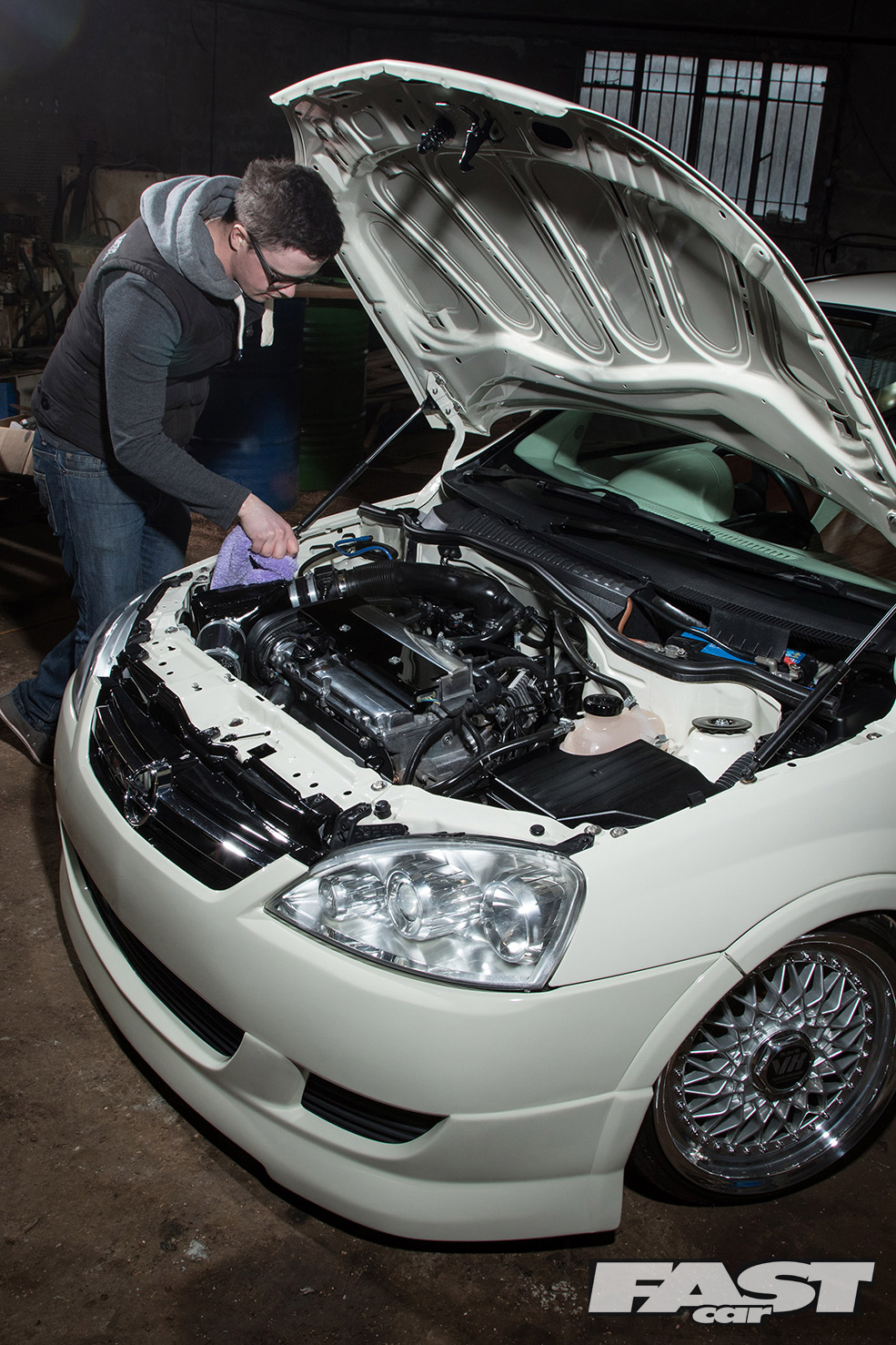 This project has come from the heart and you can tell how much time, money, effort and love Sean has put in. Outsiders may not understand, but in the modifying world, this is how it should be done.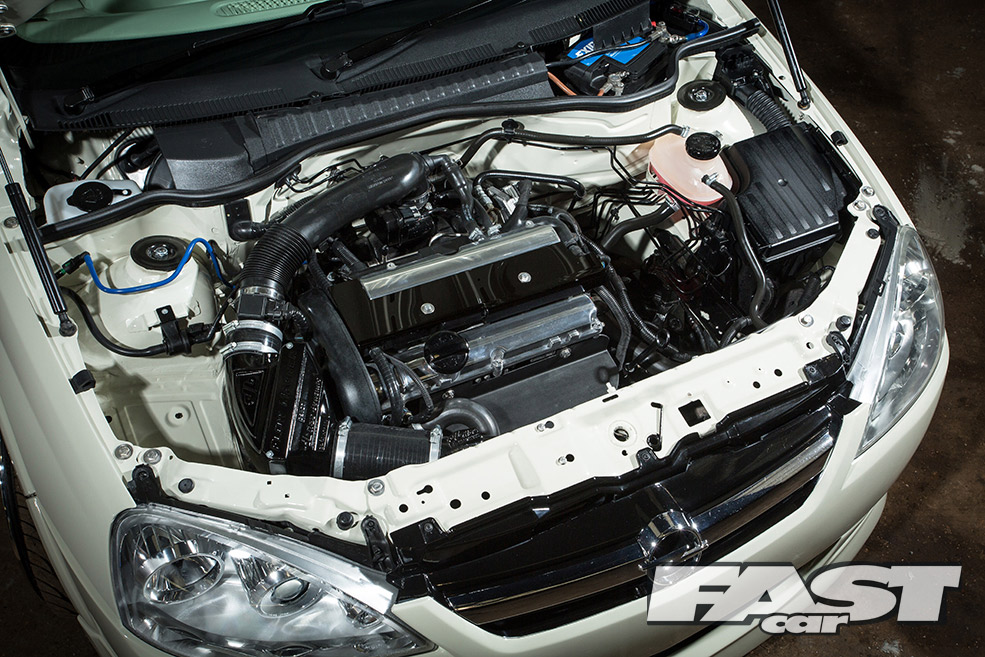 OWNER: SEAN MOONEY
TECH SPEC: VAUXHALL CORSA C
EXTERIOR:
Genuine Opel front bumper; fully smoothed grille; Irmscher front splitter extended by 25mm; Steinmetz sideskirts; smoothed rear bumper; custom mirrors made from AMG Mercedes bases and 6N2 Polo casings; underside stripped and painted black; Fiat Barchetta door handles; full respray in VW L87 Pearl White.
TUNING:
1.8 Z18XE engine conversion; 4-1 Piper exhaust manifold and stainless steel system with sports cat; Dbilas FlowMaster induction kit; K&N filter; custom coil pack cover; custom manifold cover; factory F17 5-speed box; 145BHP.
CHASSIS:
7x16in Ray's Engineering Superfine mesh alloys re- drilled to 4x100pcd; 5mm front spacers; 10mm rear spacers; 165/45×16 Nankang tyres; front suspension TA Technix coilovers converted to universal coilover airbags; stainless steel 5l airtank mounted in custom boot build; -120mm rear lowering springs with factory dampers.
INTERIOR:
Porsche Tombstone seats trimmed in tan leather; door cards, gaiters, headlining and boot build all trimmed in tan leather; custom fit cream carpet with matching floor mats; OMP steering wheel; Isotta handbrake cover; Richbrook gear knob; Corsa D rear headrests; retro-fitted electric windows; custom monitors in front console and rear boot lid; Smiths volt meter and dual needle air gauge; custom boot install with hardlines for air ride.
AUDIO:
Alpine headunit IDAx001; Alpine speakers front and rear; media player hooked up to monitor in dash and one in bootlid.
THANKS:
Titch, my girlfriend, for putting up with me over Xmas while I spent every penny on the car; Montie from Bassmechanix; Steve from Edge Automotive; Justin from Autospray; Paul from Deluxe Detailing; Mike from Kleen Freaks; and all my friends who helped and got involved.
Words and photos Steve McCann