Andy Bolger started his VW days on the air-cooled scene, but after getting a GTI at the age of 21 he's never looked back. Here he talks us through his latest 12-year, modified Mk2 Golf G60 build…
Feature from Performance VW. Words: Andy Bolger. Photos: Jason  Dodd.
So, this story starts with a rather mint Black MK2 16v. I'd bought the 16v locally as a non-runner with a blown head gasket. It was relatively low mileage, but the paintwork was tatty. Unfortunately, on our way home we had a little accident whilst towing the 16v and so the already tatty bodywork required some repair work and a full respray. When I got the 16v back from the body shop it was mint and with the help of my friend John Davis at Kent Volkswagen I put it back together again and absolutely loved it. I was living on a main road near a busy pub and it was constantly getting damaged, so I decided to sell it and buy a cheap project car to smoke around in.
With a few quid burning a whole in my pocket I started looking for a replacement Golf. I would regularly hang out with (annoy) John at Kent Volkswagen. One day I was chatting with him in his yard and spotted this pink B reg Mk2 1.3 C (poverty spec) with a cool number plate sitting in the corner looking rather sorry for itself. John had bought it as a non-runner and was using it as a spares car. I had a quick look around it and it had everything that I wanted. Back then in our area everybody wanted big bumper Golfs and the early golfs were being made to look like 90 spec Golfs too. Also, it was just starting to become fashionable to shave off trim pieces and this little Golf being the poverty C spec was never supplied with any trim anyway, so it didn't have all the holes in the doors etc that everyone was busy filling. After a quick inspection I decided that it was just what I was looking for and so I asked John what he wanted for it. He said I could have it for a £100, so I bought it there and then. All I needed was somewhere to build it.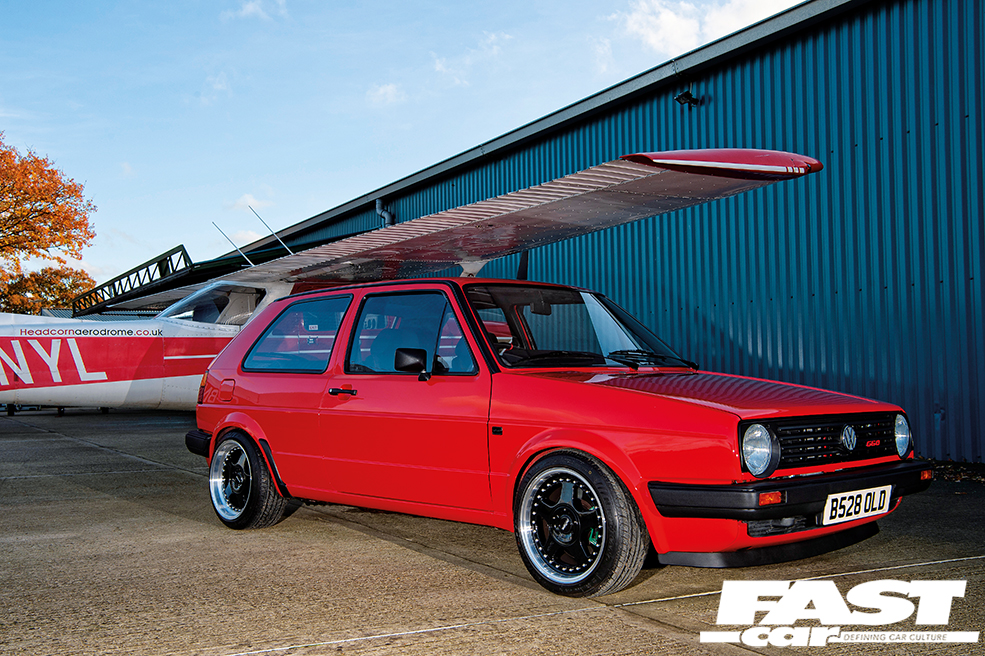 My friend Chris Elliot had just opened his own garage, which was in a massive barn. I managed to convince Chris and his business partner to let me store and work on the car in his workshop. My plan was simple, I wanted a ratty looking track inspired car. I'd strip out all the interior, throw the wide track running gear off a Mk3 16v Golf on it and turbo charge a 16v engine. Chris quickly talked me out of the 16vt route and suggested that I go for a 20vt instead. Today, 20vt conversions are ten a penny because the donor cars are so cheap, but back then it was a relatively expensive conversion. And so a 20vt engine was sourced, but it was in a box of bits and we really didn't know what state it was in. It ended up that the head was junk and needed replacing and then a rather inexperienced me wrecked one of the cylinder bores of the block trying to install the pistons. Enthusiasm and cash for the little project Golf evaporated pretty quickly and so she sat in Chris's workshop gathering dust for about 18 months.
What happened next is a story I expect a lot of petrol heads can relate to. In what felt like a very short period of time I got a new "full time" job, met the love of my life and bought our first home together, which became the sequel to the film "The Money Pit". All my time and money was being soaked up by the house and the Golf became a distant memory. Chris, got bored of looking at the car in his workshop, so we stripped a MK3 Golf and had the running gear powder coated. He then fitted them on the car along with some new polybushes, coilovers and delivered the car back to me. We parked it up on the front garden and it sat as a garden ornament for 7 years.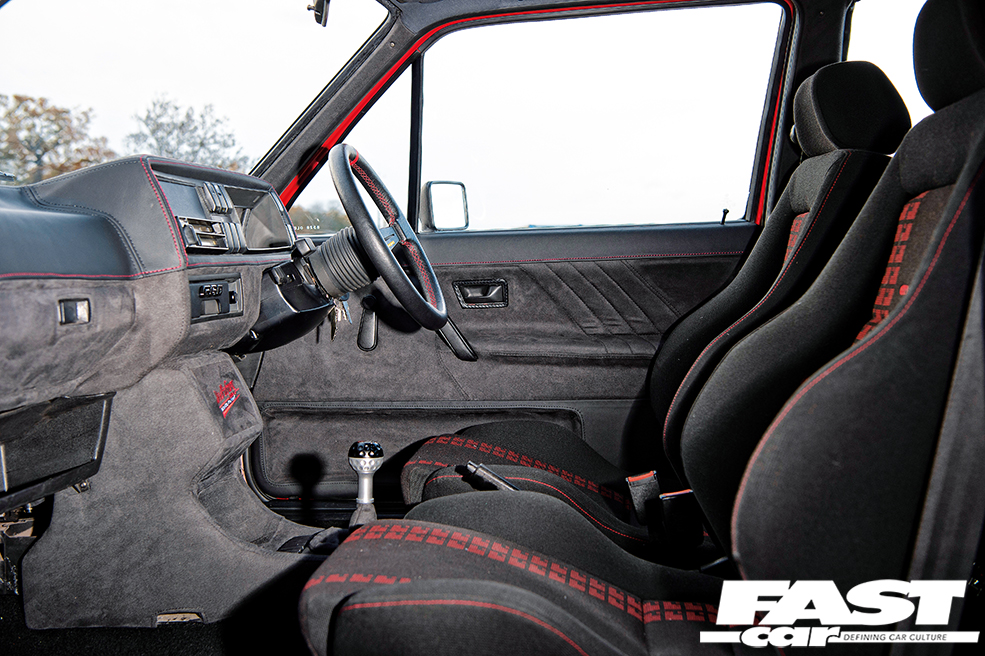 Running a car club has meant that I've got to meet some really great people over the years who in turn have become really great friends. You also usually hear about what people are selling before anyone else does. When something came up for sale (usually when someone was breaking their own project car) that I needed I would buy it and store it away in our loft. I bought the MK3 GTi Edition Recaro interior from a friend called Dan and stored it up in our loft for a couple of years. I've always said, you buy things when you can afford them and sell the when you need the money, and sure enough I sold the Recaros on to another member of our club. A few years later he put his Vento up for sale and I bought them back again for what I'd sold them to him for. The engine came to me in a similar way.
Jim Yeoman and his partner Fiona Hill have been members of my car club since they bought a Corrado G60 as a daily for Fiona. They would come to our meets in the Corrado and Jim would often bring his Sierra Cosworth along, too. Jim owned a garage locally and was very much into the fast Ford scene (in fact anything that went fast really). Over the years the G60 started to deteriorate to the point where they decided to break it for spares. That included the engine and gearbox, which I promptly bought off them on the condition that they would store it for me until I was ready to use it. Jim had started working on another one of our club member's Corrado VR6 Storms. I was really impressed with what they were doing and when it was finished the VR6 had 575bhp and I was blown away by how great the bay looked.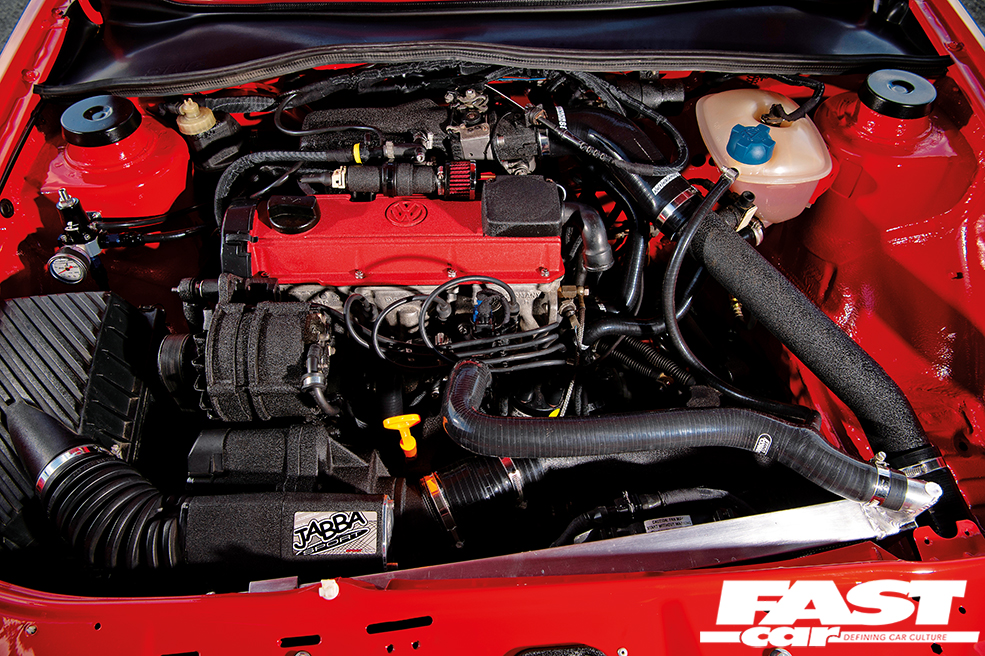 A conversation and a bit of negotiation and Jim was on board to build my Golf. The only problem was that like all good tradesmen he already had a list of cars that would need to be finished before he could get to mine. 3 years and a unit move later I finally pestered him into letting me come down to the workshop one day a week to start freshening up the G60 engine.
The supercharger was already modified to stage 4 and went off to Jabba Sport for a refresh. I managed to buy NOS BBM billet aluminium fuel rails to replace the brittle factory rail and plumbed in an Aeromotive fuel pressure regulator so that I could set the fuel pressure exactly to match the Jabba Sport Stage 4 Chip. The rest of the engine and gearbox got a good strip down, clean and a refresh coat of paint. A further 2 years past and finally I got the nod that my car could take residency in the project bay of the workshop.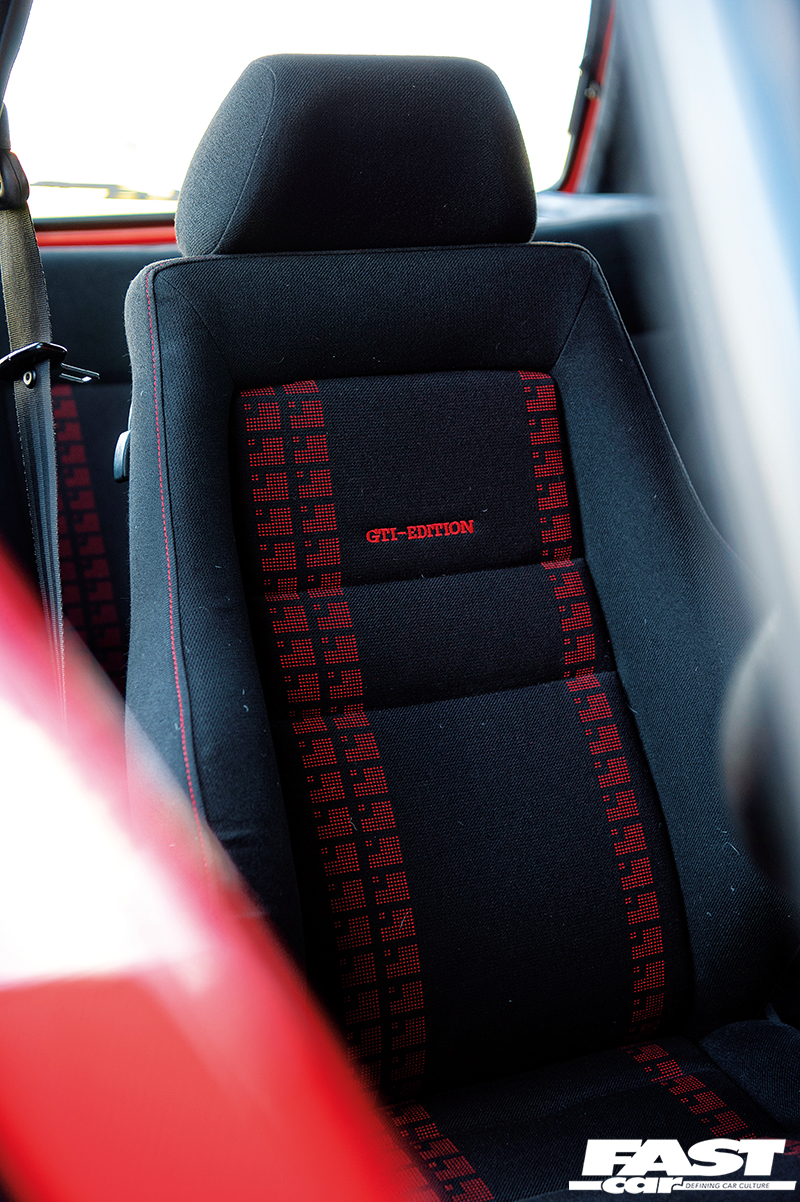 So, some 10 years had passed since I chewed John's hand off and bought the Golf. In our club it had become a running joke. I lost count of the number of times people asked me when it was going to be finished and most had pretty much come to the conclusion that the car wasn't ever going to get done. They started to get a little more interested though when I posted up some pictures of the engine looking brand fire new and ready to slot back in to the shell.
With the go ahead from Jim I got the Golf off the front garden and transported it to its new home. I set about stripping the car down ready for it to go off to Graham Musset to receive a fresh coat of Mars Red. I wanted the cars paint to look as if it had just come off the factory production line, so we decided to paint it with just a solid base coat rather than base and clear which is probably a more popular choice for "Show Cars". Graham did a great job and the car came back to the workshop with a shiny new paint job.
Jim still had a few bits of the Corrado laying around the workshop and a quick rummage turned up an adjustable steering column. Being 6'2", I've always struggled to get a comfortable driving position in a Golf. With a little fabrication, we had the Corrado's column in and then I turned to the electrics. I wanted to make the engine transplant as simple as possible, so the old CE1 electrics were removed and replaced with everything from a CE2 or 90 spec golf. Again all the parts were sourced from another member of our club and whilst I was there I also grabbed nearly all of the missing interior parts I needed. I wanted to clean up the engine bay as best I could. So, all non essential items/brackets were removed, and the battery was relocated to the boot along with the washer bottle.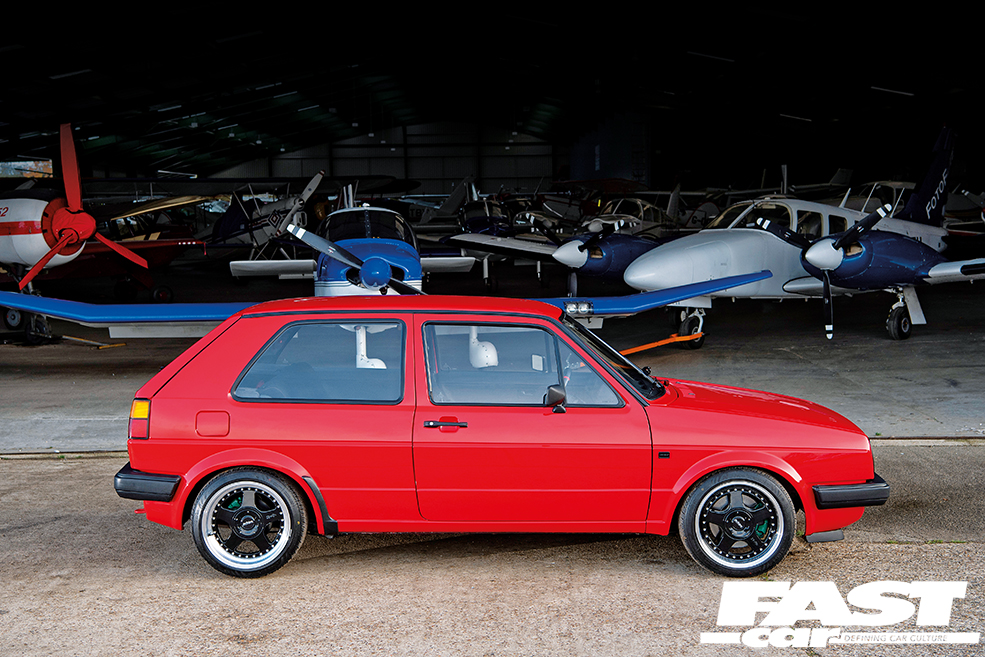 Having got all the interior bits that I needed together, I started to look for someone to re-trim them as they were looking a bit tired and out of place in the now new looking car. I found a local upholstery chap called Martin who runs Martins Upholstery Workshop here in Thanet. We met up, got on really well and a deal was done for him to recover the dashboard, door cards, centre console, in fact nearly every part of the interior. I'd seen some pictures of the new Porsche 911 GT3RS interior and really liked the way they'd used half Leather and half Alcantara, so that's what we did and I couldn't be happier with how it turned out.
While Martin was busy on the interior, we dropped the refreshed G60 engine into the shell and I started to plumb in the ancillaries. We custom made all of the intercooler pipe work and plumbed in the new Aluminium radiator. I then turned my attention to the underside of the car. I already had a Mk3 fuel tank installed, but the car just didn't look right with the wide track suspension Chris had fitted all those years ago. So, off it all came.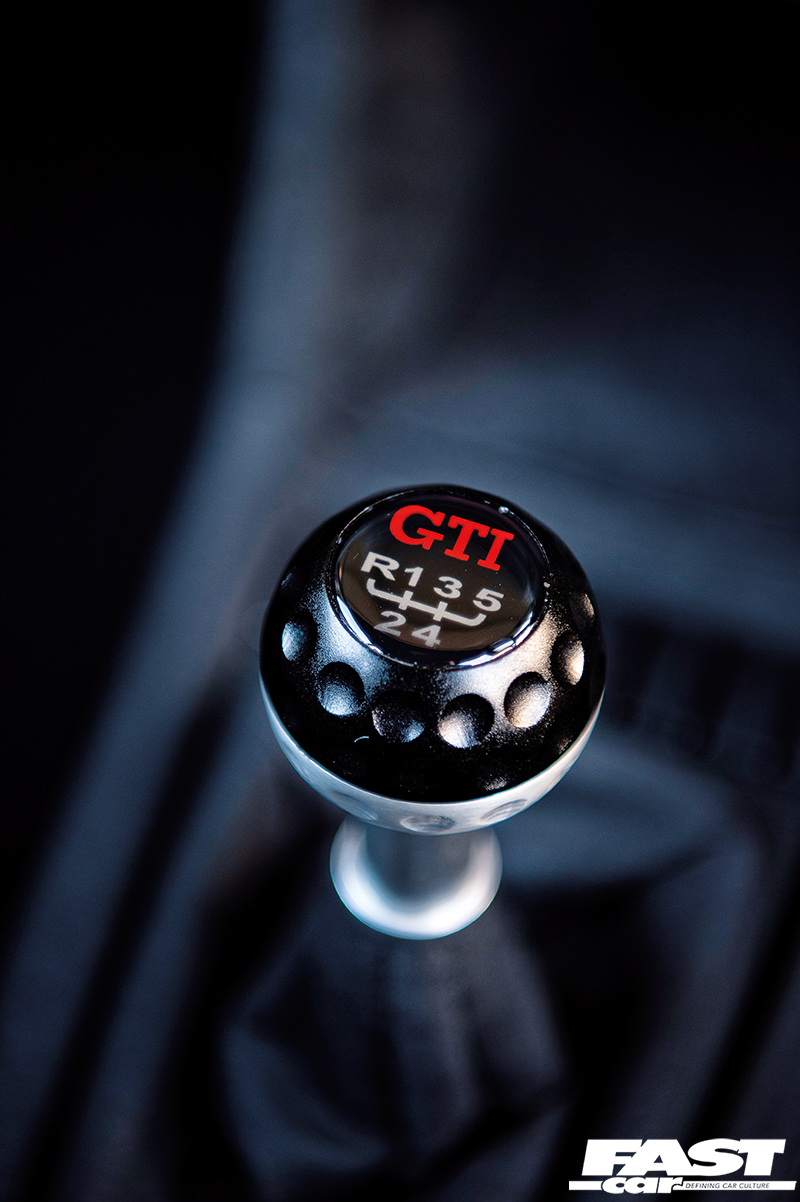 One of Jim's customers (also a member of our club) brought in his 16V Corrado for some work and whilst chatting he let slip that he was thinking of selling the car, but would rather break it up and sell it in parts to get more money. My ears pricked up and before he'd left I had bought all the running gear, the suspension including the uprated G60 brakes and also the wheels. He dropped the car off to us and we set about stripping it for him.
With all the Corrado bits on the floor I got the grinder out and wire brushed all the rust off the suspension and gave it a couple of coats of Hammerrite paint before reassembling it with new bearings, brake lines and polybushes. The tank got a good clean out (12 year old fuel had turned to jelly) and the in tank fuel pump was DOA, so I replaced it with a new one.
The last piece of the puzzle was the exhaust system. One thing I did know about the G60 engine was that they ran hot and with the inlet manifold sitting directly above the exhaust manifold I wanted to reduce the exhaust temperature as much as I could. I sent the factory exhaust manifold off to Zircotec to be ceramic coated, which they claim reduces the surface temperature by 33%. The 2" Powerflow stainless exhaust came from another member of our club who couldn't sell it so we did a swap a for some parts I had and the two were joined together with a custom de-cat pipe.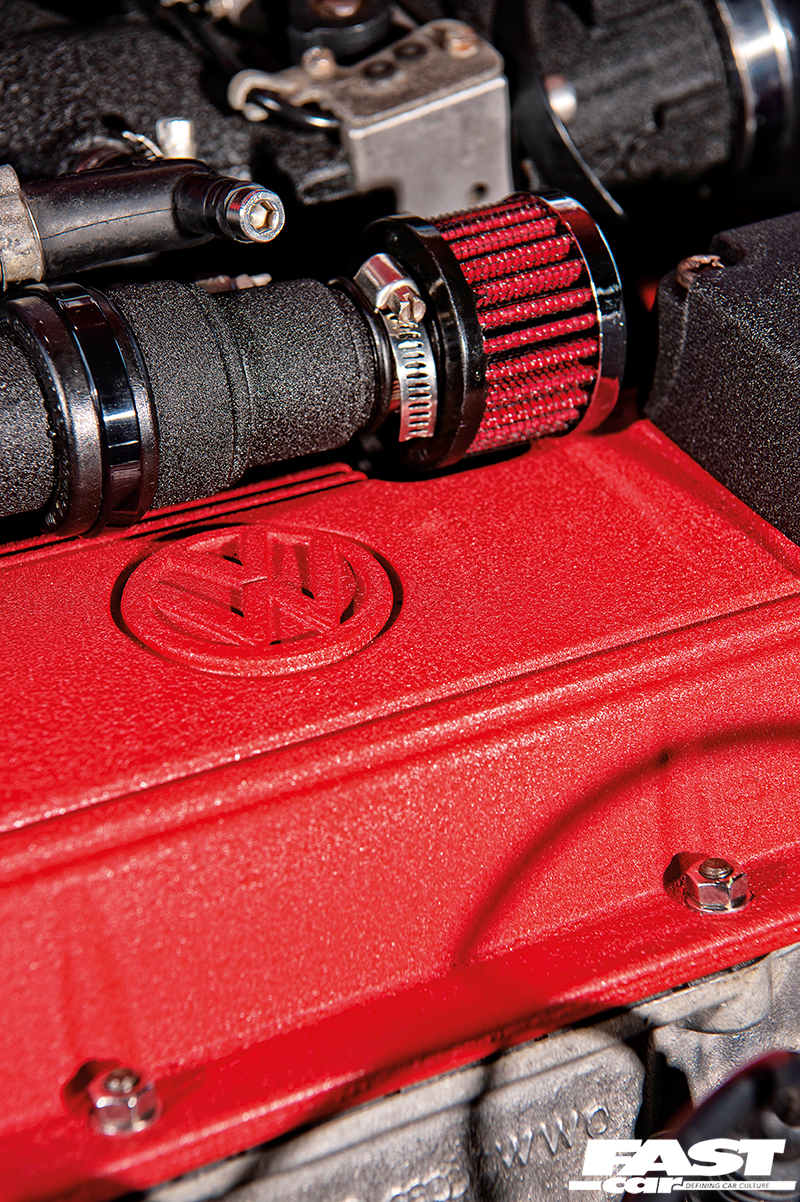 All bolted together it was time to turn the key and fire the engine up for the first time. That was a bit of an anti-climax as a dead ECU relay prevented us from getting any spark. A new relay later and she fired into life.
Martin had finished up the interior bits for me, so they were fitted into the car and we set about cutting and welding the MK3 Recaro's so they could fit in to the MK2 runners. The Keskin KT1 wheels were refurbished and shod in new rubber and it was time for its MOT. I got to drive the car for the first time in 12 years to the MOT tester, where she passed with flying colours. There was something very strange about driving a car that you'd own for such a long time, but never ever driven. It was compounded by the fact that I'd stripped and replaced nearly every nut and bolt on the car.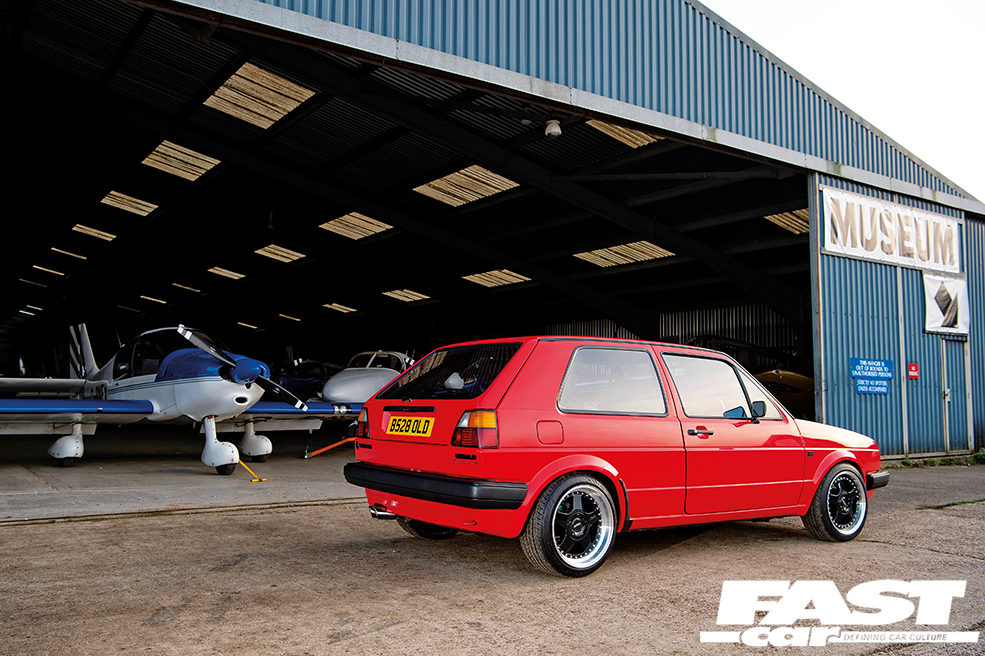 As you can imagine, everyone in our club was amazed to see me turn up to a meet in her. She even took a top 20 at the OhSoRetro show, which to me is probably the best trophy I could be awarded. The best thing about the car is that she is the sum of all the great cars and people that have passed through our little community, a vulture if you like, picking off the carcasses of the dead projects. A little bit of everyone is in her DNA and that makes her special, not just to me, but to our club.
What next? Well, as this project was coming to a close Jim asked me what I was going to do next. I'd become a bit like a piece of furniture in the workshop and I think he was going to miss me being around so we decided to do another project together, but this time it was for Jim as a little thank you for all his help and support over the last 4 years. Hopefully, in the not to distant future (lets hope less than 12 years) we will have finished a track inspired 16v Mk2.
Tech Spec: Modified Mk2 Golf GTI G60
Engine:
1.8-litre G60 with ceramic coated exhaust manifold, BBM aluminium fuel rail, Speed Flow fuel pipe fittings, Teflon performance fuel lines, Aeromotive adjustable fuel pressure regulator, Mk3 Golf fuel tank and 4bar fuel pump, stainless steel induction pipe, silicon hoses, Jabba Sport Stage 4 supercharger, chip and pulley (200bhp), RSR supercharger outlet, front-mount intercooler, VR6 aluminium radiator, uprated radiator fan, 02A cable change gearbox, VR6 clutch, 9" brake servo upgrade, 22mm master cylinder, hydraulic clutch fitted including pedal box, K&N air filter, Powerflow 2" stainless steel exhaust, battery relocated to boot
Chassis:
7×16" and 9×16" Keskin KT1 alloy wheels, FK Konigsport G2 coilovers, G60 brakes all round, Goodridge braided brake lines, Powerflex polyurethane bushes
Exterior:
Standard Golf C spec trim, fully repainted in original Mars red, carbon fibre grille badge, G60 badges in wing, supercharged badge on rear panel
Interior:
Mk3 Golf GTI Edition Recaro seats, custom leather and Alcantara dashboard, door cards plus A, B and C pillar trims