The Mk2 Fiesta is an increasingly rare sight, but Scott Matthews's concours, modified road-racer proves there's big potential in Ford's 1980s' baby.
Feature from Fast Ford. Words: Daniel Bevis. Photos: Dan Sherwood.
The comedy double-take is a masterfully cinematic trope of modern life, and this Fiesta is jam-packed with them. Indeed, we reckon it would take the average Ford fan a good few glances to appreciate just how many changes have been made to this once-humble Fiesta.
We know these cars inside out, so when we spot details like the custom Carbon Delight bumpers and the shortened rear number plate recess, the eyes can't help but flick back for a second look. And anyone who's twirled spanners beneath a Mk2 Fiesta bonnet will know they're usually hinged from the front, not the back…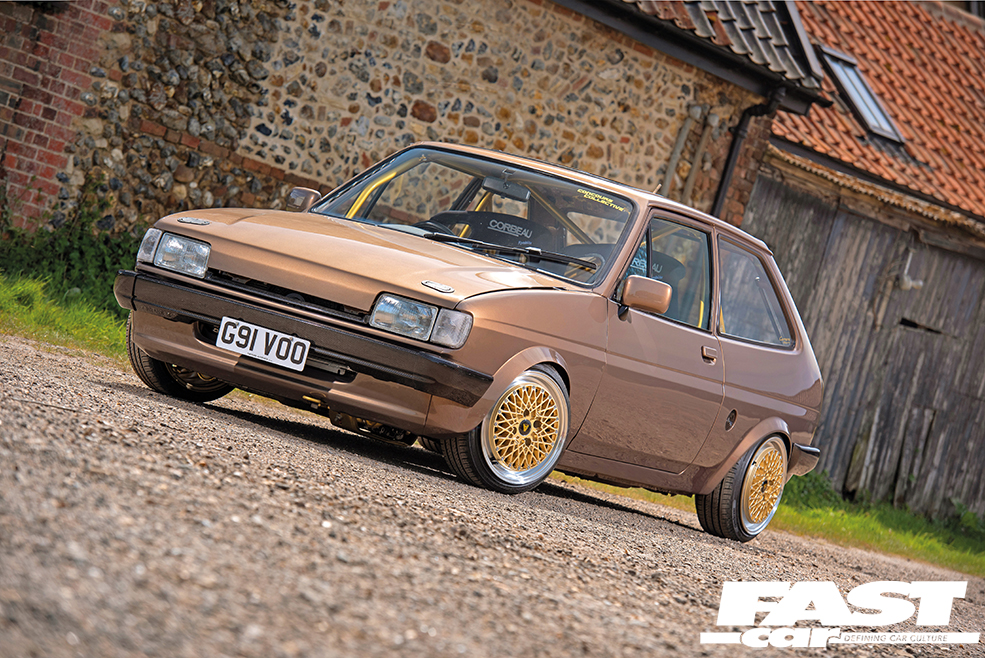 For a generation of modifiers, the Mk2 Fiesta was the archetypal hatchback of their formative automotive experiences, whether practising for their driving test in mum's 1.1L or gazing with envious eyes at flame-spitting RST-swapped XR2s haring down the seafront.
But the Mk2 Fiesta was about more than street-racing XRs; it was a cheap and dependable shopper.
If you had a Fiesta Popular, everyone knew you'd bought the entry-level, bargain-basement model. The next rung up the ladder was the Popular Plus, then the L, Ghia, S, and finally XR2. These were the six core offerings; naturally there were special editions to confuse and confound (Bonus, Festival, Firefly, Dash, Holiday, Fresco, you get the picture) but those main six were the anchors that kept it logical for the buying public.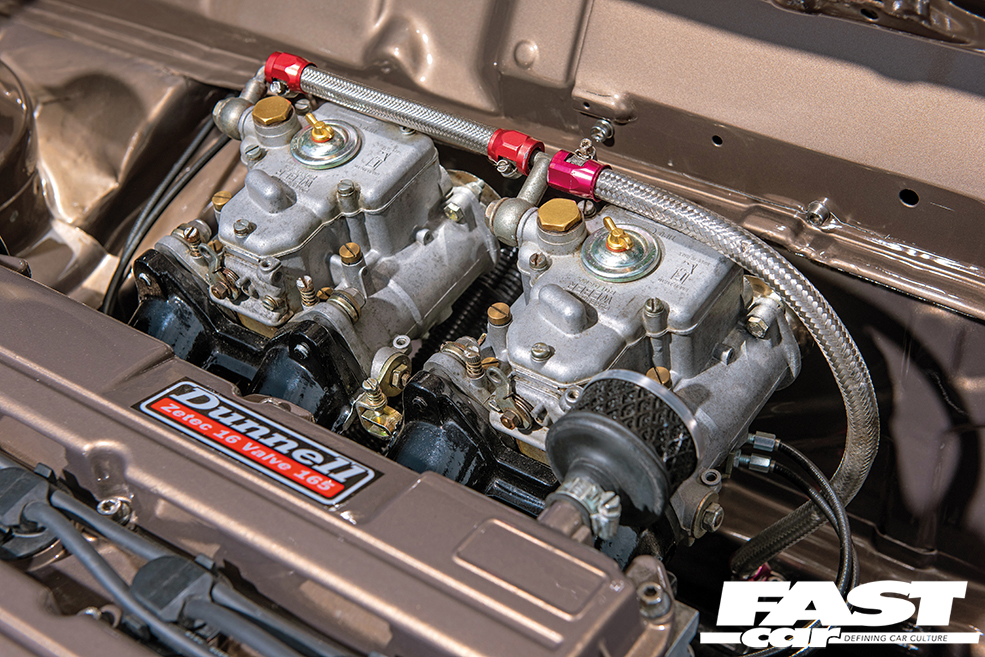 Yet the car we have before the lens today transcends all the logical ordering to become something else entirely. Something unique, a true one-off, painstakingly crafted over several years to become arguably the ultimate Mk2 Fiesta.
It's the brainchild of Scott Matthews, a man who knows a thing or two about retro Fords and has the sticking power to see a project through, no matter what the budget or timescale.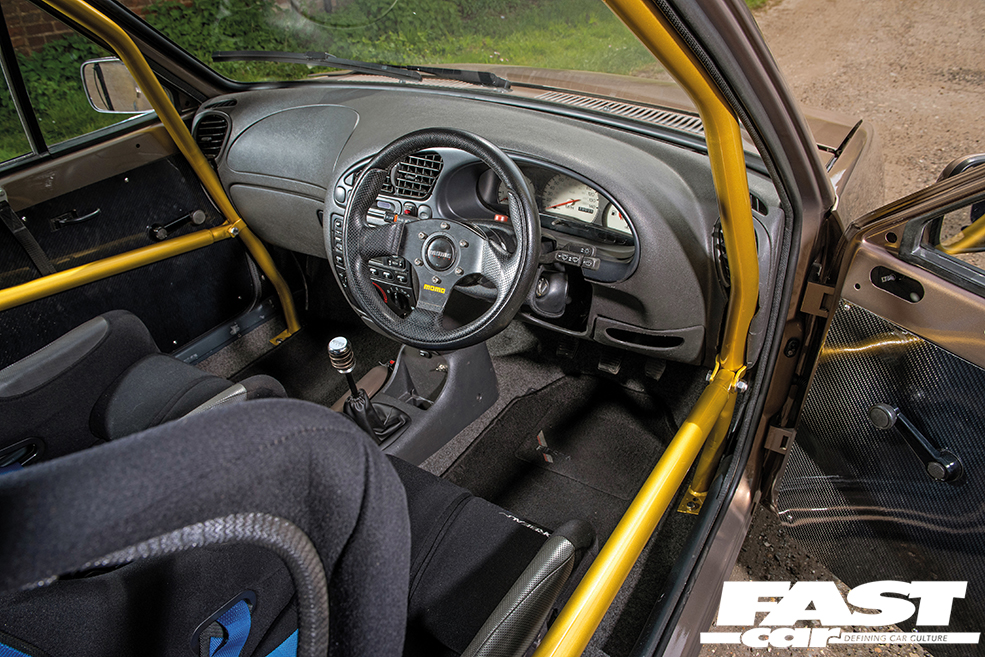 Indeed, Scott's now owned this Fiesta for an impressive 17 years, and back when he acquired the car it was, making no bones about it, a bit rubbish.
Scott remembers, "I only paid £175 for it. It wasn't long before I stripped it all the way down and set about working it all the way back up again."
The reason for buying it in the first place was simply that he'd always admired the Mk2 XR2, but they were a little beyond his means, so he got the next best thing.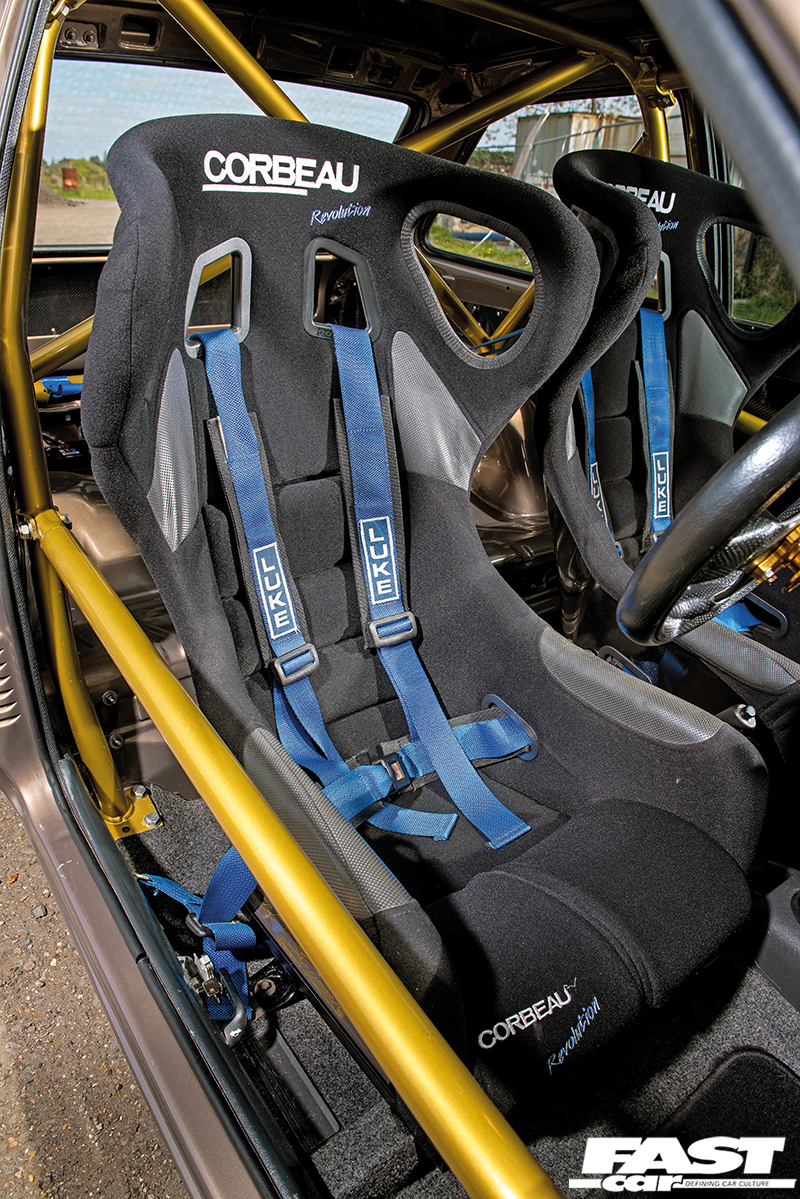 It soon got to the stage whereby even when he was in the position to buy a proper XR2, he turned the opportunity down because he was so emotionally invested in this car. Which, we can probably all agree, is a very good thing, because it's been transformed into something spectacular.
Now, at this juncture it's probably necessary to deviate down a side-track to jog your memory about Carrera Bodyworks. The name will be familiar to many readers, and regulars should remember Carl Taylor's Rubystone Red (er, pink, that is) Players RS Turbo from earlier in the year: it was masterminded by the craftsman at the helm of Carrera, Jez Bonner, and it's this artistic character who has helped to mould and shape the sparkling entity that Scott's Fiesta has evolved into.
Scott says, "A lot of the work carried out over the years has been done in conjunction with Jez and Carrera Bodyworks."
And the more we pore over the body, the more one-off details reveal themselves. The subtly flared metal arches are a delicious custom job, and other treats include the shortie plate recess and carbon bumpers, the absence of locks, side repeaters or a second wiper, it's all very… well, smooth is the perfect word.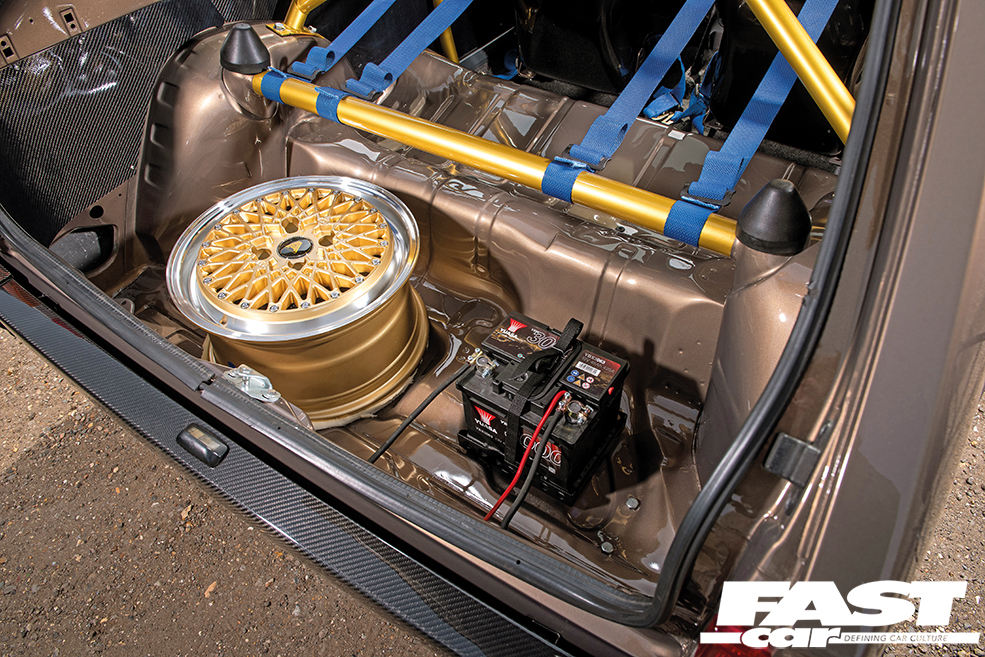 Especially now that it's been slathered in Carrera's unique and top-secret mix of paint, bespoke to this car and this car alone. It's at once creamy and chocolatey, and somehow icy and frosty, and we're not sure exactly how that was achieved but it's something we're very much on board with.
Shod with a fresh set of Autostar Minus 15 wheels, whose zero-lip vibes fuse badass stance with motorsport flair, the underpinnings of the Fiesta are serious too.
An adjustable Panhard rod has been custom engineered for the car, an ingenious solution that allows owners of lowered old Fiestas to adjust and re-centre their rear beam (as the lowering process tends to force the whole beam over to the passenger side). Everything's been poly-bushed under there as well; this isn't just about show, there's a remarkable commitment to the go, as evidenced by the spotless contents of the eat-your-dinner-off-it engine bay.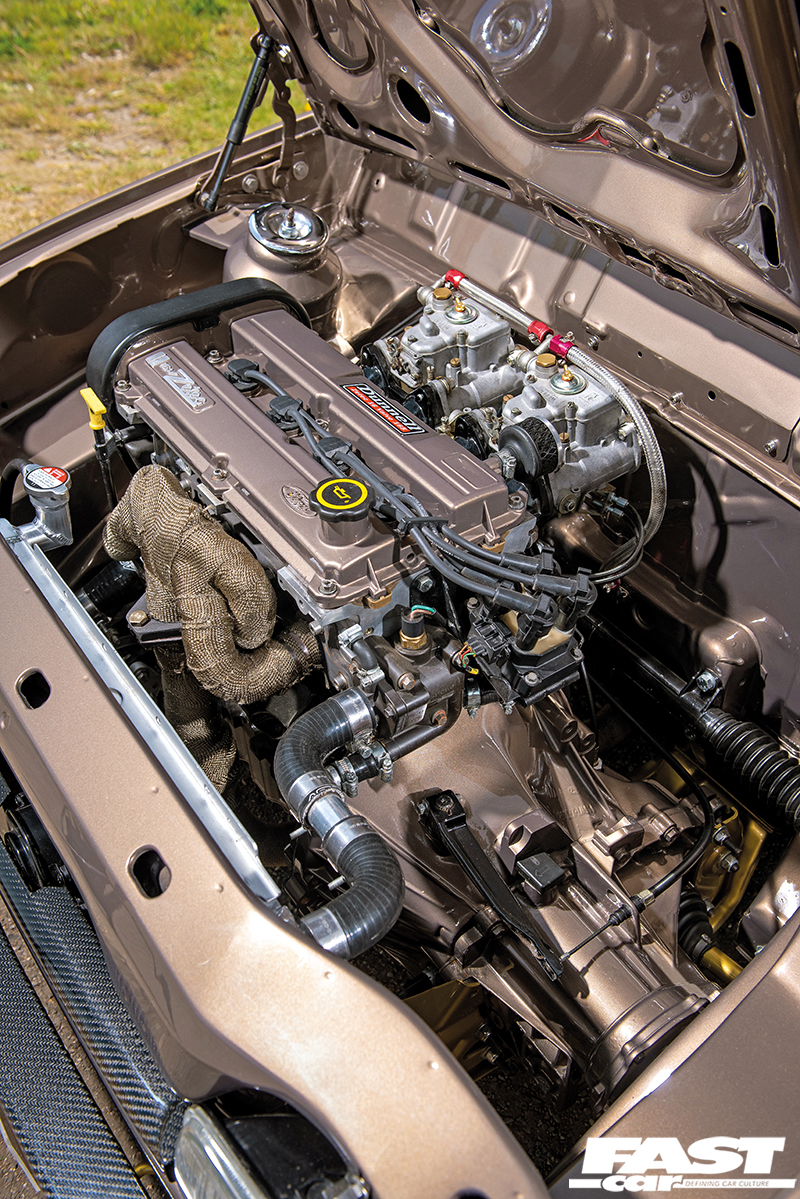 Ford fans will recognise the motor as a silver top Zetec, but it's worth noting that this is no ordinary Zetec. Note the Dunnell plaque on the colour-coded cam cover.
Dunnell Engines is a highly respected builder of Zetec and Duratec twin-cam motors for road and race applications. With 55 years of experience in drivetrain development, bespoke components are designed in-house and machined on site; every engine is hand-built, run for five hours on a dyno, then power-tested and fine-tuned to the customer's specs.
Scott's engine is a silver-top 1796cc Zetec (the early type, as found in post-1991 Escorts, Mk3 Fiestas and Mondeos), and it's been built in a 165bhp state of tune.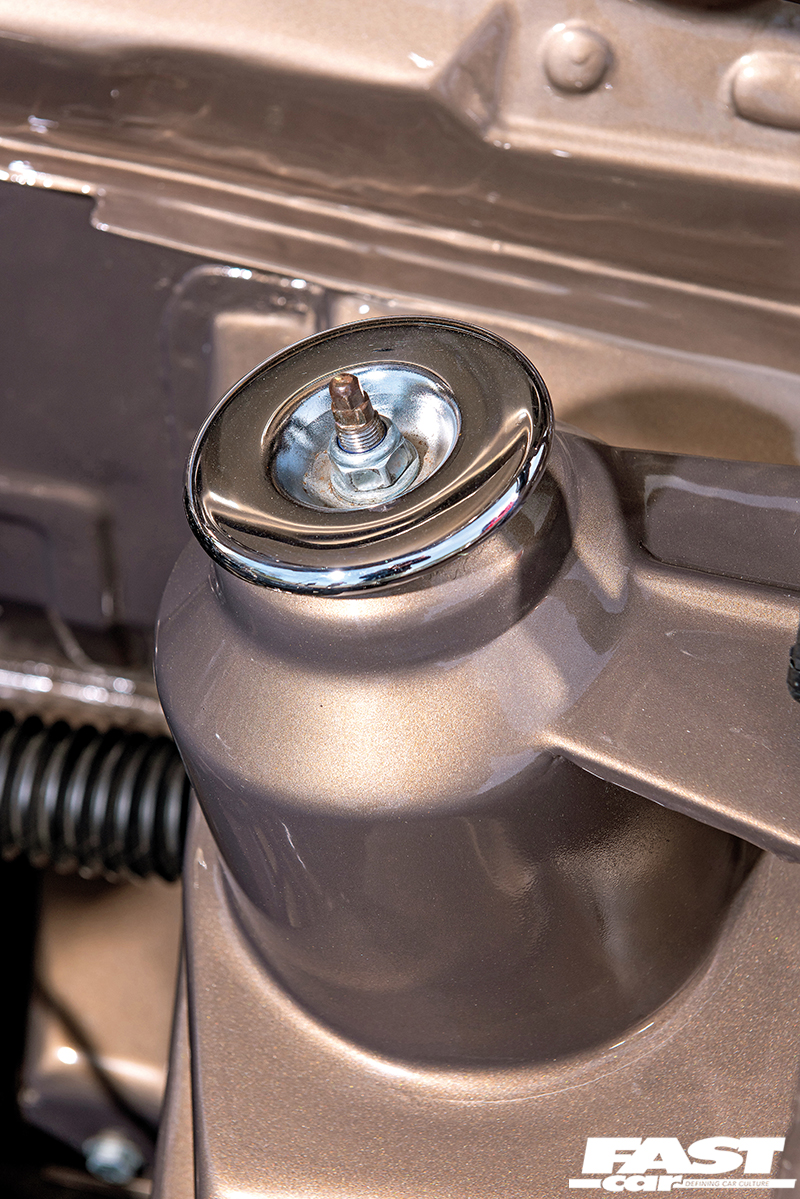 Key to its raucous character is the conversion to Weber carbs: the Dunnell package includes a bespoke inlet manifold, mounting kit for the DCOEs, wiring loom, and owners can specify 3D ignition management too, although that's not something currently on Scott's engine. "To be honest, it was built that long ago I can't really remember the full spec list for the engine build," shrugs Scott.
Not that it matters one bit. All that matters is the fact that 165bhp is a riotous amount in a car that weighs about as much as a modern Fiesta's front seats, and he's paired it with a Mk6 Escort GTi gearbox – which has been artfully colour-coded to the custom paint. Show and go in equal measure, and exquisitely detailed throughout.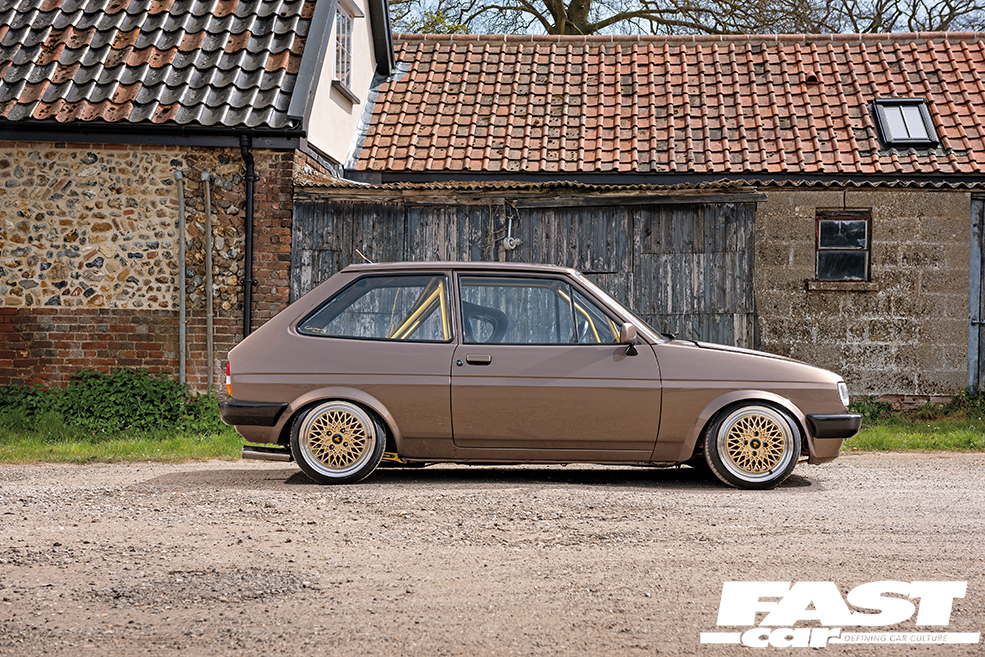 Perhaps the most surprising element of the car is what's happened to the cabin. Those of us who clearly remembering smoking about in bargain-basement Mk2s will be well versed in the scenario of saggy seats with threadbare cloth, rattly trim, and scratchy plastics.
But there's none of that budget misery in here. In fact, Scott's reimagined the cockpit as a sumptuously high-end interpretation of a motorsport package. There's a full Safety Devices roll cage, which was once painted orange but has now been colour-coded in glorious gold to match the assorted golden details in the engine bay and throughout the chassis. The stock seats have been ousted in favour of lightweight Corbeau Revolution buckets mated to Luke four-point harnesses, and the carbon fibre door cards offer yet another element of synthesis, matching the carbon theme across the build.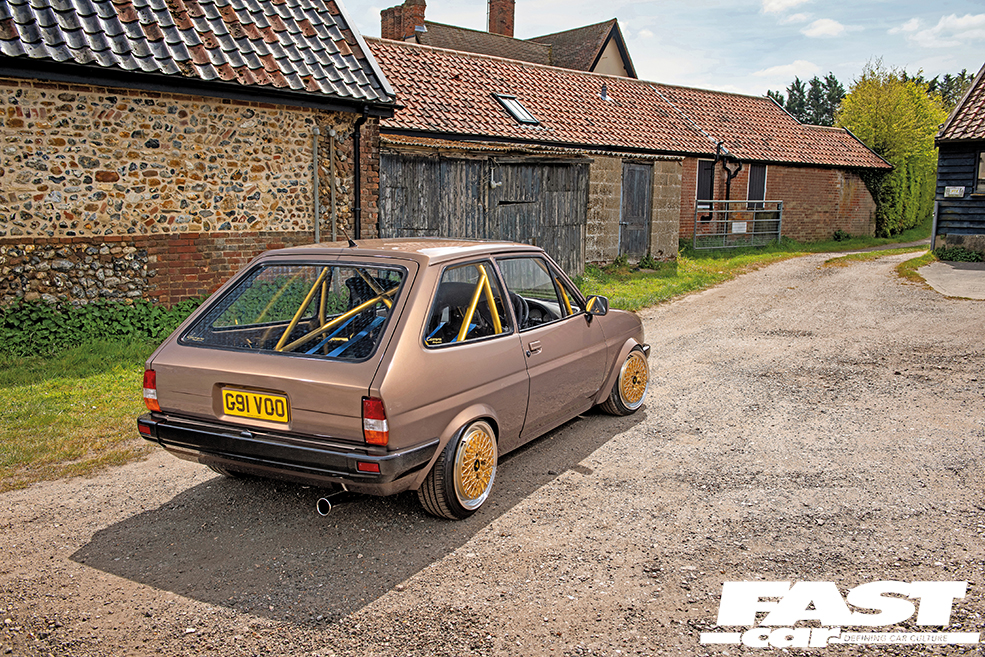 What will be most gobsmacking to Mk2 fans is the dashboard: the original setup, an austere jumble of rectangles, has made way for a new-wave symphony of swooping curves. Scott's fitted the entire dash and centre console from a Mk5 Fiesta Zetec S, which is something we haven't seen on any other classic Fiesta, and it just works so well.
This detail, among so many others here, provides endless comedy potential at shows for onlookers to pull those double takes. The 1980s' Fiesta is a familiar silhouette, but there's so much here that's unfamiliar, unexpected, and unusual.
The ultimate modified Mk2 Fiesta? It very well might be.
Tech Spec: Modified Mk2 Fiesta
Engine:
1796cc Zetec-E (silver-top) Dunnell Engines twin-Weber 40 DCOE carb conversion kit (based on 130PS-spec Zetec 1.8-litre), custom inlet manifold, fully mappable electric ignition system, alloy radiator, custom hoses, wrapped exhaust manifold, colour coded
Power:
165bhp (owner's estimate)
Transmission:
Ford IB5 five-speed gearbox from Mk6 Escort GTi
Suspension:
Gaz coilovers, Powerflex bushes throughout, adjustable Panhard rod
Brakes:
Front: Black Diamond discs and pads; rear: EBC drums, braided lines, uprated pedal box
Wheels & tyres:
7.5x15in ET25 Autostar Minus 15 wheels, 165/45×15 tyres
Exterior:
Carrera Bodyworks custom paint, Carbon Delight carbon fibre bumpers, front grille and petrol cap, deleted side repeaters, clear front indicators, custom metal arches all round, shortened number plate recess, de-locked, single wiper conversion, shortened aerial, reverse-opening bonnet with gas struts
Interior:
Safety Devices six-point roll cage, Corbeau Revolution seats, Luke four-point harnesses, custom rear strut brace, Momo gearknob and steering wheel, Mk5 Fiesta Zetec S dashboard conversion and centre console, snap-off steering wheel boss, carbon door cards, battery relocated to boot