Built by a duo of siblings on their driveway, this modified Mk1 Jetta Coupe is a car that's become a uniting force for friends both old and new.
Feature from Performance VW. Words & Photos: Jimbo Slice
Ages! That's how long we've been in pursuit of Puneet and Ameet Sagoo's modified Mk1 Jetta Coupe. It's been doing the rounds on the UK show scene for several years now, but due to the totally laid back and seriously humble attitude of the Brothers Sagoo, this stunning looking two-door coupe has proved somewhat elusive. "We were never quite sure if it was really good enough to appear in a magazine," says the self-effacing Ameet as we hang out just down the road from Windsor castle. Oh, Ameet… how we beg to differ. In fact, we've been keen to bring you the low down on this epic machine for the last few years, but for one reason or another the stars never quite aligned. For the lads from West London, it all began back in 2011 when they decided to tackle the ongoing restoration of this 1984 Jetta after stumbling across it just a couple of roads away from their house, "We'd owned a Mk2 Jetta with a VR6 engine for a number of years and decided it had to be a two door Mk1 Jetta next. It wasn't until we started looking online that this car popped up locally. It was literally just around the corner two streets away and had been there for a number of years without us realising, "Puneet revealed. The Lhasa Green (LA6V) specimen had seen better days and was mid-way through some decidedly invasive modifications. In fact, someone had cut a huge section of the chassis leg away to do a six-speed conversion.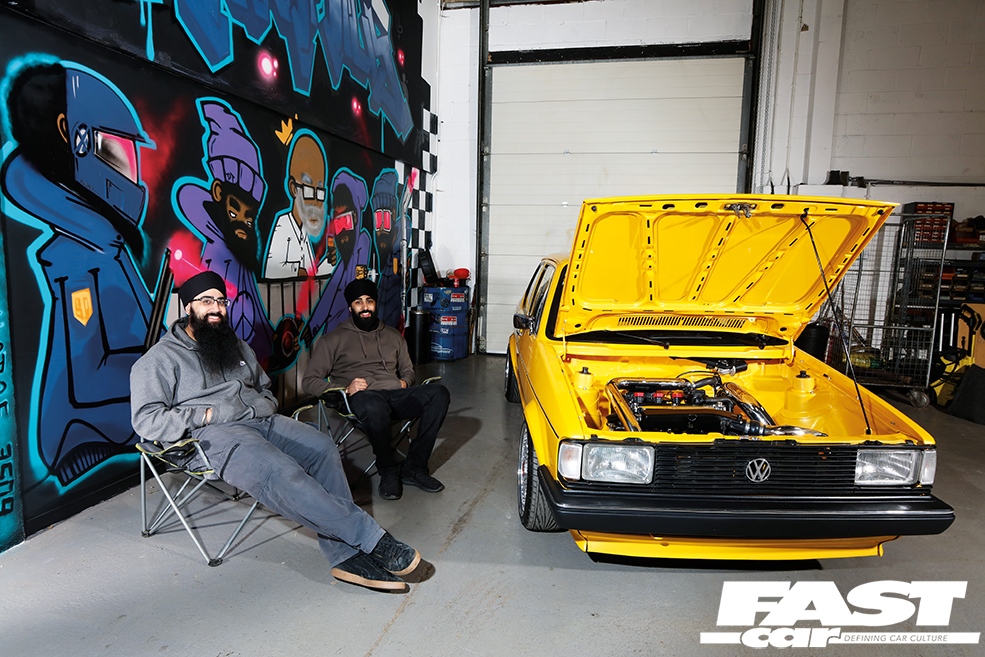 Nonetheless it was so nearby that the lads decided to snap it up there and then, before putting a bucket on the floor, borrowing some suspension from the owner, and dragging it back at midnight to their house with flat tyres and a few vital parts missing like the original wheels, engine, and the entire interior. "It was literally just a 'shell," Ameet explained, continuing, "Almost as soon as it went on the drive people would stop and talk to us about it, we're well known in our neighbourhood thanks to this car and we both very much grew up working on it." Ameet explained.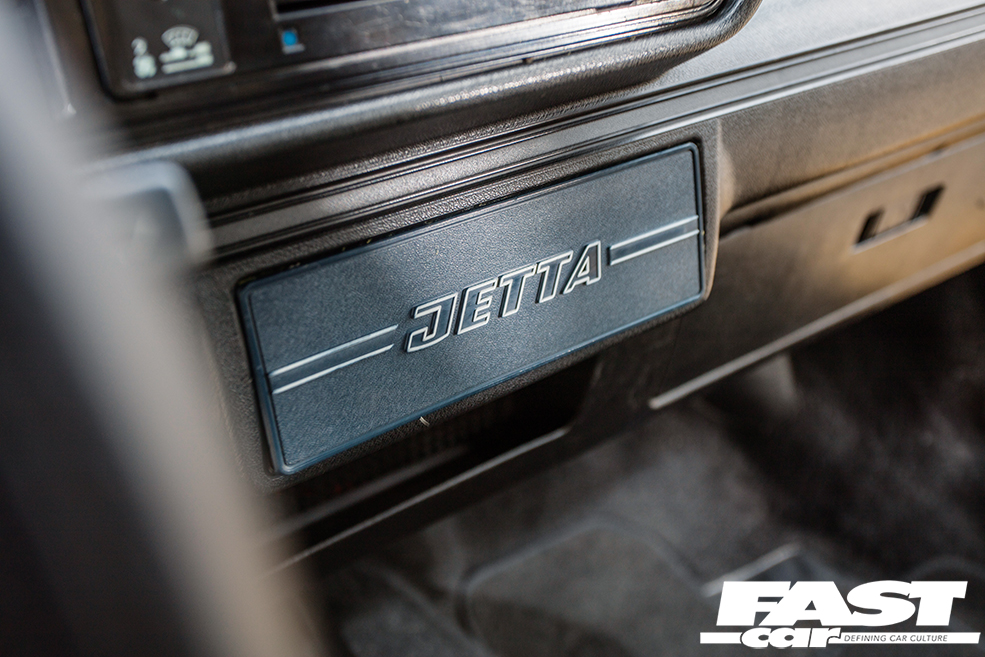 That inquisitive sense of discovery soon led to new friend's being made at nearby Style Dynamix, not least Jimmy and Sakab who now run SD.  As more unfamiliar faces began turning up to help the lads out the project really gained momentum.  Isn't it great to think that having something as attractive on your drive as a slightly battle-scarred VW can lead to so many new acquaintances? The brothers always had a 20-valve turbo swap in mind, and rather than cut any corners they opted for an APX code (Audi S3) engine they found on a forum. "It was during the prime of 20vt swaps, so once we'd checked it out and we were happy with it, the rebuild could begin." New ZR forged rods and pistons were slotted in and all new bearings, gaskets and seals were used throughout. Even the K04-023 turbo was rebuilt and upgraded to stage 3 hybrid spec so there's plenty of scope for future power increases, not that it really needs it. All launched in using Epytec mounts, including the all-important 02a cable change gearbox, things were basically slotted in to get the car mobile so that Ameet and Puneet could enjoy driving it around Europe for MIVW, Club Charlys', Edition38, Players, Westside etc. "We just wanted to have fun in it at the start, and thanks to a set of BBS RMs that's exactly what we did," Ameet explained, "it didn't really start out as a show car as it still had the original 20 year-old paint and it was bit of a handful on budget Nankangs – it literally used to jump lanes under full throttle."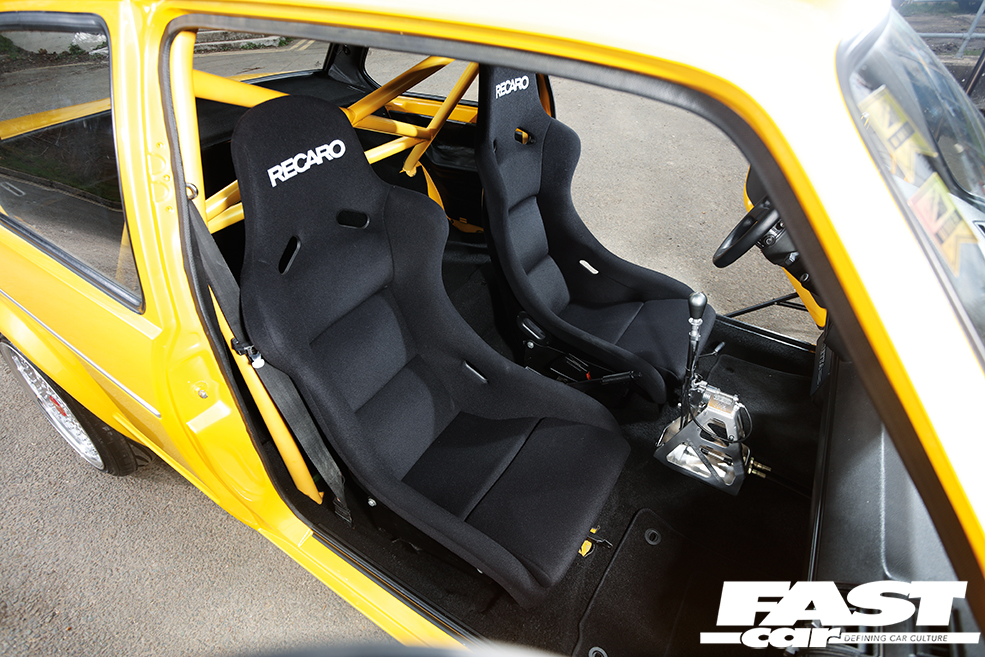 As a LHD car it already came without the ugly brake balance bar assembly in the engine bay, but that didn't stop the chaps from opting for a Mk2 G60 LHD pedal box to bring the hydraulic clutch into play. It rolled around like this for a few years until the desire to smooth out that engine bay started raging. "We went to see Sanj at Vara Technik to start the engine bay tidy up." Having dropped the engine and 'box out at home the car was soon deposited at Sanj's bodyshop, while the lads called upon the 20vt know how of the Style Dynamix crew to suss out which parts of the EVAP, PCV and recirc system they could re-route or scrap to delete as much plumbing and complication as possible.  Meanwhile a repair section of chassis leg was sourced and the heater box, scuttle tray and so many other holes, bolts, lumps, and bumps were painstakingly welded, filled, and concealed – it truly is a testament to patience and planning this engine bay. It's so clean shaven it looks like Sweeney Todd himself has been in there, "Only problem was," says Ameet, "Once the bay was painted in Lamborghini Giallo Midas Pearl it looked so good we couldn't leave the rest of the car looking half baked." Not least because the Ghetto Motorsport extended, and hidden wiring loom was joined by an AGN smooth valve cover and 2.0TFSi red coilpacks to support the jewellery like status of the one-off polished ally boost pipes. "The lads from SD were invaluable with their 20vT know how though, we're lucky we got to do it once and do it right thanks to them" confirms Puneet.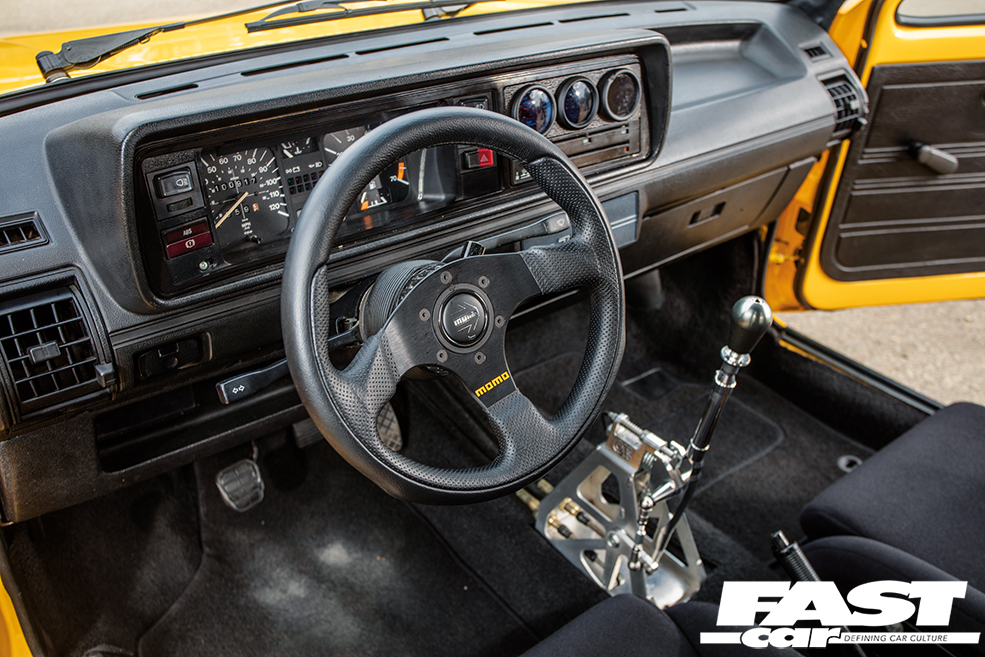 Even the cables for the 02a gearbox have been carefully run into the inner chassis leg, some have even mentioned it's almost a shame it still has a wiper motor, but then the brother's Sagoo do still like to drive this car in the UK, and who can blame them? Judging by the way Ameet took off after an Audi R8 after the photos, they don't mind exercising those estimated 210 horses – although we suspect it's probably making a little more despite the fact the ECU map remains as Audi intended. The original expansion tank is also a thing of the past thanks to the top fill custom made ally radiator and intercooler setup that, "We mocked up in cardboard and then hand fabricated to take up as little space as possible." Ameet mused.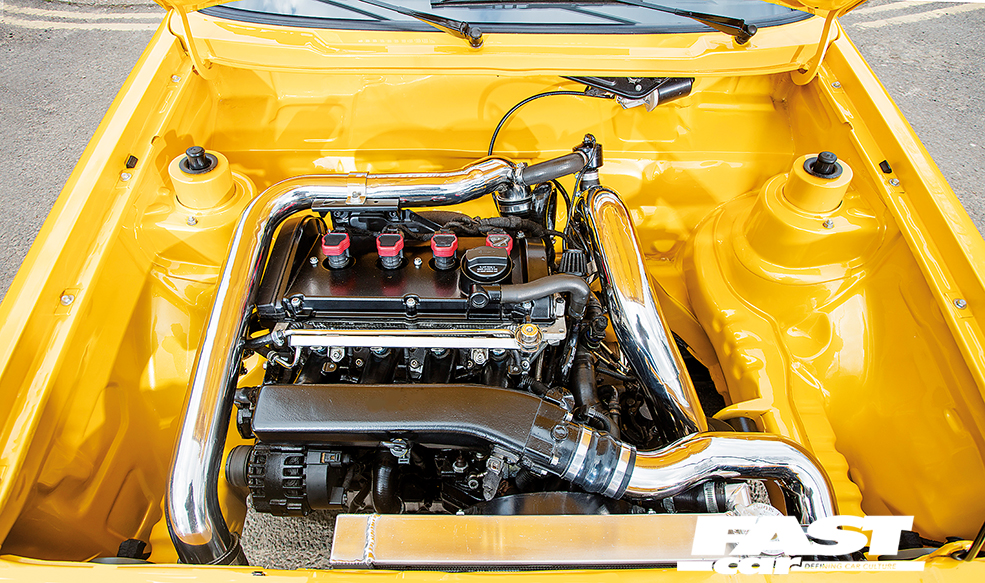 Using a 3" Style Dynamix downpipe everything has been reworked not only for fitment purposes, but also to extract maximum power from a free flowing 3" stainless exhaust system all the way back. That highly buffed, seriously svelte custom alloy intake and turbo pipework is fed fresh air via a Ramair foam filter to maximise both intake and whoosh tissch sound effects, further enhanced by a Forge diverter valve.  Wired in using the cut to length loom, it's so fresh and clean it belies the usual chaos of many a 20vt install. "We even managed to keep all of the EVAP system and just tucked it out of the way beneath all of the boost pipes.."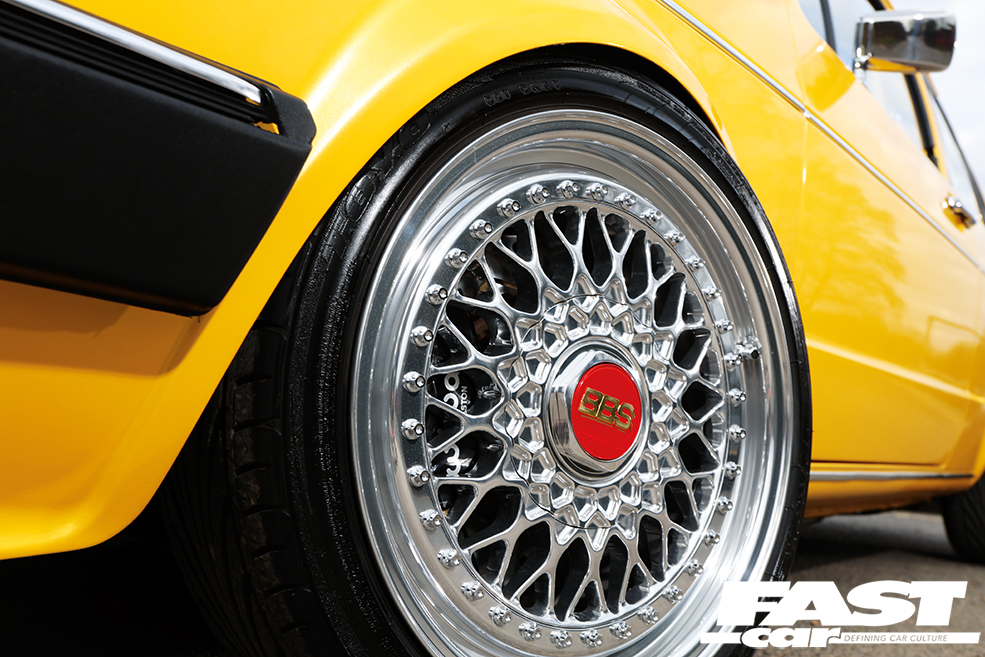 Anyway, back to that bodywork on this modified Mk1 Jetta Coupe. Having gazed longingly at the engine bay there was only ever one course of action – full repaint! That multistage Lambo Pearl was soon lovingly dusted all over a completely stripped bodyshell, the lads using the time wisely to upgrade the front brakes to 285mm Wilwood four pots, flipping the ball joints with a Noath Precision kit, polybushing everything they could and raising the top mounts all at the same time. Rolling along on those stunning 16″ RSs, complete with 0.5 and 1.0-inch lip upgrade, the ceramic polished perfection is clear for all to gawp at. It's clear from every angle that this car really does embody 10 years of evolution, and it's one that constantly being fettled and tweaked.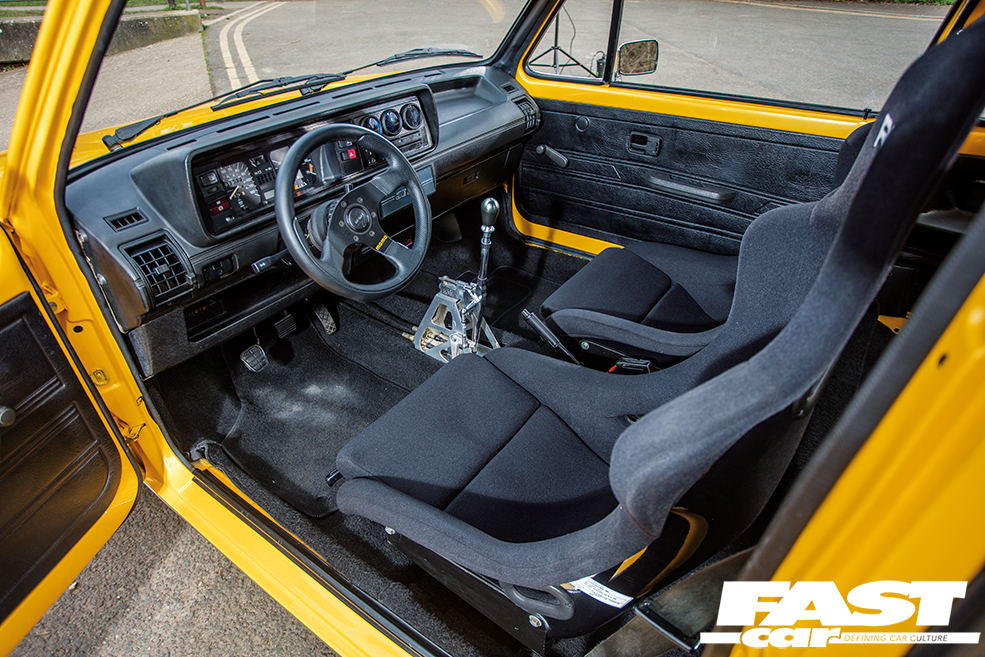 Step inside and it's apparent that Gary French from GDF Steelworks was called upon to fabricate the rear half cage and knock up some custom side mounts to locate the Recaro Pole Position pews both as low down and as far back as possible to accommodate the tall Sagoo brethren. Snicking gears with rifle bolt precision, after a few months spent setting up the CAE Motorsport shifter, this car really is honed to perfection.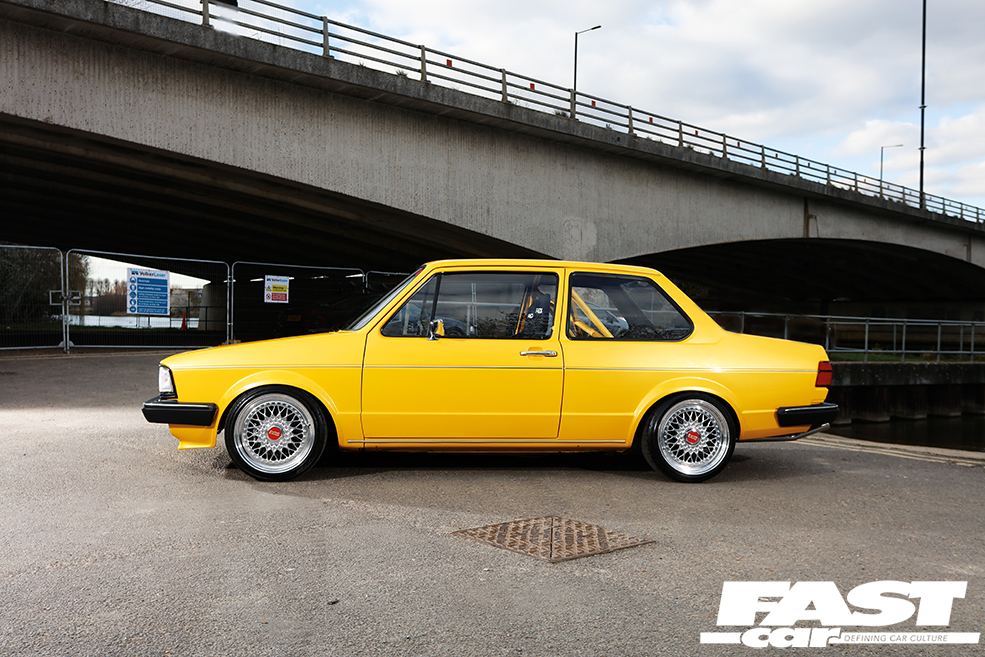 As the bearded brothers gliding along the tarmac courtesy of some KW V3 coilovers the ride quality truly opposes the stance. Low enough to look purposeful over those 195/40 and 205/40 Toyo Proxes T1-Rs this car blends the perfect balance of style, speed, and performance. We could keep on chatting about the Sagoo brothers and their humble outlook on this epic build, but then we'd forego mentioning the Porsche door handles, the reworked, smoothed, and retextured bumpers or all red rear lights that their devoted and eternally skilful mate Shamster executed for them.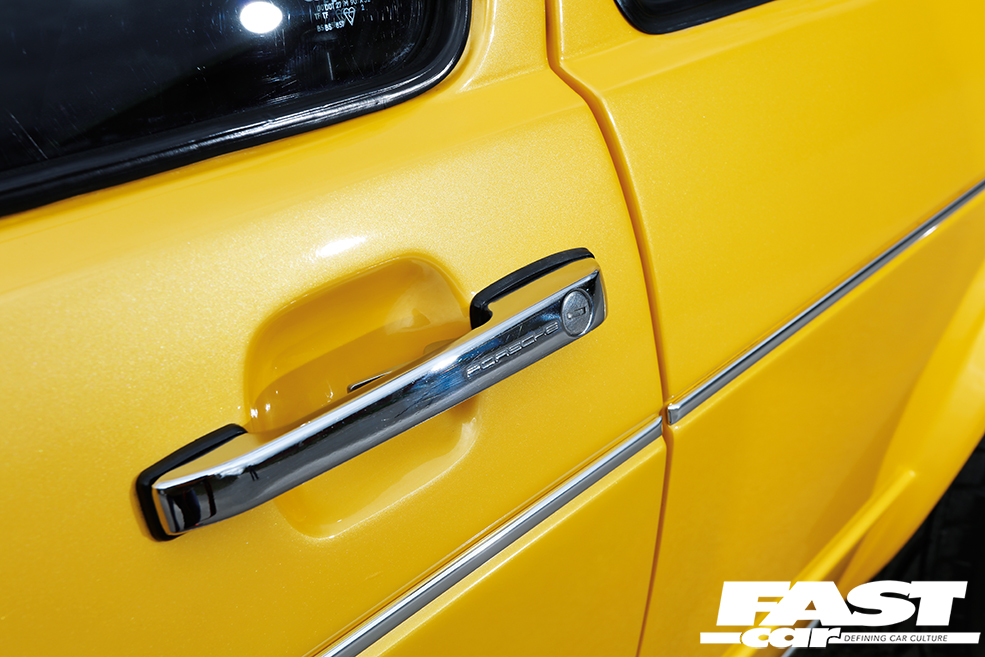 This modified Mk1 Jetta Coupe truly is a car of eternal detail and one that's sure to keep on giving, but as the brothers give it a boot load whilst holding on tightly to that 300mm Momo Team wheel there's no doubt it's about more than just looking good – this thing really motors and make no mistake, even though we reckon that power estimate might be a little bit too conservative.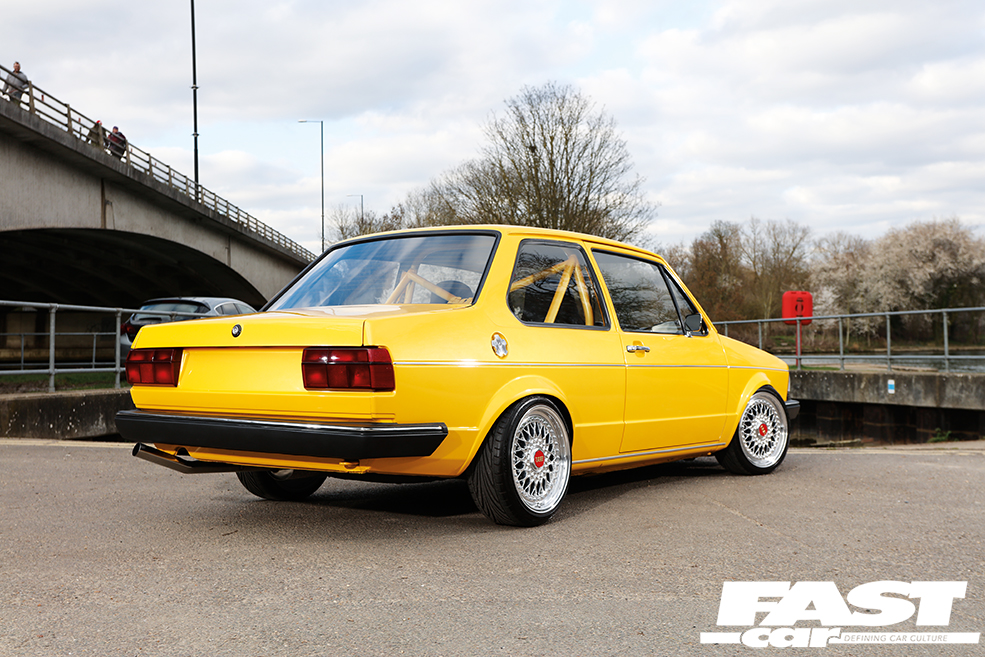 Tech Spec: Modified Mk1 Jetta Coupe
Engine:
1.8T 20v Audi S3 (APX) swap, Epytec engine and 02a gearbox mounts, ZR rods and pistons, AGN smooth valve cover, shallow sump, custom made radiator and intercooler package, K04-023 Stage 3 Hybrid Turbo, Style Dynamix 3-inch downpipe and 3-inch stainless exhaust system, SD custom made ally intake and turbo pipework, extensively smoothed engine bay, later red 2.0TFSi coilpacks, Eddie ECU map, Ramair foam intake filter, battery relocated, 02a 5 speed transmission with hydraulic clutch conversion; CAE Motorsport shifter tower, smooth bay by Vara Tecknik
Power:
210hp / 210ft/lbs torque
Chassis:
16" BBS RS wheels with 195/40 and 205/40 Toyo Proxes T1-Rs, KW V3 coilovers, Eibach ARBs front and rear; LHD G60 pedal, servo delete, Wilwood 4 piston 280mm brakes, Mk2 16v rear disc conversion, lower wishbone strut brace, Noath Precision ball joint flip kit, raised top mounts
Exterior:
Fully refinished in Lamborghini Giallo Midas Pearl, reshaped, smoothed, and retextured bumpers, red tinted rear lights by Shamster, Chrome Porsche handles, Hella clear side repeaters, Custom Mk3 window wiper, Chrome wing mirrors, Chrome fuel cap, Chrome waist, sill and bumper trim
Interior:
Recaro Pole Position seats on custom GDF sidemounts, GDF Steelworks custom half roll cage, fully retrimmed in black carpet throughout, custom headlining, Momo 300mm Team steering wheel