There's definitely no bull here. After years of bespoke craftsmanship and bloody knuckles, Driftworks' modified Lamborghini Murcielago has finally broken cover. We take a sneaky look behind the scenes…
From Fast Car. Words: Dan Bevis. Photos: Rich Starkey
Supercars, by definition, inspire shock and awe wherever they go. The nature of the genre, ever since the term started to be widely thrown around with the inception of the Lamborghini Miura back in 1966, has been to offer something so far removed from the everyday automobile to make jaws drop and eyes light up every time such a thing howls into view. Everybody regresses back to a child-like level of excitement when these outlandish machines are around… or, at least, they should. It's context-bound. Because while any production-spec Aventador or 488 GTB will stop everyone in their tracks if it were to appear in a rural Hampshire village among the Corsas and Fiestas, it's a different story for the moneyed types cruising around Knightsbridge, Monaco or Beverly Hills. Certain geographical locations enjoy a concentration of wealth, and with that inevitably comes a concentration of supercars. Driving a production supercar isn't enough to impress in this sort of context; anyone with the ready cash can amble into a showroom and come away with an off-the-peg machine. That's not uniqueness, that's just shopping. So manufacturers have always had a keen awareness of the wealthy connoisseur customer, those who want the latest model but don't want to have the one everyone else has got. Status is everything, and the rarer a car is, the more desirable it becomes. And it follows that the modifying community holds this idea up as the ultimate dream too – most of us will never be able to afford to modify a supercar, but if someone is in the position to do so then they pretty much owe it to the rest of us to try. Because you can't make a statement cruising past Harrods in a 'standard' supercar, can you?
Stepping bullishly into this arena is Phil Morrison, charismatic head honcho at revered tuning outfit Driftworks, and the car you see before you was his own demented idea. He readily admits that he'd never countenanced owning a Lamborghini Murciélago, much less modifying one to his own specs, but life does have a way of throwing these curveballs around. Before we dive into the ins-and-outs of it, however, let's provide a little context.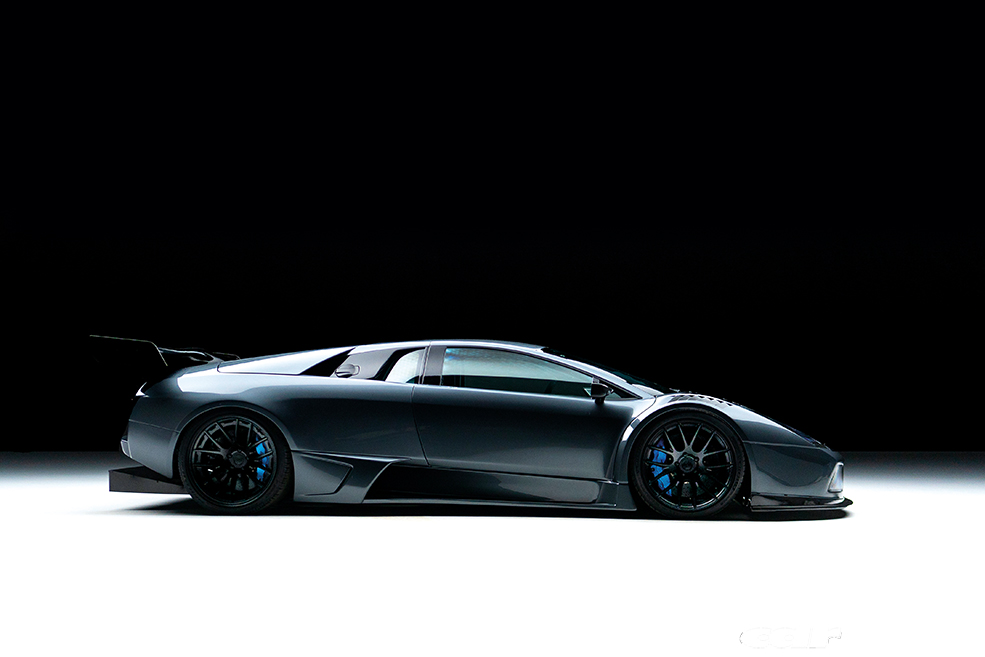 What is a Murciélago? Well, this was the model that Lamborghini launched in 2001, building a total of 4,099 examples until the model run ended in 2010. Replacing the iconic Diablo was no mean feat, but this scissor-doored masterpiece achieved it with aplomb; the longitudinally mid-mounted V12 was still in place, as a 572bhp 6.2-litre in launch spec, delivered via a sophisticated all-wheel-drive system. It was the first all-new model to be developed under Audi's ownership, so it had all the hysterical lunacy of a traditional Lambo along with all of the genteel Audi-fication – things like even shutlines, proper door seals, reliable electronics, and engines that always started in the morning and didn't leave you in a steamy miasma of despair on the hard shoulder. It was a totally ludicrous supercar, yet at the same time somehow sensible.
Phil's vision here is the fusion of two significant developments in the Murciélago evolution. Firstly, there was the LP640 facelift of 2006, which enlarged the engine to 6.5-litres and served up a meaty 631bhp. And secondly, there was the R-GT. What's that? A racecar, that's what. Developed jointly by Reiter Engineering and Audi Sport, the Murciélago R-GT was a heavily modified example built to satisfy FIA and ACO regs – converted to rear-wheel-drive and wearing some seriously aggressive aero. Just nine R-GTs were ever built, and for a number of enthusiasts – Phil included – they've become something of a Sant'Agata holy grail.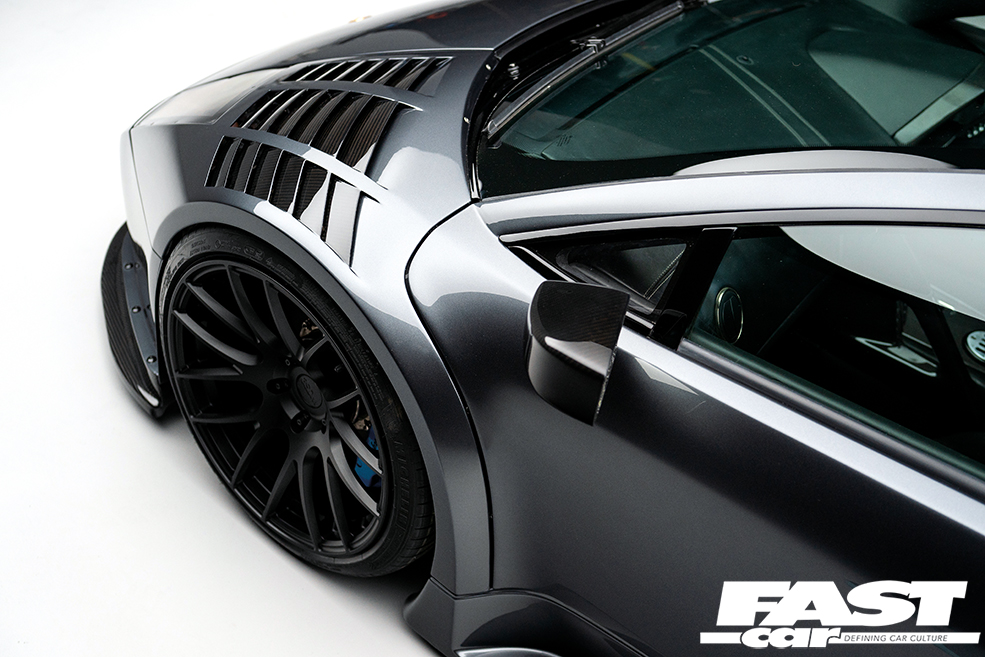 "My GT1-inspired Murciélago set a new benchmark for the daftest build I've ever done," Phil grins. "It's been more than two years in the making, with more complex engineering and styling hurdles to overcome than any car I've built in the past."
What's worth bearing in mind here is that, while Phil and Driftworks are inextricably intertwined with the world of drifting, the Lambo is very much not a drift car. Indeed, despite the Le Mans-spec aero, it's not a track car either – this has been built purely for the road. "I can't even begin to explain it, it's terrifying to go sideways in this car," laughs Phil, and he's a man who doesn't shy away from hanging out tails to extraordinary angles. Let the contact patches do the talking here: with 345-section Michelins chewing away at the tarmac, this is a feisty machine scrabbling for as much grip as it can find. The antithesis to the Driftworks ethos, in the most glorious way possible.
"This car started life as one of the very first UK-delivered LP640 E-Gear Murciélagos in 2006," Phil explains. "I bought it used, tired and in need of a lot of attention! The first incarnation of the build was simply to remove the disgusting Verde Ithaca paint, repaint it in a flat grey, and get it working mechanically. The real build started in 2018; at that point I was probably responsible for 50% of all views of R-GT Murciélagos on YouTube…"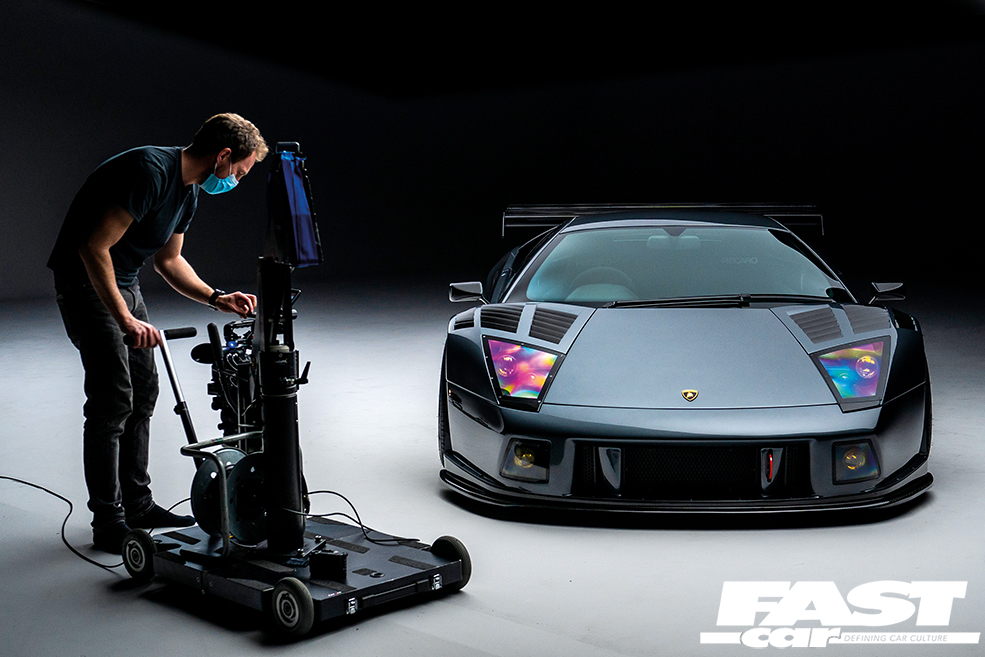 It's fair to say that Phil's obsession with 21st-century Lambo race cars was hitting fever pitch, so let's have a look at how his deranged vision was painstakingly translated into reality.
Getting the look
With the task of reimagining the Lambo's body to resemble an R-GT race car, it was a case of far more than simply bolting on a works bodykit. But Phil's vision was clear, and he knew exactly where to start. "My favourite of all R-GT racers is the pre-livery dark metallic grey GT1 Le Mans-spec car, as seen at Salzburgring testing in 2007," he says, with an impressively granular level of geekery. "This was one of the best-looking race cars I'd ever seen. So as we'd started the mechanical side of the work at DynoTorque, I was talking with Reiter Engineering about body panels; I struggled with communication initially, as I'm sure they thought I was a time-waster because fitting R-GT race car panels to a road car just isn't possible. I persisted though, and eventually managed to purchase the actual (very battered!) body panels from the 2008 Interprogressbank Le Mans car."
An initial test fit, swapping the stock front bumper for the GT1 item, threw into sharp focus just how much work would be required. The car sat about 20cm off the floor; it had already been lowered as much as possible and the tyres were fouling the door hinges. These would need immediate attention and, while the racers use a small piano hinge for their lightweight doors, this car has the steel road-car doors that are extraordinarily heavy, so the race hinges had to be copied but massively beefed-up. And that was just one task of many.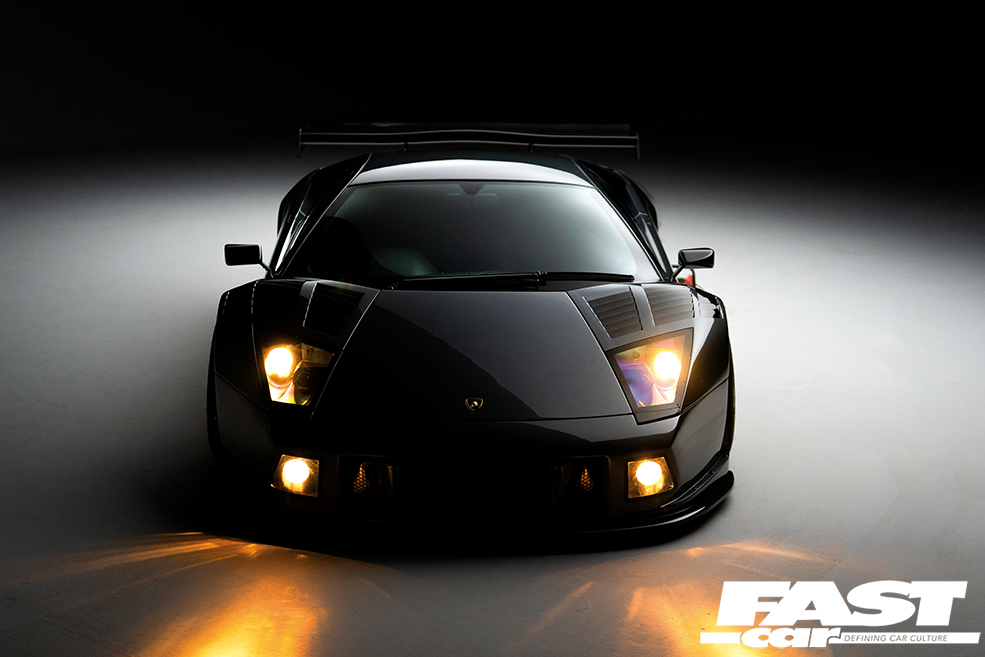 "The Murciélago was at TJR BodyworX for fourteen months to create the final look," says Phil. "Making race panels fit a road car and look right is a huge task! There was so much fabrication that needed doing just on the bits you don't see; then completely redesigning the door to front wing, the wings themselves, blending the R-GT and LP640 sideskirts, making wider rear quarters to our own design, and so much more." Challenges came from all manner of unexpected quarters; the wing mirrors, for example, had to be converted from left-hand-drive R-GT items, and needed to be massively modded in order to offer any sort of actual rear view. The rear decklid is a custom carbon fibre item, crafted by Fibre Factory, eliminating the standard spoiler as of course the car's now wearing a Le Mans-spec wing. From the high-maintenance Perspex headlight covers to the 3D-printed GT1 badge and rain light, it's a riot of detail that represents an astonishing amount of work.
The chassis makeover
Getting a car low is one thing; getting it functioning low is quite another. And while Phil and the team are no strangers to tinkering with bespoke suspension setups to get performance cars performing optimally, the front end of the Lambo presented a particularly complex set of challenges. Indeed, the front end required a total redesign with bespoke aluminium drop knuckles, T45 fabricated lower arms and custom billet upper arms. The mounting points for the dampers were moved and a set of Nitron coilovers installed, passing through the top arm to mount to the lower arm instead of the upper. The car now features a KW hydraulic lift system, working in conjunction with the Lamborghini's existing nose-lift – however the effects are pretty limited: it raises the front around 25mm, although the car's now 100mm lower than stock, and it wasn't exactly an off-roader to start with…
The wheels are a vital element of the aesthetic, and naturally these are also bespoke. Built to Phil's design by 3SDM (and subject to all sorts of back-and-forth to refine and develop the specs), we're looking at a set of wheels staggered in both width and diameter – the fronts measure 10.5x19in, while the rears are a colossal 13x20in. Intriguingly, the front wheels are forged monoblocs, but the back ones are three-piece splits, their centres each machined from a 125kg billet of aluminium. The level of concavity is insane.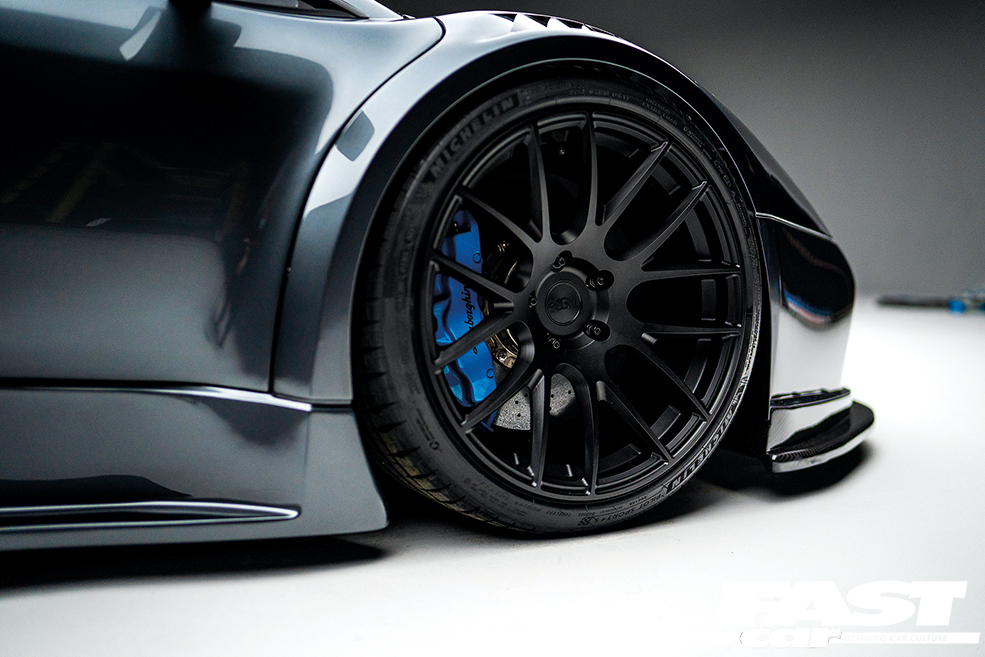 The running gear
You might think that the oily bits of a Murciélago would be exciting enough in stock form… but if you're going to go this far, you might as well go further, right? Phil had the idea of converting the juicy V12 to an independent throttle body setup, and having the engineering legends at DynoTorque nearby meant that it wasn't long until this vision became a reality.
"Having Craig next door to us at DynoTorque is always dangerous when it comes to ideas like this, as he's pretty much always game," laughs Phil. And in the twinkling of an eye, a custom inlet for the ITBs was in place, with three sets of 3D-printed tuned-length velocity stacks being tested on the dyno for optimal efficiency. With the right length identified, these were made up in carbon-fibre, artfully trimmed to sandwich against each other, and then attention turned to the exhaust system. What you're seeing down there is a pair of genuine R-GT GT1 manifolds – extremely thin-walled stainless race headers, which have been mated with much customisation to the standard valved backbox. This is because Phil wants a fighting chance at being able to start the car in his garage and make sneaky early-morning getaways without irritating his neighbours. (Which definitely won't happen, but you have to admire the commitment.) Finessing the exhaust tails took a huge amount of work, culminating in a custom stainless tip with an R-GT carbon shroud.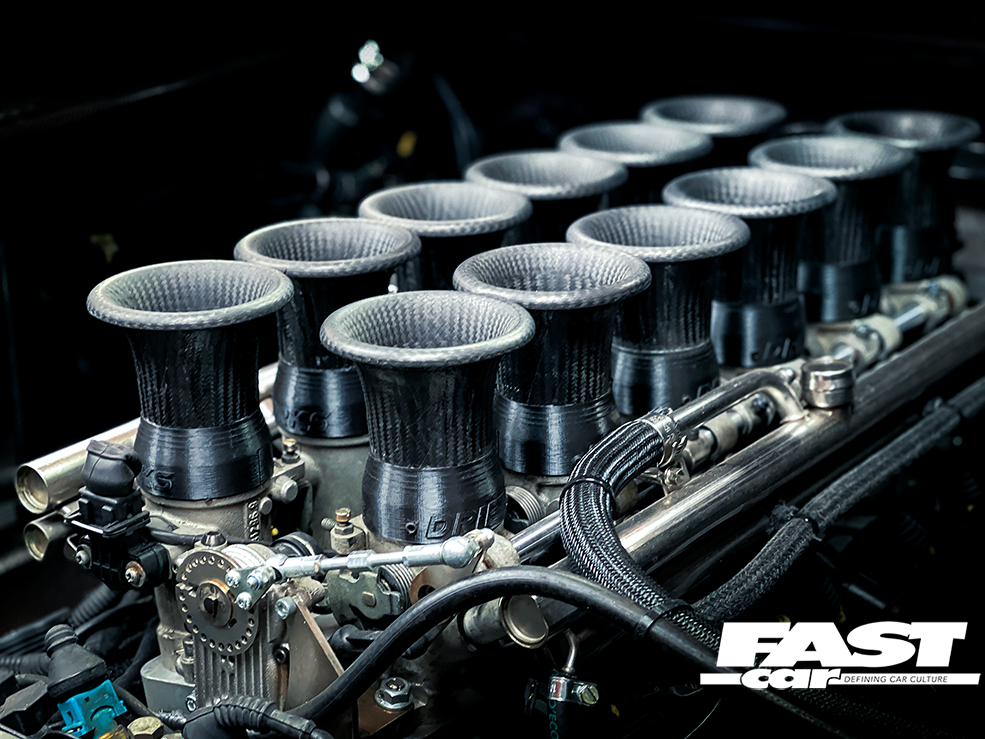 And when it came to the transmission, there are two significant undertakings here. Firstly, there's the conversion to rear-wheel-drive, done to save weight and complexity and make the car more entertaining. "There's still very little steering lock though, so it's really not a drift car," Phil reiterates.
Secondly, there's the conversion from the often-troublesome E-Gear to a full-fat manual. What's especially noteworthy here is that the E-Gear transmission from the factory was an automated version of the six-speed manual 'box (with paddle-shift and full automatic modes), so this wasn't a case of replacing the entire transmission; instead, Phil and the team converted the existing gearbox to manual with the trademark gated shifter. "I believe this was the first time this had been done to a Murciélago," says Phil. "It was a huge job, a whole project in itself." But of course, that's the common theme throughout this entire build. None of this has been easy, but where's the fun of building a car dictated by the concept of 'need'? It's far more satisfying to work to the principles of 'want', and that's what's driven this madcap endeavour to its spectacular conclusion. It's the very embodiment of 'want' itself. And that's no bull.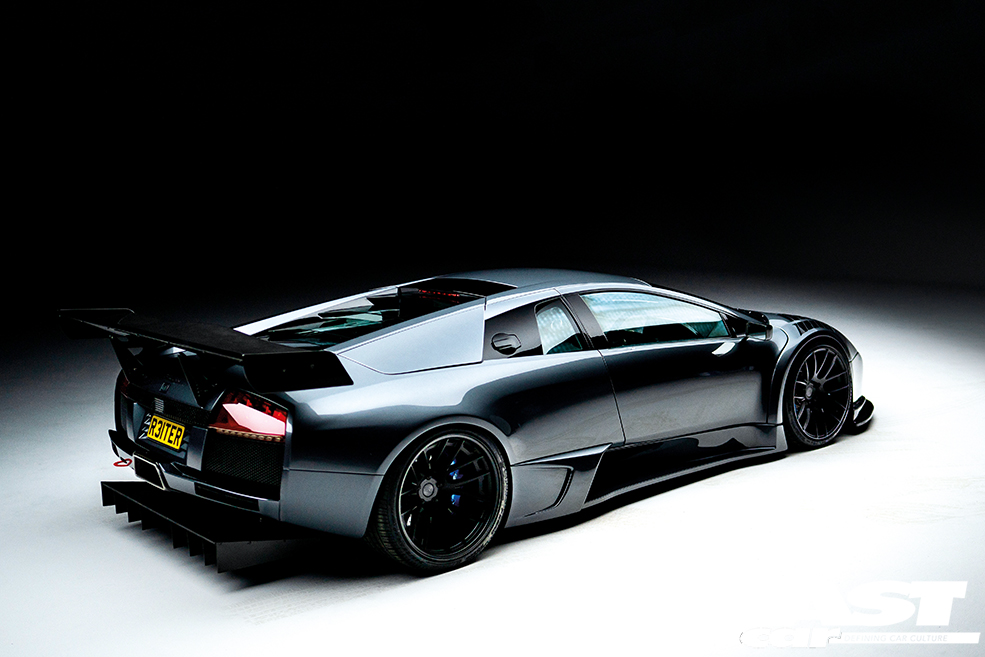 Tech Spec: Modified Lamborghini Murcielago
Engine:
6.5-litre V12, custom intake for individual throttle bodies, carbon fibre velocity stacks, R-GT GT1 exhaust manifolds, twin Bosch 044 fuel pumps, twin Emerald ECUs   686bhp, 600lb.ft
Transmission:
6-speed manual conversion, custom RWD conversion
Suspension:
Fully custom suspension setup with Nitron coilovers
Brakes: LP640-spec carbon-ceramics
Wheels:
Custom forged monobloc 10.5x19in (front) and billet three-piece 13x20in (rear) 3SDM wheels, 275/30 R19 (f) and 345/20 R20 (r) Michelin tyres
Exterior:
Genuine R-GT GT1 Le Mans aero package – comprising front bumper, front wings, rear bumper, sideskirts, carbon GT wing and diffuser, custom non-spoiler carbon rear decklid by Fibre Factory, custom widebody rear quarters, modified door hinge mechanism, 3D-printed GT1 badge, rain light, private 'R31 TER' plate to honour Reiter Engineering
Interior:
Recaro SPG seats on custom frames, Nardi Personal Grinta steering wheel – on custom hub with Driftworks quick-release