He sold a fast Honda and found himself missing the high-octane lifestyle, so Gregg Smith bought and modified a Fiesta ST Mk7… And it's now even faster.
Feature from Fast Ford. Words: Dan Bevis. Photos: Ade Brannan
The struggle between good and evil has kept mankind variously on its toes, on the edge of its seat, and otherwise precariously positioned since the genesis of the species. Vice versus virtue; it's a hard balance to strike if you're walking between the two. And if you've set up camp on either side, it's not easy to swap teams.
A fact of life as old as time itself, the universe's yin needs its yang; for every good egg, there needs to be a bad guy to keep everything in balance. Sherlock Holmes had his Professor Moriarty, the Montagues had the Capulets, Brad Pitt had Kevin Spacey (in the movie Se7en, that is. Presumably not in real life, but who knows?). There's a natural symbiosis to all of this. We need miscreants – otherwise, how would we know that the good guys were good?
This all starts to get a bit metaphysical when we quiz Gregg Smith about the origins of his big-power modified Fiesta ST Mk7 project, as the yin to his yang resides within the very concept of perspective itself. You see, before this car, he owned an FK8 Honda Civic Type R. And while we're obviously dyed-in-the-wool Blue Oval fans here at Fast Ford, we acknowledge that the FK8 is one of the most brutal hot hatches to be unleashed on the world – 0-to-62mph in 5.7-seconds and 169mph is no small potatoes.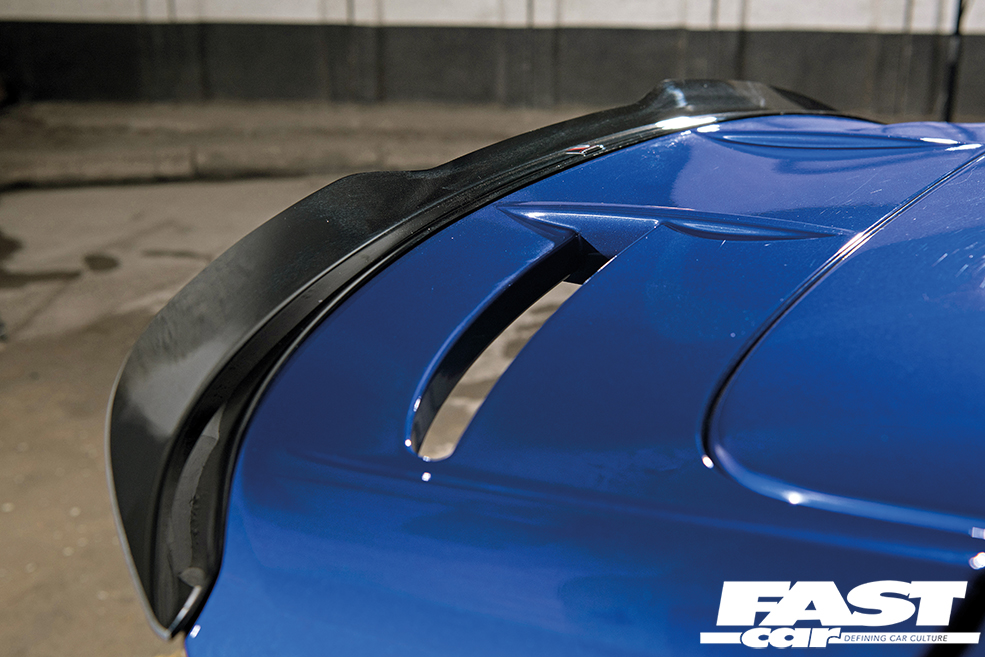 "Due to moving house, the Civic had to be sold," says Gregg, and it's clear that the sudden loss of ballistic firepower from his day-to-day life left something of a gaping hole.
It wasn't long before he was buying something a little more affordable in the form of a Mk7 Fiesta ST, and there was a crucial caveat here – one we've heard from feature car owners time and again: "I bought the car bog standard, with the intention of turning it into a little project."
Now, we all know a 'little project' always opens a door into greater and more exciting things. Approximately half the feature car owners we talk to say 'I never intended to modify it', but openly stating that high jinks were afoot implies things were never going to remain modest.
It's at this point that the vital element of perspective comes into play: no matter how awesome a Mk7 ST may be in stock form (these things are sweet and hilariously entertaining), Gregg had grown accustomed to FK8 speeds. So, utterly inevitably, things snowballed pretty quickly.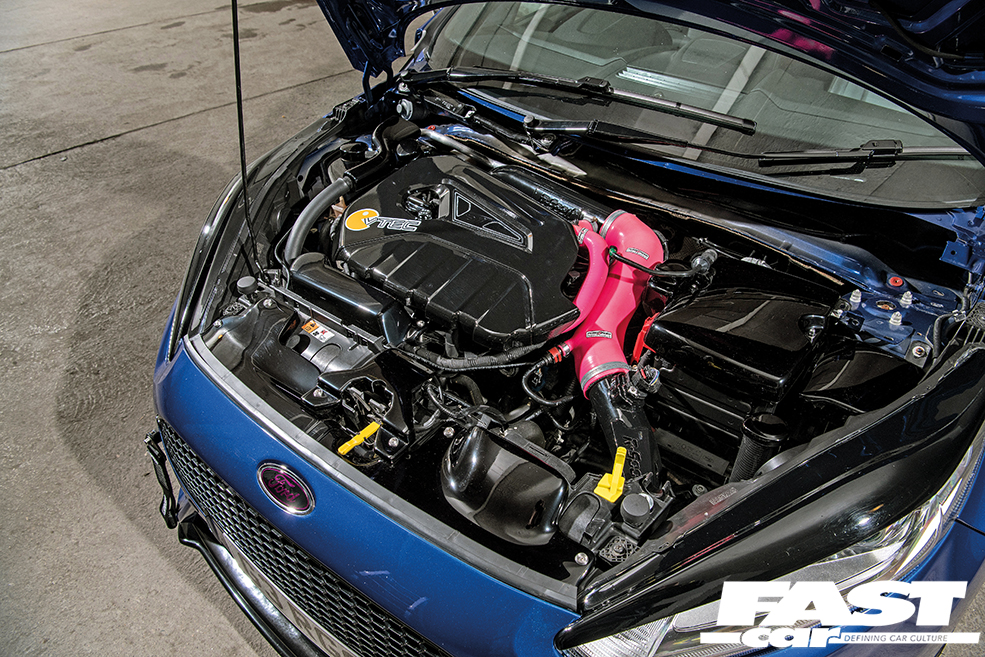 Gregg grins, "It didn't take long to start modding the Fiesta. About two weeks, in fact. Honestly, I was really craving the speed of the Civic. After a bit of research, I got in touch with Tony and the guys at Pumaspeed; I told Tony I was looking to break the 350bhp mark, and he suggested the X57 turbo package with all the bolt-ons."
The X57 is a seriously hardcore bit of kit, developed by Pumaspeed. It features the company's own proprietary housing design and casting, a seven-blade extended-tip billet CNC compressor wheel with cut-back blades, and a heavy-duty 360-degree thrust bearing. A very desirable item indeed, and proven over and over in big-power builds.
Gregg says, "It started there, and I went straight to Stage 3. To call the transformation insane would be an understatement."
Supporting mods for the jewel-like new turbo included a Turbosmart actuator and GFB DV+, along with an Airtec tubular exhaust manifold, 3.5in R-Sport decat, and a full 3in Cobra Venom exhaust system.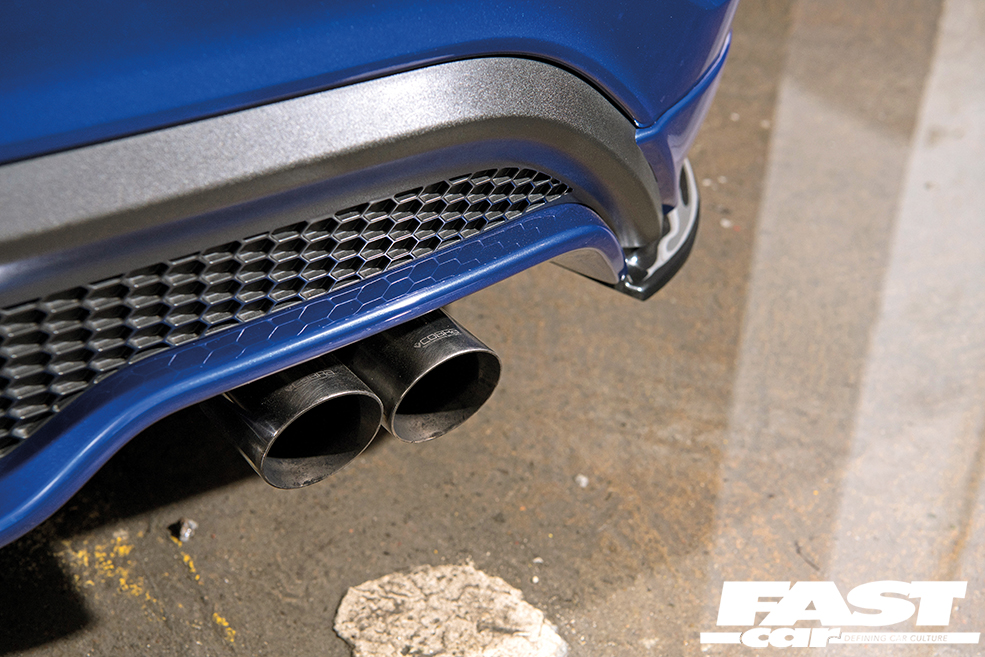 The injectors need uprating when you're chasing this sort of power, and the modified Fiesta ST Mk7 is also equipped with an R-Sport Stage 3 front-mounted intercooler and Stage 3 intake. Knocking all of this into shape is a Pumaspeed Stage 4 MAXD-Out map, with the end result being a power figure that Gregg estimates at around 375bhp.
He continues, "I was a mechanic for 12 years, so all parts-fitting and mods were carried out by me. It was all pretty straightforward and easy. The only major issue was my computer dying during the remap. But with a little guidance from the guys at Pumaspeed we managed to fix the issue."
With so much more power being thrown to the wheels, the transmission has naturally been bolstered to suit, with a later ST200 clutch and a Pumaspeed transmission mount stirred into the mix.
The brakes are now packing drilled and grooved discs with much-celebrated Ferodo DS2500 pads. They sit behind a fresh set of Team Dynamics Pro Race 1.2s, a popular wheel for this platform and it's obvious why – the BTCC-style multi-spoke design really suits the ST's curves and sharp angles.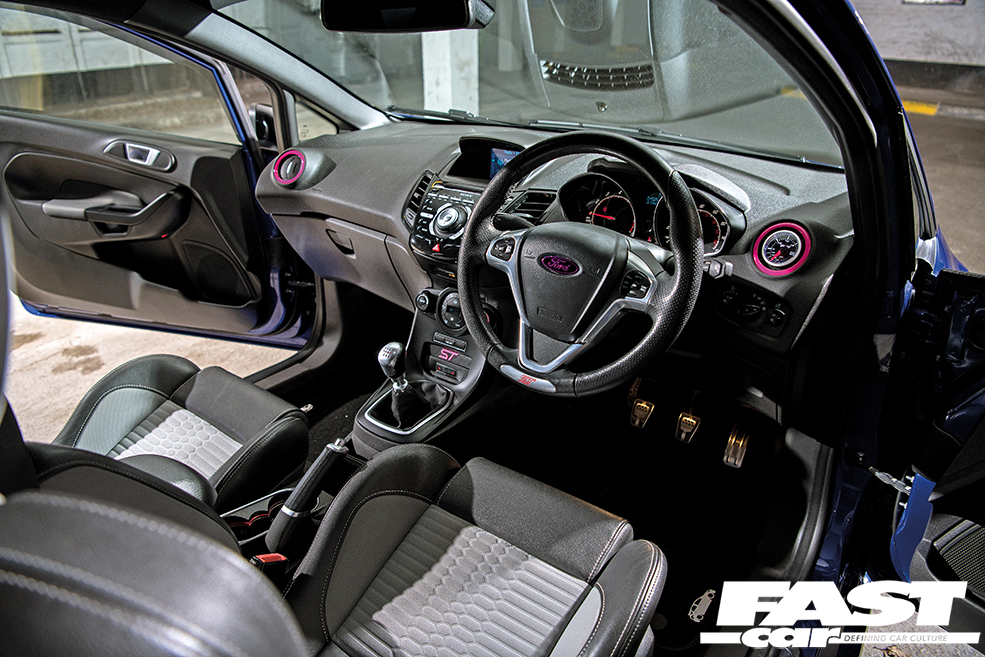 The exterior is further enhanced by essentially the entire Triple R Composites line-up: front splitter, headlight brows, chin lip, side skirt extensions and rear spats. It all adds up to a striking profile – but at the same time there's still an element of stealth at play. Evidently this car is no sleeper – it looks mean and angry and purposeful – but few bystanders would suspect the colossal amounts of power hiding within.
Gregg laughs, "It certainly shocks a lot of people. The car's loads of fun – very fast and very loud. And I just love passengers' reactions – normally 'WTF is that?' when I give it some."
It's clear here that the struggle between good and evil is tipping more toward the malevolent, as Gregg grapples to keep the lid on Pandora's box. "The car was bought as a little project, but it's now turned into quite a big project," he says.
And that, of course, is just the inevitability of life. The universe's yin needs its yang.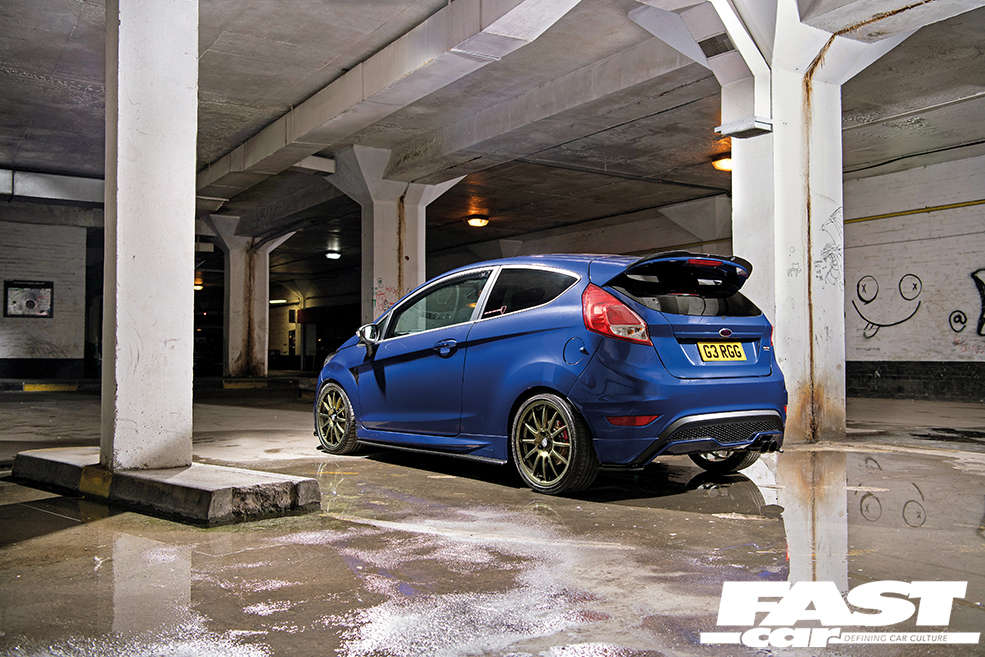 Tech Spec: Modified Fiesta ST Mk7
Engine:
1.6-litre EcoBoost, Pumaspeed X57 turbo, GFB DV+, Turbosmart actuator, Airtec tubular exhaust manifold, 3.5in R-Sport decat, 3in Cobra Venom exhaust system, R-Sport hot-side boost pipe, Airtec cold-side boost pipe, uprated injectors, Pumaspeed Stage 4 MAXD-Out map, R-Sport Stage 3 front-mounted intercooler, R-Sport Stage 3 intake, Paintmodz engine covers
Power:
375bhp (owner's estimate)
Transmission:
Factory six-speed manual, ST200 clutch, Mountune quick-shift, Pumaspeed mount
Suspension:
H&R 35mm lowering springs
Brakes:
Drilled and grooved discs, Ferodo DS2500 pads
Wheels & Tyres:
17in Team Dynamics Pro Race 1.2 wheels, 205/40×17 Michelin Pilot Sport 4 tyres
Exterior:
RS bonnet vents, Triple R Composites (TRC) front splitter, TRC headlight brows, TRC chin lip, TRC side skirt extensions, TRC rear spats, Maxton Design rear spoiler, Team Heko wind deflectors, Ford Performance sun strip black mirror caps
Interior:
Factory ST plus Turbosmart vent-mounted boost gauge