We don't see many highly modded 4 Series on the scene aside from the M4, but this full-on modified BMW 440i makes up for that in a big way.
Feature from Performance BMW. Words: Elizabeth de Latour. Photos: Patrick Lauder
Aside from the M4, the 4 Series isn't a car we've seen too much of here in PBMW, so when a nicely modded F32 does appear it definitely gets our attention, and when it's been modded to the degree that Jermhel Montero's absolutely epic modified BMW 440i F32 has, it gets everyone's attention…
This is a car that takes no prisoners – from the stunning wrap to the wide-body kit and the wheels, every visual element of this build just smacks you in the face from the moment you first set eyes on it. There are so many mods on board beyond the looks, though, and it's clear that Jermhel has put so much of everything, including himself, into this build and it's a car that reflects his lifelong passion for BMs. "I've always been interested in BMW since I was a child, I've always liked how they looked. What makes BMWs so special to me is the combination of luxury, the sporty look and overall handling and performance of the vehicle. Personally, I feel that BMW has it down when it comes to these areas. The best part about any BMW is that there are many mods you can do to the vehicle to make it unique and your own," says Jermhel and his modified BMW 440i is the perfect example of that. He didn't jump into BM ownership with this car, though, starting out with an E46 first; "It was a 2001 323Ci. At the time, I was young and didn't know much about the car or the BMW community in general. All I knew was that the E46 platform was very-mod friendly and easy to mod on your own," he explains, all good reasons to want one, and clearly, it made an impression on him as an E46 325i serves as the sensible counterpart to his wild 4 Series.
Taking in the sheer scale of this build you might well have Jermhel down as a serial modder who honed his skills on numerous full-on projects over the years before going big on this build but, actually, that couldn't be further from the truth. "Believe it or not, this is the very first BMW that I've modified to this extreme. I knew that when I purchased this car I would be able to mod the car to my taste. I've always had a vision of how I wanted my car to look: a wide-body BMW with an olive green wrap. This was the result," he grins and that makes this machine all the more impressive.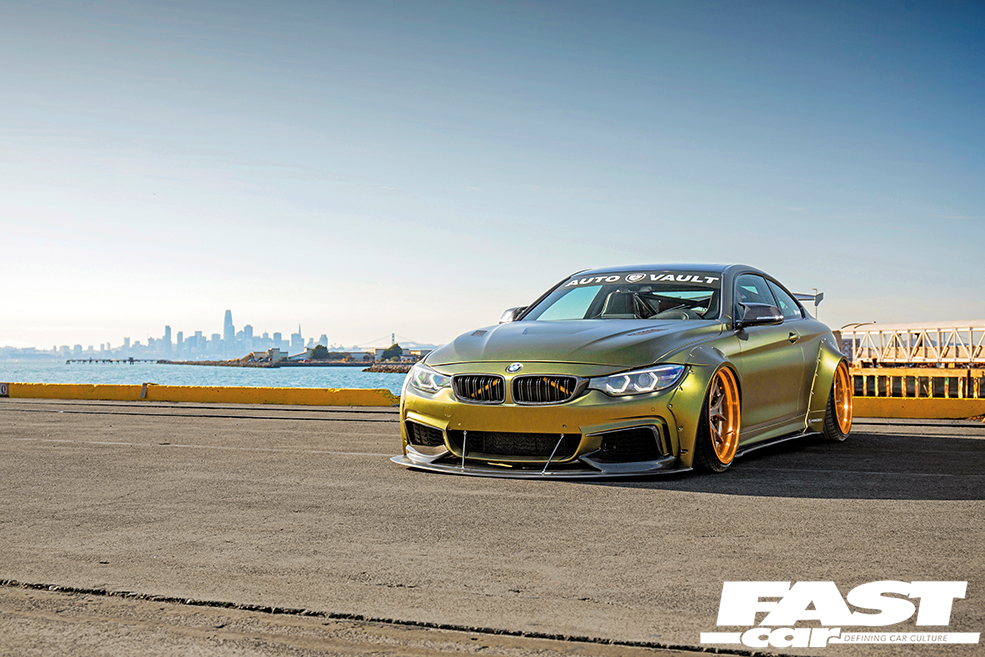 "When I was looking for a BMW, I wanted to get a car that had the potential of being fast and the potential of being different from the rest. When I first laid my eyes on the 4 Series, I fell in love with it. The body shape and lines on the car were so different from the rest of the BMW range. I also decided to go with this car because I didn't see too many 4 Series out at the time. The vehicle had everything I wanted and had the potential to be different," explains Jermhel and so he purchased his Alpine white 440i M Sport with red leather. "My initial plan after buying the car was to make it really fast. Because the B58 engine was brand new, no companies were offering serious upgrades for the engine yet. My next plan was to mod the exterior of the car to keep it simple but that didn't turn out so well," he laughs and the end result is far more extreme and exciting than anything he could have imagined back then.
As most projects do, this one started out simply enough but each of the four waves of mods that Jermhel describes grew progressively more extreme, eventually bringing the car to where it is today. His very first selection of mods involved carbon fibre, which is always a good place to start, with a front lip, grilles, mirror caps and rear diffuser all being added, along with a gloss black roof wrap, all of which would have contrasted perfectly with the white bodywork but, from this point on, the mods started to get rather more serious, starting with the suspension. "I decided to go for Air Lift Performance 3P air suspension because it made the most sense for my car," explains Jermhel. "Since I am the first to wide-body an F32 and there were no prior wheels specs for a wide-body 4 Series, it was either hit or miss with wheel spec and tyre sizing. I wanted to have the option of being able to adjust my ride height accordingly. I also chose Air Lift because I like how I can slam my car to the ground and also able to raise it up high when entering driveways to prevent damaging the front lip," he says and that makes sense to us. Despite the wide-body not yet being fitted at this stage, Jermhel was planning ahead already and that's always a good approach to take when modding as it saves extra work in the long run.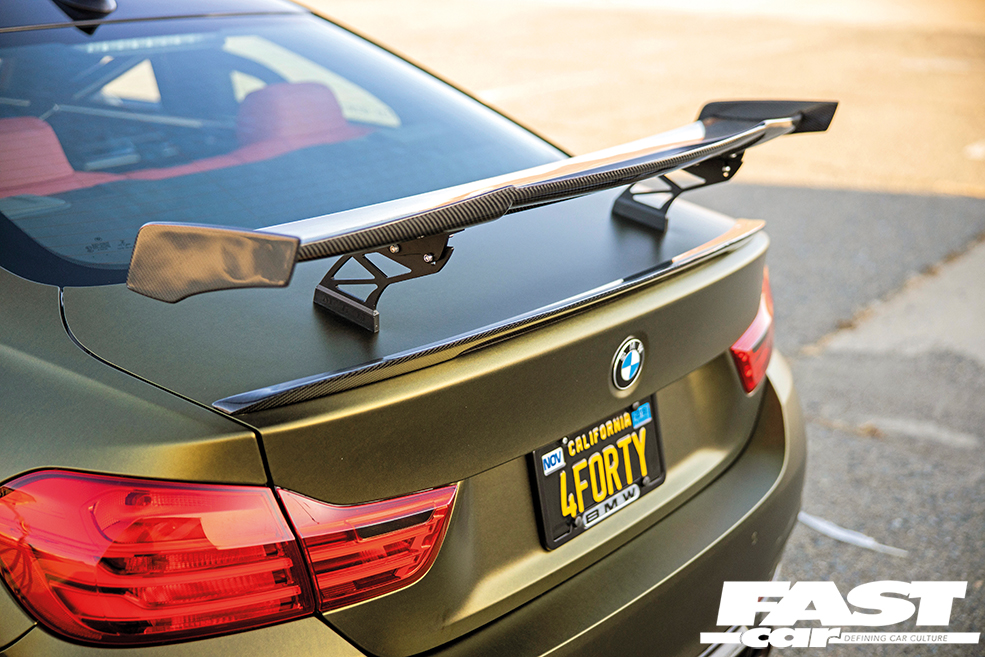 In addition to the air suspension, this second stage of mods also saw the F32's exterior receiving some serious visual enhancement with Jermhel fitting an aggressive Seibon VR-Style carbon fibre vented bonnet, which the car still wears now, those equally aggressive Bayoptiks headlights (his favourite mod on the whole car, incidentally) and a CSL-style carbon fibre boot lid. At this point, he also turned his attention to the engine because, if you recall, his very first plan was to make the car fast and that wasn't something he'd forgotten about. "My first performance mods were the M Performance Power & Sound Kit (MPPSK) and an Evolution Racewerks cat-less downpipe. I loved how the M Performance exhaust sounds; it had a deep tone, low growl with burbles and pops. As soon as I paired the exhaust with the downpipe, it enhanced the entire sound of the exhaust and I felt like I had the perfect exhaust note. I wanted something loud but nothing obnoxious and I feel the two combined together was perfect for me," he explains. This was his performance setup for the majority of the build but, recently, he added a few more ingredients into the mix, fitting an Injen SP short ram intake, CSF V1 heat exchanger and a bootmod3 Stage 2 tune to really up the ante but he's not done yet.
"When I first purchased the vehicle the B58 platform was new and there was nothing really out there in terms of tuning and power gains," he says. "One of the main reasons I focused on modifying the exterior first was due to the new platform. I also didn't rush to mod the engine because I wanted to see how it would hold up to modding based on other people's experiences with performance upgrades. After three years of the B58 platform, it showed that it is fully capable of handling additional power mods and that's what led me to the partnership with Dorch Engineering. I have its Stage 2 high-pressure fuel pump currently being shipped to me and my plan is to run full E85 with this HPFP and eventually pair it with an upgraded Pure turbo kit," he grins and that combo is going to net him some serious power gains in the near future. For now, though, the healthy 400hp+ he's got to play with is more than enough to put a smile on his face.
Jermhel now had himself a very smart-looking modified BMW 440i with some decent power but it was time to really up the ante and it was at this point, with the third wave of mods, that things really got taken to the next level and it's all thanks to that incredible body kit. "When I was young, I used to look up modified BMWs on Google. One of the cars that kept popping up was a wide-body E92 M3 in olive green. Ever since I saw that vehicle, I wished one day I would be able to build a car like that. That vehicle inspired me do build the car that I have today," says Jermhel with a smile and the end result was well worth the effort. The 440i wears an SR66 Design wide-body kit wrapped in Golden Matt Black with the fitting of both these elements having been assigned to Stealth Labs in Belmont California and this combo makes the F32 look utterly awesome. The bolt-on arches are so incredibly aggressive, serving up a serious helping of road presence and we like the little details like the way they accentuate the car's front wing vents, while the wrap is simply stunning, taking on a variety of different shades of gold depending on the light and together they have completely transformed this 440i. There's more to this 4 Series' sheer visual drama than just that kit and the wrap, though, and Jermhel has also added a selection of carbon enhancements from Morph Auto Design including front bumper upper valances, side blades and that aggressive GT wing, and in addition to that this car has also been equipped with Mashimarho carbon bumper side extensions and a carbon rear diffuser for that full-on final flourish.
Impressive as all that is, and impressive as the modified BMW 440i looks as a result of all those styling enhancements, Jermhel still needed the right set of wheels to properly fill out those massive arches or else his F32 would end up looking seriously under-wheeled. "I didn't know anything about wheels when I was picking a set for my vehicle. I did not know what brand to go with or what style to pick," he admits, but that doesn't mean he didn't have an idea of what he was after in mind. "What I knew was that I wanted an aggressive look on the wheels and wanted a stepped lip. Finding a company which made wheels for wide-body vehicles was tough. Also, since I was the first to wide-body an F32 4 Series in the States, no one had an idea on the wheel specs for my car. When I came across MV Forged, it had exactly what I was looking for; not only did it have the style I wanted but it had made wheels for multiple wide-body BMWs," he says and it's fair to say that MV pulled it out of the bag for this build.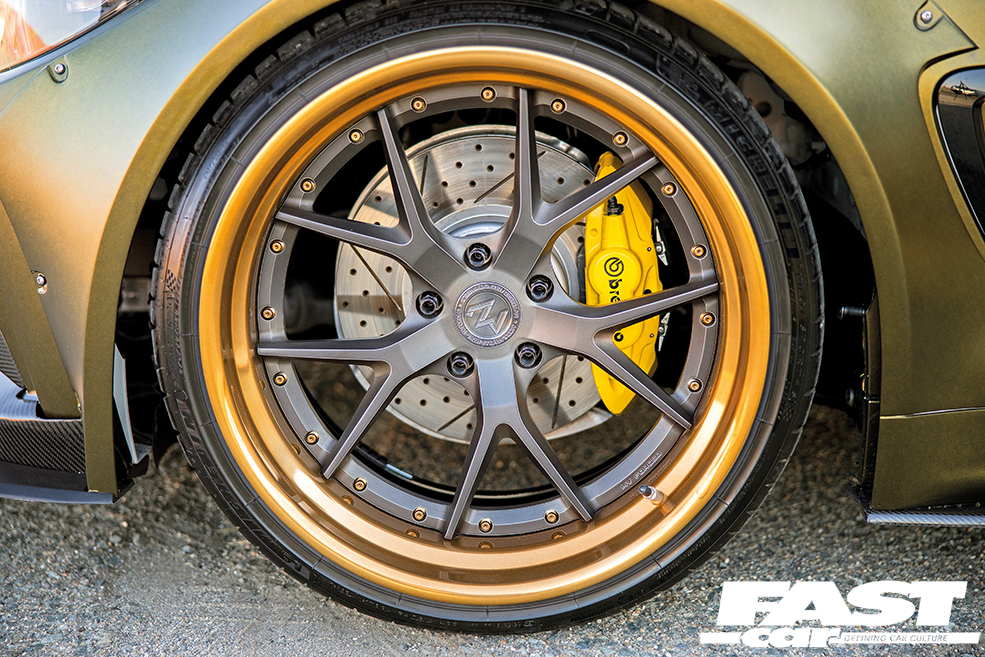 Jermhel's modified BMW 440i is sitting on a set of 20" custom three-piece SV1 Corsa Series wheels and they look spectacular. They've been specced with Carbon Black faces, Carbon Bronze lips and exposed Carbon Bronze hardware and this colour combo looks awesome and really suits the styling of the build perfectly. They measure a hefty 11.5"-wide up front and 12.5" and the rear, meaning they fill out those massive arches to perfection with just enough room left to allow Jermhel to get them tucked when he airs out and they were the perfect choice of wheels for this modified BMW 440i, no question.
The final phase of the build (so far) was the interior and, despite how impressive it is, it wasn't really an area of the car that Jermhel had spent much time thinking about. "To be honest, I didn't know I was going to mod the interior of my vehicle until I was inspired by other cars at shows with an amazing interior set up. I always thought I was going to keep it simple and do the basic carbon fibre interior trim, but the mod bug bit me," he laughs. "I had a vision of having my interior in a red/black colour scheme with a bunch of carbon fibre accents," he says and that's exactly what he's done. Without a doubt the part of the interior that catches your eye first are those incredibly deep bucket seats – they are Braum Elite-R items with red detailing and they are joined by a set of matching six-point harnesses – looking beyond the seats you will see that they are attached to the Studio RSR roll-cage that occupies the rear of the cabin. The finishing touches come in the shape of the rather sexy Mashimarho carbon fibre steering wheel trim along with a set of black and red floor mats that bring Jermhel's two-tone interior vision to a stunning finish.
Considering how full-on this build is, it's extremely impressive to learn that it only took Jermhel about a year and a half to get the car to where it is today. Despite the amount of work that's already gone into this car, though, it's far from finished and he's already got another two phases of mods planned so it's clear he's deep into the modded lifestyle – if that wasn't already obvious – and also fully committed to his 440i.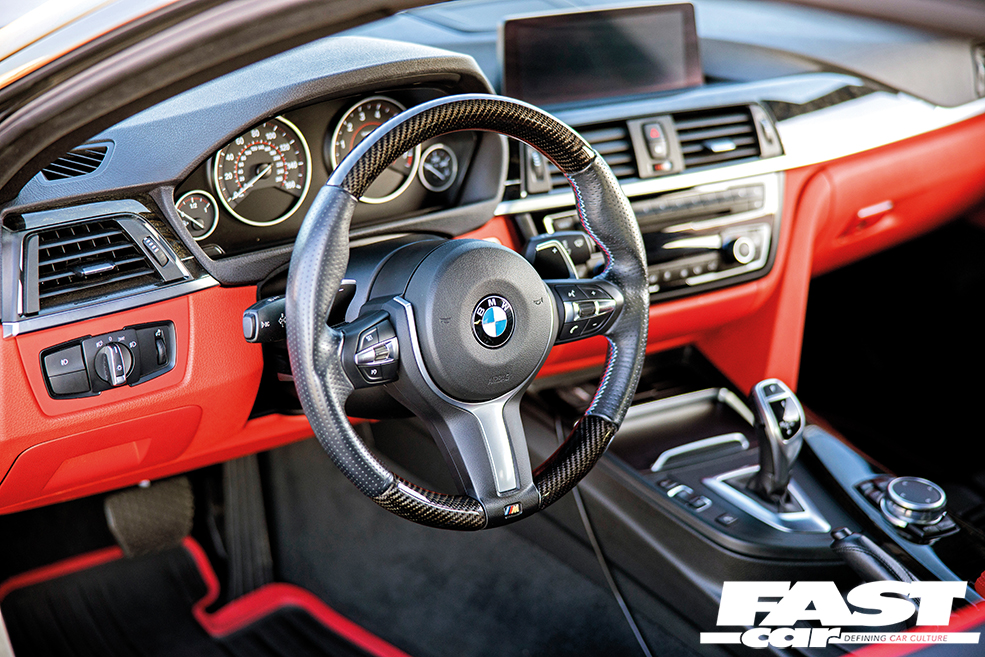 "I am currently working on changing a lot of interior parts to carbon fibre such as the dash and door trims and loads of smaller elements. In the future, I would like to run a set of BBS or Volk Racing TE37 wheels and I also plan to turn my car into more of a track car than a show build in the future. I am slowly working on power modifications as well and, with my aforementioned planned turbo upgrade, the goal is to reach 600 to 700hp. My goal was to mod the exterior first, then interior, the engine bay, and then work on power mods," he says and we like his calm and methodical approach to what is a seriously wild build. "Every time I seem to think I'm done modding the car, more ideas pop up and the modifications never stop," he laughs and that's something we can all relate to. Considering how far this car has already come, Jermhel's dedication to modding is truly impressive and the machine he's crafted with his passion is an absolute monster.
Tech Spec: Modified BMW 440i
Engine & Transmission:
3.0-litre turbocharged straight-six B58B30, Injen SP short ram intake, CSF V1 heat exchanger, Evolution Racewerks cat-less downpipe, M Performance Power & Sound Kit exhaust, bootmod3 Stage 2 tune. ZF eight-speed automatic gearbox
Chassis:
11.5×20" (front) and 12.5×20" (rear) MV Forged custom three-piece SV1 Corsa Series wheels with Carbon Black centres, Carbon Bronze lips and exposed hardware, 275/30 (front) and 305/25 (rear) Michelin Pilot Sport 4S tyres, Air Lift Performance 3P suspension, M Performance brakes with yellow calipers, R1 Concepts Geomet slotted/drilled discs
Exterior:
SR66 Design wide-body kit, Hexis Golden Matt Black vinyl wrap, gloss black roof wrap, Seibon VR-Style carbon fibre bonnet, Bayoptiks F32 xenon Vision headlights (V3 Vision 6k gel-coated dual-row LED rings, V3 6k triple LED corner markers, matt blackout) carbon fibre kidney grilles, M Performance carbon fibre front lip, Mashimarho carbon fibre bumper side extensions, AutoTecknic carbon fibre mirror caps, Morph Auto Design carbon fibre front bumper valences, Fang Type 2 side skirts and GT wing, carbon fibre rear diffuser
Interior:
Braum Elite-R Series Racing seats in black leatherette with red piping, Braum six-point Racing harnesses, Mashimarho carbon fibre steering wheel with carbon fibre trim, Mashimarho red F1-style start-stop button, Macht Schnell Competition lightweight floor mounts