At first glance, this may appear to be a lightly modified B8 RS4 that's running air-ride. But with RS6 running gear, this build has a story behind it that will shock and amaze you.
Feature from Performance Audi. Words: Dan Bevis. Photos: Mike Crawat
Tribal behaviour has always been at the heart of modifying culture. Fans of Japanese tuning will be well versed in the history of the bōsōzoku, for example; to outsiders, this is a subculture that often takes a lot of explaining. Literally meaning 'reckless tribe', the ethos traces its roots back to illegal motorcycle street-racers of the 1950s, their outrageously styled bikes tearing up the streets of suburban Japan with little regard for safety or the law. Similarly, the kanjozoku were outlaws in Honda Civics whose modus operandi was to go out on the expressways and try to outrun the police for kicks. Fast-forward to Hollywood in the early-2000s and we find Dom Toretto and his cronies telling pizza boys that the street's closed so they can engage the NOS and tear up the tarmac. So much of this behaviour comes down to camaraderie and togetherness.
So it is with RS Hardcore, a German tuner collective founded in the nineties. Today, their primary goal is to take contemporary Audis and make them ludicrously fast, with aggressive styling to match. Regular readers will remember their Imola Yellow first-gen S3 from a few months back, which was running 730bhp. Well, the modified B8 RS4 you see here is another recent product of this offbeat tuner coven's own personal skunkworks – and you'll note that, as with the S3, we're not running an owner profile box alongside this feature. Because this build isn't attributable to one individual – its spirit and soul are owned by the group, they're the ones who grafted to bring it into being, and the glory is all of theirs to share.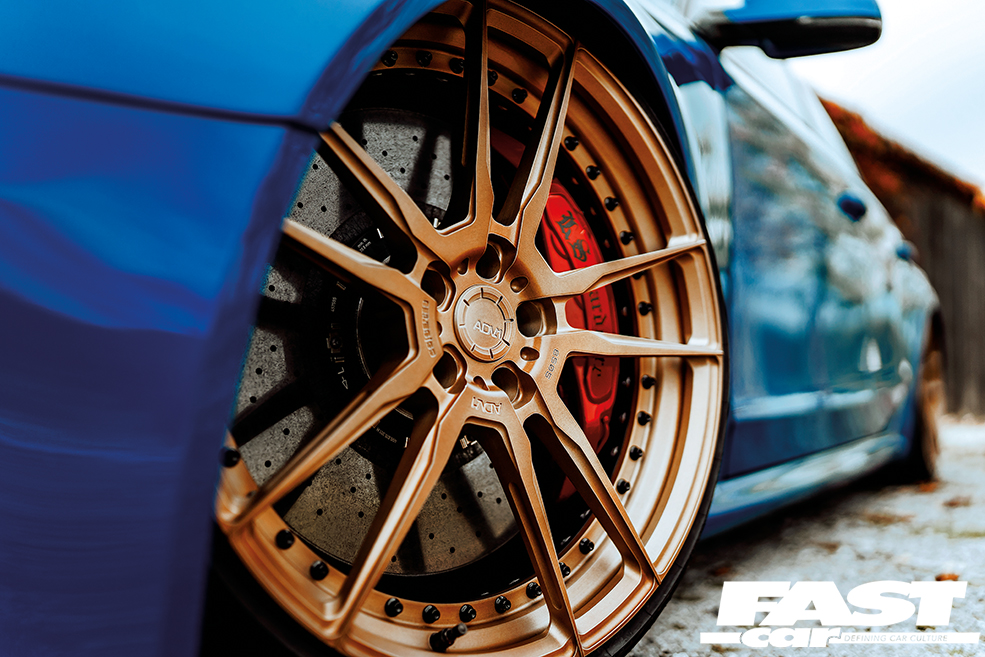 Martin Lanzinger is the de facto figurehead of the tribe, so it's his brains we're picking to clue ourselves up on the specifics of the tale here, and it comes from an interesting starting point. "It's a limited edition RS4 Nogaro Selection that we bought from an Audi dealer," he explains. And this is intriguing, as Audi die-hards are generally quite keen on the preservation and salvation of limited editions. This particular one was launched in 2014 to celebrate the twentieth anniversary of the RS2, wearing a tribute paint shade of Nogaro Blue with a little extra pearl thrown into the mix. It had a few tasteful stylistic tweaks, like matte black roof rails, gloss black grille and window surrounds, and half-leather seats with blue Alcantara inserts to mimic those of the old RS2. The blue theme was rife throughout, with the leather having blue stitching, the carpets getting blue piping, and even blue strands woven through the carbon fibre trim. It cost about £8,000 more than a regular RS4 when new, so it's fair to say this is a very rare and revered beast
in RS circles.
So presumably this particular Nogaro Selection B8 RS4 was a bit rough and ready then, and tearing it apart to replace the drivetrain was the only sensible thing to do? "No, not really," Martin shrugs. "When it came to RS Hardcore it was nearly new, with just 14,000km on the clock." Why pull out that stellar 4.2-litre FSI V8, then? "Well, some English guys had put an RS6 engine in a B7 RS4," he reasons, "so the bar had been set and we wanted to raise it higher. We bought this car specifically for the purpose of carrying out this engine swap."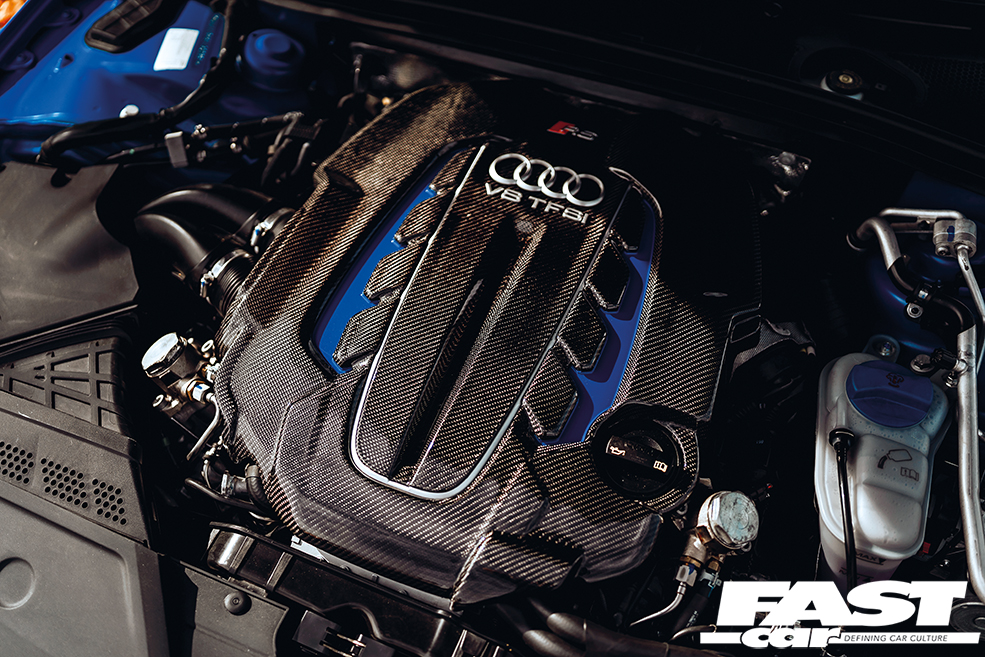 Clearly there's no standing on ceremony here. You see, for all the RS4's merits, for its staggering performance, its 450bhp and sub-5-second 0-62mph time, the idea of shoving a quart into a pint pot was always the game-plan. And the headline notion was to take the twin-turbo 4.0-litre TFSI V8 from the C7-generation RS6 and turn the blue bruiser up to eleven. It's an incredibly bold idea, as the TFSI lump kicks out 553bhp in stock form, along with a brutal 516lb.ft of torque, and the notion of taking a cutting-edge motor and replacing it with another from the same stable that's amped up to the next level is not to be taken lightly. This isn't like it was in the old days, when you'd just hoik out your carb-fed SOHC on a home-made engine crane and drop a bigger motor in – nowadays such things take some serious qualifications in electrical engineering simply to get the wiring to work, let alone getting the powertrain to actually fit.
Thankfully, the guys had this mapped out from day one, and they knew that there'd be room given that they were swapping out one V8 for another; "the reason we chose the B8, aside from the gauntlet having being thrown down, was that we knew there'd be space for the C7's engine," says Martin. However, despite the conversion being the whole point of the project from the beginning, that wasn't the first thing they did. No, there was something quite important to take care of first of all, and that concerns the way the thing sits.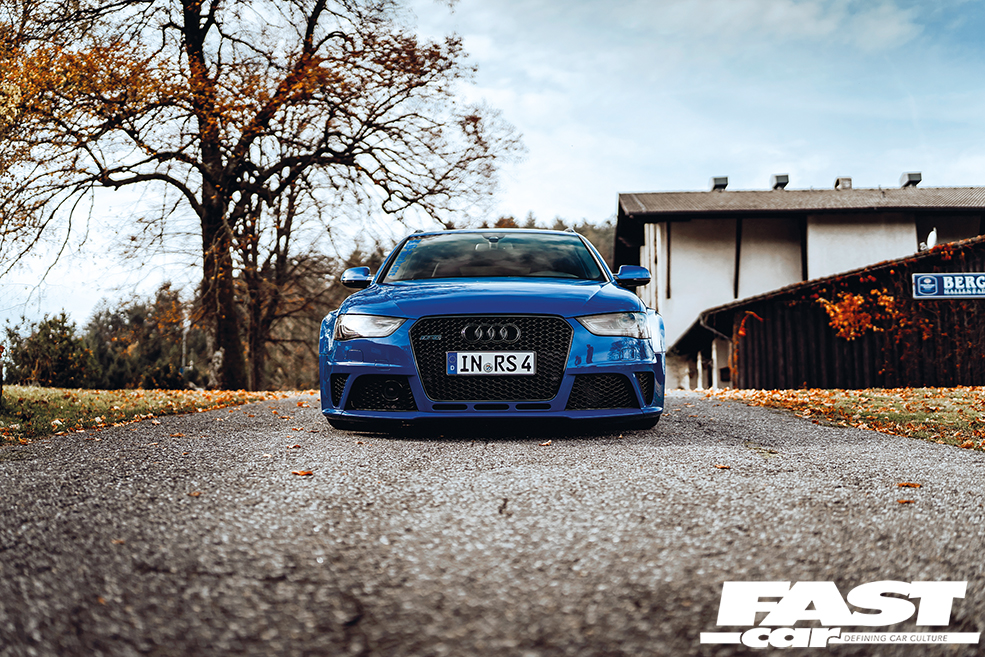 At first glance it'd be natural to assume that this car is bagged, as its low-slung stance appears to suggest that it's aired out over those oversized 21-inch ADV.1 rims. But no – somewhat unbelievably, this full-fat wagon is rolling static. How has this been achieved? It's all down to the engineering ingenuity of Gepfeffert, a name you've almost certainly come across in relation to the Euro tuning scene. What these suspension eggheads do is to take high-quality KW coilovers and artfully re-configure them to allow the cars in question to run ultra-low without compromising any of the inherent handling characteristics of the high-performance upgrade setup. Naturally this brings with it its own clearance issues, hence why the modified B8 RS4 is now wearing subtly wider front wings from Muecke to allow a bit more steering angle, and the overall effect is utterly devastating. The way this Audi prowls is supremely menacing, like it's hoovering up the tarmac in the hunt for fresh meat.
Of course, low-and-slow cruising was never this car's bag. And that's where the infusion of extra power comes in. "Almost all of the conversion work was done in house, working alongside PW Racing," Martin explains. "There was sufficient space in the bay for the TFSI motor to go in, but we had to modify things to make it all work – the entire cooling system is custom, and of course we had to make up a custom exhaust system to fit too. And what we're particularly proud of is that this is the first car on the planet to have not just the RS6 TFSI swap, but its native ECU and C7 8-speed Tiptronic transmission too."
The amount of bespoke work and sheer cunning to make all this possible is frankly mind-boggling, as modern cars are famously recalcitrant when it comes to changing even the tiniest electronic components, let alone a full-on heart transplant. This engine and transmission operate just as they should, squeezed into a smaller frame than they were never designed for, but perhaps the real achievement is that it all behaves like it was always meant to be there – it starts and idles like a brand new car as well as performing like one, all the dials work properly and it doesn't throw up a whole bunch of warning lights all the time. This has been built properly. "Our plan all along was to do it as if Audi themselves had done it," Martin explains. So that's why there's no crazy shaved bay or custom wire tucks, it all looks OEM. The genius of this build is that it tricks you into thinking it's something it's not – at first glance, you might think it's simply a stock RS4 running on big wheels and air-ride. It's only when you dig beneath the surface and realise that it's rolling static and running an RS6 drivetrain that your mind gets comprehensively blown.
"It looks and drives OEM, and we're proud of that," he grins, casting a cheeky bit of side-eye at his damn-low stance and grinning further. "We added the carbon Muecke wings for practical reasons, plus a few trim pieces from RS Carbon just because we wanted to, but it's all been an exercise in keeping it factory-looking."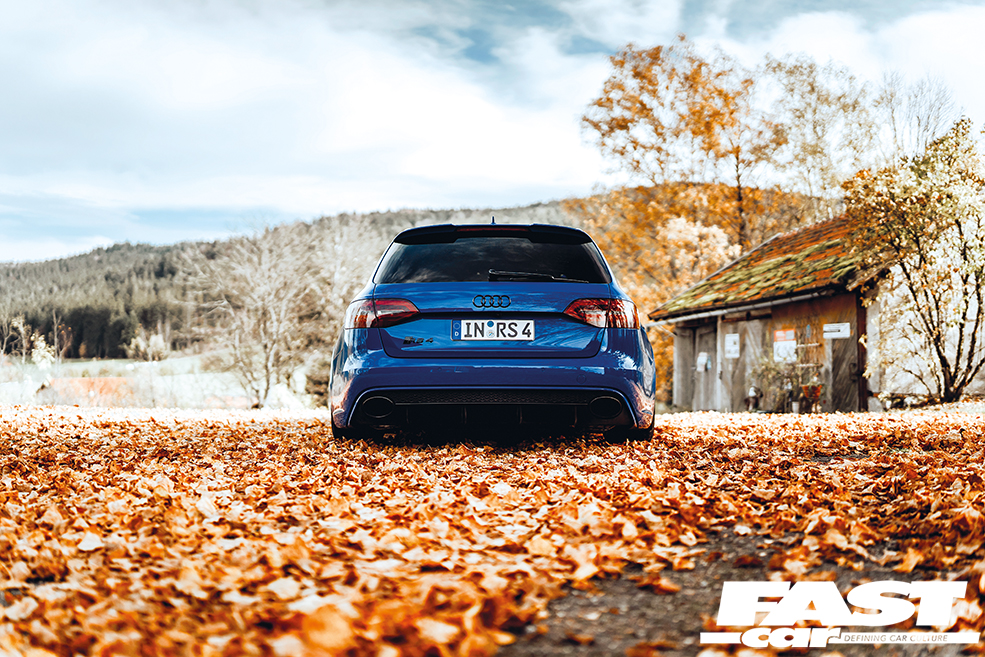 With great power comes great responsibility, as we know, so as well as pillaging the C7 RS6 for its drivetrain, the team also swapped in the mighty carbon-ceramic brakes to sit behind those monster rims, and it all just adds to the startling effect. For those who know what they're looking for, this is just the build that keeps on giving. "We love it when people look at the engine compartment and don't immediately recognise what they're seeing," Martin enthuses. "Usually after a few seconds they'll turn to their friends and say 'TFSI?' – so they're really surprised, and we love that reaction. Really, we at RS Hardcore just love building what seems impossible; creating what we love and having good times with our bros in the shop." And that's the very essence of tribal tuning. These guys already have the next builds in the works, and you can be damn sure we'll be bringing them to you as soon as they're done; see, this is as much Fast & Furious as it is bōsō or kanjo – it's all about kicking back with your crew and making some memories. The fact that RS Hardcore are also building some of Europe's coolest Audis is merely a happy by-product.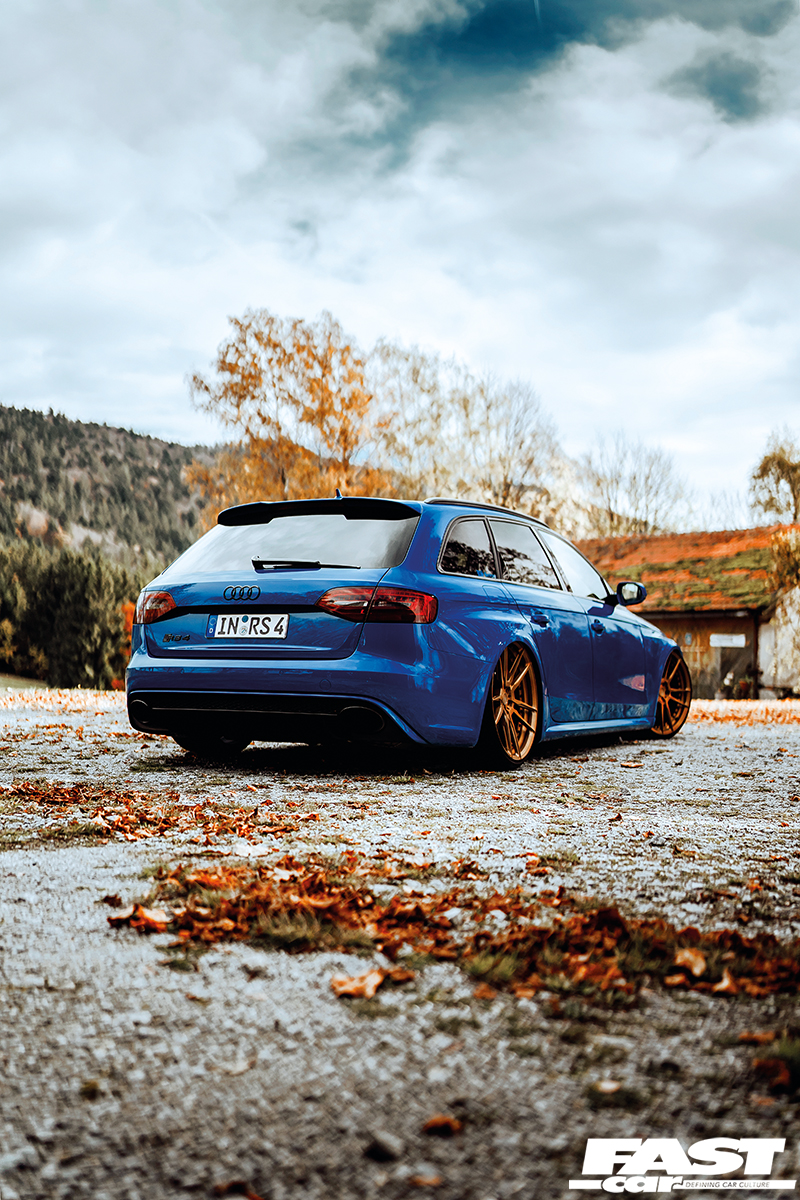 Tech Spec: Modified B8 RS4
Engine:
4.0-litre TFSI twin-turbo V8 (from C7 RS6), custom cooling system, custom exhaust system inc. custom downpipes, C7 RS6 8-speed Tiptronic transmission
Power:
560bhp, 520lb-ft (est.)
Chassis:
9.5x21in ADV.1 ADV005 wheels, Gepfeffert KW V3 Clubsport coilovers with HLS (hydraulic lift system), RS6 carbon-ceramic brakes (420mm front, 340mm rear)
Exterior:
Nogaro Blue pearl, Muecke wide front wings (+2.5cm), carbon trim by RS Carbon
R8 seats with custom RS Hardcore logos, leather-trimmed dash, Alcantara headlining