They may not be directly related, but this modified Astra VXR and angry VW Polo sure do share a lot of DNA…
Feature from Fast Car. Words: Dan Bevis. Photos: Ed Keating
Identical twins are more common than you might think. Around 1-in-250 births spawns a matching pair, and as fans of questionable 1980s movies will no doubt attest, twins can be entertaining things – and if the Schwarzenegger/DeVito axis Twins is anything to go by, they don't always have to look a lot like one another either. Of all the types of twins, identical ones are the variant that people generally call to mind when they hear the term (invariably making crap jokes about 'which one is the evil one?', which identical twins don't find amusing at all, trust us), simply because we all love the element of mischief that's inherent in their very being – clone brothers or lookalike sisters can have endless fun pretending to be one another to freak out their mates, or scaring local elderly folk into thinking they're suffering from chronic déjà vu, or simply screwing their siblings over by signing for parcels that arrive in their name or re-mortgaging their houses without them knowing. So much potential for comedy. But equally melon-twisting are the zygotically-split womb-buddies who don't look exactly like each other; the ones who share so much DNA and character and yet are unable to unlock one another's phones with Face ID.
It's the same story with the cars you see here. They both wear the same warpaint, both make unseemly snorting noises from their sodding great turbos and air out with panache when they park, both rock the sort of aero that could stabilise an A380. And yet one's a Vauxhall, and the other's a Volkswagen. Brothers from other mothers, and yet at the same time twins. Confusing? Relax, just sit back and let the science of it wash over you…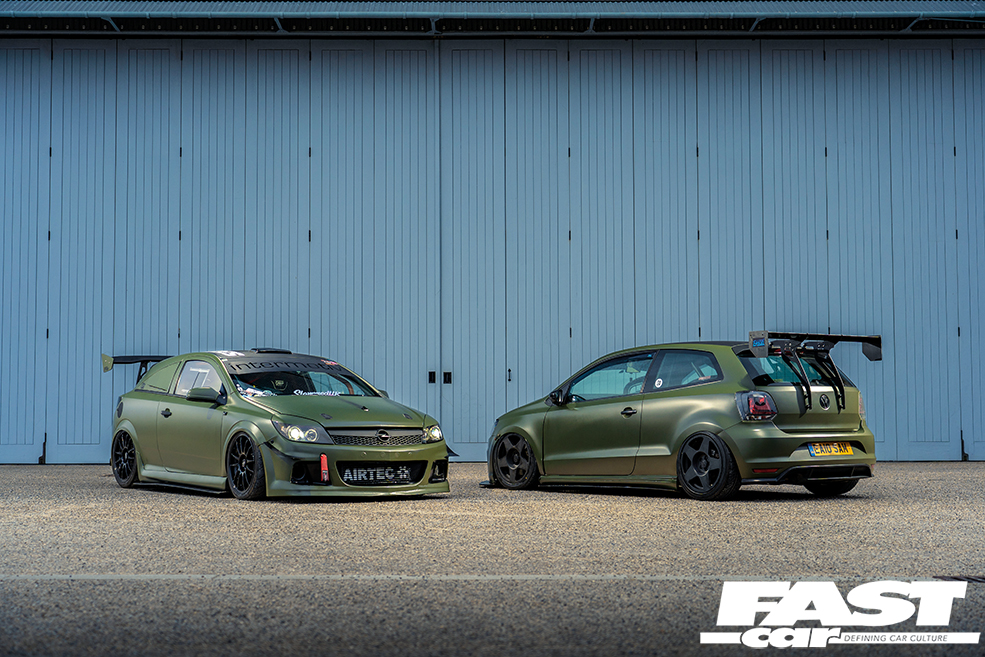 It's a tale of two mates, you see, arriving at the same point from very different directions and deciding to synthesise. We'll let Sam Eaton, owner of the Polo, get the party started.
"I've always considered buying something else as a project, but this Polo always seems to draw me back in," he laughs, "and it will probably be a car that sticks with me for a very long time."
Polos are very much in Sam's DNA; his first car was a 6R Polo 1.2 five-door, and he's also had a 9N3 GTI before the 2013 6R three-door we see here today. "I bought this one in July 2013, when it only had about four miles on the clock," he recalls. "Volkswagen Motorsport had just released the 2013 WRC car, which looked unbelievable, and I've always wanted to build something similar for myself!"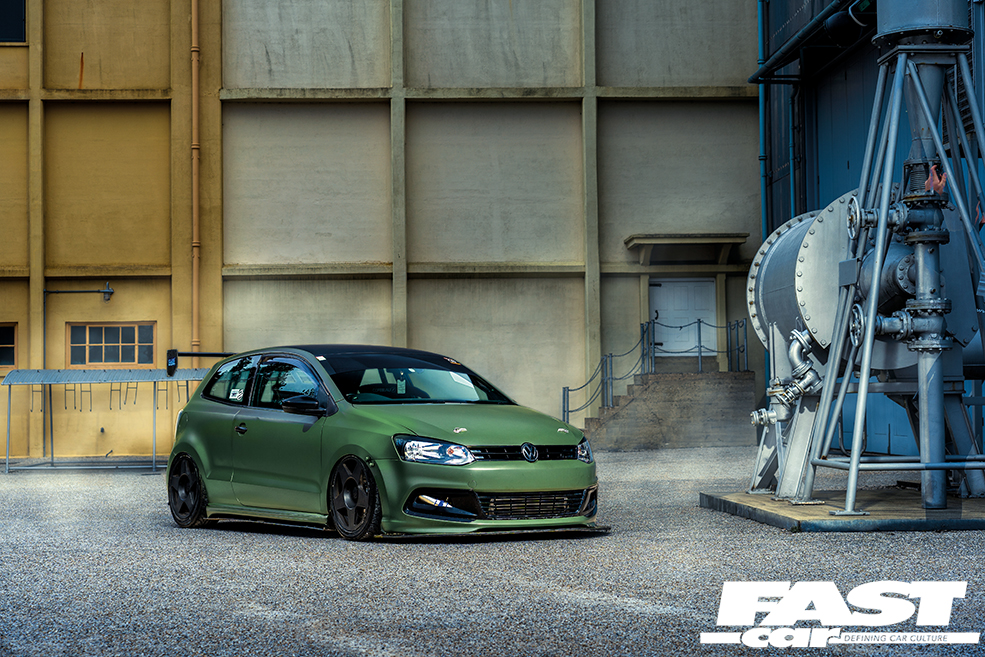 Yeah, it's obvious from the outset that this brand-new hatch was never destined to stay stock for long. However, it's interesting to note that Sam's initial plan was to build a show car rather than the track monster it's evolved into: "That was the idea, but after a while I lost interest in attending shows and discovered track days, which led me down a different route for modifications," he explains. "I owe a lot of this to my parents too, they had loads of interesting cars and always made them their own – In fact, I'd say that they are probably the biggest influence behind this build."
Sam started out in casual style, easing in with a set of coilovers, some Extreme Offset steel wheels and a few audio upgrades. By Christmas 2014 he was installing his own air-ride setup and crafting a custom boot build, then bolting on some 8.5in-wide Rotiforms and savaging the arches to make them fit. Interior upgrades at this time included Recaro CS seats, an Alcantara Audi steering wheel and a custom gearstick Sam made using some old skate wheels he had lying around in his garage.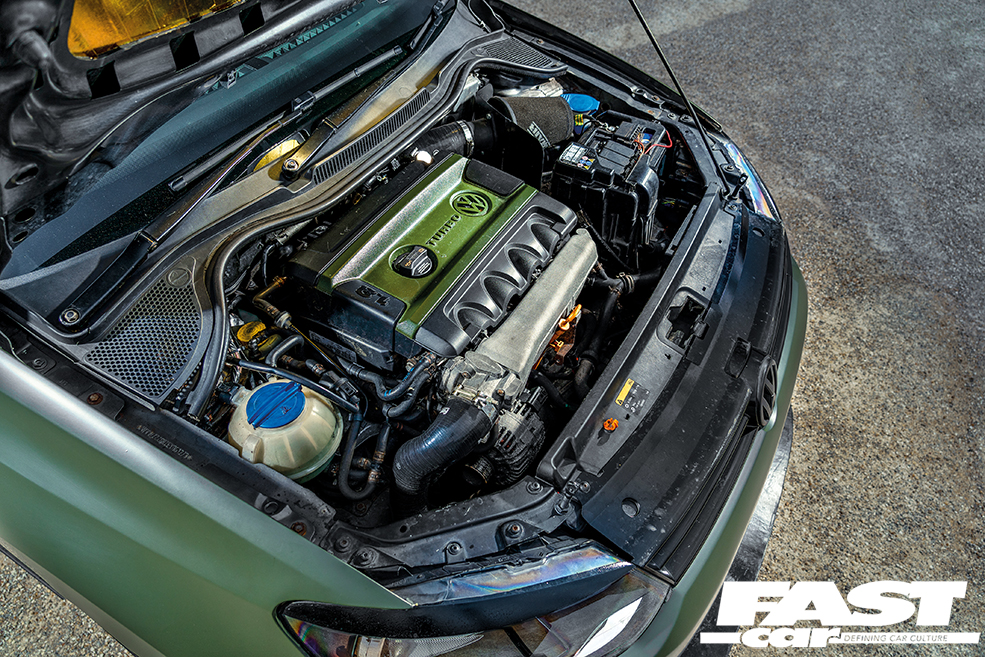 With a custom Longlife exhaust making the 1.2-litre engine loud and slow, the Polo cycled through various other wheel choices, and it was around this time that Sam met Simon, the Astra's owner.
"Simon had completed courses in wrapping cars, and we decided to wrap the Polo in 3M's Perfect Satin Blue," he says. With the aesthetics ever-evolving, Sam's proclivities were moving more and more toward the track; a custom half-cage was welded in, and the decision was made to upgrade the air-ride to something a bit more hardcore. A call to Intermotiv sealed the deal, the company opting to use Sam's car to develop a fresh Polo 6R setup. Corbeau Revolutions followed, plus the almighty rear wing from BYC, before Sam turned his attention to the chassis: upgraded anti-roll bars were joined by a rear disc conversion and a thorough polybushing.
With the car being so much more performance focused, Sam was becoming increasingly aware of the limitations of the 1.2-litre engine. Simon had suggested that both cars be wrapped in matching NATO Green, and with this achieved and the Astra being so powerful, Sam was itching to get more urgency under the bonnet.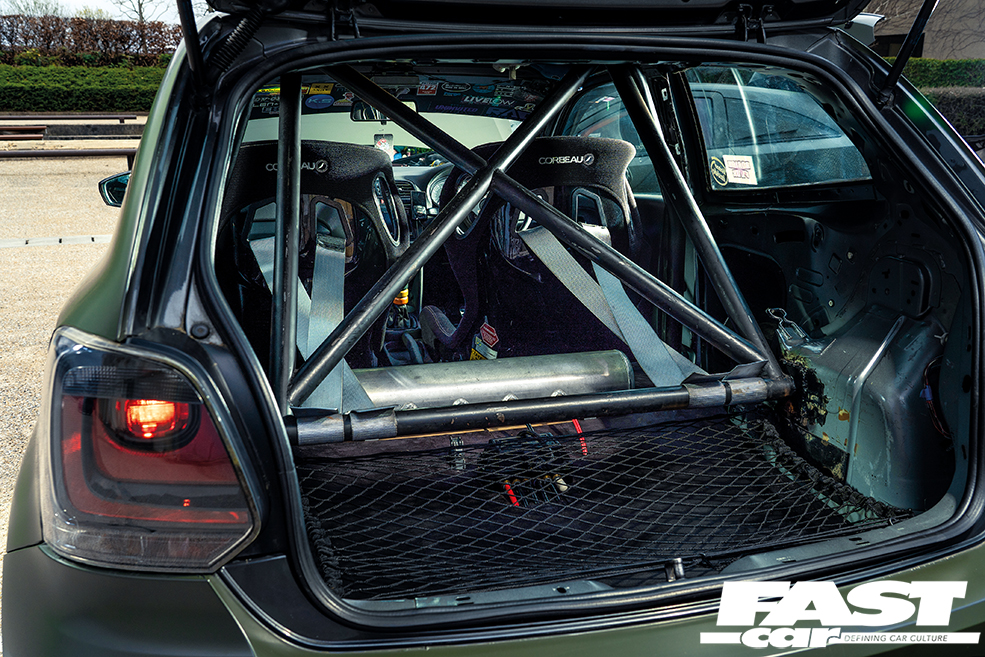 "I bought a 9N3 Polo GTI for an engine swap," he says. "After the first day I'd ripped everything out of my Polo to prep for the new engine, on the second day I started stripping the 9N3, then by day three I'd replaced the wiring loom with the 9N3 one. I had to change the ignition barrel, and I swapped the hubs to 9N3 hubs and exchanged the steering racks too. I changed the straight-through exhaust for a Milltek one with a custom backbox, swapped brake booster and pedals along with gear linkage, then fitted a custom intercooler with pipework from the turbo all the way to the intake!"
Opting to remove the secondary air pump and the entire vacuum system from the top of the engine, Sam fitted silicone intake and inlet hoses, but unfortunately the turbo then decided to blow up… but every cloud and all that; he had a billet compressor fitted inside the K03S and had the turbo machined for better flow. Bit of a result, and the upshot of all the engine mods, having fitted an LD Performance boost controller and had the thing mapped, is a solid 220bhp. The ensuing Porsche 986 caliper upgrade was as much necessity as showpiece – which, of course, really sums up how the project's turned out.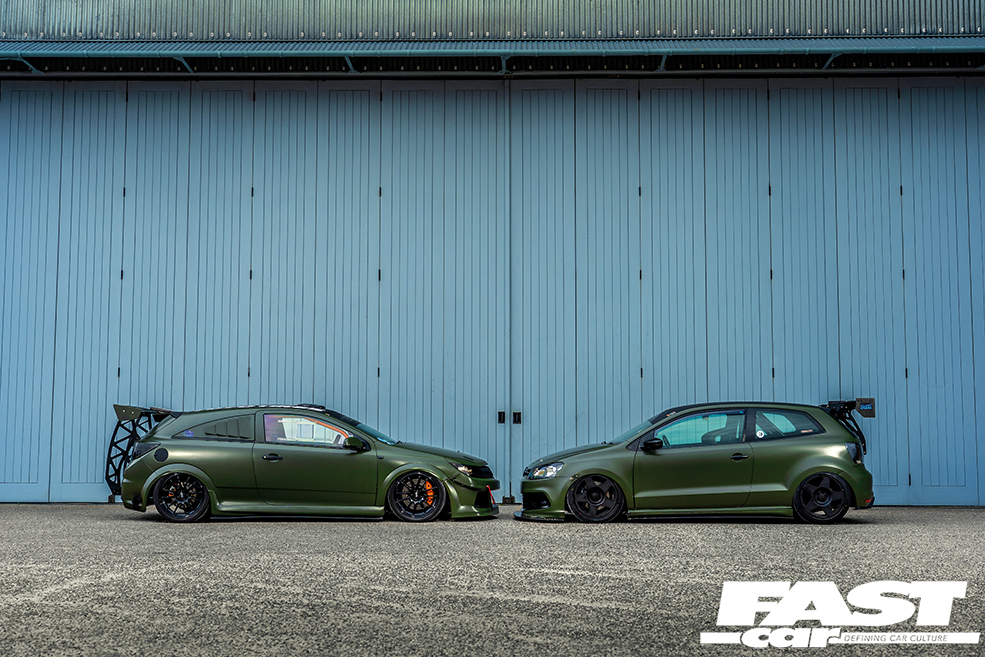 The steep trajectory of Sam's Polo learning curve is mirrored by that of Simon and his Astra – for you see, this is really the first car he's modified. Done a pretty bloody stonking job, hasn't he? And the VXR has been rapidly evolving over the last few years or so; you've no doubt seen it at shows, and each time it will have been a little bit different. Readers of our now-defunct sister mag Performance Vauxhall may remember it being featured back in 2019, but it was very different then. For starters, it was putting out 294bhp at the time. Now? Call it 412bhp. That's some decent lockdown progress.
"When I was 17, my first car was a Renault Clio and I just did some audio stuff to it," he explains. "After that I had a Mk5 Astra SXi for a couple of years, and I didn't do a lot to that beyond putting an exhaust on. I really liked the SXi and how it looked, but I just wanted something with a bit more power – so I did some research, and found the VXR was the one for me!"
This particular modified Astra VXR was found on Auto Trader in 2012; 16,000 miles on the clock, crazy cheap price, job done.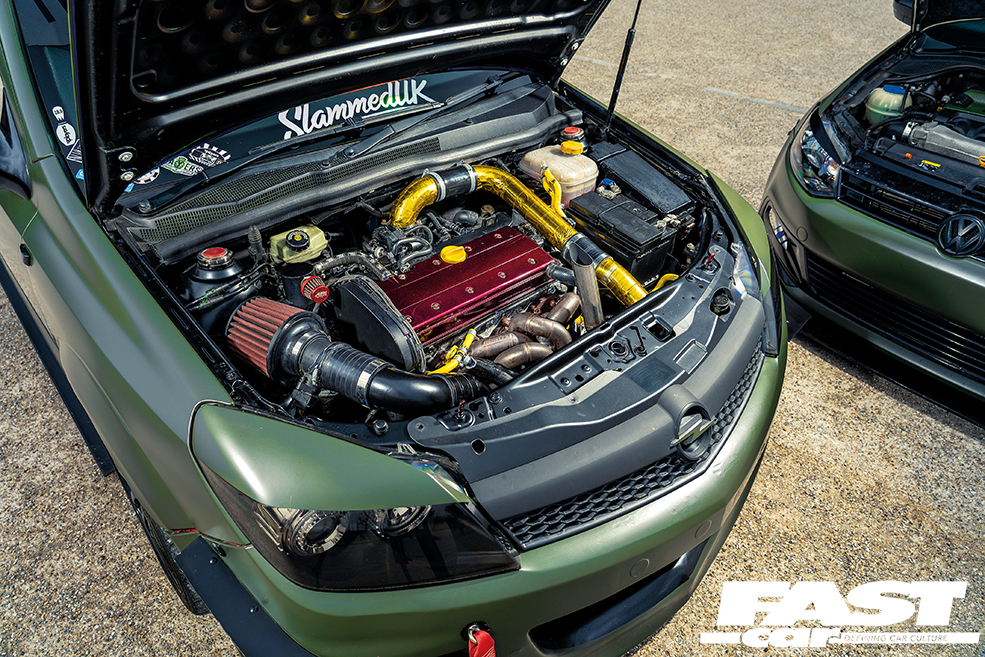 "I had never planned to go this crazy with the build," he says, echoing Sam's earlier sentiments, "but the car kept putting a smile on my face so I kept going deeper with the build.
"I got into vehicle wrapping, and started to wrap the odd bit here and there on the car," he continues, "before ultimately deciding to wrap the whole car in purple, as it was a first on an Astra at the time. It all really kicked off from there, and I just started to get really involved in modifying it."
He certainly didn't hold back either – those early mods to the Z20LEH motor released the aforementioned 294bhp, thanks in large part to a Rabbid remap and an insane full-custom 3in exhaust system by Thorney Motorsport, with the tail exiting from the side of the bumper. Impressive bespoke work, and Simon was evidently getting a taste for the one-of-one mods, as that zany rear wing followed soon after.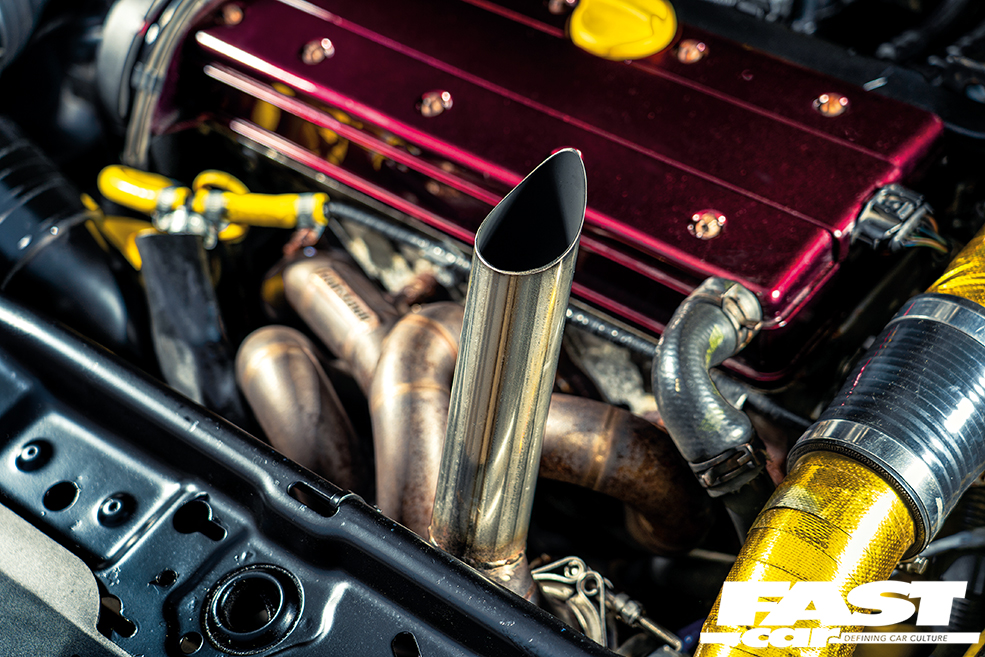 "Jonathan from Intermotiv helped me out with the design of the spoiler," he explains. "I originally had a boot-mounted wing, but started to see more and more people doing them so I spoke to Jonathan about the idea of a chassis-mount as it'd never been done." A carbon blade from Driftworks is fixed to a custom set of mounts to get the wing perfectly in line with the airflow from the roof, and the cleverest part is that the mount hinges at the bottom so that the boot is still fully accessible.
Much like its Polo twin, the Astra has a track-focused interior, sporting a full GDF Steelworks rollcage, OMP Champ-R seats and myriad gauges… and yes, massively upgraded audio and a custom boot build for the air-ride hardware. The chassis is serious as hell too, with colossal Tarox 10-pots up front, custom ARBs and drop-links, and all manner of polybushing throughout. Which is just as well, because just before the Coronavirus pandemic snuck in, a whole lot more horsepower arrived…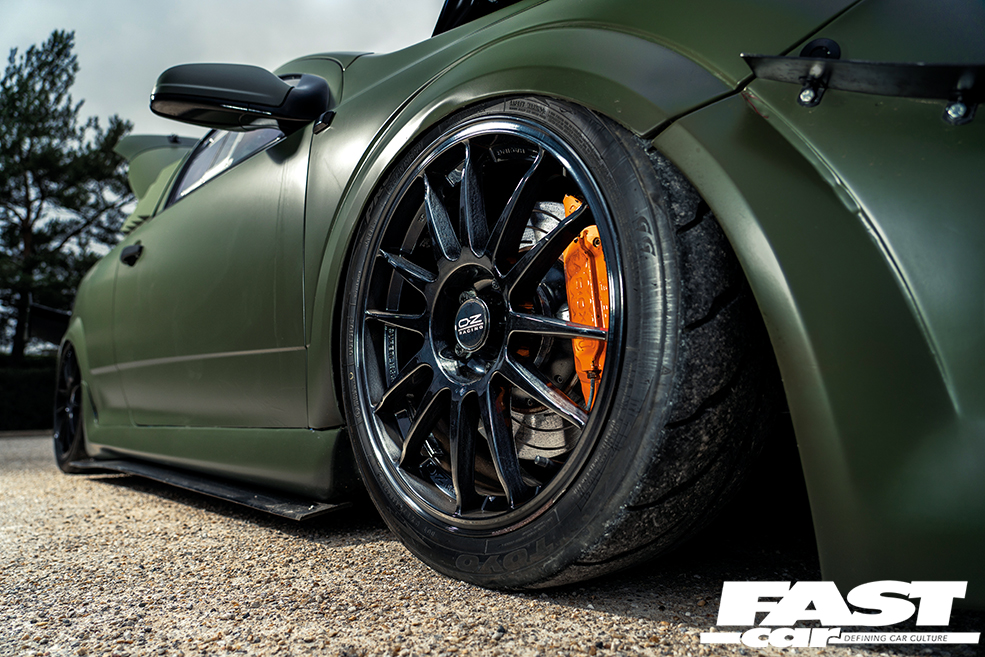 "Near the end of 2019, I got offered a fully forged engine from a friend," Simon says. "It was an offer I couldn't really say no to! So over the course of a weekend, a few friends and I ripped the old engine out and put the new one in. It got mapped the following Monday!"
With oodles more grunt on tap and a new set of lightweight OZ wheels fitted, he hit the track and was amazed with the transformation – and, naturally, it inspired him to go yet further. The big lockdown project was to strip the car down and remove all the sound deadening and insulation, as well as relocating all the audio into hidden places so that only the air tank is showing. And with this ever-present sense of focus and quest for purity, the Astra and the Polo make for very appropriate stablemates. Sam's champing at the bit to get out and enjoy his 1.8T-swapped Polo on track as much as possible, and he'll have to exploit every micron of those soft-compound semi-slicks once Simon's fitted an LSD and dropped in some race cams. More than anything, we just know that there's going to be a whole lot of playful mischief involved; with so much shared DNA, these non-identical twins were developed purely for hijinks.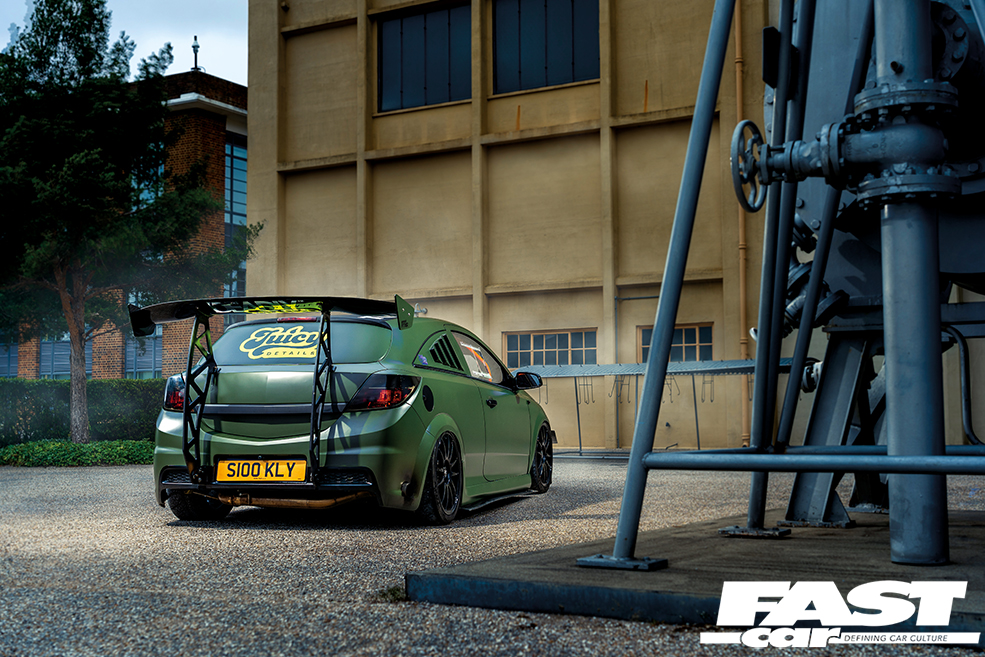 Tech Spec: Modified Astra VXR
Engine:
Z20LEH 2.0-litre turbo, Wiseco forged pistons, ZRP I-beam steel rods, ARP head bolts, Garrett GTX2867R Gen-1 turbo, Nortec tubular manifold, Turbosmart Hypergate45 external wastegate with bonnet-exit screamer pipe, EDS inlet manifold, Airtec Stage 3 Gobstopper intercooler, uprated internal fuel pump, 1,000cc injectors, MTC yellow coolant hoses, AEM 80mm air filter, air-con delete, full custom 3in exhaust system by Thorney Motorsport – with side-exit from rear bumper
Power:
412bhp, 400lb ft
Transmission:
M32 6-speed manual, stock diff
Suspension:
Intermotiv Stealth air-ride with BC Racing (f) and Bilstein (r) dampers, Air Lift V2 management, custom adjustable front anti-roll bar, front Powerflex purple lower arm bushes, Whiteline rear anti-roll bar with Powerflex purple bushes, custom front drop-links
Brakes:
Tarox B34 GT 10-pot front calipers with 330mm grooved Tarox discs and Strada pads (road) or Competizione pads (track), stock rear calipers with Ferodo C-hook discs and Ferodo pads, Hel braided lines
Wheels:
8.5x18in OZ Superleggera wheels with 225/45/18 Toyo R888R tyres
Interior:
OMP Champ-R seats, Sabelt blue 3in 4-point harnesses, OMP Kubic steering wheel with Brown & Geeson quick-release, full GDF Steelworks rollcage, 3-gauge pillar pod with Dragon gauges, false floor with air tank and amps, front Track Car Door Cards and matching rear side panels with orange bolts, Pioneer AVIC-Z920DAB head unit, Pioneer GM-D9701 Mono Block 2400w amp with Pioneer TS-D10D2 12in Dual 2-Ohm subwoofer, Pioneer GM-D8704 Class-D 1200w 4-channel amp for TS-D65C 6.5in 2-way component front speakers, Pioneer TS-D65F 6.5in mid-range coaxial rear speakers
Exterior:
Custom wrap in Oracal matte NATO green with matte black roof, front bumper smoothed with Regal Dap R splitter smoothed in, custom splitter and canards, lowline sideskirts, rear diffuser cut out, custom chassis-mount Driftworks carbon wing, polycarbonate front windows with sliders, CM Composites louvres in rear windows – wrapped in body colour, rolled and widened front arches, Opel front grille, tinted angel-eye LED headlights and taillights, functional roof scoop
Tech Spec: Modified VW Polo 6R
Engine:
BJX 1.8-litre 20v turbo, K03S turbo with billet compressor – machined for better airflow, uprated intercooler with 3in inlets and custom aluminium pipes, oversized intake pipe, RamAir cone filter, Milltek 2.5in downpipe, 2.5in straight centre pipe and custom rear box with 3in Downshooter exit, Polo 9N3 radiator and fans, secondary air system removed with Forge blanking plate
Power:
220bhp
Transmission:
9N3 GTI 5-speed manual, 9N3 GTI gear selector, 9N3 GTI driveshafts
Suspension:
Intermotiv Polo 6R air-ride with adjustable damping, Air Lift 3P management, Polo 9N3 GTI front and rear hubs, Polo 6R subframe with Polo 9N3 GTI steering rack, Powerflex bushes throughout, front anti-roll bar, Whiteline rear anti-roll bar, chassis notch
Brakes:
Porsche 986 (Boxster) 4-pot front calipers with 312mm Vagbremtechnic J-hook discs and Ferodo DS1.11 front pads, Audi A1 rear calipers with Polo 9N3 GTI rear discs and EBC YellowStuff rear pads, Porsche 986-to-Polo 9N3 braided front brake hoses, EBC rear braided brake hoses, Polo 9N3 GTI brake booster
Wheels:
7.5x17in ET30 Fifteen52 Tarmac wheels – plasti-dipped black, 215/40/17 Zestino Gredge soft-compound semi-slicks, 5mm spacers all round
Interior:
Corbeau Revolution bucket seats, Schroth 4-point harnesses, custom 4-point rollcage, fire extinguisher mounted to passenger exhaust tunnel, all carpet and headlining stripped, deleted rear plastic panels, custom aluminium and carpet floor plates, LD Performance boost controller, custom skate wheel gearstick, Momo Mod.74 steering wheel, Brown & Geeson quick-release, Polo 9N3 clocks, Polo 9N3 GTI pedals, custom boot build for air-ride, 4-gallon brushed air tank, Viair compressor, Pioneer TS-A173CI front speakers, Pioneer TS-A1733I rear speakers, Pioneer AVIC-F88DAB head unit
Exterior:
Custom wrap in 3M NATO Olive Green, smoothed Polo 6R R-Line front bumper, Polo 6R R-Line sideskirts with extensions, Polo 6C GTI rear bumper, BYC rear wing, 8mm ply front splitter, front and rear arches widened by 10mm, Polo 6R clear Euro taillights, carbon fibre mirror covers, custom bumper ties, bonnet latches, gloss black painted grilles