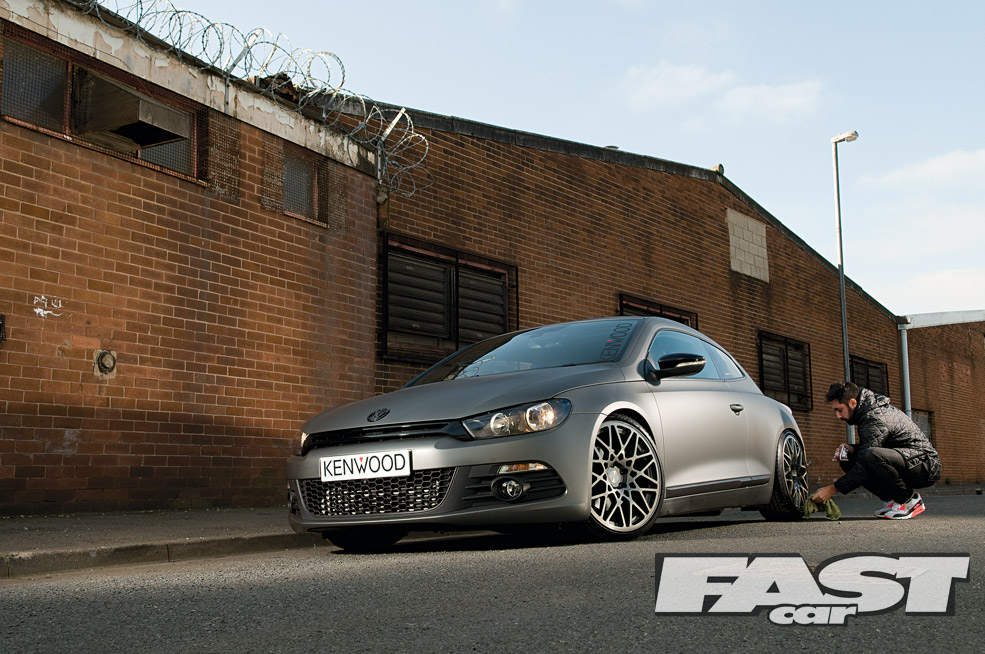 Kenwood's VW Scirocco
We've always loved Kenwood's product line here at Fast car Towers, and this demo car definitely does their ear- pleasing car audio line justice. The install in their 2011 flagship vehicle is nothing short of incredible. In fact, the Kenwood team couldn't decide whether to fit the Scirocco with a bass set-up or an audiophile SQ (sound Quality) system – so they fitted both. "The car is used by our Premier centre dealers and at shows across the UK, demonstrating our product line to consumers," explains Mike Edwards, Product Manager of Kenwood electronics. "The reaction has been great."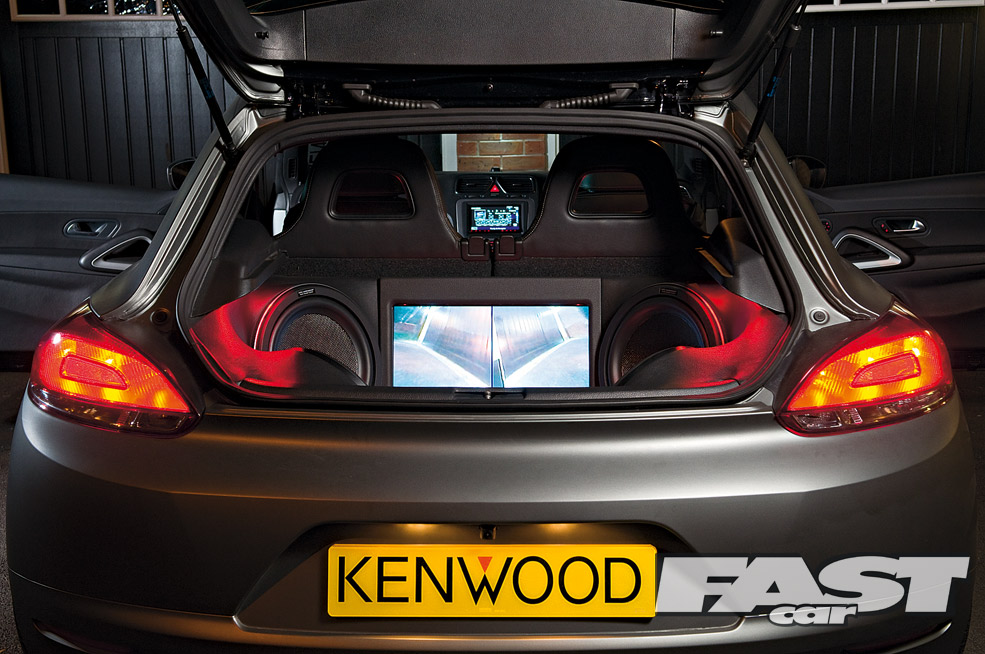 This year, the car was transformed with the help of regal Autosport, Forge Motorsport, GIAC, EVOMS, KW Automotive, Totally Dynamic Vehicle Wrapping and Rotiform. A list of top-end parts has been employed to devastating effect, all working together perfectly to deliver a look that could almost be that of a Volkswagen special edition. "on paper, there's not actually that much done to the car, but everyone who sees the vehicle instantly falls in love with it!" Mike smiles.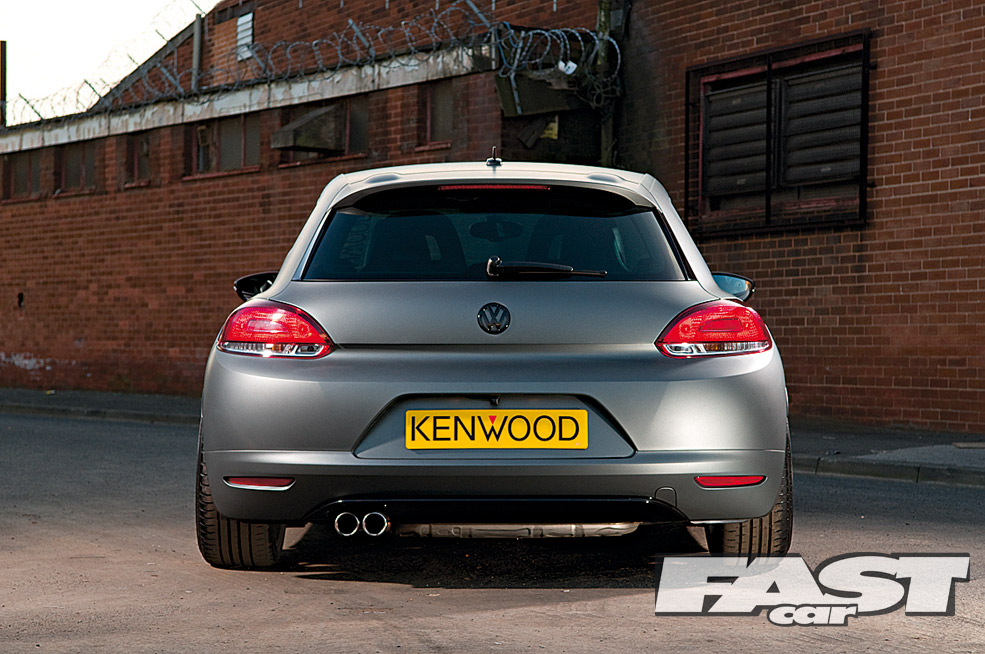 The quality of the wrap is amazing; scott and the guys at Totally dynamic clearly know what they're doing. The grey metallic colour has been finished with a matt laminate, and with all of the shuts wrapped too it's the best wrap we've seen. "we wanted to enhance the original vehicle," Mike explains. "You know, make it look cooler, without taking anything away from the usability and driving experience."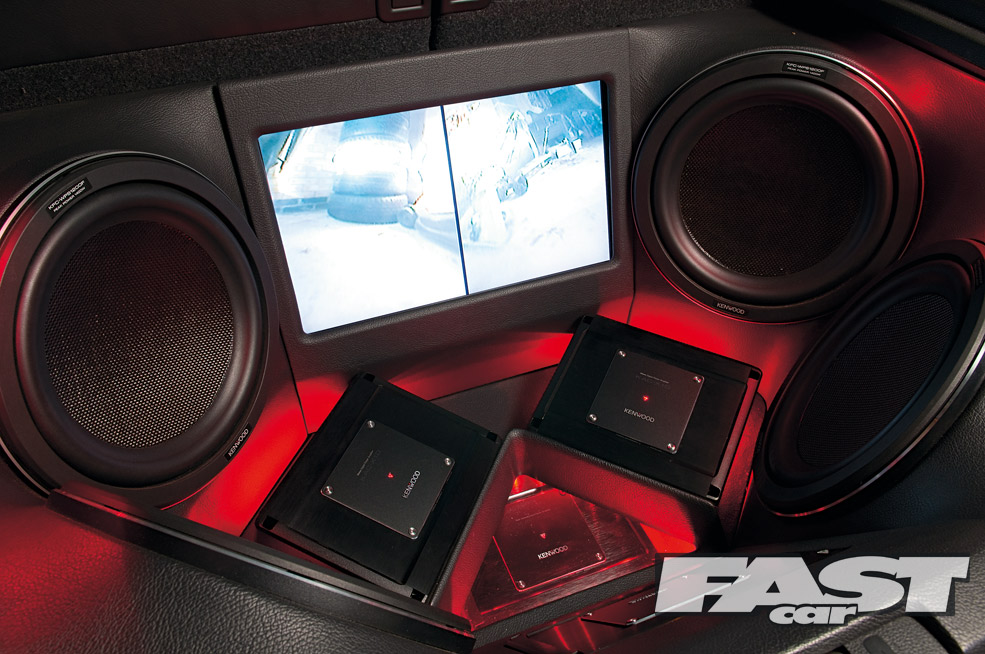 This is where Regal Autosport and KW Automotive came into play. Tasked with improving the performance of the scirocco and installing a new suspension set-up, Regal used a combination of Forge Motorsport, EvoMS, GIAC and KW Automotive products. chassis-wise, they've installed a Variant 1 coilover system that does an incredible job out on the road. And the suspension drop works sweetly with the 8.5×19-inch Rotiform BLQ rims. "We wanted to leave no stone unturned for the redesign," says Mikes, "and it's great to have such a complete car to take to shows and events this year."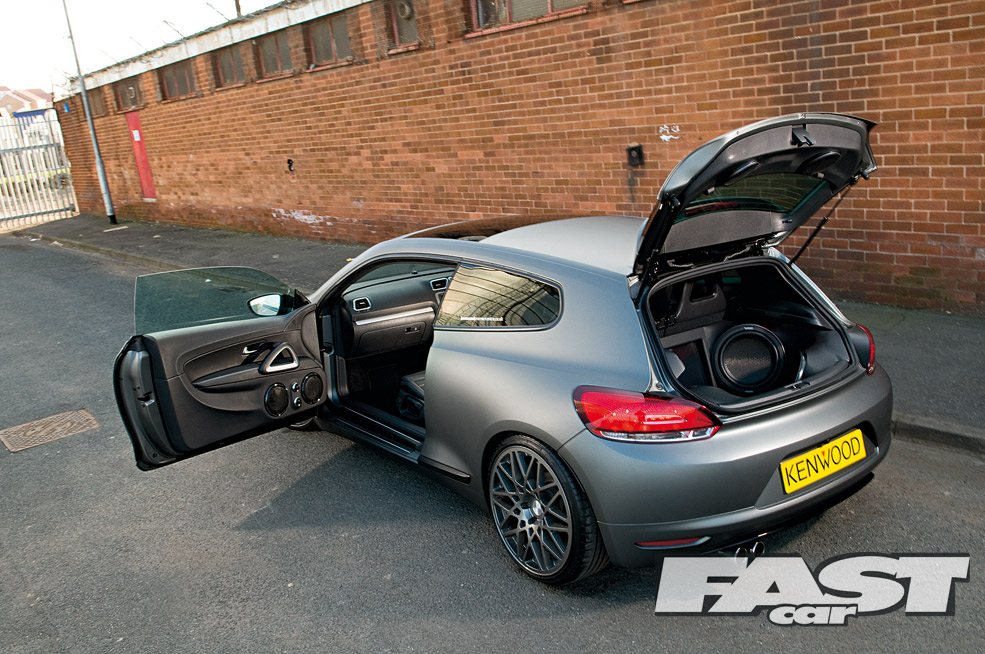 So, most importantly, what does the Kenwood electronics scirocco sound like? Well, with a choice of SQ or bass systems, you simply can't fail to love the sound it pumps out. "It's great for showcasing our product line," says Mike. "The subwoofers are switchable, so you can run the 8-inch woofers for sQ or the 12-inch subs for gobs of bass." We've had a play with a couple of different Kenwood 2-din headunits and they're nothing short of perfect. The iPod integration, Bluetooth phone hook-up and on-board sat-nav system absolutely transforms the dash of your car. with so many Volkswagen Group vehicles now ripe for a 2-din upgrade you really need one of these puppies in your car.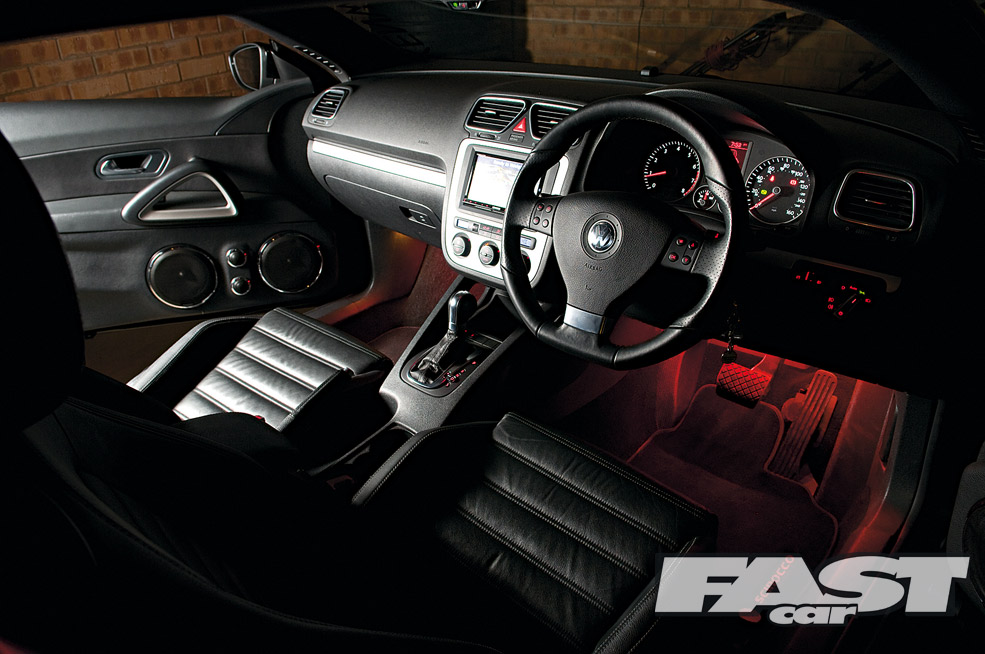 The fit and finish is incredible. sound deadening and panel strengthening has been carefully employed to ensure that the sound it serves up is super tight. "Huets really have done a great job," says Mike. "The car keeps the originality of the scirocco's interior, but then open the hatch and there's a whole party going on!" he laughs. it's a winning combination – Kenwood have managed to shout about their car audio product line whilst keeping things super classy.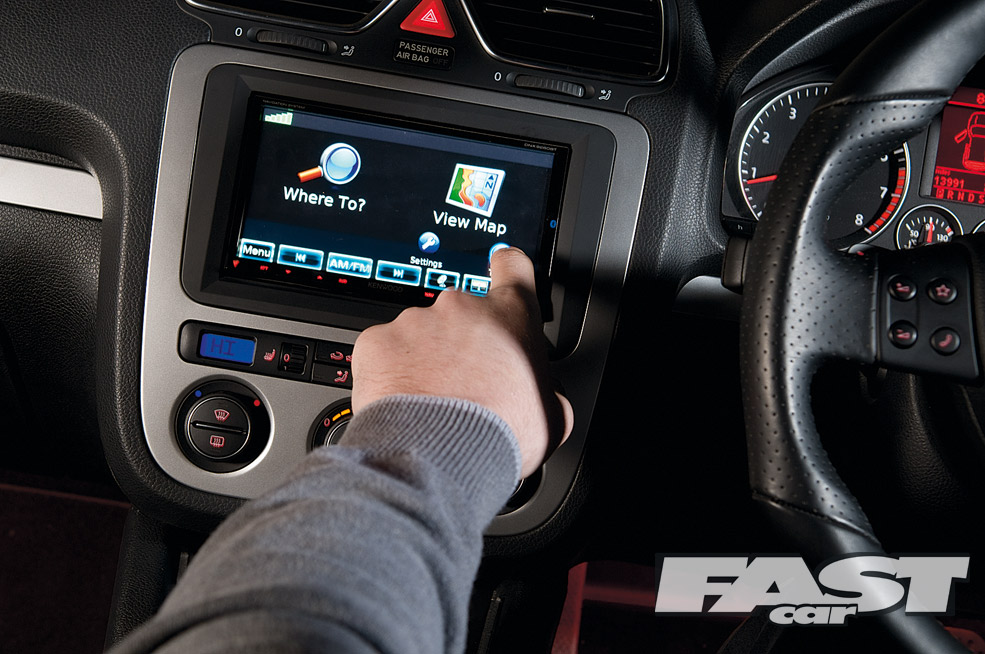 Like Mike says, the subwoofers are switchable, enabling two different systems to be run. These controls have been neatly mounted into the storage section of the centre armrest, making the interior look more like that of a Harrier Jump Jet. One of the switches is for the rear camera. "we've hooked this up to the 2-din in-dash screen to give a rear-view when reverse gear is selected,"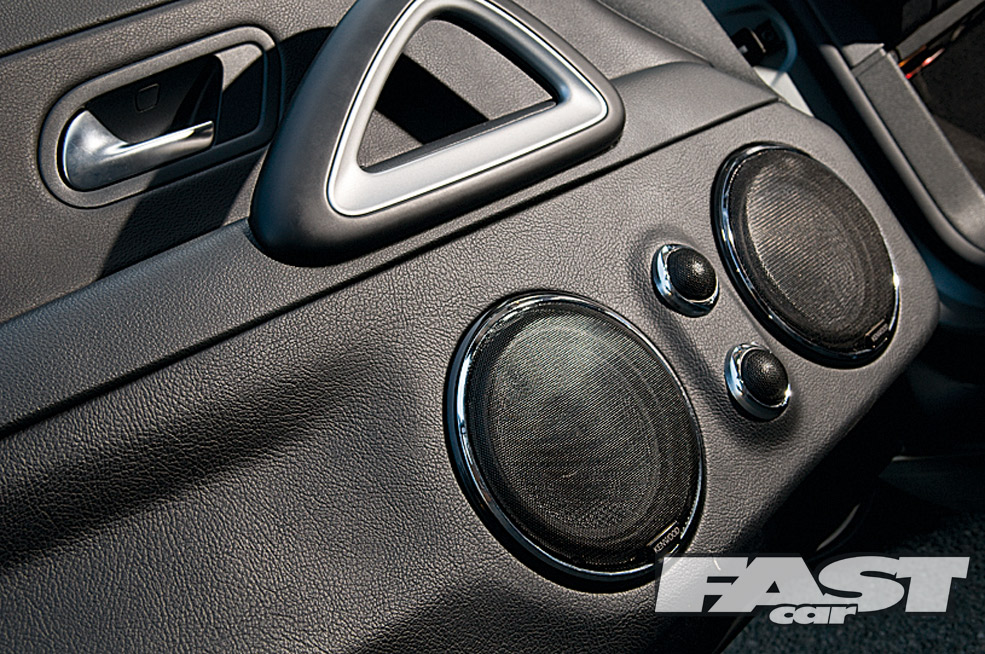 Mike says. we check it out and there'sneat 'parking space' outlined in red, helping you to guide the 'rocco into the tightest space. It's Kenwood's range of add-on features like this that make your car easier to use on a daily basis. But back to the beats! The dual component speaker set-up in the front doors is an absolute winner. Both SQ and bass systems give tonnes of volume at the front end and seriously please our ears.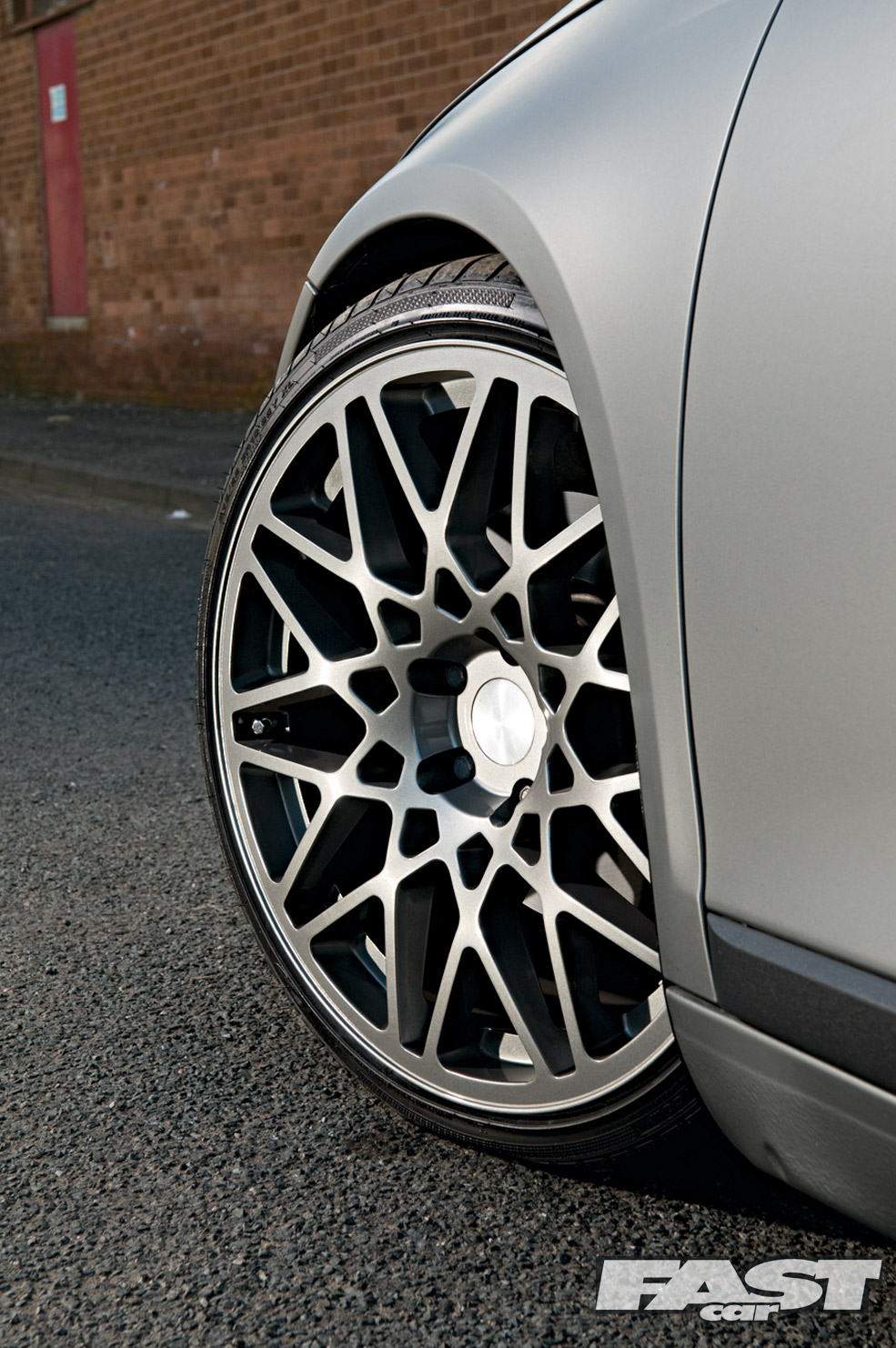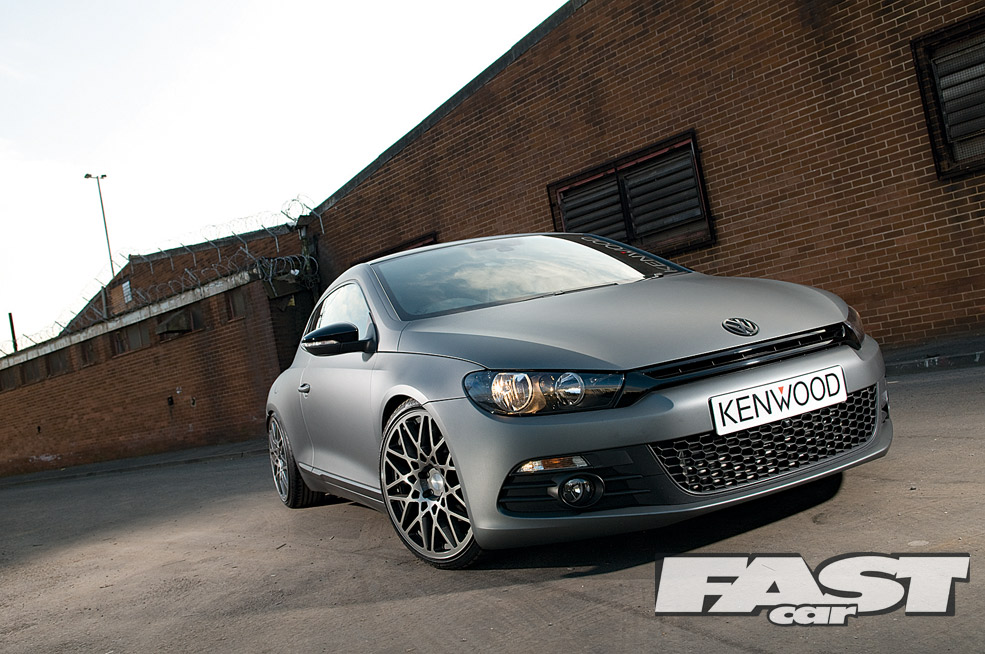 TECH SPEC
VW Scirocco
ENGINE
EvoMS intake system; GIAC software upgrade; Forge Motorsport front mount.
CHASSIS
8.5×19-inch Rotiform BLQ rims; KW Variant 1 coilovers; 215/35×19 FK-452 Falkens.
INTERIOR
Custom front and rear door cards; redesigned boot.
EXTERIOR
Gunmetal grey wrap.
AUDIO
DNX-520VBT headunit; KTC-D500E; CCD2000 camera; 4x KFC-X1720P 6.5-inch components; KAC-X4D 4-channel amp; 3x KAC-X1D 2-channel amps; 2x KFC-XW800F 8-inch subs; 4x KFC- WPS1200F 12-inch subs; 21-inch LCD screen; KFC -X132 6.5-inch speakers; KAC-5204 2 channel amp.