We check out the Liberty Walk Lamborghini Gallardo from Fast 8 – The Fate of the Furious that's destined for stardom.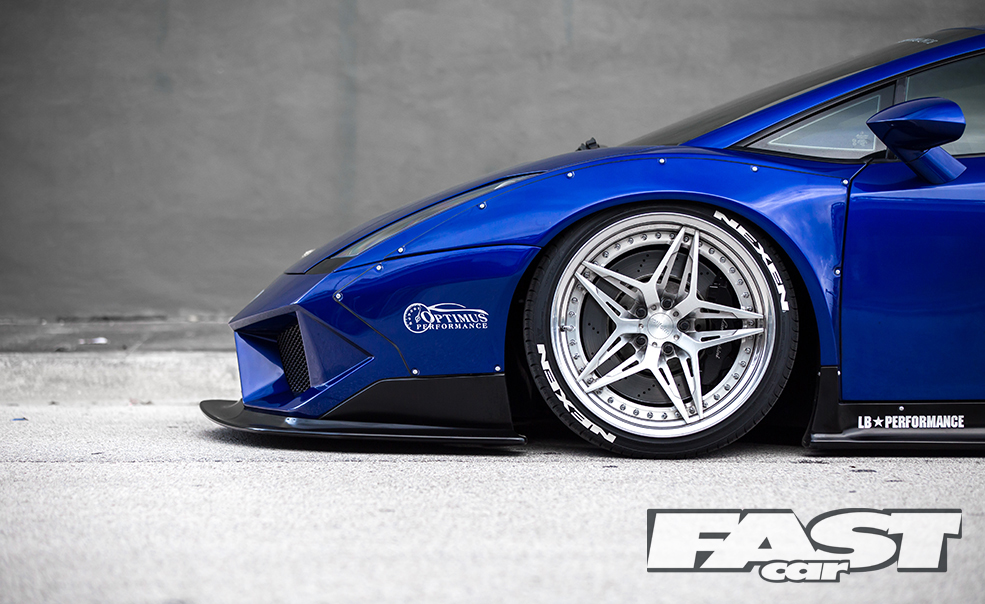 Street's closed, pizza boy." Yeah, the Fast & Furious movie franchise has moved on a long way since that original street-racing extravaganza back in 2001. The first film in the series made megastars of cars like the Mk4 Toyota Supra and Honda S2000, and each subsequent instalment has boisterously pushed the envelope of extreme car modification, from Dodge Charger Daytonas to Mk1 Escorts, Porsche 996s to Hakosuka Skylines, and everything in between. And with the next instalment – Fast 8 –The Fate of the Furious on the 14th April 2017, what do you think we can expect?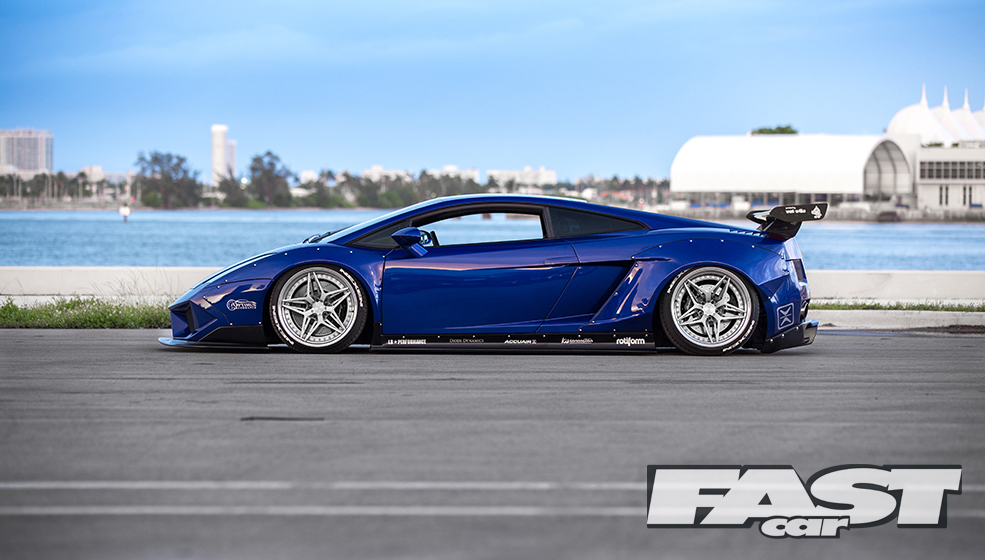 You've guessed already, haven't you Sherlock? It's the car you see here: a Lamborghini Gallardo. That's right, they're pimpin' supercars now. And in true F&F style, this is no ordinary Gallardo – the mid-engined V10 rocketship is now rocking twin turbos, air-ride, custom Rotiform prototypes, and more sprinkles of stardust than your earthly perceptions can comfortably cope with. We're through the looking glass here, people. The Mad Hatter's sprinkled LSD in your tea and you're seeing weird blue shapes.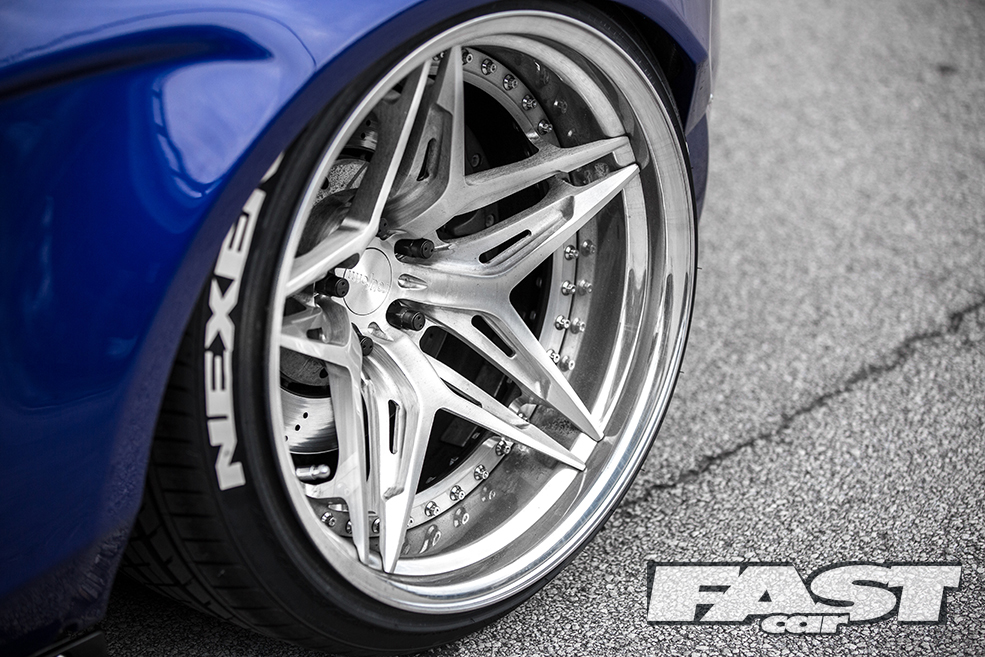 A little context, then, before we dive into the radical nature of the modifications. As a base for a project, the Gallardo is a pretty brutal and savage thing. It's the car that really pushed Lamborghini into the volume-selling mainstream; production ran from 2003-2013 and they shifted over 14,000 units. The first-gen cars, like this one, came stuffed with a 5.0-litre V10 producing a nice round 500bhp. It'd do 0-62mph in 4.2 seconds and go on to 196mph. Standing quarter-mile? An unstressed twelve seconds. Some people may call it the 'baby Lambo', but don't go thinking it's not serious.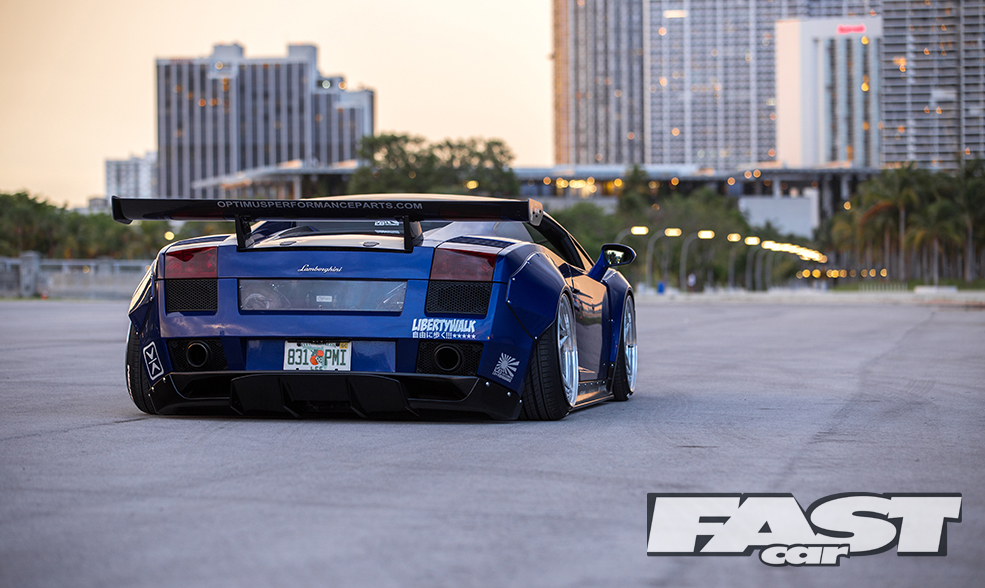 Of course, things can always be made more aggressive. Lower. Wider. Angrier. And, naturally, faster. 500bhp? Pah. How does 700bhp grab you?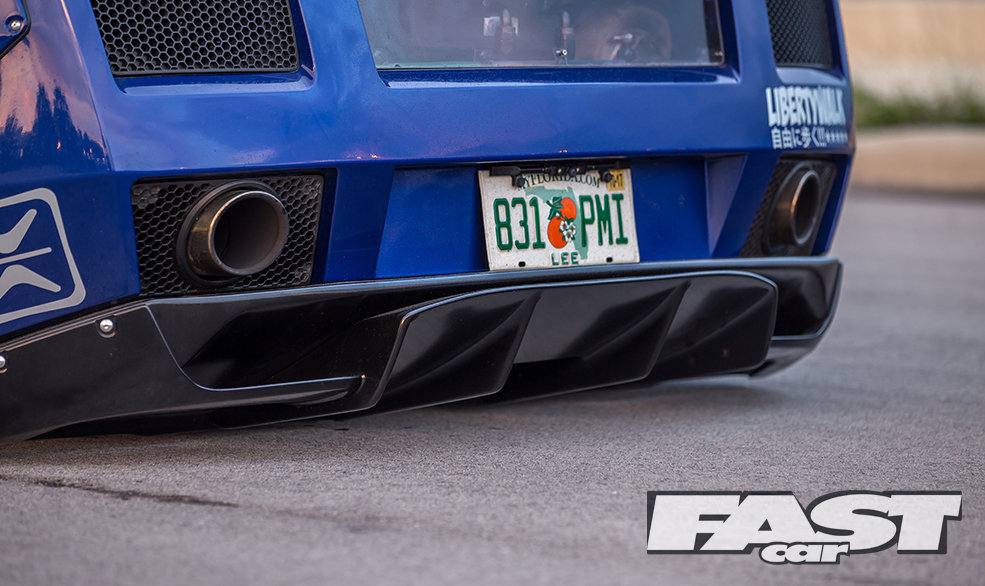 "My history of car modifying has been pretty light to be honest – nothing anywhere near this magnitude," admits the Rambo Lambo's owner, Allen Wasko. If he appears a little dazed and shellshocked, don't be surprised – this is a serious build, and its influence on his day-to-day life is equally serious. "I bought the car completely bone-stock, with 12,000 miles on the clock," he continues, in a tone that's marvelling slightly at quite how he got from that point to this.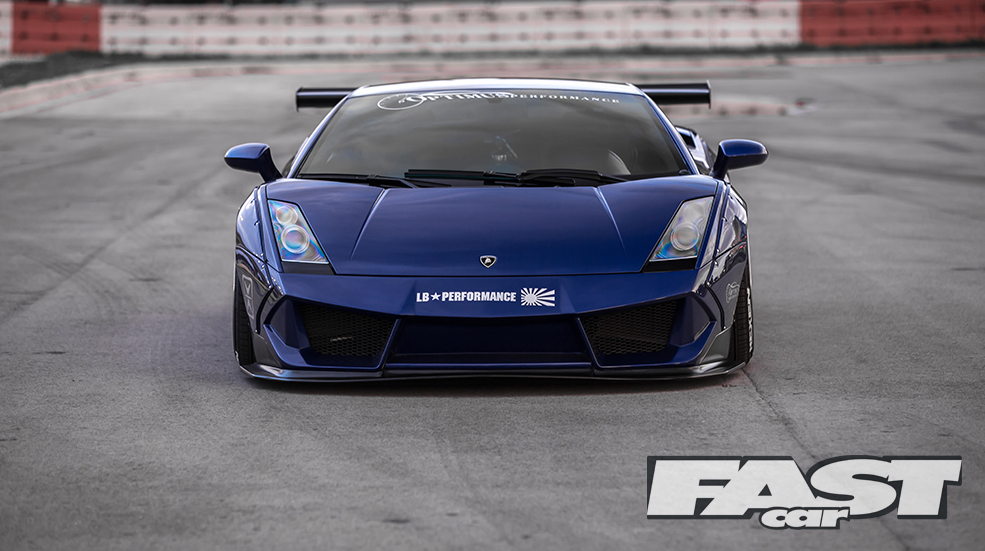 The simple answer to this is that Optimus Performance blew in like a whirlwind and shook the car until it was unrecognisable. This Fort Myers, Florida-based custom shop sure know their way around a hyped-up supercar; indeed, they were the first people in the USA to build a Liberty Walk Gallardo, and what they don't know about fattening the flanks of a raging bull basically isn't worth knowing.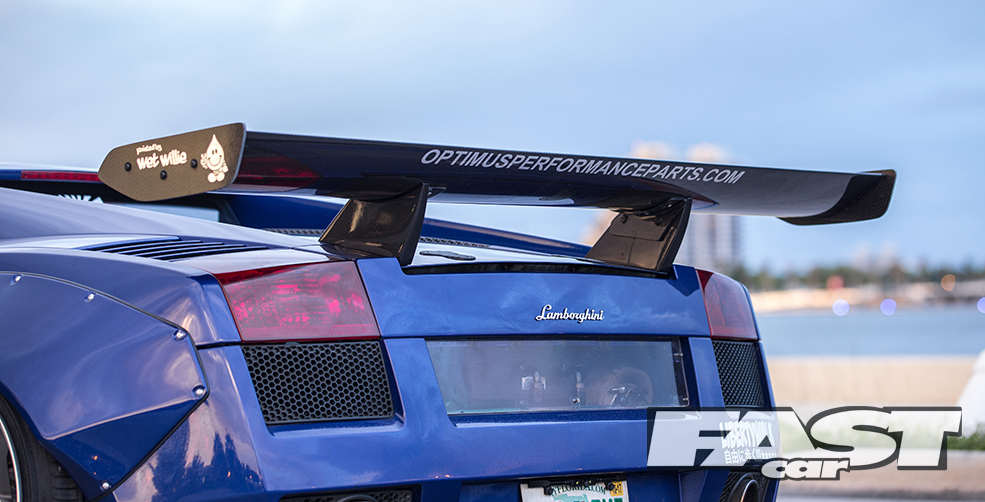 "I never really imagined doing anything like this with my car at first," Allen recalls. "Until, that is, I saw the first LB Lambo that Optimus built – I was absolutely in awe of that car!" And you know how these things go… what's that old saying? 'If there's any doubt, there is no doubt.' It was fait accompli, a done deal, written in the stars. And so Allen's Gallardo, purchased last summer as a completely stock yellow example, began to morph into something celestial.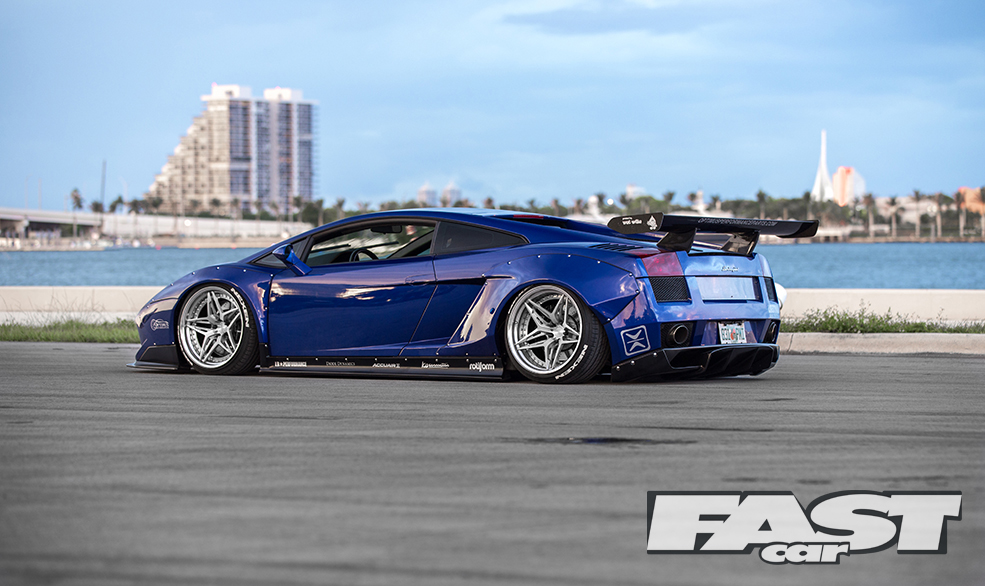 "The car was completely stripped down for the colour change," he says. "It's now in Ultrasonic Blue Mica paint with a custom pink pearl, as laid down by Wet Willie at Optimus Performance. And from there the AccuAir system was added; once all that was in place, the Liberty Walk V2 full carbon-fibre kit was painted and installed."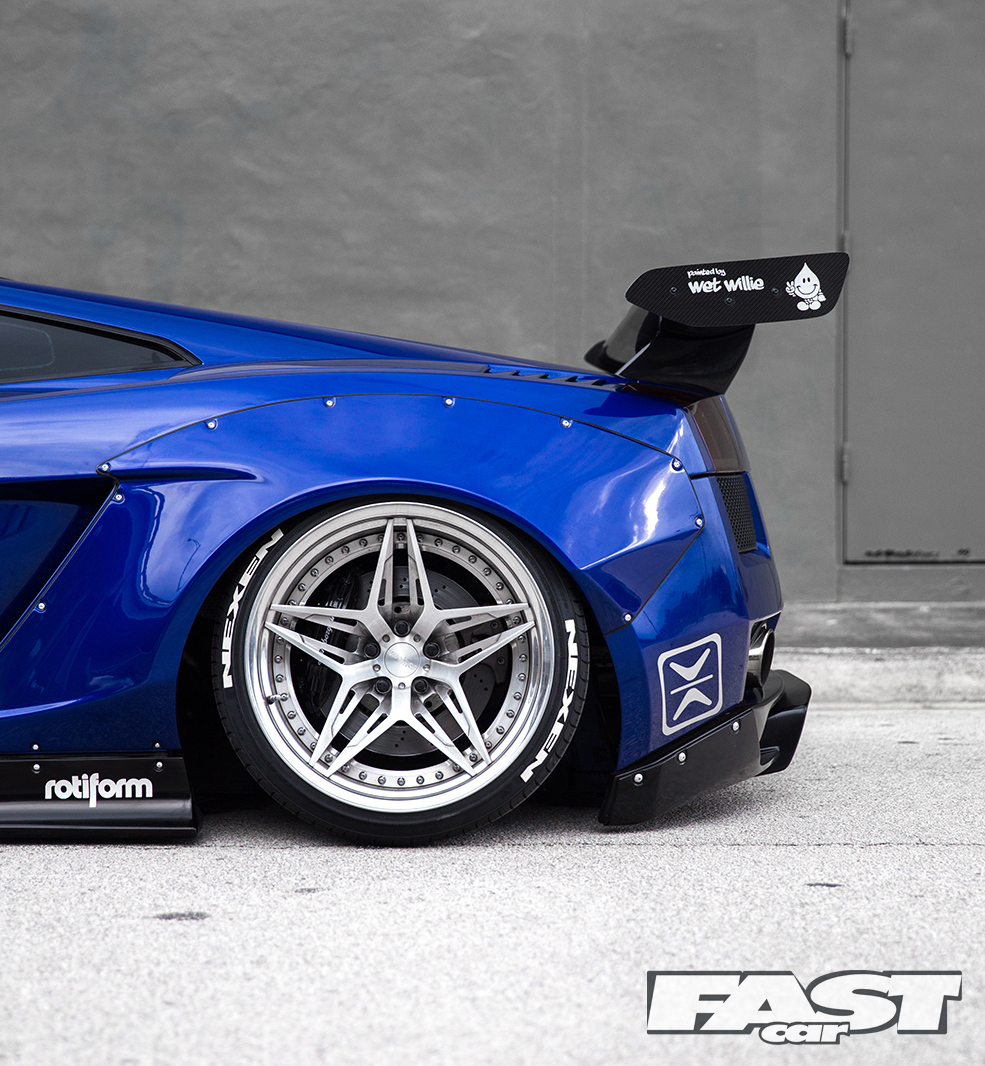 Woah! Slow down, cowboy. Allen's reeling off jaw-dropping mods here like he's drawing up his weekly shopping list, so let's rewind a moment and consider these alterations in turn: the paint? Yep, that's a gorgeous, unique, custom shade that fits neatly into the long-held Lamborghini tradition of slathering their bodies in outrageous colours, while at the same time offering something never before seen.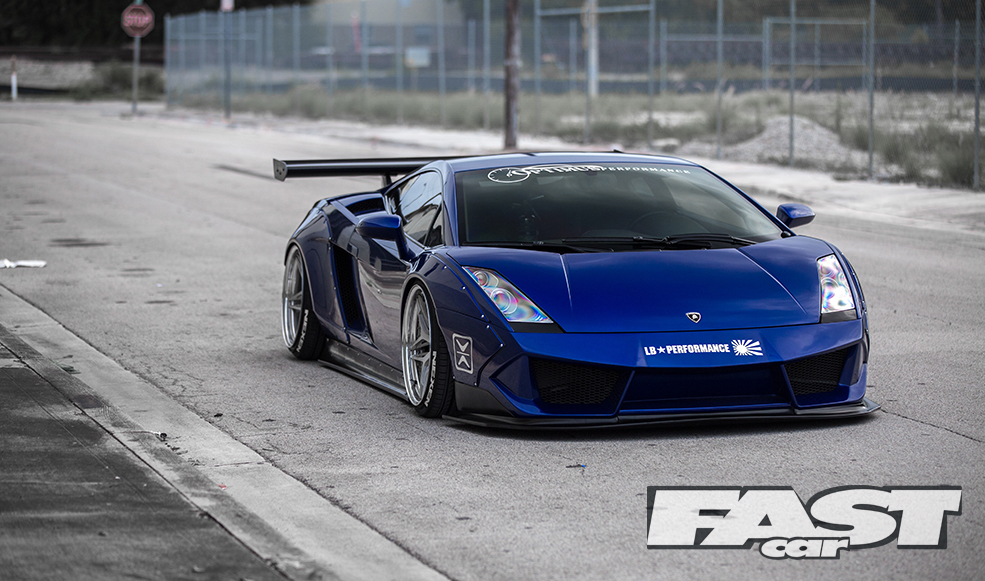 The air-ride – that's something to really get up the purists' noses. Italian stallions are built to be fleet of foot and as nimble as ballerinas, it'll infuriate the old guard no end to find this one PSSSSSHT-ing up and down at the flick of a switch. How brilliantly naughty. And the Liberty Walk kit? That really does speak for itself. Some next-level badass girth with swollen everything and a total absence of compromise.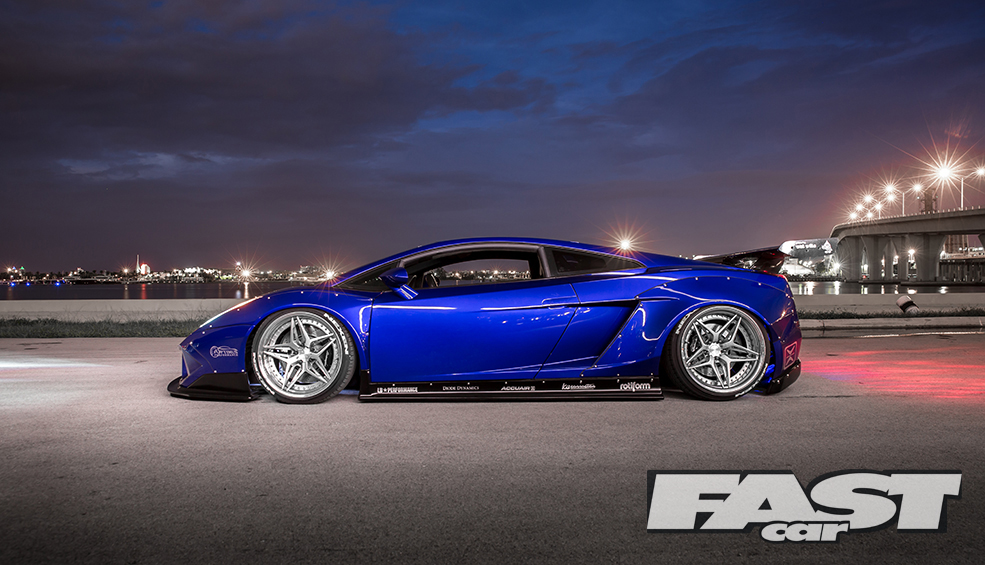 And as if all that wasn't enough, Allen was about to go properly loopy. If you're going all in, you'd better go in hard, right? "In the middle of all of this, I decided to add the twin-turbo system to really set the car apart," he remarks, with admirable affability. "It held the build up for a while, but it was worth the wait." Well, yeah. Obviously. Let's just reiterate that bolstered power figure, shall we? 700bhp. That's the same as a Pagani Huayra, for crying out loud.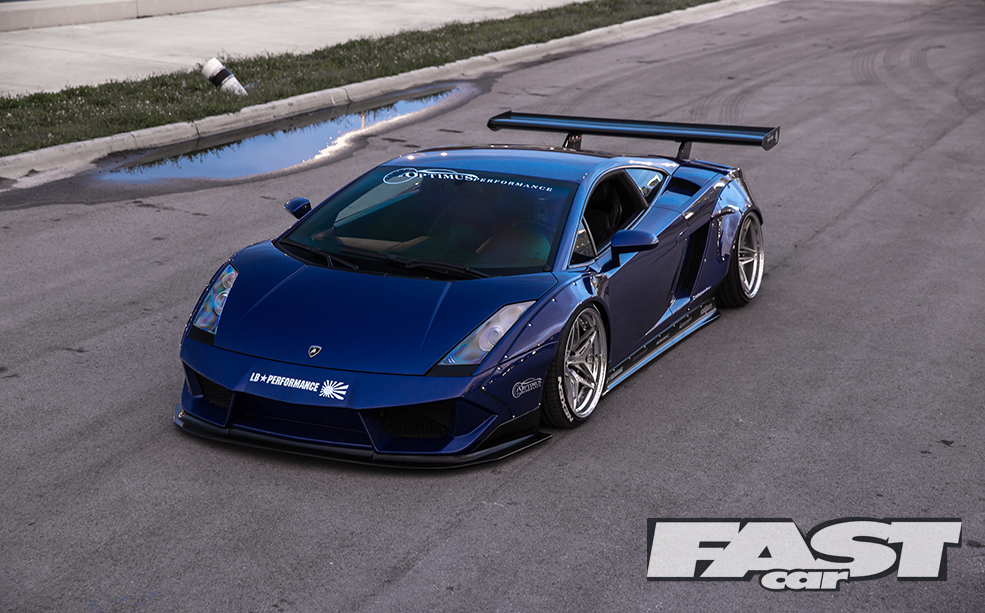 "I have to say the build went very smoothly throughout, as Optimus had built the first Liberty Walk Gallardo in the US so they worked out all kinks on that car," says Allen. "I would have to say the only real hurdle was deciding on the wheels: I really wanted something unique, so Joe from Optimus worked closely with Rotiform, and they designed a brand new wheel for this car – which was better than I ever imagined!"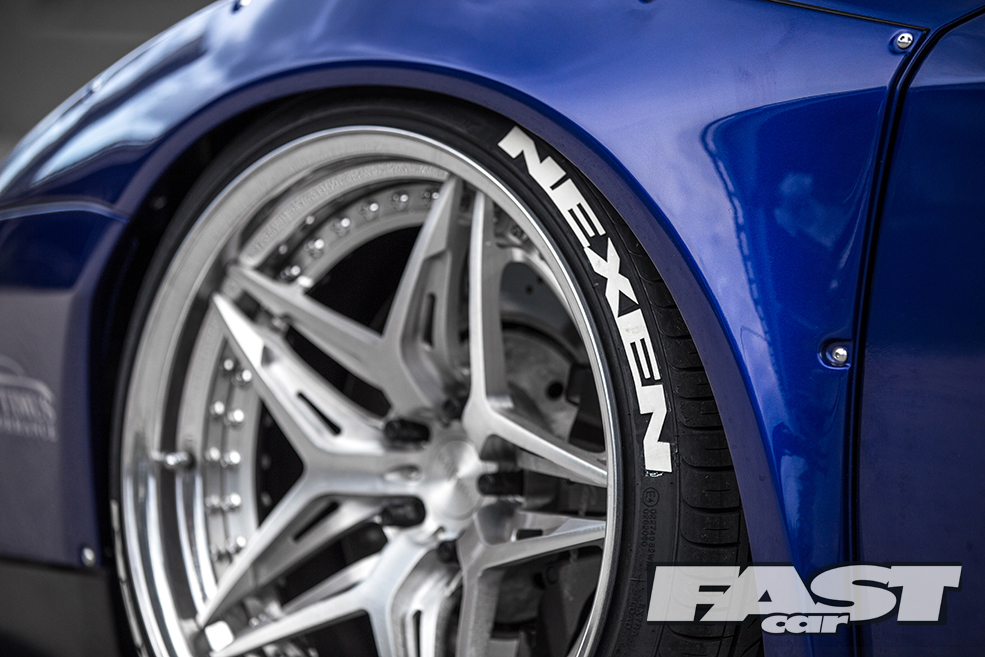 Are you keeping up with all this? A Lambo, with a custom twin-turbo setup, bespoke big-name wheels, oriental widebody kit, and air-ride? This is surely the stuff of Hollywood dreams, no?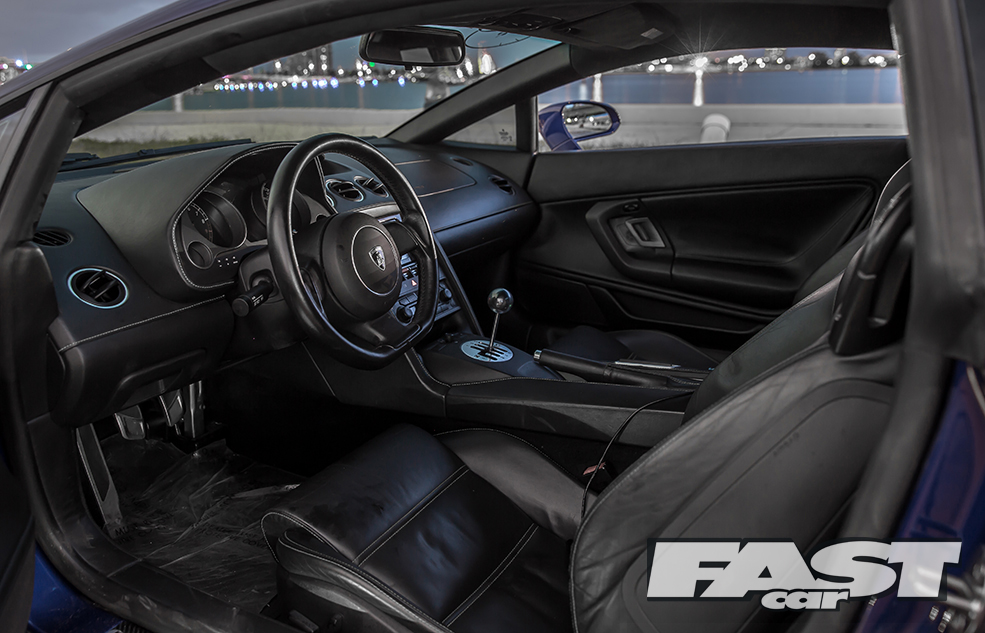 Yes. The answer is a big fat yes. "It's going to appear in the Fast 8 movie next year," Allen reveals, barely able to stop the smile from splitting his face clean in two. "It was on set filming for two weeks in Atlanta, and gained a lot of popularity with the cast and crew. Even the director was absolutely in love with the car, which was exciting to hear as he's worked with some amazing automobiles." This is all very appropriate for such a build, naturally. Something this radical deserves to be on the big screen.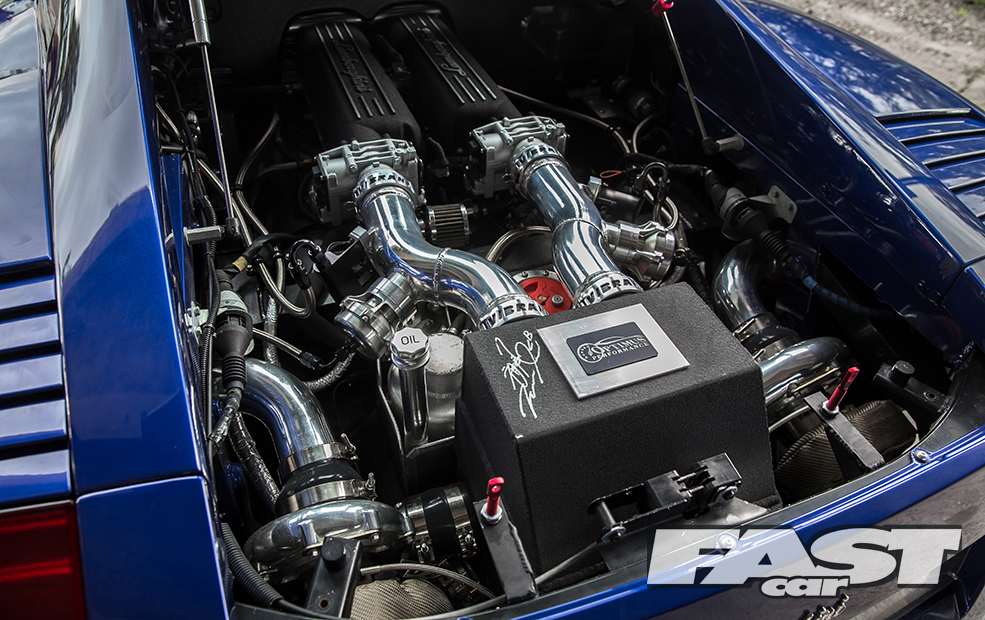 But don't go thinking it sits on a pedestal, all wrapped up in cotton wool. It's still Allen's road car, for daily thrills. "People's reactions are the best part of owning this car," he grins. "Taking pictures and videos, asking about the car, and I always enjoy talking about it! I've loved cars my entire life, and always will, so it's amazing when people share that same feeling I get when I see something cool and different."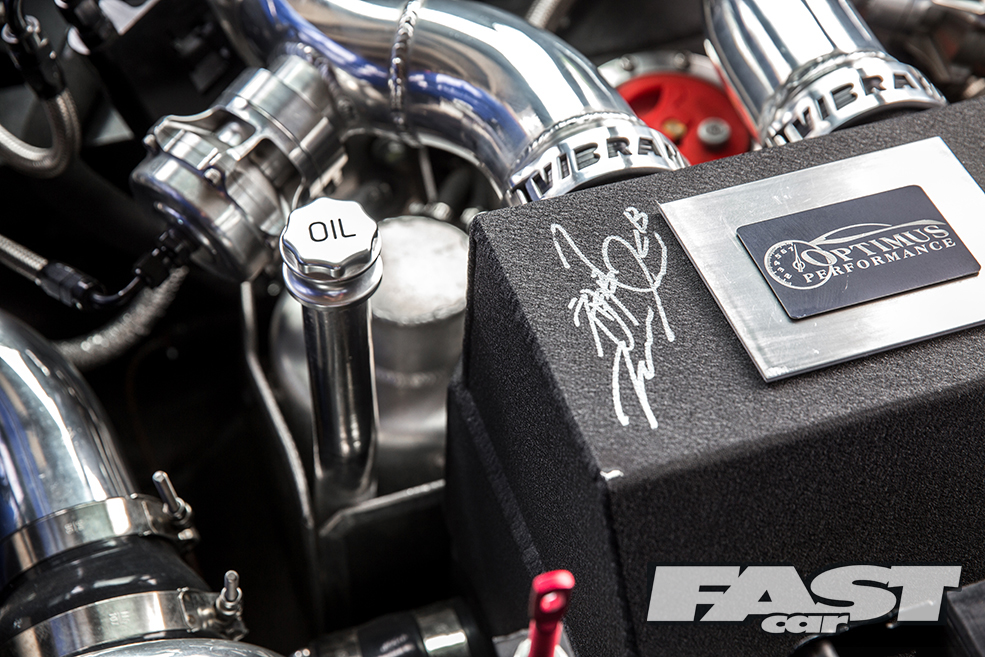 Feeling starstruck then, Allen? Get used to it. If you think you're getting all the attention now, just wait until that movie comes out…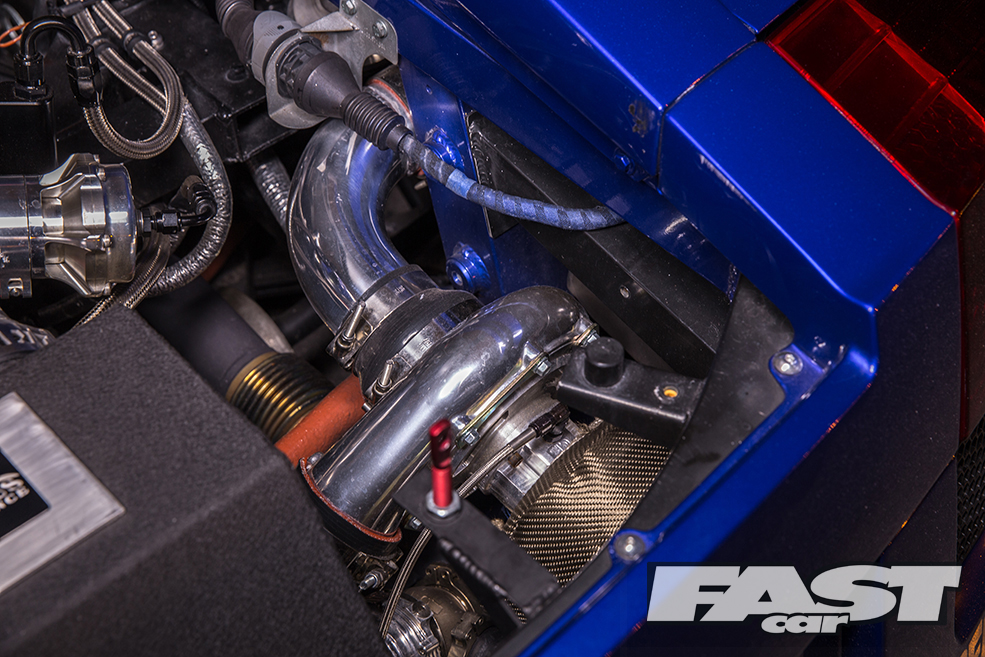 OWNER: ALLEN WASKO
TECH SPEC: LAMBORGHINI GALLARDO
STYLING:
Liberty Walk V2 full carbon-fibre widebody kit, Ultrasonic Blue Mica paint with custom pink pearl .
TUNING:
5.0-litre 90-degree V10, custom Optimus Performance twin-turbo setup with Comp
Turbo CT43X triple ball-bearing turbos, Haltech piggyback SAFC, Steve Pearson tuned, 6-speed manual with twin-disc clutch.
CHASSIS:
Prototype Rotiform VDA wheels, AccuAir air-ride suspension with E-Level management (using bag-over strut setup from Universal Air), front boot air install.
INTERIOR:
Gallardo drama with a custom twist.
Words Daniel Bevis Photos Mike Kuhn