Having spectacularly crashed out of its former life as a Group N rally car, this Escort RS Cosworth track car has enjoyed a masterful rebirth at the hands of MJ Racing – and now it's out there taking names on the track…
Feature first appeared in Fast Ford. Words: Dan Bevis. Photos: Ade Brannan
The idea of being fit for purpose is something that's vital to any successful motorsport project. Every single part of a build needs to be considered for optimal efficiency in order to create favourable results: the weight of your wheels, the position of your fuel tank, the compound of your tyres, the tactility of your gearshift when you're strapped into the seat, these are all elements in the equation that adds up to your position as you roar past the chequered flag. But what if the fundamental purpose of the vehicle in question has been changed to begin with? What if, say, you were taking a rally car and re-imagining it for the track? Does this inherently mean that you'll be starting on the back foot, on a hiding to nothing? Well, not necessarily… and as the team at MJ Racing in Motherwell has proven with this after-hours skunkworks project, if you've got the right people and the right idea, you can create something truly devastating.
The crux of this orange Cossie's genesis was to take a smashed-up Group N rally Escort and rebuild it as an Escort RS Cosworth track car, and it's a project close to the hearts of every single character twirling the spanners at MJ Racing. What's particularly interesting to note with this car is that it's wearing the WRC-spec bodykit, which is a real in-your-face move and something that neatly carries the thread of its rally past through into its circuit-based present and future. The most obvious alteration with the WRC addenda is the switch from the traditional whale-tail to the so-called 'smiley' rear spoiler, but naturally there was far more to it than that. Whack the kettle on, and we'll indulge ourselves in a little history lesson.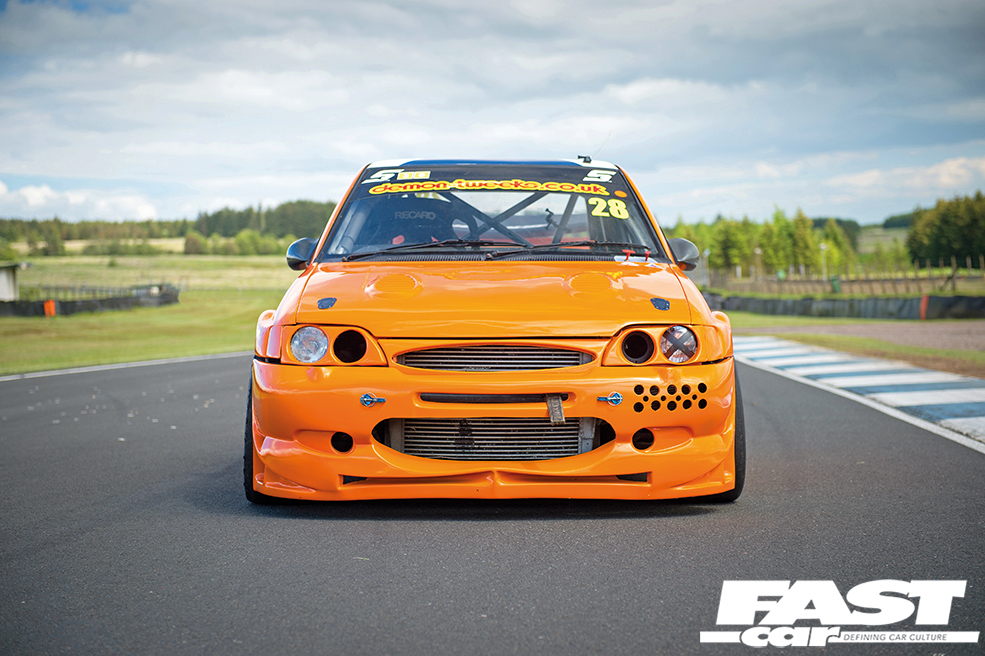 Ready? OK, so first of all it's important to remember that the whole point of the Escort RS Cosworth existing in the first place was motorsport; yes, it's a spectacular road car that's quite rightly passed into the pantheon of aspirational modern classics, but its origins sprang directly from Ford's keenness to get into Group A rallying. Homologation was a necessity for this, and the fact that there's so much Sierra under the skin proves how single-minded the manufacturer was in its focus. The Sierra Sapphire RS Cosworth was already a proven entity in rallying, so a borrowed longitudinal engine and all-wheel-drive system made sense for the Escort. The changes to the works rally cars over the road cars in the showrooms were huge too: we're talking about a seam-welded chassis and a rollcage, a larger intercooler with water injection and external water spray, redesigned suspension to allow all settings to be adjusted on the fly (with liquid-cooled shock absorbers!), 8-pot Brembos, a six-speed sequential gearbox with dual-plate carbon dry clutches… works Cossies were deadly serious. That effervescent YB turbo motor was treated to all manner of motorsport-dictated upgrades, amounting to 300bhp, and this was delivered via an arrangement of three beffed-up differentials… and that was just the original Group A spec. The WRC evolution cars had 330bhp, fancy electronic diffs, multi-link rear suspension, and fully reworked aerodynamics.
And it's this last point that shouts loudest when we switch our focus to the vivid orange creation you see before you: adding the WRC kit ties in an implicit hardcore-ness to anyone who knows their Group A history – the 'smiley' spoiler, the reshaped front bumper, it's a vibe that suggests the ultimate evolution of something that was already pretty well evolved.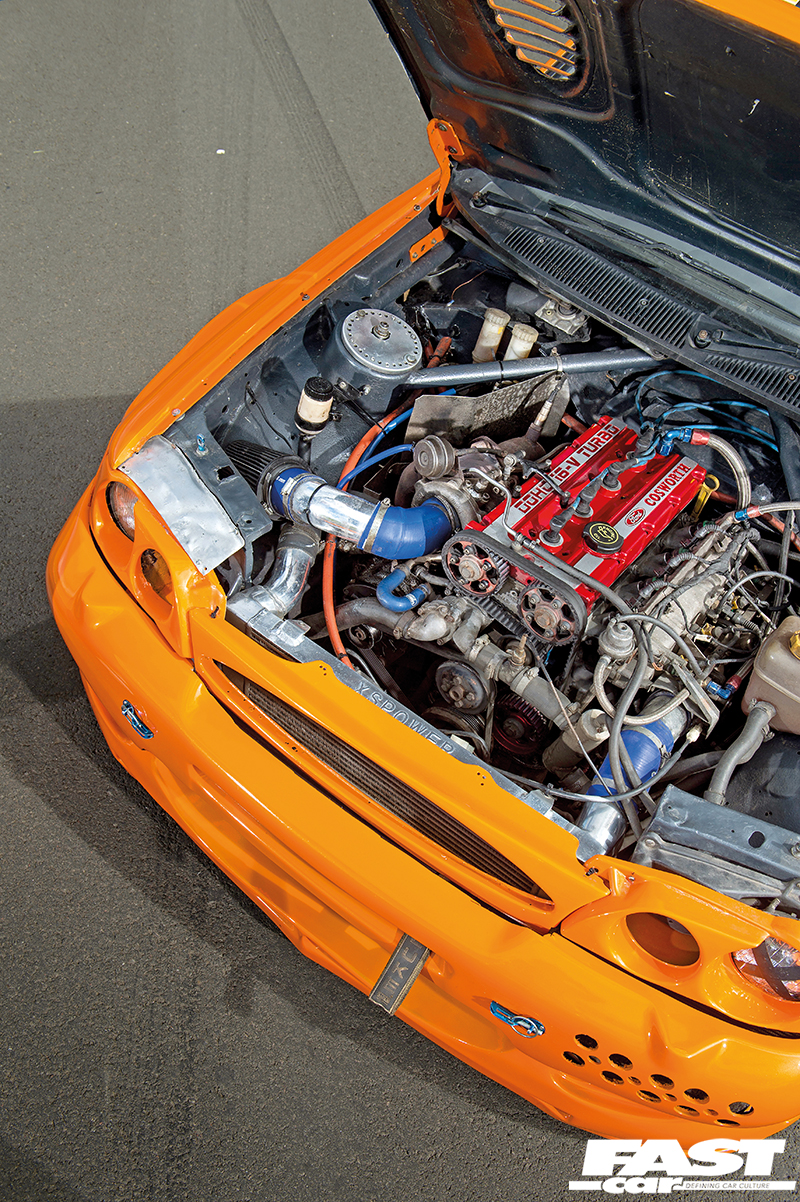 Scott Tollan is the name on the rear windows, and it's he who has the enviable task of manhandling this jaffa-hued monster around the track in ever-heated battles for supremacy. It's ineffably cathartic that the car's turned out to be such an impressive brute, as Scott and the team really did pour their hearts and souls into this project. "We built the car in-house at MJ Racing, from a smashed-up Group N rally car," he says. "Last year we carried out a full bare-shell rebuild, the hardest part of which was simply the fact that we were doing it all at night after work!"
See, this wasn't just an exercise in paying the bills, Scott and the guys did this on their own time out of pure passion for the craft and a keenness to go racing. The expertly straightened and perfected body looks factory fresh, testament to the endless hours of painstaking work involved in getting it all just-so. The WRC kit has been artfully tweaked here and there to make it even more fit for purpose; precision-drilled intake holes in the quick-release front bumper, a cutaway in the rear to aid aerodynamics, and all of it slathered in lurid orange to truly intimidate everyone else on the track.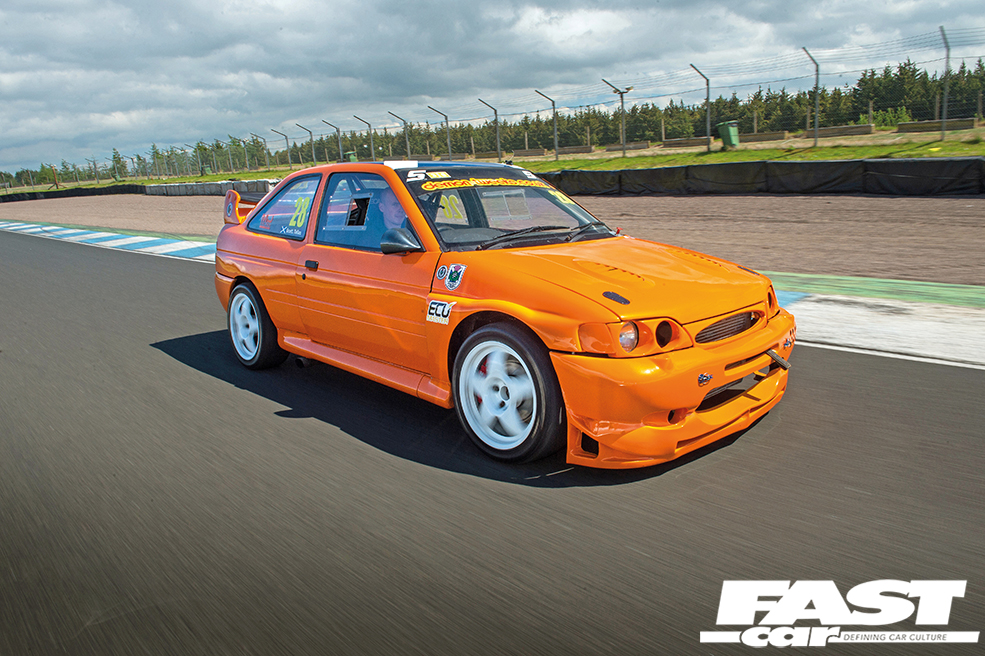 When it came to the Cossie's innards, naturally it would have to be an approach of pure function; asking Scott to talk us through the interior mods, he merely shrugs with a coy grin and says "Well, there's a seat, that's about it." Fair enough, really. But elaborating further, we discover an obsessive approach to weight-saving, with anything superfluous thrown in a skip, the dash lightened and studded with vital gauges, and everything fitted out with a mindset that function is key, and form can follow if it feels like it. We just love the artistically modded handbrake handle, something that'll surely be appearing in a Snap-on catalogue near you in due course, and all of the touchpoints scream pure race car: the 'cage, the extinguisher, the solo bucket and harness. There's absolutely zero ambiguity about what this car's made for, and it ain't bouncing through Welsh forests or skipping between Scandinavian lakes. There's no space for the extra ballast of aco-driver here.
Scott's impressively modest when we quiz him about motive power; "One of the key lessons I've learned from this car is that you don't need crazy power to be fast," he grins, although some might argue that 496bhp is a pretty bonkers figure. Sure, we've become accustomed to seeing YB builds whose vital statistics begin with a six or a seven, but nigh-on five-hundred horses is still hella frantic. Obviously, as is the nature of any competitive race build, the fellas at MJ Racing have to be somewhat clandestine about the details of the engine (you never know which competitors are reading!), but they're able to outline the basics: a full eight-injector setup running greens, a T38 turbo on a 2WD manifold, an RS500 intake, and secret-spec fast road cams and low-comp pistons.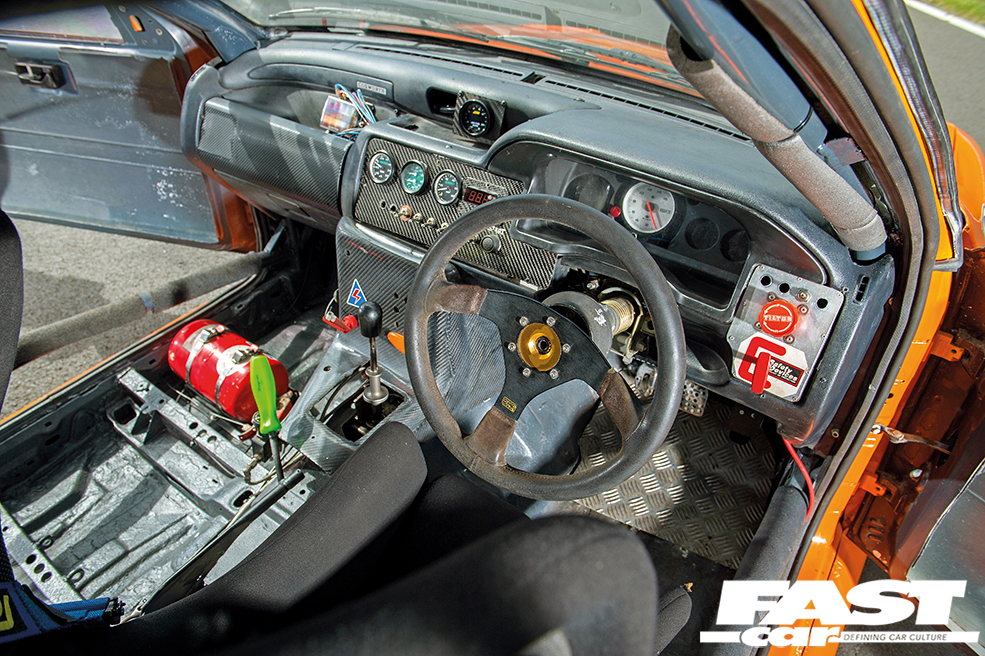 The transmission is less of a mystery, and its specs read like a who's-who of aspirational mods for any and every Cosworth owner out there: an R&D dog 'box with dogleg 1st gear, MJ Racing's own strengthened front diff, and a 7.5in rear with 3.9 gears. This all works hand-in-hand with a chassis setup that deviates from the ultra-premium and eye-wateringly expensive arrangement of the works WRC cars; instead, this Cossie's underpinnings wear a sort of greatest-hits of more readily available componentry. Bilstein coilovers join Group A front arms and compression struts, and a square rear beam with mag arms – it's a combination familiar to many a fast-road Cosworth owner, and it translates very well to the track.
The overall impression given by the specs of this RS is one of correctness; this may have all been bolted together under cover of darkness by a team who'd already pulled a full day's work before getting started on the side project each night, but it's obvious from every inch of it that firstly, they really know what they're doing when it comes to race car setup, and secondly, there have been no punches pulled here. Everything has been done absolutely correctly. "We were working so hard through the nights to get it ready for the start of the next race season," Scott explains. "And it was well worth it – we won class A1 in the Scottish Sports and Saloons series in 2019, and the car finished every single race. So we must have done something right in building it!"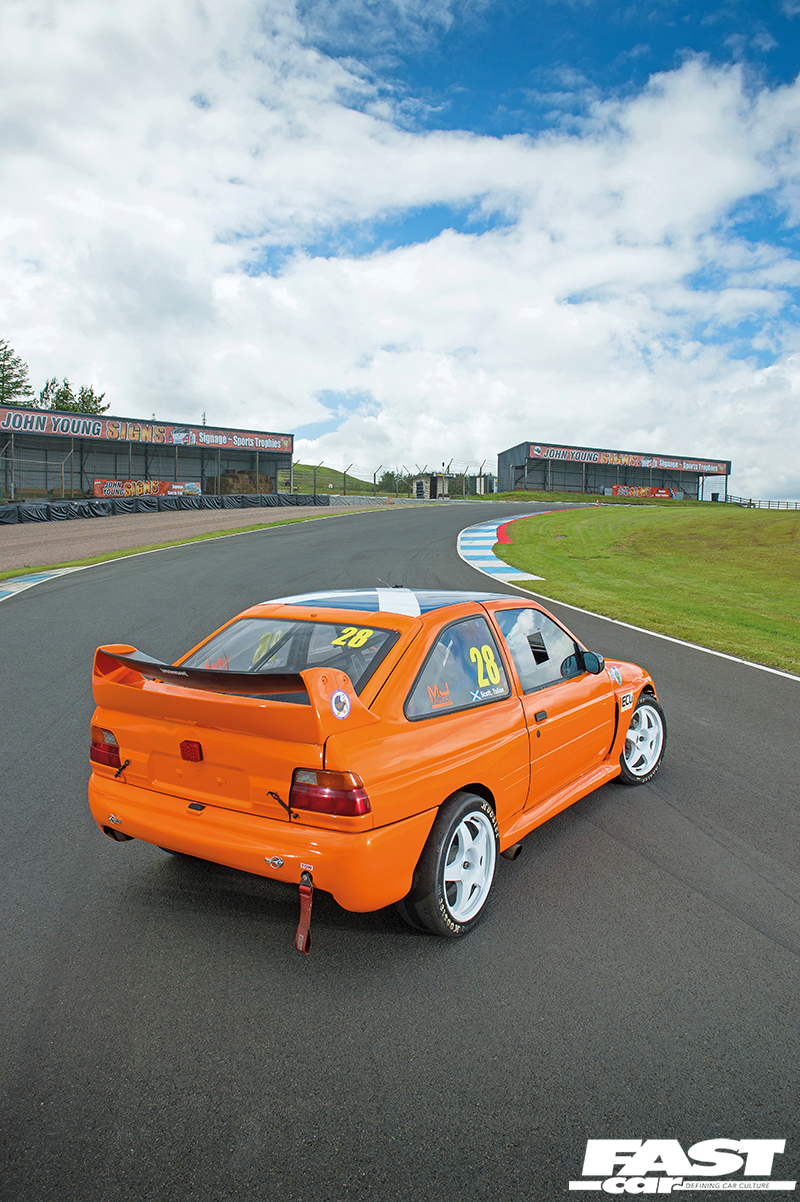 Scott's modesty here is huge. The result of MJ Racing's late-night endeavours is a truly world-class Escort RS Cosworth track car build, cleverly reframing the very nature of a car designed for rallying and making it eminently successful on the track. We're looking forward to seeing how much silverware it scoops.
Tech Spec: Escort RS Cosworth track car
Engine:
MJ Racing-built 4×4 Cosworth YB, RS500 intake, 8x green injectors, T38 turbo, 2WD exhaust manifold, low-comp pistons, fast road cams, side-exit exhaust system
Power:
496bhp
Transmission:
R&D dog 'box with dogleg 1st gear, MJ Racing strengthened front diff, 7.5in rear diff with 3.9:1 final drive
Suspension:
Bilstein coilovers, Group A front arms and compression struts, Group A square rear beam with magnesium arms
Brakes:
6-pot Alcon fronts, 4-pot AP Racing rears, hydraulic handbrake
Wheels & Tyres:
17in Compomotive MO5 wheels with slicks (or magnesium OZ wheels with wets)
Exterior:
WRC bodykit, front bumper drilled, Morettes with air intakes, polycarbonate windows, aerocatches, cutaway rear bumper, rain light
Interior:
Fully stripped, Recaro seat and harness, full rollcage, lightened dash with carbon fibre inserts, fire extinguisher, killswitch, OMP steering wheel, custom modded handbrake handle, RaceTech gauges, AEM air/fuel gauge, boot-mounted fuel cell