It took a while for Wayne Durose's drag Impreza STI to come together, thanks to a variety of inexpert tuners messing it about. But with the expertise of Scoobyclinic coming to the rescue, the Subaru named 'PANIC!!' is ready to cause sweaty palms around the paddock…
In Greek mythology, Pan was the god of the wild; a humanoid entity with the legs and horns of a goat, a huge sex drive and a penchant for making occasional loud noises. It's from his name that we derive the word 'panic' – the story goes that Pan was, in general, a pretty chilled out and relaxed sort of character, who would amble through the woodlands playing a pipe and being at one with nature… but when he awakened from his midday nap, he'd wake with such a start that he'd yell out incredibly loudly and cause all the local flocks to stampede.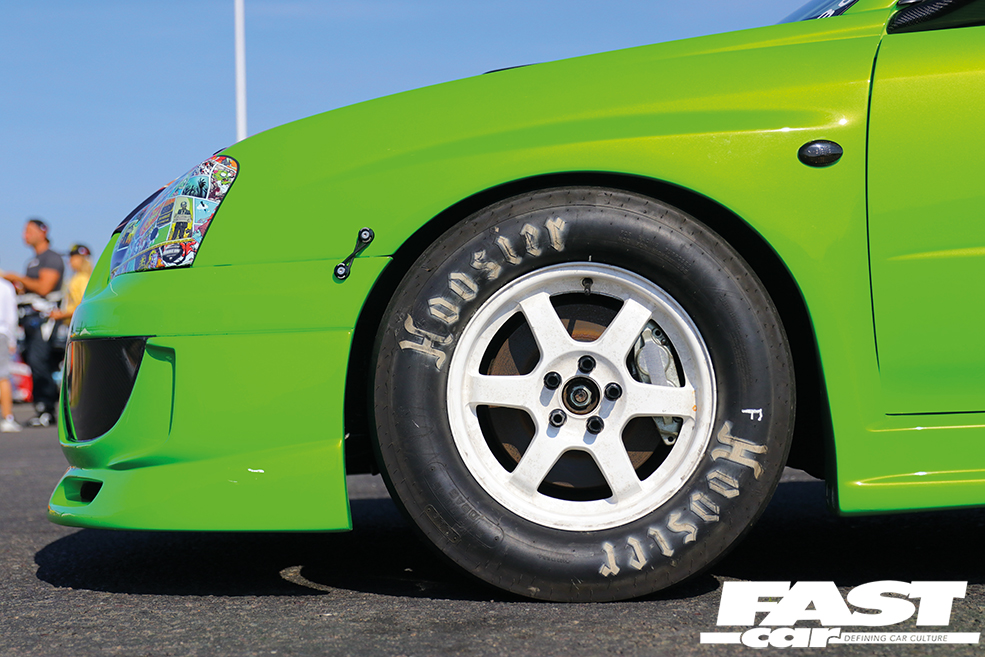 It seems rather appropriate that this raucous drag Impreza STI should be wearing its nickname, PANIC!!, so boldly and broadly. Sure, it's relatively calm when it's at a standstill, as any car is, but when Wayne Durose fires up that mighty drag-spec motor, all hell immediately breaks loose and the local fauna scarpers for the hills. It's a potent and virile machine, packing huge swells of power and clear animalistic tendencies, and the manner in which it's been engineered to trebuchet itself from point A to the hazy point B a quarter-mile away is liable to startle the livestock and make all sorts of unexpected loud noises.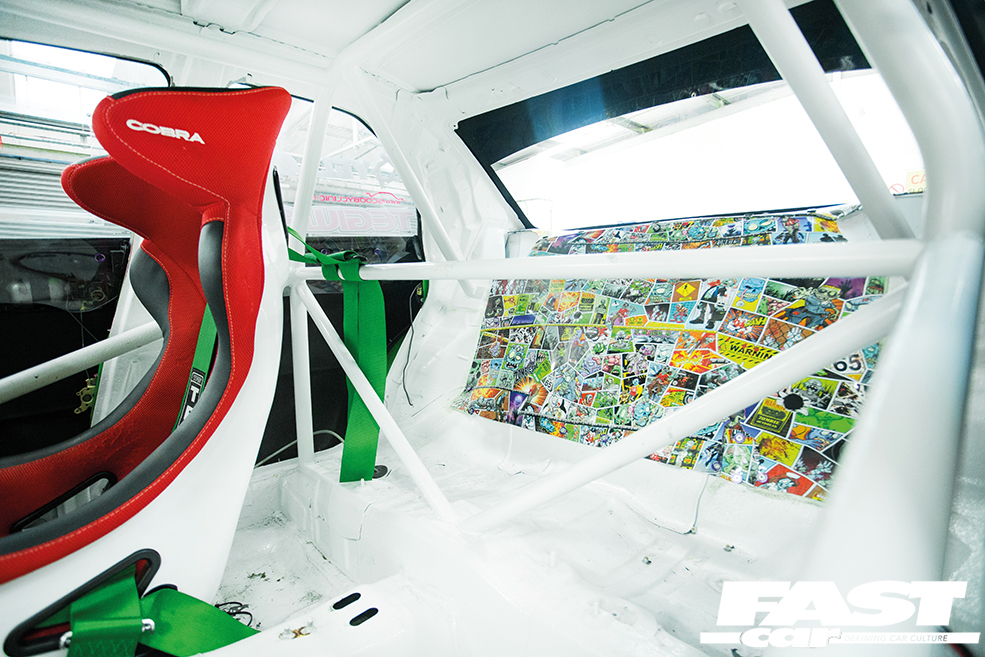 Now, it's in the bones of a drag build to meet the odd hurdle and stumbling block along the way, because the very essence of piecing together such a machine inherently urges those in question to push the boundaries of what's possible; if it was easy then everybody would do it. However, in the pursuit of these high-octane thrills, Wayne encountered perhaps more setbacks than most. Kev Knight at Scoobyclinic picks up the story: "Wayne brought the car to us after three years of being messed around by a so-called 'specialist'; they couldn't get the car running so they farmed it out to another so-called 'specialist', and they in turn passed it on to somebody else, until ultimately Wayne brought it here for us to undo everything that had been done and start again."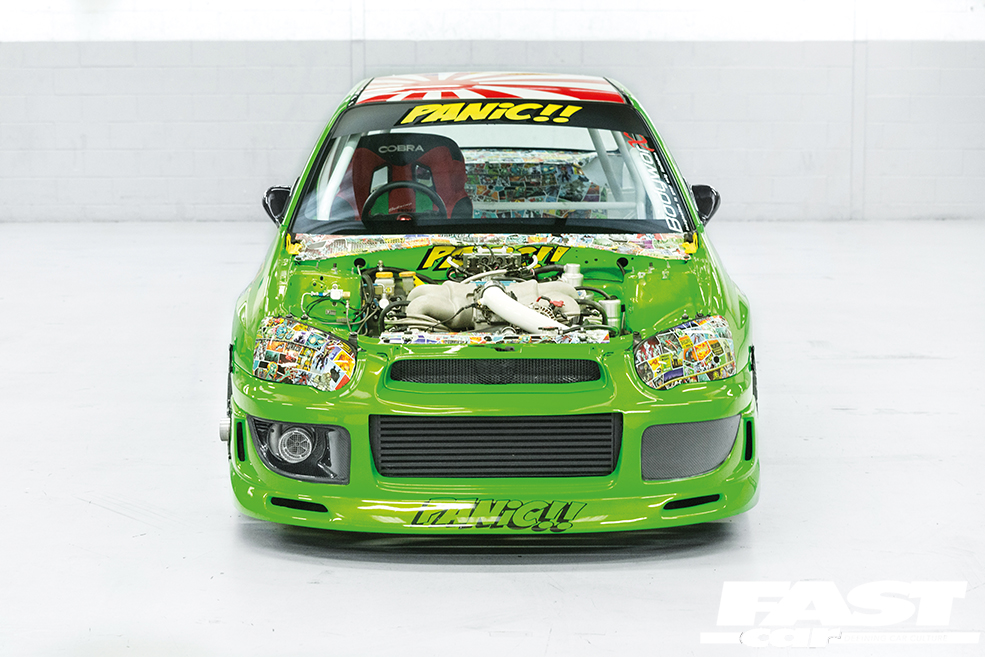 Let's just take a moment to consider the nature of Scoobyclinic, and why they're such a wise choice to entrust a build like this. The company was set up thirty years ago, way back in 1989, to restore and tune cars, and in 1993 the decision was made to focus on the Subaru brand. Since then their prowess has grown in line with their expertise, and the Scoobyclinic name has been involved in more feature cars and motorsport builds than we can count; Time Attack, rallycross, ice racing – you name it, they've had a hand in it. "We love the Gymkhana Grid and Fueltopia Challenge, winning year-on-year and competing with the big boys like Ken Block and Petter Solberg," says Kev. "And of course there's the dragstrip work; our own drag car held the record as the fastest four-cylinder manual Subaru in the world, and we aim to get that record back." Fair to say these guys know their onions when it comes to the Stars of Pleiades then, and Wayne was definitely on to a winner when he trailered in his non-functioning drag project with a pleading look in his eyes.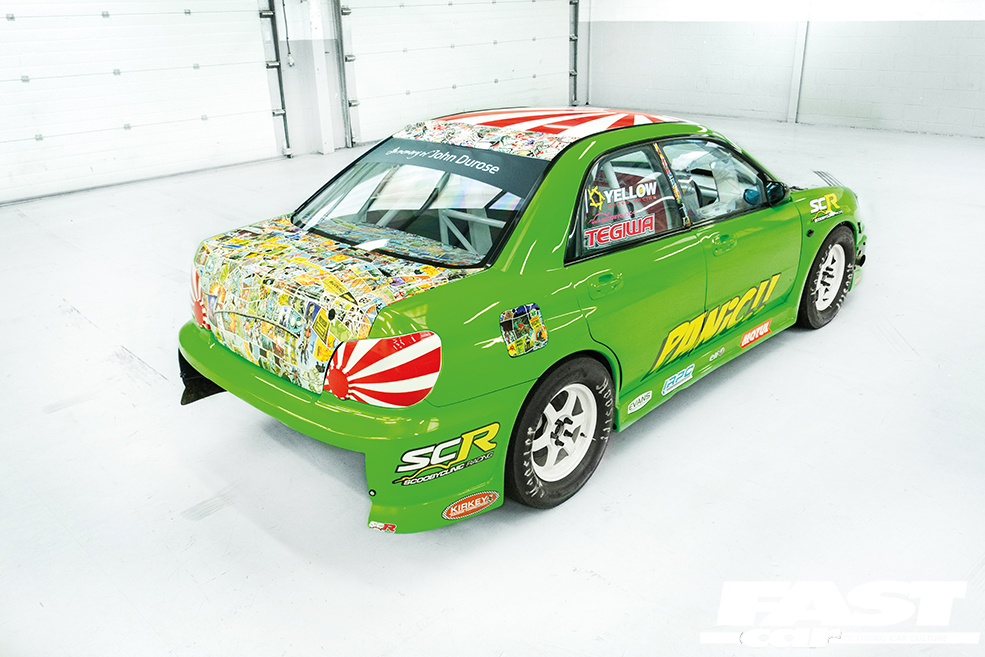 "The car was in pretty poor condition when it arrived with us," Kev continues. "There was damage to the offside front wing, countless scuffs and scratches, and most importantly it wasn't running! After those various other garages had been messing with it, it was nowhere near ready to run – we had to start again from the beginning. The first job was to remove the turbo and pour half a litre of water out of it! Once that was removed – which wasn't hard to do as it was only held on with two out of the four bolts – it was clear to see that it was butt up against a plastic sensor on the sequential gearbox; if it had been fired up it would have melted the sensor immediately, so a decision was made to relocate the turbo." This required a certain amount of ingenuity, but creative engineering solutions are very much Scoobyclinic's modus operandi. You'll also have spotted reference to the unusual transmission there; the fact of the matter is that, despite those previous garages' ham-fisted attempts to get the car running, the spec Wayne had cherry-picked for drag duties is formidable. The gearbox is a Modena six-speed close-ratio sequential affair, while the engine itself is an EJ22 that's been stroked out to 2.35-litres. It's fully forged with a closed deck block, and Kev and the team have crafted a custom CNC-machined fuel manifold with 8-injector setup and twin fuel pressure regulators and sensors. Managed by a smart Syvecs S6+ ECU, the current power figure is a meaty 730bhp – although this is conservative, and there's plenty more to come.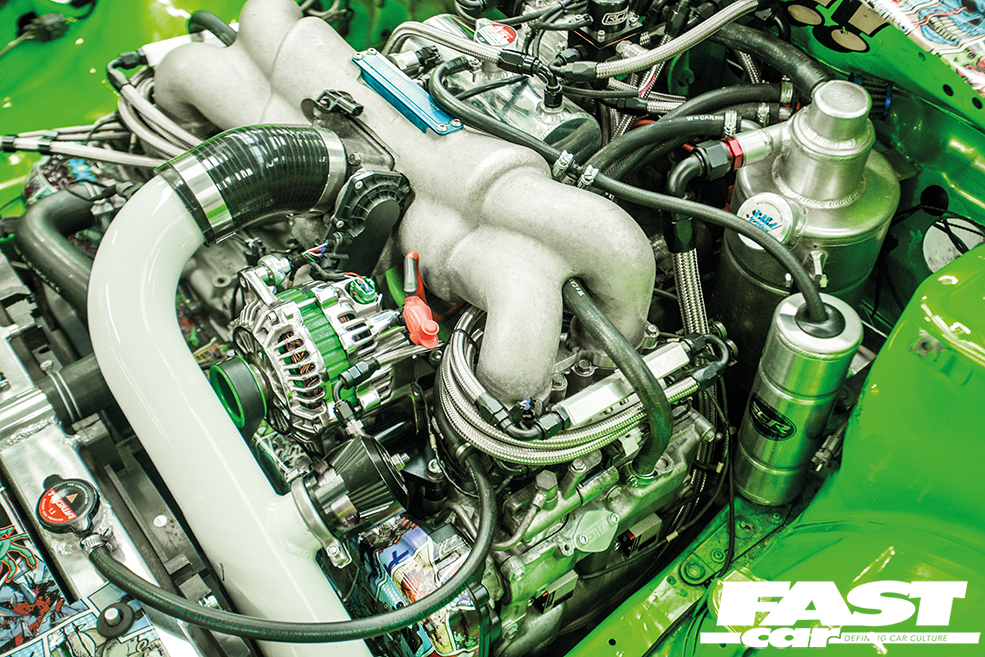 Indeed, the drag Impreza STI specs are a work in progress which should prove thoroughly interesting to watch unfurling over the coming months. The chassis sports a variety of tasty upgrades, including some substantial bracing and a bunch of adjustable goodies from Hardrace, but a simple coilover setup is in situ for now while the car's testing; there's a possibility of Yellowspeed (via Tegiwa) throwing their hat in the sponsorship ring with some drag-spec coilovers, although this will all be addressed following shakedowns and electronic setup at Santa Pod. The car's at the stage whereby everything's being very carefully monitored and subtly tweaked and uprated with scientific efficiency; it's almost funny to think of a car running 730bhp to be in its base state of tune, but that just speaks volumes of what a monster this blobeye Scoob is finally becoming. "The Syvecs ECU running the engine and sequential gearbox has all sorts of sensors streaming in," says Kev. "Oil pressure, oil temp, water temp, air temp, fuel pressure – all programmed to set RPM trips in the event of any sensor going out of our pre-set parameters." It's a machine of pure focus, and that's particularly evident in the interior.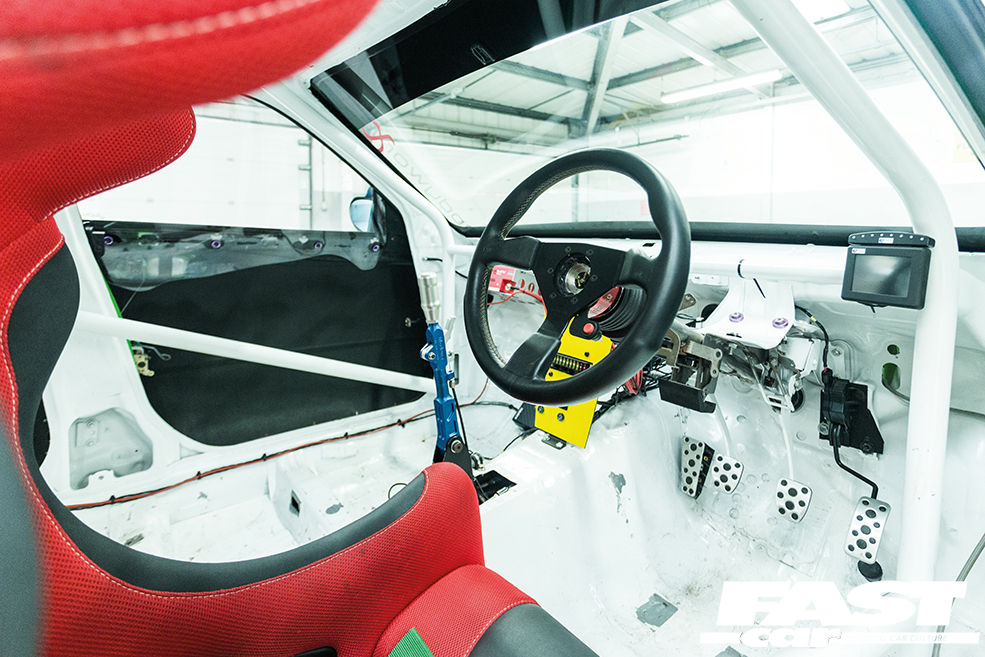 Open the passenger door and peer through, and you're confronted by a scene similar to the one in Family Guy when Stewie and Brian transport themselves outside of the space-time continuum (or the 'White Christmas' episode of Black Mirror) – essentially, a clinical and featureless white void with just one sole focus point: in this case, a lipstick-red Cobra bucket seat. Scan slightly to the left and you spot the towering sequential shifter; to the right, and you see an incongruous splash of colour in the form of a swathe of zombie-themed stickerbombing – a theme which continues to the exterior in assorted details along with the custom paintwork. Focused it may be, but this build is also a riot of detail.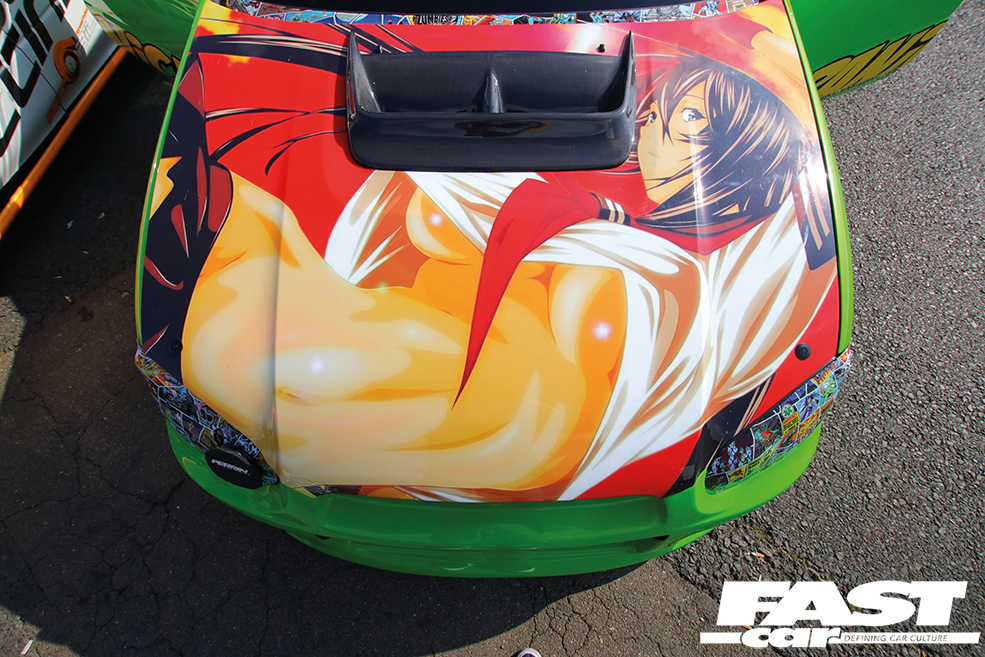 "The car already has a huge following," Kev grins. "Wayne plans to drag-race it at every possible opportunity, hence the test-and-tune day at Santa Pod where we did one of the two photoshoots – so we can get the car ready to compete as soon as possible. If we don't break it!"
There's a lot of testing to be done to get the car perfect, and Wayne will need plenty of seat time in order to learn its ways and be able to exploit it to the full – but after three years of being messed about by inferior tuners, Wayne doesn't mind the extra lead times at all. Scoobyclinic will get this done right, and then we'll be seeing PANIC!! dominating dragstrips up and down the country. It may not have a soothingly melodious pipe or the horns of a goat, but this drag Impreza STI is very much living out the idiosyncrasies of its mythological Greek namesake: one unexpected burst of noise, and everybody scatters. By the time they regroup, they'll almost certainly find that Wayne's posting some world-class quarter-mile times. We just can't wait to see what he does.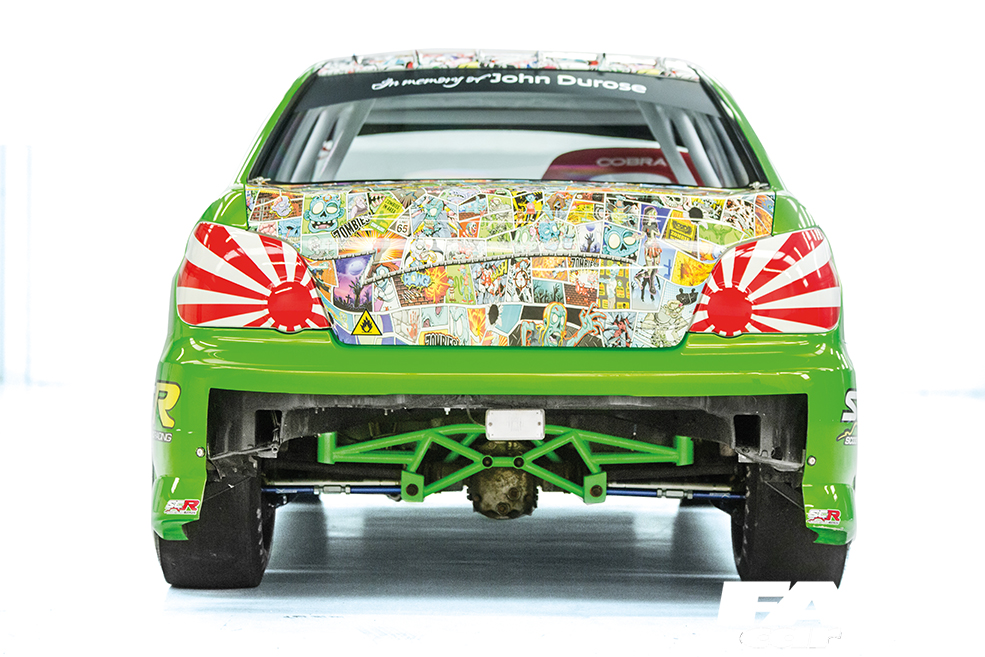 Tech Spec: Drag Impreza STI
Engine:
EJ22 2.2-litre boxer – stroked to 2.35-litres, fully forged, closed deck block, custom fuel manifold with 8-injector setup, twin FPRs and sensors, relocated Garrett T04 turbo, Syvecs S6+ ECU, custom fuel setup in boot, Modena six-speed close-ratio sequential transmission
Chassis:
15-inch drag wheels, 26/9 Hoosier drag slicks, stock Subaru 4-pot brakes and basic coilover setup for testing, chassis bracing, Hardrace adjustable arms
Interior:
Fully stripped, Cobra bucket seat and harness, weld-in rollcage, custom control panel, Toucan touch-screen display
Exterior:
Custom green, carbon bonnet intake, carbon foglight blanks with turbo intake, carbon mirrors, custom headlight/taillight graphics, de-spoilered rear, hydro-dipped stickerbombing and custom PANIC!! Graphics
Feature taken from Banzai magazine. Words: Joe Partridge. Photos: Chris Presley & Adam Rous