With its wild styling, custom metal wide-body and hints of everything from Mad Max to steampunk, this custom BMW E21 is not for the faint-hearted but that's exactly what makes it so good.
Feature from Performance BMW. Words: Elizabeth de Latour. Photos: Mattias "Johlsson" Olsson.
The BMW E21 might not be as prolific as the E30 on the modded BM scene, but as the first-gen 3 Series, it could not be a more important car if it tried and it's responsible for creating a model that would go on to rule the world. The reason we don't see that many examples about is down to the fact that, with it being a car from the 1970s, age has taken its toll on a lot of them and along with that prices have been creeping up for good ones, making it a less accessible classic BM, plus the E30 is just more popular. The E21s that do appear on the scene, however, are never anything less than awesome and Christoffer Åström's (@custom_by_coffa) wild, custom BMW E21 build is absolutely that.
Coffa, as he's better known, hails from Sweden and works with cars as a painter, sheet metal worker and plastic repairer, all of which means he has the perfect skill set for modding and that's handy because that's exactly what he loves to do, with BMs being a big part of his life. "I bought my first BMW when I was 18 years old and after that BMWs have always had a special spot in my heart. My very first one was an E30 323i two-door, I loved the sound of the M20 engine, the E30 body and how it felt to drive. When it comes to engine noises, it is the best straight-six in my opinion," he smiles and he's preaching to the choir. It comes as no surprise, therefore, to learn that Coffa currently has three BMWs in his possession – an F31 320d that serves as his daily, a 1990 E30 320i and this full-on E21, but he's owned plenty of cars in his time and he's also modded just about every single one of them. "I have built a few different cars; some notable ones are an Opel Astra with a supercharger, an Opel Ascona A turbo with 406hp built to be completely street legal, a Nissan Skyline with 513hp, a fully restored 1967 Pontiac GTO, a BMW E30 and then several different cars built for competing in car audio competitions, like a Fiat Panda. I have also helped to build drift cars, drag cars and a lot more. I could say that I put a personal touch on all my vehicles," he grins and he's not kidding, as you can see…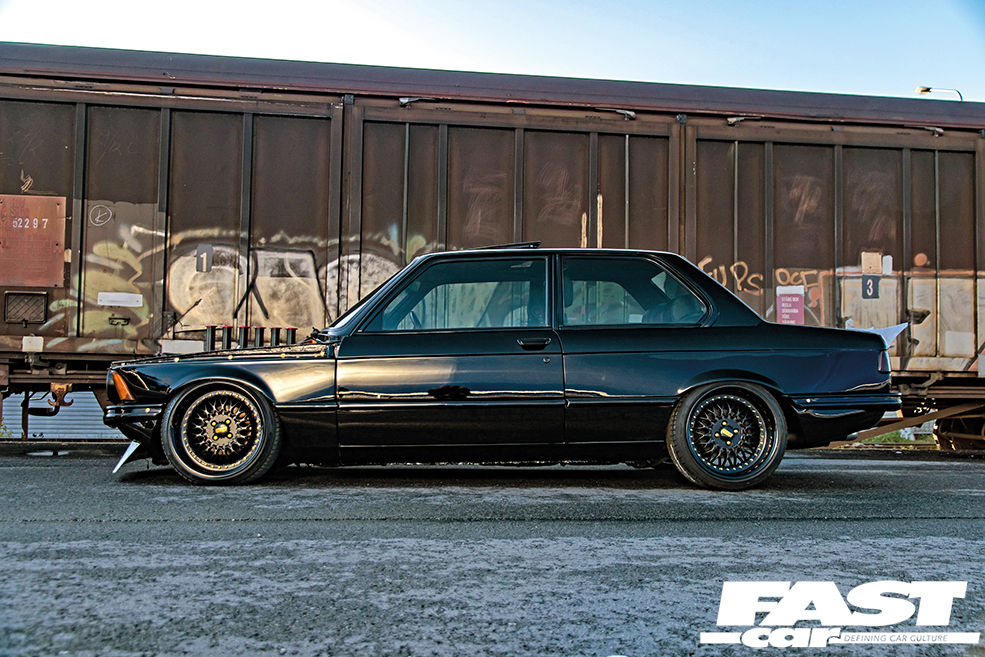 "I felt I had an idea of how I wanted to see an E21 for a long time. This model has not received that much attention since everyone wants to build the E30," Coffa explains as he talks about this build and that's very true but if anyone could give the first-gen 3 Series the love it deserves, it was him. "A friend of mine had this car for many years without doing anything with it. The car was still standing on tyres made for ice racing when I saw it parked in the back of the garage, all dusty and dirty. I asked if I could buy it from him if I promised to take care of it. He thought I was just the right person, so we shook hands and the car was mine. When I bought the car, the engine had a broken crankshaft, the body was quite damaged from ice racing and it was overall in terrible condition," says Coffa, but with an idea in mind to create something truly spectacular none of that mattered. "While everyone was wondering why I would buy this ugly and battle-worn car, I had a clear picture in my head what it would look like when I finished it. The car is built according to my own ideas. I have mixed the looks and used the ideas of racing, hotrod and modern stance cars but I wanted it to look like it has a lot of attitude," he grins and he's absolutely achieved that.
When faced with a build of this scale it's always kind of hard to know where to start so we might as well start where Coffa did, and that was with the engine. With its broken crank, it was in no fit state to provide any propulsion and so he pulled it out and set about rebuilding it, naturally, making it better in the process. "The engine is an M20B23 which has been stroked and bored to 2.7-litres. I added high-compression pistons, reduced the size of the combustion chambers in the cylinder head, added a Schrick camshaft and valve springs and Mira valve seats with an extra angle for better flow. I fitted triple Weber IDH 44mm carburettors with custom velocity stacks and I've also got custom-built exhaust manifolds, manufactured by Robert and Per Ajden," says Coffa. That's an impressive spec but the engine itself and the engine bay it sits in are truly spectacular. "Before mounting the engine, I cleaned up the engine bay by removing all unnecessary wiring, holes, mountings for reservoirs etc. then I painted it in a red candy colour over a gold flake base," and the end result is awesome. The M20 itself has an air of steampunk about it, with those custom red-topped stacks and those beautifully wound copper fuel lines. The engine has been painted black while the exhaust manifold is a work of art and that combo of candy red over gold flake is just dazzling, while the short bonnet ensures everyone, everywhere can appreciate it. If this E21 makes a statement in itself, the engine is a statement on top of a statement and it's a fitting centrepiece for this wild machine.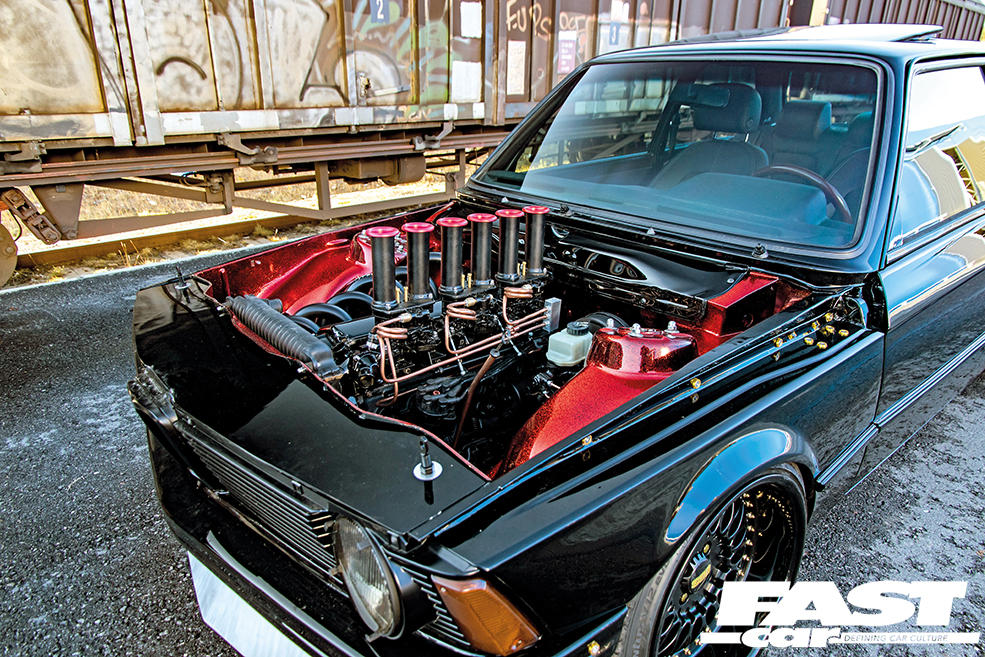 Once you get over the sight of those stacks sticking up past the front wings the next thing that hits you is just the way this whole car looks and it's truly insane. Coffa says that he wanted to create something that combined the themes of a racing car, hot rod and modern stance car but we're also picking up Mad Max vibes and the whole thing is just wild and certainly delivers the attitude he was aiming for. Before he could get around to modding the body, though, Coffa had to get the E21 up to scratch as it was in a sorry state. "I replaced both front wings and the front panel and I aligned the rear wings after all the previous contact they had with the snow banks during the car's time in ice racing," he explains. "Then I widened the whole body using sheet metal to make room for the wheels, by a total of 60mm in front and 120mm at the rear. The bumpers were welded together to be one piece instead of two and I removed the rubber strips and moved the bumpers closer to the body of the car so that they fitted more closely and looked better. The rear bumper I had to rebuild to fit the number plate as I made the choice to run centre-exit exhaust pipes. I chose to run without door mirrors for a cleaner look and I built an aluminium front spoiler and rear wing, which had some inspiration from drag racing, to add some more aggressive lines on the body. The choice of going with a custom look for both the wing and front spoiler came after trying a few aftermarket ones but none of them really came to fit my taste or goal of the build. I then bought and installed a grille and lamps from a 318i as I like the single lamps more than the original double lights," says Coffa and the result of all that work is nothing short of stunning.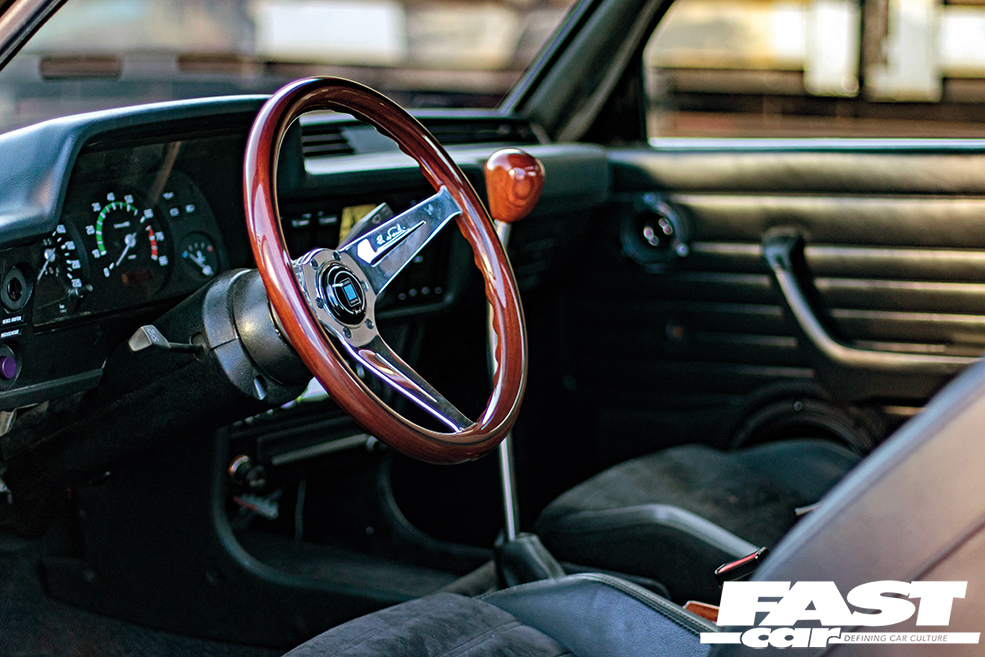 The arches are actually surprisingly subtle and look so good you'd assume the car came out of the factory looking like this if you didn't know any better, while it's that massive aluminium front spoiler and wing that give this car its Mad Max look and we love how they contrast with the clean blackness of the rest of the build. The single headlights give the front end a clean look and Coffa has also tinted the front indicators and rear lights as well as adding a monochrome roundel at the back, and the rear end just looks badass with that custom twin centre-exit exhaust setup. There's real attention to detail here, and it extends to the gold surrounds on the bolts that have been used to cover up the holes on top of the front wings that are now visible with no bonnet, and they tie in perfectly with the details on those wheels…
We said that Coffa got started on the engine with this build but that's not strictly true because the very first thing he actually did was build up the wheels and then almost built the car around them. "These rims are basically a pair of BBS 090 8×17" split rims; with lots of help from my friend Robert Ajden I widened the rims by 30mm front and 60mm rear. The centres of the rims have been welded again, they have a new 4×100 bolt pattern and a new look milled along with 3D-printed centre caps and gold bolts have been used all-round the wheels for assembling them. I first widened two wheels with the idea of having them at the back but when I tested them I felt that they were not wide enough so I decided to use them in front and widened the other two even more and used them as the rear wheels," he says and they look absolutely stunning. The wheels now measure 9"-wide up front and 10" at the rear and the fitment could not be more perfect, with the arches tucking over the stretched tyres courtesy of that devastating drop from the D2 coilovers, and those massive gloss black reverse lips look so deep and menacing and then you've got the matt black centres and gold detailing. These BBSs just suit this whole build perfectly and while there is a lot to admire on this car, Coffa says that if he's only allowed to pick one favourite mod out of everything he's done then it would be the wheels.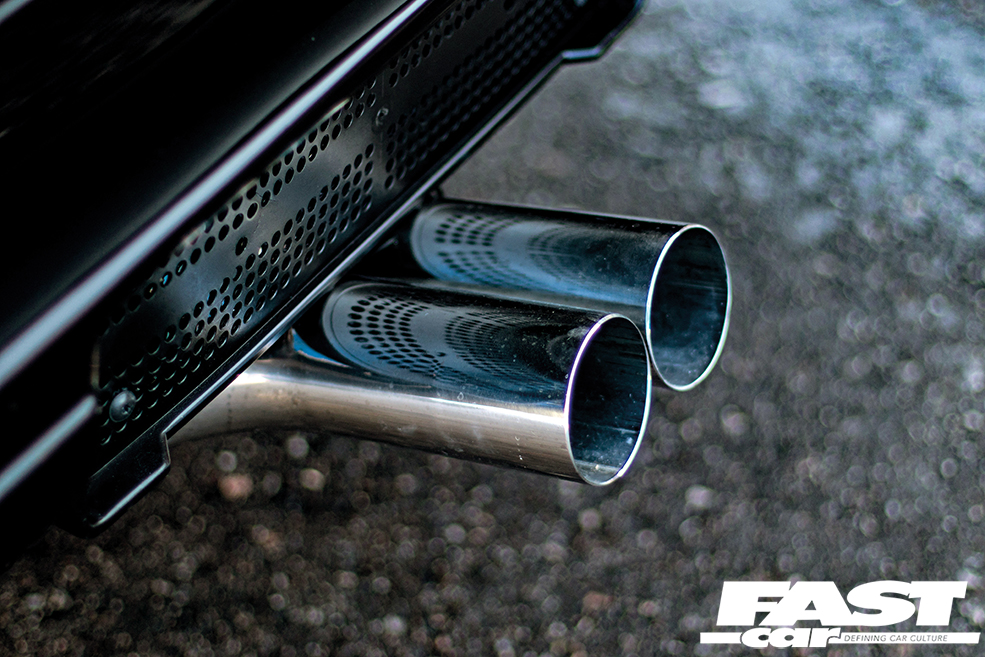 Compared to the rest of the build, the interior might look a little restrained but Coffa has added plenty of individual touches in here to ensure it's just as special as the rest of the car. "I wanted old racing seats without head restraints but found none in good condition so instead I managed to get hold of this interior that came from a VW Passat CC. The rear seats I had to mod a bit to get them to fit, as they were too wide initially. I dyed the door cards and side panels in the same colour as the leather on the seats," he says and while that's an interesting choice of seat, they look great in the E21 with their Alcantara centres and white contrast stitching and not only that but we seriously doubt you'll find another E21 running these, so the individuality aspect is off the scale. Coffa has also added a Nardi wood-rimmed steering wheel along with a tall gear lever complete with matching custom wooden gear knob and there's also a custom wooden handbrake handle. The final interior mod is the extensive audio setup that he's added, not a surprise when you recall that he's built some audio competition cars in the past. The whole install uses Excursion Audio components and includes front and rear speakers, a sub and no less than three amps to power everything and it makes this a truly complete build on every level.
While the machine that Coffa has created certainly won't be to all tastes, we think it's a spectacular build and it also means that one more E21 has been restored and saved from rusting away, unloved and forgotten, and that can only be a good thing. Every aspect of this build is unique and conveys Coffa's personality and individuality and we love that because he's truly built a car to make himself happy, not anyone else, which is how it should be. Amazingly, despite the sheer amount of work that has gone into every aspect of this build, Coffa says the whole project took around one-month thanks to the help of his good friends, and it must have been a very intense month, but all that effort was absolutely worth it.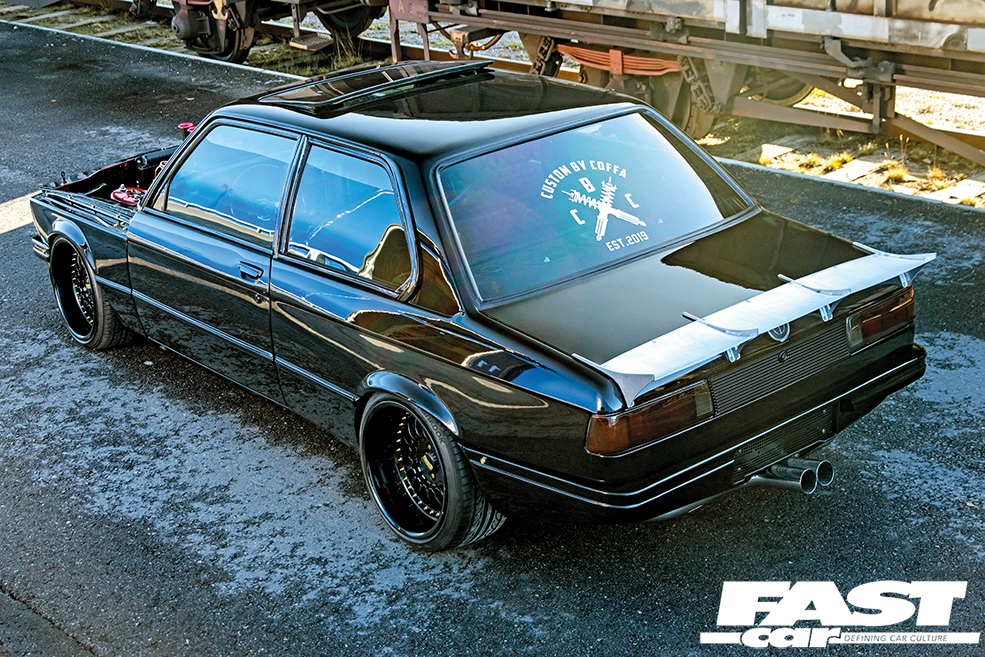 Of course, despite the work that's gone into this custom BMW E21, Coffa is a man who loves modding and there are plenty of additional things he'd do were it not for financial restraints, like fitting air-ride, building up an M20B30 with a forged bottom end and triple 48mm carbs, as well as upgrading the brakes. But his main priority right now is to just enjoy the car, and that is the most important thing. It doesn't matter if your enjoyment comes from the build process itself or from the finished article, the most important thing is that you get to experience that joy and this E21 is the sort of build that is guaranteed to put a smile on your face.
Tech Spec: Custom BMW E21
Engine & Transmission
M20B23 straight-six bored and stroked to 2.7-litres, diesel crankshaft, M20B20 con rods, 84.5mm high-compression pistons, 304° Schrick camshaft, Schrick 090 valve springs, heavy-duty rocker arms, smaller volume combustion chambers, triple 44mm Weber IDH carburettors, custom exhaust manifold and exhaust system with twin centre-exit tips. ZF five-speed manual gearbox from 328i, Sachs 618 pressure plate, BMW LSD rear axle
Chassis:
9×17" (front) and 10×17" (rear) BBS 090 wheels custom-widened with matt black centres, gold hardware and gloss black reverse lips, 205/40 (front) and 245/35 (rear) Hankook Ventus V12 evo2 tyres, D2 coilovers
Exterior:
Full respray in Sikkens 245 solid black, engine bay painted in candy red over black base with gold flake and 10 layers of clear coat, custom metal wide-body (60mm front and 120mm rear), 318i grille and single headlights, front and rear bumpers welded into single piece and mounted with rubber strips removed, rebuilt rear bumper to fit number plate, door mirrors removed, custom aluminium front spoiler and rear wing, tinted front indicators and rear lights, monochrome boot roundel
Interior:
VW Passat CC seats (front and rear), door cards and side panels dyed to match leather, Nardi wooden steering wheel, tall gear lever with custom wooden knob, custom wooden handbrake handle, tinted glass all-round, Excursion Audio install with MXT 8" mids and MXT 1" tweeters (front and rear), SHX 15 D2 subwoofer, HXA 45 MKII, HXA 85SQL and HXA 3K MKII amps