Lamborghinis are meant to be insane, that's always been their modus operandi. So don't let anyone tell you the Huracán is a sensible Lambo; at the hands of Floridian tuners 3:16 Speed, this boosted Liberty Walk Huracan can be downright hysterical…
Feature taken from Fast Car magazine. Words: Dan Bevis. Photos: Larry Chen
There aren't a lot of road cars running V10s, in the grand scheme of things. You can pretty much count the models on your fingers – there's the Porsche Carrera GT, Lexus LFA, E60-generation BMW M5, Dodge Viper, and a handful of others. But the car that really took this obscure engine format mainstream was the Lamborghini Gallardo. Alright, perhaps 'mainstream' isn't quite the correct term, but the baby Lambo certainly proved that a high-revving ten-banger could be a reliable daily-driven entity as well as a hair-raising performance showcase. This was Lamborghini's biggest-selling model by far, shifting over 14,000 units in its 11-year production run – unprecedented numbers for the Sant'Agatese firm and proof positive that the VAG money was doing the business.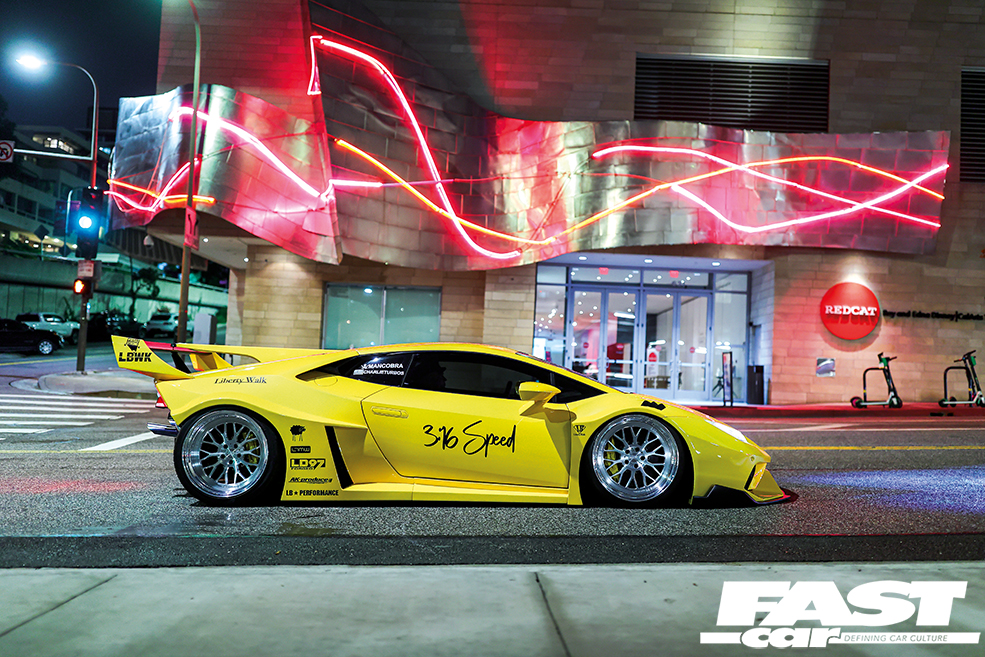 So when it came time to replace the Gallardo, the approach was one of evolution rather than revolution: the Huracán, arriving for the 2014 model-year, boasted a 5.2-litre V10 which could kick out the jams to the tune of 212mph and a 2.5-second 0-62mph time. Hedonistic stuff, and it's all thanks to a lengthy period of gestation, research-and-development, and a methodical nature hitherto alien to the most unhinged of the supercar brands.
Of course, for every yin there is a yang. The universe must be kept in balance. And while no-one could ever really call a Huracán 'sensible' as such, it's certainly true that it's the least mental model in the line-up. Which is where 3:16 Speed steps into the frame. Based in Clearwater, Florida, their mantra is 'Burn rubber for Christ', and that's the name you hear everybody inadvertently yelling when this brutalised Lambo rolls by, licking out foot-long flames and making unholy noises. While the development process of the Huracán as a model has a distinctly long tail, 3:16 Speed aren't the types to muck about. When they decided that they wanted to build this car and show it at SEMA, they had to knuckle down and get busy… because the world's biggest automotive aftermarket show was only a week away. That's right: whereas the bulk of the world-class rides you see at SEMA are the product of an entire year's work or more for the companies in question, this merry band of Floridian bon viveurs turned around a stock Huracán into a show-stopper over the course of just seven days. It's a frankly unbelievable achievement, and when we saw the finished product we simply couldn't stop gawping at it. It's unreal. The sort of thing you'd expect to see in a render by The Kyza, not an actual real-life car that can be driven on the street.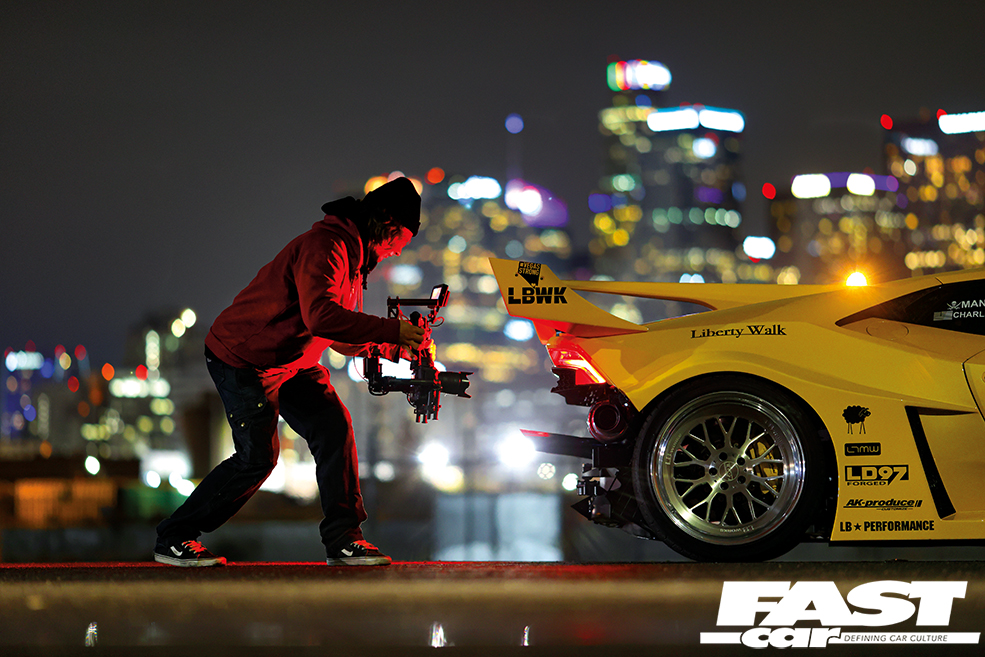 "The time frame was definitely the main hurdle," says company boss-man RG, with the slightly maniacal grin of a person who's been substituting sleep with caffeine for some time. "It had to be just one week from start to finish, and the final touches were being put on the car at 5am on the first day of the show."
Not a second to waste, it seems, and this is clearly a team which thrives on the pressure of deadlines. You've got to be dedicated to run a business this way, and have a very clear idea of what you want to achieve as an end result, as well as what's realistically achievable with each of your team members' respective skillsets. Naturally you need to have a sense of fun too, because you don't build a car like this for strictly rational reasons; as with so much in the modified car scene, there was a strong element of horseplay woven throughout the process. "We wanted to flex to Sheepey Race," reasons RG, "and that's just what we did. Mission accomplished." For the uninitiated, Sheepey Race is a tuning shop based in Southern California; a company run by enthusiasts, for enthusiasts. Otherwise known as Sheepey Built and renowned for their tuning expertise and innovation with Hondas, Mitsubishis and other fast-road Japanese fare, the team has been dipping a toe in the vibrant waters of supercars and motorsport in recent years – with, it has to be said, some fairly startling results. Their favourite trick is to develop twin-turbo conversions for cars like the Ferrari 458 and the Audi R8, with the aim of boosting horsepower up way into four-figures, and they sell these as full kits to customers. And yes, as you've no doubt deduced, there's a customisable setup available for the Huracán.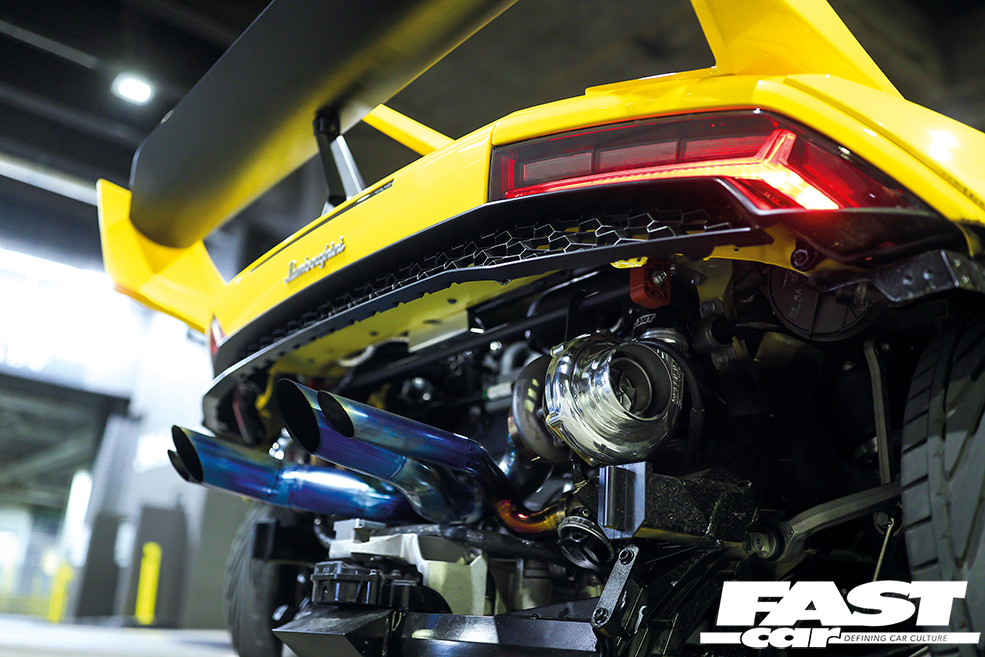 The notion of a making a wide thing wider is very much on-trend, and if you want to pack some serious girth you've really got to be talking to Wataru Kato and the squad at Liberty Walk. Helpfully, around the time that 3:16 Speed was embarking upon this project, the Liberty Walk Silhouette widebody kit had just arrived on the market, and with Kato-san's help RG was able to draft in the parts to build one of the world's first Silhouette Huracáns.
"Stripping the car down to install the widebody kit required serious commitment," RG explains, his teeth gritting at the memory. "The rear quarter panels needed fully cutting out in order to start the conversion." And obviously once you've cut something out, you can't exactly un-cut it. But the team were elbows-deep by this point, fully committed to the endeavour, and things got more exciting the further in they went. You see, with massively wider wings comes the necessity for massively wider wheels, and this gave them all the excuses they needed to commission a set of bespoke rims. The end result is a quartet of fat forged 20-inchers from LD97, a design drawn up specifically with Liberty Walk applications in mind; the fronts measure 10-inches across, with a full foot of width apiece out back. And with the rear panel omitted and the Lambo's innards exposed, you can see the brooding drama of that contact patch. Indeed, the massive amount of rubber on display is a helpful by-product of Toyo Tires USA's involvement in the build – a relationship which led to the car starring on the best-of-the-best Toyo Treadpass line-up at SEMA. The finishing touch is added with a tasty suspension upgrade – because it'd be a bit crazy to dial in so much extra width and leave the car wallowing up there at stock ride height: a full Air Lift Performance setup gets the Lamborghini hard-parking like a boss.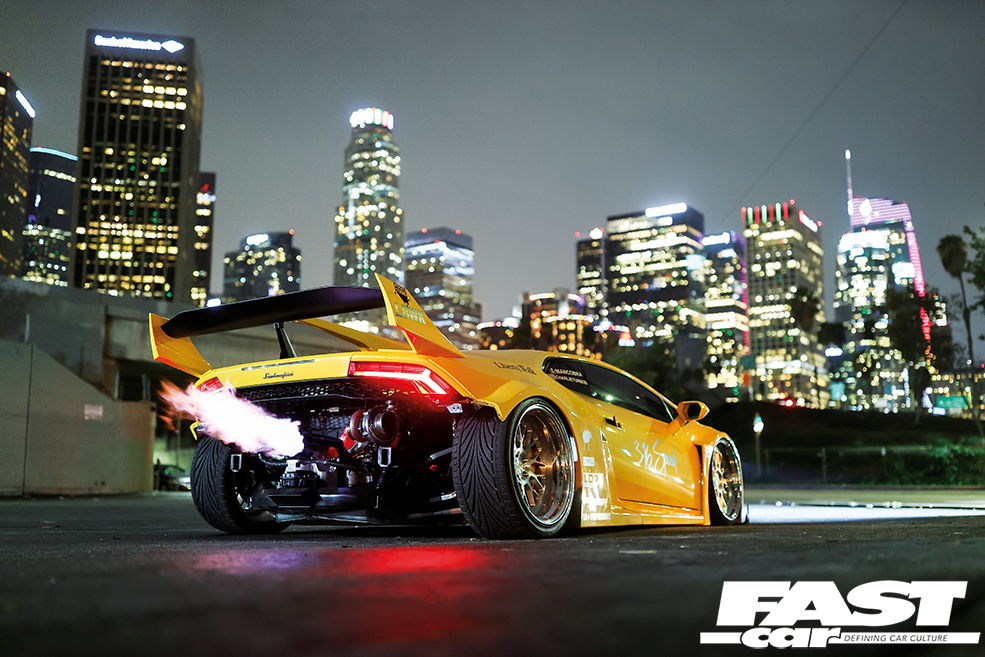 Now, there's a further reason for leaving the rear end exposed, and it's to do with those aforementioned flame-outs. The Sheepey Race influence is most evident as you gaze within the Huracán's guts, as you can't exactly miss those mighty turbos with their sublimely crafted titanium pipes. The Stage 2 setup has brought in a pair of mirror-image Precision 6266 Gen-2 ball-bearing turbos, operating with twin Turbosmart 45mm Hypergate wastegates and Raceport BOVs. The air-to-water intercoolers are fully custom with CSF cores; as opposed to the usual air-to-air system you'd find in a traditional front-mount intercooler, these units employ a water reservoir for cooling, and the filler cap at the top can be used to stuff it with ice water if the fancy takes you. Liquid-to-air coolers are technically more efficient in their operation, with a pair of custom CSF heat exchangers completing the cycle, and Sheepey's execution has packaged it all with panache. It's just the kind of quality hardware 3:16 Speed needed, given their tight timeline – proven gear that'll fit with OE quality and not throw up any unexpected hurdles. Oh yes, and with the V10 engine boosted and running standalone management, it now packs a brutal 1,050hp.
One thing you can be totally sure of is that, while this Huracán was built specifically for a show stand, it's certainly no show queen. In fact, it's hard to get RG out of the driver's seat. "We drive everything that we own, nothing sits inside and collects dust," he assures us.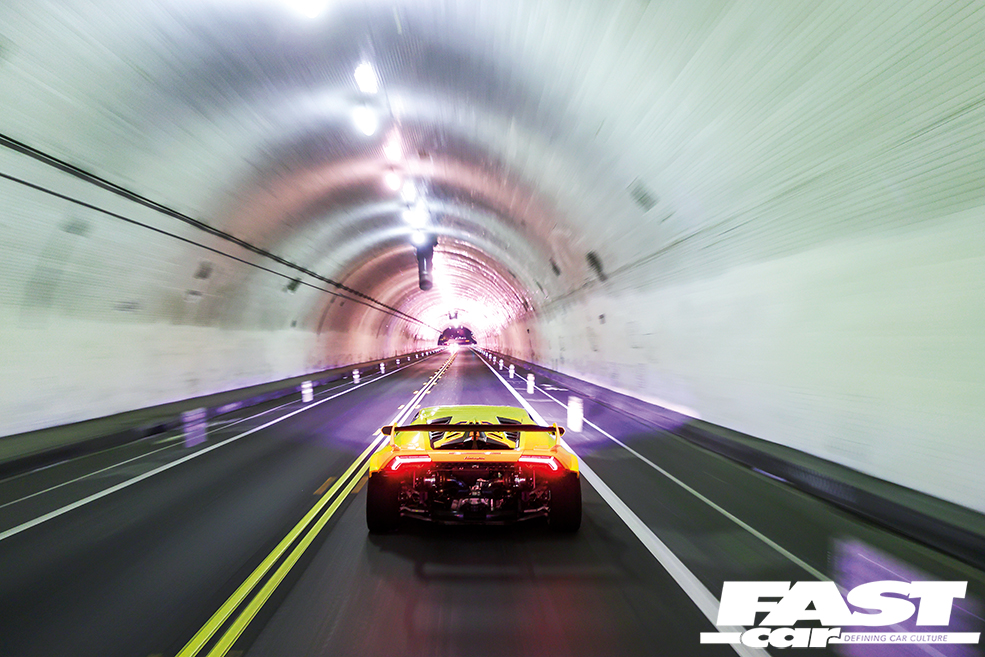 Every element of this unique and ballistic Lamborghini exists to shock and amaze: the seam-bustingly wide bodywork, the retina-searing paint, the hunkered-down stance – it's essentially a Hot Wheels toy brought to life. But the pièce de résistance, displayed so fabulously at the rear end, is that cunning remix of the revered V10 format. With a pair of shiny snails, foot-long flames on demand and Veyron-prodding power, this is a fresh snapshot take on Lamborghini's established formula. The 'sensible' Lambo, entirely reimagined for dropped jaws and joyous laughter.
Tech Spec: Boosted Liberty Walk Huracan
Styling:
Liberty Walk Silhouette GT widebody kit, custom yellow paint
Tuning:
5.2-litre V10, Sheepey Race Stage 2 twin-turbo kit inc. Precision 6266 Gen-2 ball-bearing mirror-image turbos, twin Turbosmart 45mm Hypergate wastegates, twin Turbosmart Raceport BOVs, custom air-to-water intercoolers with CSF cores, custom heat exchangers, back-purged titanium exhaust system, standalone management, 8-plate Dodson Sportsman clutch, 1,050hp
Chassis:
10x20in (front) and 12x20in (rear) forged LD97 LD12 wheels, Toyo T1-R tyres, carbon-ceramic brakes, Air Lift Performance air-ride suspension