Seeing a BMW E30 with a 13b rotary engine may well raise a few eyebrows, but there's no arguing with how this turbocharged beast looks or goes; it's one seriously impressive build.
Feature from Performance BMW. Words: Elizabeth de Latour. Photos: Aaron Lam
It feels like it's been a while since we've featured a car with an engine swap that was certain to raise some eyebrows. We've had plenty of swapped cars in the mag in recent times, but most have had BM lumps under their bonnets so that's never going to be especially controversial, even if you're fitting a diesel into an E30 Touring. So now we bring you a swap that's going to upset the purists in style, Ehsan Hazrati's (@ehs_garage) 13B rotary-powered E30. Regular readers who cast their minds back through the mists of time might recall that we've featured this car previously, way back in 2016, but it's undergone some serious changes in that time. Ehsan has been refining this build over the years to bring it to this spectacular level and it's an awesome machine, regardless of whether you approve of his choice of engine or not…
Not that you're going to be changing his mind about rotaries anytime soon, though, regardless of how loudly you may voice your disapproval because there are two constants in his life: E30s and 13Bs. "I've been into BMWs ever since I was five years old. I was drawing BMW E30 round headlights and kidney grilles before I even knew what the car was," he grins. "They are perfect in every way. I wouldn't change anything about the E30 – except for the engine, which I'm sure you've gathered," he adds with a laugh. "My first BMW was actually an E21, a Henna red 323i Coupé. I always wanted an E30 but my neighbour down the road was selling this and it was super-clean so I bought it straight away as my introduction to old-school BMWs," says Ehsan and he's been committed to classic BMs in a big way ever since then.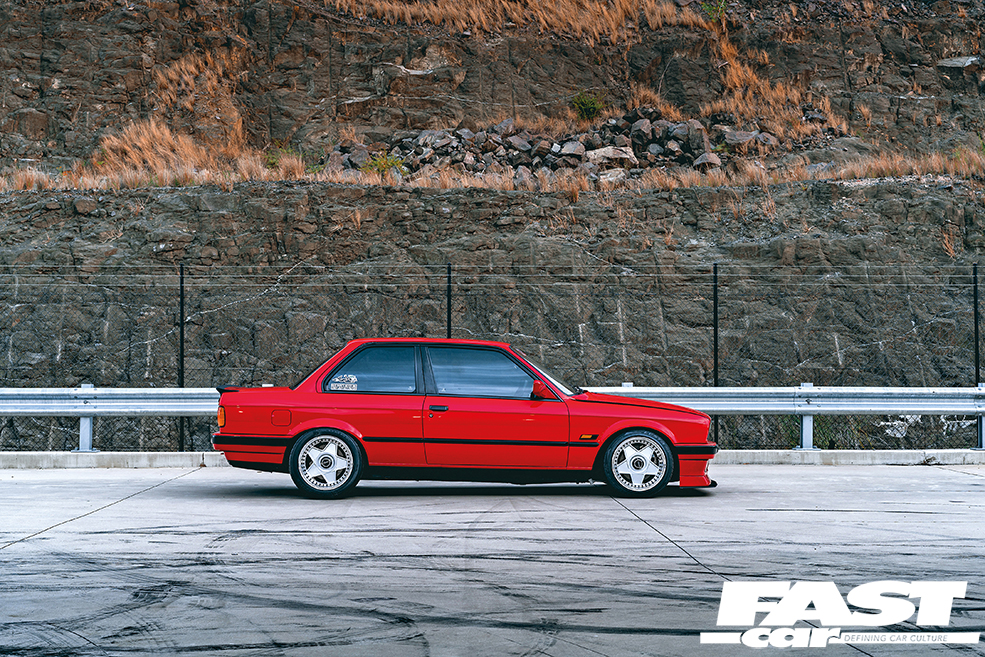 "I've owned approximately 12 or 13 E30s in the past and I've done almost everything – custom interiors, big wheels, suspension upgrades, sound systems, neon lights (when they were cool), brake upgrades, body kits and engine bay wire tucks," grins Ehsan so he's clearly well-versed in the ways of modding E30s. If that wasn't enough, aside from this one he's also got no less then four other E30s, including a rotary drag build, an NA rotary four-door and no less than two LS V8 builds – the man's clearly insatiable.
"I saw this E30 325i Coupé advertised for sale; the owner had it locked away for six years in the garage hoping to pass it down to his grandchildren but, unfortunately, had to put it up for sale. It had – and still has – the original factory Brilliant red paint from 1990, my favourite colour, so I had to own it!" grins Ehsan. "It was in immaculate and original condition with a lot of OEM factory upgrades like fog lights, map light mirror and a factory premium sound system, all the logbooks and owner's manuals, spare key and it has only ever had two owners."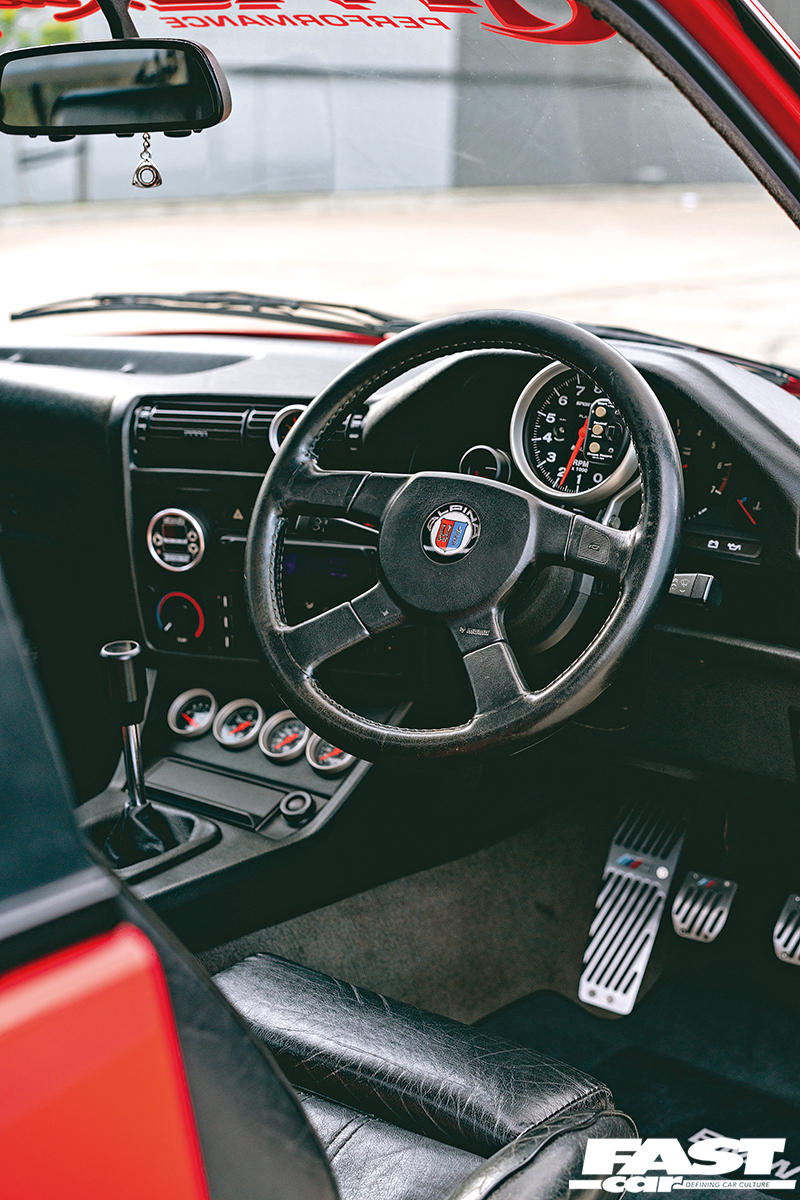 Despite his prolific modding past, Ehsan had no mods in mind for this E30; "I didn't have any plans at the time of purchasing the car, owning it was the game plan!" he laughs but it didn't take long for him to get stuck into his new project and we have to start with the engine, because how could we start anywhere else? "The engine swap wasn't too complex as rotary engines are small, but a custom crossmember and gearbox mounts had to be fabricated," he explains. "The engine itself was built and tuned by Pac Performance Racing, which holds the world record for the fastest rotary-powered drag cars. This engine package is a proven nine-second quarter-mile combo," grins Ehsan. "All brand-new parts were used throughout, nothing old or second-hand. My plan when I started was a street-drivable mild-ported engine with a small turbo. It obviously didn't go to plan after I drove a similar engine in another car," he laughs and what he's ended up with is nothing short of a monster.
The engine itself is a 2001 RX-7 13B that Pac Performance has turned into a full-cut bridgeported race engine and there's no missing the massive Garrett turbo that takes up most of the engine bay, complete with purple HKS intake. It's mated to a Turbosmart 50mm wastegate with a 4" screamer pipe and dual-port BOV, and there's a 3.5" stainless exhaust system finished with a single discreet tip. Additional components include four 2000cc high-flow injectors, a Haltech Platinum 2000 ECU and boost controller solenoid and Speedflow red and blue billet fittings with braided hoses throughout. The result of all this is a massive 542whp, around 630hp at the crank, along with 460lb ft wtq – all produced at 26 psi of boost – and that's a huge amount of horsepower in a car as light as the E30 and that's made it into an absolute beast. Unsurprisingly, this engine requires a suitably sturdy transmission and Ehsan is using a Toyota Supra twin-turbo R154 five-speed manual gearbox with a Chromoly gearset, Cube Speed billet short-shift, 3"-thick-walled one-piece propshaft, an E28 M5 diff with a custom gearset and Driveshaft Shop 1000hp 36-spline custom drag racing driveshafts, and that setup ensures that this E30 can safely deploy all of its ample power.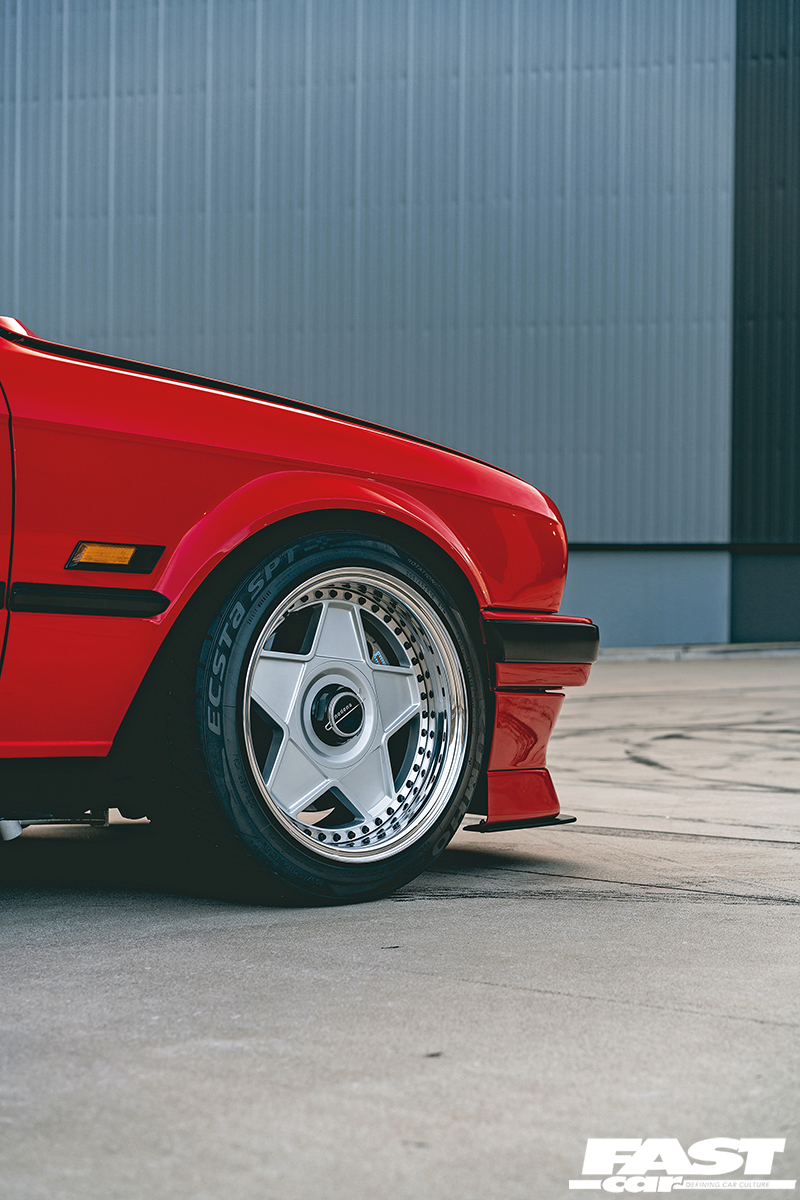 With so much power on tap, the E30's chassis needed some serious attention to help it cope and Ehsan hasn't cut any corners here. "I'm running custom Bilstein coilovers, front and rear Ireland Engineering racing anti-roll bars with adjustable links, E36 M3 front control arms, triangulated/tubed reinforced rear swing arms, a Z3 steering rack, 75D Delrin bushes throughout and anti-camber weld-on plates for the rear trailing arms. They were all picked based on previous experience," he explains and that's an impressive array of enhancements that have really sharpened-up the E30's chassis, ensuring Ehsan can enjoy all that power. The brakes too have been upgraded as the stock 325i items would have struggled with over 600hp and this car is now equipped with Corvette Z06 front calipers and E46 M3 rear calipers with 310mm discs all-round and they offer some serious stopping power.
Ehsan is clearly a man who believes in doing things properly and there's not one area of his BMW E30 13b rotary engine that hasn't been enhanced in some way and that includes the exterior, subtle as those enhancements might be thanks to the fact that he's such a fan of the E30's factory looks. "The exterior styling of the E30 truly is perfect. I'm personally not a fan of body kits or even the factory BMW iS body kit. The true beauty was in the silhouette of the car itself, just like the Alpina cars: front spoiler yes, rear spoiler yes… nothing else. Simple and classy!" he grins and he's stuck to that philosophy when enhancing the aesthetics. "I fitted the Rieger front spoiler and splitter and had it colour-matched to the car. I also fitted the genuine M Tech 1 boot spoiler," he says and the only other additions are the heckblende panel and the discreet Mazda RE13 (Rotary Engine 13B) grille and boot lid badges, as a subtle hint to those in the know about what's lurking beneath the surface.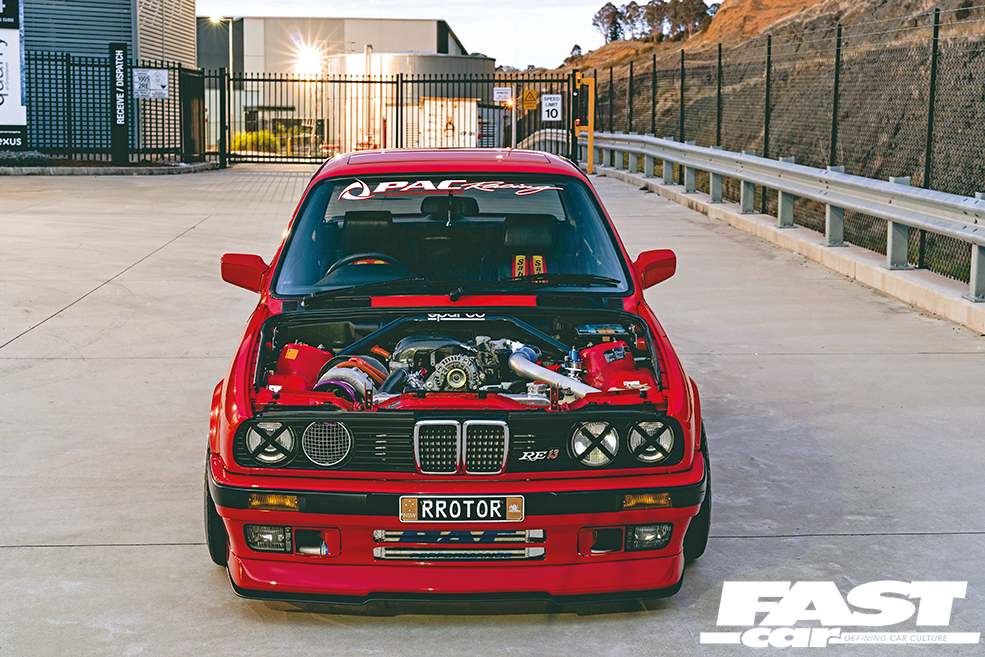 While Ehsan has kept the styling subtle to allow the E30's natural good looks to shine, when it comes to wheels he's given himself free rein to try and find that perfect set that really works on this build. "This car has had five sets of different wheels throughout the build which I never really loved," he sighs, but that's no longer the case. "I always had my heart set on my current wheels, Autostrada Modena three-piece split rims, but never found a complete set. Then these came up in 4×100 so jumped on them immediately," he grins and they look so good on the E30 and offer a big change from the BBS cross-spokes he was running when we last saw it. They've got that old-school styling that suits it perfectly with those chunky centres, we love his choice of running black hardware while the silver centres and polished lips are the perfect combo and we can see why he's so happy with this set of wheels.
The interior has also undergone quite a dramatic change from the last time we saw this car but it's actually moved away from the sort of hardcore cabin you might expect of a build like this. "I had fitted the car with Sparco Pro 2000 front race seats and was running no back seats, but I was getting more street credit when the car had genuine black leather E30 M3 seats, so I pulled out the Sparcos and put in the black leather front and back seats. I also wanted a sleek but modified look with the gauges so I fitted it out with AutoMeter Sport-Comp gauges with orange needles," he says and we like the new look his E30 cabin has going on. The M3 seats are joined by Sabelt four-point harnesses and there are also genuine E30 M3 floor mats while other additions include an Alpina B6 3.5 Momo steering wheel, Tomei Delrin gear knob, and a hydraulic handbrake while there's no missing that giant AutoMeter Monster rev counter that sits atop the steering column.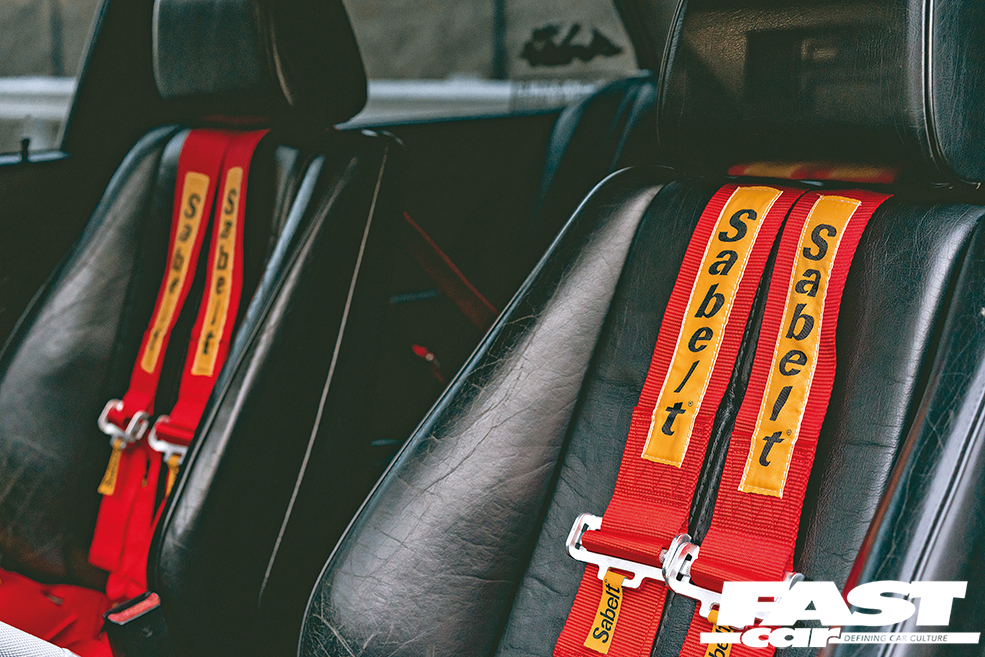 Ehsan's BMW E30 equipped with that 13b rotary engine initially took him around four months to build but a year and a half to perfect and that's where the attention to detail and extra work really comes in; "I spent that time altering spring rates and diff ratios, fitting bigger driveshafts, tuning the suspension and several track days to test and tune," he says but as the car sits now it is done and it's not often we get to say that about a project featured in this mag. Out of everything that's been done to this car it's actually one of the smallest mods that's Ehsan's favourite; "I have to say it's the air vent boost gauge. I designed and modified that myself. It's similar to the Alpina digital vent but this is an AutoMeter analogue gauge," he says and that's proof that it's those little individual aspects of a build that sometimes matter the most. With a bunch of other E30 builds on the go, Ehsan is going to have his hands full for the foreseeable future and that means that this completed project can fulfil its purpose. "I plan to just drive it and enjoy it," grins Ehsan and we have no doubt he'll be doing that at every given opportunity.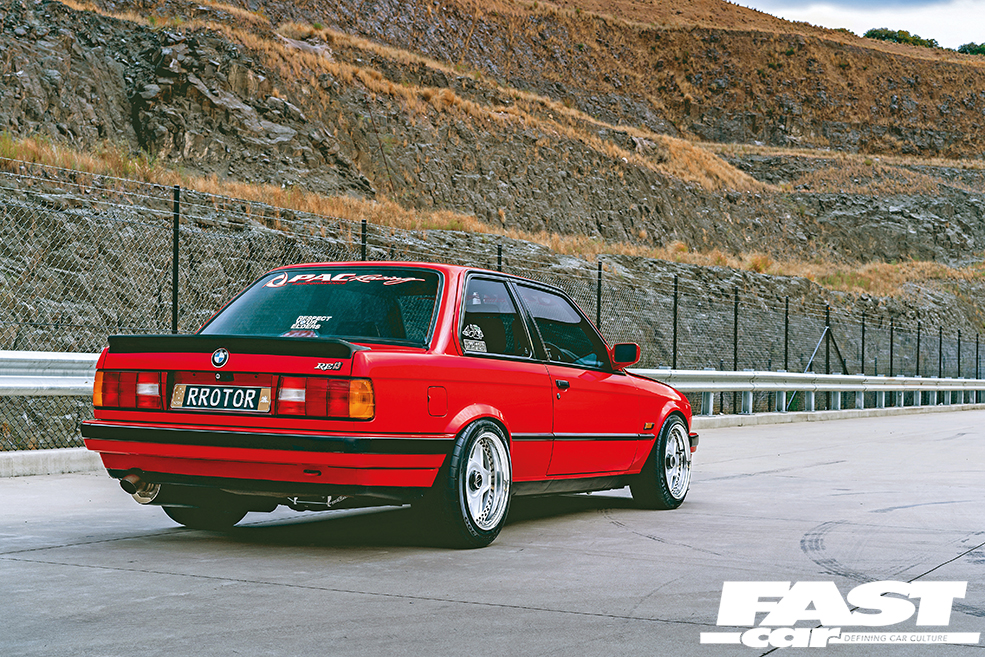 Tech Spec: BMW E30 with 13b Rotary Engine
Engine:
2001 FD3S Mazda RX7 Series 8 13B rotary engine, Pac Performance full-cut bridgeported race engine package, brand new water pump, new high-voltage alternator, new rotor housings and 12mm ARP stud kit, 4x 2000cc high-flow injectors, Turbosmart fuel pressure regulator, Garrett GTX4088R Gen 2 turbocharger, HKS purple billet velocity stack, Turbosmart 50mm Power-Gate wastegate, 4" stainless steel turbo screamer pipe, Turbosmart dual-port blow-off valve, 3.5" stainless steel exhaust system, Rotaflo resonator and rear silencer, 3.5" mandrel-bent tip, Haltech Platinum 2000 ECU, boost controller solenoid and LS1 self-igniter coils, Turbosmart eBoost2 boost controller unit, Speedflow red and blue billet fittings with braided hoses throughout
Power & Torque:
542whp and 460lb ft wtq @ 26 psi
Transmission:
Toyota Supra twin-turbo R154 five-speed manual gearbox with Chromoly gearset, Cube Speed billet short-shift, 3" thick-walled one-piece propshaft, Driveshaft Shop 1000hp 36-spline custom drag racing driveshafts, E28 M5 differential with
custom gearset
Chassis:
8.5×16" (front) and 10×16" (rear) three-piece Autostrada Modena wheels with 205/45 (front) and 245/45 (rear) road tyres, 255/50 (rear) drag tyres for racing, custom Bilstein motorsport coilovers, Ireland Engineering race anti-roll bars with adjustable links, E36 M3 front control arms, reinforced triangular tubed rear swing arms, anti-camber weld-in plates for rear swing arms, Z3 steering rack (2.7 turns lock-to-lock), 75D Delrin AKG solid bushes throughout, custom tubed diff ladder brace support, Corvette Z06 calipers (front), E46 M3 calipers (rear), 310mm discs (f&r)
Exterior:
Original Brilliant red, Rieger front spoiler and splitter, M Tech 1 rear spoiler, genuine BMW E30 heckblende, Mazda RE13 front grille badge and boot badge
Interior:
Black leather E30 M3 front and rear seats, E30 M3 floor mats, E30 Alpina B6 3.5 Momo steering wheel, Momo boss kit, Sabelt/Sparco four-point racing harnesses, Tomei Delrin gear knob, Turbosmart eBoost2 boost controller gauge, AutoMeter Sport-Comp gauges (boost, oil pressure, oil temp, water temp, volts and Monster tacho with shift light), E46 M3 aluminium pedals and footrest, hydraulic handbrake