We all think we're a little bit obsessed with this Germanic pastime we call Veedubbing, however, Christian Wolf has taken this hobby to a whole new level… this bagged Mk3 Golf Cabrio is the result!
Feature from Performance VW. Words: Tony Saggu. Photos: Max Bauer.
To be fair, in hindsight the situation could have been handled a little better… perhaps it was the request itself, the nature of the delivery or simply a misunderstanding clouded by context and the assembled company. Should Billy Batts have known better? Possibly… probably. Did Tommy DeVitto overreact? Perhaps a touch. "Go home and get your f**ckin' Shinebox" seemed like an innocent request, a playful jibe among friends, but whatever the reason, the subsequent unpleasantness was surely uncalled for.
Thirty something Bavarian custom Cabrio crafter Christian Wolf is clearly of a more moderate temperament, owning perhaps the slickest, most polished and plated third generation soft-top in the VW universe, we're pretty sure he has a box, bag, case, or other such receptacle to hold untold amounts of burnishing lotions, potions, creams and waxes. We're equally as sure the same request has been made of him numerous times … but does he get all 70's gangster and end up with well-meaning friends and associates locked in the boot with various degrees of grievous bodily harm? We think not.  "It takes a lot of work to keep it clean," laughed Chris, "There's a lot of chromed and polished metal there…not to mention the paint." To say that our Mr. Wolf is slightly obsessed with shiny things may be something of an understatement, he literally lives and breathes electroplated metal. "I actually work as a Galvanic technician," he assured us, "no… seriously, I polish and plate metal for a living."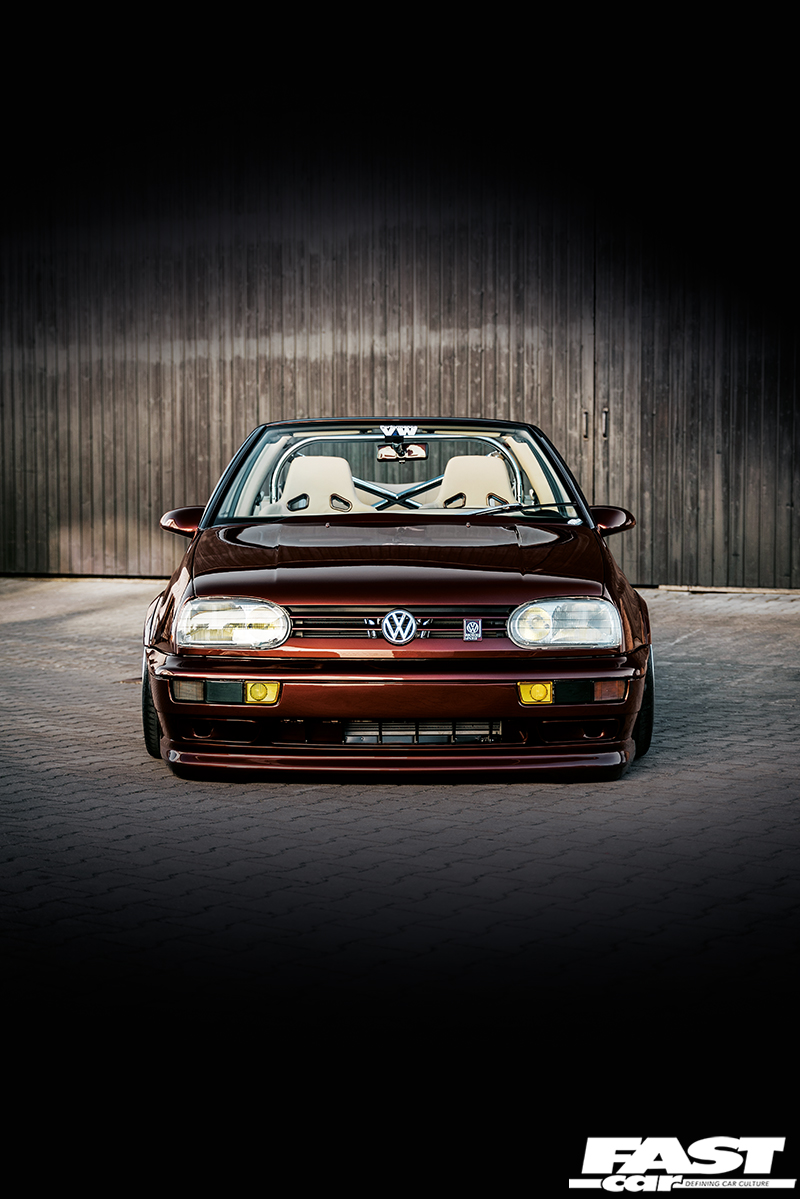 The chrome bagged Mk3 Golf Cabrio was clearly inevitable, but it's certainly not been an overnight sensation, Chris tells us that the project has taken the better part of seventeen years of hands-on work to get to this point…as well as a good few years of sketching and scribbling in school notepads and textbooks daydreaming the details. "It's the car I always wanted to build," he explained, "When I was thirteen my dad got me a copy of a German tuning mag from a gas station and really, I've been hooked ever since." Clearly it wasn't just the customised chariots in the magazine that caught young Chris's interest, piling up the periodicals has become something of a passion too, with our man amassing thousands of VW and Audi tuning mags over the years… apparently including every issue of PVW we're told. "It's a bit of a sickness really," he joked, "I have maybe four thousand magazines from all over the world, as well as brochures, promotional items, memorabilia, rare parts, models… just everything." It wasn't much of a surprise to learn then that the Cabrio project got underway in earnest even before such trivial details such as driving tests and licenses had been addressed, a year before being able to apply for his driving credentials a seventeen-year-old Chris had already talked his dad into driving him out to see a likely first motor he had spied in the local paper. "I was a bit suspicious to be honest," recalled Chris, "the elderly lady who owned it insisted she was the original owner and it had very low mileage…oh and she had forgot to mention in the ad that it was actually a convertible!" The deal seemed too good to be true; a 95 Austrian market Rabbit model Cabrio in what turned out to be very clean condition for a paltry 3500 euros. "The deal was too good to turn down," recalled Chris, "She had looked after the car very well and I'm still in contact with her sending her updates all these years later…I think she likes the way her old car has turned out."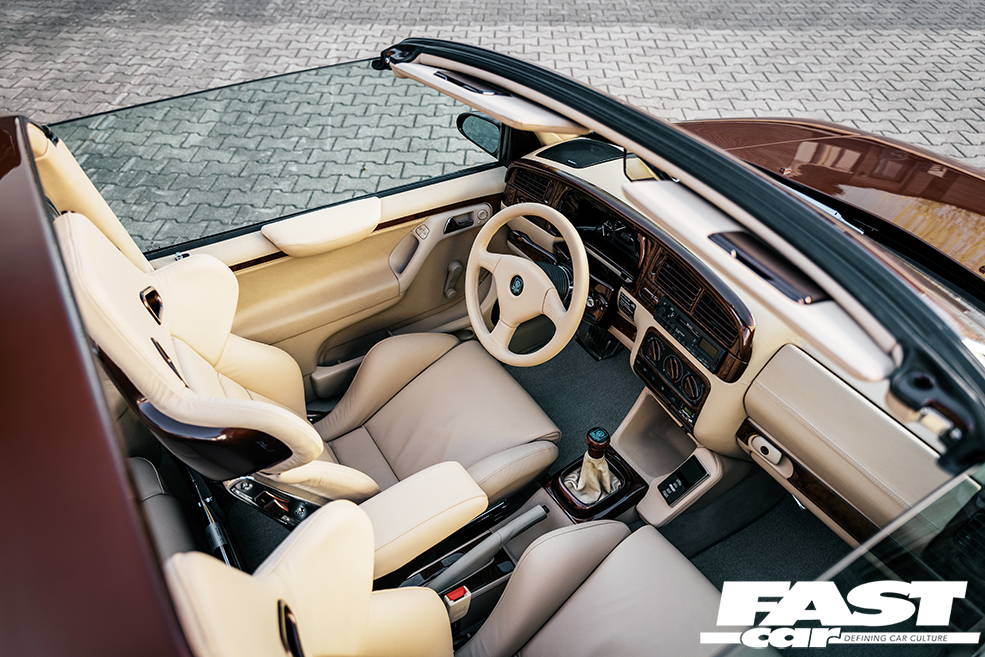 Building something special was always on the cards, although Chris admits the first few years of ownership saw some less than stellar makeovers. "I was using the car as daily transport to school to begin with and tried to keep things simple at first, you know just lowering springs and some cheap wheels." Unfortunately, as his confidence bolting things together grew, youthful exuberance saw good taste heading in the opposite direction; the Mk3 Golf Cabrio quickly became a spoiler farm with fake gold accents complementing the stock blue paint and Lambo style doors sealing its fate. "Young and dumb," smirked Chris sheepishly. With just over three years of ownership under his belt and having finished school, our man got serious though. A new daily was precured and the cabrio was taken off the road for a complete rebuild. While the 75hp stock four banger was reliable enough, it was never going to fit in Chris's plan for the ultimate droptop dream machine, so out it came. "I always wanted a VR6," he told us, "It's the perfect engine in a Mk3 for me…and they always sound so cool. I found and bought a VR6 Vento from Switzerland and ended up using a lot of the parts from it for the rebuild; the engine, gearbox, wiring and brakes and most of the stuff underneath." It would seem that the pony count from the sedan's six shooter was plenty for Chris's needs as he didn't want to elaborate on its internal occupants. We thought that was a bit funny, but he asked us "funny how?" so we dropped it… the exterior detailing however… that's another story. "The engine is fully chromed and polished… and I mean every nut and bolt," he enthused, "I spent a lot of time hunting down rare and original parts that I just had to have and then perfected them in chrome. I don't really believe in the whole 3D printed fake stuff or reproduction parts, it's got to be the real deal or nothing." The VW Motorsport Intake is a good example of the lad's dedication to the cause, apparently years of international questing was invested in the rare induction piece, the Japanese spec engine cover wasn't easy to locate either by all accounts. Shaving and smoothing the engine bay seemed like a good move while the engine bits were getting dipped and really it would have been rude not to.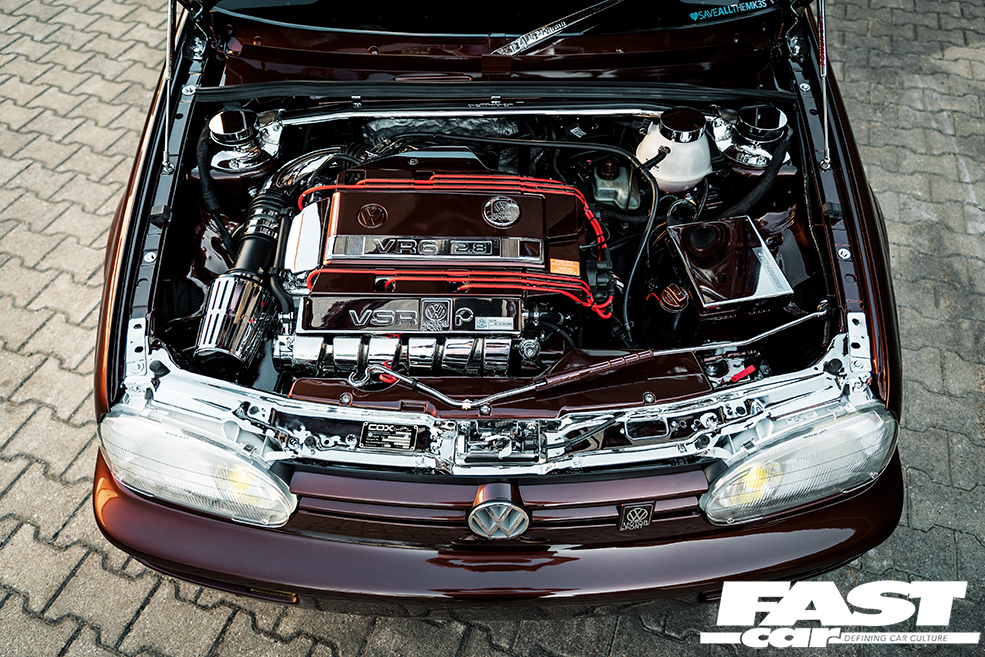 "The shell has all been converted to American spec," insisted Chris, "I changed everything over including the front and rear bumpers, hood, tailgate, front fenders…even the gas door cap and all the stickers." An OEM Votex lip has found its way under the US front bumper and the rare parts count continues with Evolution Tuning cooling ducts and Hella rain sensors. "I've used rare Metalplast fender flares from a Highline and Italian spec side moldings," Chris explained, "as well as smooth Kamei side pillar covers without the Karmann logo, it's just a lot of little details that I think make up the whole effect." The stunning exterior visuals are of course made up in no small part by the, some would say, unusual choice in topcoat. Chris puts the choice squarely down to the legendary works of Andre Kain, "I simply love his UPS Corrado," he gushed, "It was a huge influence for me building my Cabrio. The actual colour itself I went for is a closely guarded secret," he continued. "Sadly, there are already a few very detailed copies of my car around, but I can say that mine has a totally original colour on it. My painter tried over twenty different colour blends sprayed on the front fender until we finally came up with one that would be perfect." Thankfully the particulars of those righteous rollers aren't a secret, the seventeen-inch adapter assisted Porsche ETA BETA Twists come in at a girthy nine and nine and half inch width. "A friend of mine had them on his car for a long while and I always wanted a set, they are just classics," explained Chris, "Of course I took them apart and completely refurbished, polished and chromed them." Perching any custom-built VW Audi…or seemingly any other custom conveyance, on anything but the best from Lansing, Michigan is simply not the done thing these days, it's no shocker then that an Air Lift Performance kit, in a 3P variety, has found its way under the bronze bombshell.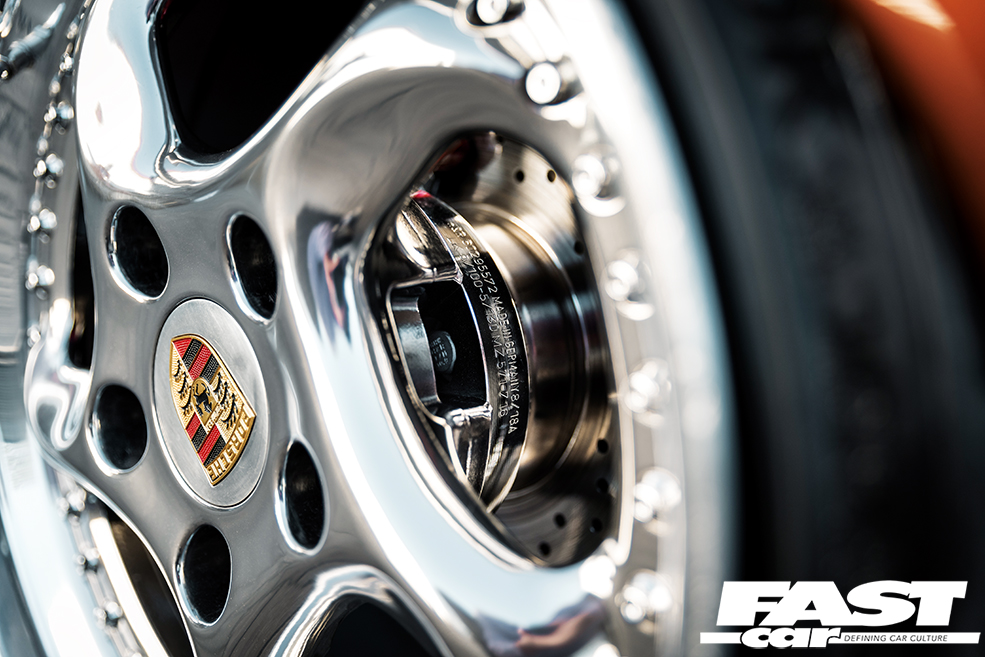 Once Chris had polished the pieces, the lads at Airworxx Customs in Karlsdorf-Neuthard threw the air ride hardware in the boot, not before crafting some custom brackets and hardlines though. A shortened Wiechers rear strut brace keeps the tank and compressors company and a Votex trunkbox keeps things tidy. Naturally, if there's any exposed metal back there…its chromed. Pop the burnished backseat cover and drop the rear seat and its chrome and leather as far as the eye can see. Second generation Recaro A8 buckets wrapped in tan Mercedes leather are the centrepiece of the cabin, although the custom crafted chrome rollbar is hard to miss, "I originally made it just for car shows," revealed Chris, "but its permanently fixed now. I used a lot of Mk4 Cabrio OEM tan parts like the carpet and plastic parts and painted the rest to match the interior and exterior." A clever touch is the leather wrapped and repurposed Nokia phone console, now housing the 3P Airlift controller, the RHD VW Motorsport dead pedal fixed to the passenger side is also crafty. "There's a lot of details that most people miss," explained Chris, "Inside and out I wanted to take the effort to finish every area to perfection." It's unfortunate that over the last couple of decades or so hyper detailed supremely finished show machines like Chris's bagged Mk3 Golf Cabrio have become a rare breed on the VW Audi landscape, while other custom traditions embrace art for art's sake, we in large measure have drifted away from it… and that's our loss. Chris on the other hand comes from and has worked hard to celebrate an older VW Audi tradition, you might say he's an original gangster.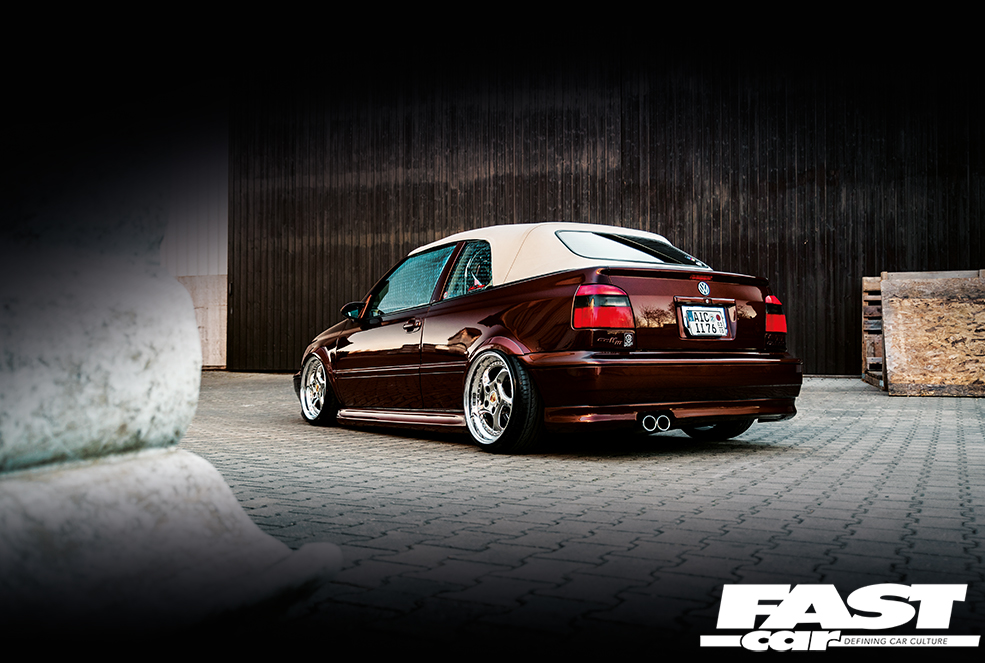 Tech Spec: Bagged Mk3 Golf Cabrio
Engine:
2.8-litre VR6 fully detailed in chrome, VW Motorsport VSR Intake, Bonrath CAI, custom filter housing, MHW reservoir covers, shaved engine bay, Oettinger upper strut brace, Wiechers lower brace, custom rain tray, US radiator support, Japanese Cox Motorsport VIN tag, custom hood mirrors, Bonrath hood struts
Chassis:
9 (et45) and 9.5×17 (et30) ETA BETA Turbo wheels, 225/35 Hankook tyres, 30mm 5×130/5×100 adapters, Vento VR6 subframe and rear beam, all suspension and brake parts polished and chromed, Zimmerman nickel plated discs, TA Technics shocks, Airlift 3P airride, complete underside painted body colour or chromed
Exterior:
Custom mixed bronze repaint, rolled and pulled arches, US spec front and rear bumpers smoothed, US front fenders, Votex front lip, Hella rain sensors, Mexican made front fog lights, Hella smoked side markers, Highline Metalplast flares, Votex side skirts, Kamei door handles cover, Kamei B Pillar cover, Projektzwo mirrors, Bonrath mono wiper, custom made Sonnenland top
Interior:
Genuine Mercedes leather in Tan, Second Gen Recaro A8 seats, Mk4 cabrio carpet, custom made rollbar, Kamei stock rollbar cover, Mk4 Golf seatbelts, chrome plated top frame and hinges, Votex wood décor and Lupo wood detail parts, Kamei console armrest, Kamei door armrests, chrome Momo steering wheel hub, Japanese VWMS steering wheel and gearknob Votex floormats, chromed seat rails and Japanese spec sillplates, chromed rearview mirror and painted rain sensor, US spec instrument cluster, chrome door hinges. Original NOS Votex headunit, Mk3 specific Pioneer speakers, rare domed grilles, Blaupunkt dooryards