This bagged Lupo GTI may have an angelic little face, but this hard-hitting audio build has the chutzpah to make devilish things happen…
From Fast Car. Words: Dan Bevis. Photos: Chris Smith
When you think about the geography of Great Britain and how it relates to the evolution of the music scene, there are a few places that instantly spring to mind. Liverpool, of course, for forever altering the course of rock 'n' roll by birthing The Beatles. Manchester, for cresting the baggy wave through the nineties and ultimately thrusting Oasis into posterity. London, for… well, that's an entire mag feature in itself. But perhaps not many people would put Hull at the top of their list of influential musical towns. It mightn't even edge into your top 50. But this vibrant port city in the East Riding of Yorkshire has made more of an impact than you might think on modern songsmithery. Aside from the Hull Philharmonic Orchestra (the oldest amateur orchestra in the country – tuck that fact in your back pocket for a future pub quiz), there was local boy Mick Ronson working on production with David Bowie and Bob Dylan, and the eighties saw success for Everything But the Girl and The Housemartins; alumni of the latter included Paul Heaton, who went on to form The Beautiful South, and Norman Cook. And this last one is what provides our all-important segue here, as his alter-ego, Fatboy Slim, was the guiding light of the Big Beat scene in the 1990s. And if you're after big beats, you need big subs. Look inside the tail end of this gleaming red bagged Lupo GTI, and that's exactly what you'll find.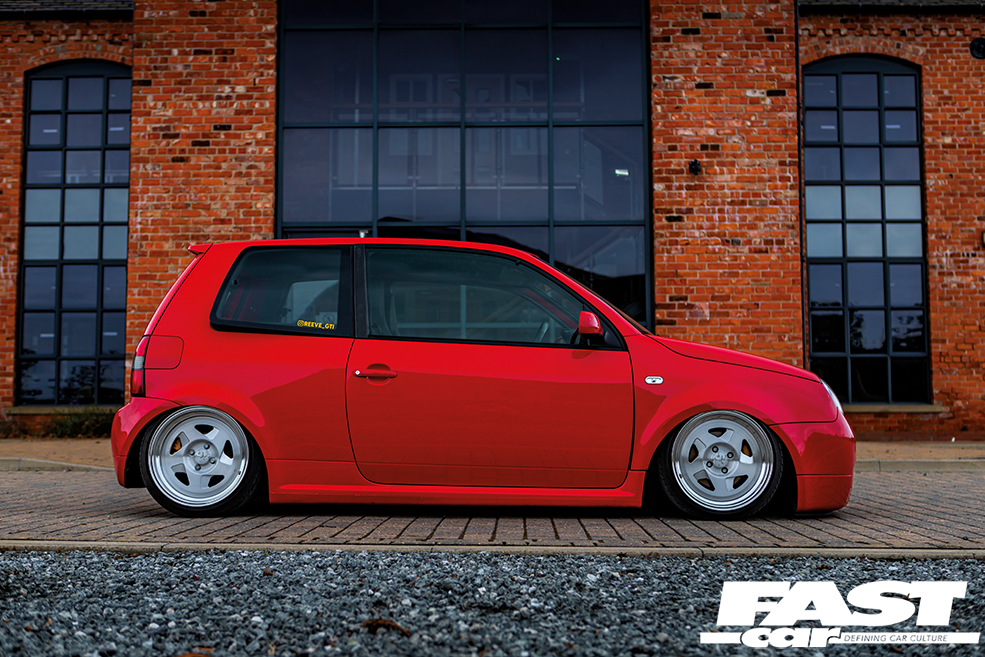 There's a magnificent mischief – and, indeed, artistry – to the act of transforming a teeny-tiny car into a full-blown audio build. After all, anyone can take a big estate car or an MPV and fill it with untold amounts of speakers and amps, but if you're working within the tight confines of a pocket-sized hatchback, you've got to be really careful about how you package things; achieving high-quality sound with this type of platform really is a badge of honour.
Reece Mounsey wasn't doing this for trophies or pats on the back, however; nope, he just really likes small cars. Comb through his history of automotive ownership and the evidence is clear: a K11 Micra, a Lupo 1.0, a Lupo GTI, a Mk1 Audi TT, and then the bagged Lupo GTI we see before us today. All great cars, and not a single one of them offering even the slightest hope of accommodating an Ikea wardrobe. Why shrink-wrap himself in micro motors? That's just the way Reece rolls. And, as is the case more often than not, there's an abiding memory of youth that's essentially been informing all of this.
"I remember seeing a very cool Fantasia Green Lupo when I used to go on family holidays to Cornwall when I was younger," he recalls. "The rest is history."
Fair enough, life really doesn't need to be any more complicated than that. So in March 2019, back in those sunlit pre-Covid times when we had no idea how damn lucky we were to be mingling freely with one another, Reece shook hands over the 2002 Lupo GTI that was to become his new beau.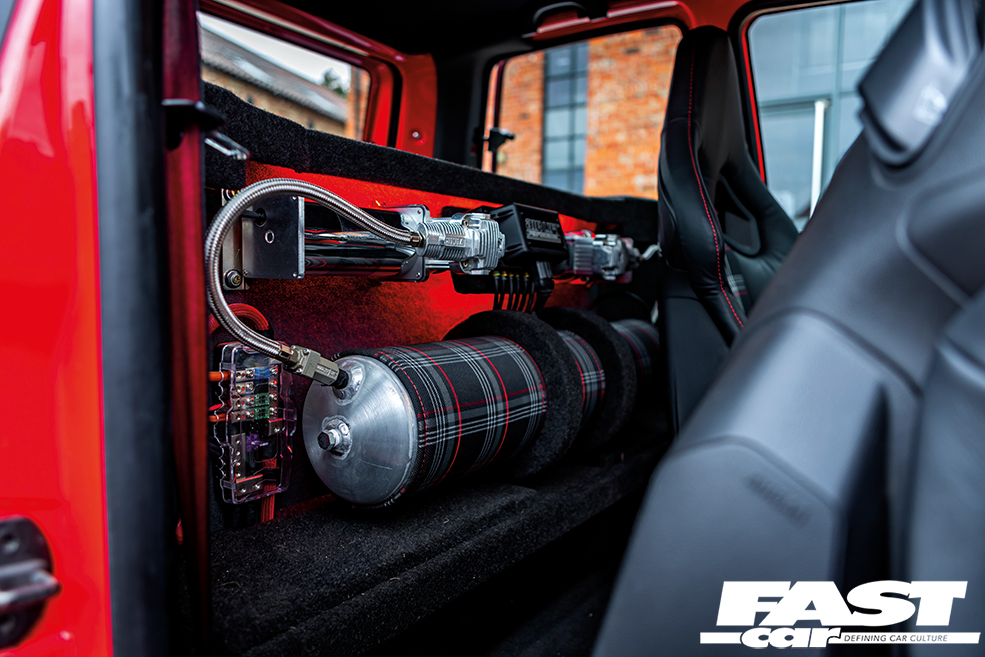 "I found a good example, with a few mods that I'd already intended to do such as the Janspeed exhaust system and the pop-out rear windows," he says. "A fin aerial was also an extra; the car had previously had a full good-quality respray and had been properly looked after since, so it made a great project base."
Was it always in the stars to turn this car into a full-bore audio showpiece? Well, perhaps not overtly, but hailing from Hull ensures a certain inherent musicality of the soul; regardless of whether Reece was planning to stuff the Lupo with speakers, the aura of his hometown veritably demanded it. But before he could get to that, there were a few other orders of business to attend to.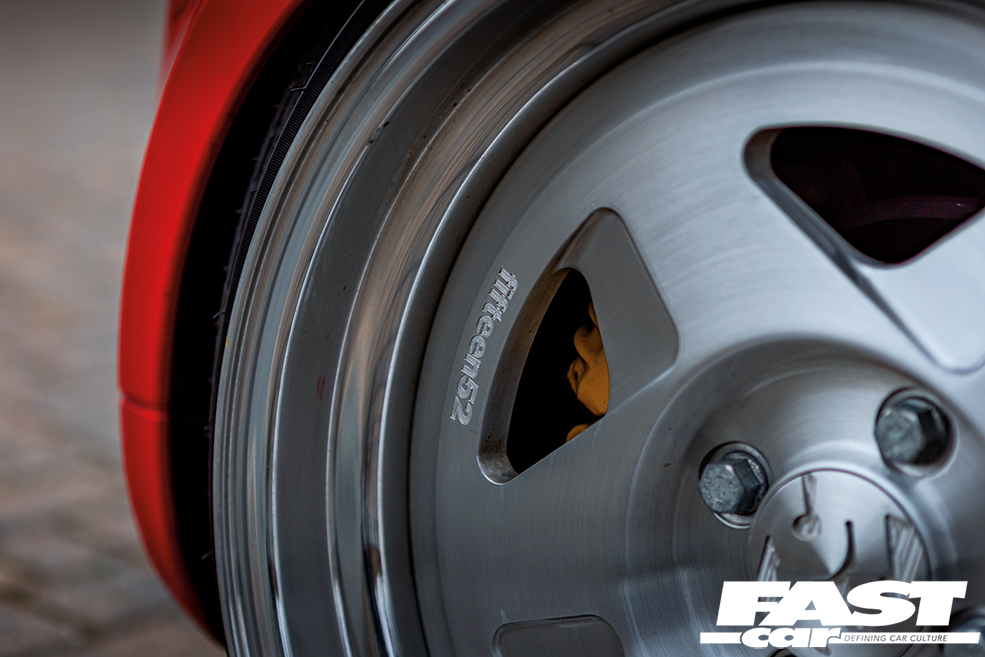 "Having previously owned Lupos, I knew what I was dealing with and where I wanted to start," Reece explains. "There wasn't an over-arching plan in mind from the beginning, I let it evolve naturally over time; I'm always changing my mind, and if I get a good opportunity or see something I like I tend not to let it pass." One thing was for sure though: laying it down on the ground. To achieve this noble aim, the baby VeeDub has been kitted out with a suspension setup from Air Lift Performance's Slam Series – the product line most keenly oriented toward devastating lows. It's all knocked into line by 3P management, allowing the flexibility of custom presets, show mode, rise-on-start and a fully integrated manifold. With great stance comes great responsibility, and Reece has done the right thing here by bolting on a superb set of wheels – Fifteen52 Tarmacs are always a strong choice, but in forged two-piece form they really are a cut above the rest.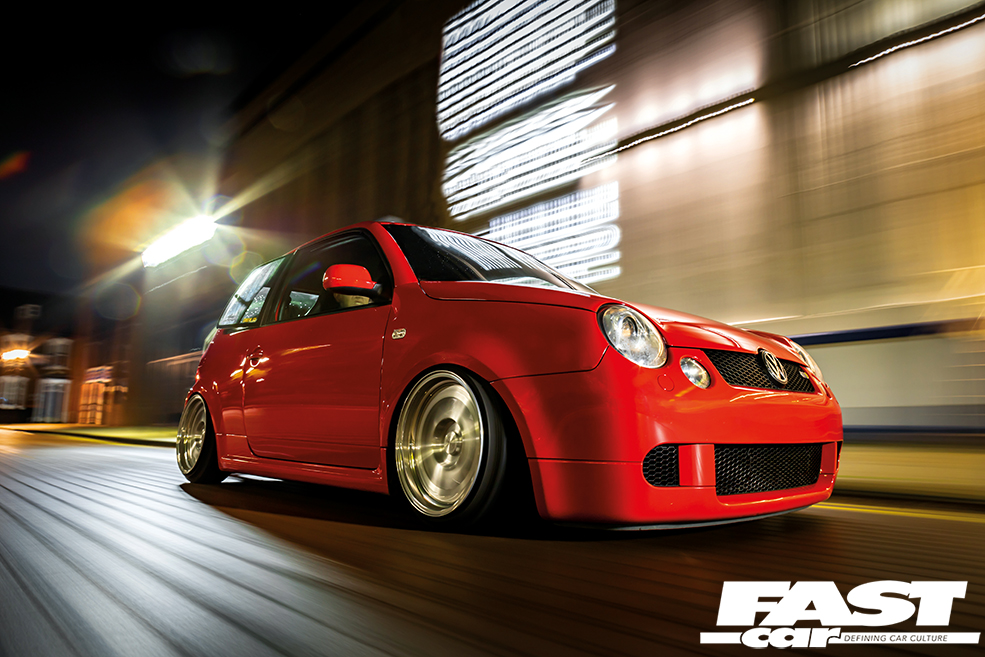 Reece is a details man, that much is obvious from even a cursory glance at this build, and the more you pore over it the more you see; it's also plainly evident that he's passionate about interiors, as the creativity and quality inside the Lupo's cabin coalesce to form something truly show-stopping. The steering wheel is an outstanding upgrade, being a flat-bottomed item from a Mk4 Golf that's been neatly customised to his own specs, and the seats are frankly magnificent – he's taken a set of Recaros from a Corsa VXR and had them retrimmed in half-leather and Mk7 GTI tartan fabric, with the doorcards being custom-trimmed to match. And since we're looking at those doorcards… well, you can hardly miss the speakers, can you? A whopping trio in each door, they form part of a holistic package by Bass Hull Customs which has been specifically designed to provide a superlative combination of power and detail. The door speakers are Machete units, with two 8.5in MM-85s and one 6.5in MM-65 in each, powered by a dedicated Avatar ATU1000 amplifier. Thumping Reece in the back with tight and punchy insistence is a pair of mighty 15in Machete Sport M15 subwoofers, getting their juice from an Avatar ATU2000 amp, and the result is something properly hair-raising. The quality of the equipment is first-class, and the expertise poured into the installation means this isn't a vibration-fest, but something akin to OEM levels of fit-and-finish. You can see the keenness on perfectionism from every aspect of the boot build; with the tartan-trimmed air tank and Air Lift manifold secreted behind the seats, the boot is free to accommodate a luxuriously spacious enclosure to allow the subs to breathe, with the amps mounted on either side. It really is very well thought out.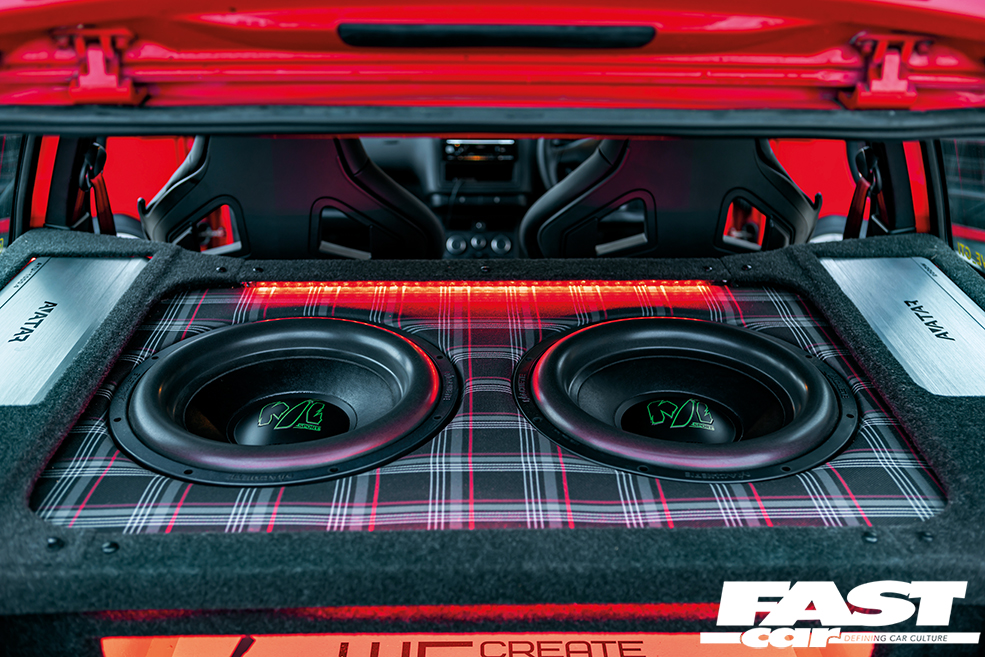 The tunes, then, are what characterises this thoughtfully executed project, and the result of all this painstaking work is a car that represents its hometown perfectly. This is a very Hull build. And Reece is keen to point out just how central to the local scene it is (even if he's too modest to put it that way): "A bunch of friends and I started up a group three or four years ago called LowerDivision," he explains. "We started to host meets, mainly because there wasn't much going on in Hull at the time with other clubs dying out; obviously everything is on hold due to the current situation, but hopefully we can make a comeback soon."
We have no doubt that they will, particularly with this tubthumping Lupo leading the charge. Rasping to the tune of 137bhp, thanks to a healthy remap along with BMC CDA induction and the aforementioned Janspeed system, it certainly walks the walk. "I just love how small and nimble the car is," Reece grins. "I think if you ask any owner of a Lupo GTI they will say the same, they're so much fun to drive!" Fun is, indeed, the key elemental factor of this car, although the sterling works to upgrade the audio are what have conceptually reframed all of this. Easing this quantity of quality equipment into such a small space is no mean feat, and the work achieved here is awesome; it sounds just as good as it looks, and it looks damn good. And while Reece probably isn't listening to The Beautiful South or the Hull Philharmonic Orchestra as he rumbles around town, you can be sure that he's been inspiring a new wave of audio enthusiasts to go to Hull and back in pursuit of those big beats.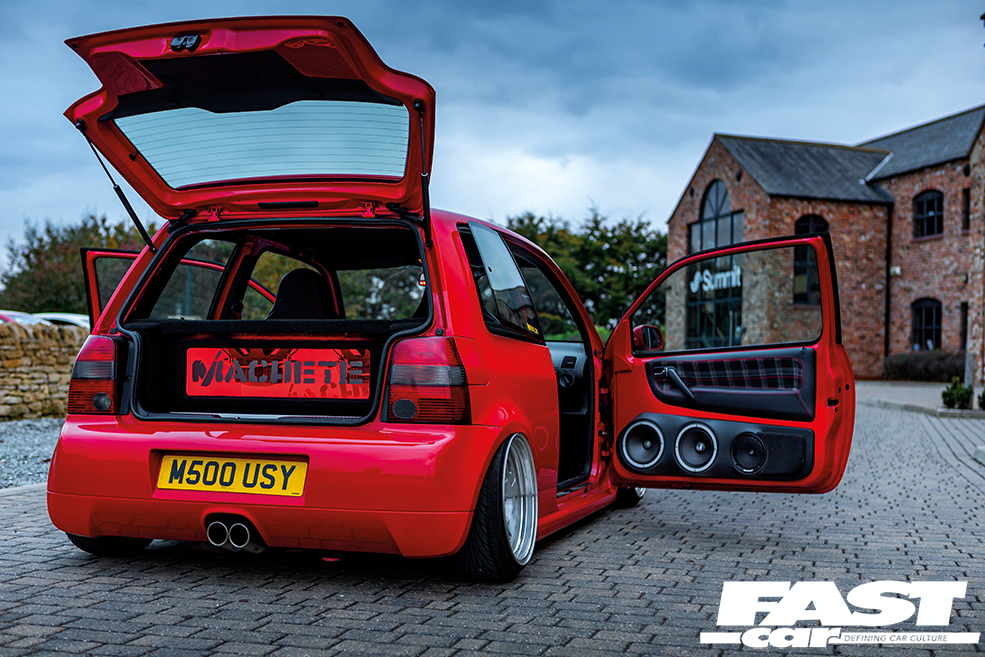 Tech Spec: Bagged Lupo GTI
Engine:
AVY 1.6-litre 16v, BMC Carbon Dynamic Airbox, Janspeed exhaust system, remapped to 137bhp
Transmission:
5-speed manual
Suspension:
Air Lift Slam Series suspension with 3P management, notched chassis
Brakes:
OEM
Wheels & Tyres:
8x16in ET0 (front) and 8x16in ET5 (rear) forged 2-piece Fifteen52 Tarmac split rim wheels, 165/45/16 Nankang NS2 tyres
Exterior:
Smoothed front bumper, smoothed boot, small fin aerial, carbon door pillars, stubby wing mirrors, pop-out rear windows, Cambridge Edition taillights, rear wiper delete, pop-out side windows
Interior:
Custom Mk4 Golf flat-bottom steering wheel, Vauxhall Corsa VXR Recaro seats – retrimmed in Mk7 GTI tartan and half-leather with red stitching, doorcards trimmed to match, carbon-skinned boot struts
ICE:
Custom install by Bass Hull Custom, 4x Machete MM-85 and 2x Machete MM-65 speakers with Alphard grilles in front doors, 2x 15in Machete Sport M15 subwoofers, Avatar ATU1000 4×1 amplifier for front speakers, Avatar ATU2000 1D subwoofer amplifier