A lot of M3 fans modify their cars by the book, but this stuff isn't a robotic process. Throw in a bit of passion and creativity like Owen Baxter has and you'll create something unique like this bagged E92 M3…
Fast Car magazine. Words: Dan Bevis. Photos: Daniel Pullen
It's a universal constant that no matter what you do or who you talk to, you'll never be short of advice. This can be helpful, or really bloody unhelpful depending who's bending your ear, but there's no escaping the flood of other people's ideas.
If there's one piece of advice we received from Red Dwarf's neurotic android Kryten that we need to hold close to our hearts for all of our days, it's this: 'If you don't GOSUB a program loop, you'll never get a subroutine'. Or, in more Lister-friendly parlance, 'Nothing ventured, nothing gained'. It's an obvious point, but nevertheless one that stands to be remembered – you only live once, and there's no point spending your life thinking about what could have been. Why go off half-cocked? You'll only regret it on your deathbed. 'Why did I spend my thirties driving a diesel Vectra and trying to maximise my mpg,' you'll wonder, 'instead of building a badass street-racer?'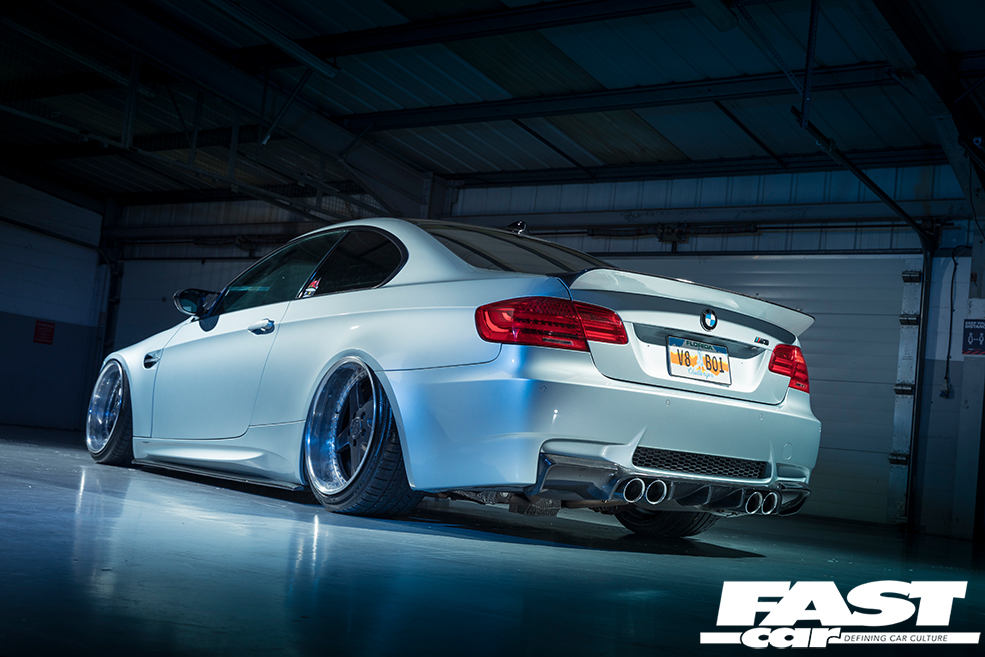 This is very much Owen Baxter's way of thinking. At the age of 23, he's tearing about like his hair's on fire in a bagged E92 M3 – and, in fact, he's already owned it for a couple of years, and had a few tasty projects under his belt before that. It's not just any E92 M3 either, but one of the coolest on the scene today, fusing big power with unique aesthetics and cunning engineering; a proper all-rounder that clearly demonstrates how keen he is to crack on with the 'you only live once' approach.
Bagged E92 M3: Rising Fun
"I've always been mad about cars," he says. "No clue if I can pin it down to one thing, but for as long as I can remember I've been into it; I used to race BMX, then moved into cars as soon as I could. They've always been a big part of my life so I was bound to end up doing stupid stuff with modifying! Before the M3 I had a Mk5 Jetta 2.0 TFSI which was bagged, wrapped, and running about 270bhp; I had another Jetta before that, and my first car was a Mk7 Fiesta which I gave coilovers, wheels, and a lot of abuse."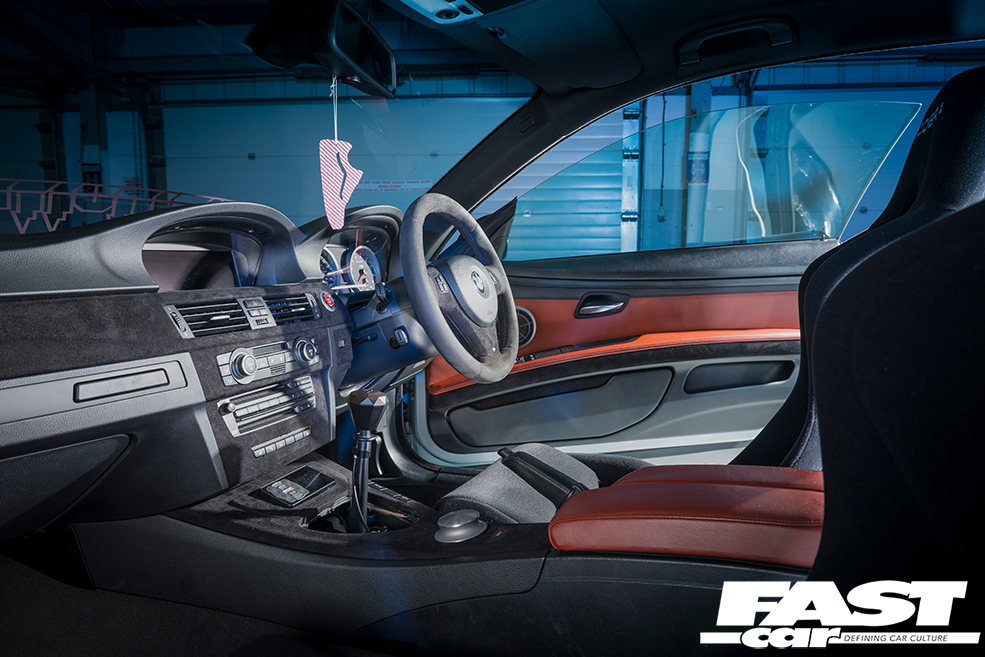 What's particularly interesting to note here is that this man, driving a German car and with an exclusive motoring history of European rides, has always been deeply keen on the JDM scene. "It sounds weird, I know, given what I drive," Owen concedes. "But there's something I can't put my finger on about the style of JDM modification, and the culture and look-and-feel of everything they do. I've tried to use this thinking on the E92 M3, to do something a little different to what you'd normally see done with a car like this."
This is a bold play that we can happily get on board with. Variety, as they say, is the spice of life. It would be a very dull world indeed if we all liked the same things and were suspicious of change; nobody would modify their cars for a start, and this colourful showcase of cutting-edge motors that you hold in your hands would instead be filled with paint code colour charts and differences in OEM seat cloth weave, for want of more disparate subject matter. The fact that individuality shines brightly at the centre of the motoring galaxy is something we should all be very happy about.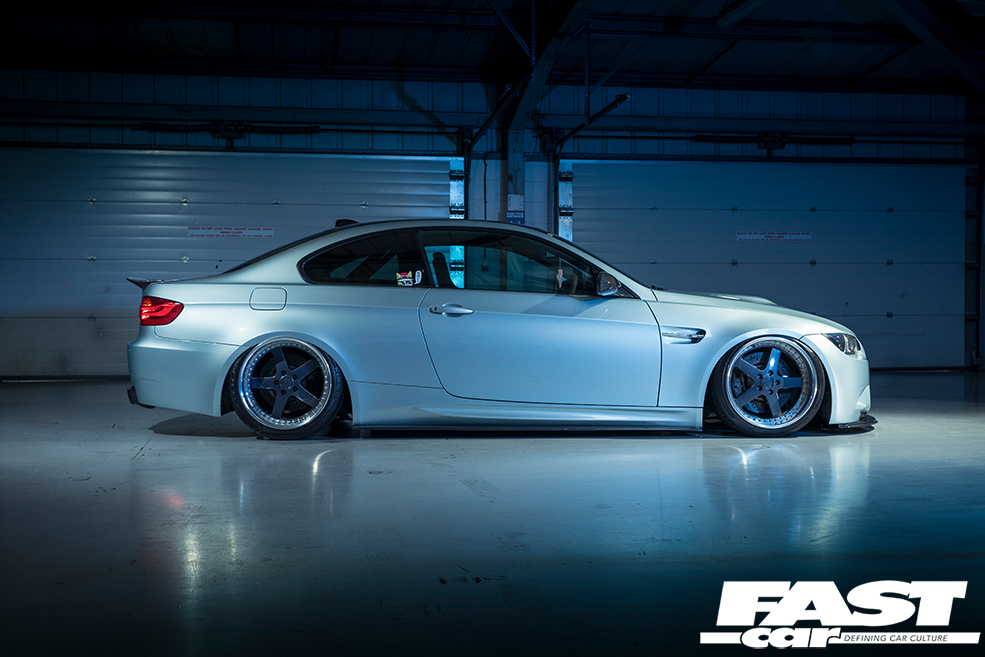 Of course, individuality is a double-edged sword: what's cool and interesting to one person may well stick in the craw of another. And that, for some, is exactly the reason that they do what they do – to upset the applecart, to subvert expectation, to get inside the heads of the haters and move all of their stuff around so they can't find anything. Mischief is rife in the modifying scene, and that's something to be celebrated. Particularly when it comes to M cars… the BMW purists can get really sniffy about doing stuff like this to a genuine M3, which of course makes it all the more entertaining. Screw the haters, you only
live once.
"It's gone down a bit Marmite, to be honest," Owen grins. "Some BMW guys think it's cool and others are hugely against it. There's a lot of very similar-looking cars in the M car world, people don't seem to like it if you try to do something different; it's track setups or nothing for a lot of M3 owners, and they're very vocal whenever I post anything of my car online – that's all part of it though!"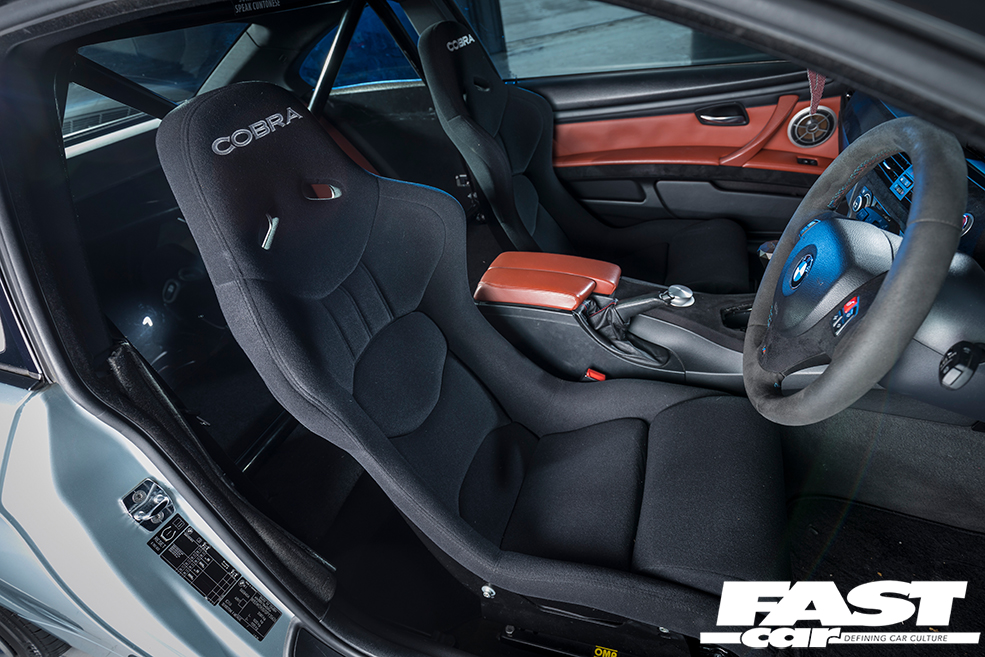 Birthday Steer
Having sourced a tidy E92 coupe as an early birthday present to himself in 2018, Owen wasted no time in cracking out the spanners. You'll spot that the exterior aesthetics have been very cleverly judged, fusing the carbon fibre upgrades more common in BMW circles with a cheeky infusion of Owen's beloved JDM styling. The roof is carbon, as are the kidney grilles, front splitter, sideskirts, and rear diffuser – and the bootlid sports a genuine Liberty Walk spoiler, which has been carbon-skinned at the top and colour-coded at the bottom; "Todd at TXD Design did an insane job with that," he enthuses.
The interior is similarly disparate in its theme, combining the luxurious appointments of the factory M3 – such as the jarringly-coloured doorcards and centre armrest trim – with a pure race car vibe: Cobra Nogaro Clubsport seats are always a winning move, and when they're paired with a PalmerSport rollcage and Alcantara trimmed everything to eliminate that evil glare, it adds up to something seriously entertaining. One addition we particularly love is the Coolerworx shifter, not just for the fact that they're inherently cool, but because of the manner in which Owen has integrated it: when you see these things fitted to, say, an S-body Nissan or an R53 MINI, they're usually Touring Car-style towering columns, but here it's cunningly masked by having been sunk into the stock centre console and topped with a WeAreLikewise knob – the whole project's just studded with neat ideas and flawless executions.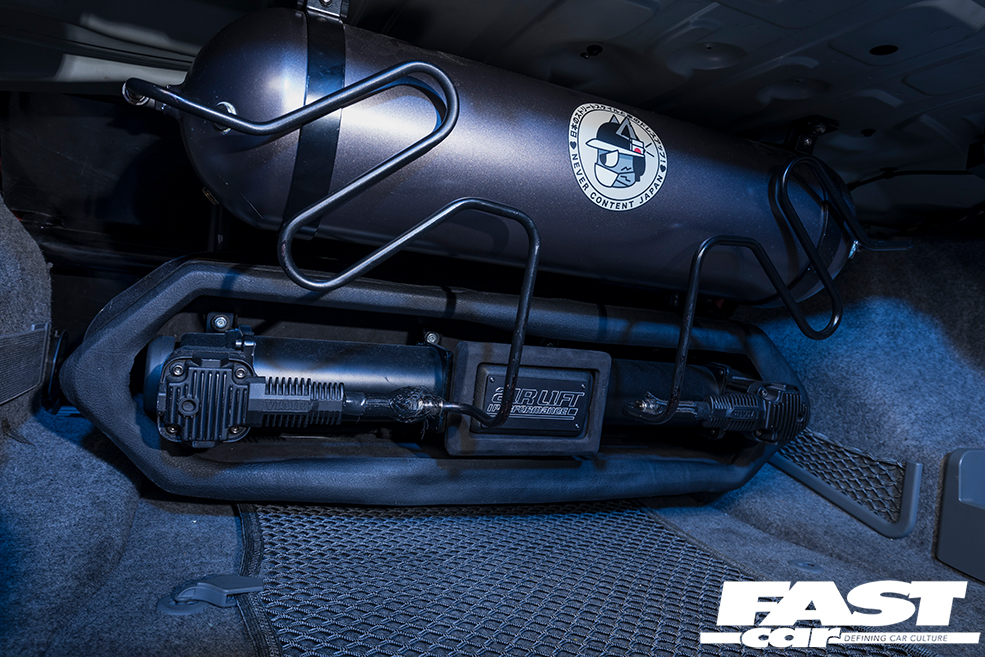 A very racy interior then, and you can be damn sure that this car's got the power to match. A standard E92 M3 is rapid enough, but Owen's sprinkled in enough go-faster goodies to make it a proper hellraiser. The cold air induction, intake scoops and lightened underdrive pulleys were all supplied by Macht Schnell, and if you still recall your GCSE German vocab, that company name translates as 'hurry up' – combine this stuff with a custom decat exhaust system and an Evolve Stage 2 map, and he's staring down the barrel of 450bhp. Which is more than enough to generate the sort of enthusiastic donuts that got him kicked out of a show last year…
Naturally it's not the carbon, the track-biased interior or the power that's getting the M fanboys all fired up and rowdy. It's the chassis. You see, Owen's done the seemingly unthinkable and bagged it. Now, you know and we know that fast cars on air can handle just as well as (and sometimes better than) conventional steel sprung cars. But try and explain that to the Bavarian owner's clubs when Owen airs out at meets, kissing his arch lips to the sidewalls wrapped around his super-rare 19-inch WORK Equip 05s. 'You've ruined that,' they froth, somehow forgetting that what a stranger does to their own car has literally no impact on their life whatsoever. As Owen said, this kind of thing is all just part of the game. If you don't GOSUB that program loop, you'll never find your subroutine. That's just science.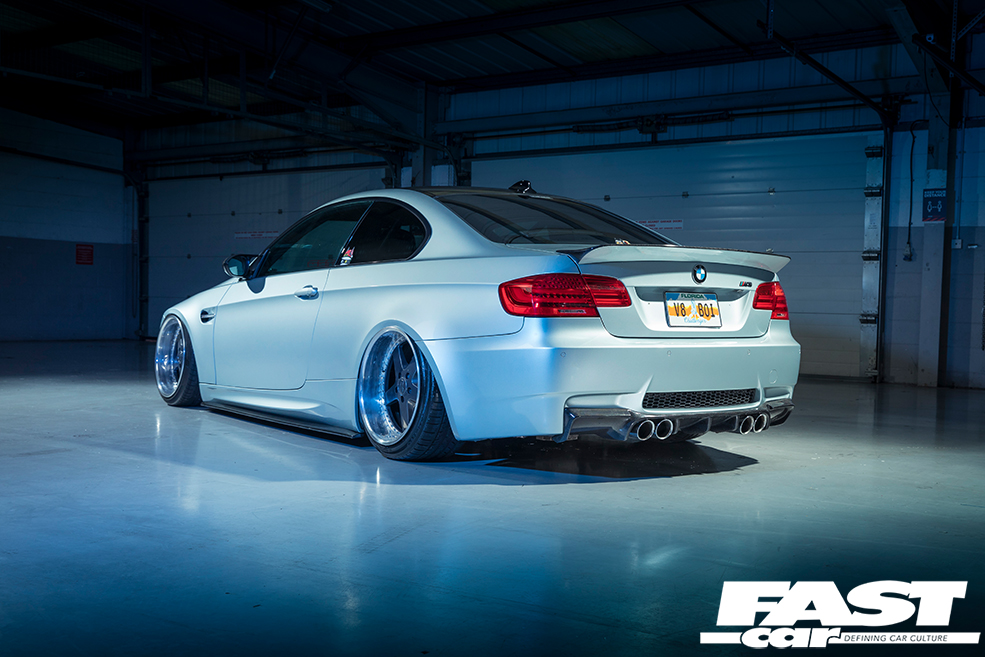 Tech Spec: Bagged E92 M3
Styling:
Carbon fibre roof, carbon kidney grilles, carbon splitter, carbon sideskirts, carbon diffuser, custom Liberty Walk ducktail spoiler – carbon-skinned top and colour-coded bottom, custom NEM V1 angel-eye headlights with painted inners, LCI taillights
Tuning:
S65B40 4.0-litre V8, Evolve Stage 2 map with overrun, Macht Schnell cold air intake, Macht Schnell intake scoops, Macht Schnell lightened underdrive pulleys, custom decat exhaust system with secondary resonators
Power:
450bhp (est.)
Chassis:
19-inch WORK Equip 05 wheels – polished lips, gunmetal faces and correct WORK hardware, Air Lift Performance suspension with 3P management
Interior:
Cobra Nogaro Clubsport seats, Alcantara-trimmed steering wheel, Alcantara-trimmed doorcard and steering wheel trims, Coolerworx shifter with WeAreLikewise Neil Diamond knob, M-stitched handbrake gaiter, PalmerSport half-cage, custom rear seat delete, custom 3P controller mount, custom floating boot build