Now a modern classic, the original 8 Series is a seriously cool retro cruiser, and all it takes is a few subtle mods to really turn it into something a bit special, take this bagged E31 for example…
Feature from Performance BMW. Words: Elizabeth de Latour. Photos: Chris Frosin.
The OG 8 Series is unquestionably the epitome of classic BMW cool. It went through a bit of weird life cycle: looking seriously futuristic when it first appeared in 1989, then falling out of fashion and favour with the motoring crowd, with prices hitting rock bottom but now, in the last few years, people have suddenly decided that, actually, it's a seriously cool slice of retro Bavarian motoring. Rightly so, because while the 8 Series may have been revived, it's a rather soulless offering compared with the super-sleek, pillarless and pop-up-headlight-equipped original, which has aged incredibly well. The design was so right that, aside from offering the Sport model with its more aggressive body styling, BMW never once face-lifted the E31 in all its 10 years of production. This was clearly a car that was well ahead of its time.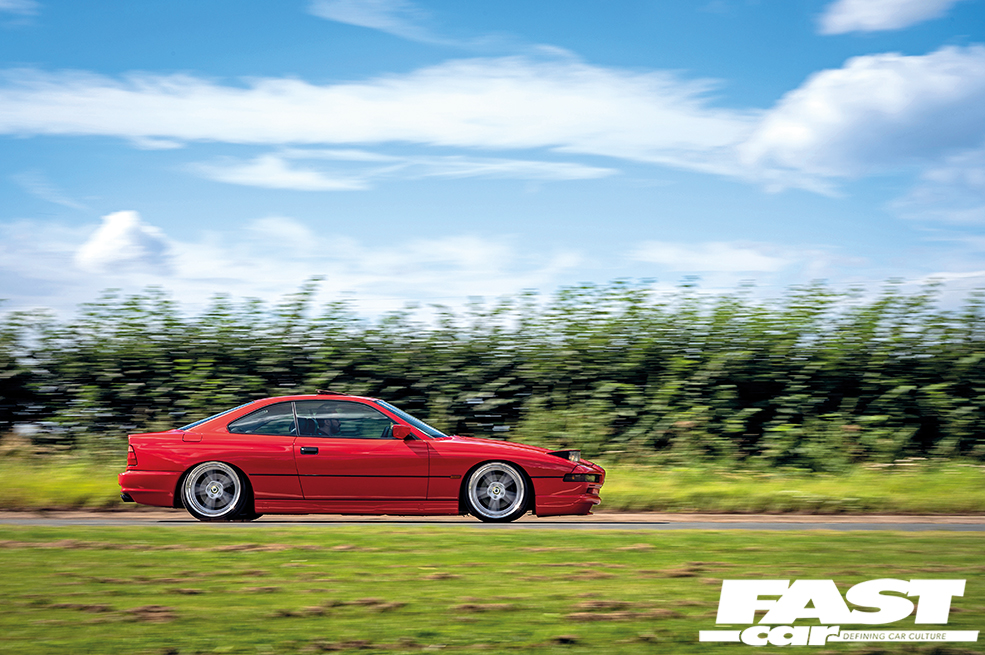 Ayman Bugis (@aimanbugis1) is a man who appreciates the 8 Series, as you can probably tell by looking at the one he owns right here, but he's also a man who appreciates BMs in general, and that immediately makes him someone we want to get to know. "I was born and grew up in Jeddah, Saudi Arabia. When I was at school I was always a big fan of BMW magazines, I've always been inspired by those heavily modified BMWs in the UK, I loved them, and I wanted one day to build my own BMW to a high standard exactly like what we saw published in those magazines," he says with a grin. "I finished my bachelor's degree, got a well-paid position at King Abdulaziz University in Jeddah, then I thought to myself let's buy a present from myself to myself," he laughs. "I went to a BMW showroom, and I bought myself a brand new E92 320i. I love the shape of the E92, and I'd seen a few on Instagram that had been modified/stanced on big, wide wheels. So I said to myself, yes, this a nice shape, within my budget, had quite wide arches so this what exactly I wanted," and that was a good place to start his BM journey and a good place to get stuck into modding too. The E92 was dropped on KW coilovers over Work VS-XX 19s, enhanced with an M3 bonnet, CSL boot lid and some carbon touches, and it was later joined by an E46 that Ayman has sitting on Air Lift air-ride, Racing Dynamics RS2 splits, and a selection of carbon enhancements as well. That's a lovely modded pair to have in your possession, but there was one BM that Ayman had in his mind, and it was an itch that needed to be scratched.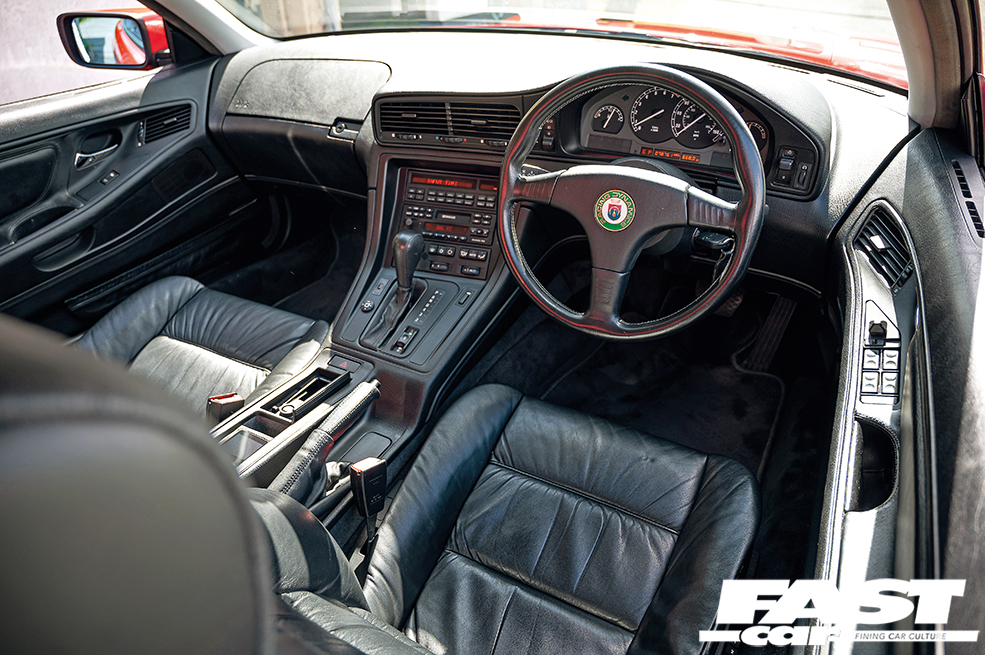 "I'd always wanted a simple and clean, classic, unique shape, rare and powerful BMW. The pop-up headlights and pillarless design make the shape of the E31 unique; for me, it is one of the best designs BMW ever made. It is a real eye-catcher. Every single trip I do, I get a lot of attention, thumbs up, and most of the time everyone, young, old, male and female, stop me and start talking about the E31," grins Ayman. Of course, wanting an 8 Series and finding a good one are two very different things, but he struck gold with this mint example he managed to find. "I always wanted an original condition, clean, low-mileage example. I'd done few long trips to view some, but I was not happy with the cars I saw. One day I dropped my little one, Sohaib, at school and then came back to the house for a quick coffee, checked Auto Trader, and was so lucky to find this at a car dealer in Birmingham just an hour from my house. It was in immaculate condition, given it is 25 years old. It has only done 75,000 miles; the previous owner was an older guy who said he was a BMW technician, so I am sure he was taking really good care of it," Ayman smiles.
As we have already established, Ayman isn't just an admirer of BMs, he's a keen modifier of BMs. That meant that this E31 was not destined to stay stock for long once in his possession – in fact, he was ready to go with the mods before he'd even got the car, having spent eight months gathering the parts he wanted. "I ordered the Air Lift suspension before I even bought the car. I bagged it the same week that I got it, and the Racing Dynamics wheels had been rebuilt and polished and were ready to go on the car," he grins.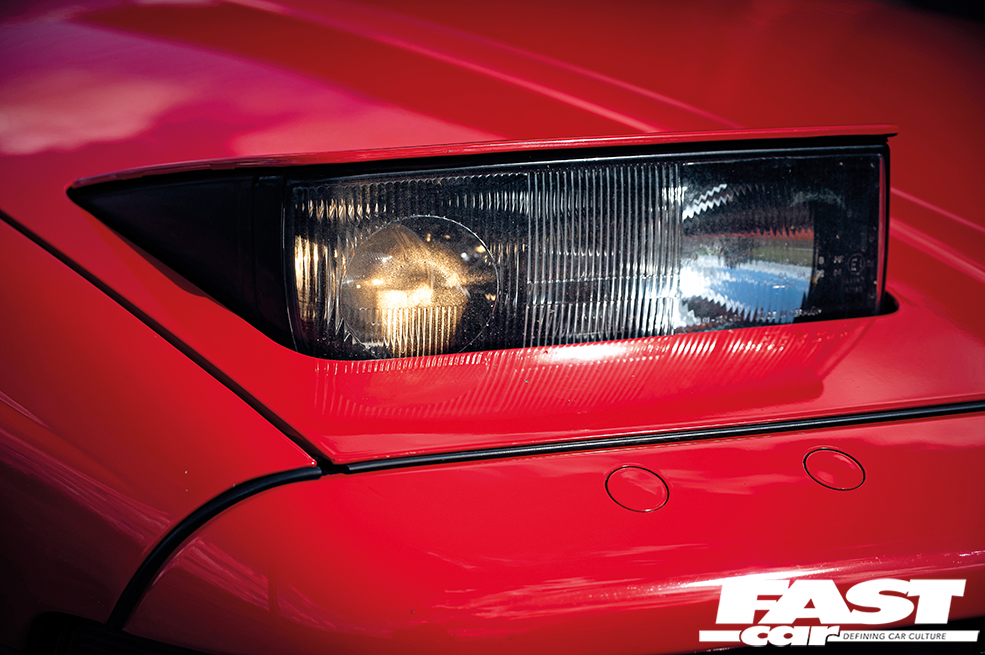 The E31 is all about style, always has been, it's about cruising and looking immeasurably cool while you're doing it, so it stands to reason that Ayman's mods are all about enhancing the 8 Series' looks and turning it into a truly jaw-dropping car, and it's safe to say he's achieved that and then some. It's unquestionably the air-ride that plays such a big role in that, and it serves up some serious visual drama; "It's a custom Air Lift Performance setup installed by harry at Riiva Design," explains Ayman. "I chose it because I really like the look of a car when it's slammed on the floor, it looks super-clean and simple," he says. The E31 looks especially awesome on air thanks to those clean lines and elegant side profile that mean it's sheer perfection when aired out and sitting on the ground, and it looks no less stunning when it's rolling low, too.
Naturally, that dramatic air-powered drop-on-demand requires the right set of wheels to take full advantage of the complete lack of arch gap and to enhance the visuals even further, and Ayman is in full agreement. "For me, the wheels are the most important thing in the stance game and modding cars in general. You need to spend some big money on them," he says, which meant that, when it came to wheels for the 8 Series, there were never going to be any half-measures.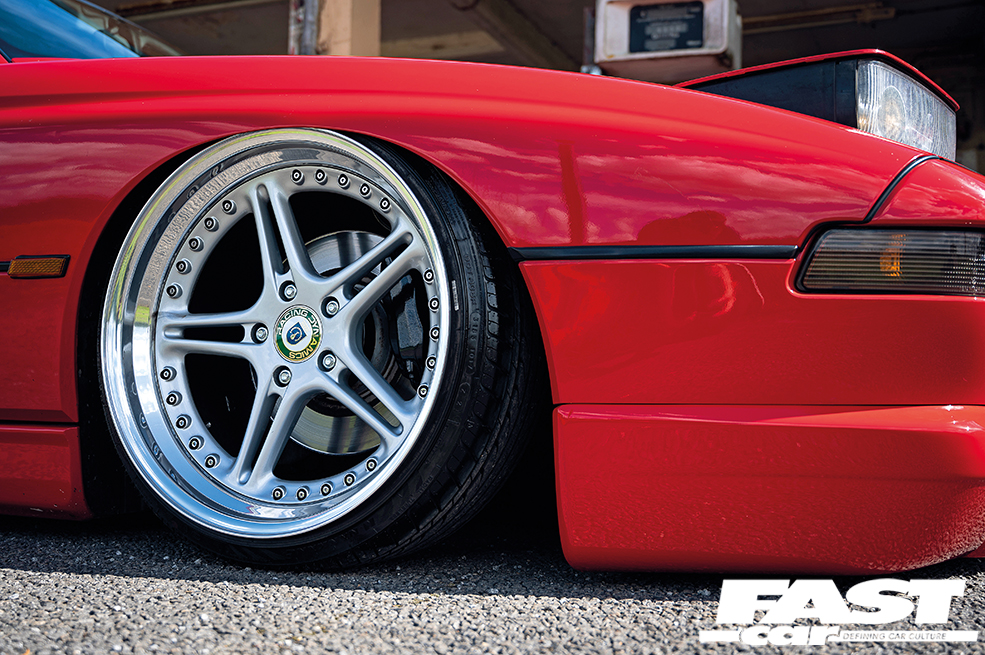 "I am a rare wheel collector. I have three sets of Racing Dynamics RS2 splits, Alpina Softline splits, Azev A splits and BBS LMs," he says with a smile, and it's one of those sets of RS2s that the 840Ci is wearing in these pics. "I always wanted original, unique, rare wheels. I was lucky to find the Racing Dynamics as new old stock nine years ago in the States, so I bought them, had them split and rebuilt with wider lips. Then they were refinished and rebuilt even wider for the 8 Series," and the result is nothing short of stunning. These RS2s measure 19" across, 9.5"-wide up front and a massive 11" at the rear, with 3" and 4" front and rear lips respectively, and they look awesome on the Eight. The style suits the car's design perfectly, and they really fill out those big arches with ease, making this a match made in heaven.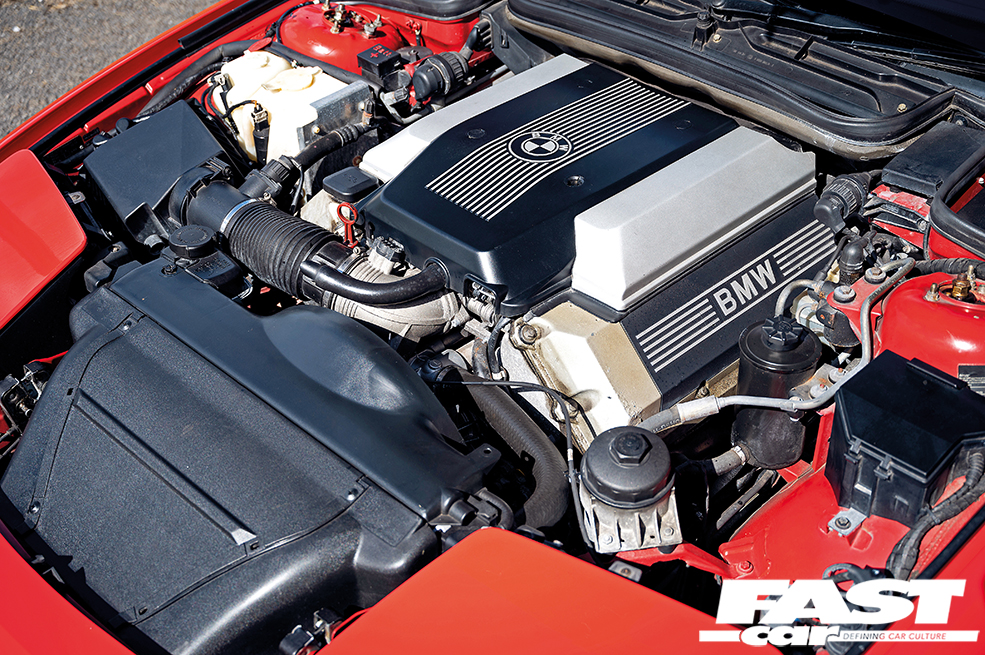 While most E31s were purchased in rather sedate colours, Ayman's example is finished in its original shade of stunning Hell red, which has been treated to a full machine polish to get it looking its absolute best. It gives this 840 so much more presence and the styling is further enhanced by a custom front number plate delete panel from Canada, made to match the Racing Dynamics front bumper filler that is no longer available for purchase. The 4.0-litre M60 V8 that sits under that long bonnet has been left untouched, and it's not lacking in muscle, but it has been enhanced with the addition of a custom exhaust, which ensures this 8 Series is blessed with a suitably awesome soundtrack. The cabin of the E31 8 Series, meanwhile, was clearly designed with crushing continents in mind, and it's an incredibly comfy and refined place to be. While Ayman has left it almost completely alone, he has added his personal touch in here too. "I fitted a rare Racing Dynamics steering wheel, which I imported from Singapore, to match the wheels," he says, and this exotic enhancement looks fantastic, it's subtle and stylish, and suits the cabin and the car perfectly.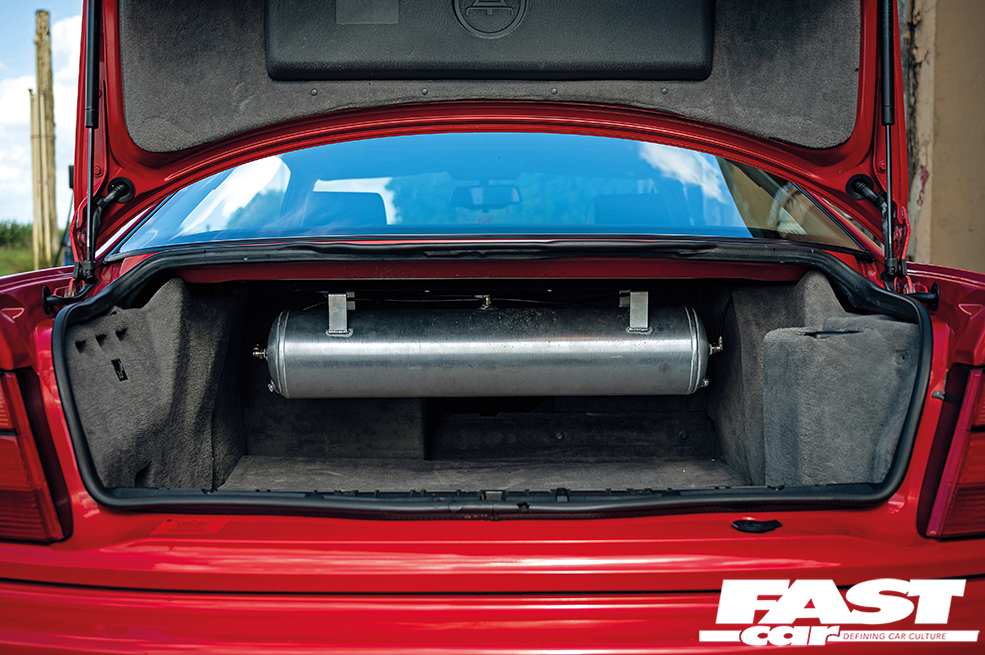 "I always have two rules I follow when I'm modding a car: simple and clean, and less is more," says Ayman, and his philosophy is in full effect here with this 8 Series. It's a stunning-looking machine, but he's simply given the iconic factory styling a helping hand with the subtlest of additions, and it all works so well. This is a car we could spend hours looking at and never get bored. Considering how passionately Ayman feels about wheels, it's no surprise to learn which his favourite mod on this project is… "It's the wheels," he says with a smile, "because they are rare, and all the time people are asking me about them," and we totally get that. In terms of possible future plans, you won't be surprised to hear what he's got on his mind either. "I'm just going to get a few sets of wheels, which I will rebuild, and they will be fitted to give the car a fresh and different look," he says and, in fact, since the shoot, the car is now sitting on a set of AC Schnitzer Type III Racing splits.
Talk turns to what car could be next, and it's clear that Ayman's sights are set firmly on the past; "I'm not sure yet but 100% something older than the E31. Maybe from the '80s or '70s," he muses. "According to my dad 'People are going forwards and you are going backwards,'" he adds with a laugh, but you really can't beat an old-school BM. Whatever Ayman picks up next, you can be sure it will be modded according to his two rules, and when the results are as stunning as this bagged E31 8 Series, it's clearly the right approach.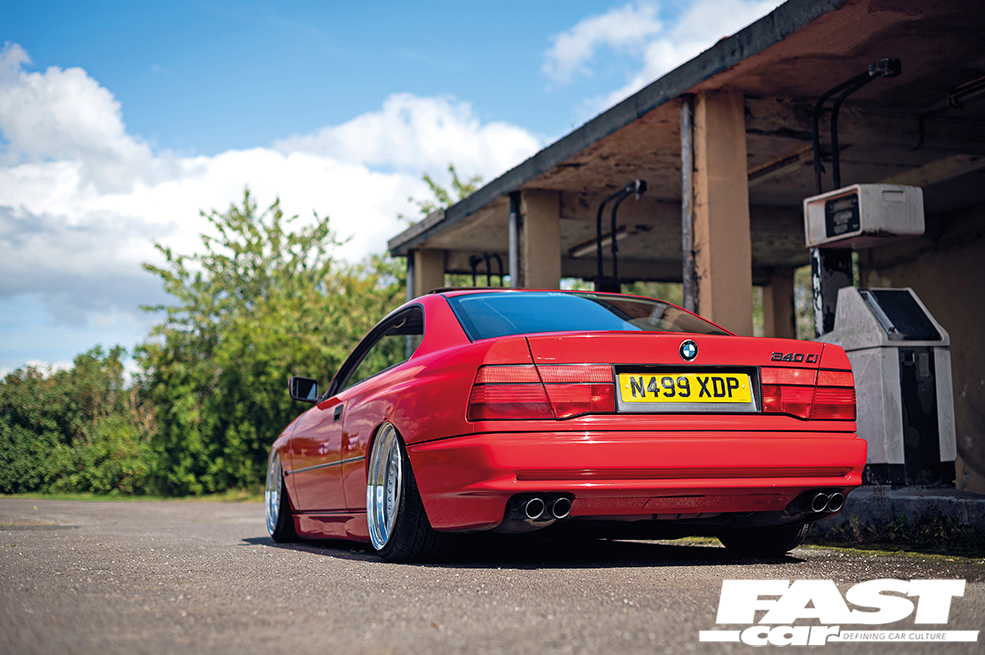 Tech Spec: Bagged E81 8 Series
Engine & Transmission
4.0-litre V8 M60B40, custom exhaust with 3" chrome tips. Five-speed automatic gearbox
Chassis:
9.5×19" (front) and 11×19" (rear) Racing Dynamics RS2 wheels with silver centres and polished stepped lips, 3" (front) and 4" (rear) lips, 215/35 (front) and 235/35 (rear) tyres, Air Lift Performance air-ride
Exterior:
Original Hell red, custom front number plate delete panel
Interior:
Racing Dynamics steering wheel, Momo adapter, OEM telephone