It's all very well keeping up with the Kardashians, or whatever social media reckons is important today, but if you want to shake things up you've got to lead, not follow, as Shaun's bagged Audi A4 Avant will now demonstrate.
Feature from Fast Car. Words: Dan Bevis. Photos: Grant McIntosh
That device in your pocket has a lot to answer for. The nature of social media ensures that news of breakthrough styling and modifying trends spreads fast; you share a photo on Instagram, Facebook or your favourite regular forum, nip off to stick the kettle on, then by the time you've checked back it's everywhere. And this immediacy has had a really interesting effect on the way we play with our cars these days. If you look back over the decades, they're all characterised by certain key touchpoints – jacked-up suspension and airbrushing in the 1970s, say, or smoothed tailgates and bad-boy bonnets in the nineties. But today's modifier doesn't really fit that pattern – by the time you've done something, it's already being tried by dozens of other people (assuming you've been sharing photos of it, that is), and in a few weeks' time everybody's saying that your unique, fresh new look is now a played-out pastiche. Tricky, isn't it?
The right-here-right-now online culture also means that when something really outlandish emerges, it can immediately earn cult status. And the way to do this is not just to harness that irritating cliché of 'thinking outside the box', but instead to set fire to the box, throw it through a vortex into another dimension, and start thinking inside some manner of spectral prism instead. Build the car that nobody else has built. Do something a bit daft, because life's too short to drive boring cars.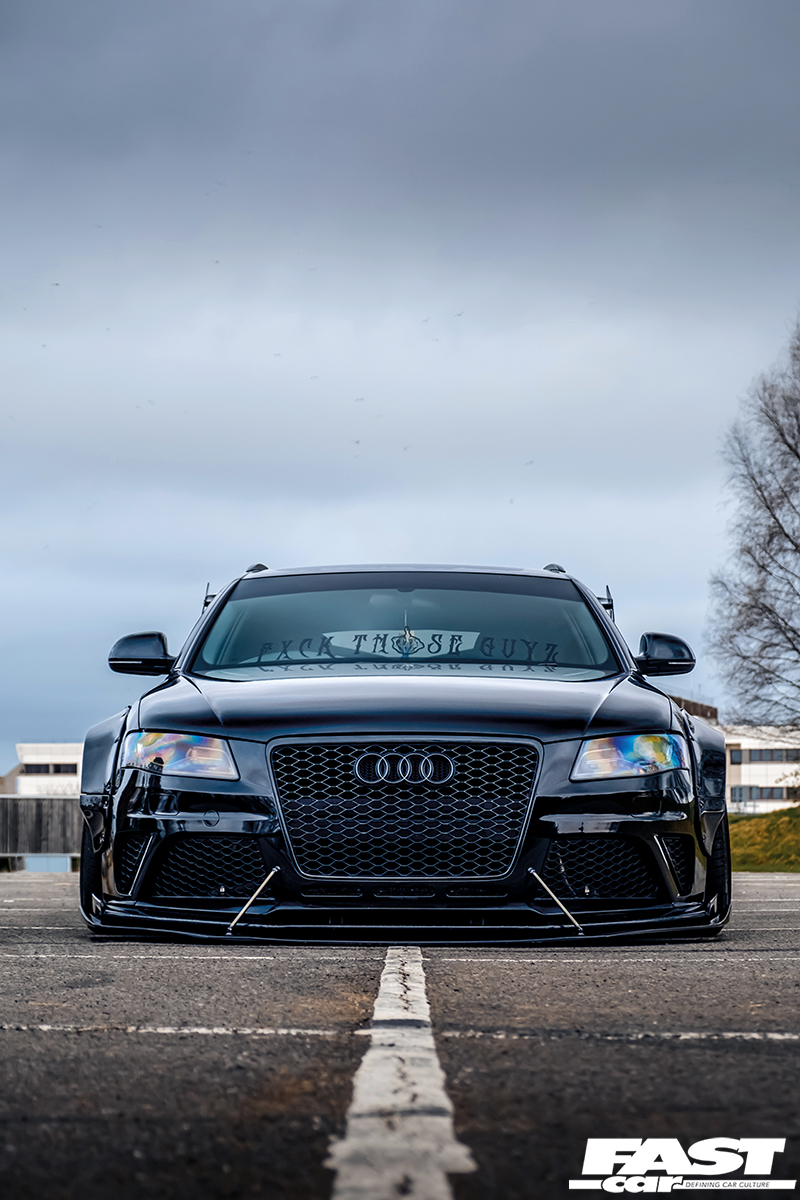 Teetering amusingly on the brink of this particularly offbeat brand of logic is Dumfries-based Audi fanboi Sean McIntosh, who found himself in the rare position of turning his sensible daily driver into a totally bananas, bagged Audi A4 Avant show car, without losing any of that practical everyday functionality. "There's not many people who would daily-drive their show car," he smirks, but of course Sean is not most people. And you can imagine the stratospheric levels of eyebrow-raising he's provoking as he cruises to work in this wildn and wacky estate car/racecar mish-mash.
This isn't Sean's first Audi – he's previously owned a 2006 A3 and a 2007 A5 coupe – and the circumstances by which this car came into his life are a little unusual. Indeed, while he was cruising around in his bagged A5, it hadn't occurred to him that the next logical step might be to build a widebody A4 Avant… but fate does sometimes have a habit of throwing curveballs into the playbook of our lives.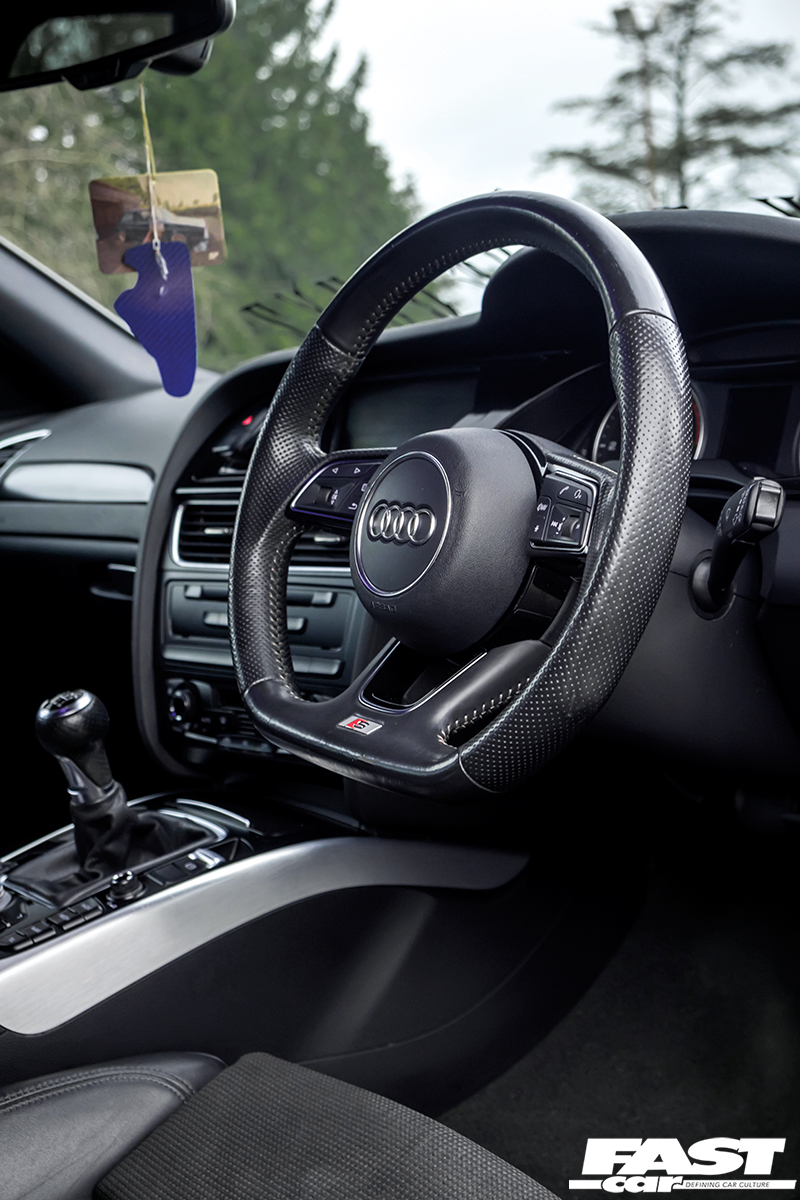 "It's a funny story, really," he recalls. "My wife had actually bought an A4 Avant a couple of months before, and having driven it a bit I decided that I rather liked it." Those mischievous ears of fate were clearly listening, however: "Then the worst-case scenario happened," he continues, "and I crashed my A5! So that was decision made, it was time for me to get an A4 Avant of my own."
Fair enough, that is the way the cookie crumbles sometimes. Fortunately the Air Lift setup he had on the A5 was a) undamaged and b) compatible with the B8 A4 Avant platform, so the rest of the narrative sort of began to write itself. Well, kinda. Very few people were truly prepared for just how bonkers Sean was about to go.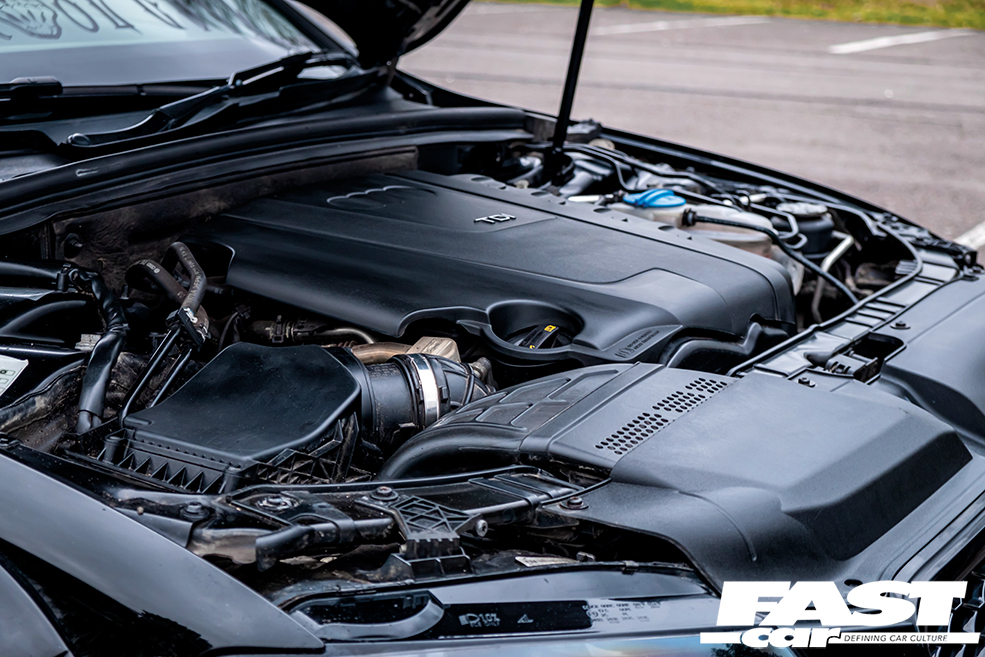 "I started hunting for a car straight away, and found this one in a dealership in Liverpool," he says. "I sorted out the details and drove it home, and all the way I was making plans. The car was totally standard, and I knew I wanted to create something unique, a total one-off."
The first mod he carried out was something Sean considers to be a no-brainer for any Audi (and we have to say, we agree), and that was to swap in a honeycomb front grille. And the next thing was to pinpoint just which wheels he should be rolling – because, as the old saying goes, wheels maketh the car. With the air-ride ready to swap over, he knew that it was go-big-or-go-home time and the rims had better be pretty bloody sensational to fulfil his 'create something unique' brief; once again, fate intervened and the murky cesspool of Facebook Marketplace unexpectedly yielded a true gem: a set of 20in Rotiform CCVs at a price that was simply too good to pass up.
Fitment of the air-ride was entrusted to Jack Hogg at Tuer Garage in Ivegill, and with the big-booty Audi psssht-pssshting appropriately, it was time to tick a few more things off the to-do list.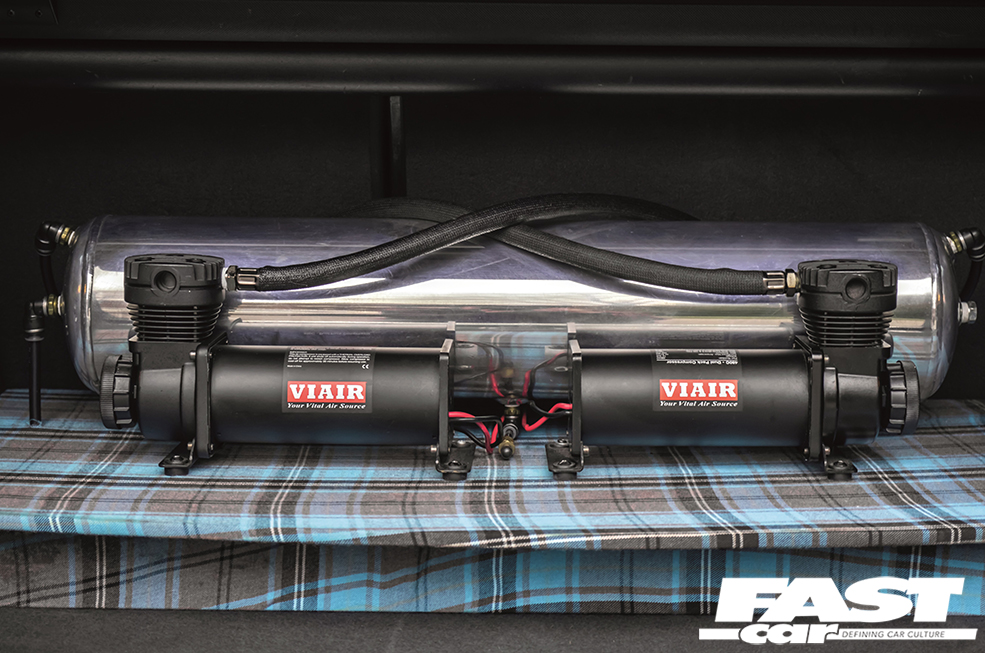 "I'd had a B9 courtesy car from Audi, and I really loved its flat-bottom steering wheel – so I just had to get me one of those," Sean grins. While this was going on, the newly acquired Rotiforms had been sent off to Fife Powdercoating for a refurb, and it was at this juncture that the real turning point in the project presented itself: Sean negotiated a sponsorship deal with Xenonz UK. Now, this'll be a name familiar to many of you (see boxout for further info), but in a nutshell this is a firm that knows its modifying onions when it comes to reflavouring on-trend project cars. Sean started small, picking up the company's S-Line rear diffuser – the first one made, and the first Avant to be fitted with one – before setting his sights a little higher.
"I went down to Xenonz UK's headquarters to meet with them, and see what their widebody kit would look like on the car before making my mind up to do it," he says. "Once it was test-fitted I just fell in love with the way it looked on the Avant, so that was decision made – we were going widebody!" While the A4 was there, it was also fully 3D-scanned to help with custom-making any future parts for the car. A further evolution to the concept came when Sean collected his assorted wide-arch ingredients and concluded that the front end of the car didn't look suitably aggressive enough to match, so he bought an RS4 front bumper and splitter kit from Xenonz too.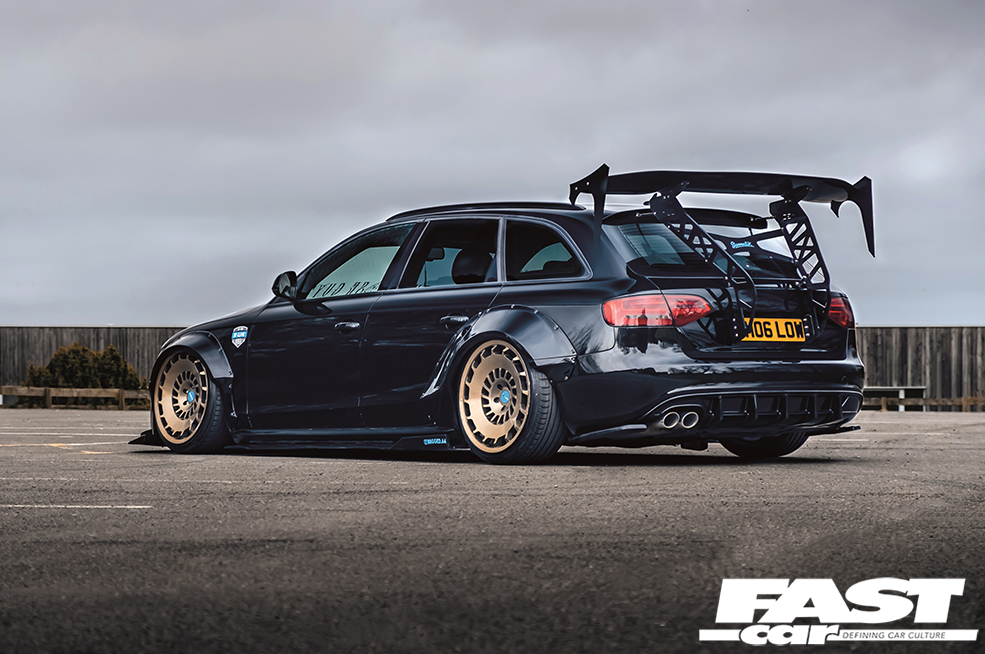 "I had the bumper and the bodykit sprayed by Dickson's Bodyshop in Eastriggs," says Sean, "and once that was done I decided to fit it all at home with the help of my brother Grant. It was the first time that either of us had done something like this, but we were determined to give it a go."
It certainly does take some determination to start sawing away at the arches of your daily driver in the hope that it's ultimately going to end up looking better, but evidently Sean and Grant are made of stern stuff and the fit-and-finish really is superb. Must have been a few choice words and chewed fingernails along the way, but the results are pretty stellar.
"I decided the chrome had to go, so I wrapped the roof rails and window surrounds in black," Sean goes on. "Seeing how aggressive the car was looking by this point, I opted for Xenonz UK's wider side splitters to tie in with the widebody, and also a splitter extension on the front to give it a really fat look." To augment this effect, the windows and lights were tinted by Total Tinting in Sunderland, and the headlights were split to darken the innards; all of the silver interior trim was also repainted black to suit the vibe. The car was looking as menacing as hell by this time, and there was just one more piece of the puzzle to make it complete. One massive, weirdly-shaped piece.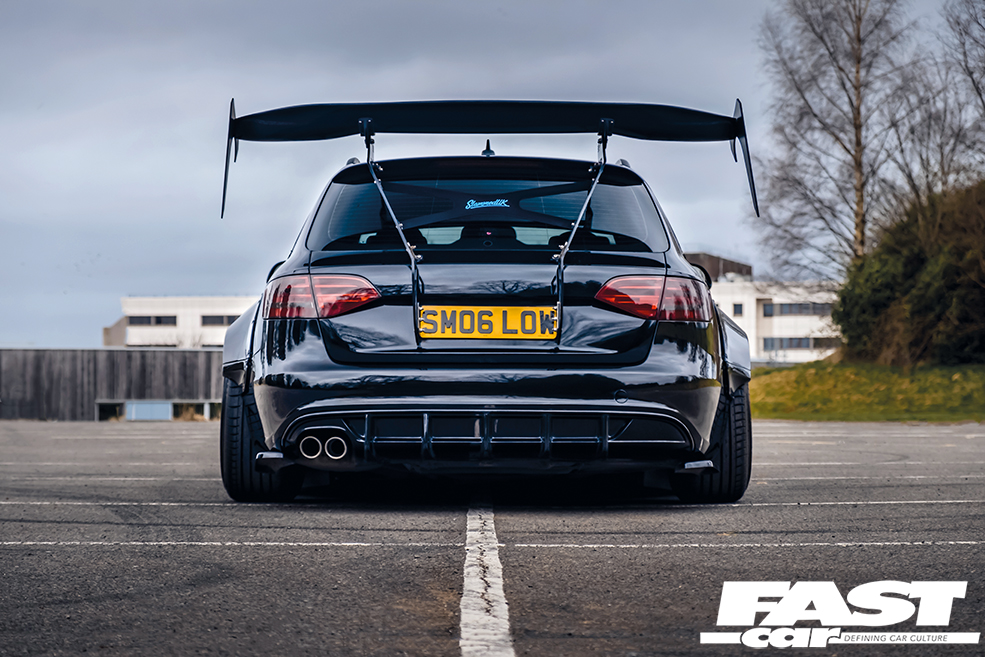 "I'm into the race car look, and I started looking into big wings," he says, with a mischievous smile. "I got in contact with MGC Modifications, and he made me this one-off rear wing." It really is a whopper too, isn't it? Just the sort of batshit vibe you need when you've chopped up your daily driver and made it all racer-chic, it's the perfect coda to a swelling crescendo of lunacy.
"This might just be the only wide-body B8 Avant in the UK, and it's definitely the only one with a wing like this," Sean laughs. And he's not done yet either; with the social-driven sponsorship deal with Xenonz UK, as well as repping for @fxckthoseguys and @filthautomotive (Sean's own handle is @b8gged.a4), there are plenty more plans bubbling over. The internet's going to have to run just to keep up.
Tech Spec: Bagged Audi A4 Avant
Engine:
2.0-litre CAGA TDI
Transmission:
6-speed manual
Suspension:
Air Lift Performance suspension, 3P management
Brakes: OEM
Wheels & tyres: 10x20in ET35 Rotiform CCV wheels, 245/35/20 Accelera tyres, 50mm (f) and 55mm (r) Superforma spacers
Interior: B9 flat-bottom steering wheel, all silver trim painted black, B8.5 floor mats
Exterior: Xenonz UK widebody kit (arches cut to fit), Xenonz UK RS4 front bumper, Xenonz UK front splitter kit, Xenonz UK rear diffuser, Xenonz UK side splitters, custom MGC Modifications rear wing, honeycomb grille, custom headlights