If you're looking for the ultimate sleeper, this 1000whp BMW E91 Touring might just be it. Totally innocuous on the outside, utterly insane on the inside, it's a turbocharged Touring powerhouse that will blow you away.
Feature from Performance BMW. Words: Elizabeth de Latour. Photos: Patrik Karlsson.
There's often a lot of debate about what constitutes a sleeper. People seem to have wildly varying ideas, and you'll frequently see a lot of arguments on forums surrounding the concept, but the principle is simple. It just has to be something that looks as absolutely innocuous on the outside as possible, with no hints whatsoever that it could possibly be a seriously fast car. That means small wheels, a small exhaust, no extravagant styling and, ideally, the most unassuming body shape possible to begin with. If it looks in any way sporty, the general population might notice it and assume it could be quick even if it's not, so, really, coupés and convertibles are out.
Some people will say that something like a BMW cannot ever truly be considered a sleeper because, by its very nature, people will assume that a BMW will be a fast car, but we would counter that argument with Exhibit A – Kevin Fagré's (@fagre13) 1000whp BMW E91 Touring. A black estate, SE bodywork, rolling on stock 17s, one single, small exhaust tip. Is it a 320d? A 318i? Who knows? And who cares? No one, no one cares because no one would give this car a single glance, let alone a second look, and that is precisely why this Touring is a sleeper. It's not just a sleeper, though, it's a Sleeper with a capital 'S' and one of the greatest sleepers we've ever featured because this E91 is making close to 1000whp… from a Mercedes engine. Okay, we need to have words with Kevin…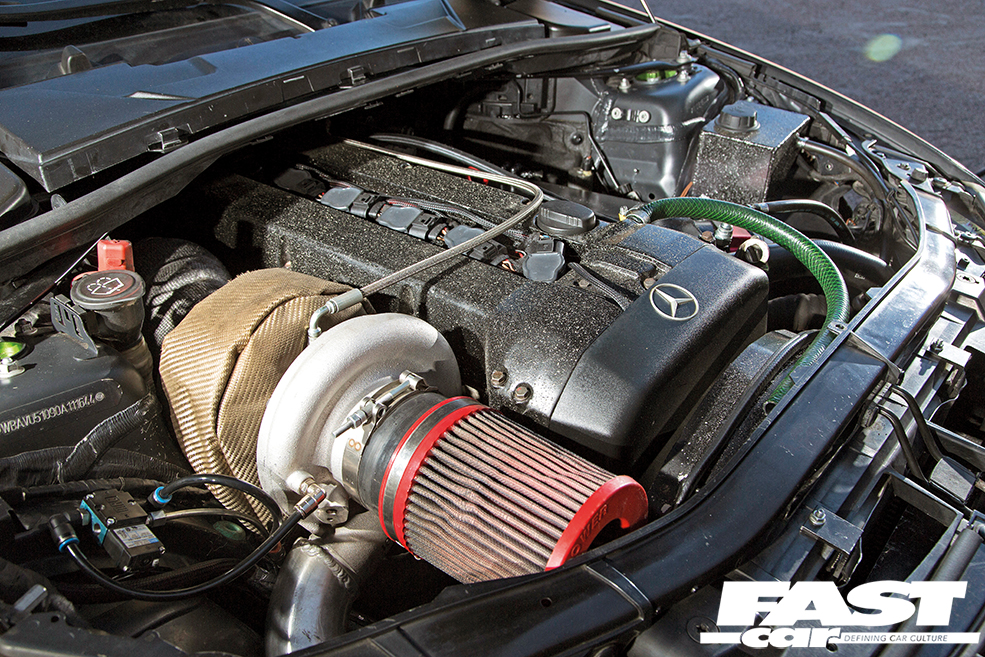 Kevin seems pretty normal. We don't know for sure, we haven't met him in person, but based on the pictures we've seen, he likes sour cream and onion crisps and Hawaiian shirts, and based on what we know about him he's fond of BMWs. "I've been interested in BMWs for a while, but it started more at my old work, around seven years ago. My colleagues had a few different BMW turbo cars, and that caught my attention. BMWs are special because I like how they are built and the performance they can make!" he grins. Kevin kicked his BM ownership experience off with an E36 318is, which he was steered towards by colleagues who said he needed a winter beater (he is from Sweden), and he hasn't looked back. The concept of running a winter beater remains with his current BM lineup, with an E46 318i filling that purpose, an E91 330i as a nice everyday car, and this BMW E91 Touring, which was once a 320d but is now so much more.
Sweden and its Nordic neighbours have a habit of producing insanely overpowered turbo BMs, that's something you can always count on them for, and Kevin has dabbled with turbocharged Bavarian power in the past. "The first car I modified was an E34 525i; I fitted it with a Holset HX35 turbo and built everything around the engine, but kept it a 'budget build' because it was my first turbo build," explains Kevin, but for this project, it was a no-holds-barred build of epic proportions. "I bought this E91 because I wanted to make a turbo wagon because it's a little different than what everyone is making these days," he says. "Actually I bought it from an old friend in my town, with a blown engine," and with a blank canvas, the project could begin.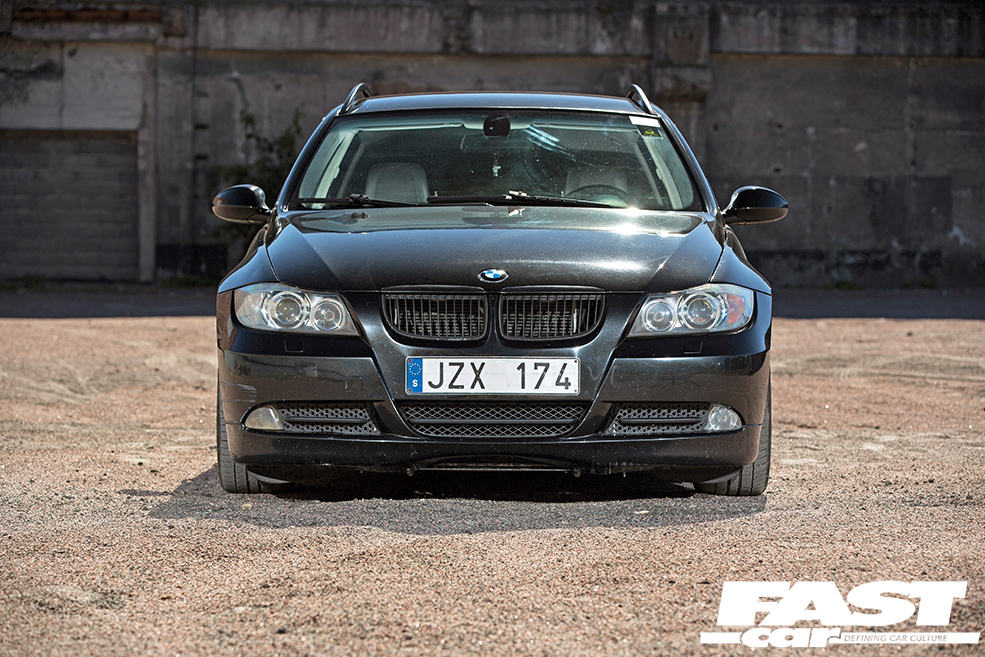 If you're planning for a serious turbo build and aiming for huge horsepower, then you need a serious engine. One that's going to give you the numbers you want with ease, and one that's going to be able to do that without constantly being at risk of blowing up. It's arguably the most important part of the whole build, and so hopefully, you can forgive Kevin for fitting a Merc engine under the bonnet in his pursuit of power rather than sticking to a BMW unit. The engine in question is an M104.980, which doesn't exactly roll off the tongue, but this jumble of numbers indicates that this is a 3.0-litre straight-six, making between 220-231hp and 195lb ft of torque in standard form. So far, so straight-six, but it turns out that the M104 takes to turbocharging extremely well, making massive numbers with ease. With plenty of off-the-shelf kits available and loads of aftermarket support, it was a smart choice that would make life easy for Kevin when it came to making some serious power.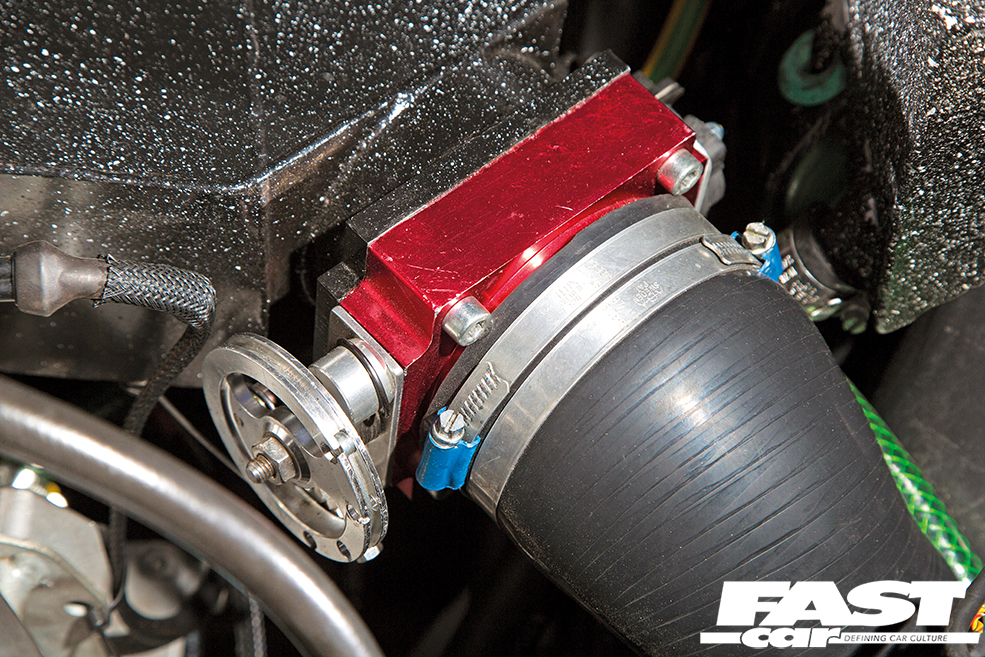 Of course, while the Mercedes M104 provides a solid starting point, it's not enough to just slap on a turbo and consider it job done, and Kevin has carried out a huge amount of work under the bonnet. Step one, after acquiring the engine, was building some custom engine mounts for it and then the rest of the work could begin. "I fitted Turbo Bandit H-beam forged con rods because they are needed to put out a lot of power. Everything in the engine is balanced and weighted to zero, that's so I can rev the engine more, all the way to 8k rpm, all bearings were new and measured to have the right spec, all gaskets and seals were new. I built a new rear oil pan and I also built the intake and exhaust manifolds myself," says Kevin, and this is where being a welder came in handy, but it still took him 80 hours in total to make them.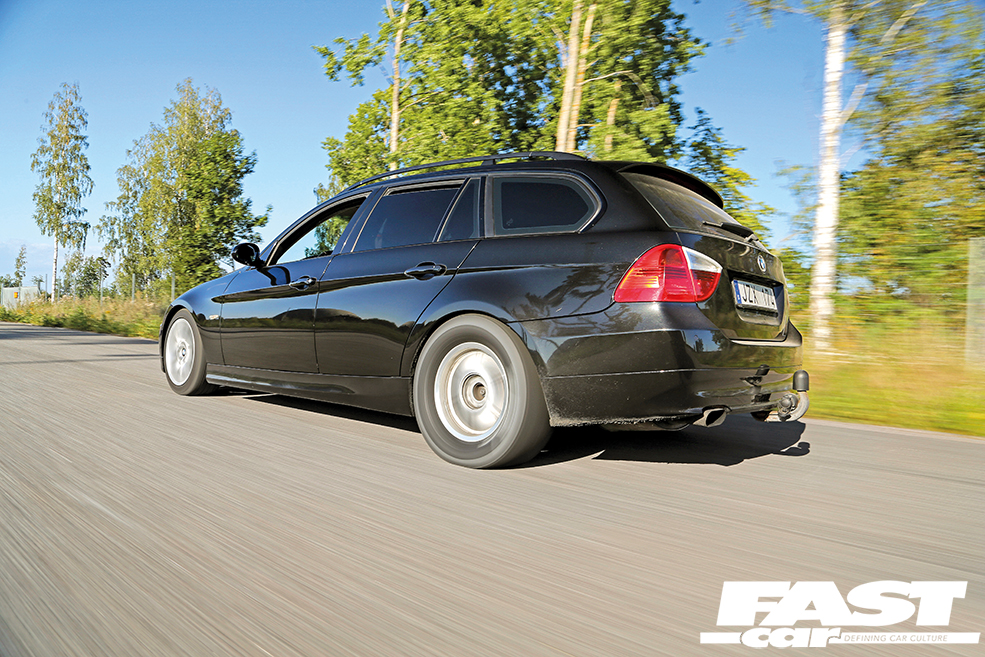 Elsewhere, you will find homemade aluminium boost pipework, a huge custom-built BorgWarner S369 SX-E turbo modified with a 73mm inducer, massive Bosch 2200cc injectors, and twin AEM 400lph pumps with Nuke braided steel fuel hoses to handle E85 and a Nuke FPR. The custom exhaust manifold leads to a 4" stainless downpipe which goes to a 3.5" stainless steel exhaust with a single back box, and it's finished with a single 3.5" exhaust tip. The gearbox is a Getrag GS5-39DZ six-speed manual from an E39 530d, which also sits on custom gearbox mounts, and Kevin had to make his own custom engine wiring harness, with a VEMS ECU looking after everything. A hell of a lot of work has gone into this powertrain but it was worth it because the result is near enough as makes no difference 980whp and 803lb ft wtq, which are insane numbers, and they make this into an absolute monster and one that no one will see coming.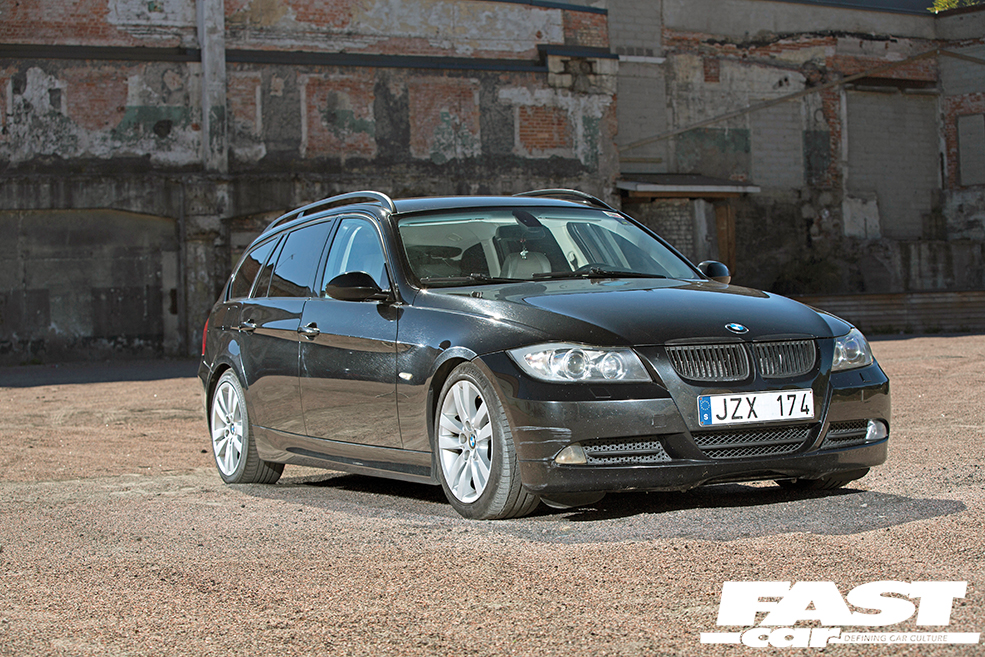 While the engine is where Kevin has put in the vast majority of the work even with a sleeper you can't just focus on the powerplant. Under the surface, there have been some additional enhancements carried out, mainly to ensure that the drivetrain doesn't self-destruct when Kevin attempts to deploy all of his 980whp. "The rear end is mostly from an E91 335d, but with Wez Mekaniska rallycross driveshafts combined with big 100mm hubs and a welded 215mm diff. I chose this setup because I wanted it to be 'unbreakable'," says Kevin, and it's definitely up to the task of deploying all that power and torque to the tarmac. The chassis has also received a mild tweak in the shape of a set of Gecko coilovers; "I fitted them to make it a little bit more of a sports car," he says, and we can't blame him because soft SE suspension would not have been the choice running this sort of power. Even so, the drop is far from outrageous, with the 1000whp BMW E91 Touring sitting nicely, but clearly, the aim here was mainly to get it feeling that little stiffer and more stable.
And that is basically it. Everywhere else you look, it's all stock E91, all of it, which is precisely why this Touring really is the perfect sleeper. On the outside, you've got the stock black SE bodywork – complete with a front bumper scuff, stock 17s, and on the inside, you'll find a stock cabin with half-leather sports seats – the only change is that knurled aluminium Coolerworx gear knob, but that's it. This is how you build a sleeper.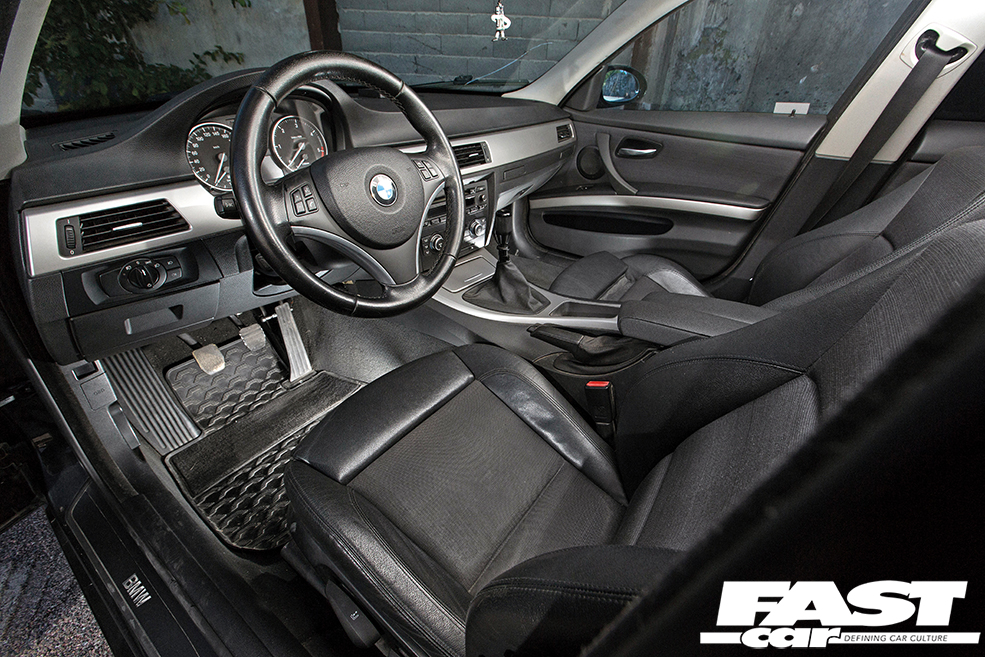 You might well be wondering how on earth Kevin can even attempt to put down 980whp through 225 section rubber. The answer is he can't, which is where the set of 15" Style 10s equipped with Mickey Thompson ET Drag slicks comes in. The sidewalls say 26.0/10.0, and this means the tyres have a 26" diameter and are 10" – 254mm – wide and they make putting all that power down a whole lot easier. With those mounted, the sleeper look is lost a little, but then Kevin doesn't use them all the time plus they're not for show and are really a necessity, so that makes things a bit different.
One and a half years ago Kevin bought himself a BMW E91 320d with a blown engine, and now he's got one of the most incredible sleeper builds we've seen. The car is finished, with Kevin now working on making it road-legal, after which he can really enjoy himself with this Touring. And while this project may be done, the next one is already in the planning stages; "I have an LS engine that needs a BMW chassis. I'm looking at a 1 Series or a newer 3 Series," he grins and his days of stupidly powerful BMs are clearly far from over. We're very glad, because this world is too sensible, and we need more cars like this to make it a little more exciting.
Tech Spec: 1000whp BMW E91 Touring
Engine & Transmission:
Mercedes-Benz 3.0-litre straight-six M104.980, Turbo Bandit forged H-beam con rods, all balanced/weighted, 12.9 head bolts, ENEM camshafts, all flat surface head/block work by PNP motor, custom homemade stainless steel intake manifold, stainless steel exhaust manifold and aluminium boost pipes, custom-built BorgWarner S369 SX-E turbo with 73mm inducer, Bosch 2200cc injectors, twin AEM 400lph fuel pumps, braided stainless steel fuel hoses for E85 fuel, Nuke FPR, 4" stainless steel downpipe, 3.5" stainless steel exhaust, single 3.5" stainless steel back box, homemade oil pan with rear sump, VEMS ECU. GS5-39DZ six-speed manual gearbox from 530d, Wez Mekaniska rallycross axles
Power & Torque:
978.9whp and 802.5lb ft wtq
Chassis:
8×17" (front and rear) Style 338 wheels with 225/45 (front and rear) tyres, 7×15" (rear) Style 10 wheels with 26.0/10.0 Mickey Thompson ET Drag slicks, Gecko coilovers
Exterior:
Stock SE bodywork
Interior:
Coolerworx aluminium gear knob