Some people build for show, others build for go – but Shawn Preece's 1000bhp tuned Toyota Supra can do everything: a show-and-shine sweetheart with a high-spec chassis and 1,031bhp going to the rear wheels…
You're probably familiar with the concept of harrying. It means to persistently attack, to harass without mercy, and it's a verb very appropriately applied to the 1994 Supra you see here. Nicknamed 'Sally', this is a machine laser-focused on perfection, relentlessly upgraded and refined to become the ultimate version of itself. What this means in 2019 is that Sally serves up 1,031bhp from a built single-turbo motor, backed up by a bulletproof chassis, shrouded in a flawless shell that's stuffed with sumptuous innards. The ultimate Mk4 Supra? Quite possibly, but this car's nature is to harry the scene with endless persistence – when owner Shawn Preece tells us that power will be up to 1,200bhp before too long, we know damn well that this isn't hyperbole.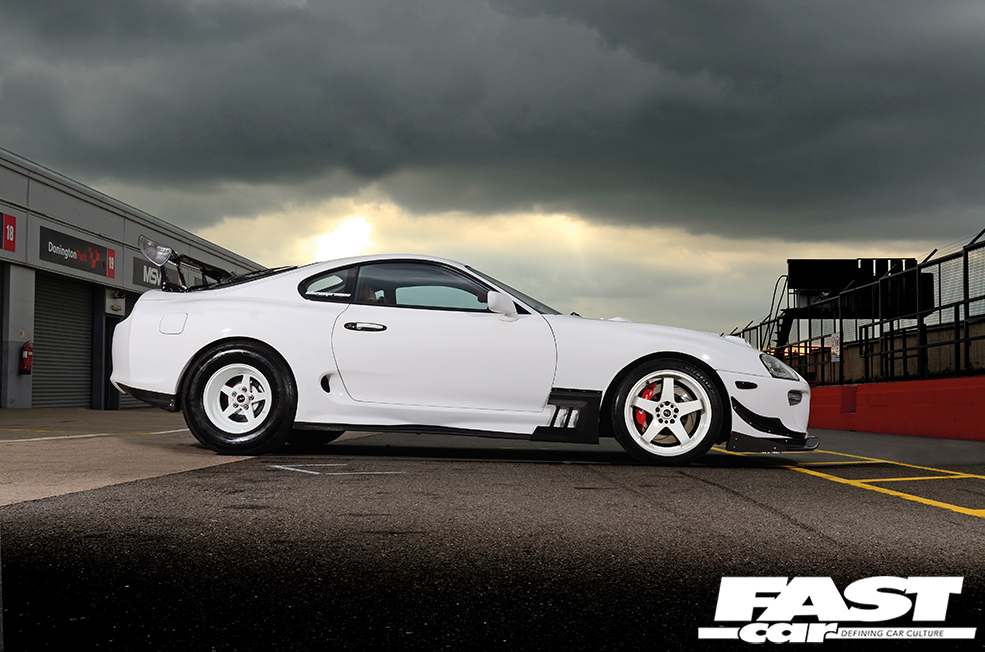 Shawn is very much a Supra guy, and as with so many feature car owners we talk to, the roots of this passion burrow deep. "I have modifying in my blood," he explains. "Your car needs to be unique and say a lot about you, I don't like the idea of driving around a corner and seeing a car exactly the same as what I'm in – so I've always put my own personal touch on any car I've owned. And in a lot of cases I've gone a lot further… and with this Supra in particular, I'd say it's more of a creation than a modified vehicle, as it's been rebuilt from the shell up with a very small amount of stock parts. I have created what it is today."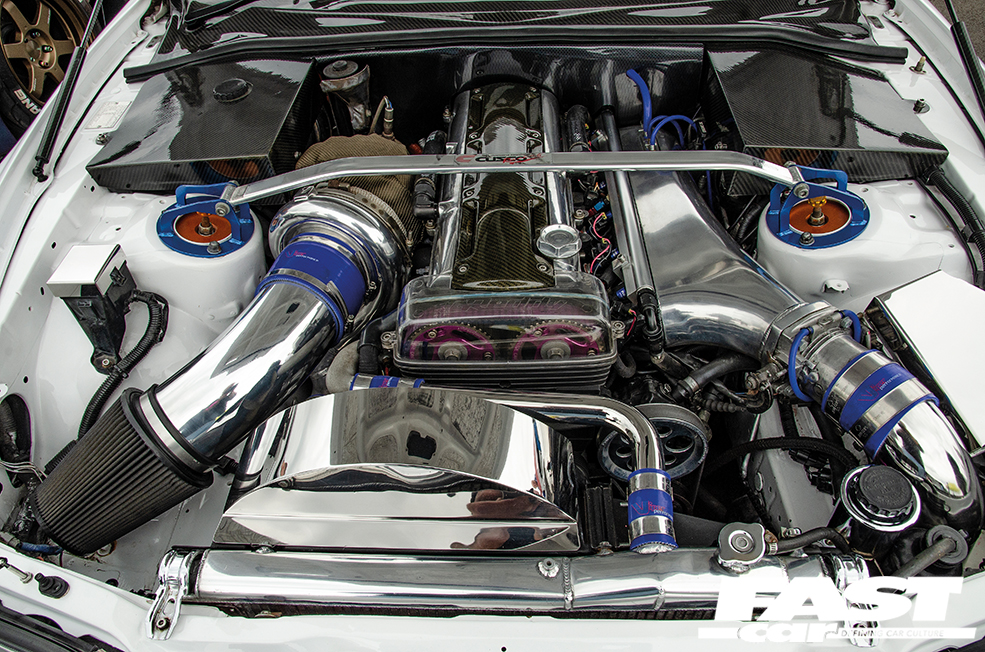 Growing up in the cruising era, it was somewhat inevitable that Shawn's first car, a Ford Fiesta, would be treated to the obligatory subs, neons and flashing gearknob, and of course the game's moved on a bit since then so as he grew, so did his aspirations along with his modding prowess. Shawn's list of previous projects is long and distinguished, while the current Preece driveway line-up features an FN Civic, a '93 Supra Aerotop, a couple of BMWs, and of course the mighty '94 Supra we're gazing at with great admiration today. "Supras have always been a massive part of who I am," he assures us. "This one is the sixth example I've owned, although I have since bought another so that makes seven in total! Since I was 18 years old and purchased my first ever Supra, it has been very rare (and a cumulative tally of months rather than years) that I have been out of Supra ownership. I've learned so much along the way through modifying each one differently and to different stages."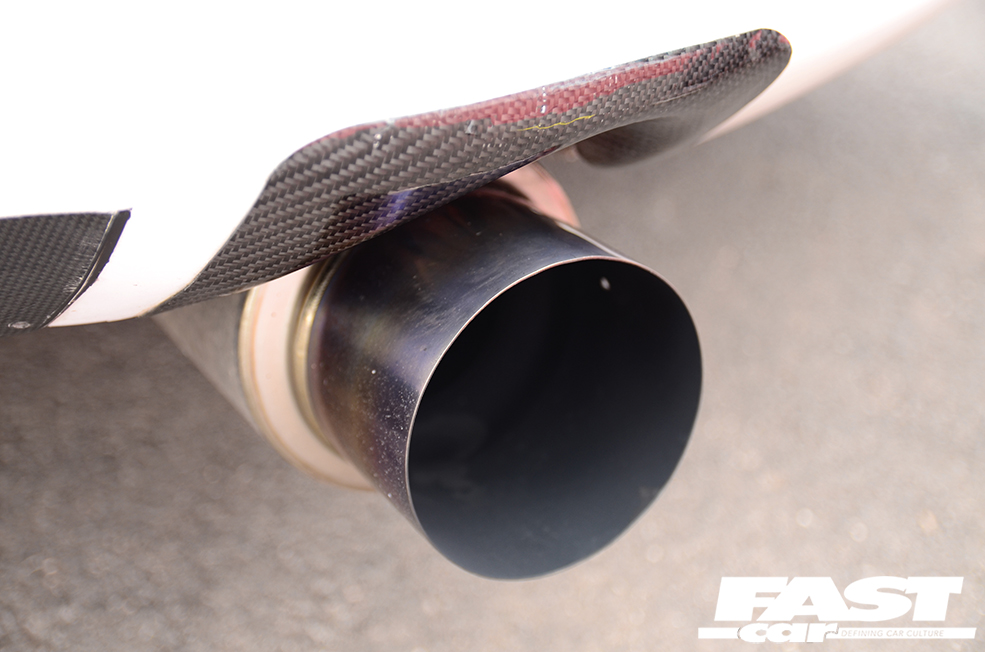 It's fair to say he's never gone quite this far before, however. To be honest, very few people have, as the stratospheric levels of work, engineering and fastidious attention to detail have created a true one-off here. So how did it all come about?
"Well, I knew I wanted another one of these cars," he says. "People wouldn't recognise me without a Supra, and in the car world they are my comfort zone and what I know best – so naturally the base I wanted to do my big 1,000bhp project on had to be a Supra and this car was available at the time I was looking. And full credit to the previous owner, it was an immaculate example so it made a great starting point." The car was found for sale online via the Supra Owners Club, its largely stock 3.0-litre motor having been converted to single-turbo; in all other respects it was a standard UK-spec manual car, a holy grail find in certain quarters but Shawn wasn't out to win concours trophies for originality. He was shooting for four-figure power from the off… and you know what we always say about starting your project with the best possible base, right?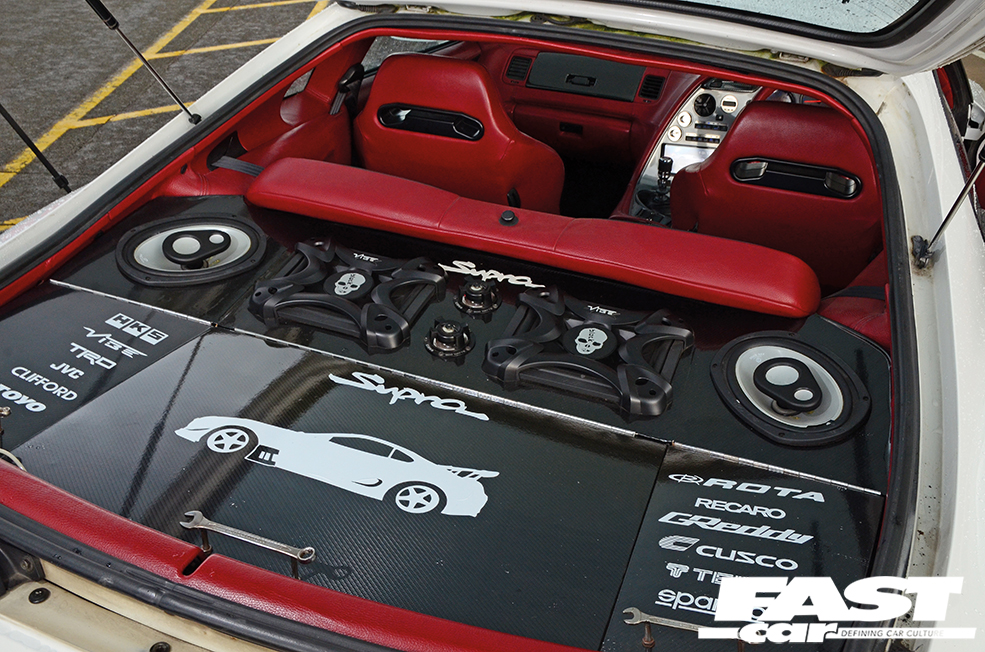 Naturally 'immaculate' is subjective, and it was never the intention to simply make do with any element of this project, so job one was to hoik out the running gear and send the shell off to a company by the name of Scuffed N Curbed up in the north-east – a ten-hour round-trip for Shawn, but it's worth travelling to work with the best. Scuffed N Curbed tidied up and perfected the shell before respraying it, and while all this was going on, the job of carrying out the stroker work to increase the 2JZ's displacement to 3.4-litres was farmed out to TB Developments. Aside from these tasks, everything throughout the build has been carried out by Shawn and his dad in the garage at home. "That's what makes it so much of a greater achievement, and much more rewarding when we're getting recognition for it," he enthuses. "My dad's a farmer by trade, and I'm a mechanical design engineer for an automotive company; while we both have a good all-round knowledge of cars, we work so well together because we excel in different areas and bounce off each other's ideas, which makes us the perfect team! We obviously had advice along the way, and ask questions of people who do this all the time, but when it comes to cars there's not much we can't do together, plus it adds great meaning to the finished product."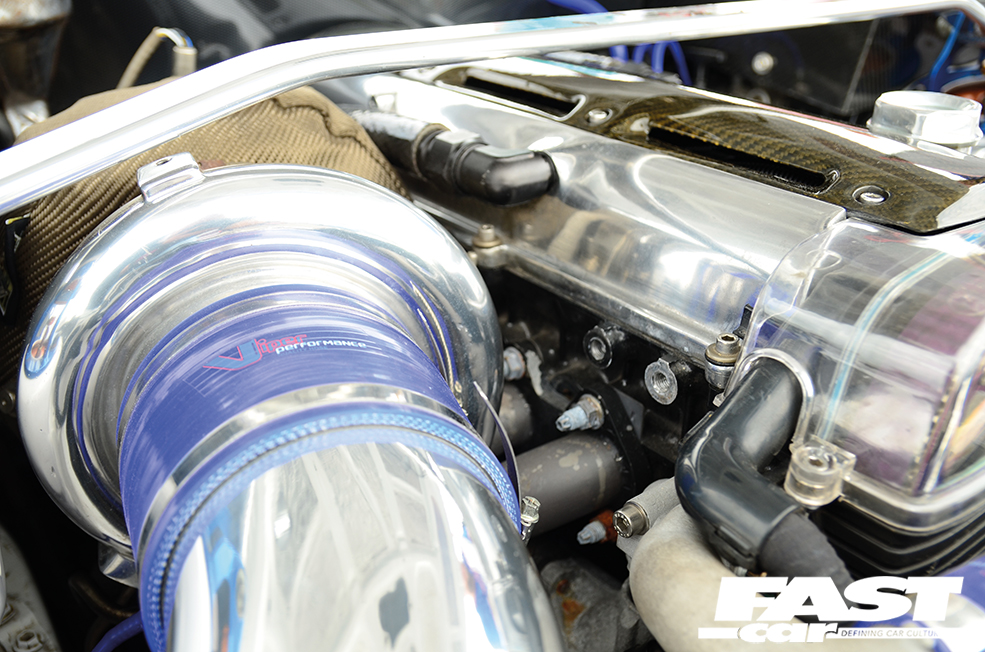 The spec that's been put together by the Preece lads is really quite astonishing. That 3.4-litre motor wears a single Garrett GTX4202R, working with a BoostLogic manifold, 4-inch custom downpipe and full decat 4-inch exhaust system, HKS GTII 60mm wastegate and BOV and, naturally, a howling screamer pipe. One of the truly impressive elements of the build is the fuelling, as you'd no doubt expect of a car built to deliver these enormous power figures: the 2JZ now runs no less than three Walbro 450lph fuel pumps, all E85 compatible for the next step, mounted on a Powerhouse Racing triple pump hanger and backed up by a Whifbitz fuel rail and FIC 1,650cc injectors. Things are equally serious inside the hallowed block, where we find Manley pistons and rods with King bearings, while the top end features GSC valves inside a ported and polished head, over GSC Stage 2 cams. The whole thing's overseen by a Syvecs S6 ECU, the crème de la crème of management, and it's this along with the outstandingly high-end spec which means Shawn's got his sights set on even more massive figures. The already incredible 1,031bhp under his right foot is mapped on pump fuel – once the car's been mapped on E85, that's where the eye-watering 1,200bhp+ will be found.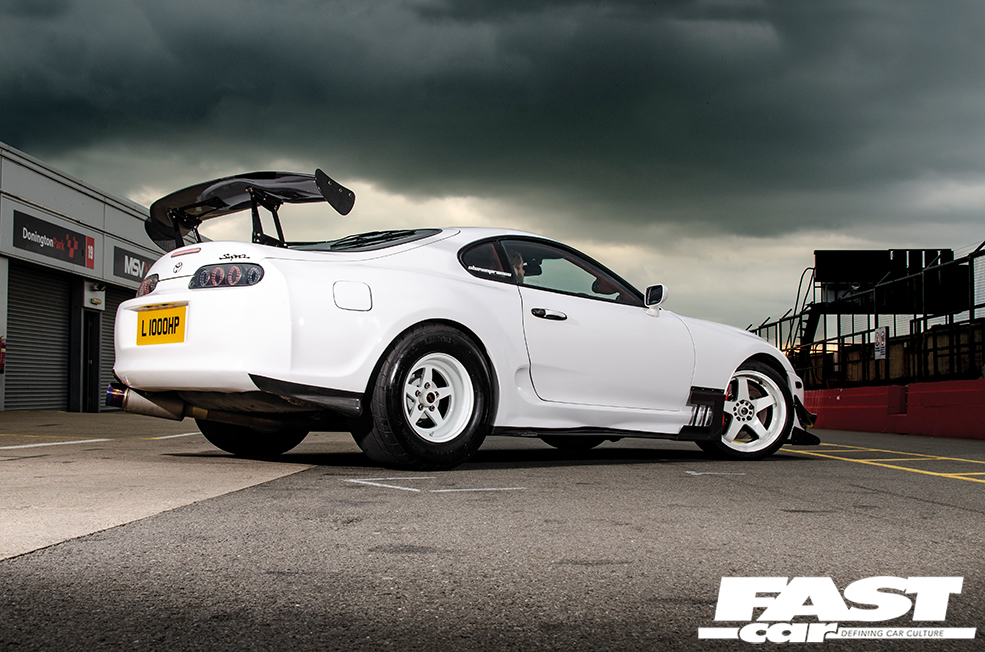 We've seen 2JZs tuned to ludicrous figures before, so we know that the transmission is strong enough to take the abuse, and this car's running the factory V160 6-speed 'box with casual aplomb, complemented by an RPS carbon triple-plate clutch, SRD propshaft, and SRD billet big diff casing. It's particularly cool that the wheels are reverse-staggered too, dragster-style; the front end runs 10×18-inch Rota GTR-D wheels, while the rear axle sports 10.33×15 WELD RT-S S71Ps – the science is in the sidewall, with the massively deformable rears creating a humungous contact patch when Shawn launches. The engine spec, coupled with the chassis setup, is pure and uncompromising drag-spec fury…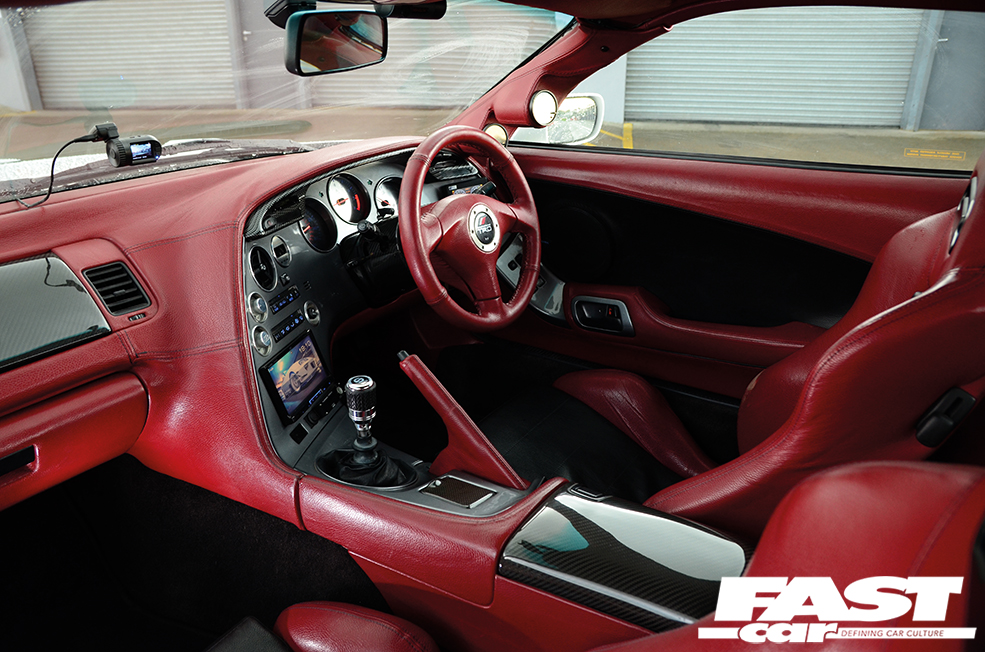 Except that this isn't a stripped-out dragster at all. Quite the opposite, in fact. Anyone who's driven a Mk4 Supra will tell you that it's a visceral and emotive experience, but the interior is a bit… well, it's a bit 1990s Toyota – all hard plastics and uninspiring surfaces. But Shawn's turned all that on its head here with a sumptuous custom retrim, the Recaro Speed seats and all of the stock appointments having been re-covered in oxblood and black leather. This takes what was once a humdrum interior and elevates it into the level of the uber-premium; something you might not expect of a car with enough horsepower to warp the very fabric of the space-time continuum itself. And what's equally impressive is that a similar level of care has been lavished upon the exterior. The necessity of wider rubber has been carefully accommodated for with the addition of broader Ridox wings at either end, the rears artfully smoothed, while the copious carbon fibre embellishments combine an eye for detail with a very real focus on aerodynamic aids. After all, with this sort of power, the Supra needs to cut through the air like a Teflon bullet. The unexpected bonus here is that every inch of the car, inside and out as well as under the bonnet, is beautifully detailed and polished to a mirror shine. It's a Jack of all trades, but a master of all trades too.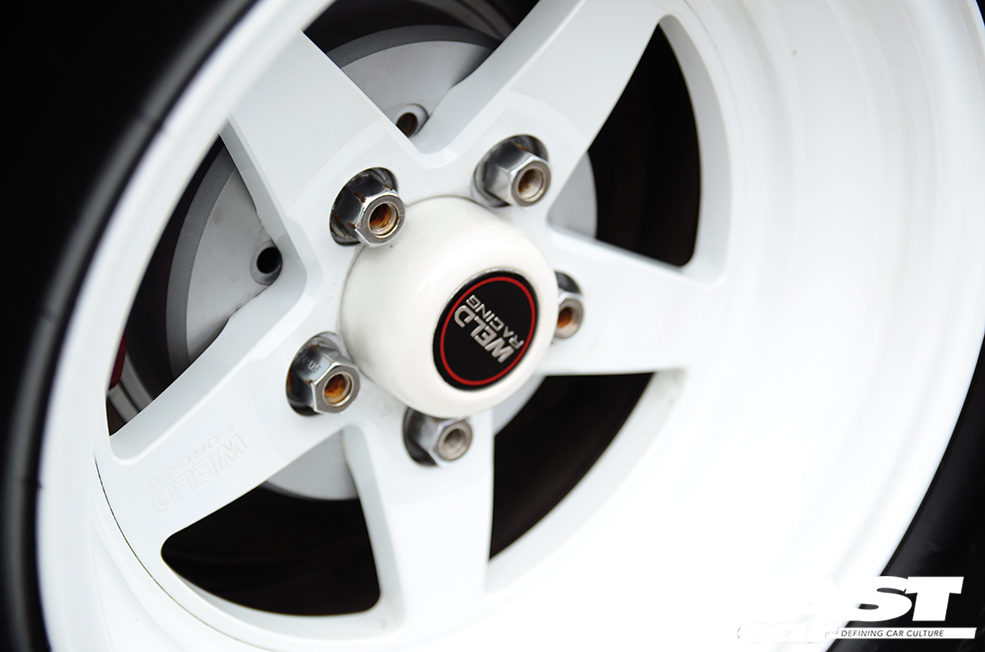 "At the moment it's mainly a show car that just happens to have the performance to go with it," Shawn admits, "although I use it as much as I'm able and take it on plenty of driving events. I drove it to France last year with the Supra Owners Club on an event they call 'Dragonball', and most recently we went on a tour around Wales on an event the Club calls 'the Tea Room Tours', which is an annual event where they pick great driving roads with beautiful scenery around the UK. You may have even seen it on Top Gear. But generally I use it as a nice day car, which I can enter the show-and-shine competitions with."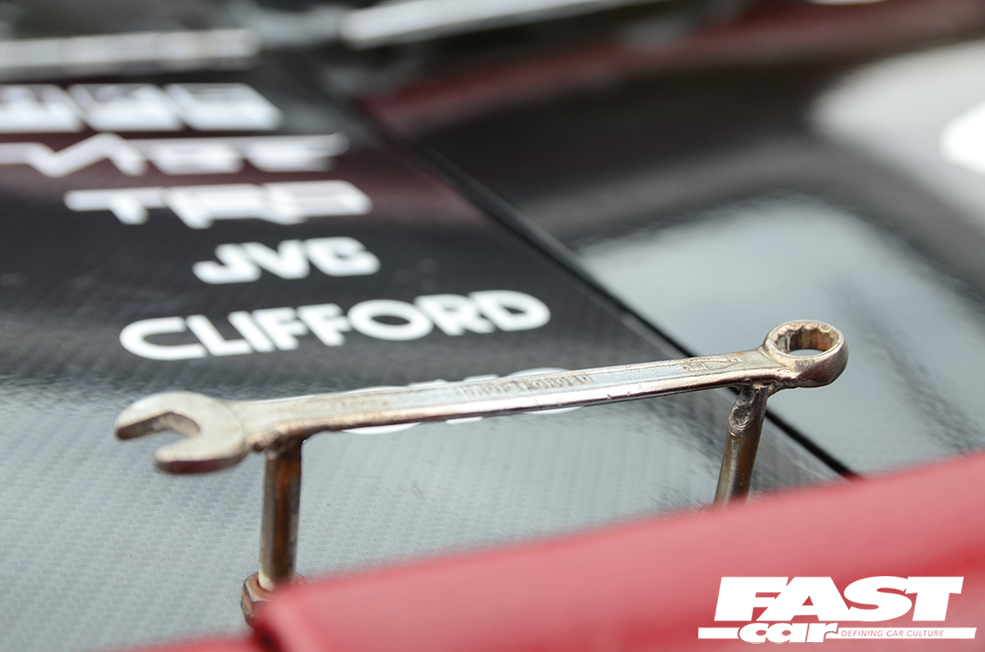 It's certainly a nice luxury to have, knowing that your car can scoop trophies on the showground, act as a GT on long road trips, and decimate all comers on the strip, and the reactions of onlookers are a heart-warming part of the mix: "People's reactions are always entertaining," he continues. "There are very few who don't turn their head as you drive past, and I even see a lot of dangerous driving manoeuvres that people do just to get up alongside it to take photos and videos! I even once had the passenger of the car in front stand up backwards out of the sunroof to take a photo while the car was moving… I was scared he was going to drop his phone and see it hurling towards my car, but luckily he didn't. Pedestrians are always shouting 'wow!' and taking photos with their phones, it's definitely not a car that you can sneak around in."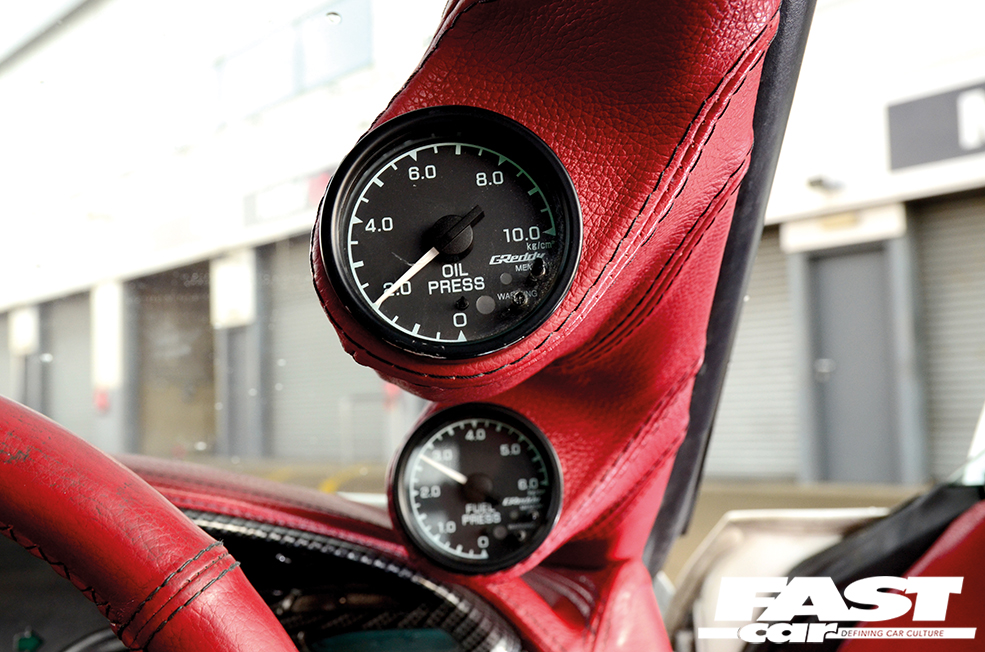 But that's what you'd hope of a 1,000bhp+ retro supercoupe, isn't it? The Mk4 Supra was never a car for shrinking violets, and throwing so much more power and drama into one isn't going to make it any more subtle. There are plenty more plans afoot too, as Shawn's keen to outline; while the aim was always to make a 1,000bhp car that's streetable on pump fuel, the E85 mapping is the next big milestone. "I see a lot of incredible cars that make 1,000bhp on E85," he says, "and full credit to them as it's a massive achievement and an incredible power figure. But to me, a true 1,000bhp car should be one that you can drive into a petrol station and fill up, then drive out with 1,000bhp available rather than ordering special fuel… so I'm just happy that I achieved that in making 1,031bhp on pump fuel. However, in setting the car up properly with the E85 map, I'll have the full package." And that's very much the crux of the issue. This Supra is excellent at everything it does, and it's the car's inherently harrying nature that has led it to this point. This isn't a personality trait that just goes away. Sally will keep on pushing, harassing, mercilessly attacking, until there are no boundaries left to breach.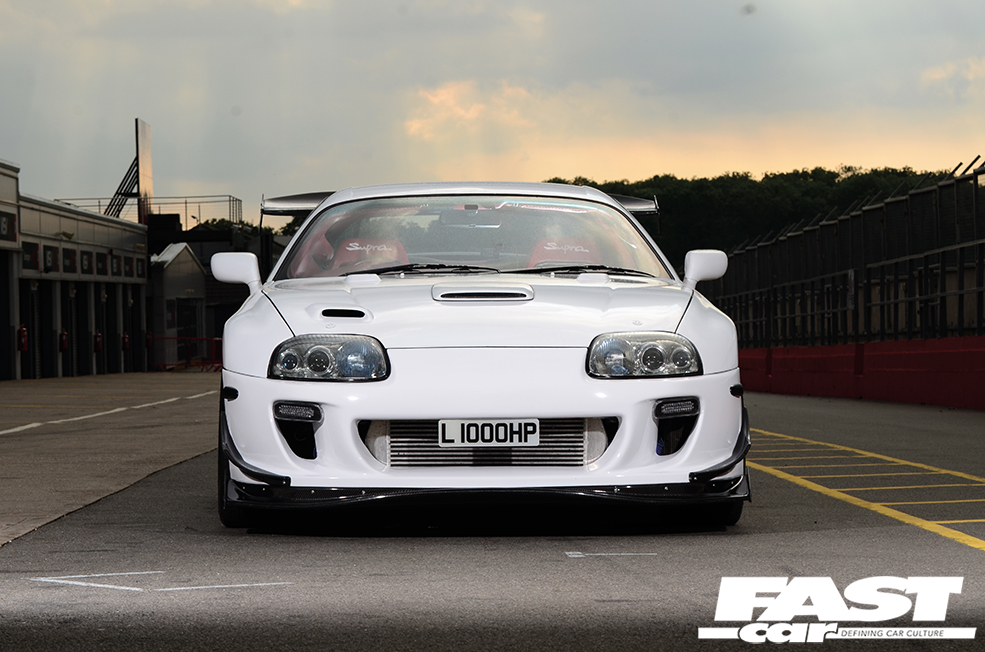 Tech Spec: 1000bhp Tuned Toyota Supra
Engine:
2JZ-GTE 3.0-litre straight-six, Garrett GTX4202R single turbo (1.28A/R), 4-inch custom downpipe, BoostLogic manifold, HKS GTII 60mm wastegate, HKS BOV, ETS 5-inch front-mount intercooler, 5-inch intake pipe with K&N filter, screamer pipe, BoostLogic 4-inch exhaust system – full decat, BC 3.4-litre crankshaft, Manley 'Tuff' con rods, Manley 86.5mm pistons, King race bearings, billet main caps, billet tensioner, BC billet oil pump drive, ARP main studs, ported and polished head, GSC Beehive valve spring kit, GSC valves, GSC Viton valve stem seals, shimless buckets, GSC Stage 2 274 cams, ARP head studs 625+, HKS timing belt, HKS adjustable cam pulleys, polished Mechman 170-amp alternator, TRD engine mounts, Syvecs S6 ECU, Toucan display, Whifbitz fuel rail, FIC 1,650cc injectors, 3x Walbro 450lph 485 fuel pumps (E85 compatible), Powerhouse Racing triple fuel pump hanger, braided Teflon fuel lines, Fuellab FPR, Syvecs FlexFuel sensor, Jun inlet manifold, Q45 90mm throttle body, aluminium radiator, side-mounted oil cooler, side-mounted power steering cooler, battery relocated to boot (2x batteries on isolator switches), engine bay smoothed, carbon spark plug cover, GReddy clear cam pulley cover, carbon engine bay boxes, carbon bonnet damper kit, carbon scuttle panel, polished Cusco strut brace, polished oil cap, polished radiator plinth with Supra logo, polished fusebox lid cover, polished relay box lid cover, polished fan surround, V160 6-speed manual gearbox, RPS carbon triple-plate clutch, SRD propshaft, SRD billet big diff casing, polyurethane diff mounts
Chassis:
10×18-inch ET35 Rota GTR-D wheels with 265/35 Michelin Pilot Sport 4 tyres (front), 10.33×15 ET21 WELD RT-S S71P wheels with 315/50 M&H RaceMaster tyres (rear), Aragosta coilovers, Driftworks rear camber arms, Driftworks rear traction rods, Driftworks rear toe rods, Whiteline front and rear anti-roll bars, K-Sport 8-pot front calipers with 365mm discs, J-spec rear brakes, Goodridge braided brake lines
Interior:
Full interior retrim in oxblood and black leather, Recaro Speed seats – retrimmed, TRD steering wheel – retrimmed, carpet dyed black, carbon door sills, carbon upper glovebox, carbon centre console lid, carbon ashtray lid, GReddy fuel pressure and oil pressure gauges, Sparco gearknob, Metal Monkey dials, blue LED instrument conversion, polished dash rings, JVC KW-V51BT double-DIN head unit, 2x Vibe QB69 6x9s, 2x Vibe BlackHex 69 6x9s, JBL amplifier, custom boot install, Clifford Concept 650 Mk2 alarm, SmarTrak tracker, front-facing and inside-cabin-facing dash cameras
Exterior:
Ridox front bumper, carbon fibre front bumper canards, carbon front splitter, Ridox wide front wings (+30mm), fully blended Ridox wide rear wings (+50mm), Ridox sideskirts with carbon lower section, carbon GT rear spoiler, carbon air diverters, carbon exhaust surround, UK-spec bonnet with additional custom vents, LED front indicators, LED taillights, UK-spec glass Xenon headlights, hydro-dipped door handle backings, aerial removed and smoothed, Likwidart badges on rear
Thanks:
"Thanks to my family and friends. My mum has been very supportive throughout and let me store a lot of car parts all around pretty much every room in her house (it obviously makes more sense to be stored there rather than my house, as that's where I was building the car… or so I told her!). My friends have all lent a hand when I've needed; and my friends throughout the Supra community have been amazing in offering advice and answering any questions I've had. But the one massive thanks in this project is my dad – without his help this would never have happened, his knowledge and help as well as commitment to the project in wanting me to achieve this has been more than amazing, and I could never thank him enough. He's gone the extra mile in the effort he has put in for me to make this dream come true, so the sentiment of achieving this together far outweighs anything else and I will always be so grateful to him for it."
Words: Dan Bevis. Photos: Jules Truss