Is this where luxury meets performance? We got out in the Lexus LC500 in last year's summer sunshine to see whether it was any good.
There are few cars that can make a statement quite as well as the LC500. On the one hand you have a car that exudes class and elegance, on the other you have a hand-built 5.0-litre V8 in 460bhp trim and an exhaust note that tingles the senses.
Look at it. Stare directly at the front and you're met with the snarling grille hiding a mahoosive engine behind it. Move slightly to the side and your eye line follows the lines of the car towards those wide rear arches. Under those are enormous 21-inch wheels finished in chrome, the first for a car in this segment. This is the flagship coupe for Lexus, so the marque has pulled out all of the stops to make it as luxurious as possible.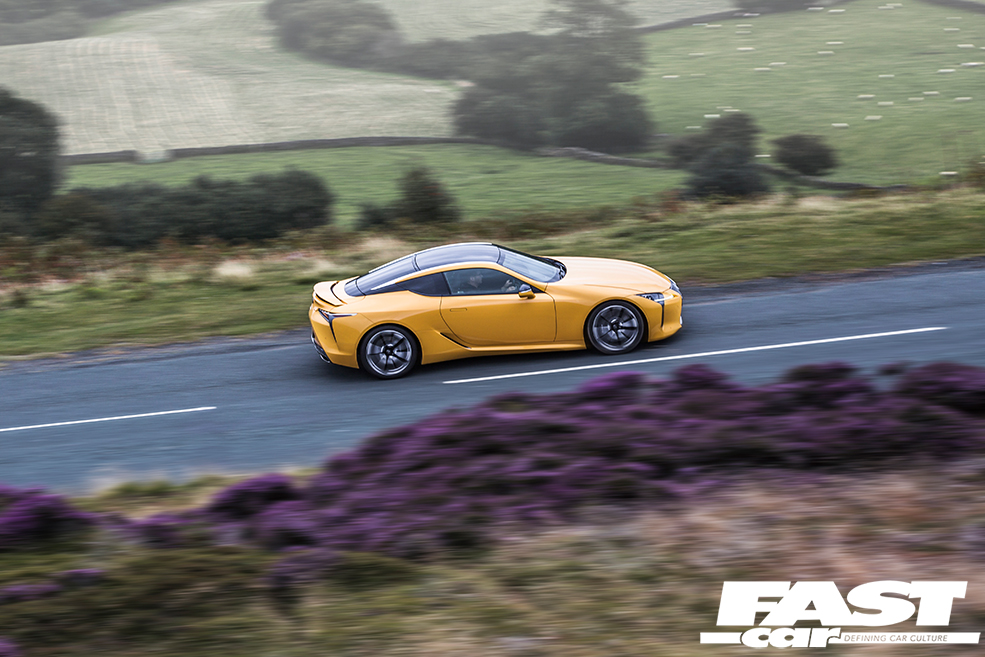 While the engine is shared with the RC F we drove earlier in the year, in the LC it feels more alive and that's mostly down to the exhaust. While in the RC it's restricted and muted, in the LC it's left unrestrained and you can finally hear the V8 grunt as it climbs to almost 8000rpm. In the LC it's also mated to a proper dual-clutch transmission, rather than a ZF Auto with a torque converter that's found in the RC. That means gear changes are sharp and responsive, something we felt was lacking in the RC. It also features a 10-speed transmission, which is a world first for a premium passenger car.
When you first hop into the LC you're greeted with one of the most welcoming cabins I've experienced. Nothing has been left unturned, each surface finished in alcantara, carbon fibre or leather. The seats hug around you to give you the support of a bucket, but with ultimate comfort. This feels like a car you could cruise across Europe in without ever having to leave the cockpit. While I wasn't able to swing a makeshift Euro tour at the expense of Midge, I did however tick off almost 1000 miles in the week I had with the car. It's a cabin you never want to leave, driving doesn't so much tire you out, it relaxes you to a level that makes it comfortable over hours of consistent driving.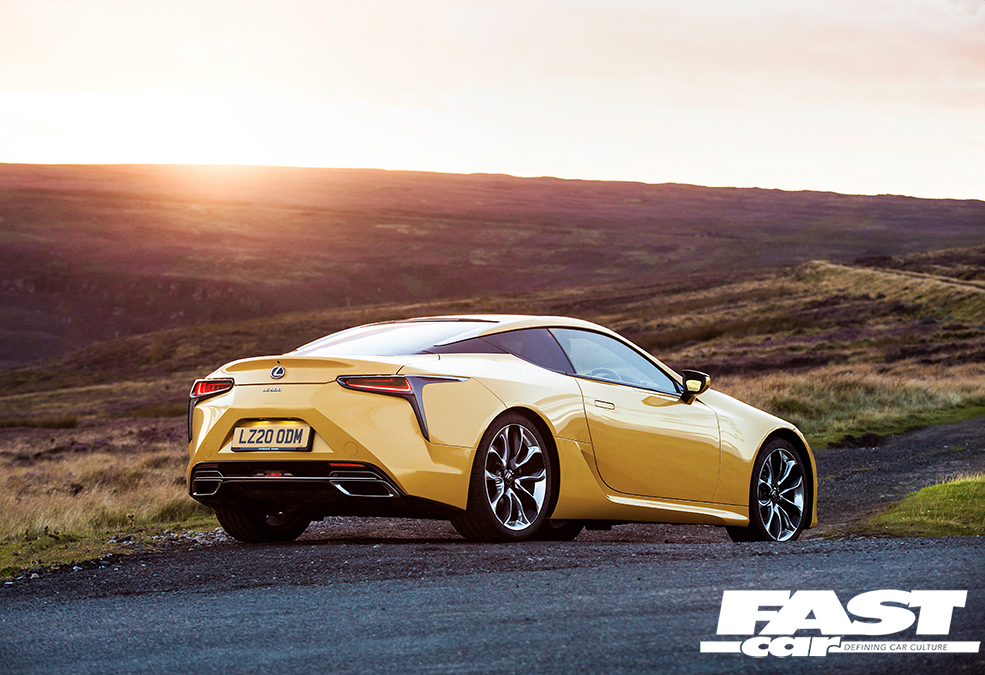 There's a wealth of tech on board here, including every safety system known to man. For the majority of the time you're left alone, with beeps and warnings kept to a minimum, which is unusual these days. One of which we have to criticise, again, is the infotainment system mouse pad. The actual system itself is faultless and up-to-date, but that control pad can be a pain to use on the move. You do get used to it but a rotary controller would be far easier to negotiate. And given this car retails at close to £100k, the last thing you want to do is take your eyes off the road to work out how to move the cursor.
The cabin feels focused around the driver, everything is angled towards you and within easy reach; the low seating position can feel intimidating at first as you look out over the steering wheel and peer down the elongated bonnet. Manoeuvring to begin with isn't easy as you constantly worry where the front end really is. That being said, it's something you learn to live with and the adjustability on the seat means you can sit low for when the occasion calls for it, or higher for city driving, after all, it's almost 4.8 metres long!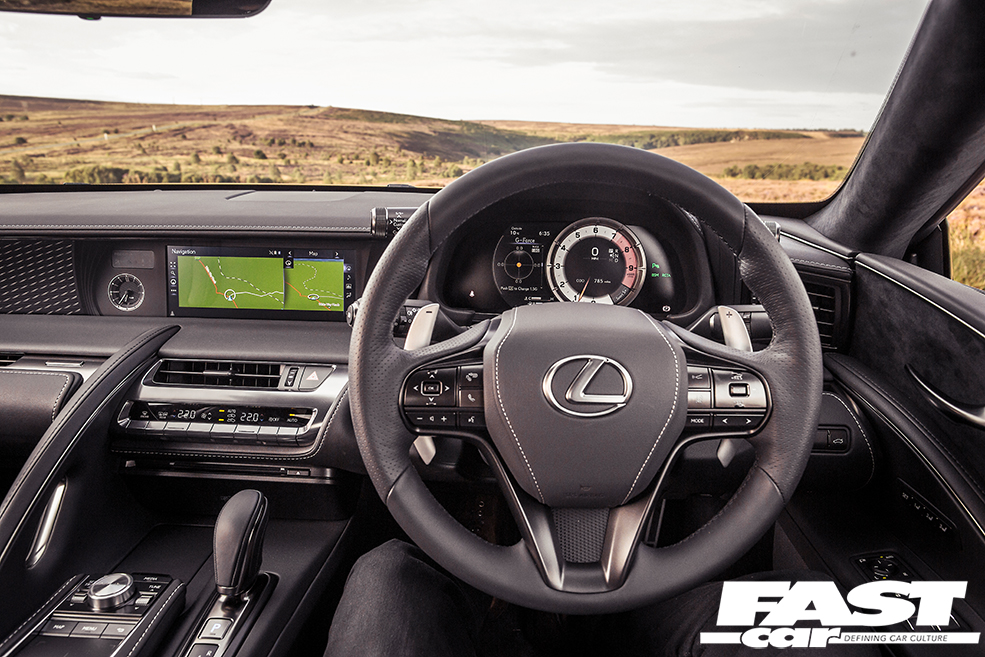 I've got to mention the sound system, again. It's sublime. Much like the RC F it uses a Mark Levinson system, but this time it's dialled down a few notches to just 13 speakers (17 in the RC). It's no worse for it in my eyes either.
Speaking of tech, the LC features dynamic rear-wheel steering with a Torsen limited slip differential (that explains the grip). It's an odd feature and one you really notice at low speed. The turning circle is greatly improved and there's even a slight hint of crabbing like you'd hear on a drift car. At speed, the rear wheels turn in the opposite direction to help improve agility and composure when cornering, something the AMG GTR does too. This is by no means an out and out sports car; this is a luxurious GT coupe that will deliver on the backroads too. I'm pretty sure that sums the LC up beautifully.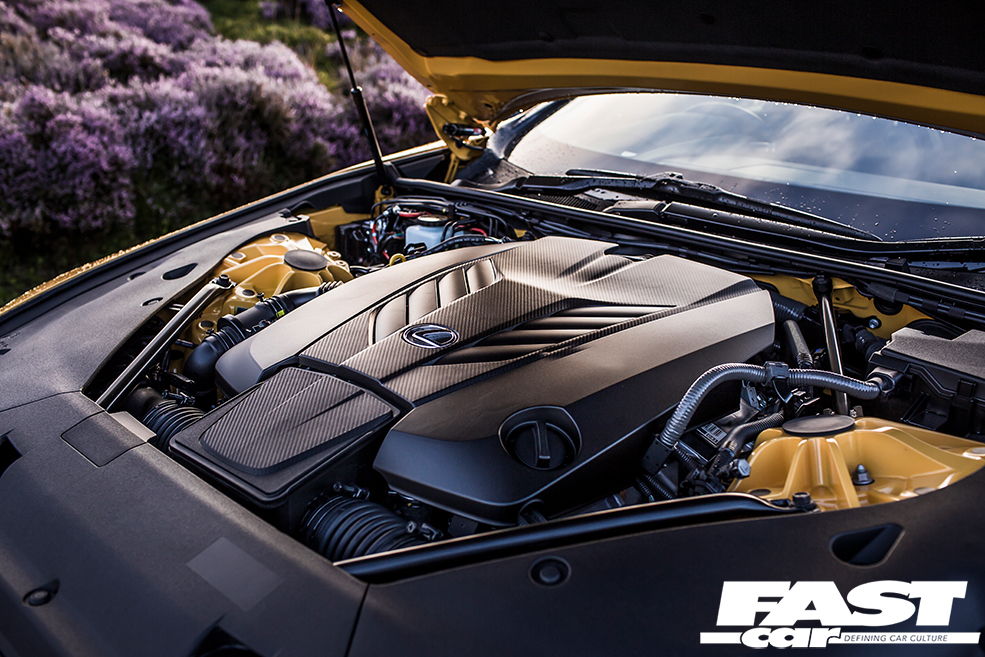 Lexus LC500 drive
First things first, the cold start is to die for. With the exhaust left unrestrained it growls into life and idles at just over 2k, making sure all of your neighbours know what time it is. Leave it in auto and pull off gently in comfort and it becomes a quiet, unassuming, luxurious coupe. Gear changes are made at the earliest opportunity and you find yourself in 10th gear at 50mph without a problem; something I never thought I'd say!
Changing the driving mode to sport sharpens the throttle and adjusts the damper ratings to a little bit firmer, helping the car to change direction with more precision. The steering is electric, so don't expect any feel; but with that in mind, Lexus has included variable gear ratio steering, in other words, the higher the gear and ultimately the higher the speed, the heavier the steering gets. It feels artificial, yes, but it's all the better for it. I found the comfort steering setting, for low speeds, odd and far too easy.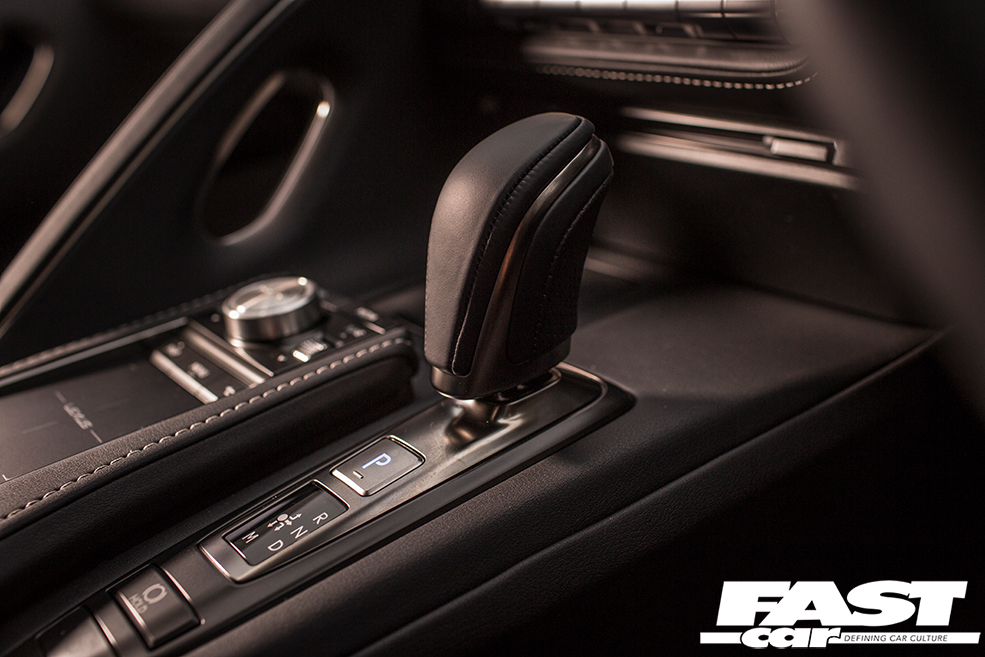 Despite a near two-tonne weight, it sure does shift. It feels faster than the RC F but that may just be down to the exhaust note and seating position. You're lower, the car is much louder so you can hear it climb. The sensation builds up an atmosphere that would have you believe you're accelerating quicker than Marty and Doc in a DeLorian. Don't get me wrong, this is ferociously fast, but at the same time it feels useable. Overtakes on single carriageways were a doddle, and when you reached a corner, you didn't have to worry about negotiating it, the grip and body control is sublime, up there with some of the more focused Japanese sports cars. In fact, I tested both the Supra and the LC500 on the same stretch of road (that features both straights and slow, tight corners), and the LC felt as agile despite being some 400-500kg heavier. The rear-wheel steering certainly helps to ramp up the agility.
Ultimately, though, this car is happiest when cruising. A day spent travelling to different locations in the UK with Mrs Matty proved this. Neither one of us got out feeling tired or aching, instead we opted to skip out a few pitstops and head straight to the destination. The added bonus is that, when you do arrive at your destination, each and every person who has seen (or heard) you arrive stop and stare. Not only is this a car you don't see often, but it's also a car that is filled to the brim with beauty that even the non-car enthusiast can appreciate. Is this the best looking car in recent years? I think it could be.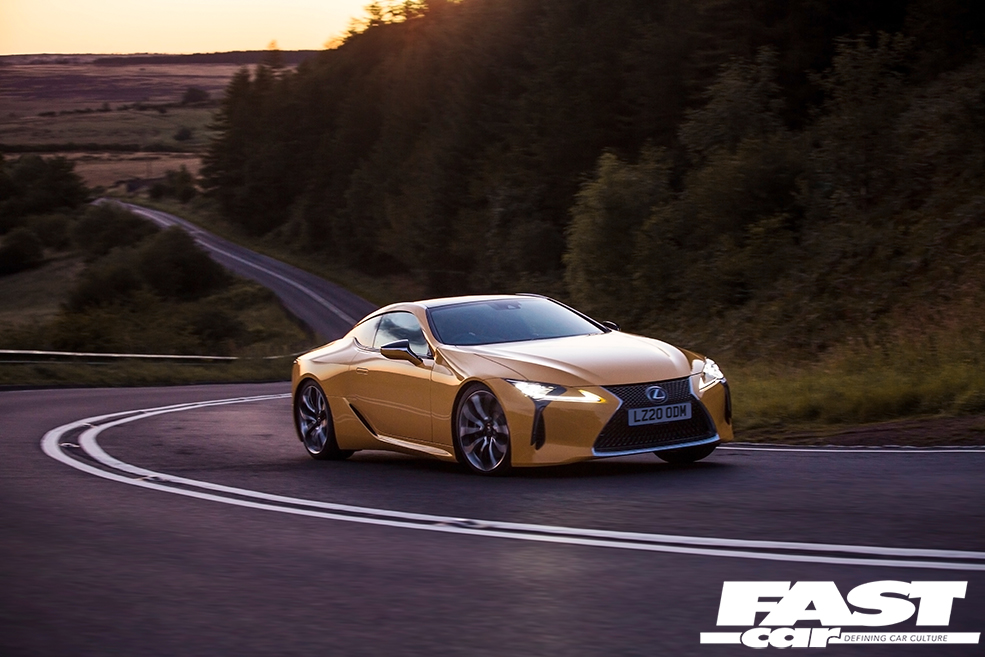 Verdict
This, my friends, is exactly where luxury meets performance. It's almost as if beauty and the beast have formed and created a masterpiece. An explosion of detail and craftsmanship has created the LC, a poetically beautiful machine and its crescendo is that hand-built 5-litre V8. It offers a noise that we have only our fingertips clutching on to as we move into an era of silence, effortless electric power. In years to come we'll look back at cars like the LC500, a car that sits on a diminishing list of performance cars with character. Its beating heart like a gorilla's thumping chest. I for one will miss it and I'm thankful that cars like the LC500 exist, almost like an outcast as we push the 'naughty' kids into a different room while the others learn to grow up and be boring.
The downside? Our test car is just shy of £87k. But when you take into account the work gone into creating it, its price tag is justified. Dare I say it? The spirit of the LFA lives on, albeit in a slightly different form.