0-62mph in 3.9-seconds is insane for a car this big and practical. But hard launches aren't the whole story. We check out the 2020 Audi RS5 Sportback.
Words & Photos: Dan Bevis
What is the essence of the Audi RS5 Sportback, the five-door version of what is otherwise a two-door coupe? Well, what it all comes down to is your mum's favourite aphorism: if you want to make a pearl, you've got to get a little sand in your clam. The A5 upon which this car is based is a sensible thing, and this spec level naturally fills it with all sorts of fancy equipment… but the essential vitality of it all is really about what the iconic RS badge represents. It gives the Sportback a dirty mind, filthy ideas, despicable intentions. And it does it all with a veneer of respectability, pretending to be all grown-up and practical while all the time being an absolute hellion underneath.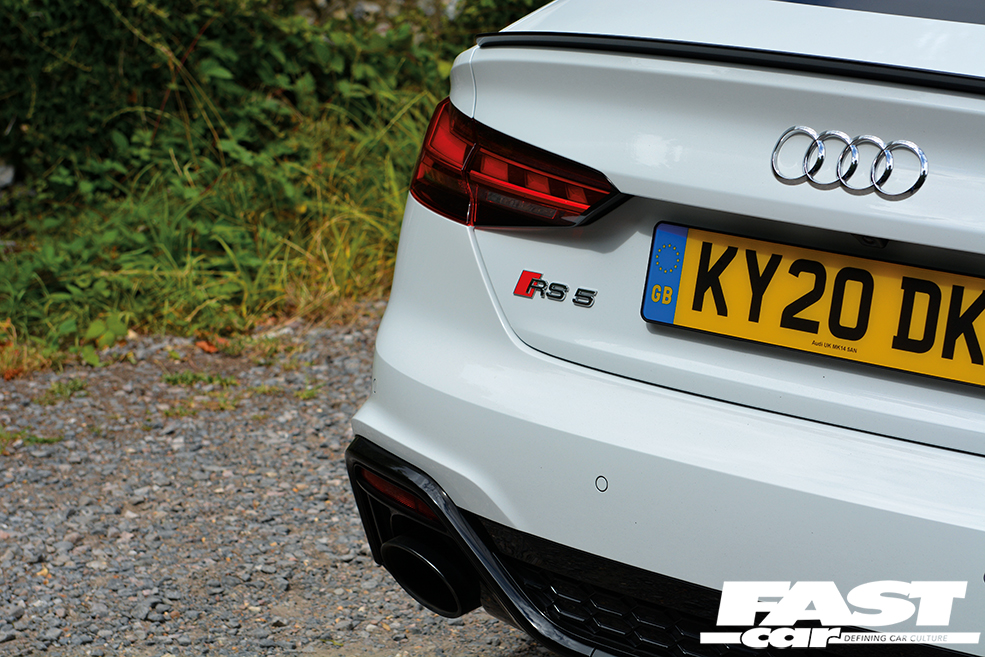 All of this traces back to the original Audi A5, which launched in 2007 as a range of coupes and cabriolets based on the A4; the Sportback variant reworked it into a five-door hatchback, so essentially this was a five-door version of a two-door version of a four-door saloon – such is the confusing niche-filling nature of modern motoring. Don't worry, everyone's at it. The second-generation (8W6) A5 range debuted in 2016, based on the Volkswagen Group's MLB platform, with the Audi RS5 Sportback being unveiled in mid-2019, a gentle facelift followed in 2020. The car shares its engine with the Porsche Panamera 4S – a 2.9-litre twin-turbo TFSI V6, which is good for 444bhp and 443lb.ft. Big numbers for a practical family car! It also packs an 8-speed auto transmission, quattro all-wheel-drive, and five-linked front and rear suspension with Audi Sport Dynamic Ride Control. 0-62mph is despatched in a frankly ludicrous 3.9-seconds. Yep, it's exactly as entertaining as it sounds…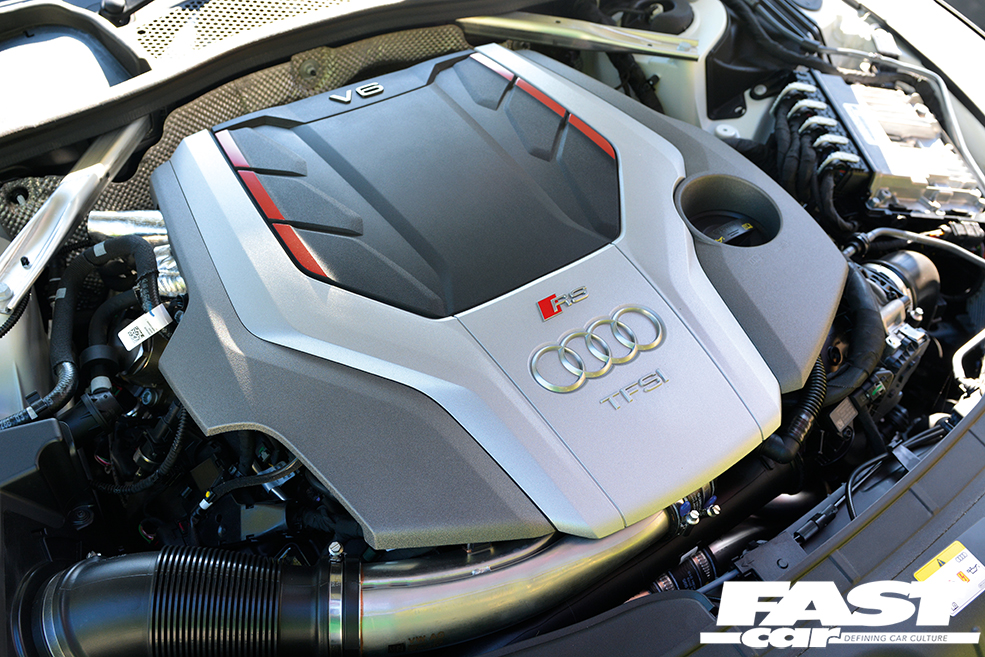 The drive
Crikey. I don't think I'd ever get bored of the way this thing accelerates. It's relentless. I mean, obviously this car is more nuanced and multi-faceted than sheer acceleration, it's agile and poised and luxurious and… bloody hell though, the way it gets from here to way over there is just demented. Physics shouldn't allow it, but somehow Audi isn't listening.
But before we get into all that, let's look over the spec. This particular Audi RS5 Sportback has enjoyed a thorough ticking of the options list, with the black nappa leather interior featuring heated seats front and rear, along with the extended LED lighting package, panoramic glass sunroof, carbon fibre inlays, and the utterly superb Bang & Olufsen audio upgrade. It's a properly big car inside too, the generous dimensions swiftly making most SUVs seem a bit pointless.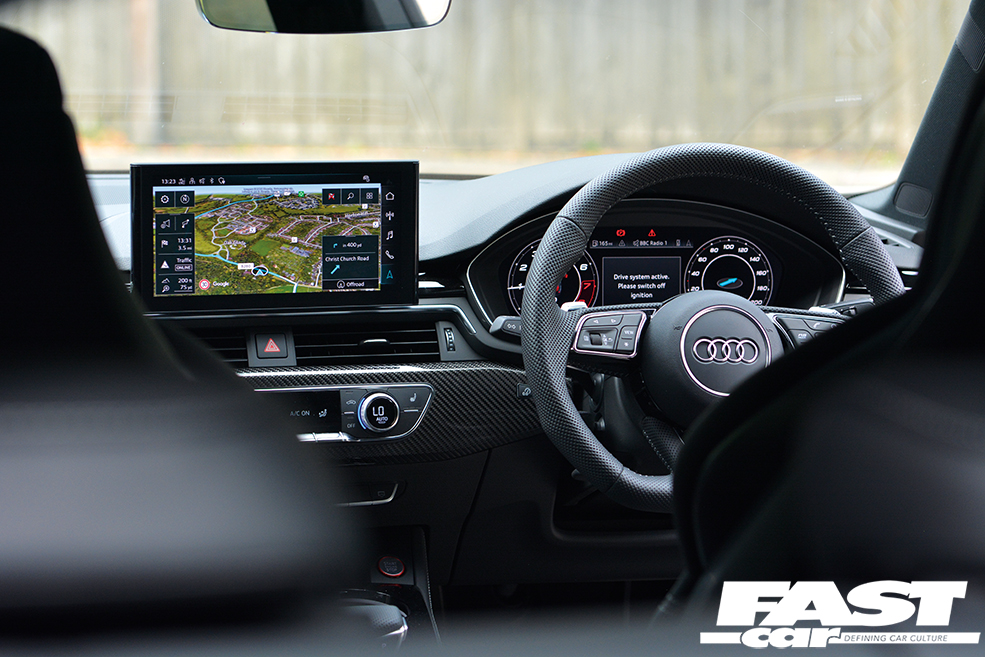 Settling into the driver's spot is an immediately satisfying affair, not just because the chunkily bolstered seat holds you in a tender caress, but because you're then confronted by a completely excellent dash layout – the whacking great touchscreen in the centre controls all of the major things you'd expect (audio, nav, customisable chassis settings and so on), and thankfully there are proper physical controls for the climate setup rather than having to jab at the screen to turn the fan up – which is always annoying – and the real party piece is the Virtual Cockpit. The dials ahead of the driver aren't actually dials in the traditional sense, but a single-piece TFT screen; it can show you the dial readouts in the traditional way, but you can also throw a sat-nav screen up there, or your music information, or all sorts of swappable settings. It's all controlled by the buttons on the steering wheel, and the nav screens (front and centre) are particularly cool, as they use real-world graphics to make it all look more lifelike; it's less A-Z, more illustrated atlas.
But anyway, you're not reading this mag because you're interested in noting down relative spec levels, or you want to learn how spacious the boot is (although the answer to that, if you're bothered, is 'very spacious indeed'). No, you want to know how quick it is. And that's pretty much where we came in. What it all comes down to is that this car is rapid enough to peel the enamel from your teeth; way faster than a practical family car would ever need to be, but we're long past worrying about the concept of 'need'. Sure, it can potter happily to the shops like an A5 diesel, but whack it in RS mode and the suspension stiffens itself in readiness, waiting for you to bury the throttle. And when you do, you can almost feel the sparks crackling off the roof and flanks like Doc Brown's DeLorean.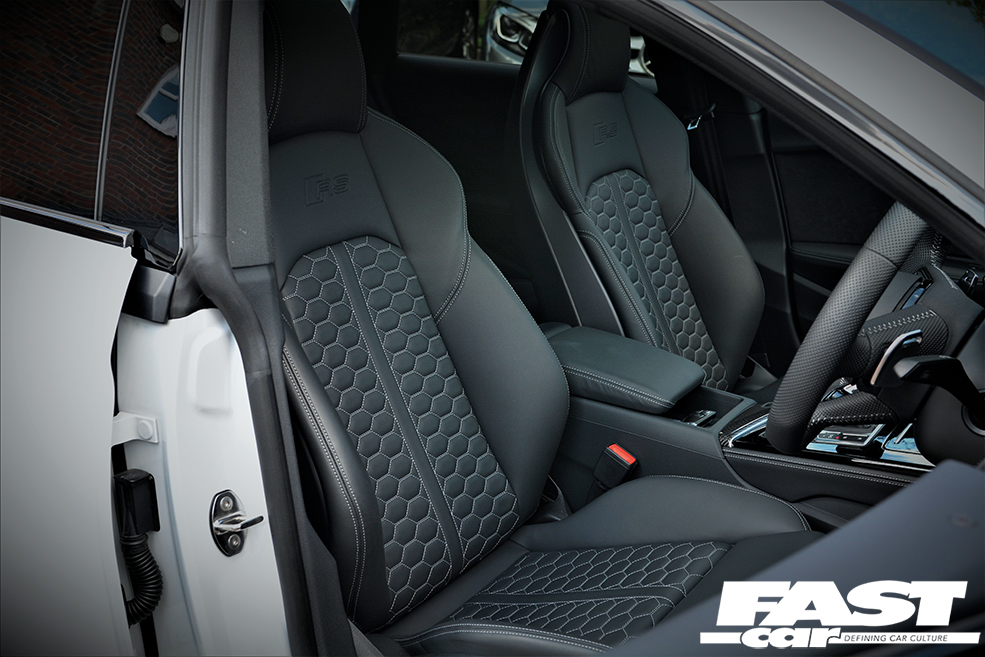 This car is equipped with the optional RS Sport exhaust system, which is amusingly shouty when you're on it – and that's a good thing because as characterful as this Porsche-tweaked V6 is, it's not the most tuneful or sonorous unit. Stealthy, almost. But in RS mode and with the revs approaching stratospheric levels, the sound from the tail is more than enough to chase the birds from the trees, with the amusing pops and burbles you'd expect from a sporty-edge VAG product. The box has also been ticked to up the speed limiter from 155mph to 174mph, but you'll have to take Audi's word for that. We didn't test that on the A3, we're not mental. But while it may seem that they've shoved a ludicrous amount of grunt into this plus-sized hatchback, you can be damn sure that the chassis can cope: combining the quattro system (the full-fat Audi Sport one, rather than the slightly less hardcore Haldex arrangement) with the Dynamic Ride Control allows the car to pull off an impressive magical feat, and shrink itself on country lanes. It may be quite big, but it feels like a TT when you wind it through the curves. That's the ace up its sleeve – yes, it's insanely quick, but the RS5 has also been engineered from day one to be able to deploy all the power effectively. That's what makes it fun.
Audi RS5 Verdict
We found the best approach is not to drive it at ten-tenths like a maniac – although with the way this thing accelerates, that's always a temptation – but instead to wind it back and treat it like a Bentley. Which is to say, driving in the knowledge that there's all sorts of power, without the obligation to use all of it all the time. With this approach, you're saved from overwhelming the brakes (because, let's face it, even the best chassis in the world would eventually struggle to mask a 1,720kg kerb weight), and instead just let the RS5 flow across country in its own rhythm. RS mode is great for exploiting the full drama of the drivetrain, although the stiffest suspension setting might shake the fillings from your teeth on the average pot-holed B-road. Even in 'soft' standard guise, the weaponised performance is exhilarating, and the more you find a rhythm with it, the more it rewards you – and the more you're able to enjoy the performance with the whole family on board, without your spouse telling you off and your kids throwing up. It's a properly capable parent-wagon, this. It may have been conceived to appease the US market when they realised they wouldn't be getting an RS4 Avant, but it's arguably best suited to British daily life. The way it launches and surges is astounding, and the manner in which it controls itself through challenging twists and turns is downright stupendous – but what's most impressive about the Audi RS5 Sportback is that it's basically really good at everything. If you won a modest amount on the lottery (and for a lot of us, that'd be the only way in – RS5 Sportback prices start at £67,505; this one with all the options weighs in at £85,360) and only had one parking space, this is a car that could fulfil every brief on your wish list: family car, sports car, grand tourer, hot hatch, Ikea hack, track toy… it can do all of these things. And it does all of them bloody brilliantly.