We're not talking Drake or Jay Z, but Black Rose and Matte Military Green, as we pick out our top 10 car wraps that we've featured in Fast Car magazine.
From Fast Car.
Top 10 Car Wraps
Art cars
We're kicking things off in style with these two E36 Beemers! You have to take a rewind to 2014 and the August issue of Fast Car when Carl Taylor and Brian Henderson broke the internet with their BMW Art Car-inspired Wörthersee builds…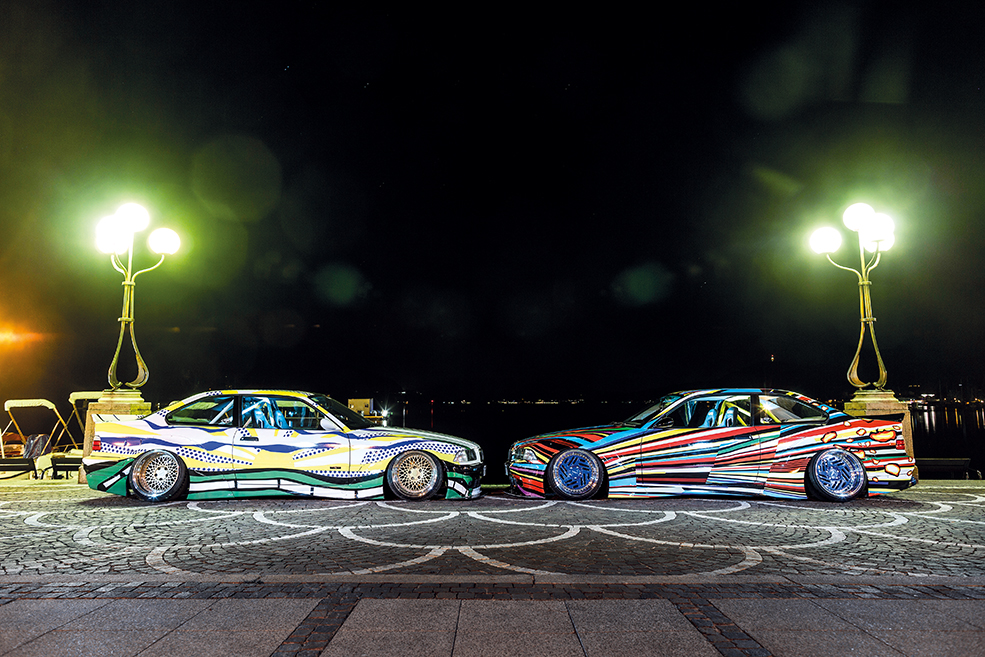 Brian's Motor
Inspired byLichtenstein's 320i
American Pop artist and icon of the modern art movement, Roy Lichtenstein was most famous for his large-scale comic book-style compositions but he too was commissioned to create a car for the BMW Art Car Programme. The year was 1977 and the motor in question was a E21 Group 5 Race Car, again for the Le Mans 24-Hour (it finished 9th overall and first in its class). This time around the car is said to reflect all the experiences that a car will go through, from the sweeping painted lines symbolising motion and the road, to the blurred scenery rapidly passing by. Lovely stuff.
Carl's Motor
Inspired by Koons' M3 GT2
The most recent official BMW Art Car, and the one most of us can actually remember, is the 500bhp M3 GT2 that competed at Le Mans in 2010.
Designed by contemporary American artist Jeff Koons over a two-month period, the idea of all the colours and streaming lines was to be evocative of raw power, motion and bursting energy. And, in case you were wondering, yes this one is all about new technology, it was applied as vinyl wrap too.

Kiran Halsey's 2JZ-powered GT86
Who remembers this beast from the July 2019 cover of Fast Car? Well, we certainly do as there's not many air-bagged, Rocket Bunny-kitted GT86s out there with 1000bhp 2JZ engines! The crazy thing is, even with a spec sheet like that, the defining mod on Kiran Halsey's ride is the custom wrap by Fleet Livery Solutions Ltd.
Read the full feature here: 2JZ GT86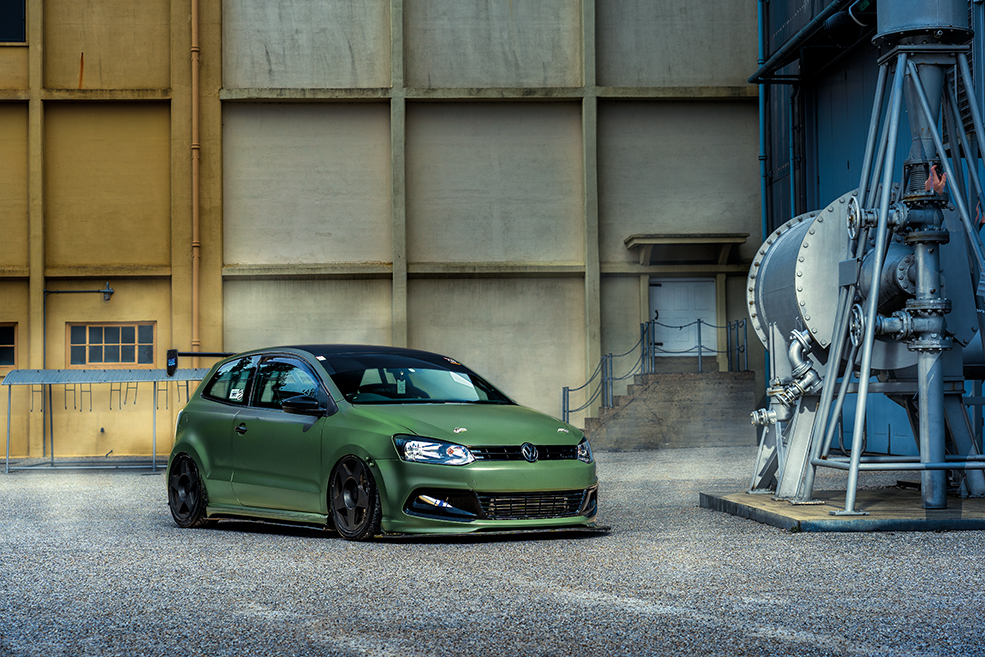 Sam Eaton's VW Polo
We couldn't do a Top 10 wrap feature without mentioning 3M's now legendary matte green. This colour has adorned many a Fast Car feature car over the years, but our current favourite is Sam Eaton's tough-looking Polo 6R. We think this colour suits the aggressive styling of this baby VW and works perfectly with those matt black Fifteen52 Tarmac wheels.
Read the full feature here: VW Polo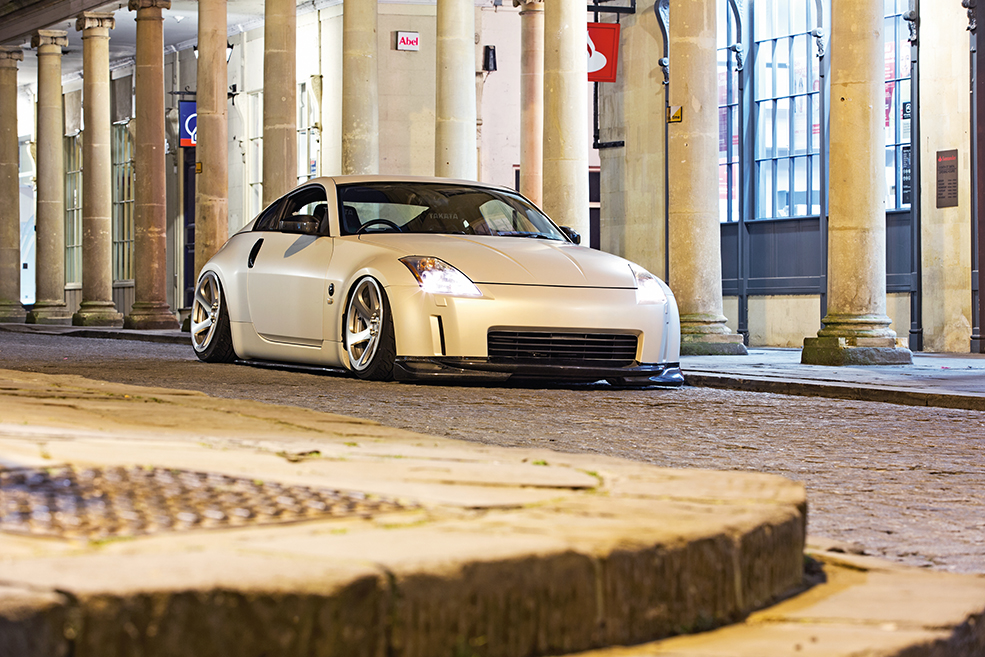 Fast Car's 350Z Dream Build
Blimey, 2014 was a good year for 3M, as we decided to blow our whole budget on our biggest build ever. The Fast Car 350Z had everything, 3SDM wheels, air suspension, top audio, carbon fibre, aero, posh seats and of course, a stunning Pearl White colour change courtesy of 3M and JD Wraps. Pearl White is still one of our favourite vinyls, mainly because of the satin-style finish that looks even better under streetlights, don't believe us? Check out these pics…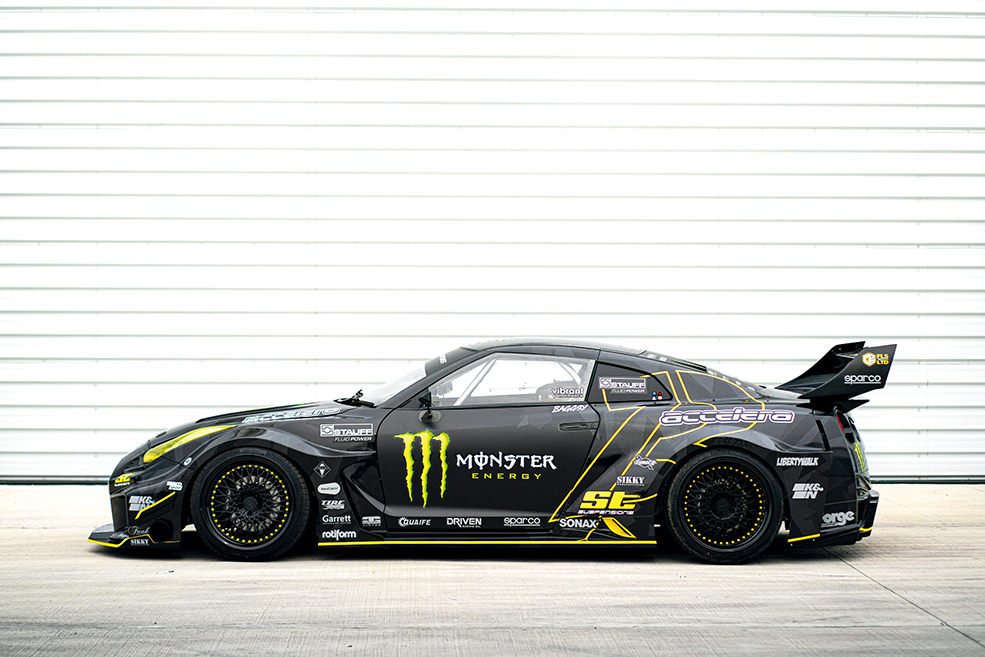 Baggsy's GT-R
This has got to be one of the most famous GT-Rs in the world, why? Because of the nutter who drives it, the legendary drifter Baggsy! Hit YouTube and type in Baggsy's GT-R and you'll see this thing smoking its rear tyres on some seriously famous tarmac! This car was built for demo purposes, so it needs a wrap that can deliver the wow factor and we think it certainly does that! The best bit is, Baggsy isn't scared of changing things up, this is his 2021 livery, and we reckon it's the best yet!
Read the full feature here: Baggsy's GT-R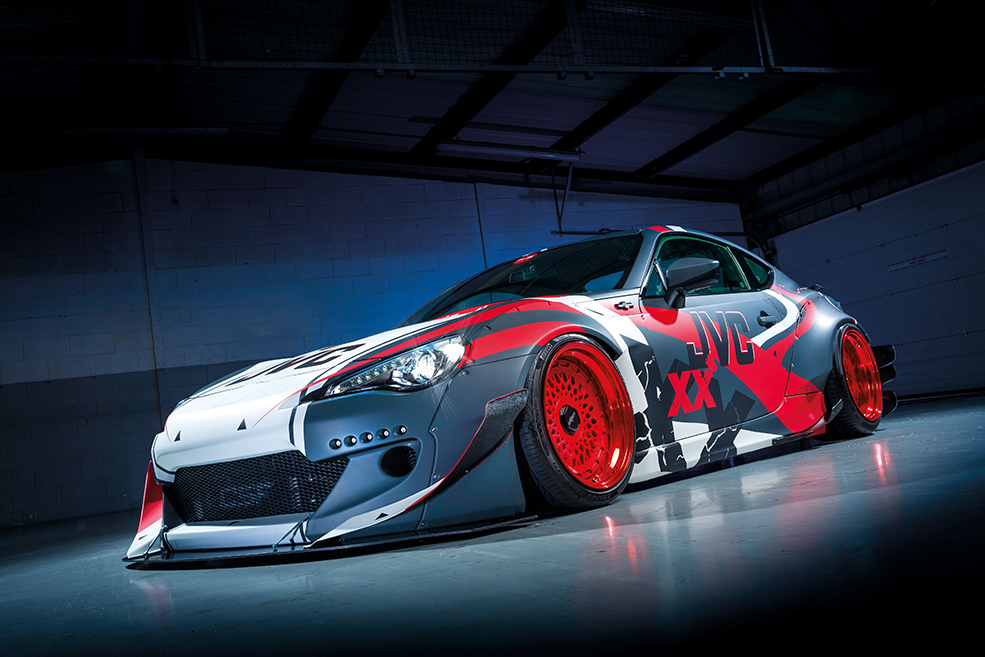 JVC GT86
If you're an internationally recognised audio brand with great heritage and you decide to build a demo vehicle, that vehicle must be perfect and that's exactly what the JVC GT86 is. There was a lot of time and effort put into this build, which explains why it's wearing a custom wrap designed by none other than Khyzyl Saleem, otherwise known as The Kyza. That's right, this car went from render to reality and we're very grateful it did!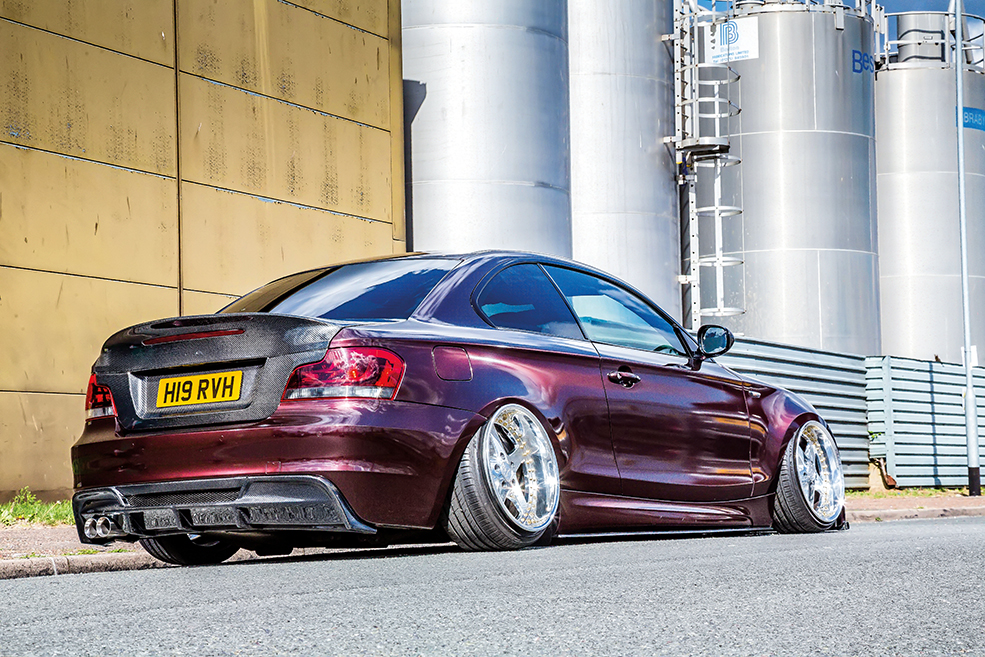 Harvey Howe's 1 Series
To date this is one of our all-time favourite 3M hues. The 1080 Series Black Rose vinyl looks so different in high and low light situations that you have to question it's the same colour. It's proved to be an extremely popular colour and we've seen it transform everything from Audi R8s to Honda Accords, but one of our favourite examples is Harvey Howe's bagged E82 120D. When I first saw this car shinning away at Players Classic, I couldn't believe it was a wrap! Awesome colour on an awesome build.
Read the full feature here: Tuned BMW E82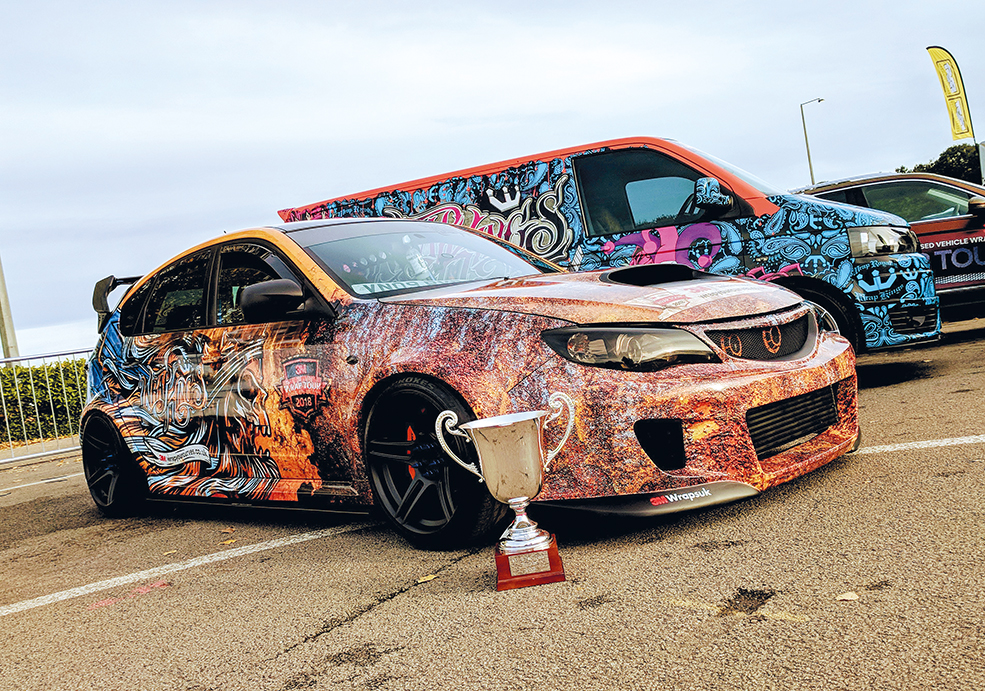 Wrap Kings Scooby
The guys at 3M decided TRAX 2018 would be the perfect place to wrap-up (sorry, not sorry) their Wrap Tour, which saw 14 of 3M's best Authorised Vehicle Wrappers tour the UK in vehicles wrapped specially to highlight the best that modern vehicle wrapping has to offer.
On the final day of the event-filled, 665-mile trip, nine of the vehicles joined us on the Fast Car stand before the public voted for their favourite. The winner was Ben Hamblin, owner of Wrap Kings and this crazy Scooby. He was presented with a trophy and crowned the 3M Wrap Tour Champion 2018 for his car's wrap, which used products from the IJ180mC series of print wrap films by 3M.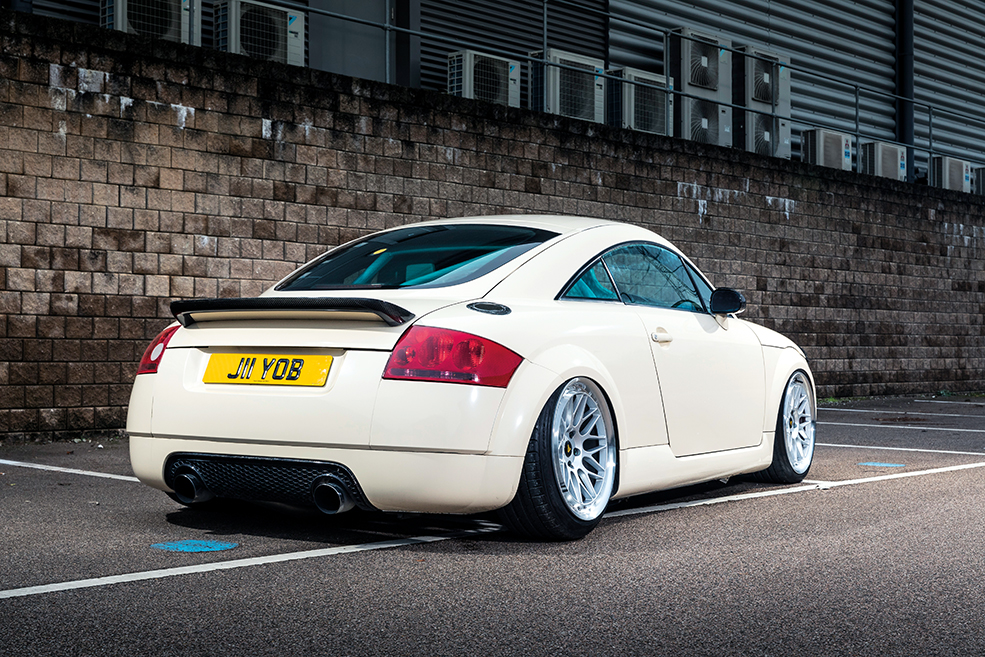 Midge's Audi TT
Why's this in here? Is it because it's who you know and not what you know? Well, maybe a little bit but the main reason this car is in here is because it has lasted the test of time, it's been on the car for almost a decade, which is way more than the average wrap tends to stick around – true testament to the quality of the work. And the fun part is that this was essentially 3M's original wrap colour, the genesis of the oeuvre that has since snowballed into a whole scene within itself. "They developed it for taxis in Berlin, because they're all this sort of beige colour," Midge explains. "The guys at 3M figured it'd be more cost-effective for taxi drivers to wrap their cars rather than paint them. When I heard about that I thought it'd be cool to give my TT a Berlin taxi vibe – it's a nice German connection, innit?" Explains Midge.
Read the full feature here: Bagged Audi TT