One of the most iconic characters in motorsport, Colin McRae will forever be remembered as a true Ford hero. Here's why…
Feature first appeared in Fast Ford magazine. Words: Graham Robson. Photos: Ford Photographic
It's been 22 years since Colin McRae won his first rally event in a Focus WRC, the Safari of 1999. It may have been of shattering importance to Ford, and to M-Sport, which had built the car, but for Colin it was just another step along the way – he had, after all, won his first world championship round six years earlier, and had been world rally champion in 1995.
As a personality, an icon, and, above all as a fiercely competitive driver, we'll never forget him. Colin, who tragically died in a helicopter crash near his home in Scotland in 2007 (along with his son Johnny and two family friends) had no time to do anything slowly. Everything in his life seemed to be enjoyed at top speed, and his career certainly reflected that. Maybe his top-line rally career was already over by the year in which he was taken from us, but as far as he was concerned there was still much more motorsport to be enjoyed.
Before he took up rallying, Colin had indulged in motorcycle trials and scrambles, but it was after watching his famous father, Jimmy McRae, win so well, so often and so stylishly in a rally car that he took up the sport. He never let his rallying life be dull, and his sport was never tackled cautiously.
Along the way, he notched up an impressive total of bills to repair crashed cars and seemed not to care how much this was sometimes costing his employers. It was a perhaps slightly arrogant attitude, which eventually weighed against him.
The first time I saw Colin McRae on a British rally in the 1980s, he was picking tree branches out of the bodywork of his battered Vauxhall Nova. The second time, he was doing the same to a Sierra RS Cosworth, and the third… Well, why do you think that his long-standing nickname was McCrash? His one-time team boss David Sutton described Ari Vatanen's progress as 'crash, win, break the car, crash, win…' and Colin was like that in every way. And just like the flying Finn, Colin matured and became a hero to millions of rally fans all over the world.
"With McRae's 'if in doubt, flat out' attitude, there's no wonder he's regarded as one of the most-loved Ford motorsport icons of all time"
Colin was the eldest son of five-times British Rally Championship winner Jimmy McRae, who along with Russell Brookes, had dominated British rallying events during the 1980s. It was when Jimmy was at his peak, driving works-blessed Ford Sierra RS Cosworths, that in 1986 Colin (then only aged 18) started out in the Scottish Rally Championship in a Talbot Sunbeam, soon turning to a Vauxhall Nova (with financial help from Dealer Team Vauxhall).
Ford, which had Jimmy McRae on a long-term contract, then decided to encourage Colin too. The Blue Oval provided him with a Group N Sierra RS Cosworth for the British Rally Championship (where he often crashed) but at this early stage his most astonishing performance was to take fifth overall in New Zealand in D933 UOO, an elderly ex-works Group A Sierra RS Cosworth RWD (on an event where four-wheel-drive cars were already considered essential).
Ford, still indulging him in spite of his frequent costly crashes, then gave Colin full backing in 1990, where he started the year in a rear-drive Group A Sapphire Cosworth, and ended it in one of the first Cosworth 4x4s. Although he took second place overall in the British Rally Championship of that year (a seven-event series in which he had one victory, two seconds and two third places), his first Ford works contract came to an end immediately after he had badly damaged yet another works Sapphire Cosworth 4×4 in the RAC rally.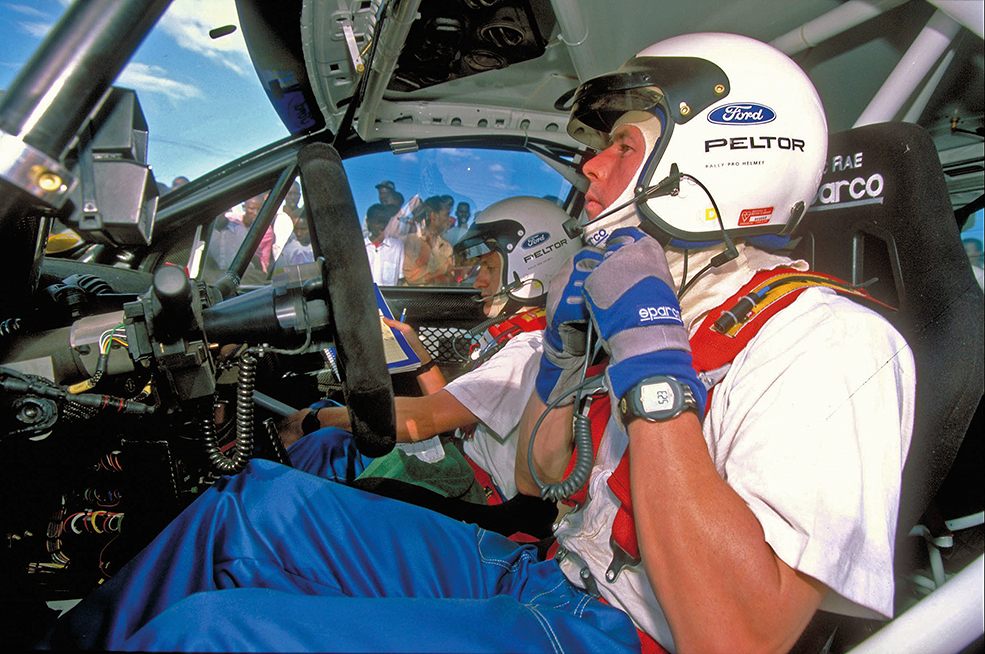 Despite taking sixth place at the end of that event, his car was really a rolling write-off following a typical McCrash excursion and Boreham seemed relaxed when hearing that he had decided to join to Subaru (and Prodrive), where he would stay until 1998.
To be honest, it was at Subaru that Colin firmly cemented his relationship with the British rallying public. Not only did he win the British Championship twice in the four-wheel-drive Legacy, he began winning at world level, using steadily-improving Imprezas.
Not that his demeanour, nor his treatment of his cars, improved in that period, for although he became world rally champion in 1995 and finished second in the championship in 1996 and 1997, he was often at odds with his team management, with his teammates, and even in the car itself; he also dumped co-driver Derek Ringer in favour of Nicky Grist in 1997.
By that time he had become something of a media hero, as his Colin McRae computer game sold in its millions, making him richer than any previous British driver. His demands on the team and, coincidentally, his financial demands on Prodrive, eventually led to them releasing him at the end of 1998.
By then, though, he had already concluded a mega-contract with M-Sport and Ford for 1999; he was made team leader at a then-colossal fee of reputedly £3 million-a-year. You may be sure that Martini, which was the headline sponsor of the newly-developed Focus WRC cars, had to spend much of the budget on McRae.
No matter, the financial outlay was soon seen to be worth it; grappling with the all-new Focus WRC, he startled everyone by winning the 1999 Safari and Portugal events in his first few months. They were only the third and fourth rallies ever tackled by that complex four-wheel-drive car.
Nevertheless, Colin McRae always seemed to be very hard on his cars: he expected them to put up with his methods, and expected the team to put up with his sometimes sullen temperament. When things were going well, he could reputedly be the best of hosts and the soul of any party. But when the gloom descended (which it sometimes did) he was said to be better avoided.
Malcolm Wilson's M-Sport organisation, which loved him because of his unstoppable ambition to win and ability to keep a battered car going, rose above McRae's attitude, as the car kept on improving. Colin was always on the pace unless the Focus WRC let him down. Sadly it did that more often then he or M-Sport would have liked in 1999, with 11 retirements in that first year; three were due to crashes, but whenever and wherever he appeared in the Focus, Colin McRae set standards and, usually, fastest times.
His second season with the M-Sport Focus (in 2000) was so typical of his flamboyant career at Ford. Having started all 14 world championship rounds, Colin won twice (Spain and Greece), and took second on three occasions. But his cars suffered four engine failures and had two big accidents. He was apparently so unhappy about this that he threatened to leave at the end of the year.
"He had become a media hero, as his computer game sold in its millions, making him richer than any previous British driver"
Things got much better in 2001 when McRae won three world events, all three on the run: Argentina, Cyprus and Greece. And amazingly, there was only one accident – in front of his adoring fans in the Network Q Rally at the end of the season.
Even so, Colin always seemed to give everything to his sport and his employers. In fact, he came close to death after a high-speed crash in Corsica in 2002, which left the car upside down in the trees and below the level of the road, with him trapped inside and fuel dripping onto his overalls. It was a miracle that co-driver Nicky Grist was able to get out of the wreck and summon help.
McRae was always the darling of the national and motorsport press (like Nigel Mansell, they didn't necessarily like him as a man, but he certainly provided them with many good headlines). It was especially a great thing for his personal publicity, especially as the media encouraged the myth of his rivalry with Richard Burns (in fact, the two were friends and thought the idea of a feud was laughable). With a total of 25 world victories and many other podium placings, it's easy to see why.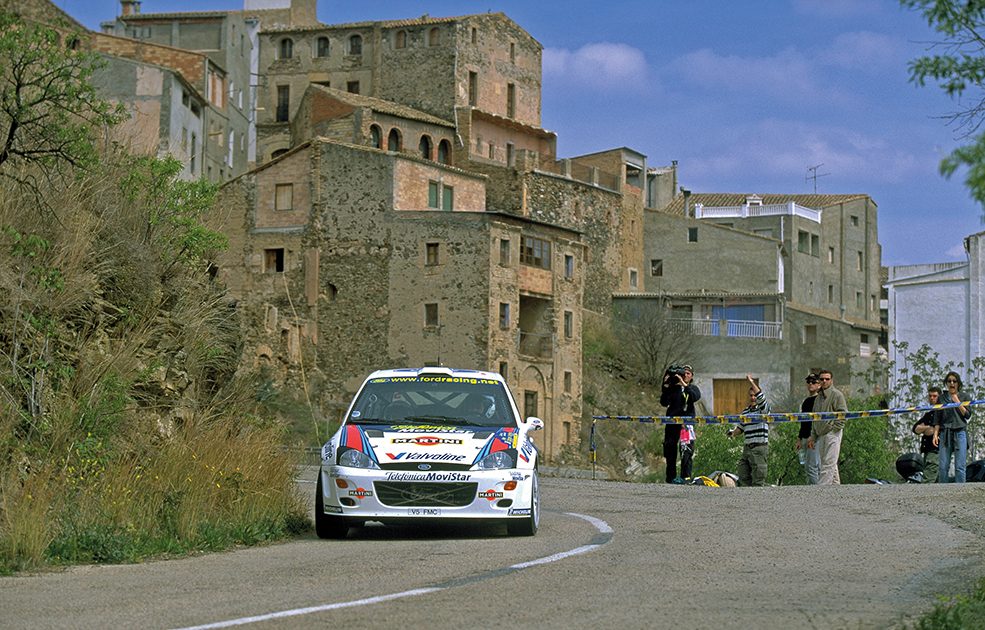 Bargaining on his worth to the sport, Colin soon became rallying's richest driver, and because more than ten million copies of the PlayStation Colin McRae Rally video games were sold, he wisely became a tax exile in Monaco for some years.
Nevertheless, it was his financial demands (he reputedly demanded £5 million for the following year) that eventually forced McRae out of Ford at the end of 2002, and he was never happy, nor successful, with Citroen the following year.
When he lost his Citroen contract after only one season, there were no other substantial rally offers, and because of his known character he found it impossible to gain any further works drives.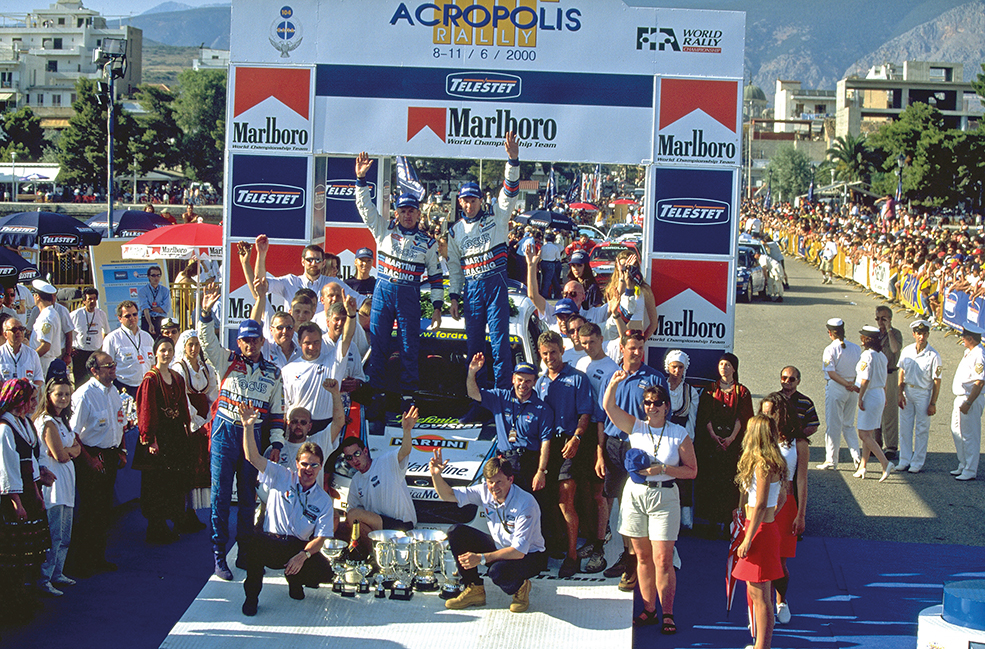 Apart from dabbling with the design of a new clubman's rally car – the McRae R4 – which he personally demonstrated at the Goodwood Festival of Speed in 2006, a one-off drive in the Le Mans 24-hour race, and the commissioning of an ultimate Mk2 Escort  'just for fun', his motorsport career was effectively over.
But his legacy will live on forever. Rally fans aren't as pragmatic as team bosses; they don't care about coming second in a pristine car ready to do battle again next week. No, they want to see a do-or-die attitude, going all-out for glory and to heck with the consequences. And with Colin McRae's 'if in doubt, flat out' attitude, that's exactly what they got. No wonder he's regarded as one of the most-loved Ford motorsport icons of all time.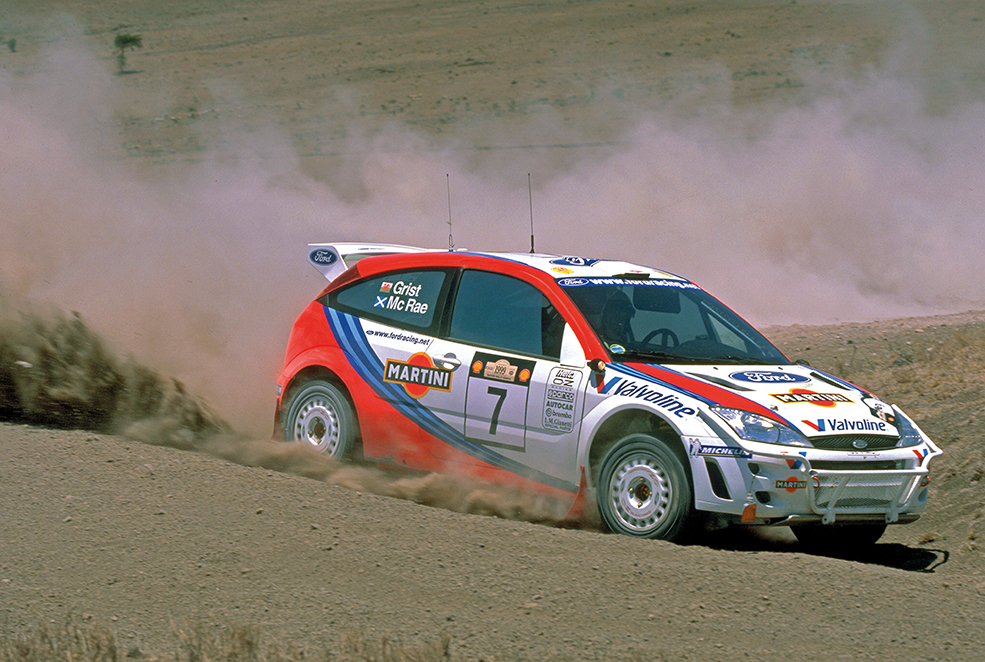 Colin McRae: Driver Profile
Born:
Lanark, on 5 August 1968. Killed in a helicopter crash on 15 August 2007.
Rallying achievements:
World Rally Champion in 1995, second in World Rally Championship in 1996, 1997 and 2001. British Rally Champion in 1991 and 1992.
Raced works Ford Focus WRCs from 1999 to 2002, winning nine world events (including twice in the East African Safari, and three straight victories in the Greek Acropolis) during that time.
Outright World Rally victories:
1993 – New Zealand (Subaru Legacy), 1994 – New Zealand, Australia and Great Britain (Subaru Impreza); 1995 – New Zealand and Great Britain (Subaru Impreza); 1996 – Greece, Italy and Spain (Subaru Impreza); 1997 – East African Safari, Tour de Corse,          Italy, Australia and Great Britain (Subaru Impreza); 1998, Portugal, Tour de Corse and Greece (Subaru Impreza); 1999 – East African Safari and Portugal (Ford Focus WRC); 2000 – Spain and Greece (Ford Focus WRC); 2001 – Argentina, Cyprus and Greece (Ford Focus WRC); 2002 – Greece and East African Safari (Focus WRC)