In a fantasy project of Shakespearean magnitude, Lewis Brown has reimagined his Toyota GT86 as a Pandem wide-body show-stopper with deep swells of turbocharged thrust. But despite the looks and the power, he still has unfinished business…
Feature from Fast Car. Words: Dan Bevis. Photos: Ollie Wildsmith
Received wisdom is a tricky thing. It's a commonly held view that Romeo and Juliet, the classic tale of star-cross'd lovers, is the ultimate lyrical representation of love and romance. In reality, if you've actually read it, you'll know that it's a horrifying story of a relationship that lasts for three days and results in the deaths of six people. What we know and what we think we know are often two very different things.
Perhaps this strain of logic might have been helpful to the Toyota dealer who refused to allow Lewis Brown to test-drive a GT86 a few years back, on the grounds that he was too young to handle it. Given the evidence before us today, it's clear that not only is Lewis more than capable of handling such a machine, he was indeed destined to own one in order to remix it as the startling yellow wide-body creation it is now. Because this isn't just any modified car – this is one that ought to be held up as the gold standard of how things should be done: no stone has been left unturned, all the decisions have been carefully considered, the work executed flawlessly, and the result is something that future generations will look back on as how cars were modified to the maximum in 2021. Lewis (now 23) and the GT86 are star-cross'd lovers for sure, but the crucial difference here is that nobody got hurt.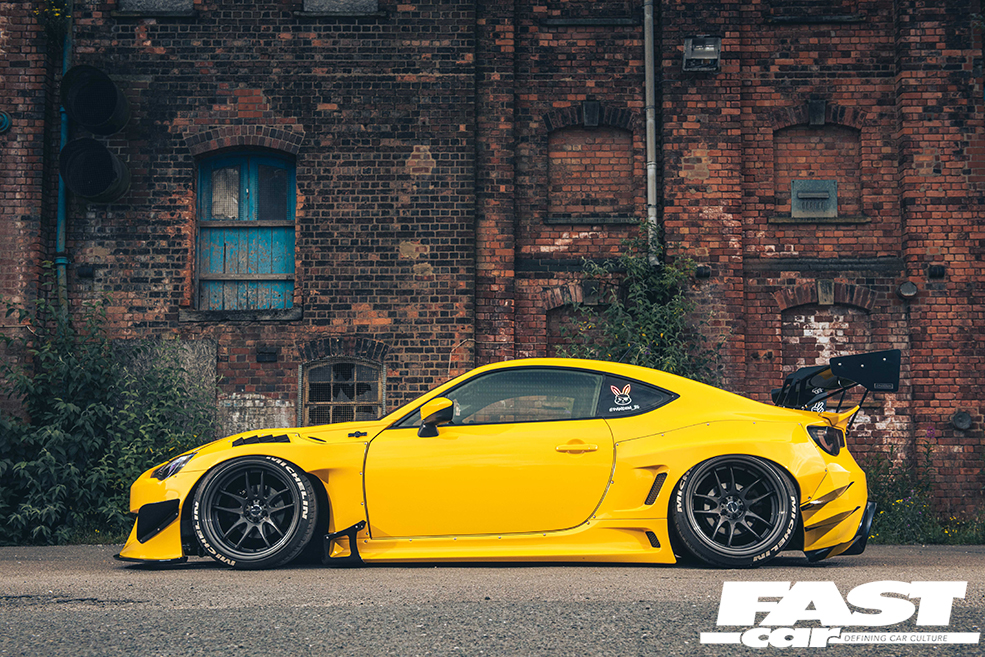 "I love cars that can easily scare you when you drive them," he deadpans, and that's a pretty baller way to set out one's stall. He cites his dream cars as the McLaren P1 and the Ford GT MkII, both machines designed to tear out your soul and cast it into the fiery abyss, and what's particularly interesting to note is that prior to this particular JDM tuning odyssey, Lewis had always been a Ford man. His first car was a 1.2-litre Mk6 Fiesta, something upon which he bestowed a few choice alterations that acted as a gateway drug to a full-on modding addiction; the next car was a Mk2 Focus 1.6 that transmuted into a faithful RS replica with all the right aesthetic bits… but it was hella slow and this paucity of grunt was really a turning point. What followed was a Mk7 Fiesta ST, and we all know what a tuneable thing that is. Lewis was an early adopter of the platform's aftermarket hybrid turbo conversions, winding his ST up to a spicy 265bhp (a very impressive figure at the time), and the new-found hunger for boost is what ultimately led him to the acquisition of the Toyota GT86.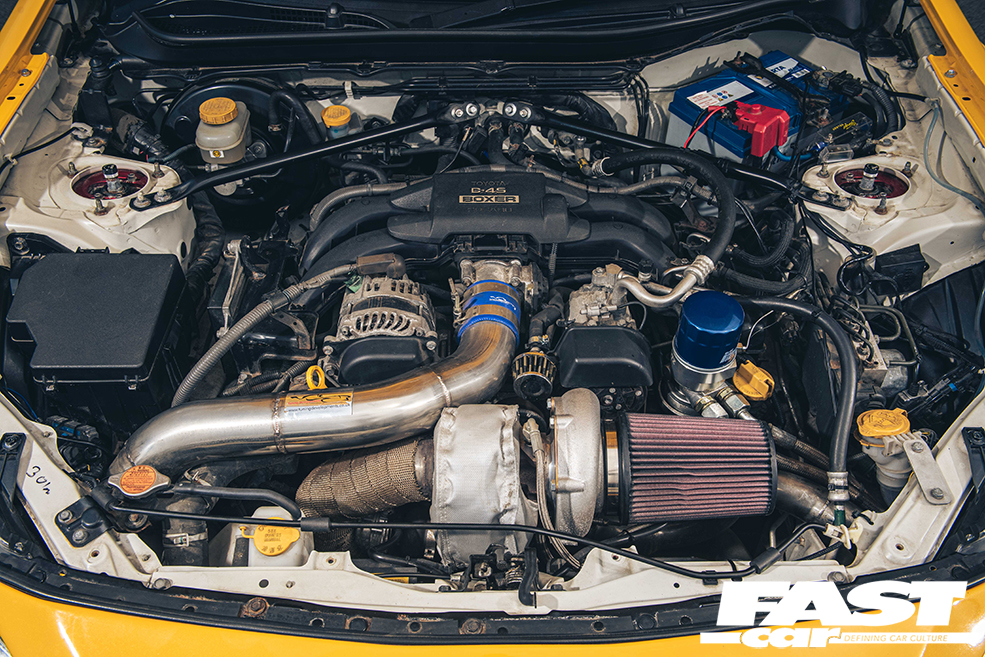 Now, we know what you're thinking – the new-wave hachi-roku has always been a naturally-aspirated thing. And you're right, that's true, but having retro-fitted a turbo to a nat-asp Fiesta, our man was keen to repeat the formula with the Toyota because, as his enthusiasm for fast-road driving grew, so did his keenness for a balls-to-the-wall rear-wheel-drive chassis.
"I wanted something that would get the adrenaline pumping," he grins. "I thought I could have more fun in a RWD car compared to my previous FWD projects, and I just wanted to see how far I could go with it. So back in November 2017 I went to a Toyota garage to test-drive one, but they wouldn't let me because they said I was too young! So I quickly left that place. The following week I went to view a low-mileage GT86 that was being privately sold; it was in nice condition, a 2012 model with a few little dents but that didn't bother me because I knew it would be an easy fix once the bodykit started to go on."
That's right, the wide-body vibe had been in mind from the get-go, even before he'd actually bought the car. Lewis had always intended to create something unique, based on a platform that's relatively overlooked by the modifying community (and while we have seen some stellar '86s in recent years, they're not exactly commonplace), and the fresh V3 evolution of Rocket Bunny's Pandem wide-body kit was what he really had his sights set on. "I initially tried to find a GT86 that had the bodykit already fitted, and even tried importing one from Japan," he recalls, "but I just couldn't find any that were good enough. The main worry was that it wouldn't be finished to the standards and quality I required, so I gave up looking for one that was already done and decided to go all-in and build one the way I wanted."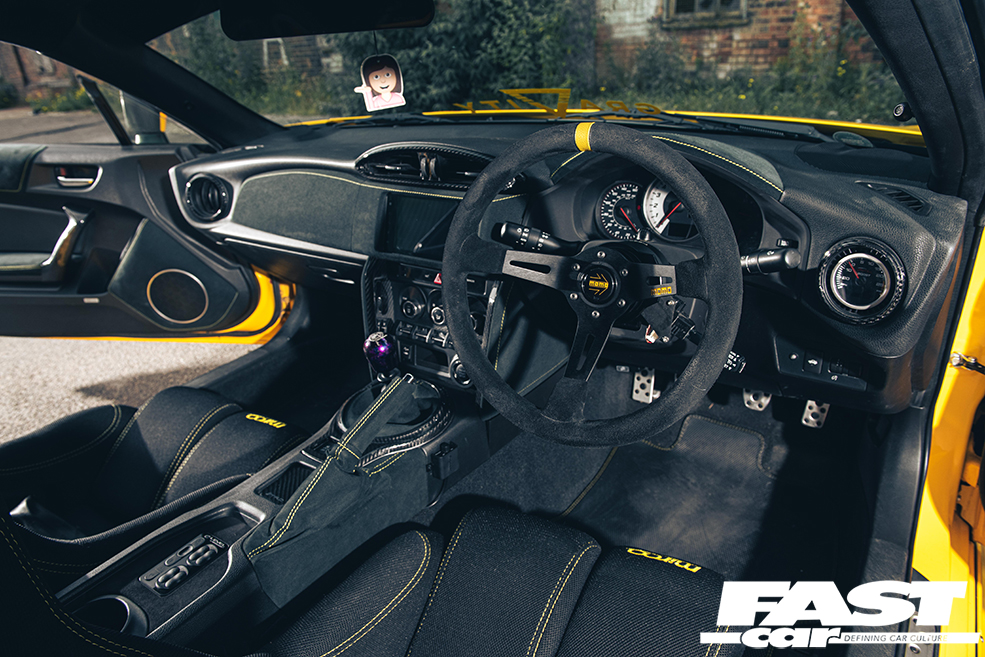 The Toyota was always destined to look this way once Lewis had drawn it into his embrace, but before any of that could happen there was some unfinished business to take care of when it came to the performance. You see, while the Pandem kit was on the cards from day one, so was the turbo – and since this was to be first-and-foremost a driver's car, the engine work was the primary area to be addressed. "I quickly came to the conclusion that the engine power wasn't anywhere near enough for my liking," he laughs. "The handling was great, it felt so planted and lively around the corners, it just needed the power to match – hence why I ended up turbocharging it."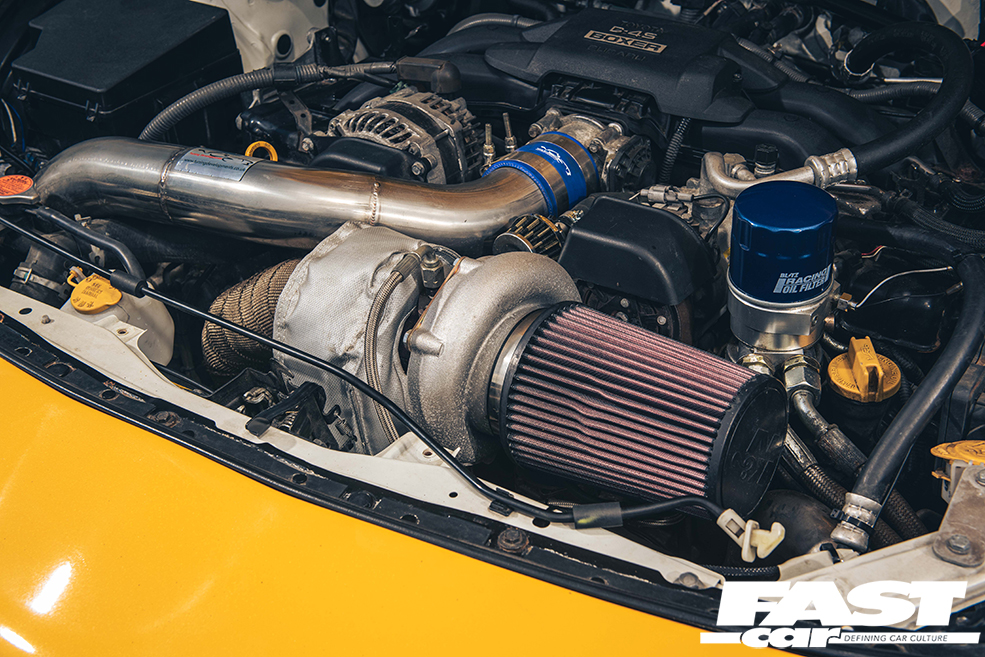 The car was duly dropped off at marque specialists Tuning Developments, who fitted a turbo kit with a Precision 5558 turbo on a UEL manifold, along with a TiAL MVR 44mm external wastegate, screamer pipe and Mishimoto intercooler. A resonated cat-back exhaust system with secondary decat ensures that the boxer rumble is still present and correct, and all of this really helped Lewis to get a taste for power… before too long, he was back at Tuning Developments for a Stage 2 upgrade. With uprated fuelling, assorted tweaks and a serious mapping session, the result was a thoroughly healthy 337.1bhp. The stock brakes are pretty strong, but these were upgraded with EBC Yellow Stuff pads and braided lines to help rein in the 71% power increase, while an Exedy Stage 1 organic clutch and ultra-lightweight flywheel were subbed in to suit. And with the power where Lewis wanted it, it was time to pay a visit to Big Bear Kustoms.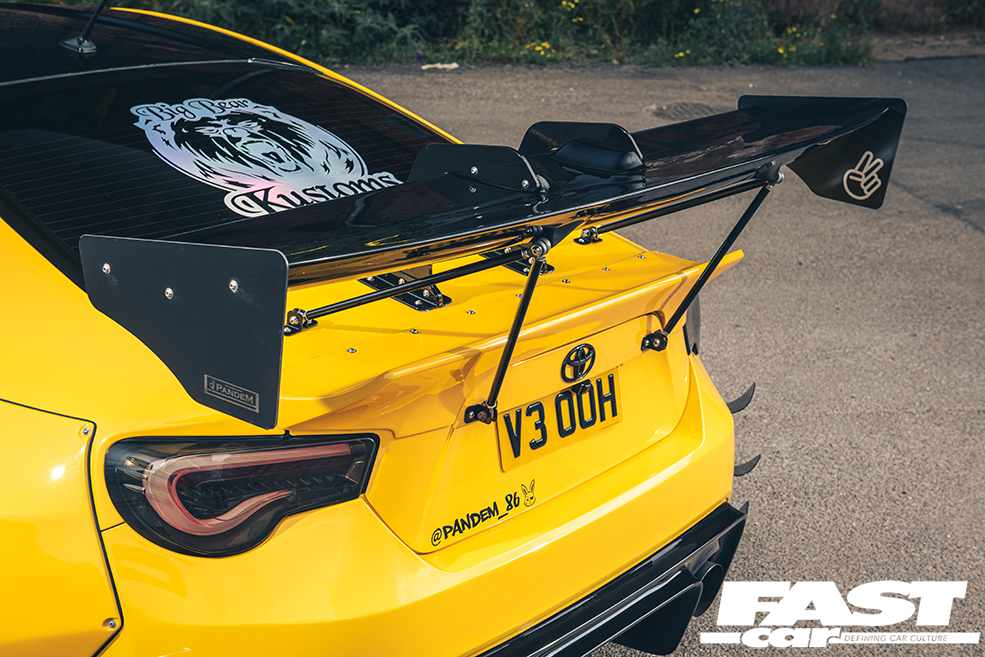 "I needed to have something bespoke, something that I've made all the decisions on to make it perfect for me," he enthuses. "From the little things like what colour to make the badges, to deciding if we wanted to custom-install vents in the front arches – all the way to the big things like what colour the whole car should be and what style, size and offsets the wheels should be. I had an image in my head of how I thought it would look at this stage of the build, however the reality now has surprised me as it looks so much better than I ever thought it would! It really is a car that I've designed to be just for me."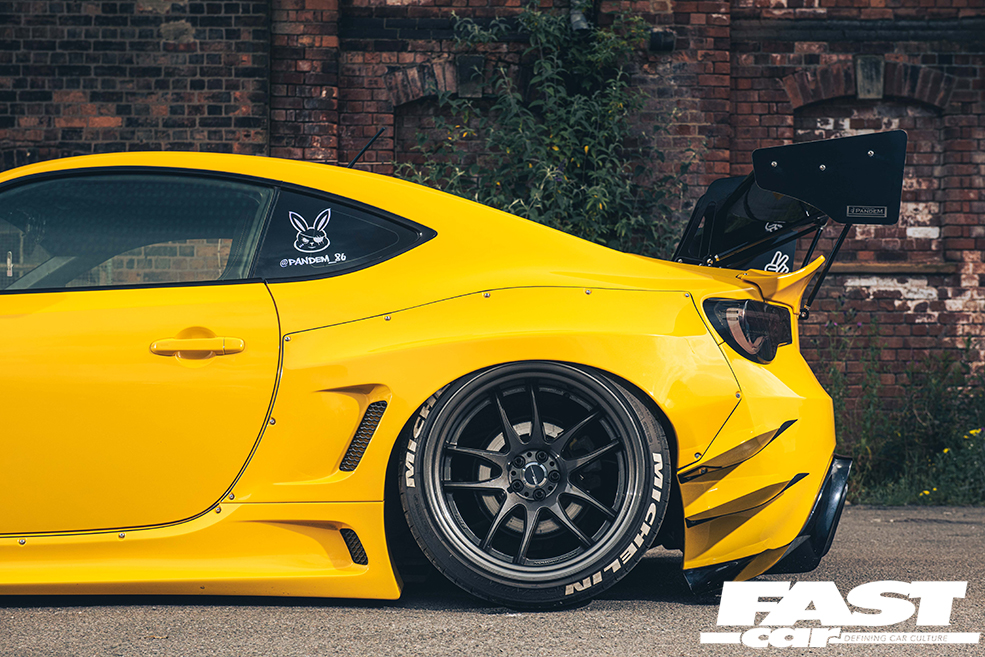 With the Pandem bodykit ordered, Lewis worked closely with Big Bear to ensure that the kit was fitted and finished in exactly the way he wanted – because anyone can buy a bodykit off-the-shelf and have it installed, but this needed to be a one-off. And the closer you look, the more you find that unique details abound throughout; the vents in the front arches, for example, which were acquired for a tenner from eBay and seamlessly integrated to look like Rocket Bunny intended them to be there. The colour choice is another example; it's Lamborghini's New Giallo Orion, but here the guys have added an extra couple of coats of pearl to really make it pop in the light. Lewis was keen to pick out lots of black details in the yellow, so the roof and front arch vents have been finished in peelable P1 black paint, while the whole body is coated in self-healing P1 clearcoat protection to ensure that any stone-chips and scuffs will simply melt away. The vast custom WORK wheels are works of art, the Air Lift suspension tucking them neatly into the cavernous arches, and the attention paid to the interior is every bit as meticulous. That air-ride system sports a fancy custom install, thanks to the artisans at Plush, and the cabin positively bristles with carbon-fibre and Alcantara details, FIA-approved buckets and harnesses, plus enough audio to ensure that if the exhaust rumble doesn't get you, the bass will. It's all about the details, as with every element of the car. See that custom rear rollcage? It's colour-matched to the body, and it also has little diamonds in the topcoat. But of course.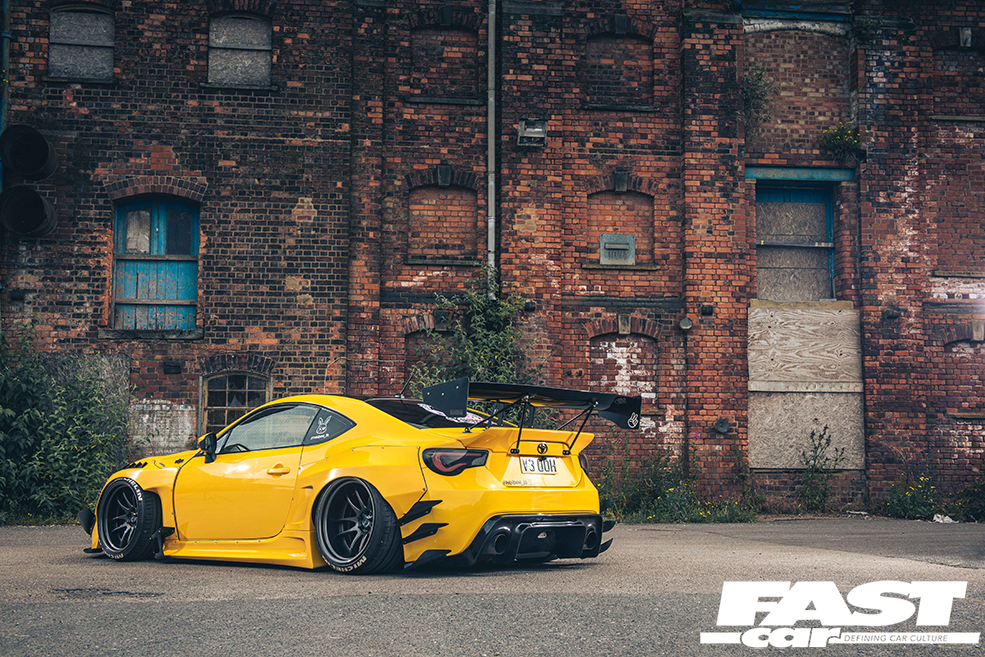 This really is the full package, then – it's got the looks, the power, the usability, the poise. Job done? No, these things are never finished. "I'm planning a big brake kit," says Lewis, "plus an electronic exhaust valve to regulate the noise levels." Why? To take it to the track, of course! This Pandem Toyota GT86 may have a show-winning style and a million custom details, but it's been built to be driven and that's precisely what Lewis does. Forget all of that received wisdom about show cars being trailer queens. These star-cross'd lovers are ready to tear it up at a moment's notice.
Tech Spec: Pandem Toyota GT86
Engine:
2.0-litre D-4S flat-four, Stage 2 turbo kit with Precision 5558 turbo, UEL manifold, TiAL MVR 44mm external wastegate, screamer pipe, upgraded Omni Power FA20 MAP sensor, 3-port electronic boost control kit, 320lph Tuning Developments in-tank fuel pump kit, 850cc Injector Dynamics port injector set, Mishimoto intercooler, secondary decat, resonated cat-back Tuning Developments exhaust system, oil cooler, oil baffle plate, Blitz sandwich plate, 337.1bhp, 258lb.ft
Transmission:
6-speed manual, Exedy Stage 1 organic clutch, ultra-lightweight flywheel, Mtec spring and gearbox insert
Suspension:
Air Lift Performance air-ride, AccuAir e-Level management
Brakes:
EBC Yellow Stuff pads, braided lines
Wheels:
10x19in ET-20 (front) and 11.5x19in ET-47 (rear) WORK Emotion CR-2P wheels in Charcoal Anthracite, 245/35 Michelin Pilot Sport 4 tyres (f), 285/30 Michelin Pilot Sport 2 tyres (r), Michelin tyre stickers
Interior:
Mirco GT 3D-fabric FIA bucket seats with custom embroidered logos, M2 subframes, Schroth Clubman II ASM 4-point FIA harnesses, custom Alcantara panels with yellow stitching, custom rear rollcage – colour-matched with diamonds in topcoat, suede Momo Deep-Dish Model 08 steering wheel, NRG short hub, Driftworks Race Paddle quick-release, carbon-fibre covers for all interior plastic trim, Airvent 60mm gauge pod, DEPO 4-in-1 gauge (boost, volts, oil pressure and oil temp), Billetworkz Rick & Morty gearstick, Xtrons IN70HGTL 7in head unit, Pioneer GM-D8701 amp, Pioneer TS-A3000LB 1500w 12in shallow subwoofer, Focal IS165TOY component speakers, hidden boot install with twin compressors by Plush Automotive
Exterior:
Rocket Bunny / Pandem V3 wide-body kit inc. ducktail, GT wing, front, side and rear canards, splitter, rear diffuser and grilles, three-stage Lamborghini New Giallo Orion paint (with two coats of pearl), moulded front arch vents, roof and front arch vents finished in peelable P1 black paint, P1 self-healing clearcoat protection, smoked Valenti taillights, Vland sequential headlights, 5500k HID kit, chaser underglow neons