Resplendent in Cadbury Purple, this turbocharged E36 M3 is a full-on drift car missile primed to annihilate all comers with creamy-smooth efficiency.
Feature from Performance BMW. Words: Daniel Bevis. Photos: Robert Borowik.
Turbocharged. E36. M3. drift car. These are all terms that, in isolation, have their own set of fans and enthusiasts within the automotive scene. But putting all four of them together? That's not something that happens very often. Every angle of it is slightly outrageous: the idea of turbocharging an E36 M3 might seem bananas to some; equally, the notion of using a genuine M3 as a drift car will have certain purists up in arms. Smoosh all these elements into one entity, and you end up with something brilliantly polarising. Of course, it only takes one look at the thing to deduce that unhinged activities have been undertaken in the pursuit of Bavarian lunacy. It's not exactly shy, is it?
Ostentatiousness, naturally, is a key part of the sport – it's not an arena that nurtures the shrinking violet. Drifting has come a long way from being the sole preserve of cocky Japanese outlaws sneaking out for touge battles after dark; mischievous skids have spread like wildfire across the globe, consuming everything in their path in a fug of dense tyre smoke. And there are indeed drifters and there are good drifters; any fool can kick a clutch and light up the rears, but the true connoisseur has an ingrained knowledge of entry angles, balletic transitions, and all those technical tricks that are earned and learned rather than simply assumed.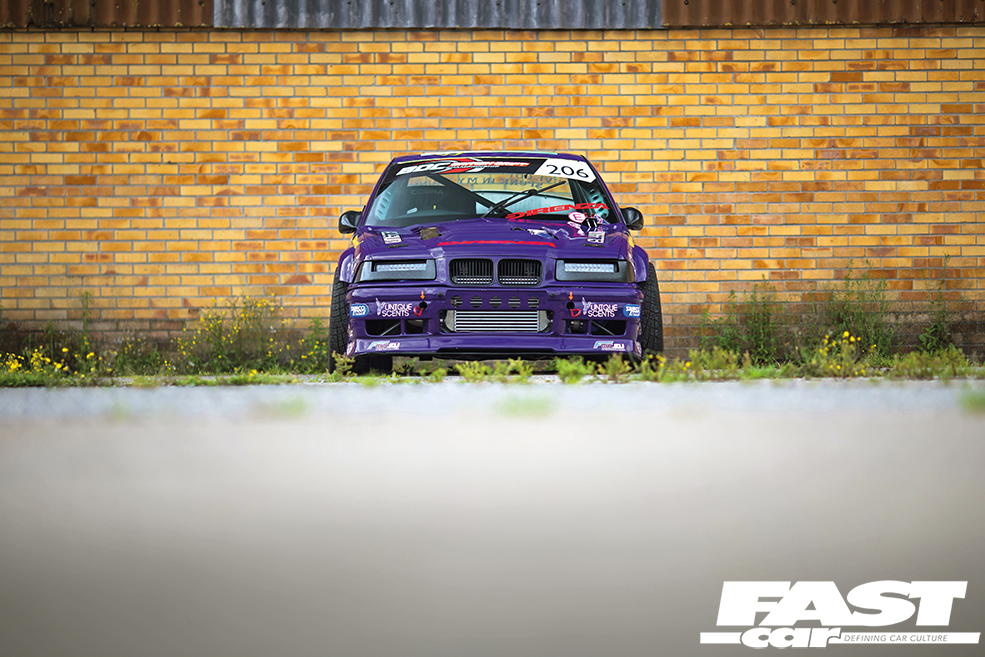 Herein lies the appeal of drifting – the very point of it is to destroy your tyres and cause a lot of smoky havoc, so every competitor is on a knife-edge, milliseconds away from peril at any given moment. Every drifter is constantly midway through an accident. Generally, they save it and transition into another almost-accident, but plenty of times they won't, hitting the crunchy reality of a full-blown cock-up. Hearts are won by entrants who are good, bad, great or mediocre, which pretty much makes drifting unique as a sport. And as with any competitive endeavour, it's the hugely talented participants that garner the most attention; in this instance, finding such an individual in a Cadbury Purple turbocharged M3 wins on pretty much every level.
The man of the moment is Matt Roberts (@mattrobertsdrifting on Instagram), who is – as you've probably deduced – a professional drifter. Like so many of us, he started out with a modified Vauxhall Nova at the age of 17 and has worked his way up. He's modded every car he's owned until, at the age of 43, he's fusing business and pleasure in fine style. As his Instagram feed attests, he's living the life at maximum attack, although you won't be surprised to hear this given the lurid purple turbocharged E36 M3 drift car monster laid out before you.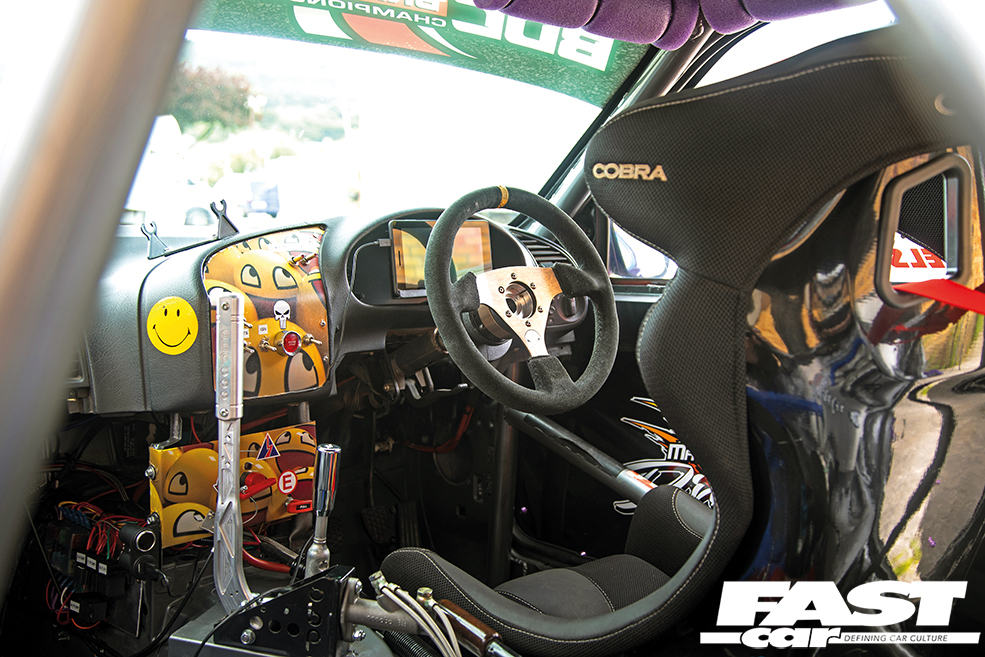 Now, the eagle-eyed will have spotted that this car is rocking a full complement of doors; no coupé shenanigans here, Matt and the Elysium Motorsport team based all of this on an E36 M3 Saloon – and, amusingly, the car was purchased in the first place to be a sensible daily driver. "I wanted a family car that just offered that little bit more driving entertainment, which the M3 Saloon delivered," Matt recalls. "I've been into BMWs for years, I find them to be stylish and well-built machines, and I also really enjoy working on them."
This car was found on eBay, a stock-ish road car in good overall condition, and the plan at first was no more complex than simply running it as a daily driver. However, when you spend your days weighing up hellion drift cars on track on the one hand and perky RWD road cars on the other, well… it doesn't take long before you put those hands together. "It's got a very good chassis, particularly for drifting," Matt grins, which sort of implies he was really planning all of this all along, "and I love the E36 3 Series styling, they can be made to look really nice. So yes, it was initially a daily, but that soon changed…"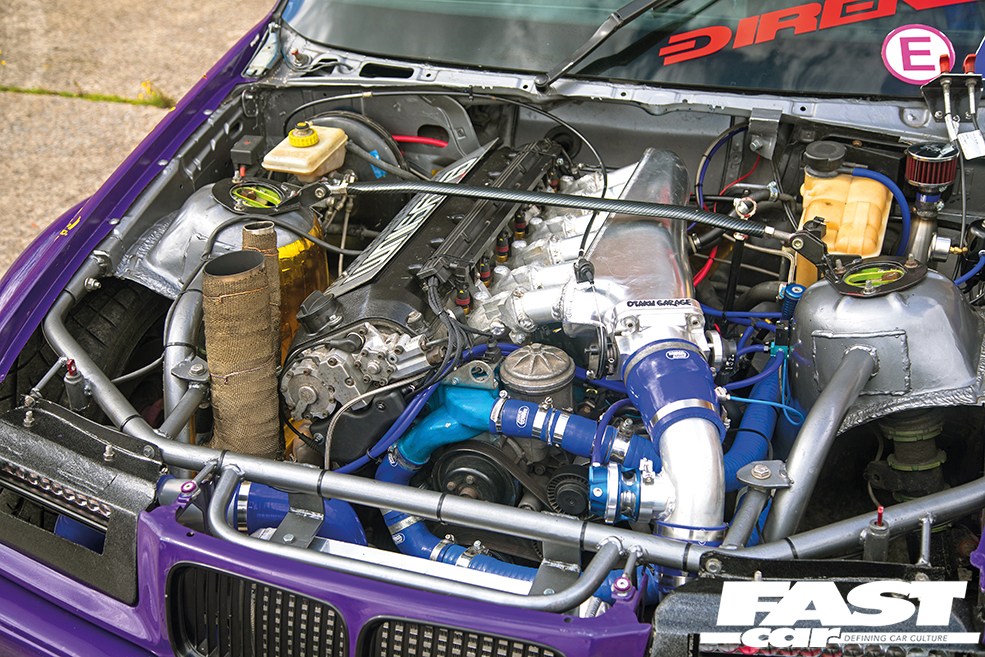 It's hardly surprising that things accelerated with such voracity, given what a seriously focused guy Matt is. A former army man who's now a paramedic, he's a chap who gets things done – done fast and done right – which is a skill set that translates perfectly to the seemingly chaotic but incredibly precise art of drifting. The results of this are plain to see with the turbocharged E36 M3 drift car, although before we scrutinise that radical exterior, we should probably start with the car's party piece: that extraordinary, turbocharged motor.
"It took around three months to convert it from naturally aspirated to turbo," says Matt, and given the level of modification in evidence here, we can well believe it. The original S50B30 3.0-litre straight-six has been reimagined beyond recognition, boosted by a Garrett GTX3582R Gen-2 turbo with Turbosmart wastegate and BOV. The custom Elysium Motorsport parts are manifold, both figuratively and literally: we're looking at intake and exhaust manifolds, intercooler pipes, free-flow exhaust system and much more besides. The innards of the big six are borderline-unrecognisable now, sporting JE forged low-compression pistons and straight pins, and Pauter rods, and there are race-spec ARP bolts basically everywhere. The fat intercooler is an FMIC.EU item, while the Direnza radiator has been relocated to the rear of the car, as is often the way with drift cars – because they spend so little time going forwards, it makes sense to move the rad to somewhere with more airflow. The fuelling has been massively upgraded, and it's all looked after by an Ecumaster EMU Black ECU, working with a Wire Monkey custom race harness, to deliver an urgent and frankly manic 770hp. Oh yes, and if Matt feels like he needs it there's also a 60hp dry shot of nitrous from the Wizards of NOS setup – because why the hell not?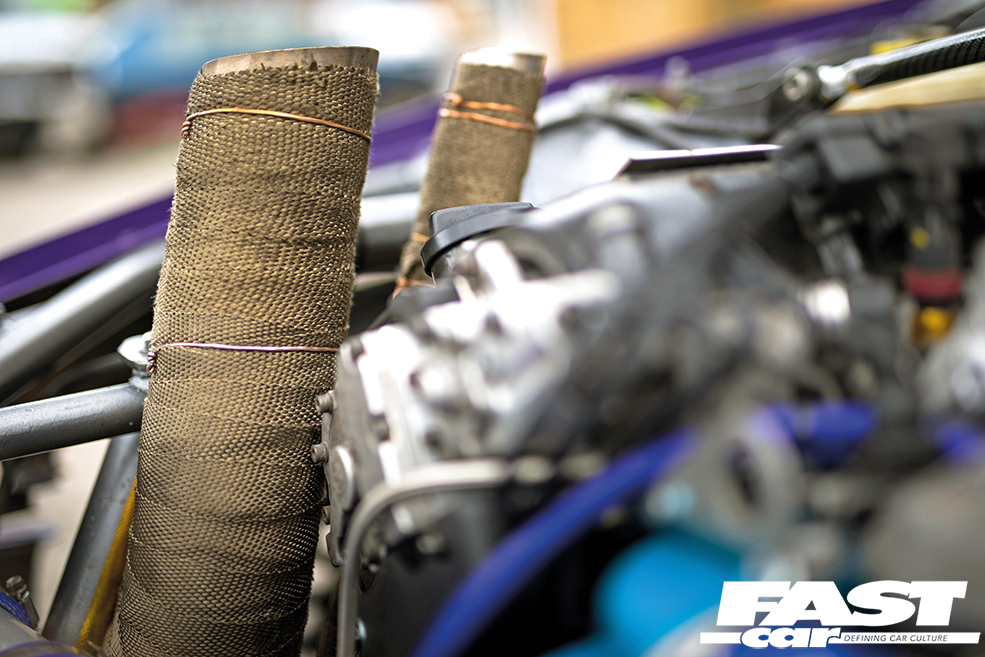 It's all bloody lairy under the bonnet then, but as those old tyre ads used to tell us, power is nothing without control. There's no point putting this level of motorsport engineering beneath the bonnet of a stock road car because it'll only be a matter of nanoseconds before it spears you off the tarmac and into a thicket. So, under the skin, as you may well imagine, this is very far from an ordinary road car. DriftFab tube frames make up the front and rear structures, allowing precise triangulation of the bespoke suspension and steering arrangements. The turbocharged E36 M3 drift car is packing HSD coilovers with adjustable 16-way damping, and camber- and caster-adjustable top mounts. Furthermore, we find a veritable picnic of drift-specific upgrades, comprising DausFab adjustable rear toe brackets, Direnza adjustable rear control arms, a front lower X-brace and upper strut brace, Powerflex bushes all over the place, E92 modified inner track rods and E36 outer track ends. Any drift car worth its salt needs to have its steering revised in some manner, and Matt's M3 takes this angle of approach to the furthest extremes. It's fitted with a 328i steering rack and 4mm rack spacers, allied to Wizards of Lock 50mm front lower control arms and some Wizards of Lock zero-Ackerman modified front hubs, which get the fronts pointing in some quite silly directions. Maximum science for maximum attack.
The exterior styling was masterminded by Matt in conjunction with BMW Racing Parts, whose catalogue has been comprehensively pillaged to amp up the aggression of the more-door bruiser. Hanging artfully from those custom tube frames are a set of BMW Racing Parts' Infinity 2 bumpers, joined by the brand's lightweight bonnet and boot lid, wide-arch front wings, rear overfenders, side blades, front splitter, and Rocket Bunny-style rear spoiler. Amid all this styling excess, perhaps the coolest detail is the set of headlight blanks, each one housing a 12" horizontal LED strip light which makes the car look genuinely terrifying. The rear end of the M3 is fully fibreglass, courtesy of A&B Design, and this quest for lightness follows through to the interior where we find, well, basically nothing beyond that which is required for motorsport. There's a single Cobra Sebring Pro bucket seat with a Corbeau six-point HANS harness, a 7" tablet display for those all-important vital signs, a sodding great hydro handbrake and a chunky roll-cage – plus the requisite fire extinguishers and battery cut-off. A serious office for serious business.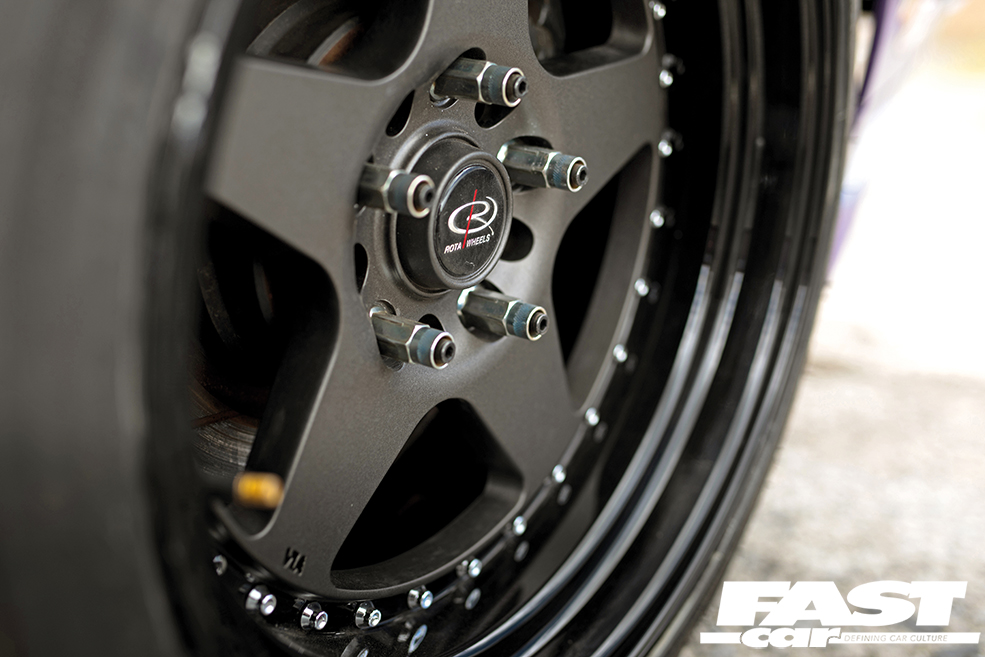 With the exterior now freshly wrapped for the 2021 season, Matt is truly hyped up for the M3's post-Covid adventures. "I love the engine most of all," he enthuses, "it's such a rare and unusual build." Yep, all the blood, sweat and tears in there are no doubt a factor too. So, is this wild track animal his forever car now? "Well, I do have a 388hp E92 335d M Sport Highline as my daily, and it's making me think that we might eventually replace the E36 with an E92 drift car if and when we've had enough of the chassis," he ponders. But we strongly suspect that won't be happening any time soon. Matt's having too much fun finding himself constantly halfway through an accident, and this outrageous turbocharged M3 four-door is just the deranged weapon in which to achieve that.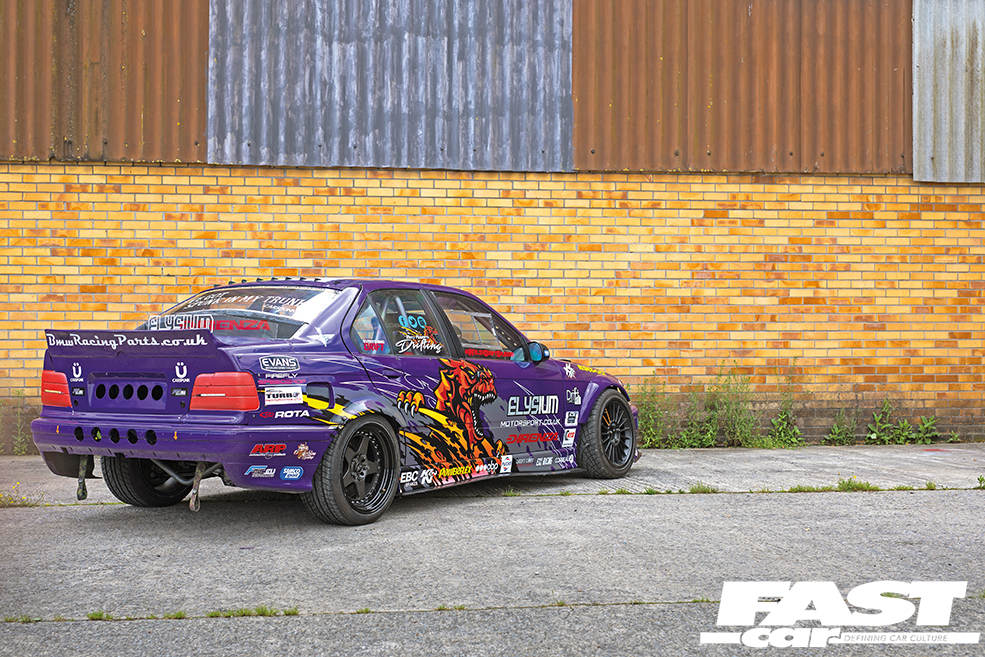 Tech Spec: Turbocharged E36 M3 Drift Car
Engine & Transmission:
3.0-litre straight-six S50B30, Garrett GTX3582R Gen-2 turbo with T4 0.82 exhaust housing, Turbosmart 45mm Gen-5 HyperGate wastegate and RacePort Gen-5 BOV, Wizards of NOS 60hp nitrous dry shot, JE forged low-compression pistons and forged straight pins, Pauter forged rods, ACL race main bearings and race rod bearings, Athena cut-ring head gasket, ARP rod bolts, head studs and nuts, exhaust nuts and intake nuts, FMIC.EU intercooler, rear-mounted Direnza radiator, Davies Craig EWP80 secondary water pump (in rear of car), Jaguar 2.7 diesel radiator fan, Samco Sport hoses, K&N air filter and breather filters, 325tds oil cooler, E46 M3 crank pulley, hydraulic 3.2 chain tensioner, Elysium Motorsport custom intake manifold, custom intercooler pipes, custom individual exhaust manifold and custom free-flow exhaust and wastegate, OBP Motorsport 1.5-litre swirl pot, 27-litre fuel cell, 300lph lift fuel pump and 300lph external main fuel pump, Torques UK stainless braided black PTFE fuel hoses, fuel pressure regulator, stainless braided coolant hoses and AN fittings, Lock-n-Loaded solid engine and gearbox mounts, Ecumaster EMU Black ECU, MAC 3 port boost solenoid, Wire Monkey complete custom race harness. ZF five-speed manual gearbox, Competition Clutch solid lightweight flywheel and Stage 4 paddle clutch, EBC clutch fluid, braided clutch line, custom welded 4.10 diff
Power:
770hp
Chassis:
7.5×17" (front) Alpina replica wheels with 215/45 Toyo R1-R tyres, 9.5×17" (rear) Rota Kyusha wheels with 245/40 Goodride SA-57 tyres, stud kit, 45mm front spacers, HSD coilovers with adjustable 16-way damping, camber- and caster-adjustable top mounts, DausFab adjustable rear toe brackets, Direnza rear adjustable control arms, 328i front anti-roll bar, front lower X-brace, front upper strut brace, DriftFab reinforced front subframe, reinforced rear subframe, Powerflex bushes front to rear including M3 eccentric, 328i steering rack, 4mm rack spacers, Wizards of Lock 50mm front lower control arms, Wizards of Lock zero-Ackerman modified front hubs, E92 modified inner track rods, E36 outer track ends, Brembo drilled and grooved discs (front and rear), EBC NDX Race Bluestuff pads (front) and Yellowstuff pads (rear), EBC brake fluid, MNM Engineering braided brake lines and braided hydraulic handbrake lines, obp Motorsport 0.625 hydraulic handbrake
Exterior:
Cadbury Purple, BMW Racing Parts Infinity 2 bumpers, lightweight bonnet, lightweight boot lid, Rocket Bunny-style rear spoiler, front wings with wide-arch extensions, headlight blanks with 12" LED lights, side blades, front splitter and rear overfenders, A&B Design complete fibreglass rear end, DriftFab tubular front end, front bumper support, tubular rear with jack point and rear bumper support, Pitking flush boot and bumper pins, wire front tow straps and DPM rear tow straps, AeroCatch bonnet fasteners
Interior:
Cobra Sebring Pro bucket seat, Corbeau Racing six-point HANS harness, Momo steering wheel, Driftworks quick-release steering boss, Custom Cages welded six-point cage with gusseted twin door bars and A-pillars, DriftFab stainless steel coolant pipes, Samco Sport reinforced super-flexi water hoses, lightened and modified dash with 7" tablet display, Wire Monkey interior custom race harness, Z3 M short-shifter, ACW Motorsport polycarbonate windows with custom brackets, stripped and lightened doors, Drift Car Door Cards panels, battery relocated (passenger side), handheld fire extinguisher, plumbed-in fire extinguisher, FIA battery cut-off, sunroof removed